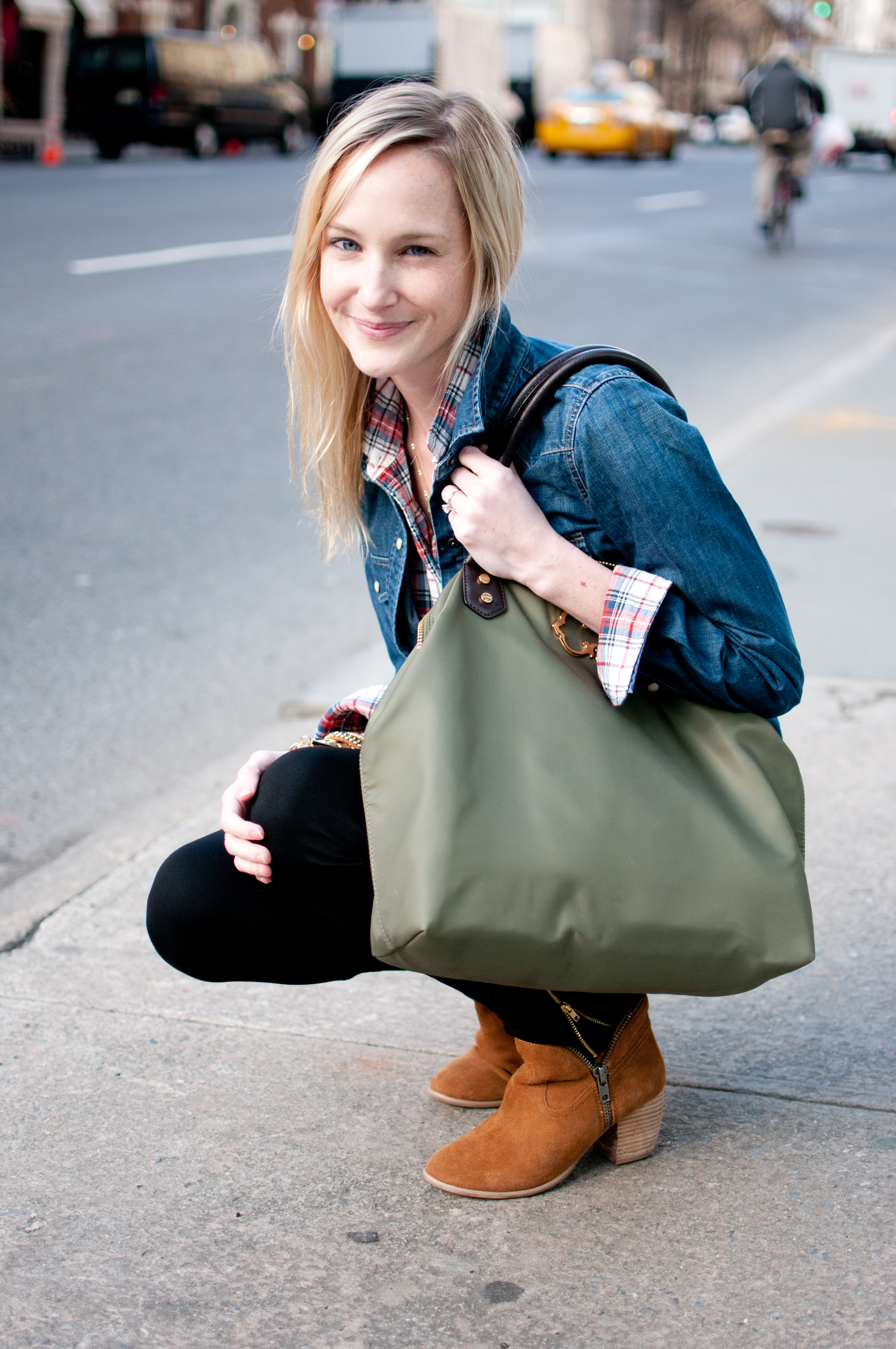 Denim Shirt: J.Crew Factory / Plaid Shirt: J.Crew similar here / Leggings: Zara / Boots: Chinese Laundry / Bag: C.Wonder / Necklace: Kate Spade not exactly similar but awesome here / Watch: MICHAEL Michael Kors / Scarf: J.Crew (old) / Bracelets: NYC street vendor similar here and C.Wonder
Thank goodness I doubled up on my warmest shirts today. It's March, people. Let's get the spring show on the road! Looks like I'll be bundled up for the rest of the week, too. But my hopes are up for Friday: the iPhone tells me that it'll be 50 degrees! (Not like the iPhone has ever lied to me. ;)) Here's hoping that in the next couple of weeks, we'll be able to ditch the heavy coats and boots for lighter wear!
Today, Mitch and I met Erica at Silver Star Restaurant on the Upper East Side for brunch a late lunch. ;) Silver Star is one of my favorite spots in New York because it was my go-to diner when I first moved to the neighborhood back in 2006. Being there–being in the East 60s, for that matter–reminds me of that crazy time in my life when everything was new, exciting, confusing and a little bit scary all at once. While I certainly wouldn't opt to go back to my early 20s at this point in life (loving my current lot ;)), it sure is fun to reminisce.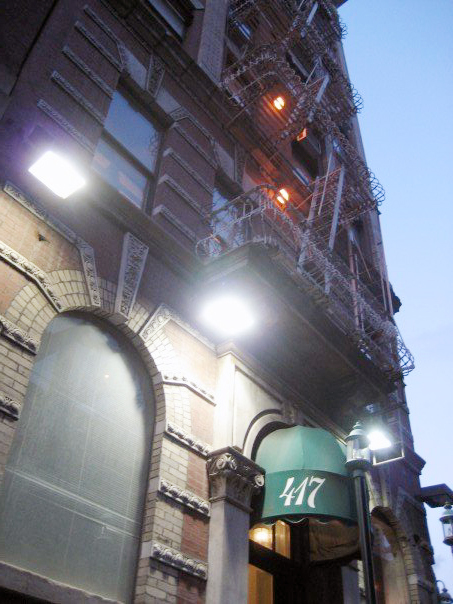 Then again, when I think back to my first apartment on the Upper East, I feel a bit sick to my stomach. It was technically in the Sutton Place zip code zone, but it was gross. The place was pretty much under the Queensboro Bridge, and it was right down the street from Scores, a "gentlemen's club." To boot, it was a studio converted into a one-bedroom. Horrific. I slept in a cubby. Yep. You read that correctly. My room was so small that if you stood in the middle of it, you could touch either side of the room at the same time. It was so small that I couldn't fit a twin-sized bed in it. No joke. I had to sleep on a futon mattress in a three-foot-high cement cubby above my room, too. I can't even tell you how many times I smashed my head in the morning when my alarm went off. Oh, and the kitchen was in the "hallway" to the bathroom. Disgusting. What a girl will do in order to live in Manhattan! So glad I now have a bed on the ground!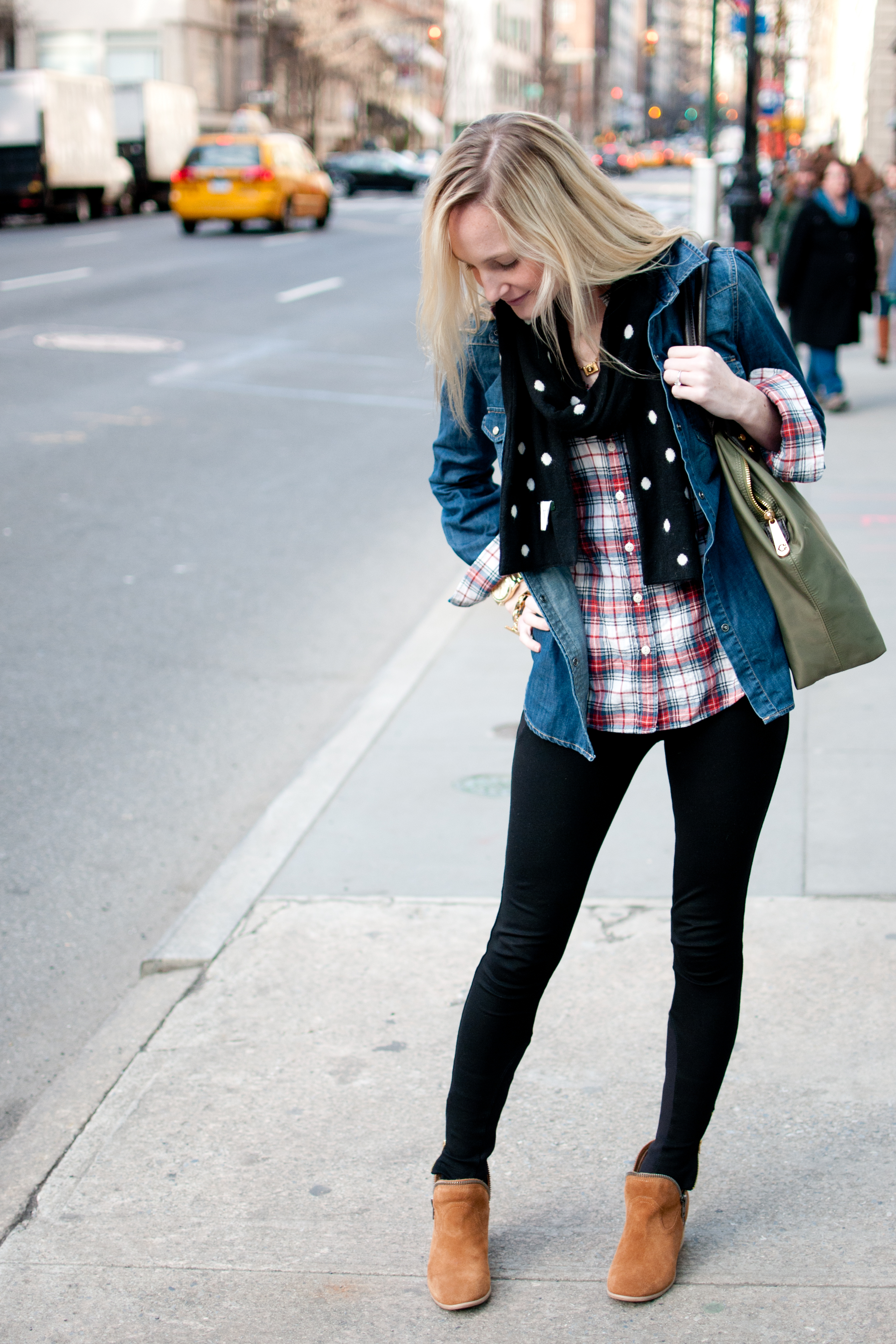 Okay. I'm making the Upper East Side sound horrible. It's actually gorgeous. I was just desperate–I'd already started my job and really needed a permanent residence–so I signed for a place that I shouldn't have. My second and third apartments on the Upper East Side were great. The second is my favorite apartment (besides our Hoboken home) that I've ever had! Think: exposed brick, right on First Avenue, across the street from a beautiful park, right around the corner from Hunter College and the 68th Street subway station. It was a dream, and a total find. The Upper East Side is also where Mitch and I fell in love, so I'm pretty partial to the area! My lovely Erica lives on the Upper East Side, too… so I'm lucky to find myself up there pretty frequently.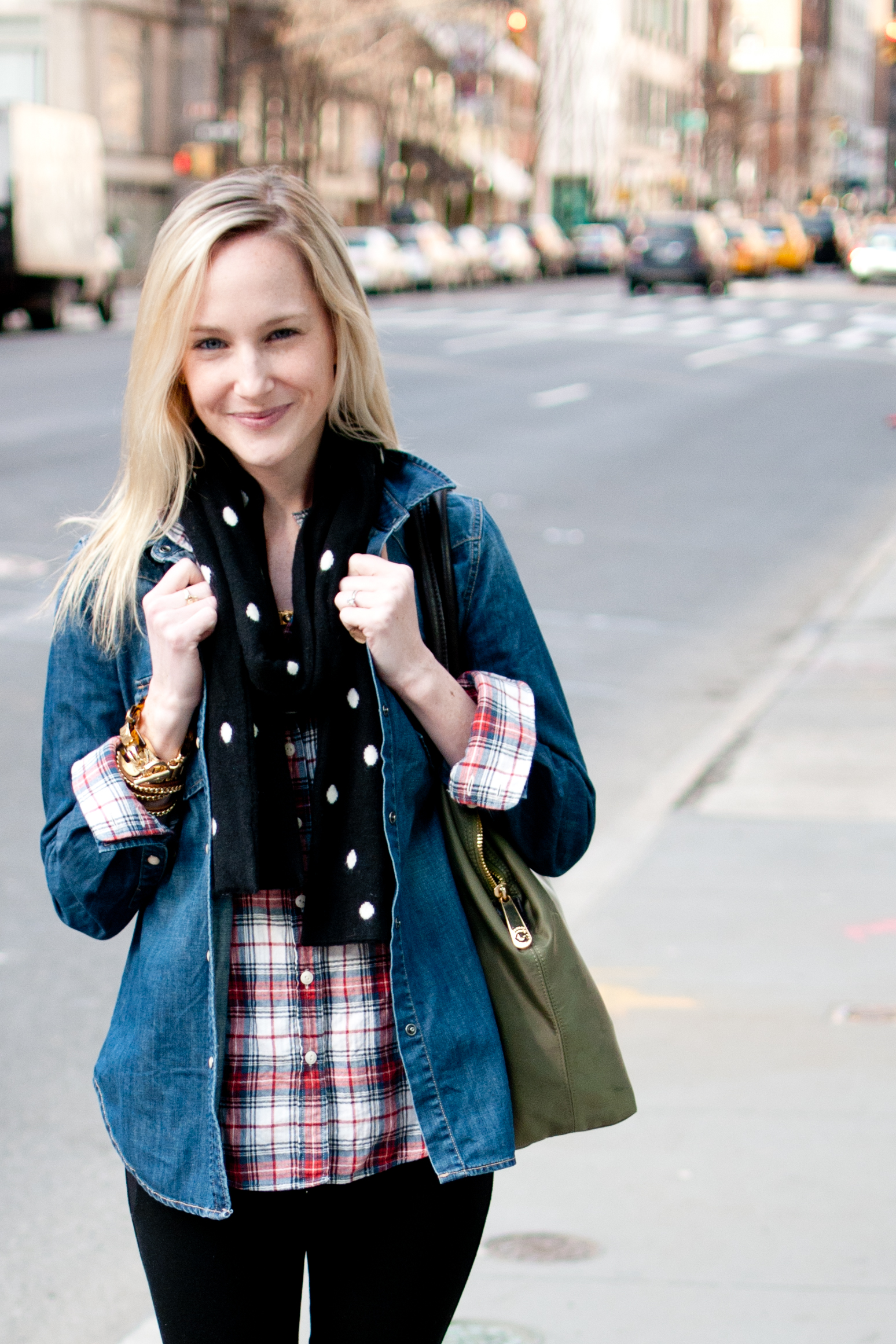 Anyway, back to today. Lunch with Erica was wonderful. We had so much to catch up on. Mitch and I seriously can't get through a week without seeing her. New York wouldn't be New York for us without that girl! Thanks for not making fun of me when I ordered entirely too much food today, Ricky. ;)
After Silver Star, Mitch and I walked east to Park Avenue and ran into a Parisian fashion blogger, Pauline from Pauline Fashion Blog, who'd just moved to New York City. It was so awesome to meet her, and her blog is nothing short of inspiring! We then walked down Madison Avenue for a while. I love Madison on the Upper East Side because it's so enjoyable to watch the older residents–specifically the ladies–who clearly have been living there forever. They wear big fur coats, carry shopping bags from expensive stores, and look like they have absolutely nowhere to go as they wander up and down the street. Remember that old lady from the Old Navy commercials? The one with the big black glasses and white-blond bob? It's like a zillion of her, all over the place. ;) When it started to get chilly, we walked down Fifth and then headed west to the bus terminal in Times Square and took a seven-minute ride back to Hoboken. We ended our day (and weekend, boo) with an episode of Girls (my guilty pleasure) and Mitch's famous cast-iron skillet steaks. Yum!