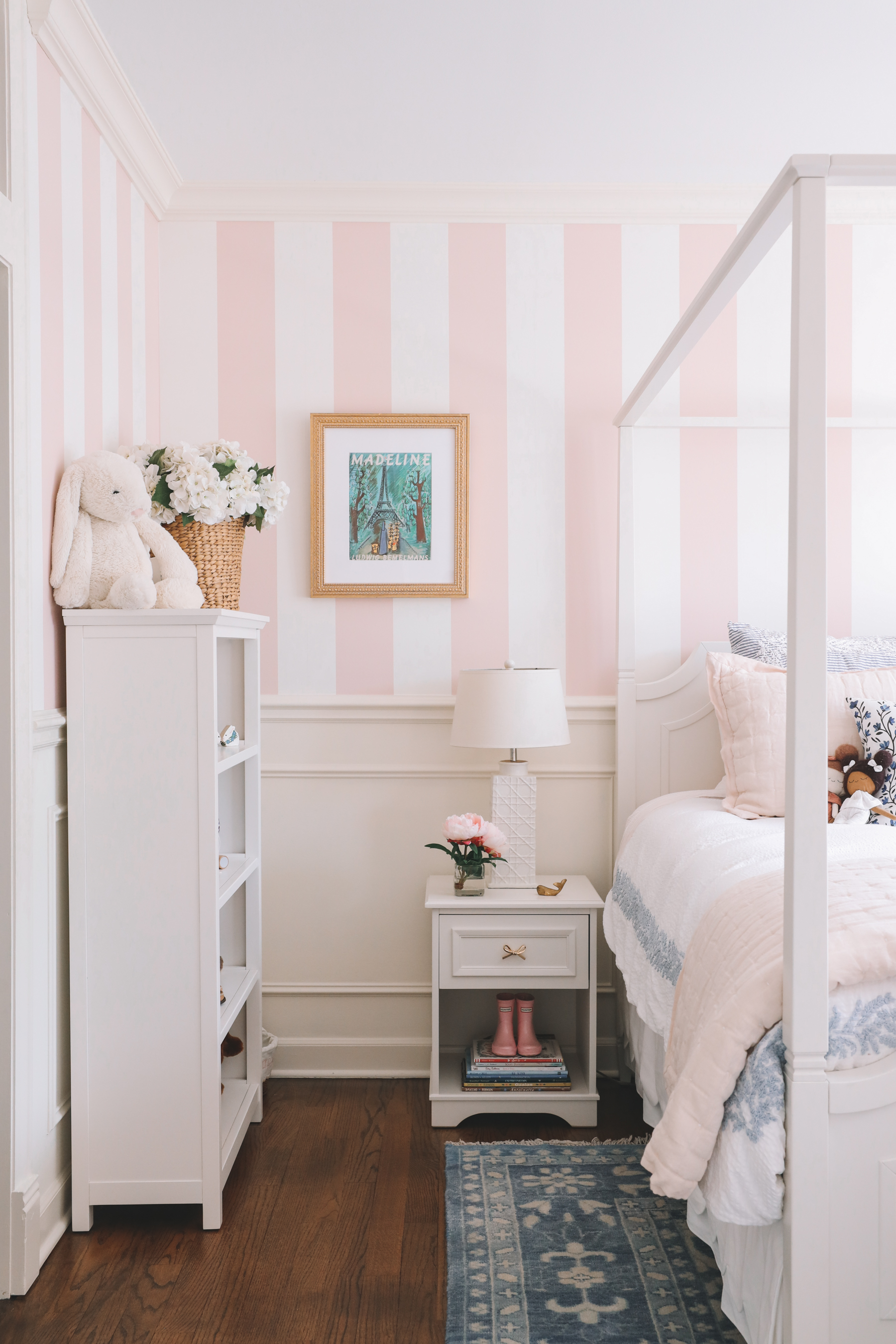 Boom. Only took me 2+ years to finish and photograph this project. Callin' it a win! 😉
In all seriousness, I'm so happy with it. 🥰 Here are the details:
Design goals
Create a room that would work for a baby but also grow with the baby. We literally moved into our home the day that Lucy was born. (Never a dull moment around here, haha!) We also found out that she was a girl that day… so I really couldn't plan much in terms of her bedroom in advance. I did know, however, that I wouldn't be going the traditional nursery route because that would entail redecorating after the baby years. (Precisely what happened with our first child! This was her tiny nursery, and you can find images of her transitional toddler decor here. Not a huge fan of the hot pink anymore. Funny how my style has changed so much over the years!) Anyway, designing a room for a kid—and then incorporating a few baby things—felt like the smarter decision this time around. With any hope, it gets us to middle or high school! ;)
Make the space multifunctional to accommodate family and friends. One of the reasons we originally loved our home so much was because of the girls' large bedrooms. (We're pretty sure the house was a two-bedroom home back in the 1800s when it was built; the current primary bedroom was presumably added on or bumped out after the fact, which is probably why Emma and Lucy's rooms are so spacious.) Their size meant that we could very comfortably host our parents—mine live on the East Coast and Mitch's live 2.5 hours downstate—when they stayed. We wanted them to want to visit! This is why you see a queen-sized bed in Lucy's room. (When family and friends come, the girls either have sleepovers in the playroom or in my office. It works great.) This is also why the focus of the room is not Lucy's crib, and why you don't see any art above it. Next year, when she transitions to her big girl bed, her dresser will move to where the crib is, and we'll hang a mirror above it. (The crib is going to our very good friends who are currently pregnant with their third. Congrats, guys!)
Before
I fell in love with Caitlin Wilson ages ago, and knew I would be incorporating some of her products in a kid's room whenever we found our "forever home." The search took a long time, but then the stars aligned and I suddenly found myself with a new baby, four blank walls, and endless possibilities. So on to caitlinwilson.com I logged!
Fast forward two years, and things were mostly done in Lucy's room. I'll admit, though, that the space had taken the back-burner because it was occupied by a certain someone very often, whether for naps or the night—which was/is when I get home projects done. But then Caitlin Wilson contacted us—dream come true!—about teaming up to finish the space together. Even better, the company had come out with a kids' line called Cait Kids. (!!!)
Cait Kids is a dream. Do yourself a favor and explore the site, because everything is timeless and adorable and will grow with kiddos. Thanks to the collection, Lucy's room now looks and feels finished… and I'm truly in love with the space. There's something so special about one's childhood bedroom, and I know that Lucy will have a lot of very happy years in hers. ♥️
Caitlin Wilson products I bought
Grande Stripe Wallpaper in Blush: I instantly fell in love with this. You can also find it in blue, which is gorgeous!
Bluebelle Fabric for Curtains and Pillow: Ditto. I adore this print—so much so that I had curtains made from the fabric. If you're interested in doing the same, look into the Drawn Company on Etsy. I simply shipped the Caitlin Wilson fabric to them, and they took it from there!
Bluebelle Bathroom Wallpaper: Lucy has a small bathroom in her bedroom, which is amazing for when our family visits. I knew I wanted the Bluebelle print to be carried throughout, so the wallpaper was a no-brainer. Love how it came out! (One commonly asked question is whether I'd recommend wallpaper in bathrooms. In a primary bathroom, I normally say no unless the ventilation is amazing. If the bathroom doesn't see a lot of steam—powder rooms or kids' bathrooms, for example—then it's usually fine!) Note: If you're in Chicago and looking for a great wallpaper guy, contact my friend Rich at Wallpaper Pros. He's amazing and so reasonably priced! (And definitely the reason that wallpaper doesn't scare me. 😉) E-mail him at wppi98@gmail.com.
Products Caitlin Wilson sent
Other room details
What's left
In the Larkin household, rooms are never really done. With two young children at home, we work on projects very slowly… whenever the rooms are free and whenever we have energy/feel inspired. 😆 Here's what I'd like to do in Lucy's room next:
"Train" the curtains: Apparently curtains can sometimes need to be trained. As you may be able to tell in the photos, ours are all over the place. I think they need to be steamed? Not sure. Or maybe I should have them made into pinch-pleat curtains so I don't have to train them?! Just need to do a little research. If you have any tips, though, please weigh in! Curtains are my nemesis.
Hang the actual art, which is en route: I ordered a few prints from my friend Riley Sheehey, and they're currently being framed with Framebridge. Those will go on either side of her bed!
In the next year, give crib to friend and move the dresser over: Definitely not rushing anything, haha. But it'll be nice to not have things looking so squishy on that side of the room! We'll hang a mirror above the dresser, too.
Tone down the bunnies. JK. I'm obsessed with bunnies. Hip hippy hop-hurray for bunnies.
Thanks for reading, Friends! Next up for room tours is the kitchen!