Have you shopped Amazon Essentials apparel yet? Amazon Essentials is one of Amazon's private label apparel brands, and they specialize in basics. The idea is that you can build a capsule wardrobe for any member of your family by spending around $15 to $40 per piece. (With a few products priced lower and a jacket or two priced a little higher.) It's pretty awesome if you're after a simpler life, which I know so many of us are—these days, especially.
I rounded up some of the best Amazon Essentials products for women as we begin the transition from summer to fall: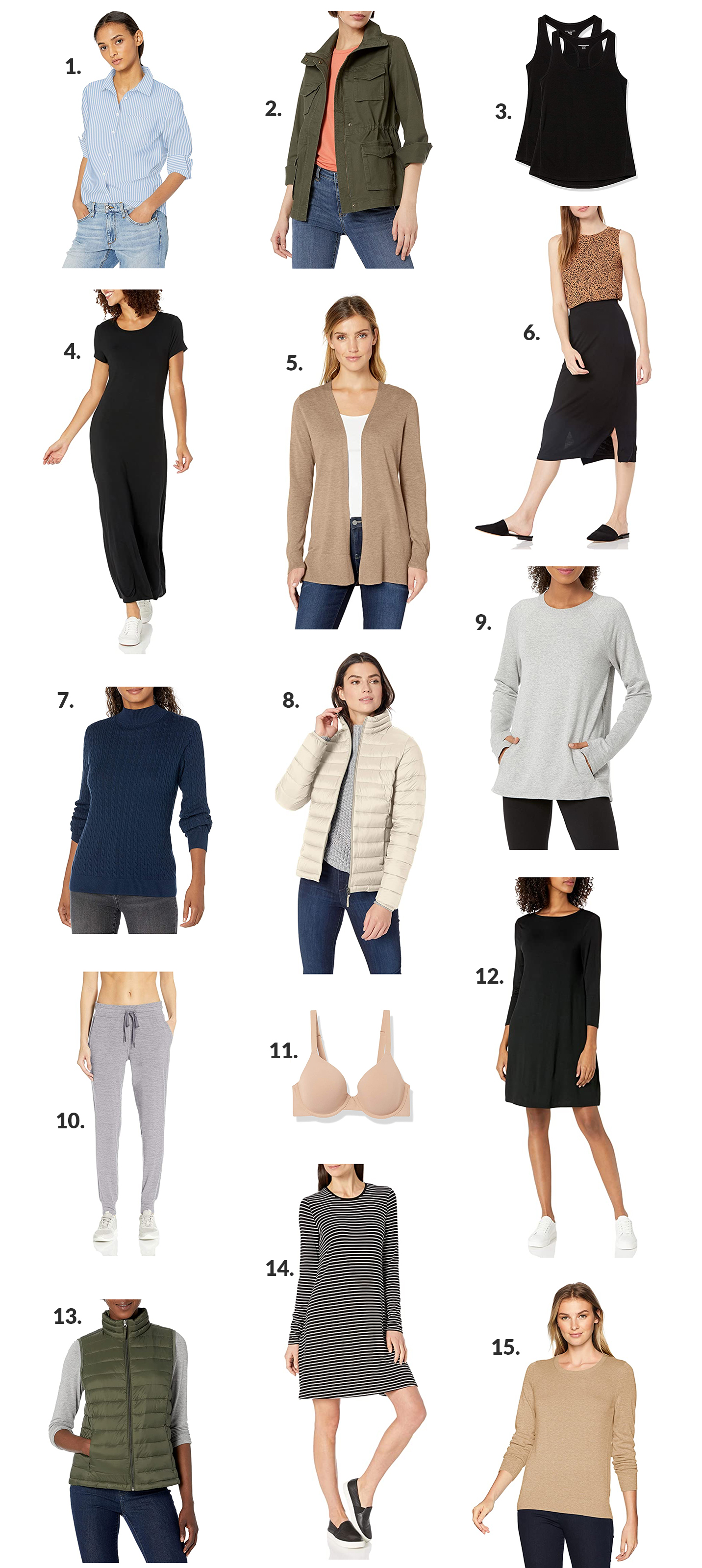 1. Long Sleeve Button-Down Striped Poplin Shirt: The button-down is timeless and versatile, as it can be paired with jeans, dress pants, leggings and skirts… and even over dresses. Love it in the stripes, solid white, and gingham.
2. Utility Jacket: A good utility jacket is hard to find, but this one is a classic! I really enjoy the cinching at the waist for a more feminine look.
3. Studio Racerback Tanks: I have three workout tanks and they're always in the wash. I should really give these a try!
4. Short-Sleeve Maxi Dress: I can't tell you how often I wear a similar black maxi dress. It's my go-to whenever I don't know what to wear, and it works so well for warm fall days, too.
5. Lightweight Open-Front Short Cardigan Sweater: [Enter some fitting Taylor Swift lyrics here. 😉]
6. Pull-On Knit Midi Skirt: This skirt comes in tons of colors and looks super comfy. As the model shows, it can easily be dressed up despite the fact that it's knit!
7. Lightweight Cable Long-Sleeve Mockneck Sweater: This cable-knit sweater also comes in lots of colors, and its cotton/modal/polyester blend means it'll fall perfectly.
8. Lightweight Long-Sleeve Full-Zip Water-Resistant Packable Puffer Jacket: Do we not adore the color of this one?!
9. Studio Terry Long-Sleeve Pullover with Pockets: This looks wonderfully cozy.
10. Brushed Tech Stretch Jogger Pant: Jogger pants look really cute with button-downs and chambray tops + white sneakers, and I really need to wear mine more often!
11. Classic T-Shirt Bra: This bra gets exceptionally good reviews from thousands of people, and it's under $16. MIND BLOWN.
12. 3/4 Sleeve Boatneck Swing Dress: Long-sleeve dresses are my jam for September. Pair 'em with white sneakers and you're good to go.
13. Lightweight Water-Resistant Packable Down Vest: This would look cute over the below striped dress!
14. Long-Sleeve Crewneck Striped Swing Dress: This one! You know what would also look good with it? That olive green utility jacket.
15. Lightweight Crewneck Sweater: Pick a color, any color. Because they're all there. For under $23!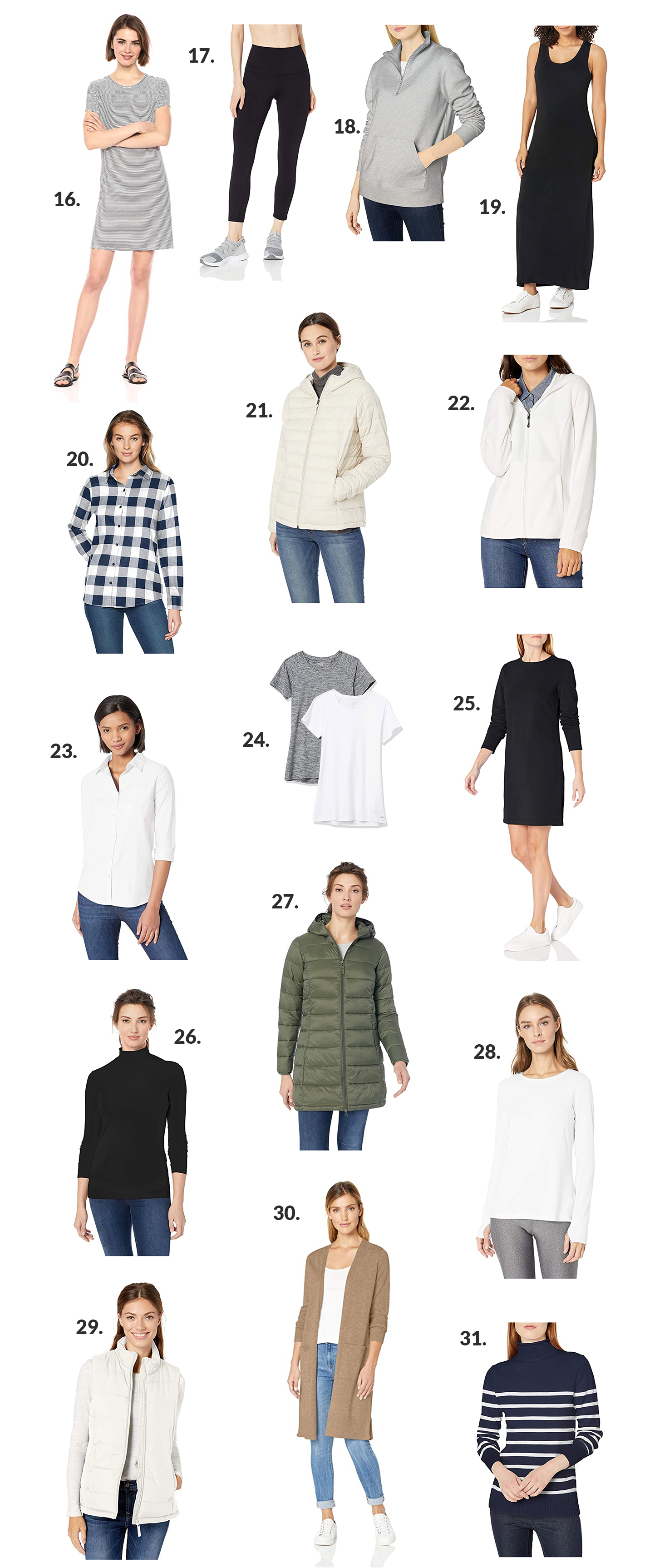 16. Short-Sleeve Scoopneck A-line Shirt Dress: This is such a good one. Comes out of the wash wrinkle-free, and falls very nicely. I can't believe the stripe is still in stock! A very easy throw-on-and-go number.
17. Studio High-Rise 7/8 Length Yoga Legging: Amazon Essentials yoga leggings get awesome reviews, and they're about a fifth of the price of the lululemon Align leggings. Worth a shot, for sure!
18. Lightweight French Terry Fleece Quarter-Zip Top: Say it with me: Cozy. Great for chilly morning walks!
19. Tank Maxi Dress: I LOVE these dresses. Okay, I'll say that the patterned ones are a miss for me. But the solids and stripes? Awesome. The black one can definitely be dressed up, too.
20. Long-Sleeve Lightweight Plaid Flannel Shirt: So cute, right?! Check out the buffalo plaid and the red/navy plaid as well. Solid finds.
21. Lightweight Long-Sleeve Full-Zip Water-Resistant Packable Short Hooded Puffer Jacket: A great alternative to the previously featured one if you prefer a hood.
22. Long-Sleeve Hooded Full-Zip Polar Fleece Jacket: This is the type of fleece you want hanging on the back of your office chair.
23. Long-Sleeve Button Down Solid Oxford Shirt: More oxfords.
24. Cap-Sleeve Tech Stretch 2-Pack T-Shirt: More fabulous workout top options!
25. Crewneck Long-Sleeve Fleece Above-the-Knee Dress: This is likely my #1 pick out of everything. I love a good sweatshirt dress, and the black looks really sharp paired with the white sneakers. Even cuter would be pairing it with a baseball cap, too!
26. Long-Sleeve Mockneck Top: Mockneck tops are usually what I pair with skirts and nicer pants in fall and winter. These look awesome.
27. Lightweight Water-Resistant Packable Long Puffer Coat: A winter essential! Can't beat the price, either.
28. Studio Long-Sleeve T-Shirt: Great for layering. Simply tie it around your waist if you get too hot while exercising!
29. Mid-Weight Puffer Vest: A vest with extra warmth. Love the ivory color… and (very predictably) the olive green as well.
30. Lightweight Long-Sleeve Longer Length Cardigan: If you don't already own one of these, it's time! They make simple t-shirts and tank tops look polished. My favorite combo is either a camel or black cardigan paired with a white, black or black-and-white striped tee/tank. The perfect travel outfit, too.
31. Long-Sleeve Cotton Roll-Neck Sweater: While I definitely lean into black, camel and olive green in the fall/winter, I'll always love a classic navy-and-white striped sweater!