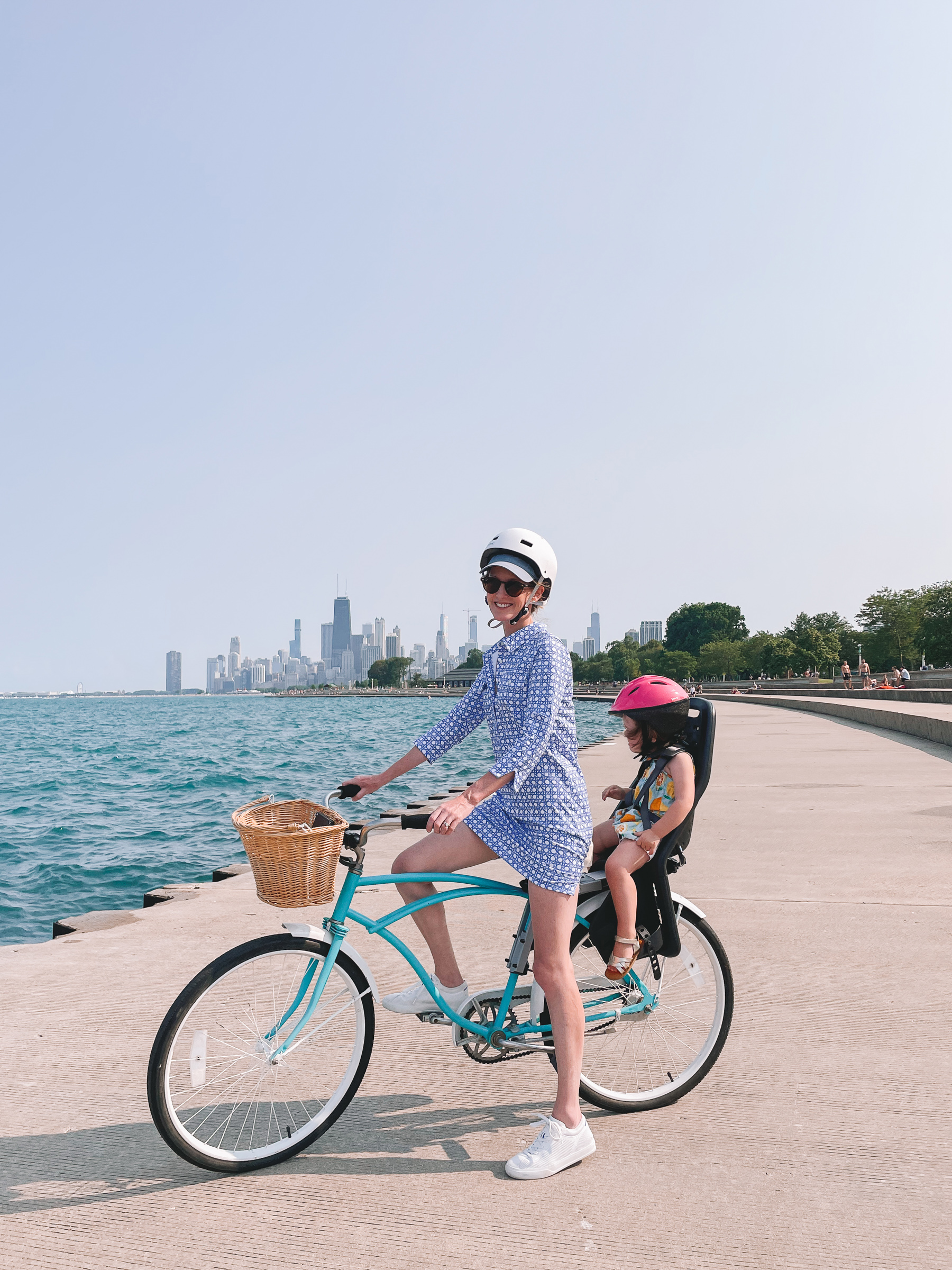 Similar Bike (Also check out Retrospec!) / Thule Yepp Maxi Child Bike Seat (Highest rated of the year! We have this one for Emma, who's almost five years old.) / Lucy's Helmet / Kelly's Helmet (I have this one as well.) / Vineyard Vines Dress / Washable Sneakers / Lucy's Lemon Dress (Similar) and Gold Sandals / Kelly's Sunglasses
Mitch here!
I have big big news. I found the solution to our never-ending kid drop-off/pickup commute routine drudgery. I'm talking about our new biking habit, which I'm loving every minute of.
We bought bike seats for the girls—the UrRider Child Bike Seat for Emma and the Thule Yepp Maxi Child Bike Seat for Lucy—and it's honestly the best thing we've purchased in a long time. We have no more frustrating getting-the-girls-in-the-car sagas. No more stroller-boredom breakdowns either. There are no more stressful daycare-parking-lot hustles, and no more sucking Cheerios out of car seats with dust busters.
Instead, we plop the girls on their bike seats and ride together through the neighborhood on quiet streets. We're outside in the fresh air and sunlight. We're right next to each other, talking and enjoying each other's company. We have the freedom to stop at playgrounds, parks and coffeeshops along the way. And we're getting easy exercise the whole time! Honestly, my only frustration is that we didn't do this earlier. Did I mention I'm loving these bike seats? Because I am.
This is the time of year when I start to feel the summer slipping away. I've seen a few leaves on the ground, and if I look closely at the calendar, I can see the fall creeping in. We wait all year for these summer months, and when they arrive, I feel like I'm too stuck in the routine to fully enjoy or take advantage of it. But building biking into the routine is forcing us to get outside and enjoy the weather all the time, and it's been SO MUCH FUN.
Even better, the bikes have opened up the city to us in ways I didn't really expect as a parent of young children. It turns out that biking downtown, to restaurants or to the beach is MUCH more convenient and accessible than driving. We no longer worry about traffic or parking, and most of the time we get distracted by whatever street fair or playground we see along the way and have unplanned adventures. We just sort of take off in a general direction and have a great time along the way.
Our gear
Our bikes are old. I bought mine on eBay eight years ago and Kelly's was an old garage sale find that my parents rehabbed and gave to her as a gift. They're fine bikes, but I'd be lying if I said we weren't interested in upgrading to something a little more efficient. Kelly is looking at these lightweight Retrospec bikes on Amazon because she has some gift cards to burn, while I'm going to wait until someone steals my bike before I start looking because my bike is very lightweight. (Just has some tire issues.)
Anyway, here are the details on the kids' bike seats:
Emma rides on this UrRider Child Bike Seat which is unique in that she sits between me and the handle bars. I love this arrangement as it gives her a full view of the surroundings and we can talk while we ride. She sits on a traditional bike seat and can even put her hands on the handle bars to get a sense of how the bike works and feels. I also love that I have her right in front of me! (Keep in mind that this is for older kids who know how to ride a bike on their own, as they are not strapped in.)
Lucy rides in the Thule Yepp Maxi Child Bike Seat, which is the best-reviewed bike seat on the planet. For good reason, too! This seat mounts behind Kelly's, and Lucy rides above the back wheel. Lucy loves riding the bikes and screams out "Yay! I'm excited for riding bikes!" as we put her in the seat.
All this is in comparison to our old bike trailer, which kept the girls in a confined plastic rolling tent. They liked it at first but ended up hating it. They fought, needed entertainment and were removed from the actual experience. It was also huge and hard to "park" in most places in the city. No good!
Going forward
I think it's important to develop a biking habit as a family. Emma's getting a new bike for her birthday—only $130!—and I'm going to get her off training wheels before the end of the summer. I can see future summer days of us riding around Chicago four Larkins deep. I can't wait!
Mitch. OUT!