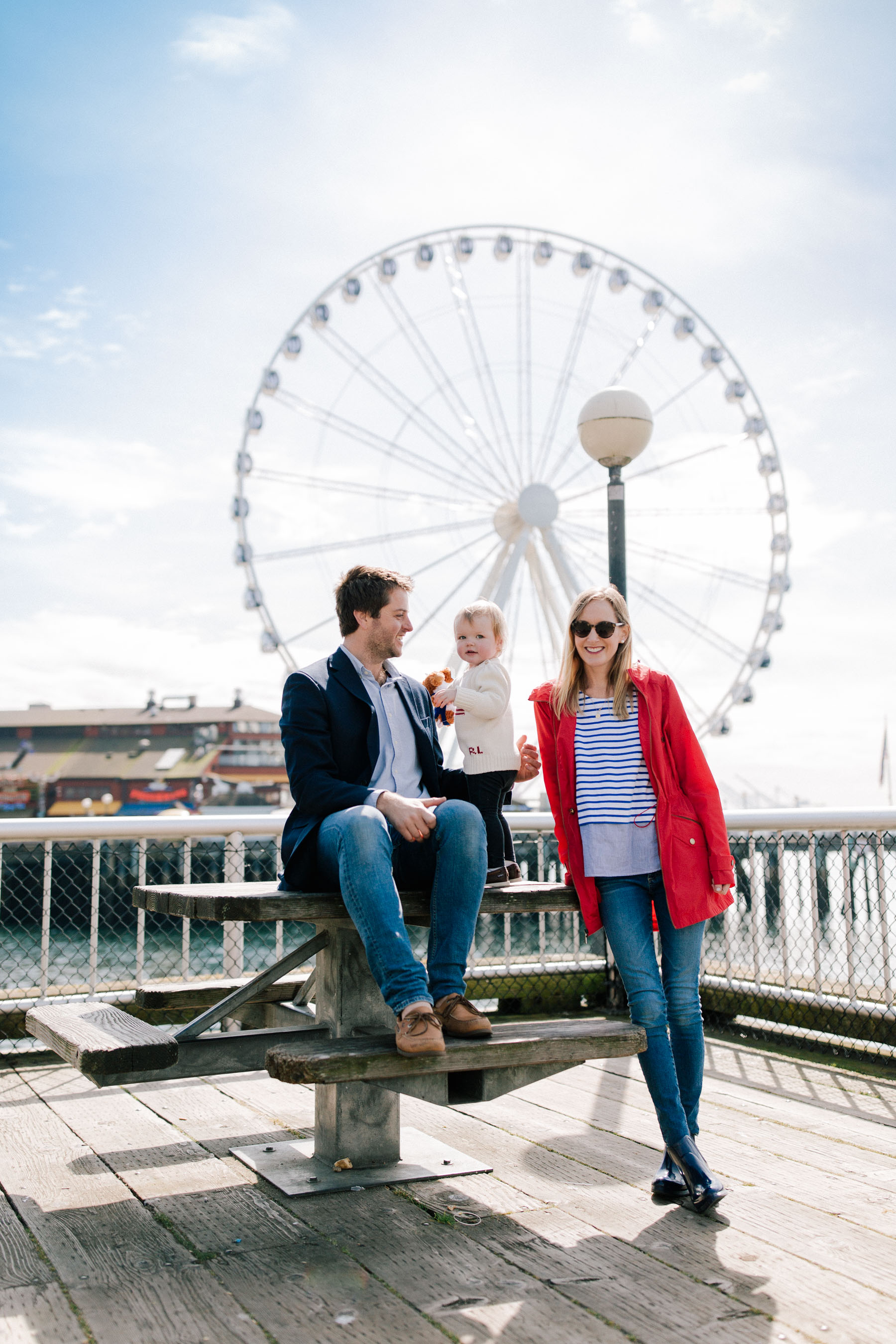 To be honest, we've been traveling so much lately that I don't even know what day it is or where I am right now. Am I on the East Coast? In the Midwest? On the West Coast? What month is it?! Someone get this girl in one time zone for more than a couple of days, haha!
We were actually supposed to fly to my parents' Shore house on Monday for a weeklong Easter visit. Unfortunately we sadly cancelled the flights because we were so behind with work. I guess several back-to-back trips will do that to you. 🙈 We're now driving to Jersey. (Pray for us.) While we're a bit bummed, we also want to do the right thing for our family, alleviate the stress we've been under for a while now, and prevent everyone from getting sick due to lack of sleep. A healthy family is a happy family!
Anyway, when Mitch and I found out we were headed to Seattle for a panel last week, we still had a lot of energy and were very excited about the adventure. I'd never been to Seattle before, and it had been a decade since Mitch had last been. So we marched the whole family over to Marshalls, which is right down the street from us, to stock up on essentials for the trip.
While I love rain boots that come up to the knee, I knew they wouldn't be ideal for touring a new city, and Emma didn't fit into her spring clothing from last year. (#toddlerprobs) Mitch, of course, had forgotten to do his laundry from the previous two trips… and he'd destroyed his very last pair of topsiders while running around in the mud with Noodle at the dog park. (We are the Larkins! We might not have it all together, but together, we have it all. 😂) Clearly, some shopping was in order.
While we were only going to be in Seattle for three days, we planned on reserving the last day of the trip for walking and exploring. Since the forecast called for rain (surprise, surprise) and because the city is nestled between Lake Washington and the Puget Sound, I knew I wanted all three of our "looks" to have a nautical vibe that incorporated some favorite trends of the season: bright pops of color (loving bold reds right now), blues, and obviously stripes. Marshalls had everything we needed for a spring wardrobe refresh… and more!
I think this is my favorite part about shopping at Marshalls. The inventory is constantly changing, and thousands of new and high-quality products arrive in stores weekly. I never know what I'm going to find, and I'm always amazed by the prices, which reflect 20 to 60 percent savings. Just take Emma's sweater. I paid $85 for it last year (yes, I'm crazy), and was totally heartbroken when she grew out of it in a few short months. Last week, though, I found the exact same brand name sweater at Marshalls for $24! Twenty-four dollars. (Mom Tip: I've since learned that to get more bang for my buck, simply size up and cuff the sleeves.)
Some other great Marshalls surprises we found included Mitch's shirt for $39.99; Mitch's designer blazer for $79.99; Emma's loafers for $16.99; designer water-resistant jacket for $59.99; my striped mixed-media top for $16.99; my navy rain booties for $36; and a pair of quality backup walking loafers for $44. I also picked up a new pair of lightweight pearl studs for $4.99, a navy gingham umbrella for $9.99, and some beauty supplies like a mini hairbrush and travel-sized shampoo and conditioner for under $5 each.
We also really lucked out with the weather. The rain held off until 5 p.m., and we were graced with sunshine and blue skies for most of the day! (So glad I didn't wear those knee-high rain boots. My booties were super comfy and just right for the day's activities.) These photos were taken down by the water, near Pike Place Market. It's certainly a touristy location, but it was my favorite part of Seattle. I loved roaming the walkways and alleys, shopping in the market, and cruising around the waterfront. Emma had the time of her life in the warmth, and actually squealed when we let her take off her jacket. Such cuteness!
Would love to hear about your finds from Marshalls! It seems like whenever the store comes up, people always have an amazing story to tell. :)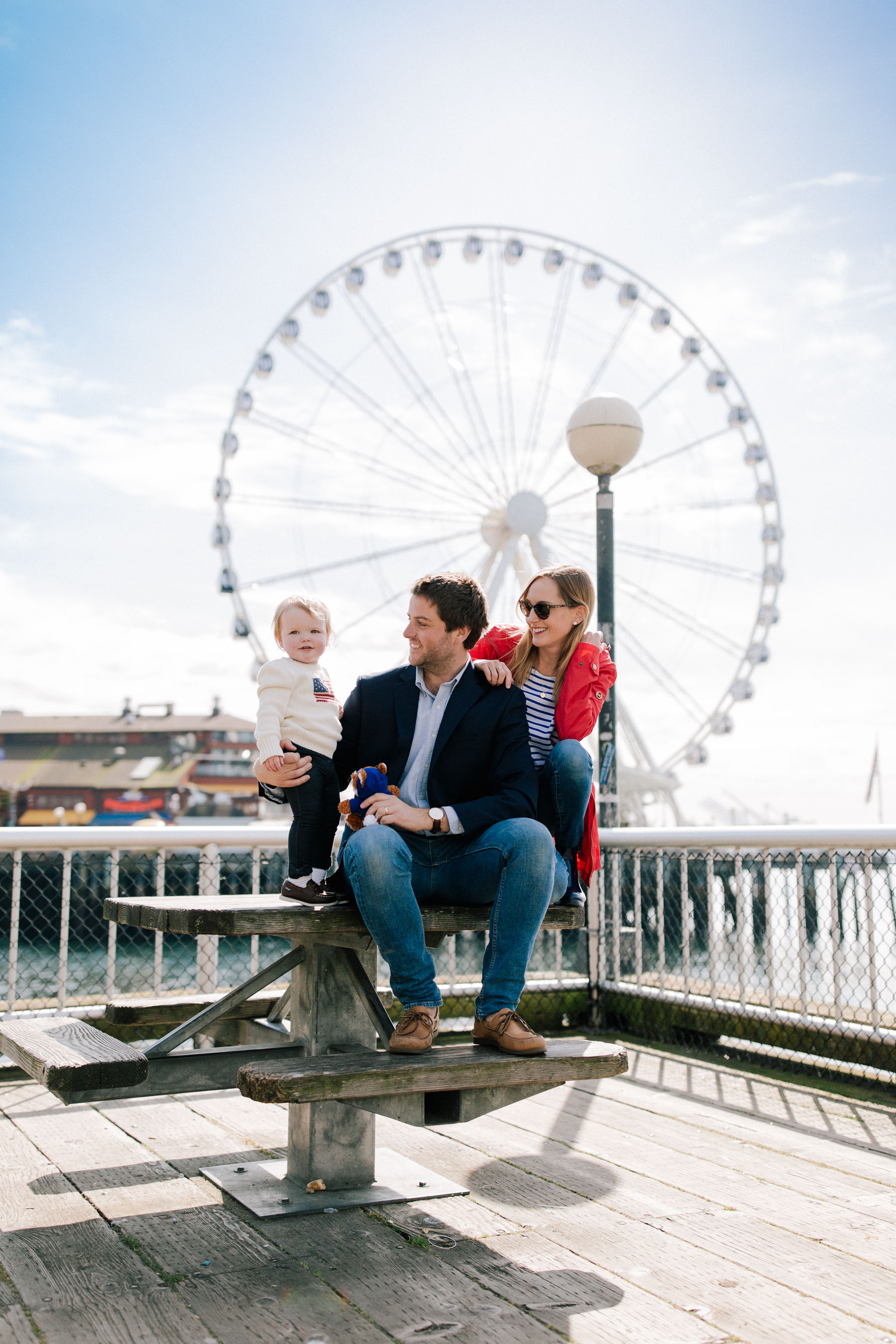 This post was sponsored by Marshalls, but all opinions are my own. As always, thank you so, so much for supporting the partnerships that keep Kelly in the City up and running!
SaveSave