In no particular order…
1. Being back in New York.
While I was only able to spend one day in New York during last week's trip, the day was absolutely fabulous. It's funny–part of me worried that the city wouldn't feel like home anymore after being away for so long. But the moment I stepped into Penn Station, my eyes brimmed with [happy] tears. (Which is saying a lot, considering how much I've always hated that place, haha. Gross.) Everything was the same: the subway stops, the streets, the dirtiness, the people, the hustle and bustle. So comforting. ;)
My day was hectic, but it was also just what I needed. From Penn, I took the subway to 14th Street and then walked to Bedford–one of my favorite streets in Manhattan. It's situated in the West Village (#cuteness) and is home to a ton of amazing restaurants! (The next time you're in New York, be sure to hit up one of the following: The Little Owl, Casa, Market Table, The Grey Dog, Blue Ribbon Bakery Kitchen, Ditch Plains, or Abbottega. They're all great; you can't go wrong.) I met my good friend Mandi at Market Table, and since it wasn't crowded, we stayed there for a long time and caught up. (So nice! Wuv you, Mandi.)
After that, I headed to the Apple Store in SoHo because I was on deadline for a project I was working on and needed computer/internet access. I know. So bad that I had to waste my precious time in NYC working, and that I parked myself at an Apple Store computer for over an hour, but such is life–and I really couldn't handle carrying around a laptop all day! (And don't worry. There were lots of other open computers!) Thaaaanks, Apple. You da best.
Once I was done, I walked around, took photos while brushing away tears (kidding–kind of), and met my dad and aunt–as well as Uncle Sully, a close family friend–at Del Posto in the Meatpacking District for dinner. It was wonderful. Father/Daughter Dinner Nights in New York were a tradition for years, and I'd missed them so much. And before I left for Chicago, Auntie-M and I got together on a regular basis for girls' nights–something I always looked forward to. So as you can imagine, I was on cloud nine! After dinner, my aunt and I headed to the Seriously Distracted launch party at 1 Oak (more on that later!) and then went back to Del Posto for dessert and drinks with Dad and Sully. :)
Being in New York certainly helped to alleviate some of the homesickness I've been feeling. Still, I wish Mitch had been there, and I wish I could have seen more, done more, and spent time with more people (especially my friend Tara–whimper!). It's hard to squeeze it all in! But I've come up with a plan: I'm going back to the Big Apple at least once every month this year. I know. It sounds crazy. Chicago is 800 miles from New York, after all. But we have a Prius (nicknamed "Miles," of course)–and he got me door-to-door in 12 hours and on $45 worth of gas! Pretty good, right? I already have three additional trips lined up, haha.
What I wore:
Sail to Sable Coat (c/o — Take 15 percent off with code "FALL." Sizing advice: size down) / Sole Society Pumps (c/o) / Kate Spade Bag (Old; borrowed from Mom. Similar here and here!) / Darling Embellished Pearl Dress (c/o LuLu's) / Kate Spade Watch / J.Crew Earrings and Bracelet / Kate Spade Sunnies / Clinique Lipstick ("Pudgy Peony")
By the way: have you guys seen BooHoo.com's CityGuide yet? Such a cool concept. It's a "mapping" app that helps people discover ideas for what to wear, eat and do in the Big Apple. It's really easy and fun. The general idea is that you select five points of interest–shopping, culture, eating, drinking and outdoor–and the guide gives you suggestions for a fashionable outfit that you can easily transition from day to night! (And if you haven't heard of boohoo.com, it's a large online retailer based in the UK that ships to the U.S. I love this white collarless coat. #typical) If you're planning a trip to NYC, or are just looking for some new spots to check out, I highly suggest trying out the app!
2. Spending time with the parents.
(I know. I just saw them. But I'll always be excited to see and spend time with Mom and Dad. There's nothing like it.)
I weirdly didn't take a photo of my parents together, so I'll just use some photos of Noodle running around as well as their newly (and beautifully!) remodeled kitchen. ;) It was definitely weird walking into the house and not recognizing its bottom floor… but it's gorgeous, don't you think?! It took so much time and work–and they were without a functioning kitchen for roughly a month–so I'm really happy for them. Understandably, we spent a lot of time hanging out there during my visit! I also forgot to take a photo of the attached sitting room, but it's stunning. They painted it navy blue!
One of the best parts about this year is that the work I'm doing can be done wherever and whenever I want, as long as it gets done. While at my parents, I mostly worked late nights and early mornings so I could spend as much quality time with them as possible. It was awesome. (Save for the one all-nighter I pulled in order to get it all done, haha.) Mom and I spent an afternoon in Princeton, ran errands, played with Noodle, did some early Christmas shopping, and went out to lunch. At night, we had family dinners with Dad. Love those. So much laughing. And wine. I love wine. ;)
3. Dinner with Mary and Rebecca.
On Wednesday, I went out to dinner at The Vault–a small brewing company in Bucks County, Pennsylvania–with Mary and Rebecca, two of my very best girlfriends from high school. (We missed you, Nora!) I had the best time. How long do we think we stayed there, ladies? Three hours? Four? Goodness… it was wonderful chatting, laughing, reminiscing, and hearing about what's going on with my girlfriends' jobs and personal lives!
The best part about my high school friends is that no matter how long we go without seeing each other, we're always able to pick up right where we last left off. I'm seriously counting down the days until Thanksgiving, when most of the crew will be together again. I'm so lucky to have such amazing friends. Love you guys.
What I wore:
Old Navy Sweater (c/o) / Anthropologie Fleece-Lined Leggings (Which perhaps shouldn't be worn as pants, but they're SO WARM. Same here in cable-knit.) / Barrington Gifts Tote (c/o) / J.Crew Bracelet
4. Seeing my grandmothers.
My grandmothers have better social lives than Mitch and I have. No, really. They're so busy, and they're always doing the most interesting things! Which is part of the reason it was such a nice surprise that I was able to see both of them during my visit home. They were both busy, of course–Grammie only had about two hours between club meetings and parties, and Grandma was in the middle of a cross-country drive–but both made time for me, hehe. Mom and I had tea at Gram's (how cute is her sitting room?!) and Grandma and her husband spent the night at my parents' before taking on the last leg of their journey. The only thing I can say is that I hope I'm half as cool as my grandmothers when I get to be their age! You two are fab. (xoxo)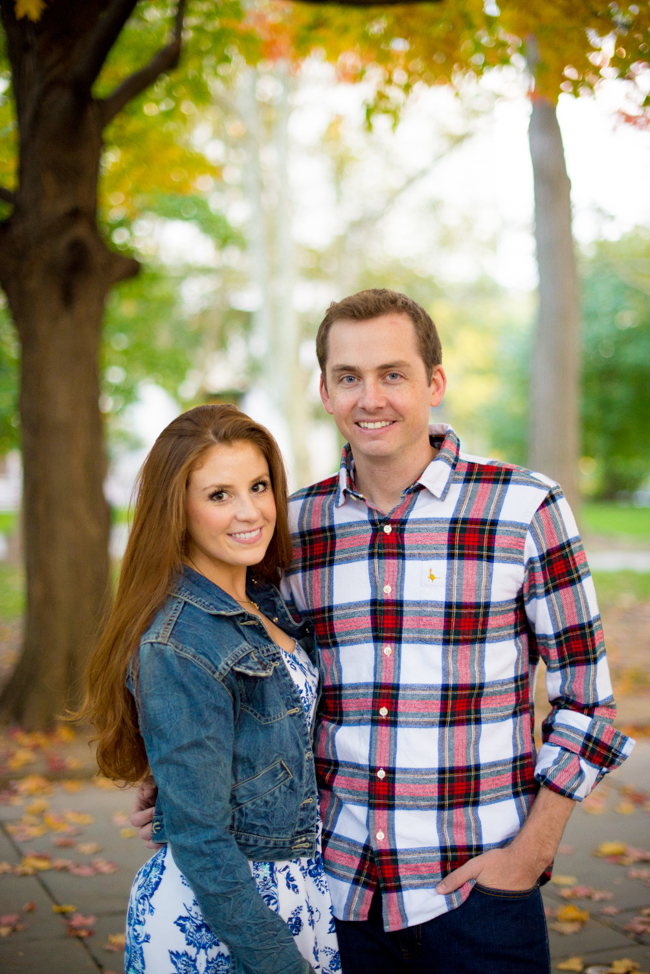 5. Taking my brother's engagement photos in Philadelphia.
On Tuesday, I drove into Philly, where Patrick and Kim live, to take their engagement photos. Patrick is currently in his first year of residency, and I now live in Chicago, so we couldn't believe that we were able to find a time to actually take them. Woo! It was great getting to spend some quality time with the world's busiest (and cutest) couple, too. :)
I hadn't shot in a "professional" manner in over a year, so I was a little rusty with the photography. But Patrick and Kim were incredibly supportive and understanding, and completely trusted me. I'm so happy with how the pics turned out! I'll be sharing more photos this weekend, but above is a teaser.
Barrington Gifts Tote (c/o) / CB Station Duffle (c/o Pink Giraffe)
Leaving is always hard, but Mitch, Noodle and I are headed back for Thanksgiving. Let the countdown begin! ;)