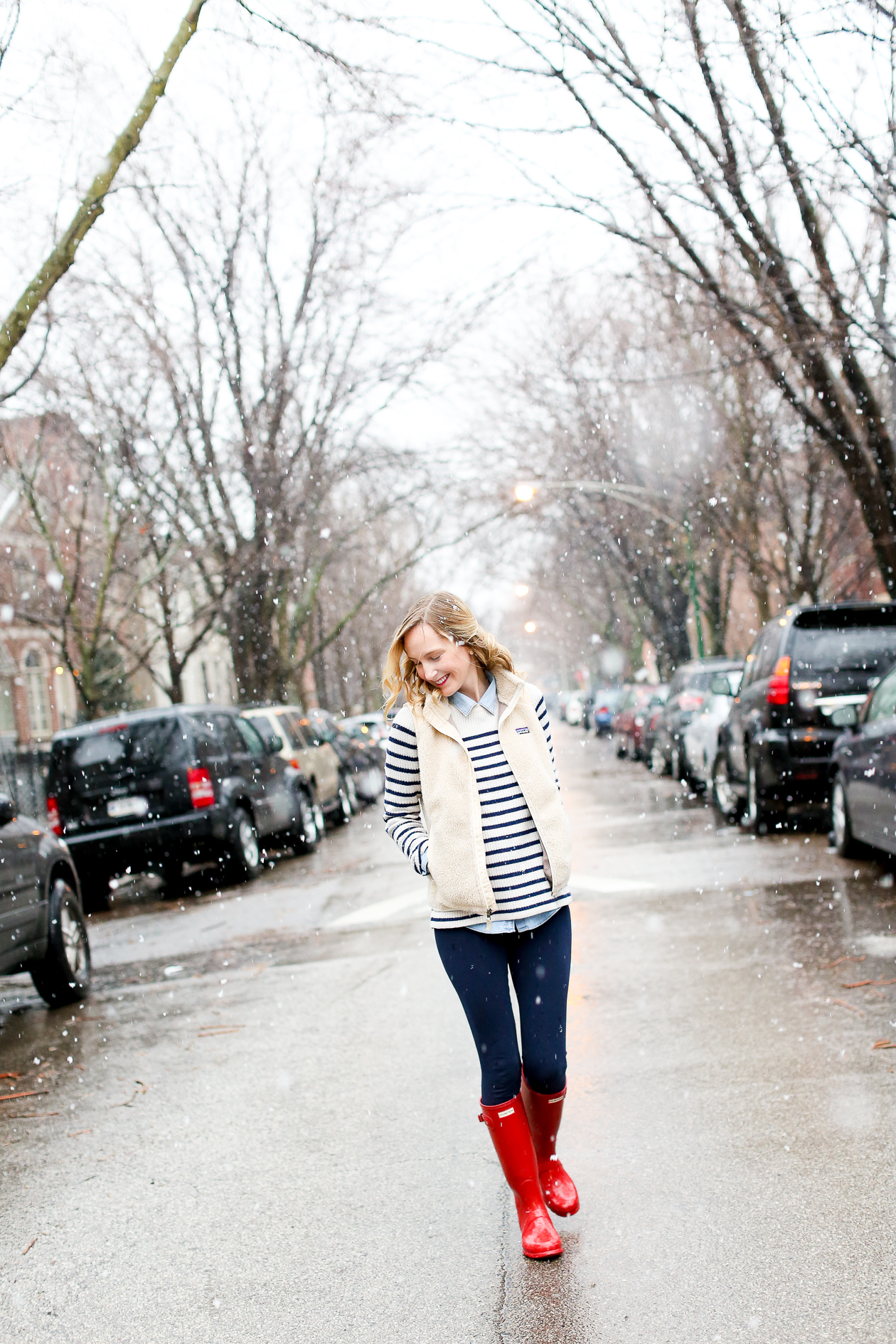 Hunter Boots c/o (Read my Guide to Buying Hunter Boots!) / Patagonia Vest (New style ON SALE here and here, and jacket version here) / Madewell Stripe Sweater (Old, but I love this one, this one and this one — See more options below!) / J.Crew Chambray Shirt and Leggings
[dropcap]F[/dropcap]riend! How was your weekend? Mine was absolutely frigid yet absolutely wonderful, too.
While Chicago winters can really wear me after a while, I love how the city comes together to get through the rough times. Residents hurry down the street but make sure share a smile, laugh or understanding shake of the head with those they pass; an unspoken camaraderie of sorts. Hotel lobbies don't mind if passersby stop in to warm up for a couple of minutes, restaurants are completely understanding of just how many layers their patrons need to drape over the backs of their chairs, and friends offer to host dinner parties and get-togethers on Friday and Saturday nights so everyone can avoid the elements they'd normally be exposed to while bar-hopping. Chicago's in it together.
This past weekend was our first oh-my-god-how-is-this-real-life weekend of the season. And I have to say: It was fun! It goes without saying that I'll be singing a very different tune in a few weeks, but I kind of missed the sense of togetherness that below-10-degree days, snowstorms and ice brings to Chicago. Who cares if we're confined to staying indoors? We're indoors together. ;)
Changing gears slightly, here's what I've been up to–indoors, of course–lately:
On Thursday, my friends Emily, Lauren and Arin discovered that we all had cabin fever and needed to get out of our apartments, so we had a really nice work session/girls' day at Em's cozy home… and I left finally feeling inspired and motivated. Later that night, Mitch and I grabbed dinner at State and caught up with Maya and Jimmy. (So great! It had been too long.) On Friday, our neighbors Jeff and Kacie had us over their place for an amazing home-cooked meal, and we had the best time celebrating their recent engagement. And on Saturday, Mitch and I schlepped ourselves to Strings, a local ramen place, and then had an impromptu game night with Emily, Doug, Jess and Neal. What a blast. Yesterday, Mitch and I ran errands and went out to eat at Honey Butter Fried Chicken. (We clearly need to scale back on our restaurant bills, but hey: desperate times call for desperate measures!)
Follow me on Snapchat (@kellyinthecity), which I JUST started, to see some of the fun! Just remember that I'm a beginner and don't really understand how to use Snapchat yet. ;)
And here's what I've been wearing: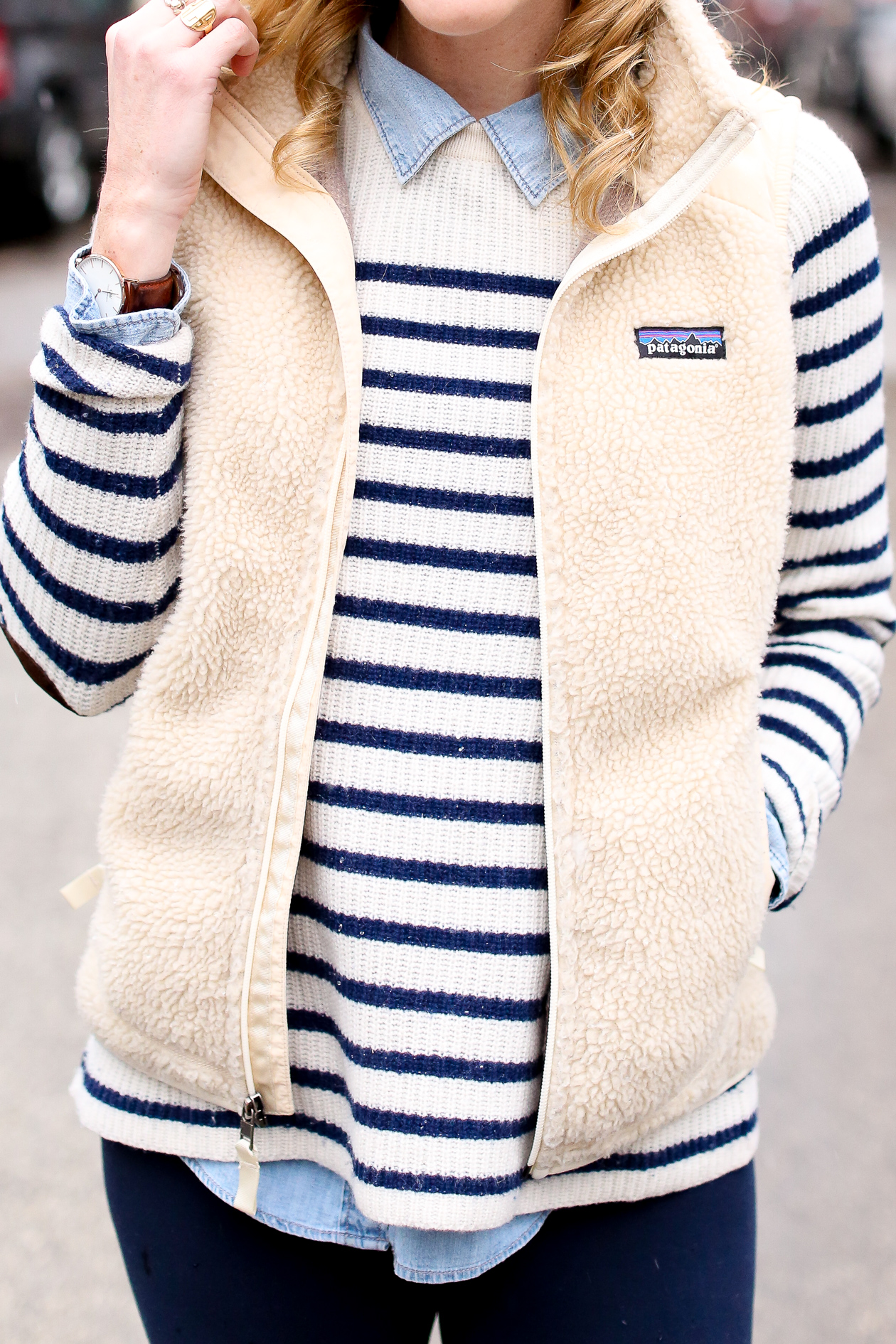 My favorite Patagonia Vest, which is always a go-to during the winter because it's super warm and goes with nearly everything. Buy the new version of the my vest ON SALE here or here, or the jacket version here! Other great options below.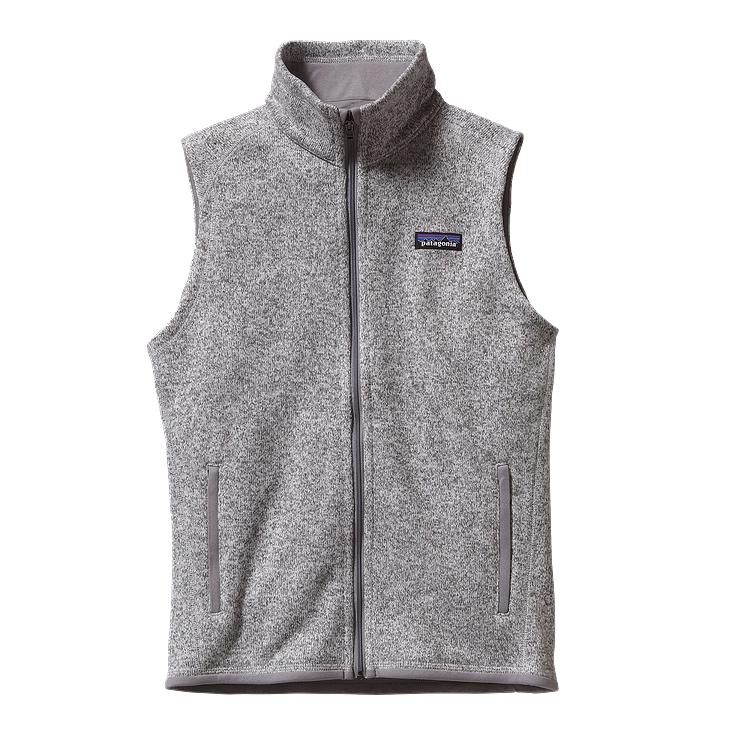 Patagonia Better Sweater Vest: Buy at Saint Bernard, Moosejaw, Backcountry, Nordstrom or Patagonia.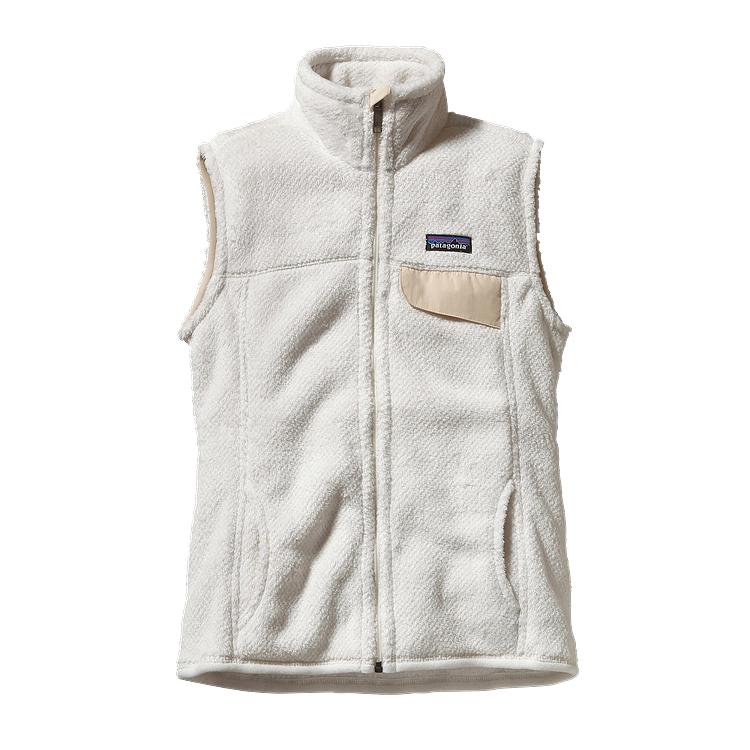 Patagonia Re-Tool Vest: Buy at Saint Bernard, Moosejaw, Backcountry or Patagonia.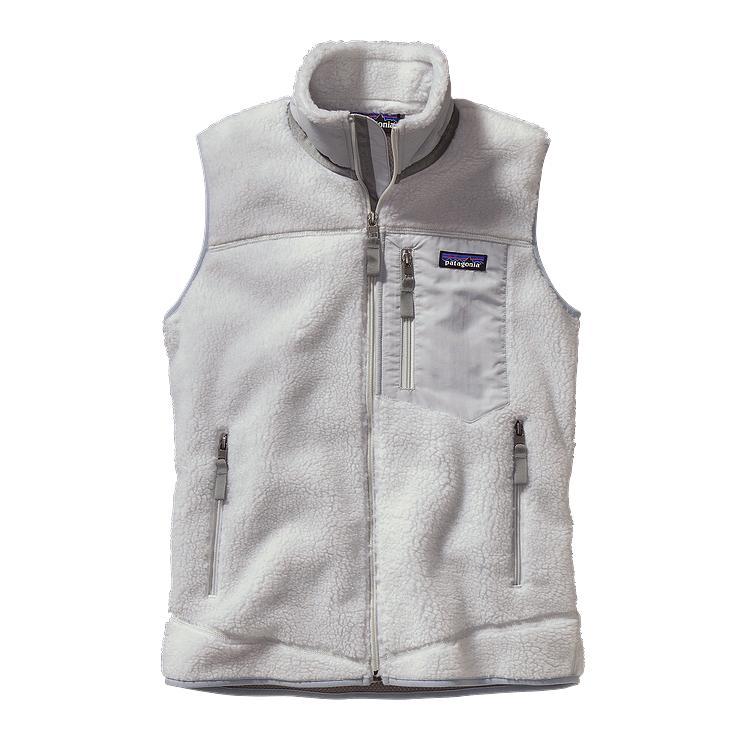 Patagonia Retro-X Vest: Buy at Saint Bernard, Moosejaw, Backcountry or Patagonia.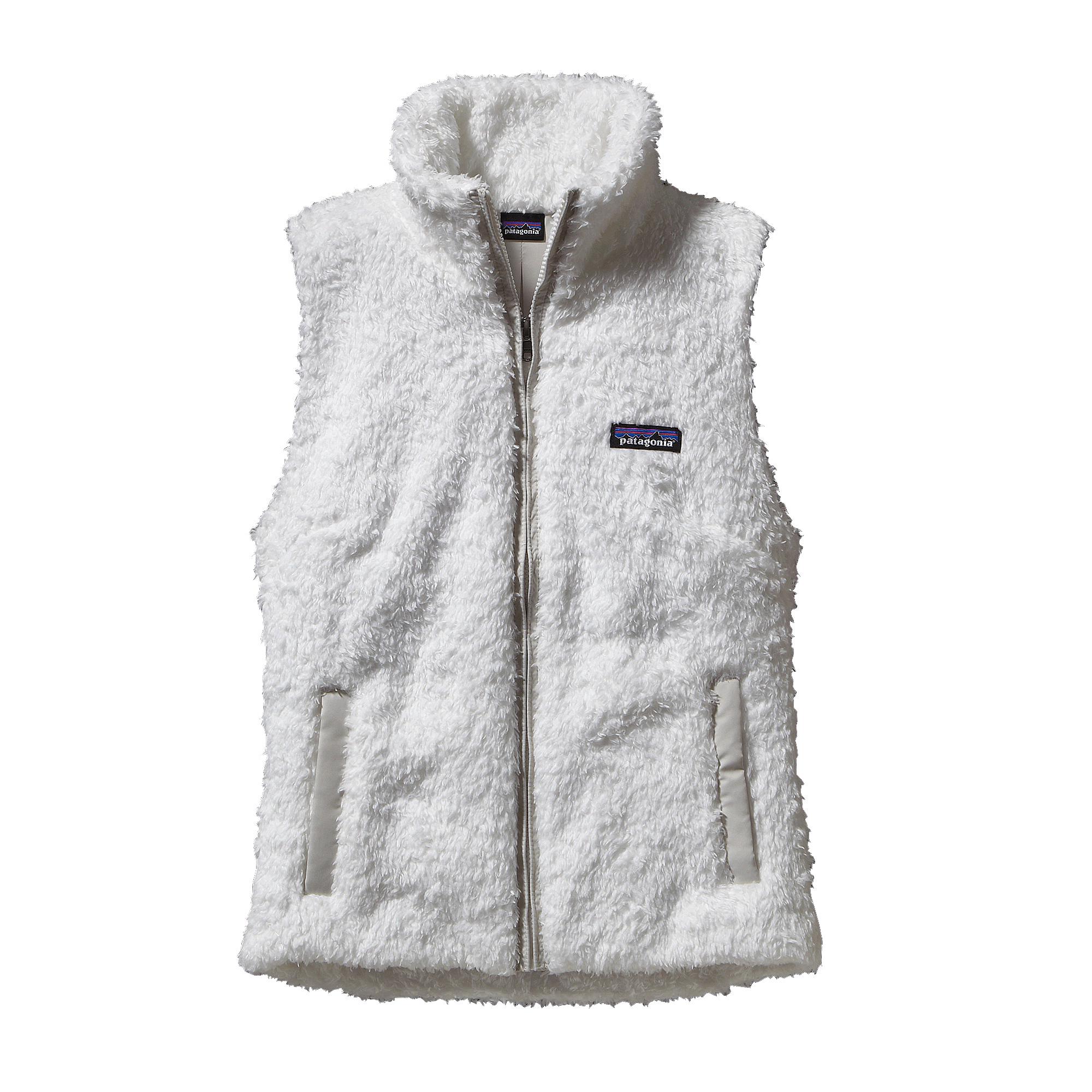 Patagonia Los Gatos Vest: Buy at Saint Bernard, Moosejaw, Nordstrom or Patagonia.
Sizing advice: Go one full size up in all Patagonia vests. Buy the new version of the my vest ON SALE here or here, or the jacket version here!

Striped sweaters. Because they remind me of summer. ;) Above are some of my favorites that are out right now!
Hunter Boots. While I don't recommend them for extended wear in low temperatures, I keep them by my door throughout the winter. They're easier to slip on for quick walks with Noodle, they're cuter than my clunky winter boots, and they're totally adequate if my destination is only a few blocks away. Have you read my "Guide to Buying Winter Boots" yet? I hope it's helpful if you're considering purchasing a pair! :)
On Tap for Today:
Final visit from the construction crew. (With any hope!) Crossing my fingers that we can have the installation of the drain completed this week. I can't wait to pick out flooring, re-install our closet shelving, pick out bedroom furniture, and design the master bathroom! And, obviously, move back in. ;)
Setting up/shopping for a Vera Bradley party I'm hosting for my girlfriends this week. I'm so excited! More details–and blog coverage–to come!
Contracts and invoices. The WORST. But they have to get done.
Site improvements. I have a slew of problems going on with Kellyinthecity.com right now, and I'm working hard to fix them. Really wish I'd majored in computer science. ;)
Freelance projects. I have a few that still need to be wrapped up, so I'm finishing them TODAY. Did you hear that, Self? TODAY.
Cleaning. Once again, the house is a mess. My goal for today is to organize the guest room, which is where nearly all of our belongings are right now. Things are toppling onto us while we sleep, haha, so that kind of needs to be remedied!
Waiting for UPS. I ordered a new lens last week for a collaboration I'm working on, and it arrives today. I haven't been this excited to receive something in the mail since the time my mom agreed to let me subscribe to Seventeen. SO MUCH EXCITEMENT!
Hope everyone has a productive Monday!