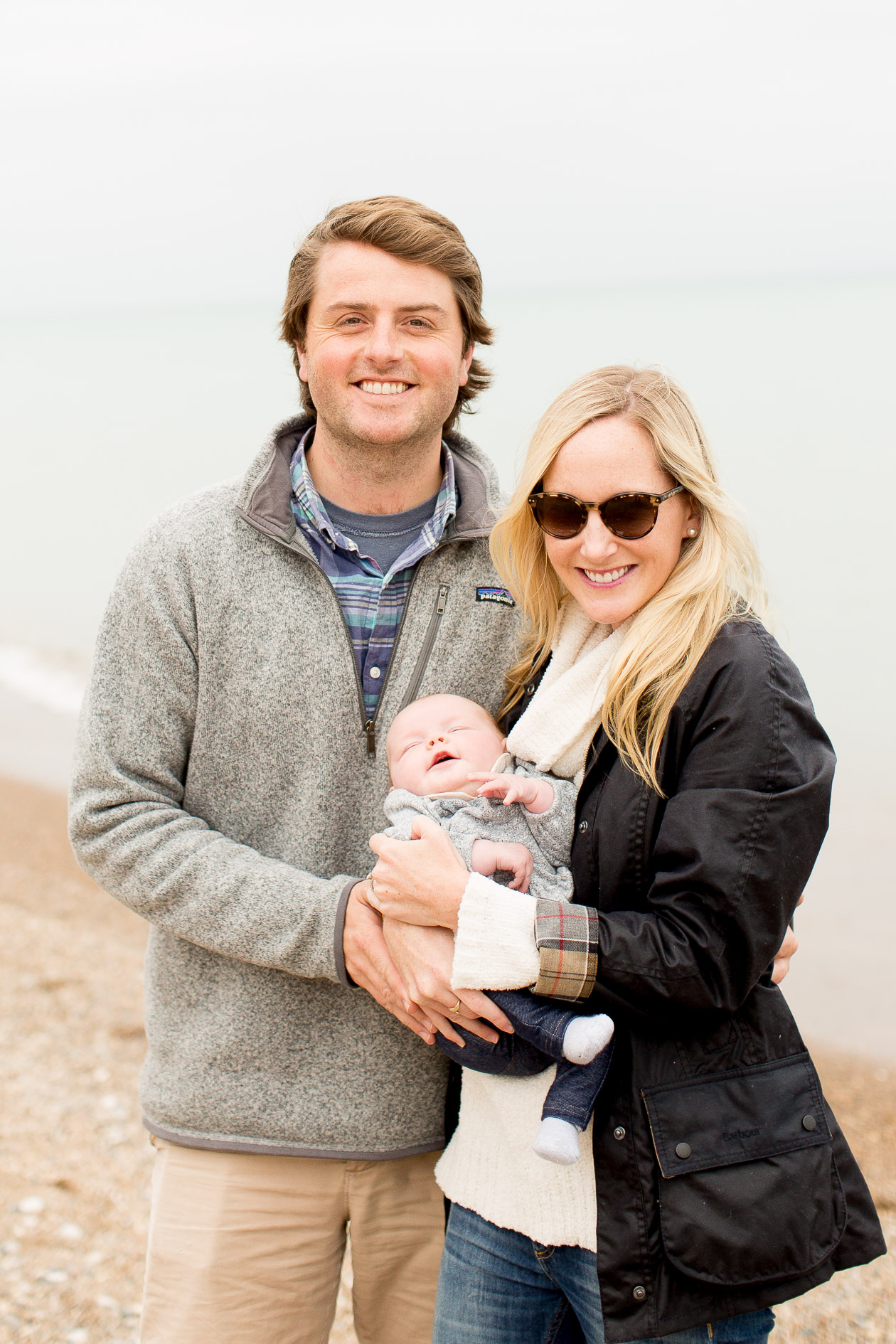 Barbour Jacket c/o (Also available in the quilted–warmer and more affordable–version. Tuckernuck carries the waxed and quilted versions, too.) / Rag & Bone Jeans (I love the black pair as well.) / BB Dakota Sweater (Also love this one and this one!) / Sam Edelman Booties c/o (On sale! In suede here.) / Softest Bootie Socks / Mitch's Patagonia (Women's version here.) / Emma's Top / Daniel Wellington Watch c/o
I'll admit it: I'm not the best patient. When I was 13, I was in so much pain from a sunburn that I begged my parents to take me to the hospital. (Eye roll.) And when I was 21, I landed myself a thousand-dollar emergency room bill that took me a solid year to pay off because I marched myself over to New York Presbyterian thinking I had Swine Flu. (Diagnosis? A bad sinus infection.) And we all know how terrified of childbirth I was. (Turns out, not as bad as I'd imagined.)
I've been battling a couple of nasty bugs for the last two weeks, and it hasn't been fun. No hospital visits this time, though! Just a pesky case of Laryngitis and a bad cold. Still, life is challenging when I'm sick, especially now that I have an infant. I want to be the best mom I can be, and there are so many activities this time of year that I don't want to miss out on just because I'm feeling under the weather.
Enter DayQuil. As I've worked with the brand for a few years now, I've really come to know and love the product. It's the non-drowsy, coughing, aching, fever, soar throat, stuffy head and "no sick days" medicine, and it gets me through my toughest symptoms and doesn't taste horrible. ;) It's also affordable and found at my local pharmacy, which is really nice, as I usually don't want to go too far when I'm sick. Finally, it allows me to participate in those unmissable family activities!
This might not be the most holiday-ish activity, but our little family has been packing in as much "beach time" as possible as of late. We've been graced with some 60-degree days here and there, and whenever temps are projected to be higher than usual, we schedule a beach day. These photos were actually snapped several weeks ago during our trip to Evanston (clearly before I had my hair highlighted, haha), but they make me so happy. And, coincidentally, I was battling a cold that weekend. I had an amazing time, though, thanks to DayQuil.
But really: This fall has been the best of my life, and I think we've done an amazing job at making the most of our weekends. On this particular day, we grabbed lunch at a bagel place in Evanston, walked around the neighborhoods to admire the fall foliage, and then stumbled upon Tower Road Beach. Such a gorgeous spot; can't recommend visiting enough. We collected–and juggled–rocks, sang kids' songs while walking along the rocky shores, chatted with some locals, sat in the sand and watched the waves, and snapped a TON of pics. (Please excuse how many are included in this post. I definitely use this blog as a personal diary, too!) Without a doubt, Emma is a Beach Baby, and I can't wait to take her to my parents' in Ocean City, New Jersey next summer!
Anyway, if you share your own unmissable moments on Instagram and Twitter using the hashtag #NoSickDaysSweepstakes right now, you could win a Canon Rebel T5 camera and a Vicks Prize Pack. See the Official Rules for details! What are your "unmissable moments"?
Side note: How majestic does Mitch's hair look in these photos? It's like South African Mitch all over again. Did you guys know that he lived in South Africa for six months and didn't cut his hair or shave while there? It was pretty incredible… Who wants to see a pic?!
Shop the post:
Barbour Jacket c/o (Also available in the quilted–warmer and more affordable–version. Tuckernuck carries the waxed and quilted versions, too.) / Rag & Bone Jeans (I love the black pair as well.) / BB Dakota Sweater (Also love this one and this one!) / Sam Edelman Booties c/o (On sale! In suede here.) / Softest Bootie Socks / Mitch's Patagonia (Women's version here.) / Emma's Top / Daniel Wellington Watch c/o