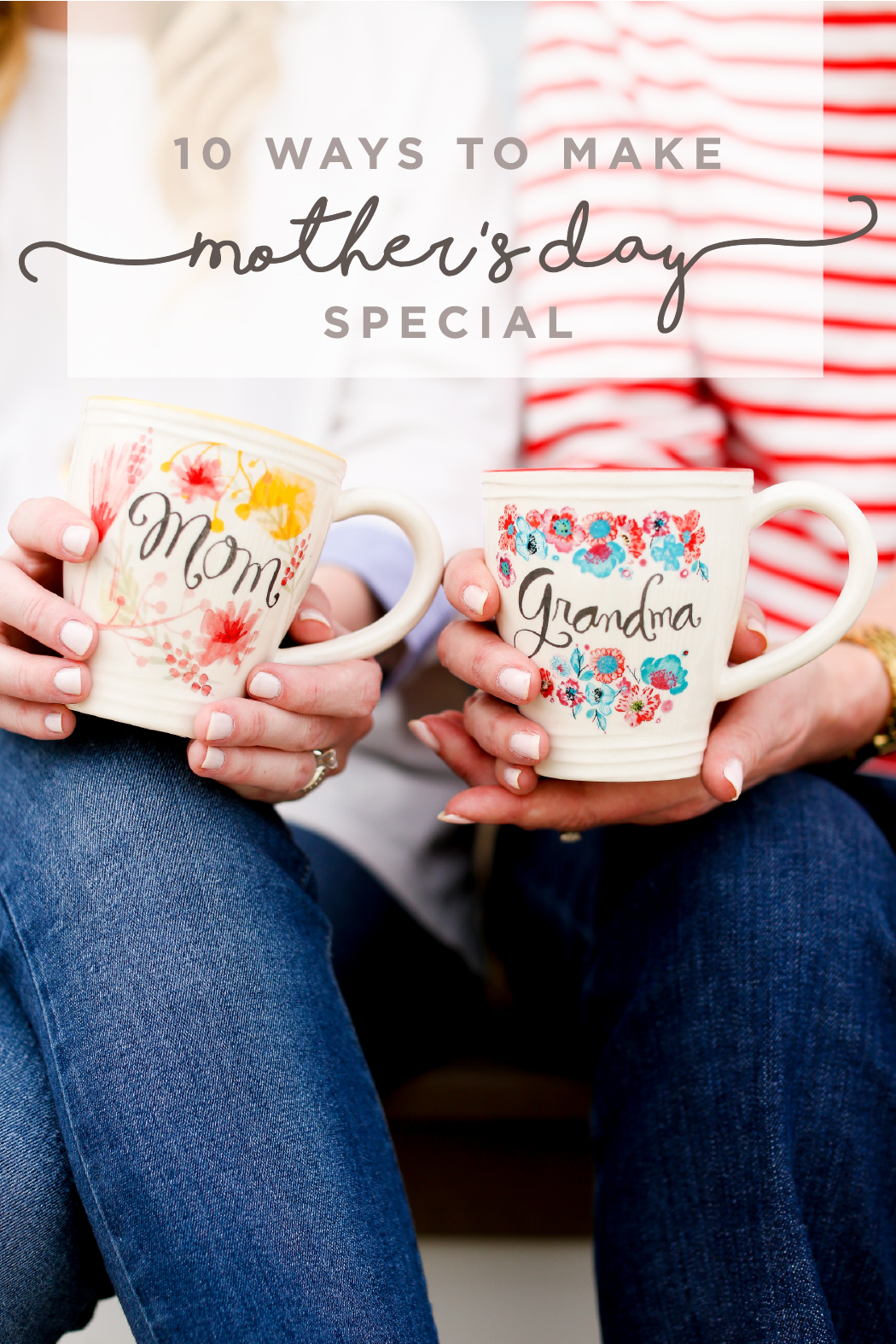 Disclosure: This post was sponsored by Hallmark Gold Crown, but all opinions are my own. As always, thank you so much for supporting the partnerships that keep Kelly in the City up and running!
This Mother's Day (May 8th!) is going to be a very special one for Mom and me, as I'm about to become a mother, and my mother is about to become a grandmother. I can't even tell you how excited we are, or how much time we spend chatting on the phone every day. (Sorry, Dad. #familyplanprobs) There's a nursery to decorate, clothing to pick out and essentials to buy… and so much to look forward to and reflect on. I mean, in only a few short months, another person will be joining our close-knit family. A person! A tiny one, yes, but one who's already loved beyond measure.
I have the best mom in the world, and I can only hope that I'll be half the mother my mom has been to me. I feel somewhat guilty saying this, as I know this is rare… but I truly had one of those storybook childhoods, filled with all the love and support a child needs to grow up into a happy adult. Mom, without a doubt, is responsible for that wonderful childhood, and she's the reason I am who I am. Thank you, Mom. And thank you for serving as my guide and being my best friend.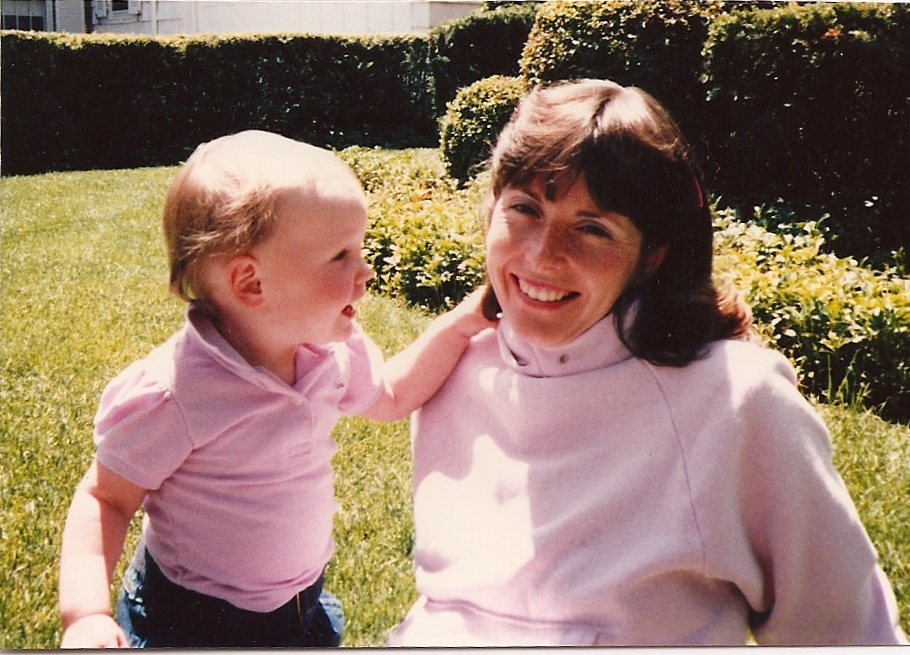 Today, I'm teaming up with Hallmark Gold Crown for a fun post: "10 Ways to Make Mother's Day Special." Because whomever you're celebrating–your mother, mother-in-law, grandma, aunt, sister or friend–deserves to be celebrated. So let's dive in!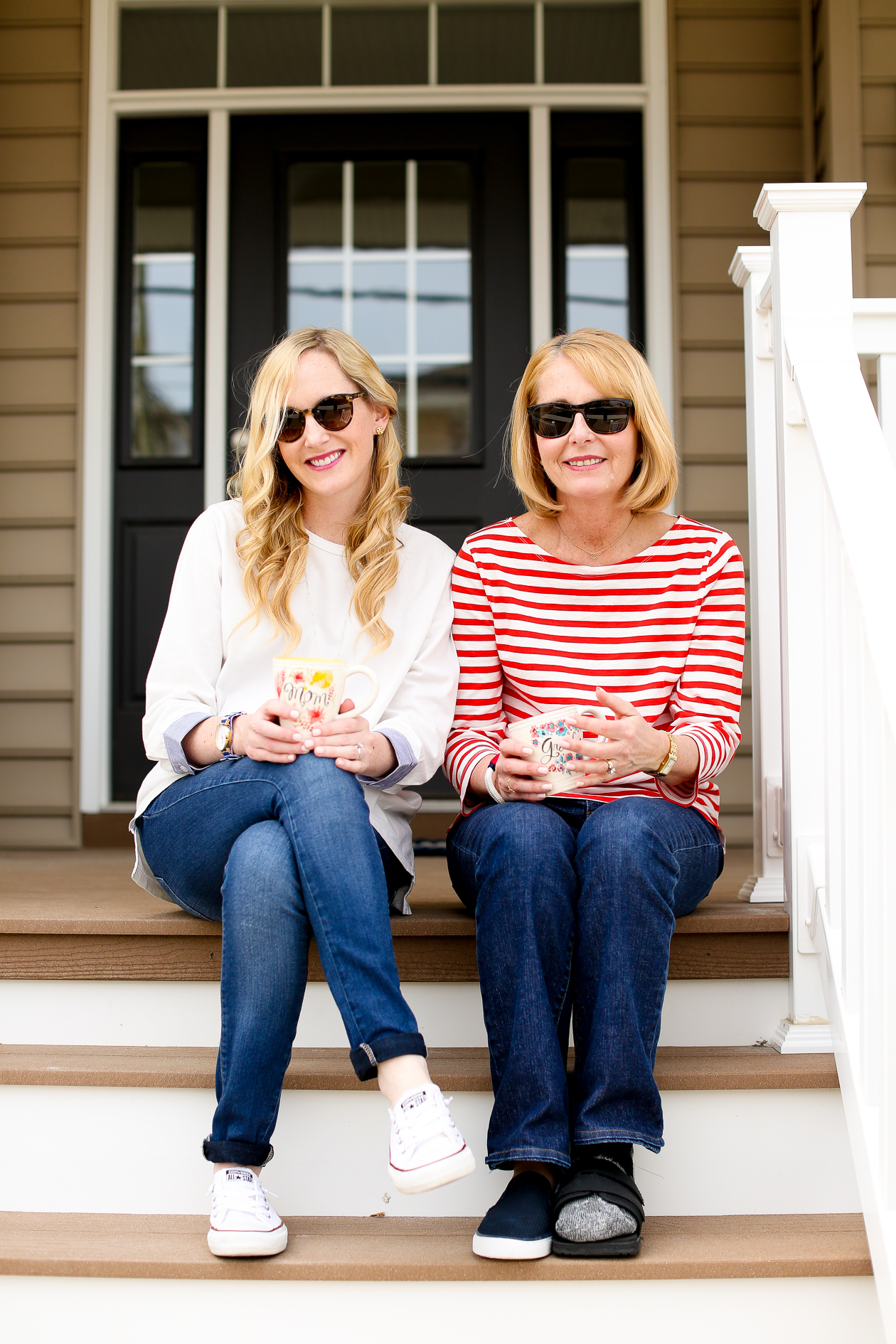 1. Have a coffee date
Some of my best chats with my mother have been over coffee out on the front deck. (Decaf for me these days, of course.) To make your coffee date even more special, bring along new mugs as gifts. We love this "Mom" mug and this "Grandma" mug. (Shop other mugs here.) Though using them for the first time was kind of surreal!
(Also, in case you're wondering, Mom is wearing a boot because she recently underwent foot surgery. But she's doing great, and these photos were taken right before the boot came off!)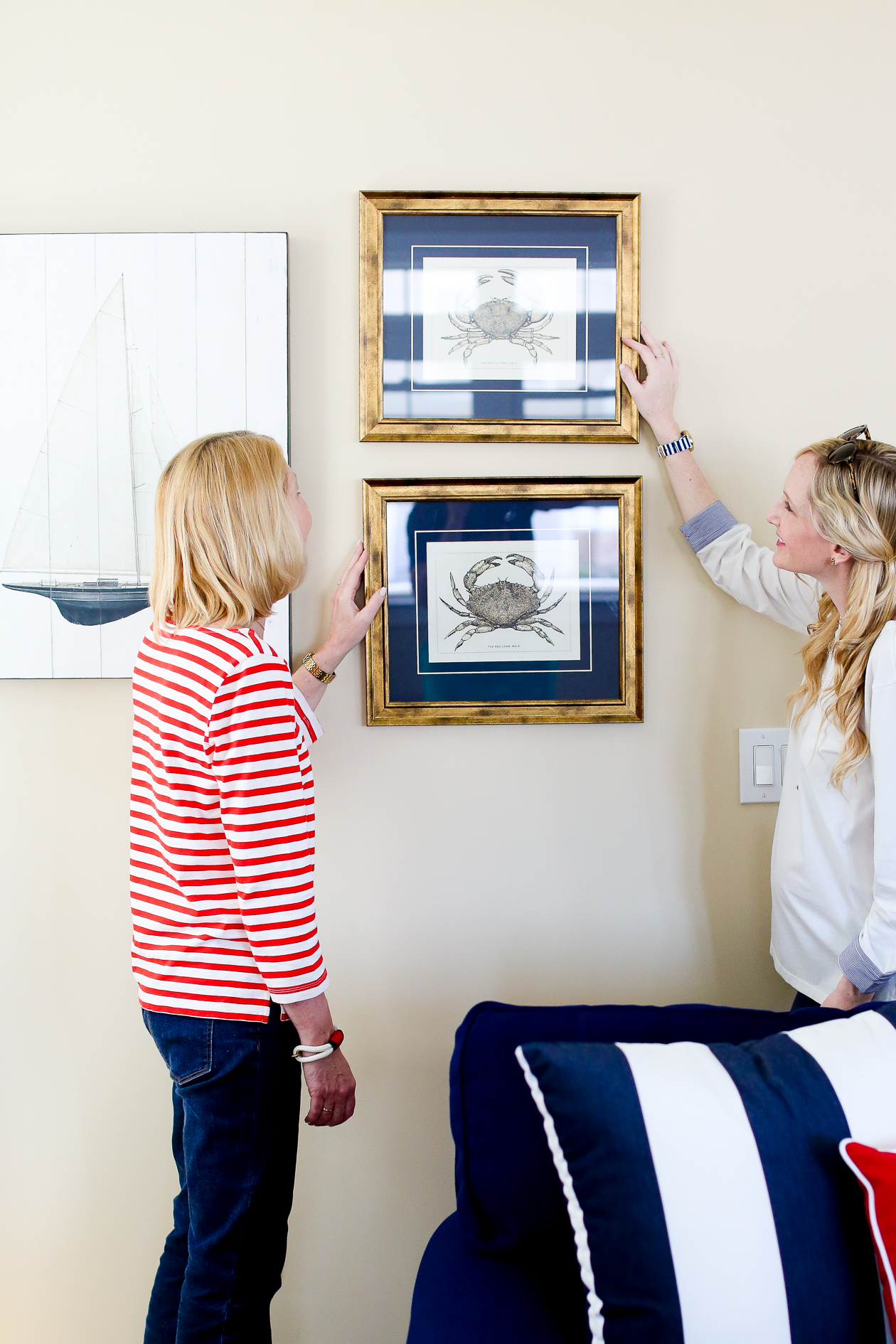 2. Spend time doing your favorite things together
There's no better gift than the gift of time. It's what makes memories, after all! Right now, Mom and I are really into decorating, as we both have new homes… and we can't think of a more enjoyable way to spend an afternoon together than giving our spaces some TLC. It's also wonderful to have someone else's opinion.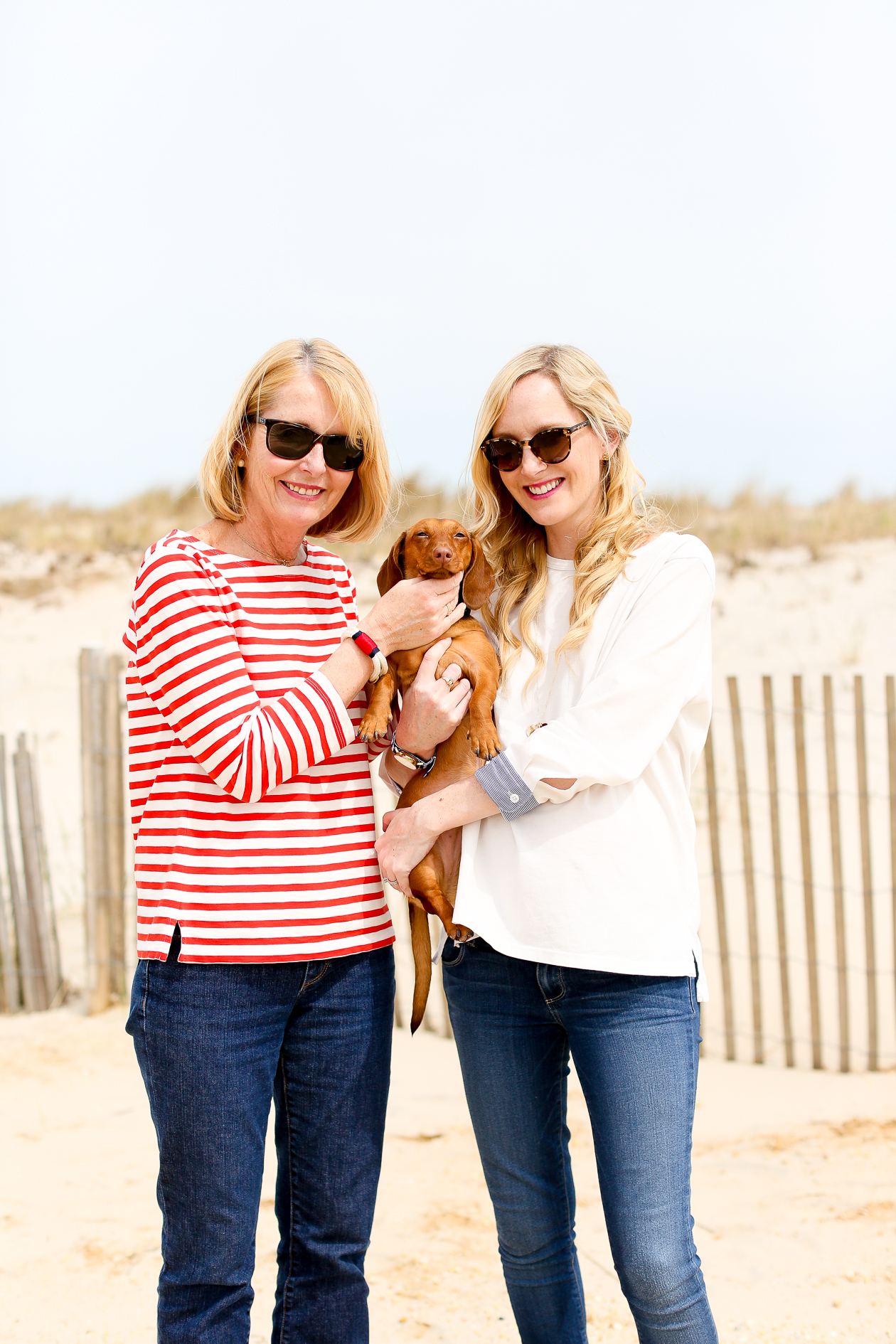 3. Go for a walk
Get out and soak up that sunshine! Mother's Day falls during such a great time of the year: early May, when everything is in bloom and days are actually warm. Take advantage of it, even if you just take a stroll around the block together.
(And get ready for a whole lot of Noodle in these photos. She had to be by our sides at all times. Girls' day!)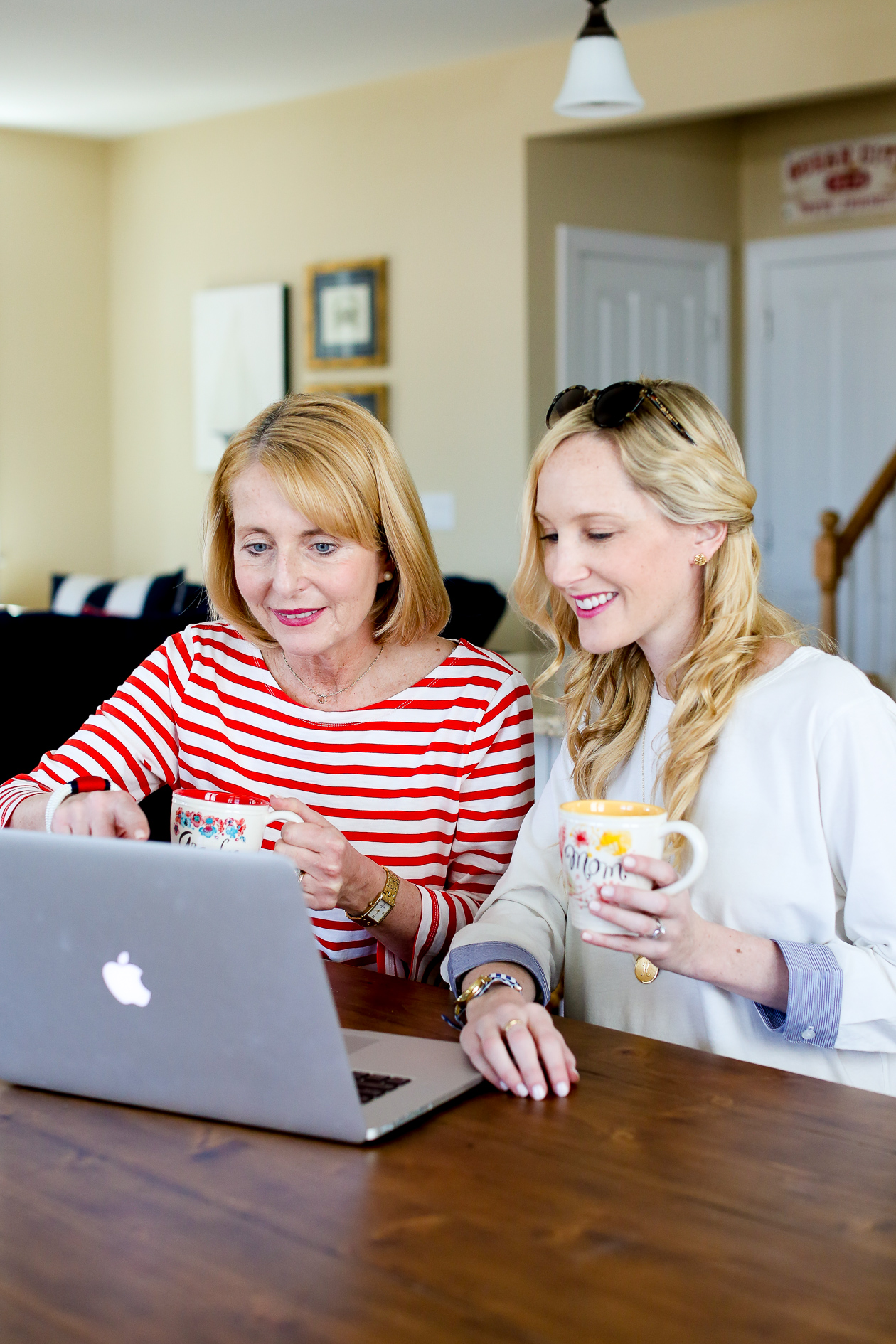 4. Go shopping
While Mom and I definitely enjoy shopping in Soho or in Princeton, we also love online shopping, as we feel great triumph when we locate a killer coupon code. This year, we're primarily shopping for baby stuff. It was a little overwhelming when I got started on my own–so much to choose from!–but a whole easier with Mom by my side. She has, after all, been through it three times!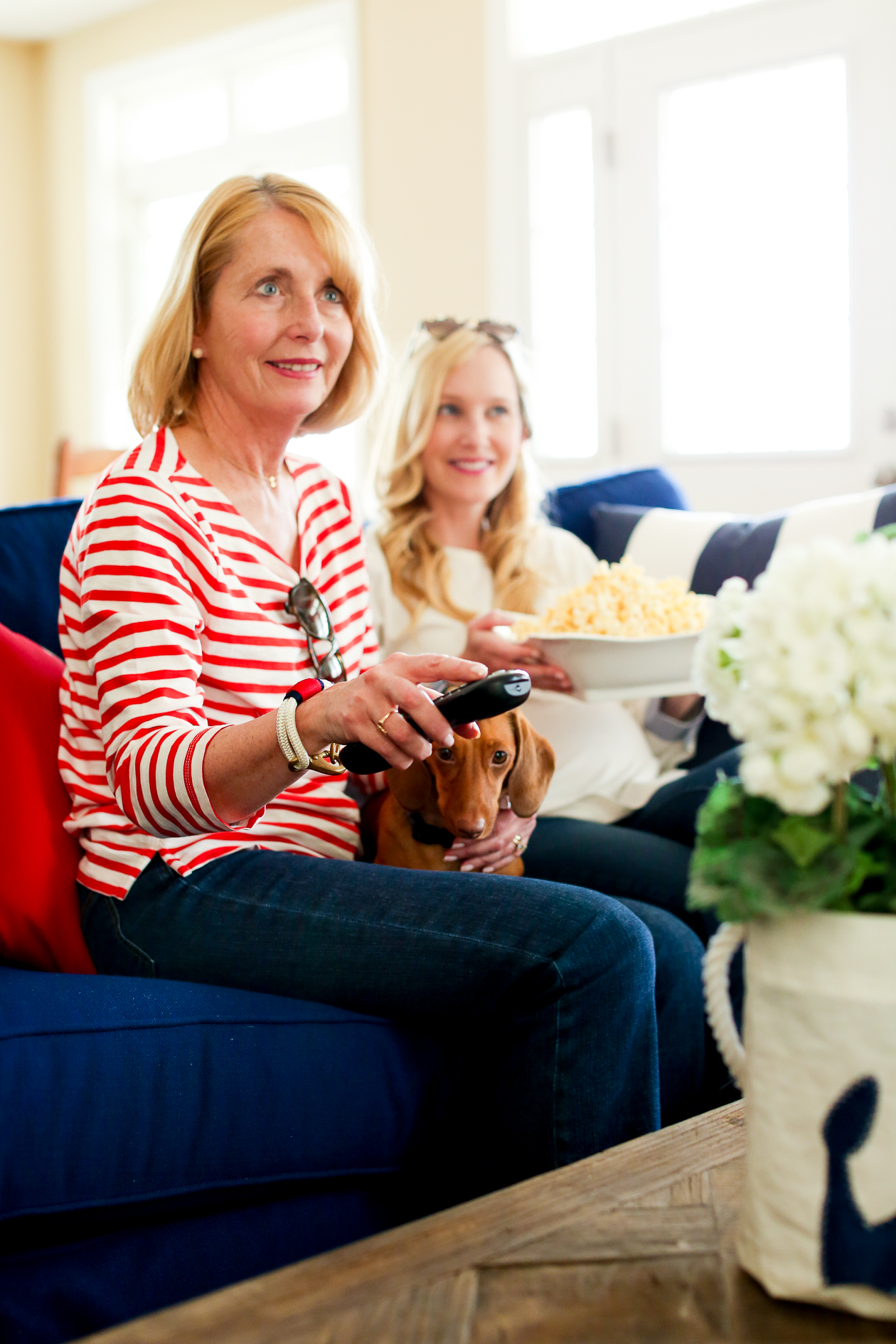 5. Watch a movie
Did you know that "Mother's Day" (the movie) is coming to theaters on April 29th?! Such a great activity for May 8th. If movies at home are your jam, though, Mom and I highly suggest watching a romantic comedy. (We went for "Notting Hill.") Totally gets the men out of the house. ;)
6. Relax
Don't feel like you need to be running around all day to make Mother's Day special. While we're giving you a bunch of ideas in this post, by no means are we suggesting that you should do all of 'em. Being a mom is a big job, and the gift of relaxation is the perfect gift. To unwind, Mom and I highly recommend "The Art of Relaxation Coloring Book."  I know, I know. A coloring book? But really: it's so calming. And it brings us back to our earlier years together!
7. Shower her with gifts
Something we love about Hallmark Gold Crown is that the store's gifts are meaningful yet don't break the bank. When I went shopping there, I couldn't get over how many great products I scored for such reasonable prices!
Like I mentioned before, I picked up "The Art of Relaxation Coloring Book", this "Mom" mug and this "Grandma" mug. But I also brought home this Crafters & Co. Soap Gift Set*, this roses and gold gift bag, this pink and orange gift bag, and a bunch of cards: "Thank You for a Lifetime of Love" (inspired by design collaborator Jasmine Downing), "Striped Vase with Flowers" (inspired by design collaborator Hilary Hinslee of The Painted Arrow), and "Reasons to be Thankful" (also inspired by Hilary Hinslee).
Looking for more gift ideas? Shop Hallmark Gold Crown's full Mother's Day collection here!
*Save $10. $15.95 with the purchase of three Hallmark cards (regularly $25.95). Valid 3/28/16 to 5/8/16.
8. Have breakfast, lunch or dinner together
Go food shopping ahead of time and make a favorite meal with Mom, or hop in the car and grab a meal somewhere locally. Remember: it's not about how complicated the recipe or how nice the restaurant is; it's about spending time together.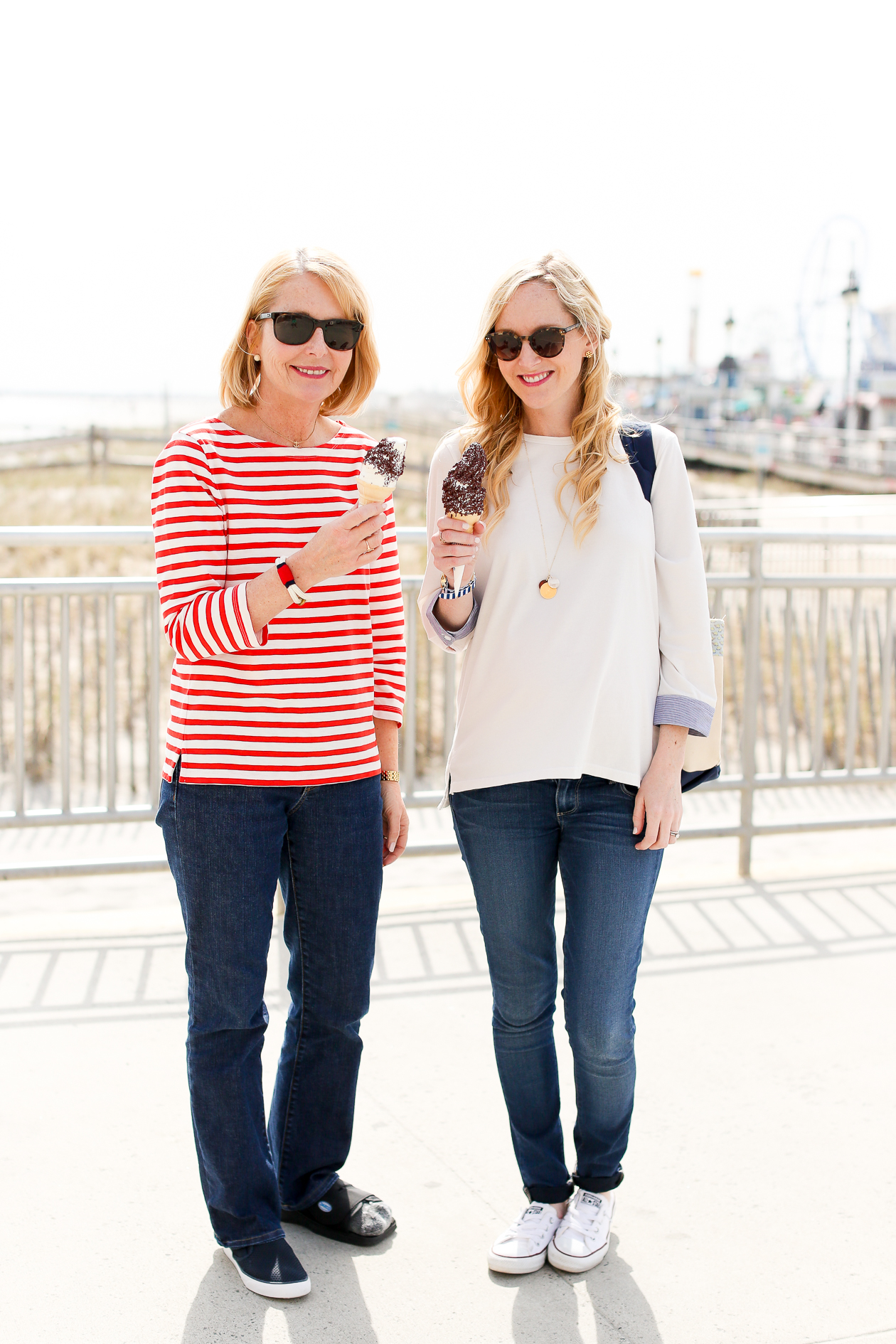 9. Get a treat
If you're anything like us, you're a big fan of sweets. While we're down the Shore, our favorite treat is Kohr Brother's Frozen Custard, but we've also been known to whip up a mean batch of brownies. And drizzle them with fudge. And caramel. And eat them with ice cream. What? Don't judge. ;)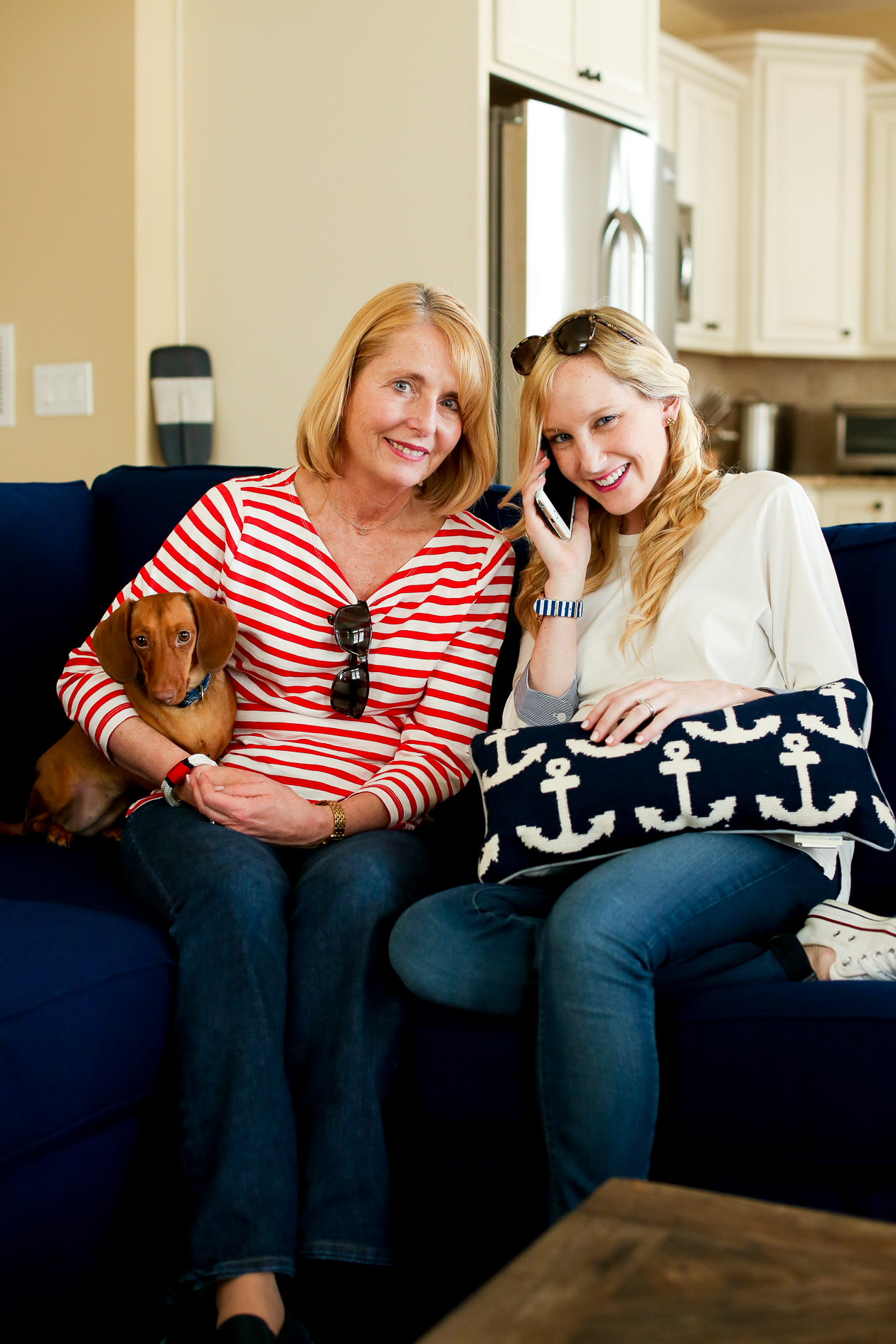 10. Call the other moms in your life
We have a long list of mothers who've made a huge impact on our lives, and each one is getting a phone or a sweet text message. There's Grammie; Grandma; my mother-in-law, Lisa; Auntie-M; Aunt Michelle; Aunt Alicia; and my sister-in-law, Sarah. And a bunch of friends who've recently become mothers. Show that love and gratitude!
How are you making Mother's Day special this year?
For more ideas from Hallmark Gold Crown, visit and follow them on Pinterest. To learn more about Hallmark Gold Crown, visit their website and follow them on Facebook, Twitter, Instagram, and YouTube!