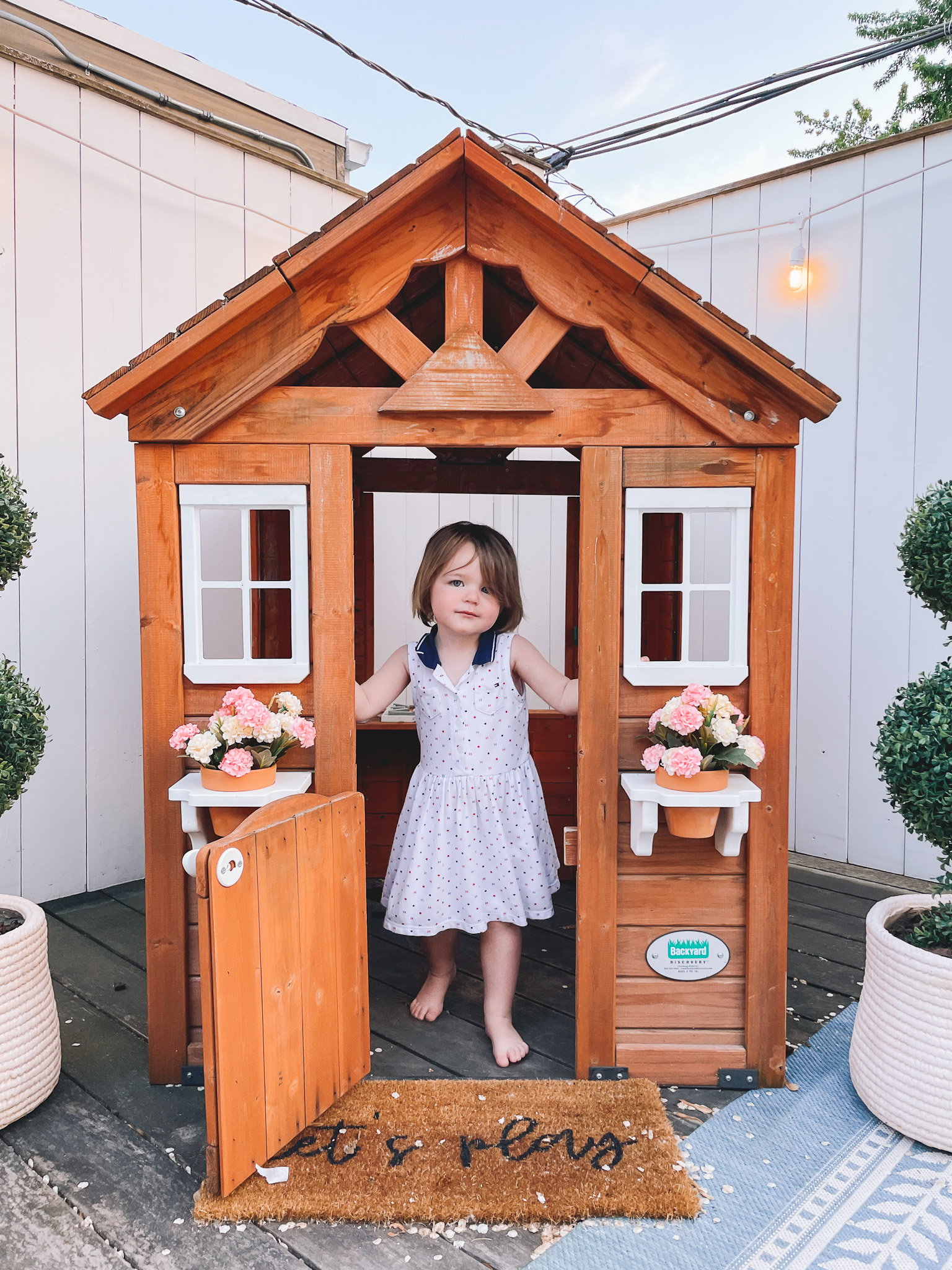 Playhouse (On sale!) / Flower Pots / Artificial Hydrangeas / "Let's Play" Door Mat / Blue Outdoor Rug / Artificial Topiaries / Basket Planters / Lucy's Dress (Hand-me-down from Emma)
Mitch here!
Can I make these posts a regular thing? They're somewhat cathartic.
Here are the first 10 things that come to mind today:

I've simplified my summer wardrobe. Some might call this giving up. But the whole picking-out-a-respectable-outfit every day thing was just getting too annoying and I always looked like crap anyway so I'm done trying for the next few months. Summer Mitch! To simplify things, I ordered a summer's worth of simple drawstring shorts. I then filled my top dresser drawer with plain white t-shirts, and plan to order more whenever the drawer gets empty.
Is anyone else amazed at how fast Amazon stuff comes now? We live in the city so I'm guessing things are expedited, but not infrequently do our Amazon packages arrive same day or even within a few hours of clicking the buy button.
I'm in the early stages of planning a big family vacation. Well, more realistically, I'm just spending a little too much time with the Travel Zoo Top 20 Trips each week. Last week I nearly booked us a flight to Tokyo but got cold feet at the last second and the deal sold out. It took me days to recover from the "deal loss sadness." It won't happen again!
The Oz Park playground is falling apart. Interestingly, my parents were involved in the playground's construction in 1987 when the neighborhood invited volunteers to come and swing a hammer for 72 straight hours until the job was done. (Fun fact: my childhood home is two blocks from our current home!) It's a miracle the playground has been mostly unchanged since then, and it's very cool to see Emma and Lucy playing on the same equipment that I did as a kid. That being said, it's time for it to go. It's a mess. We're excited!
My AirPods died… again. AirPods are great and everything, but this is the second pair that I've had break down after about a year. I'm not really interested in buying another $200 pair of headphones that will likely die 12 months from now. Instead, I'm looking at this cheapo pair from Amazon or maybe buying a refurbished pair via Podswap. Has anyone made the switch? Let me know if you're happier. (Also, fun fact: Kelly doesn't own headphones. Hasn't since we left New York. Is this not mind-blowing?)
I've failed another cast iron skillet. I've been trying to use a cast iron skillet for a decade and I'm officially throwing in the towel. After a year of scrubbing and seasoning and drying this thing, I woke up to it covered in rust and I sent it packing. And before the cast iron brigade shows up, let me just say good for you. You're good at owning a skillet. But count me out; I don't work for that skillet anymore.
Savannah inspired me to do more brick projects on the house.I'm sure I'm not the only one to return from a trip to Savannah inspired to beautify their property, but holy cow do those people know how to use some brick. We did a nice brick project last year and now I'm thinking of continuing this pattern in our gangway and maybe across the risers on our front stoop. Kelly thinks I'm nuts. I might be nuts.
The Mommy Barbie Shop is open for business. Sorry, that's what Emma says when Kelly cuts my hair. And while Kelly would make an excellent Barbie, she makes for an even better barber. We use this hair trimmer set. I just hope she doesn't give me a mohawk again.
My thumbs are growing greener by the minute. I'm in the middle of a gardening project where I intend to fill our front garden with as much English Ivy as I can find. Eventually I'd love to have the ivy climbing our fence, stoop and even the front of the house. Unfortunately, English Ivy is hard to come by at our local nurseries so I'm going heavy on the Miracle Grow to get things going. I'm also trying to propagate new ivy plants with this root solution.
On a related note, did you know that coffee grounds are great fertilizer? We grind an absurd amount of coffee each day so I'm happy to find a fun use for it. Apparently it's especially good for the ivy growth. I'm an old man.
I've been globe trotting with Radio Garden. There's something incredibly transformative about listening to local radio stations in far-flung locations. Radio Garden lets you spin around the globe to eavesdrop on even the smallest of local broadcasts, and the incredible array of cultures, languages and musical preferences never gets old. I love spinning the globe and leaving it on in the background while I work.
Mitch. OUT!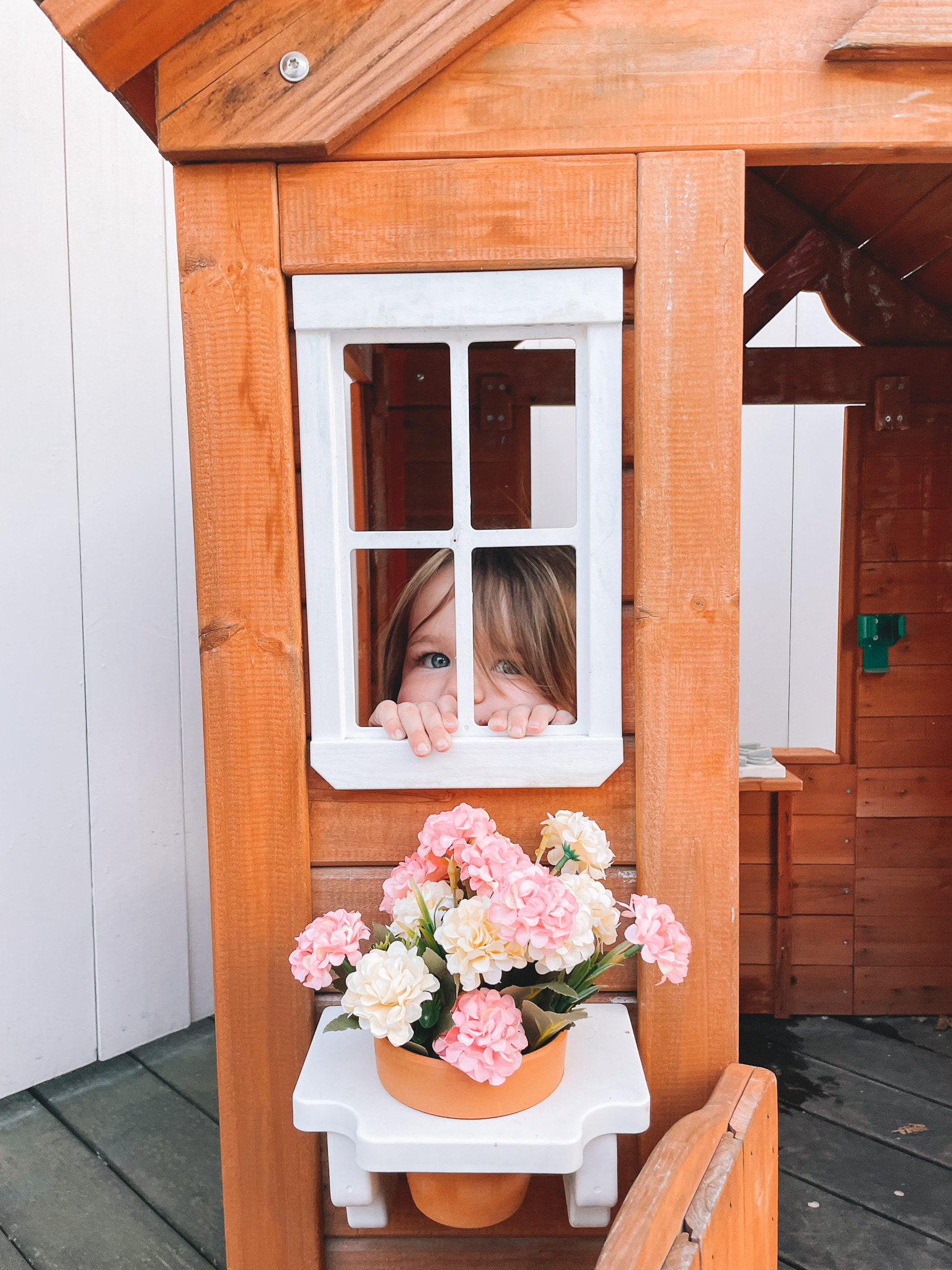 Playhouse (On sale!) / Flower Pots / Artificial Hydrangeas / "Let's Play" Door Mat / Blue Outdoor Rug / Artificial Topiaries / Basket Planters