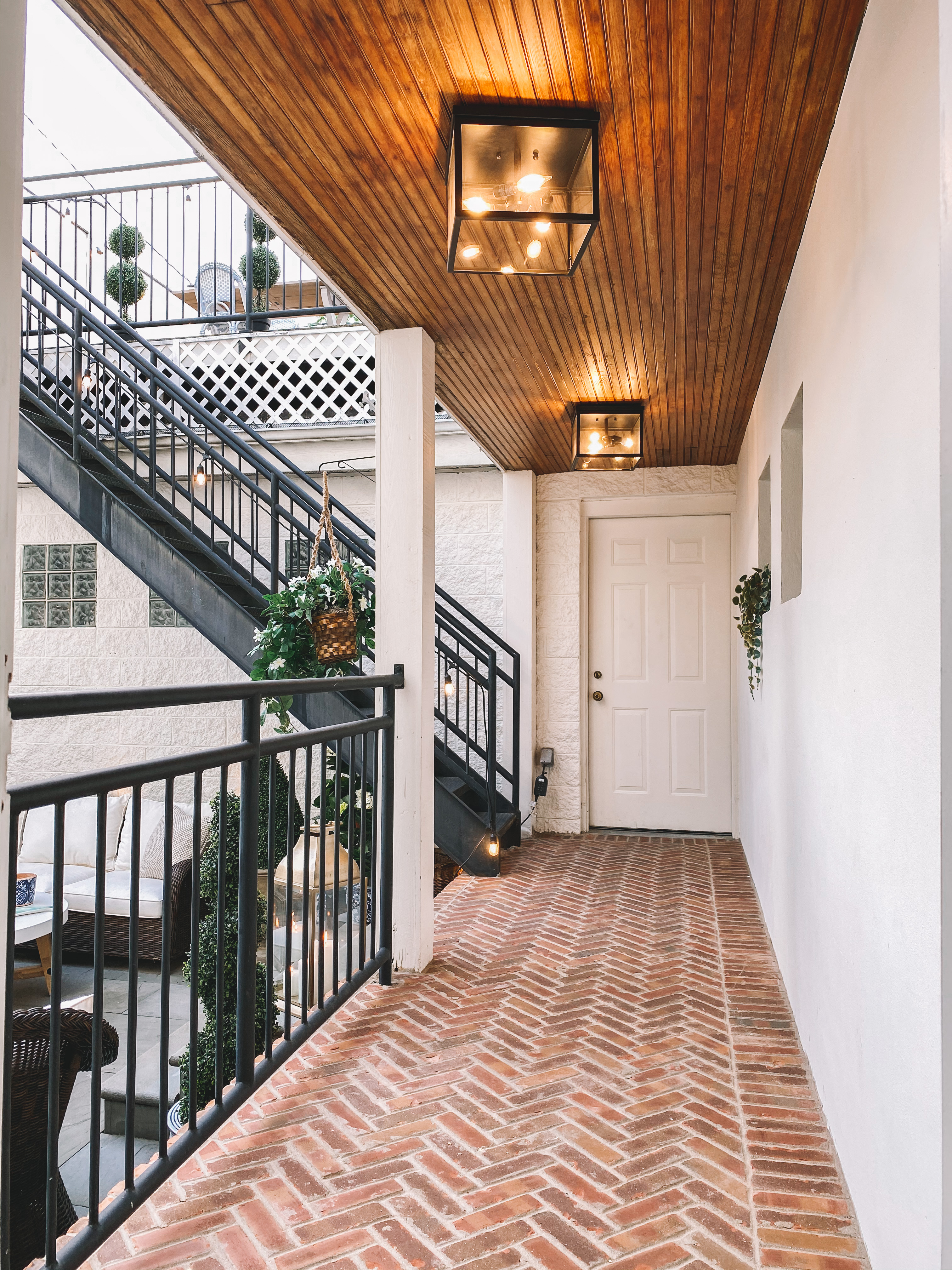 After
Every Chicago outdoor space I've ever seen has looked tired after the winter. It's just how it seems to go; winters here are brutal and they do a number on everything–and everyone!
After the 2019/2020 season, our patio was looking rough. Specifically, the outdoor walkway from the house to the garage was in some serious distress. 🙈 We bought a broom and a whole lot of soap, and it got MUCH better, haha…. but it was definitely still in need of some TLC.
So here's what we did!
Brickwork
Ninety-nine percent of home projects are Mitch's idea and doing, but I need to take a little credit here because THIS WAS MY IDEA! 🤗 Of course, Mitch organized and executed it. Whatever, though. 😜 The inspiration came from a couple of Charleston houses that I've taken photos of every time I've visited the city; I loved how the brickwork (herringbone brickwork in particular) made the properties look old yet maintained, if that makes sense.
After having had a herringbone backsplash installed in our kitchen, though, I was intimidated. (It had taken our Home Depot guy the better part of a WEEK to do it. Also, omg. I never published a final reveal?! 😆 #fail)
But then we found these thin bricks–available in sheets via HD and in herringbone sheets via the company's website–and we were like, "GAME. ON." Because the bricks were thin (only about 0.5 inch, compared to 2.25 inches for a standard brick), they would clear the doors, thus preventing us from having to rip up the cement!
We hired a mason, and he said everything would work perfectly. But ordering the bricks would take a while due to the pandemic, and the mason really wanted to get started right away since business had been slower. So he sourced his own thin bricks, and we were THRILLED with the result! They looked just like the Old Mill Brick in "Dixie Clay," which we'd originally picked out. (We'd also considered "Cordova.")
We were also thrilled that we could have the work completed safely, without putting the mason or our family at risk. He entered the backyard from the garage every day, and we communicated via cell phone through the windows in the back of the house. We never once came in contact!
(Note: I believe that most people use paver panels on top of the cement and underneath the bricks, which make for a good base. Also, if you're in Chicago and interested in hiring the mason, e-mail mitch@kellyinthecity.com and he'll hook you up. We found him through a friend, and he was the best!)
Paint
Doesn't it make such a big difference?! Before, the walkway was painted dark green, and the split-face bricks on the garage were raw. Mitch was hesitant to paint the bricks at first, but I'm so glad I was able to convince him to do so… because while split-face brick isn't the best-looking, it looks SO much better when painted white! I really can't believe the transformation. Everything looks so much cleaner and brighter. I will say that I do have to go out there every once in a while with a scrub brush, but it's worth it.
We had one of Kira's guys paint the perimeter walls white because we didn't think it was a feasible task for us while taking care of two young children. Again, the team entered through the garage, and we communicated via cell phone through the windows. In case you're wondering, we used exterior primer and then Benjamin Moore's Moonlight White, which the previous owners used elsewhere on the exterior.
New light fixtures
We're doing a patio makeover project with Pottery Barn this month. (Can't wait to share! Just shot it last night. Here's the vision!) And we picked out these Manor Glass Flushmount Light Fixtures to replace the old can lights on the walkway's ceiling.
WOW. We definitely knew that we had a beadboard ceiling out there, but it wasn't something we thought anything of. Looked fine, but nothing noteworthy! The moment the light fixtures went in, though, we were astounded by how beautiful the ceiling looked and by the contrast it provided. I cleaned them up a little bit, and boom. Stunning! Again, such an amazing decision by the previous owners, and I'm so grateful.
I also love how much more light the fixtures provide. The space went from dark and dingy to bright and white very quickly!
Faux greenery
ALL of our artificial topiaries are from Darby Home. While I don't think the company advertises that they can be left outdoors, we left our front stoop triple ball topiaries out all winter long and they still look brand new! Highly recommend. I've said this before, but we're just not in a life stage that allows for real plants right now. Would I prefer real? Yes. But every single time I've purchased one, I've killed it within a week or two because I have so much on my plate at all times. Maybe when the girls are in middle school, I'll be able to make the switch. For now, though, I'm pro faux! (They also stay green throughout harsh Chicago winters, which is a major benefit!)
Most of the (non-topiary) artificial plants are from Nearly Natural, which you can find on their website, on Amazon, or via Target. (Btw: I'm praying that Crate & Barrel comes back with its Cypress Garland this year, but if not, I'll likely get Nearly Natural garland!) I'm really happy with everything we have from them. For the most part, everything looks extremely lifelike!
This faux hanging plant from Pottery Barn, though, is by far our best faux plant. It looks spectacular. Can't recommend it more.
Furniture
I don't want to give away too much because I'm so excited about my upcoming before + after post, but we went with the Torrey Collection! It's all-weather furniture, which sealed the deal for us. (You don't have to cover it up, even in the winter.) It also looks great without cushions on, which'll make for a nicer environment out there during the colder months. We've had the sofa and the chair for a few months now and everything has exceeded our expectations. So happy with the decision! It's impervious.
Next up
I need to clean the stairs. Look at how dirty they are! Can't believe I'm only seeing that now, haha! Because our mason cut a bunch of bricks, there's red dust all over the place. Pretty sure I'll be cleaning it up until the end of time, but worth it. ;)
Down the line, I'd also love to put up shiplap on the right wall. But that's a project for another year. Incredibly happy with everything!
Stay tuned for the patio reveal. Thanks for reading!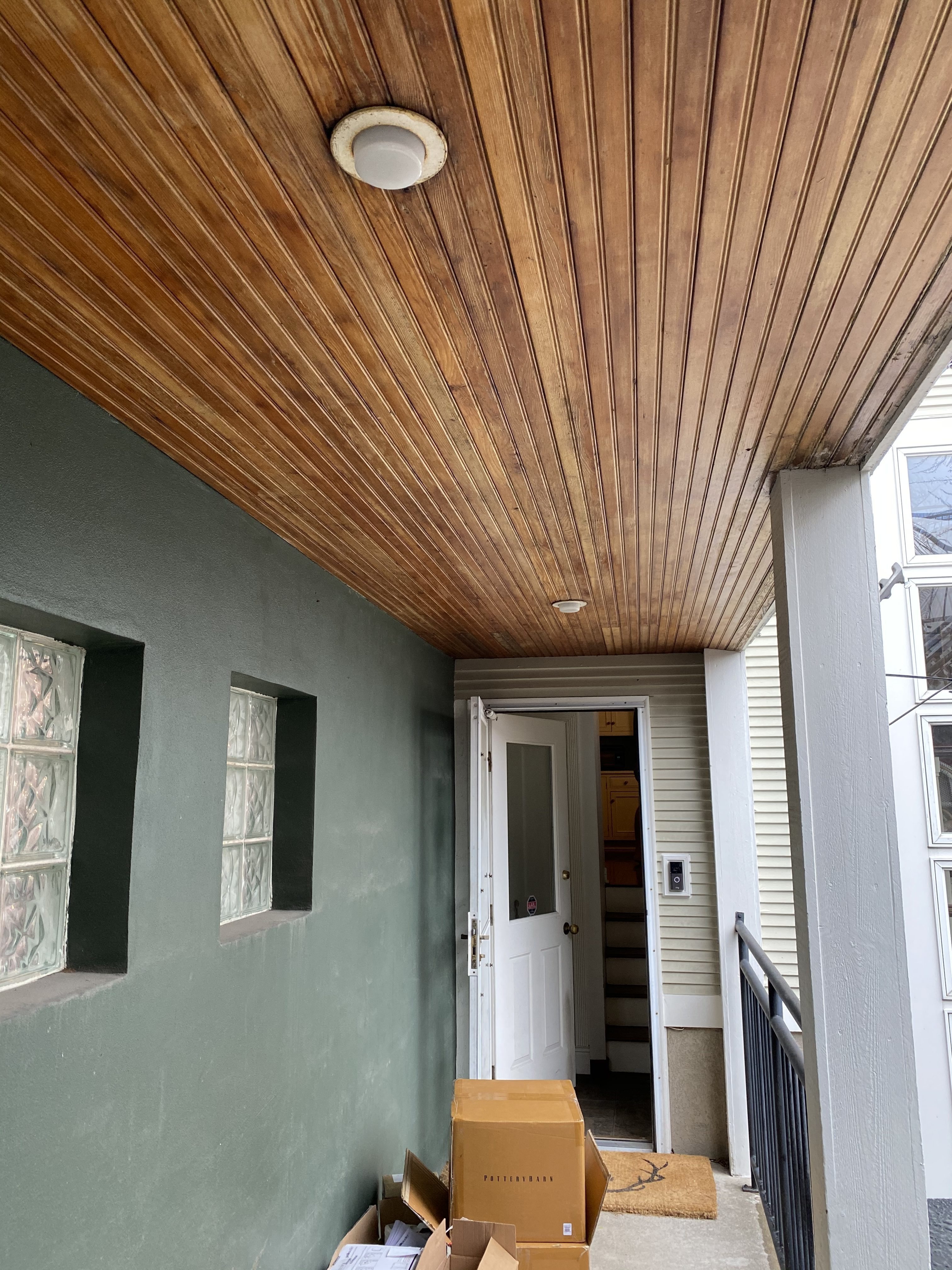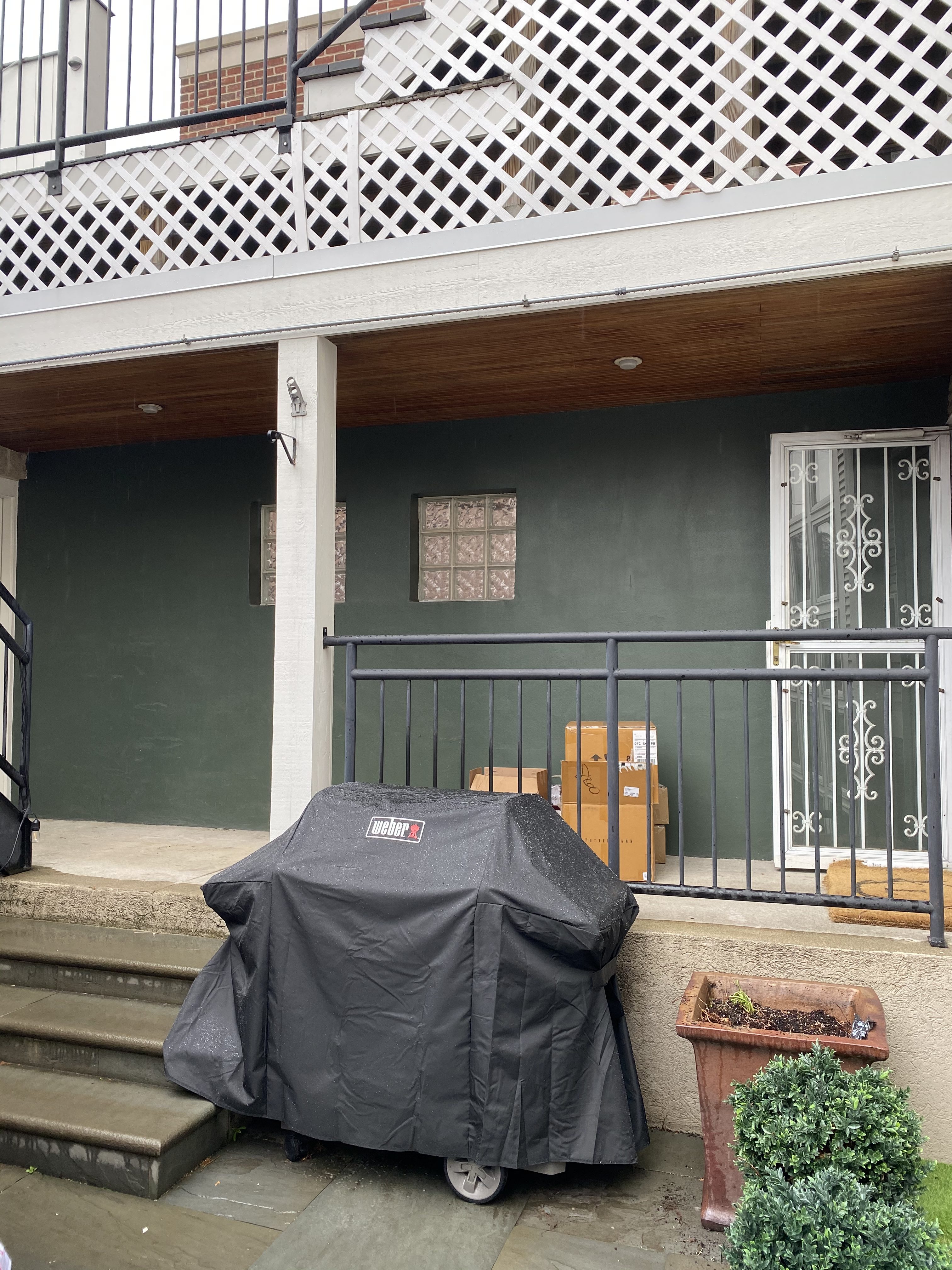 Before
Shop the post:
Pottery Barn Capitola Concrete Round Coffee Table, Torrey Wicker Lounge Chair and Torrey Ottoman with Cushion, Torrey Wicker Sectional Sofa, Manor Glass Flushmount Light Fixtures, Faux Trailing Plants, Cachepots and Chester Lanterns c/o / Faux Hanging Plant / Williams Sonoma Planter / Faux Topiaries