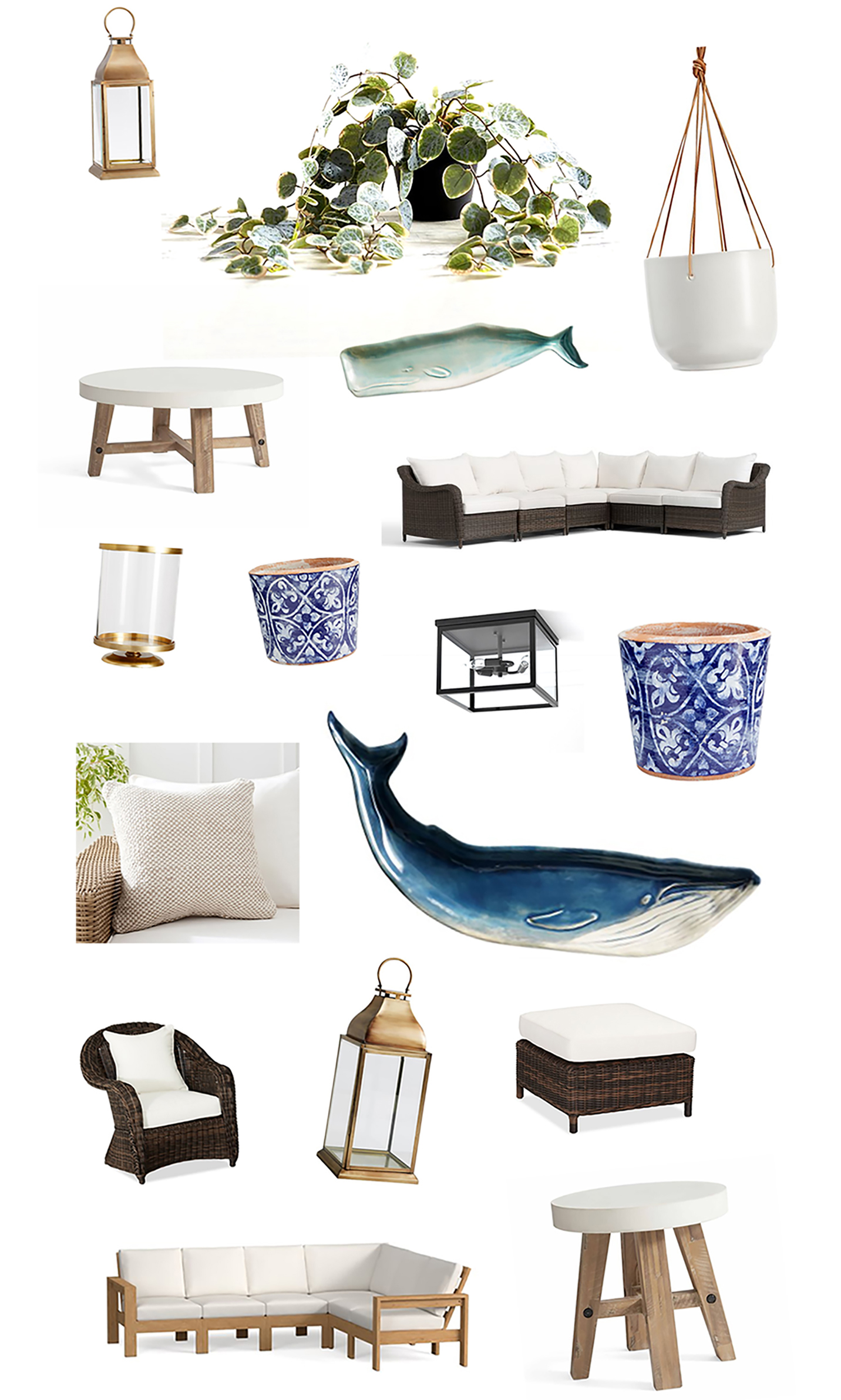 I'm freaking out over here.
I'm going to be working with Pottery Barn to make over our outdoor space! Working with PB has always been one of my biggest blogging goals, and I can't tell you how excited I am. (Or how nervous I am. Pottery Barn, I WON'T LET YOU DOWN. 😂)
This won't really be coming to fruition for a few weeks, but it's a dream… and I'm so, so grateful for the opportunity. And, of course, I plan on sharing the process! (A fun little distraction, perhaps?)
Anyway, life was crazy when we moved into our house last May. I had Lucy on literally the same day–hmmm… maybe I should tell that story soon? 😜–and in an effort to get our new home up and running, we quickly panic-bought some outdoor furniture so we'd have a place to hang out. (Living room and playroom weren't going to be ready until mid- to late-fall.) Unfortunately, though, a lot of the furniture yellowed over the winter due to a manufacturing defect and it had to be returned. Hence why we now have a folding trampoline out there, haha. And then we have some other issues but we'll talk about those below. ;)
So yeah! We're not starting totally from scratch, but the space somehow already needs some TLC. WOO. So pumped!
Okay, here's what I'm thinking about going with:
Torrey Wicker Sectional Sofa: This is what I'm looking forward to the most. We had to cover our old sectional to protect it, and the cover was tough to get on and off and it made the outdoor space look pretty bad when not in use. This synthetic wicker sectional, though, changes all that because it's meant to be left out year-round. It's weatherproof and maintenance-free… and it's remarkably resistant to sun, rain, heat and cold. GAME-CHANGER! Our plan is just to toss the cushions in the garage, which right off the patio, when we're not using the couch… though the cushions are quick-drying and water-repellent AND they have machine-washable covers. (But I think we also might invest in a cushion box? Not sure, though. Does anyone have one? Worth it?) Here's to a simpler life.
Chester Lanterns: Stunning. I feel like these would look beautiful on the steps leading down to the patio.
Faux Trailing Plants: THESE LOOK SO REAL. I loved them so much that I got one for Emma's room and one for the living room. (If they're sold out, this faux plant is pretty fabulous, too. I also love these blue hydrangeas, these white hydrangeas in a pot, and these white hydrangeas in a vase.)
Hanging Catchepots: We have a couple of hooks meant for hanging plants on the patio, but never did anything with 'em. Love the idea of using these there! (Also adore these. Can't decide.)
Whale Serving Platter in Aqua and Whale Melamine Serving Platter Navy: SO LOVELY, RIGHT? I have a whale problem. They're all over my house. And we live in Chicago. But these aren't glass! So they're perfect for outside. And I don't have very many outside whales, soooo…
Capitola Concrete Round Coffee Table: I can't lie. I love a solid matching set of furniture, even though that might not be in style right now. But when I saw this coffee table, it really stuck out to me… and so I'm pretty sure that I'm going to DO SOMETHING CRAZY and mix and match. It just looks so sturdy and perfect for kiddos. And I love the white top!
Capitola Concrete Round Side Table: The matching side table.
Chester Brass Hurricanes: I've been eyeing these for the longest time. I plan on using them outside while entertaining, but keeping them either on our buffet or mantle the rest of the time. They come in two sizes! (The large is VERY large but I love it.)
Catchepots: These are such a good deal and really beautiful! A nice pop of color. Maybe to keep in the middle of the coffee table?
Manor Glass Flushmount Light Fixtures: We have the prettiest shiplap-y ceiling outside, right above the walkway from the house to the garage. But we just have can lights there right now. I think these flushmount fixtures will make a big difference!
Laverna Indoor/Outdoor Pillow , 20 x 20″: I already own these striped pillows, so you'll see those on the sectional once the space starts coming together. But trying to embrace neutrals for a more mature look, too. Thoughts?
Torrey Wicker Lounge Chair and Torrey Ottoman with Cushion: Verdict's still out on whether the patio will feel too crowded with this chair, but hoping it's just right. One day, I'd love to host friends and family again, and it would be great to have enough seating for everyone.
Malibu Sectional Sofa: We're going to move the deck couches up to the balcony since we don't have any furniture up there… and this teak sectional will replace them. (Our table and chairs are teak as well, so it'll be nice to have everything match. Love that Nantucket gray look!) And we're going to add an extra seat to make the sectional extra big and comfortable for the fam. :)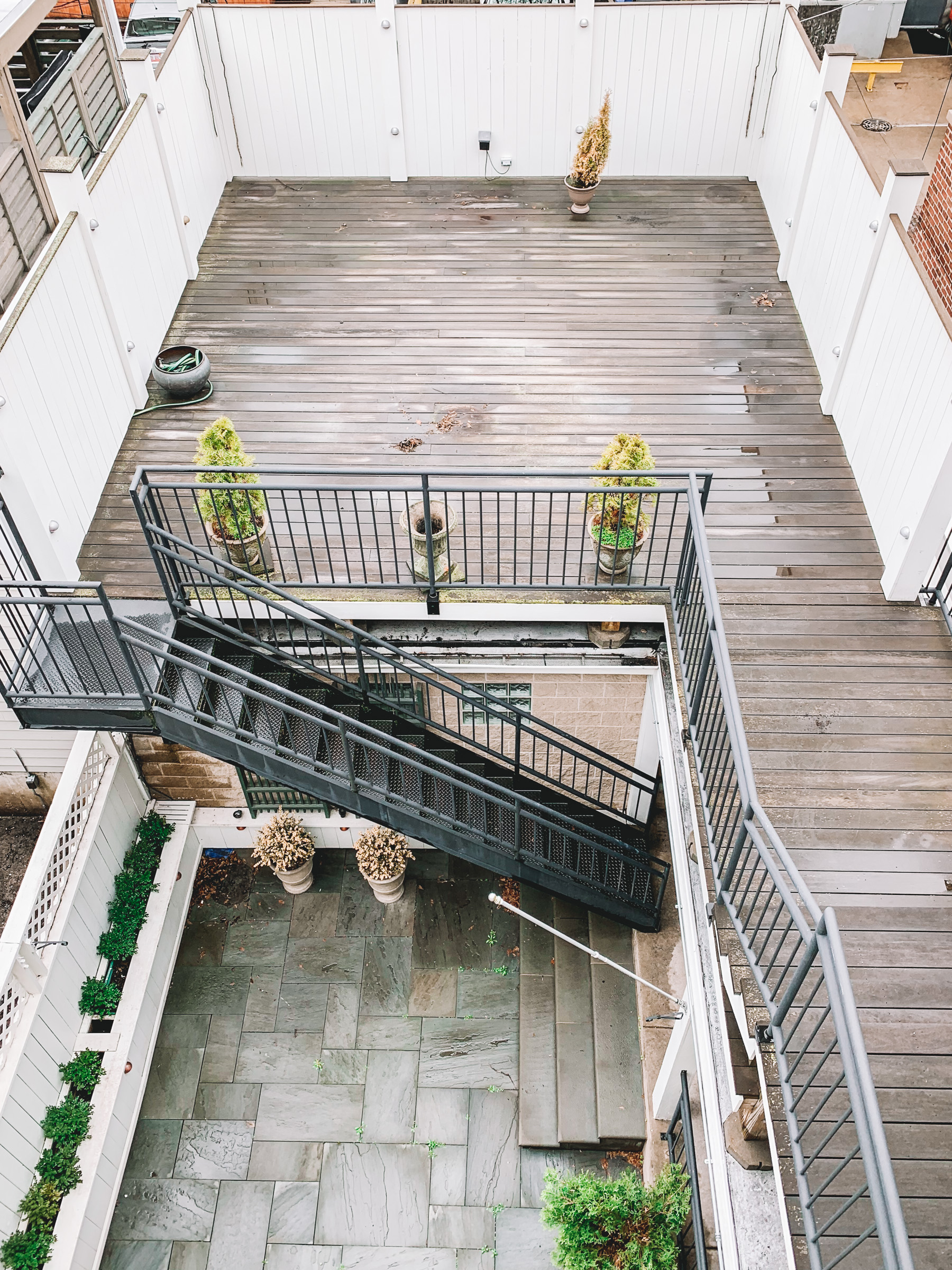 Here's the space! Can't wait to transform it.