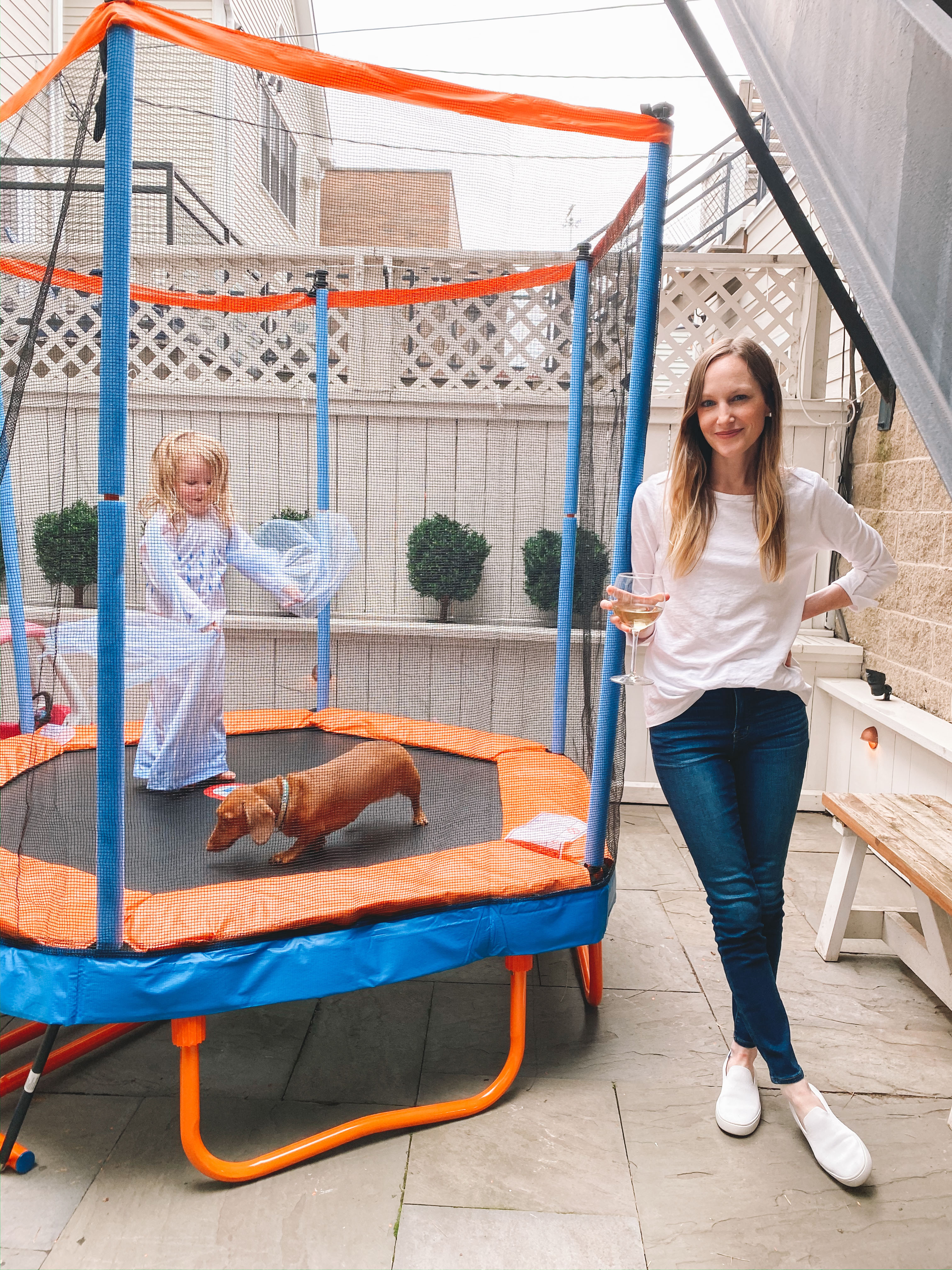 Cozy Jeans (SO SOFT! TTS.) / Rothy's Washable Sneakers / White Long-Sleeved Tee / Folding 7-Foot Trampoline / Balls / Elsa Dress / Little Tikes Pink Car
Childhood, but make it quarantine. 😉
It took us roughly 5.5 hours to put this thing together. So I can't in good conscience recommend buying it. 😂 (WHY WOULD COLOR-CODED DIRECTIONS EVER, EVER BE PRINTED IN BLACK AND WHITE?! WHYYYYY. 😡) But oh my goodness; besides the worse-than-Ikea assembly experience, our folding kiddie trampoline is a gift from the gods! ⁣⁣
Last week, our neighbors got a 7-ft. trampoline. And we quickly realized how wonderful it would be, for both the physical activity *and* the social distancing playdates. Emma's two best friends live next door, and she's been pretty heartbroken over the separation. Now, though, they can jump on their respective trampolines and sing Frozen songs, play make-believe games, and gab together (over the fence). No, they can't see each other, but it doesn't seem to bother them?! Kids' imaginations are pretty wonderful. ✨ (Even Lucy, who's just under a year, adores the trampoline! We got a ton of colorful balls, and Girlfriend was in HEAVEN.)⁣⁣
In case you're interested, it's the Little Tikes "Easy Store" 7-Foot Folding Trampoline (Amazon/Target), which is great for small spaces. (But seriously. Unless you're a puzzle-loving person, STAY.AWAY. 🙈)
There are, however, a couple of other (non-folding trampoline) 7-footers that appear to be a LOT easier to put together like the Little Tikes 7-Foot Trampoline with Enclosure ($229) and Bounce Pro 7-Foot My First Trampoline Hexagon (also $229) on Walmart. Little Tikes also makes one that has a SLIDE, but be careful of price gouging right now.
Anyway, thanks for all the support over the last couple of days. 😆
We're clearly city people and shouldn't attempt projects without our fathers present. 😜
Hope you guys had a great Easter!

Cozy Jeans (SO SOFT! TTS.) / Rothy's Washable Sneakers / White Long-Sleeved Tee / Folding 7-Foot Trampoline / Balls / Elsa Dress / Little Tikes Pink Car