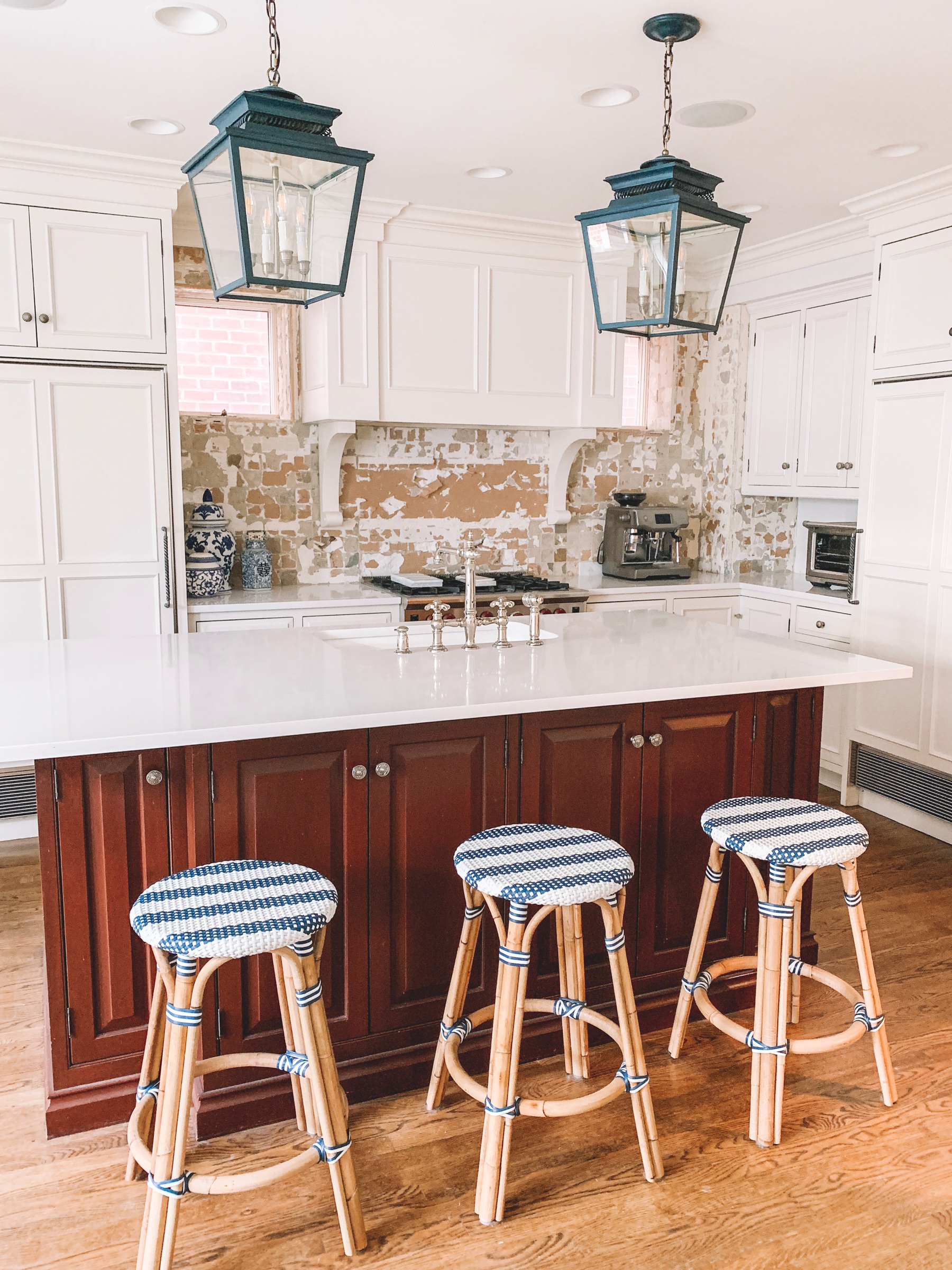 Hi, Friends!
We have so much going on over here, haha. But our kitchen countertops went in yesterday, and we're in love! I can't believe how much bigger and brighter the room looks.
A couple of weeks ago, I shared initial plans for our kitchen. And it's so exciting to see it all happening. I'll do a full (very honest) review about the experience once everything's finished, but wanted to share a few more details today.
Because we weren't doing a full kitchen renovation and only needed countertops and a backsplash, we decided to just go with a big box store. We'd originally wanted to go with Ikea, but the design team there told us that they wouldn't install countertops if we weren't buying cabinets. (Bummer.) So then we looked at Lowe's, Menards and Home Depot… and ultimately went with Home Depot for the following reasons:
It was the best bang for our buck. When we booked everything, Home Depot was having a big sale on kitchen countertops. With a 20 percent savings, the removal of the preexisting countertops, the new countertops, and the installation totaled $5,500. I'll include exact prices and do a cost comparison when I publish the comprehensive review, but I believe that with the promotion, the countertops cost $69 per square foot. In higher-end stores in Chicago, similar countertops were priced around $90 per square foot. (In case you're wondering, removal of the backsplash tile, the tile itself, and the installation came to $2,543. So all in, about $8,000 for both countertops + backsplash.)
We liked a particular quartz. We really liked Silestone's "Statuario" quartz countertops, which my brother-in-law used in his recent home renovation, and it was only carried at Home Depot.
We didn't have to make very many decisions. Building off of that, we loved the idea of just copying Charlie and making things as painless as possible. We're really tired, haha… and we've been doing renovations for a long time now. And while renovations can be fun, they can also be draining! Because we copied, the only decision we had to make was the type of edge. It took about 20 seconds. (We went with "Eased," which is the sharpest edge. 😝)
The turnaround was the quickest. Only three weeks! Pretty spectacular.
The countertops and backsplash
Again, we chose Silestone quartz countertops in "Statuario", which is Home Depot's most popular quartz. We LOVE them. Meant to look like marble, they have very subtle veining that doesn't appear pixelated. (We found that so many quartz countertops' veining looked super fake!) Sure, it's pretty obvious the countertops aren't real marble, but the look is beautiful and I can't get over how much they brighten up the room!
One thing to note is that Home Depot almost never has samples in stock, I guess because it's so popular. I literally never found one, and I visited a bunch of stores. (They have cardboard samples, but the cardboard samples are NOT accurate in terms of color.) Home Depot does, however, sell a sample online, and I would highly recommend buying that so you can see what it would look like with your cabinets.
For the backsplash, we went with Jeffery Court Carrara White 3×6 Honed Marble Wall Tiles, and we plan on installing them in a herringbone pattern. It's just a standard marble subway tile, though a lot of people have DM-ed me on Instagram saying that they have it and love it, so that makes me feel good about the decision! (We brought home some samples from Home Depot and then just went with the one that we liked best. They all looked REALLY similar to me, though!)
I should mention that I was nervous about whether the warm white cabinets, cooler quartz countertops and (real) marble backsplash would clash. But I've seen SO many designers do it, and I love how it looks! The different whites somehow complement each other.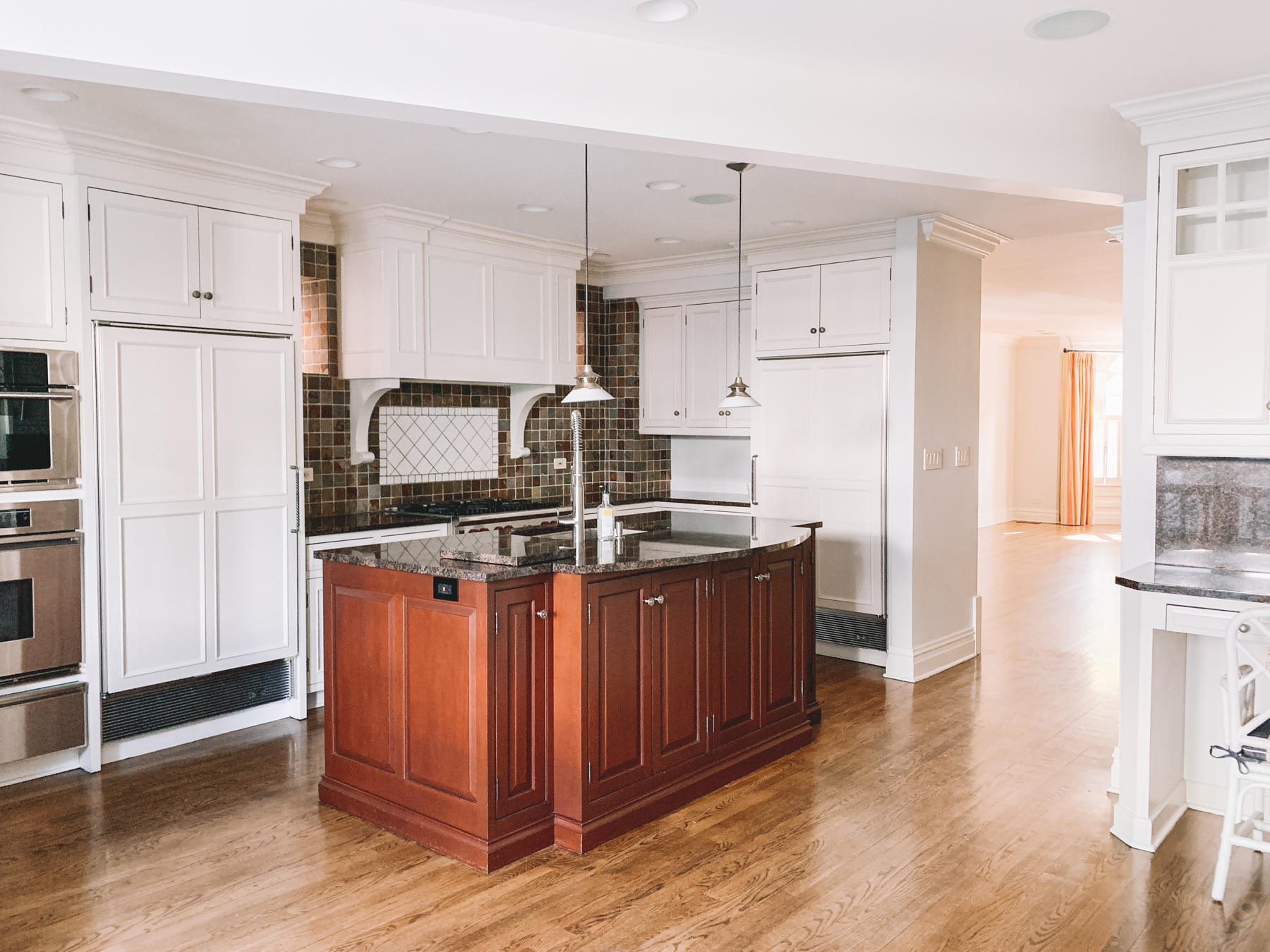 The before
How it's going so far
So far so good! I was a teensy bit worried about going with Home Depot, just because I assumed a giant company wouldn't put much care into our project. But things have gone very smoothly, and everyone's been friendly and helpful. Thus far, the process has entailed:
Going into the store and committing to/paying for the countertops with a rough estimate of how many square feet we'd need.
Ordering a sink, faucet and garbage disposal. We were told that we needed these things at the house before the field measure could take place.
A field measure. This took about an hour and a half, and it occurred about a week later. Btw: Home Depot contracts this out to another company, but that hasn't impacted us at ALL. No extra work whatsoever; Home Depot handles everything, and they're the point of contact.
Prepping the kitchen. We were told to remove everything from the countertops and the interior contents of any drawer that would be exposed when the original countertops are removed.
Installation day 1: Preexisting countertops and backsplash were removed, and new countertops were installed. Countertops came already cut; the only on-site cuts that the team needed to do were cuts for the faucet. (Small holes.) Again, this is done by the company that did the field measure.
What's next
Installation day 2: Plumbing hookup. (Different team. Note: The faucet appears to be hooked up in these photos, but Mitch and I just placed it in the holes because we couldn't wait to see what it would look like!)
Installation day 3: Backsplash installation. (Different team.)
Issues
Of course, I have a few things I'm worried about because HELLO. ;)
The countertop on the desk (not pictured) doesn't touch one of the walls, and it doesn't look like the tile will cover the gap. But verdict's still out on that one. Not sure if there was a reason for that… or if they already have a plan. (Only noticed it last night after the crew had left.) We'll know more soon!
The desk drawers need to be tweaked. They're harder to open and close now. I'm definitely going to have Home Depot fix that!
Dust. Dust comes along with nearly every renovation project, but I suppose I assumed that it would be minimal with this one, since the majority of the cutting takes place off site. But the dust even made its way up to the girls' rooms! So if you're considering going with Home Depot, I would ask for the crew to put some plastic up. And if they won't do it, put it up yourself!
Other products
I'll include more about this stuff in the "full reveal" post, but I've linked up everything below.
STAY TUNED!