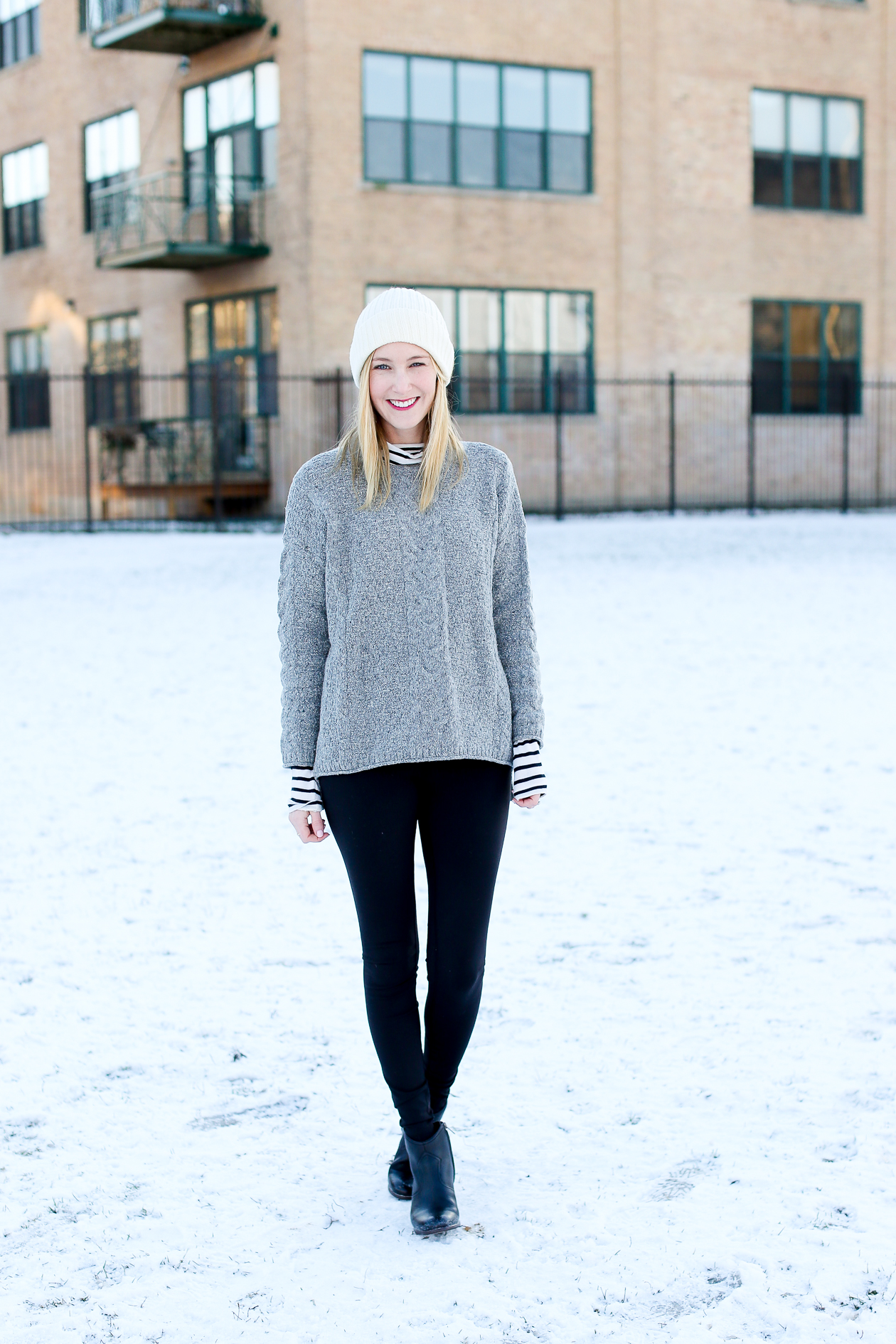 Madewell Sweater (Old, but I am dying over this one! See other gray sweaters below) / LuLuLemon Leggings (FIRST PAIR. A gift from my parents. Thanks, Guys! Sizing tip: Go up at least one size!) / J.Crew Striped Turtleneck (But also love this one and this one) / Lands' End Booties c/o / J.Crew Factory Hat
[dropcap]I[/dropcap]f I had to wear one article of clothing every day during Chicago winters, it would be a gray sweater. Not sure how it's possible, but somehow, it's cozier and warmer and softer than the same sweater in another color. ;)
If I'm shopping, and trying to decide on what color to purchase a sweater in, it's always gray– and I end up having to talk myself out of it every time for variety's sake. And I always reach for my grays first when getting ready in the morning, and, again, have to talk myself into wearing something else. Though the days that I do allow myself to wear my favorite gray sweater? (It's old and sold out, but I'm dying for this one!) They're some pretty great days, haha.
On Sunday, Mitch thought it would be a great idea to venture to Wrightwood Park with Noodle in eight-degree weather. And I thought it would be an even better idea to throw my jacket off for a couple of minutes to snap photos of my favorite gray sweater. HAHAHA. Not so much. Some of the worst minutes of my life. ;) Needless to say, it was the quickest trip to the park we've ever taken.
Anyway, I've included some gorgeous gray sweaters for your shopping pleasure below. DON'T LET ME PURCHASE ANY OF THEM. Stay warm out there, guys!