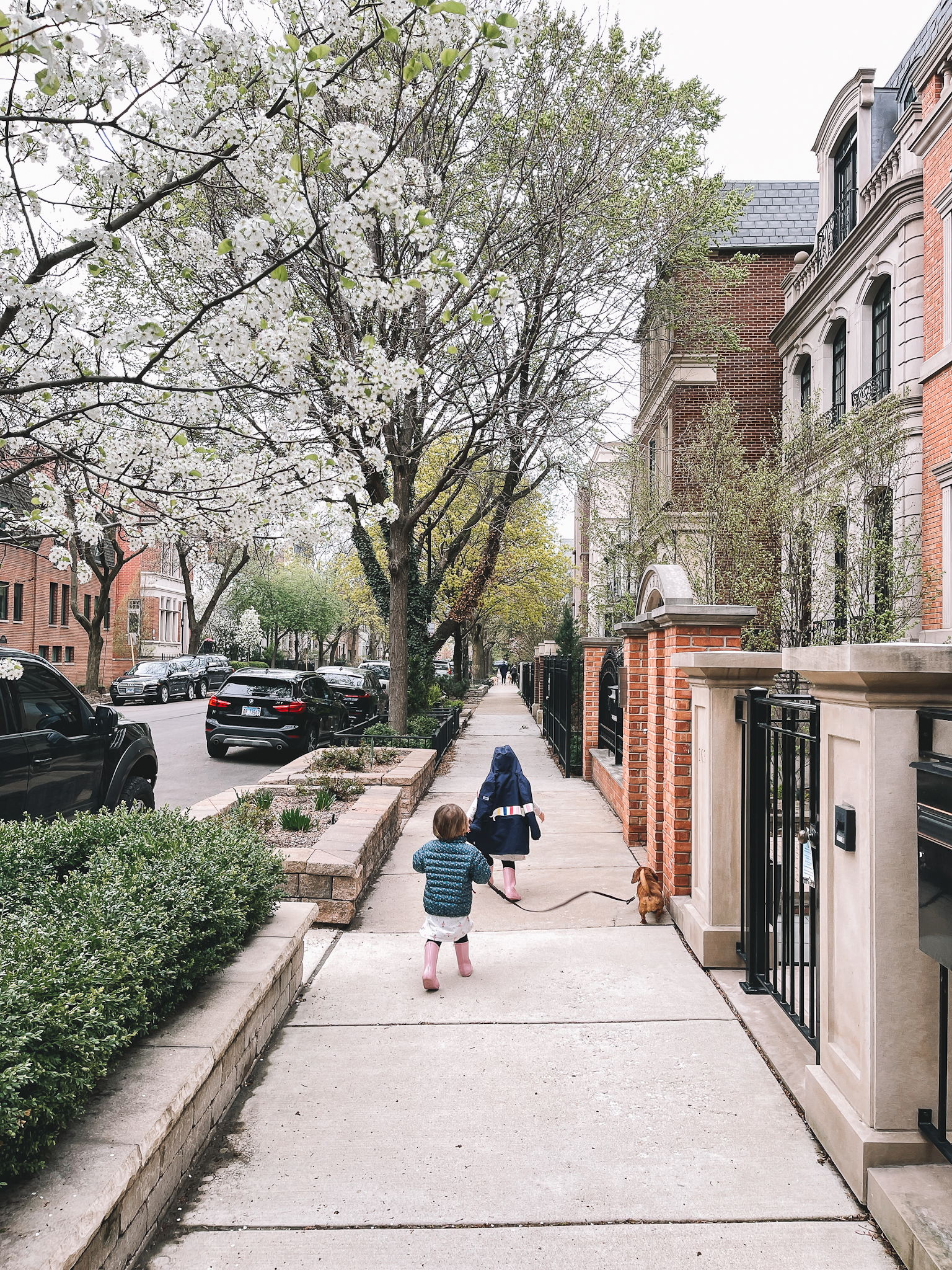 Whoa. It's been quite the week over here; feels like we've been go-go-go for ages. Nice to sit down at my computer, breathe and touch base with you guys!
Here are some updates/the first 10+ things that come to mind:
We went down to the lake house this past weekend to celebrate my mother-in-law's birthday. Celebrating Lisa was lovely! It rained the whole time, but it was honestly really nice to be cozied up in side by the fire. We actually ventured out on Sunday to stick some fishing poles in the water which was fun—but we quickly ran back inside as it was pretty chilly and Noodle got into an altercation with a goose. (Everyone was fine, haha.) We gave Lisa this personalized door mat, in case anyone's looking for a good mother/MIL gift!
As of yesterday, ALL ILLINOIS RESIDENTS ARE ELIGIBLE TO GET THE VACCINE. Chicago residents are still not eligible, however, to receive the vaccine in the city. That should happen on the 19th, though officials are saying it may take a few weeks to get an appointment. If you're looking to get one sooner, please read about my extremely positive experience getting vaccinated at the federally funded FEMA mass vaccination site in Gary, Indiana—very close to Chicago! (The Pfizer vaccine doses are coming from the federal government and not Indiana'a allotment, btw.) There are many open appointments, and walk-ins are even encouraged. You must be 16+ and human, but you do not need to live in Indiana. More information in this post.
Mitch and I are starting to talk about taking a weekend getaway sans kids in late May or early June. Once we're fully vaccinated, of course, but gosh! We need it. I can't imagine what it would be like to be on our own for a few days and to have adult conversations in peace, haha. I'm so excited. I'm personally dreaming of Key West, as there are direct flights from Chicago. Mitch says he just wants something HOT. Any suggestions?!
I'm kind of into the puffy sandal trend. How could I not be?! I think my #1 right now is this pair from Anthropologie. This very similar version is also really cute. All hail trendy comfortable footwear.
Read: "A Mysterious Suicide Cluster" from The New Yorker. This gave me the chills but was such a good read. Mitch and I haven't stopped talking about it. So tragic. And creepy.
I changed my mind about the kitchen cabinet color. Ugh. Why are whites so hard?! I'm just so bad with making decisions about colors. (You should have SEEN the apartments I painted in New York. Just terrible.) Anyway, I think I was influenced a bit too much by Pinterest. When you type in "white kitchens," a whole lot of very, very white kitchens—all super clean and tidy—pop up. And I was like, "Yes. That is the lifestyle I aspire to have." 😆 But our house is very old and traditional, and most of it features creamy whites—not pure, bright whites. So with the help of Kira David Design (now with offices in both Chicago and Boston/Rhode Island), we're abandoning the Benjamin Moore "Chantilly Lace" idea and instead going with Benjamin Moore "Dove Wing" on the cabinets and "White Dove" on the trim on the baseboards and around the door and windows. "Dove Wing" is a muted, warmer off-white and I think it'll go better with the feel of our old home! Now that we have a better plan, I'm so pumped to see it come together. With any hope, in the next couple of weeks?!
On a related note, I love the cabinet knobs. They're actually already up because the painter needed to determine if sanding down the area where they attach is necessary! (Their footprint is almost identical to the old ones, so it's not. Praise be.) We went with Rejuvenation's Massey knobs in "Aged Brass." They're really, really beautiful and they warm up the space in the best old-timey way. Can't believe what a difference new hardware makes! The best part is that I found a reader who is going to take the brushed nickel knobs and use them for her kitchen renovation. :) For the fridge/freezer pulls, we went with the Rigdon—very honestly because there were two in stock at the local Rejuvenation and we needed them yesterday. But I love them!
One Home Project Every Day: I will say that because of all the mental energy I've been channeling into the kitchen cabinet color, I've slowed down with this. But yesterday I worked on some shower bottle consolidation, which sparked way more joy than expected. I emptied all our shampoo/conditioner/body wash into these beautiful Amazon containers recommended by Gray Malin, and WOW! Guys. I highly recommended. Kind of makes you feel like you're a hotel?! (Okay. That's a stretch, haha.)
I missed my Aunt Michelle's birthday celebration. I'm so bummed about it! Since we weren't vaccinated, it really wasn't possible to make it out to Long Island, where my family is originally from. But I hear that it was a wonderful celebration with all the aunts and uncles who have been vaccinated! A wonderful bit of normalcy, they said, and so good to actually hug each other! Happy birthday, Aunt Michelle. We love you so much and can't wait to celebrate when we see you next!
The big Shopbop sale is on. It's very good this year! In case you're new to Shopbop, it's owned by Amazon… so if you have an Amazon Prime account, you can shop with essentially the same benefits! Two-day shipping, free returns—all that.
I watched Netflix on my laptop in bed last night and I suddenly get it. How was this the first time I'd ever done it?! It's GREAT. I don't watch a ton of TV mostly because I feel guilty doing it—I'm constantly battling that "I should be cleaning while the kids are asleep" feeling—but man. This is a pretty obvious statement, but it was so relaxing. I watched "Firefly Lane," which I've been watching on and off for the last month. We don't have a TV in our room and will probably never have one because I have trouble sleeping. But it's reaaaallllyyyy nice and I get it.
My parents arrive on Friday! I'm just so psyched. We haven't seen them since Christmas, so it's been a long time! They drove out for the holidays, which was difficult and stressful… but since they're fully vaccinated, they can now fly. So much better! We don't have any big plans, but fingers crossed for good weather so we can hang out on the patio, go to some good outdoor restaurants, and maybe hit up the zoo. It'll just be so nice to be together again… and get some help. ;)
Skin update: I quit the Retin-A Micro. I COULDN'T HANDLE IT. While an awesome reader recommended putting it on top of moisturizer so lessen its harsh effect on sensitive skin, I think I was just done. I'm a bit ashamed because I know you're supposed to wait it out for at least three months, but I'm going to try to continue to use it around my eyes at least, and then go back to the Olay retinol for everywhere else. Really looking to up the ante on my skincare routine since I'm not getting any younger, so if you have any miracle products that you recommend, let me know!
I hosted my first four-year-old sleepover this past Friday. Walker's parents were out of town and asked us whether a sleepover might work, and it couldn't have gone better! We picked her up after school, went home and played for a while, had backwards dessert/dinner (walked through the park to get ice cream first and then had pizza back at the house), watched a movie, and stayed up late giggling. The girls were amazingly well-behaved and sweet, and spent most of their time singing and dancing to Taylor Swift songs. Can't wait to make this a regular thing, and also can't believe that we're in the sleepover life phase. How is this going so quickly?!
I found the best bagels in Chicago! It's Gotham Bagels, which are based out of Madison, Wisconsin. They've been on Dearborn for a while but they also have a new location in Lakeview that recently opened. I couldn't get over how good they were! Seriously taste like they were made in New York. Can't recommend them more.