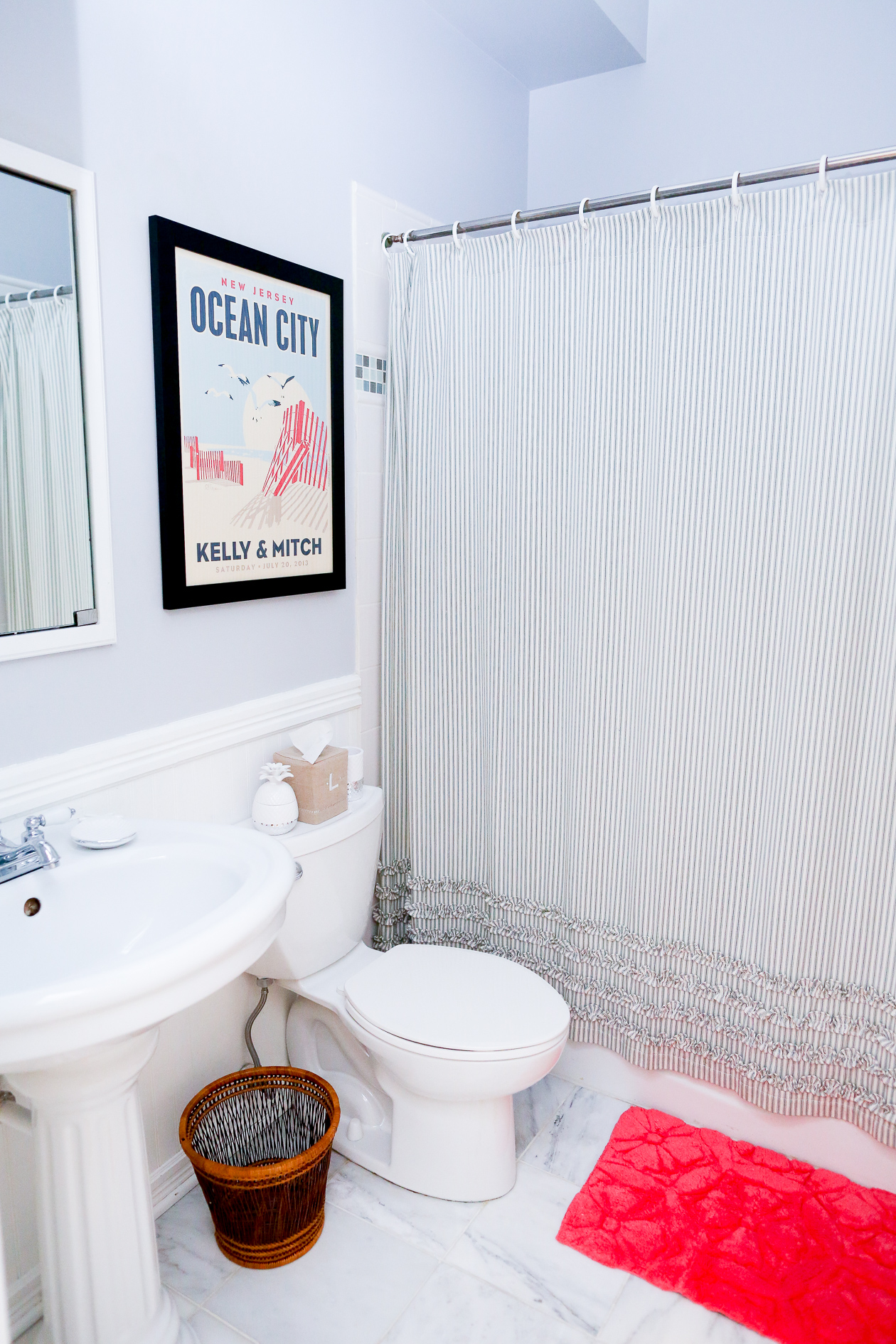 The other day, Mitch and I were joking that our tiny guest bathroom is literally the only room in the house that we aren't changing in some way. The master bedroom and bathroom are gut-renovation jobs, and we plan on remodeling the living room fireplace, moving the guest room door so we can turn the office into a third bedroom, refinishing the kitchen cabinetry and replacing the kitchen countertops. Sheesh! But the guest room bathroom? We adore it. (Even though it doesn't have a window and is therefore pretty challenging to photograph!) So today, I thought I'd highlight something that we don't want to change. :)
Because let us not forget that one bathroom on the Upper East Side that essentially was the kitchen, too. (Ew.) Or the other one in the East Village that exploded. (As horrible as it sounds.) Or that extra special one in the West Village that was infested with cockroaches. (Don't worry; got out of that place quickly.)
And because taking the time to notice and appreciate the things we love about the house gets our minds off the fact that we are still living out of suitcases, haha. And reminds us of just how lucky we are.
Anyway, a few things we can't get enough of:
The marble flooring.
Did you guys see this Instagram from a few days ago? Sigh. While our guest bathroom doesn't even compare to that work of art, I'm SO happy with our somewhat similar flooring. ;) Especially considering the rest of the house was very yellow when we first purchased it.
The Ocean City framed print.
This was a gift from my aunt, which she gave us after giving the sweetest speech ever at our rehearsal dinner. (I seriously still tear up just thinking about it!) While it'll likely move once the renovations are completed, I love how it brings some color into the room, and that it brings me back to the most magical time in my life every time I step in there. :) Thank you, Auntie-M!
Our Caro Home bath accessories.
Up until a few weeks ago, I'd been looking all over for cute pineapple-themed bath accessories for the guest bathroom, as pineapples represent hospitality. I thought they'd be easy to find, considering how popular pineapples are right now… but no such luck! Until I was introduced to Caro Home. :) The company–founded by designer (and mother!) Carolina Feinstein–carries the cutest bathroom accessories, towels and bath rugs, among other products. And they're totally reasonable.
I'm obsessed with the Isadora collection, as it's pineapple-themed and features a white-and-silver design, just like the rest of our bathroom. I stuff the jar with cotton swabs and q-tips, and the dish is absolutely perfect for rings and jewelry while showering. I also like that the cup is a nice storage place for guests' toothbrushes!
I decided on the Santiago hand towels, too, because how cute are those dots and tassel-like knots?! And then I went for the Perugia Bath Rug in "Mimosa" because of how perfectly it complements the fence in the Ocean City print. While I've always gravitated toward blue, I'm trying really hard to incorporate more color into our home… and I'm thrilled with the rug's effect on the bathroom!
My other favorite products from Caro Home include this navy-and-green palm beach towel, this kids' character hoodie (for Gracie, Emily?!), and the Perugia Towel Collection, which I just might have to get for the master bathroom. ;)
The waste paper basket.
This seems like a silly one to highlight, but it's a hand-me-down from my grandmother, and I get so many compliments on it! (It also reminds me of Grammie.) While Noodle took a few chunks out of it during her early puppy days, I love its rattan-like look and how it brings a bit of sophistication to the room. Thanks, Gram!
This was a wedding shower gift from my mom, so lots of happy memories. I also can't believe that Mitch had no qualms about the ruffles. Though, I'm sure he's going to read this today and send a text all like, "THOSE ARE RUFFLES?!" ;) Here's hoping the thing stays… (Also, this is our tissue holder.)
The paint color.
I have no idea what it is, but it's great, and we don't need to repaint. Hallelujah!
The wainscoting.
I know that installing wainscoting isn't difficult, but let's be serious: it's not high on our priority list right now, which is why I'm so happy the previous owners tackled that little project. While it needs a little work in a few areas, I love the character it adds to the room, and that it looks so much like my parents' bathrooms on the Shore. Countdown to summer!
Thanks for coming along on the tour! Next home post: "Dining Room Update," scheduled for next week. In the meantime, check out past "Little Home in the City" posts!