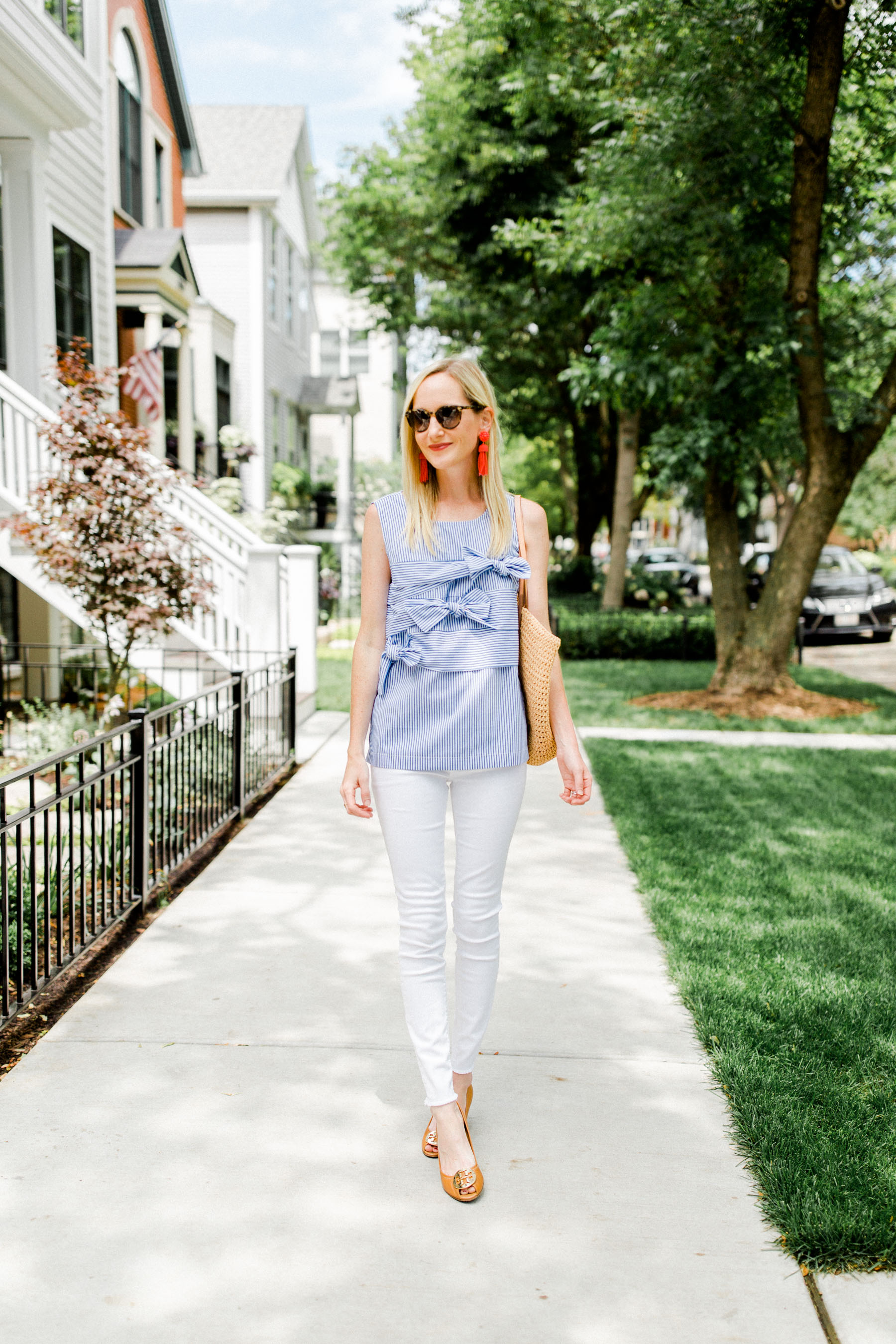 Bow Top (Runs big; size down. Also love this one, this one and this one, which are part of the Anniversary Sale.) / Tory Burch Wedges (The pumps are on sale! As are the flats, boots and sandals.) / Hudson Jeans (On major sale; this pair–also on sale–is another fave.) / Similar Straw Tote (On sale! Also love this one and this one.) / Replacement Sunglasses / Lisi Lerch Earrings c/o / ThirdLove Strapless Bra
Hope everyone had the best weekend! I spent zero time behind the computer screen and all the time with my little fam, so it was quite wonderful. (Side note: I've always wanted to be able to pull off the word "quite," but I just think it makes me sound like a wannabe British girl. Which I am, so it's quite fitting. Ugh. Get me to London ASAP.)
Anywho, Mitch and I had such a fun time with our last Nordstrom e-gift card giveaway that we've decided to run another one before the sale ends on Sunday!
The rules
To enter, you simply need to comment in the comment section. It seems that everyone hates Rafflecopter with a fiery passion, haha, so we're just going to stay away from that.
This time, though, you need to answer a daily question. Mitch is going to come up with it, so that'll be fun. ;)
You can enter multiple times, but only once per blog post. We'll make it very clear which blog posts are eligible for a giveaway entry. Promise!
Last week's posts are also fair game. Simply tell us something interesting about yourself in your comment 😊, and include "**Second Giveaway**" in the first line so we know it's a new entry.
The new winner will be announced/contacted on Saturday, August 5th at 10 p.m. CT, that way she has enough time to shop the Anniversary Sale before prices go back up on August 7th. But if she's out partying until the wee hours of the morning and doesn't see our message, it's okay. She can use the e-gift card to shop after the sale, too. There is life after the Nordstrom Anniversary Sale. ;)
Btw: congrats to Morgan T. for winning last week's Nordstrom giveaway!
Mitch's question of the day
When was the last time you laughed so hard you thought you'd pee yourself? Tell us the story!
Good luck!
Okay! But back to today's outfit, which I wore over the weekend.
It was love at first sight when I saw this striped bow top downtown. How cute is it?! So many compliments and questions about it this past weekend. While it's traditional and classic, it's also quite the statement, eh?! Sizing advice: it runs BIG. I'm wearing an XS here, and it's very generous. Be sure to go down one size! PS — I'm also a huge fan of Also love this top, this top and this top, which are all very similar and on sale.
SO COMFY. I think it's a combination of the little peep toe and the incredibly soft leather, but whatever the case, definitely one of the most comfortable pairs of shoes I own. Could walk miles in 'em without so much as an issue! They run true to size, and also take a look at the pumps, flats, boots and sandals–all part of the Anniversary Sale.
Are you sick of hearing me talk about this pair of jeans? ;) Here's the thing, though: we never know when "priced matched" products will go back up in price, so snatch 'em up while you can! I LOVE these jeans. They're crazy soft, they don't sag, and they have just the right amount stretch in 'em.
Have a great Monday!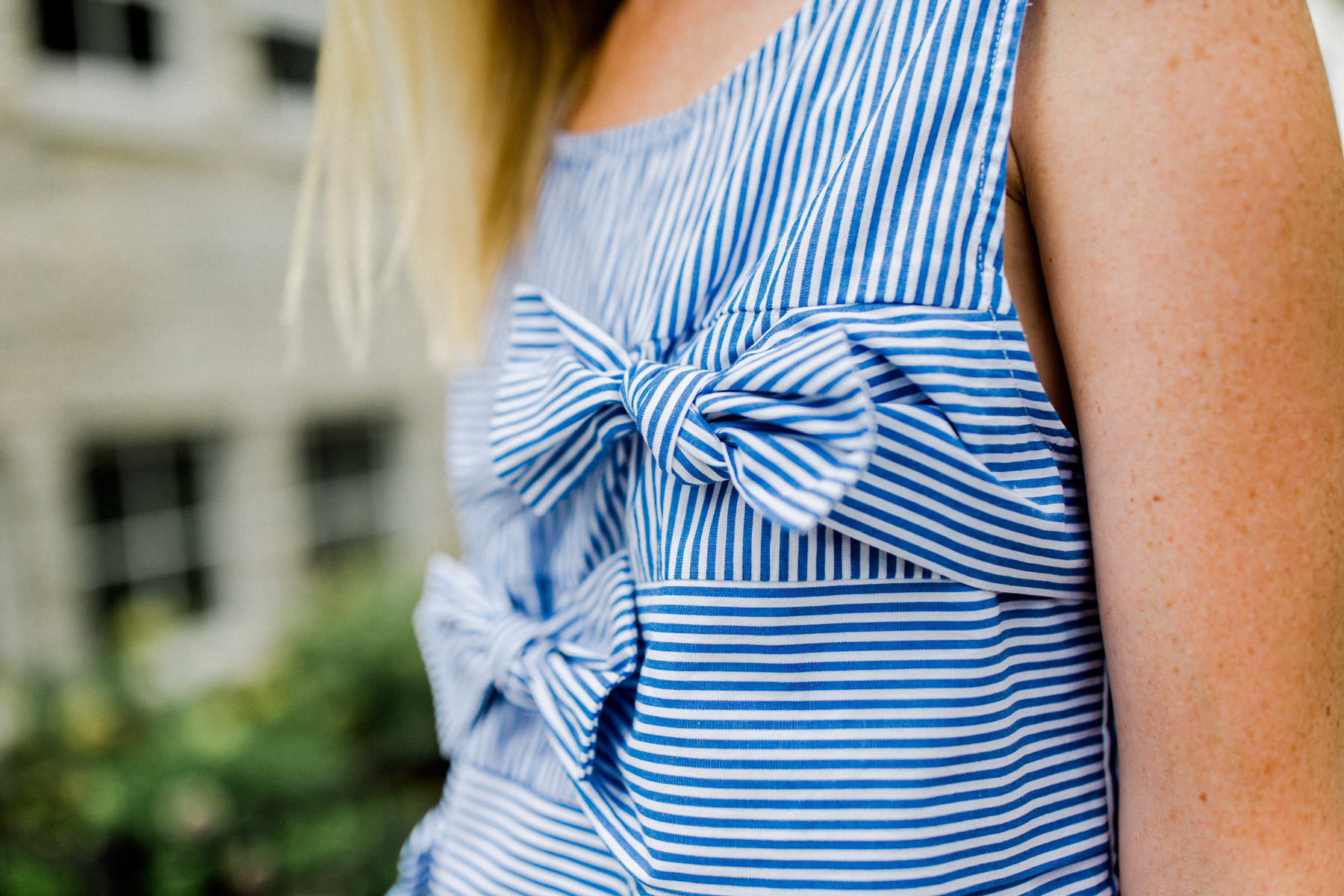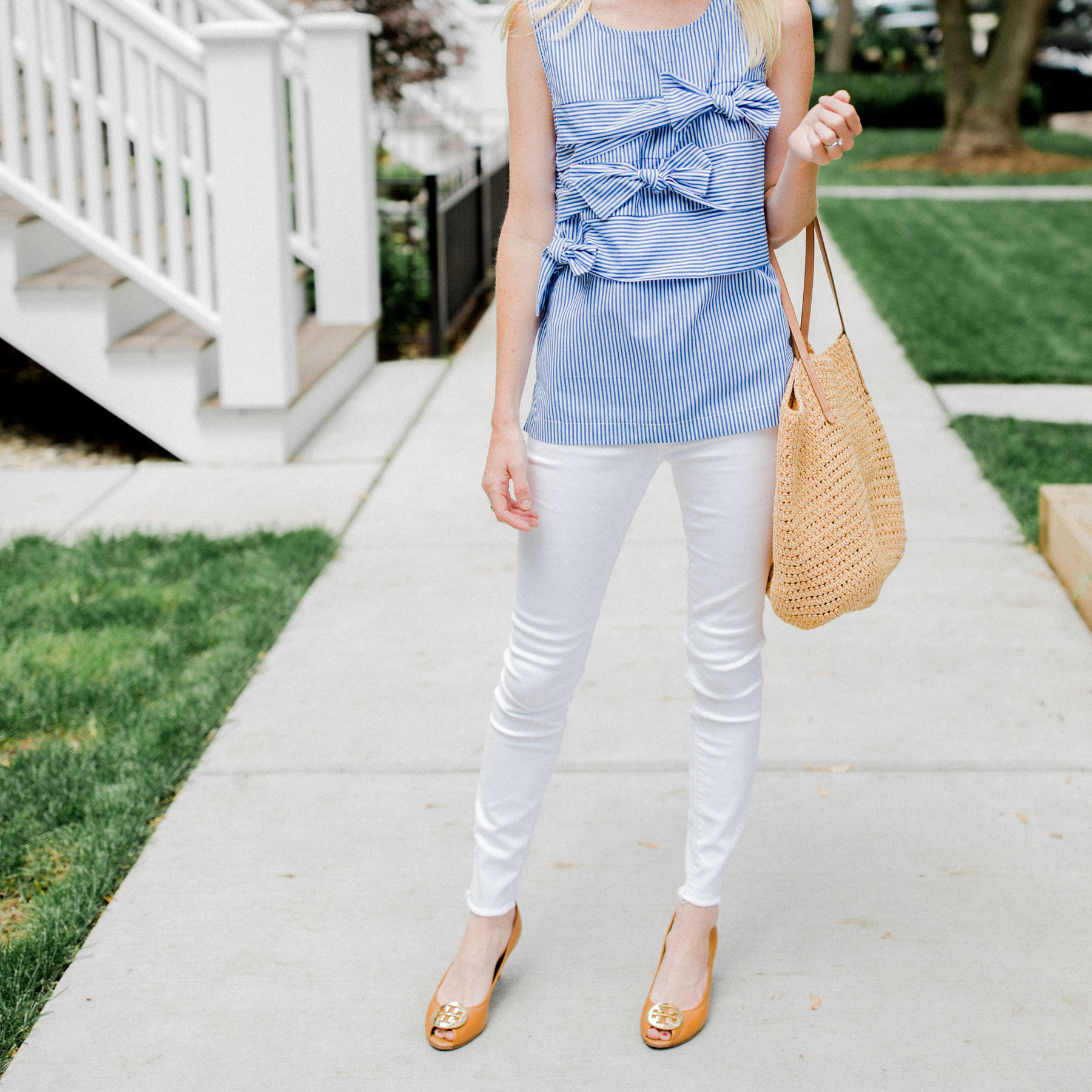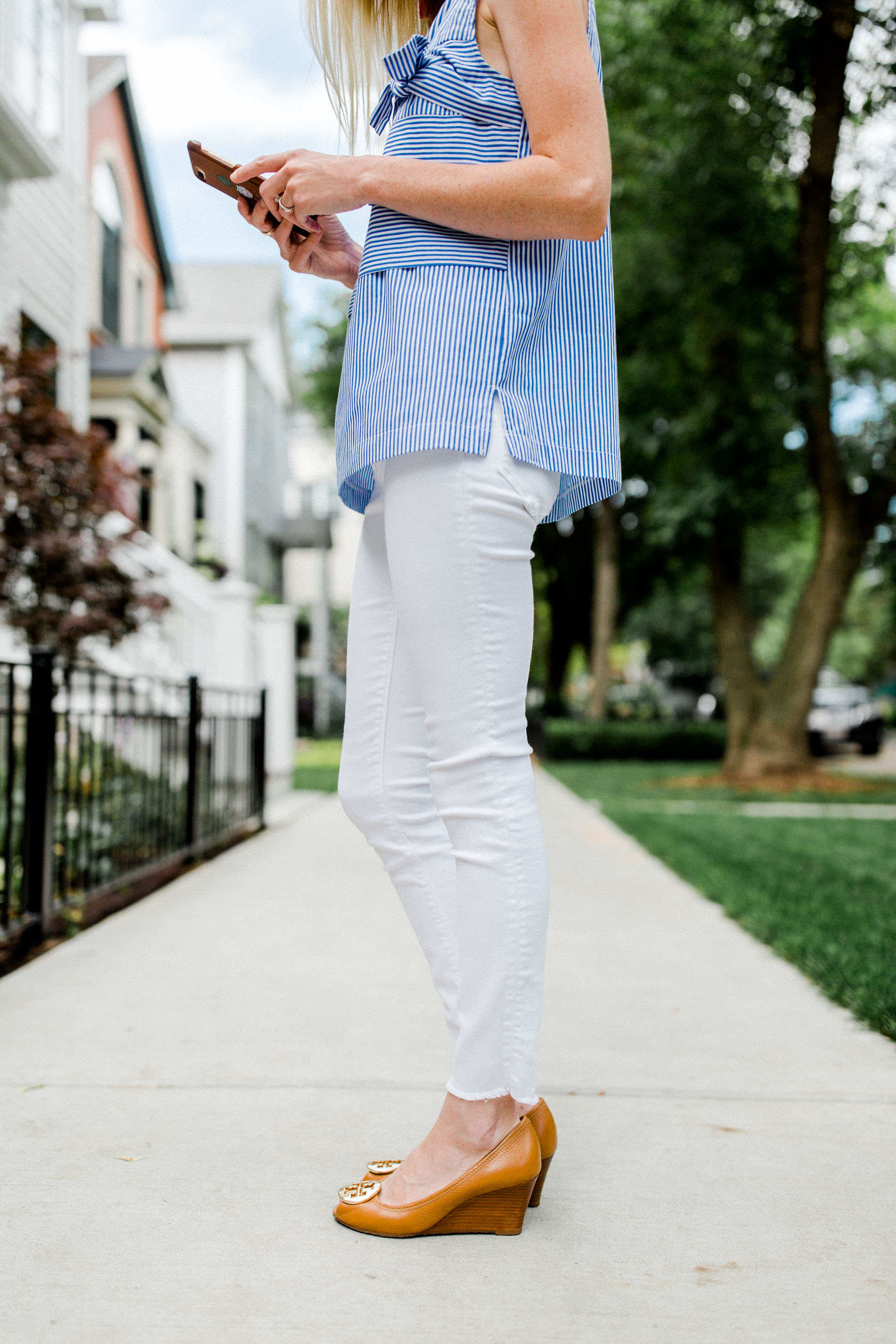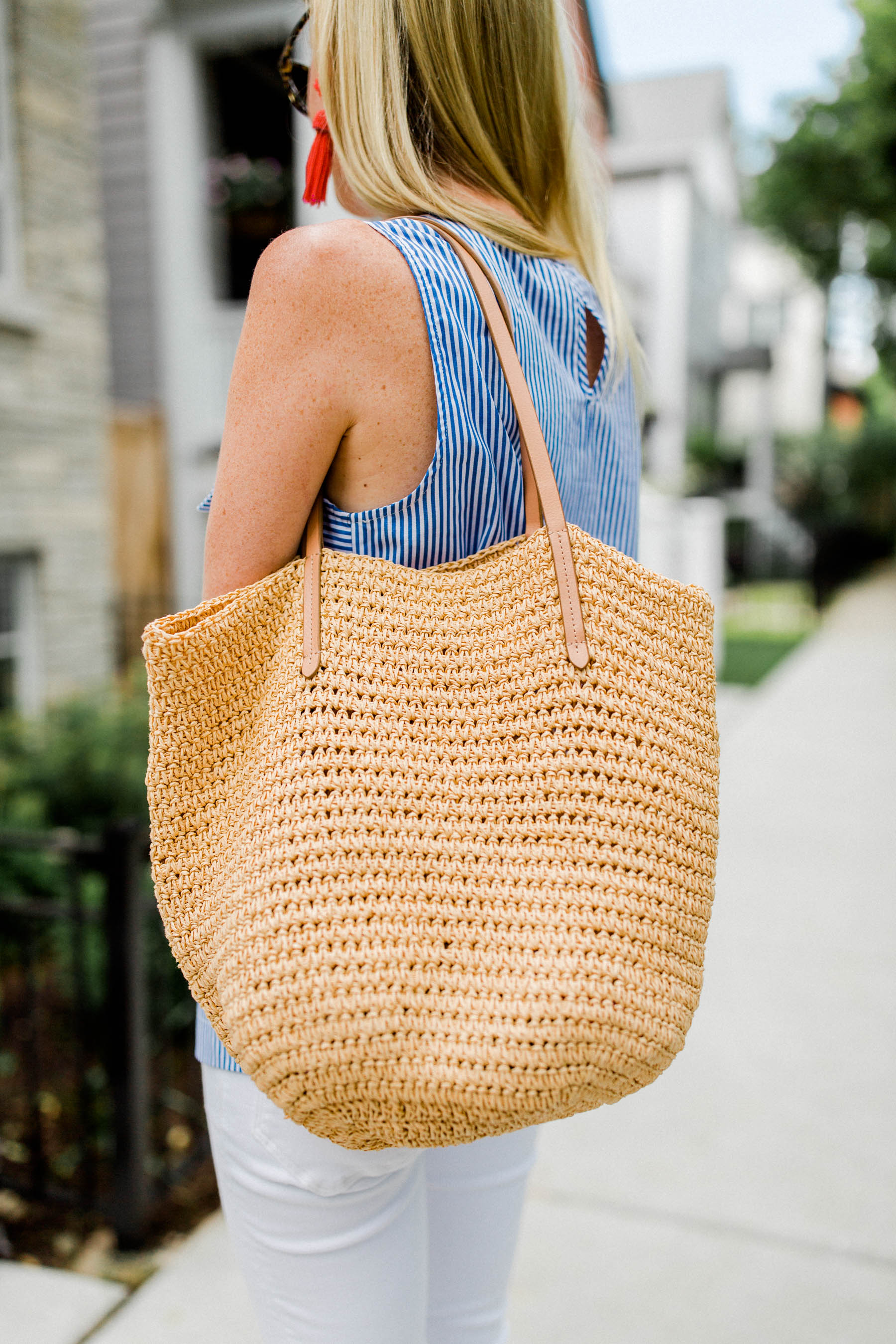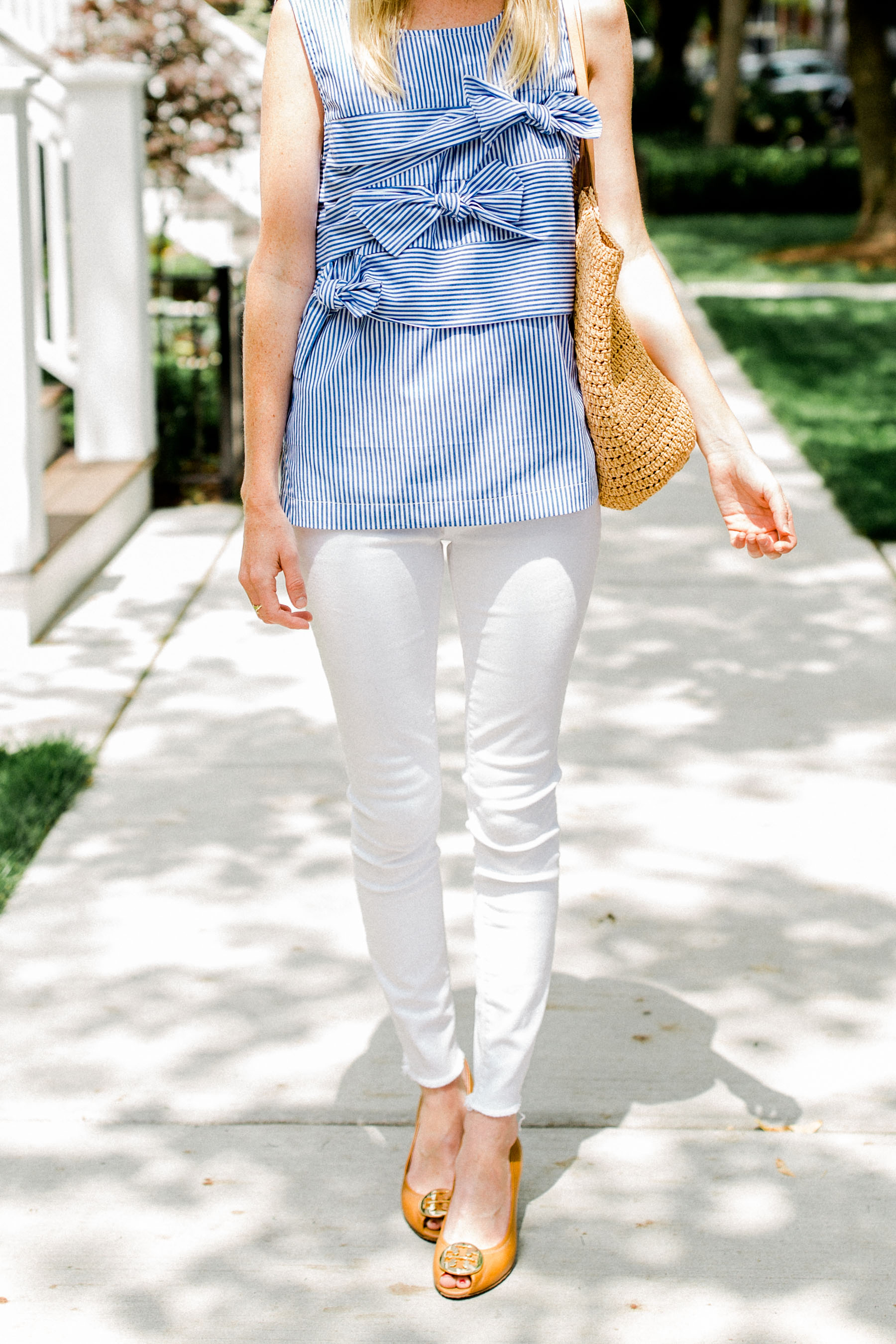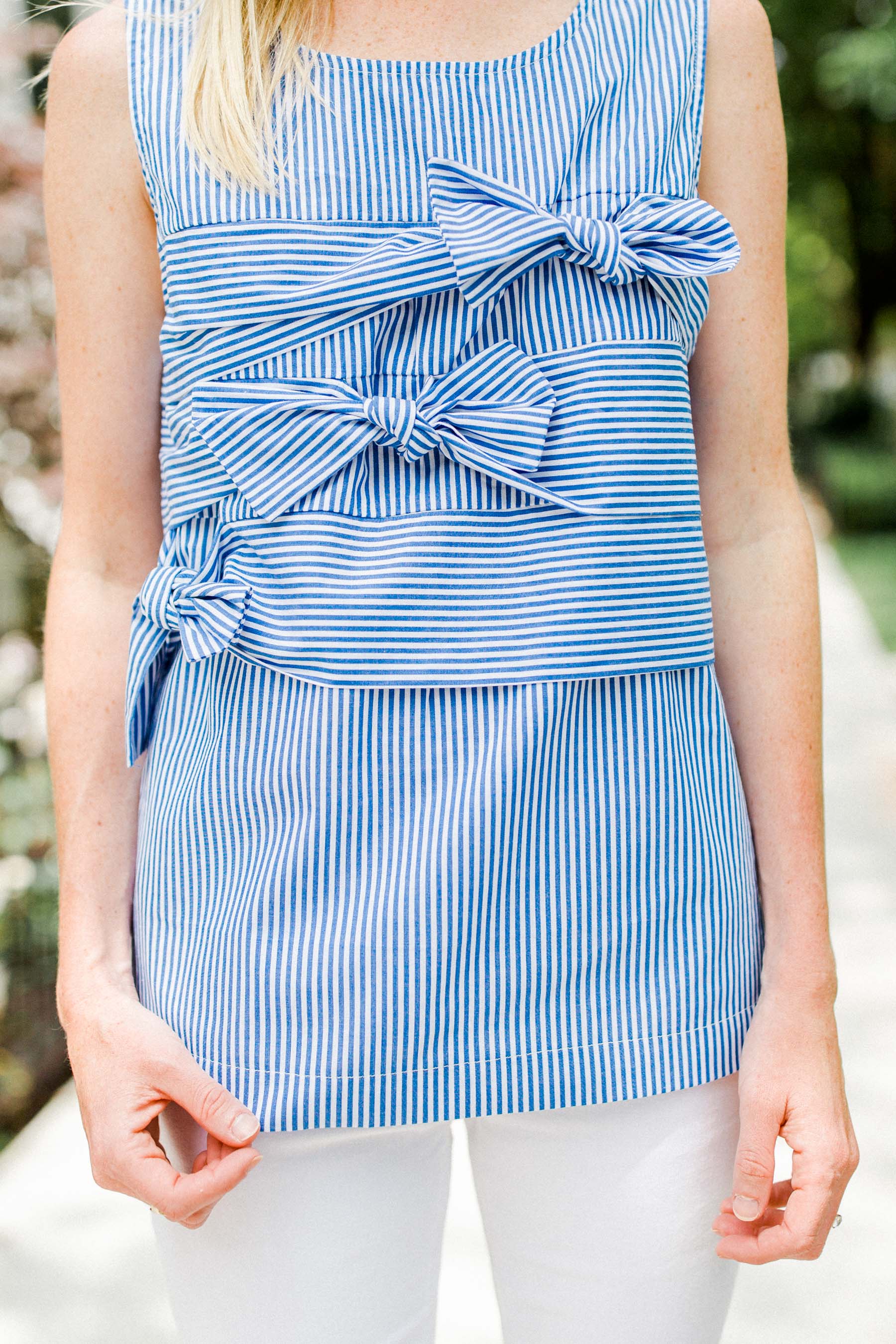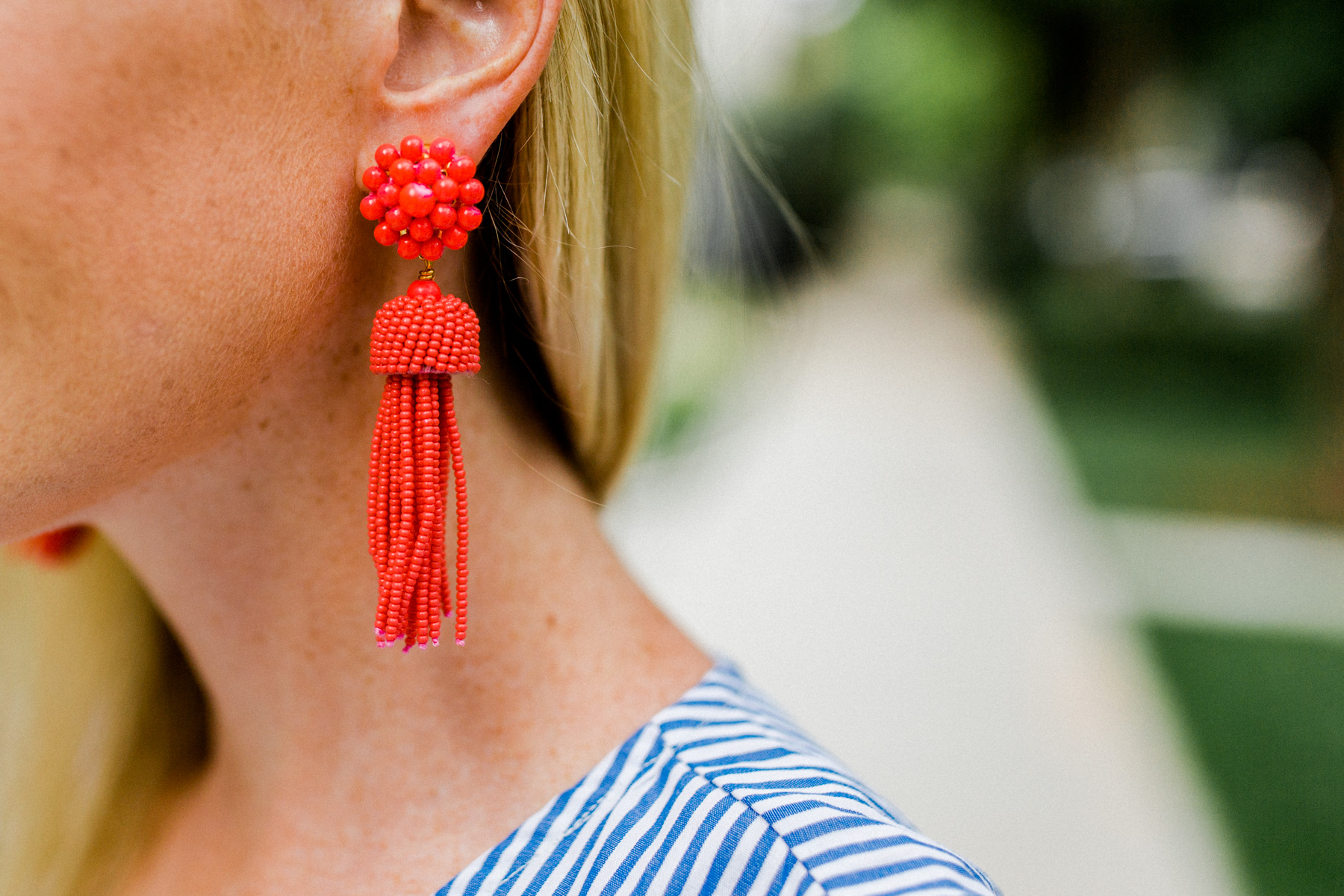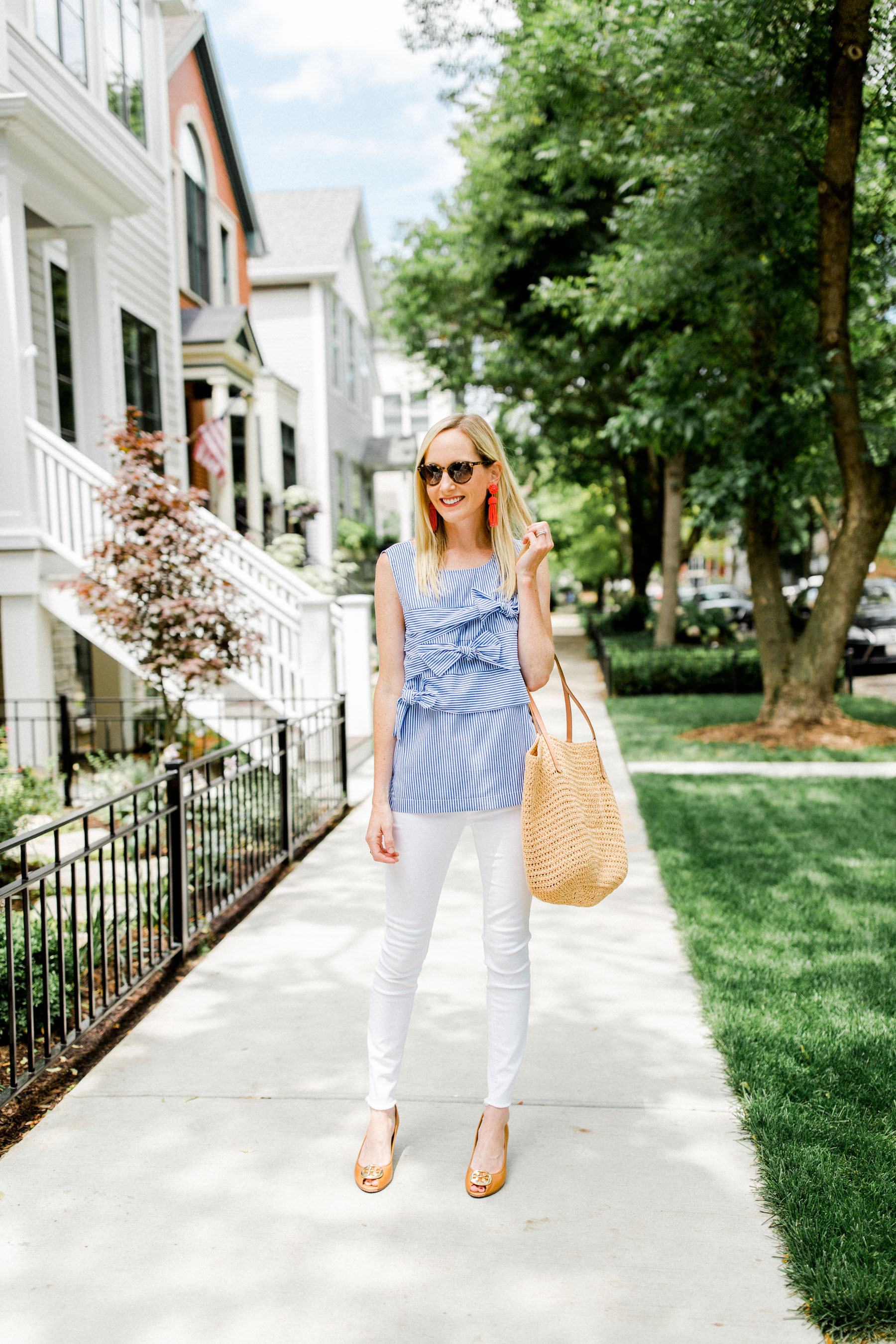 Shop the post:
Bow Top (Runs big; size down. Also love this one, this one and this one, which are part of the Anniversary Sale.) / Tory Burch Wedges (The pumps are on sale! As are the flats, boots and sandals.) / Hudson Jeans (On major sale; this pair–also on sale–is another fave.) / Similar Straw Tote (On sale! Also love this one and this one.) / Replacement Sunglasses / Lisi Lerch Earrings c/o / ThirdLove Strapless Bra