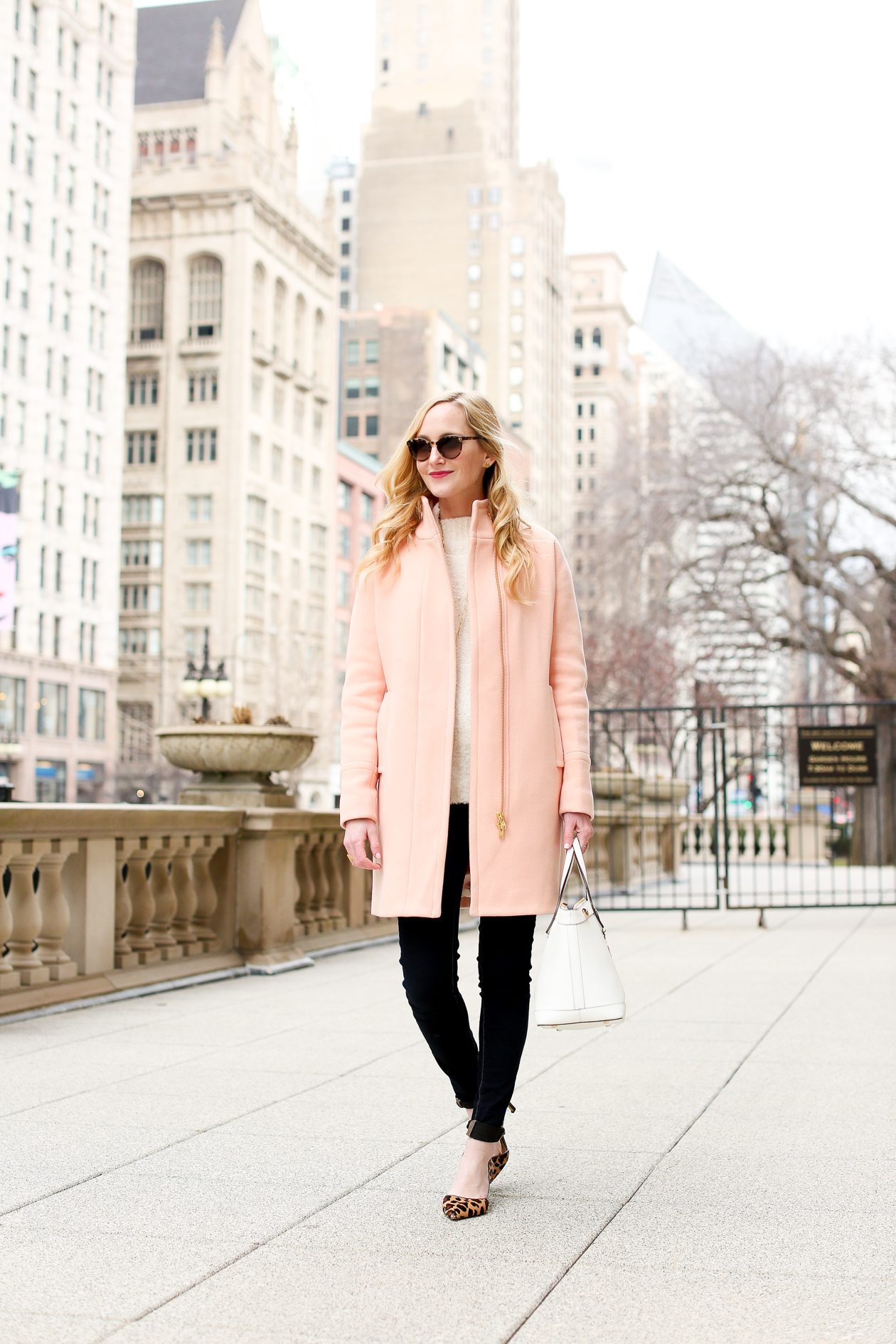 Sole Society Pumps c/o / J.Crew Cocoon Coat (On sale! Also love this version, and the pink "Lady Day Coat," which I wore in this recent post. Also: Factory version here, and nearly identical coat from Nordstrom here!) / LOFT Sweater (On sale! I have this one, too, and I LOVE it! I went up a size in both for an oversized look, FYI.) / Henri Bendel Satchel c/o (Same bag in light pink here, and LOVE this white one!) / Hudson Jeans c/o / Margaret Elizabeth Necklace c/o / Tory Burch Logo Studs / Kate Spade Sunglasses (Old, similar here, here and here)
I know, right? Another day, another post of Kelly wearing a Cocoon Coat and an oversized sweater. I did, however, try really hard last week to mix things up during the "heat wave" with this purple coat, this striped bow top, this hot pink coat, this leopard coat and this pink puffer vest. But a girl only has so many truly warm outerwear options for real #Chiberia weather in February.
Sadly, we're back to freezing temperatures in the city, so I'm in my warmest gear once again. Lots of snow overnight, so it's actually a Canada Goose and Sorel day for sure! (#Sadness)
In other news:
Last night, Mitch and I ran errands (yet another trip to Home Depot and a quick stop at Stanley's for produce), made dinner (chicken marsala!), snuggled in on the couch for a movie ("Trainwreck"), and took Noodle on a walk around the neighborhood so she could romp around in the snow.
Oh! I also booked myself a flight home for early March for my childhood best friend's bridal shower, and I'm SO excited! While it probably won't be much warmer back home, I can't wait celebrate Katie, see family and friends, and just mix things up. February is always such a hard month, full of dreary days and lots of repetition, so having a trip to look forward to is very helpful. :)
In other news, today is my good friend Maya's birthday, and I get to spend the whole day with her! Maya is one of the sweetest, kindest people I know, and Mitch and I are beyond lucky to have her in our lives. (And also as our neighbor. LOVE that!) So if you have a moment, please head over to her adorable blog and wish her a happy birthday. We love you, Maya!
Outfit details:
Sole Society Pumps c/o / J.Crew Cocoon Coat (On sale! Also love this version, and the pink "Lady Day Coat," which I wore in this recent post. Also: Factory version here, and nearly identical coat from Nordstrom here!) / LOFT Sweater (On sale! I have this one, too, and I LOVE it! I went up a size in both for an oversized look, FYI.) / Henri Bendel Satchel c/o (Same bag in light pink here, and LOVE this white one!) / Hudson Jeans c/o / Margaret Elizabeth Necklace c/o / Tory Burch Logo Studs / Kate Spade Sunglasses (Old, similar here, here and here)
Photos by Jess Keys, aka "Golu"