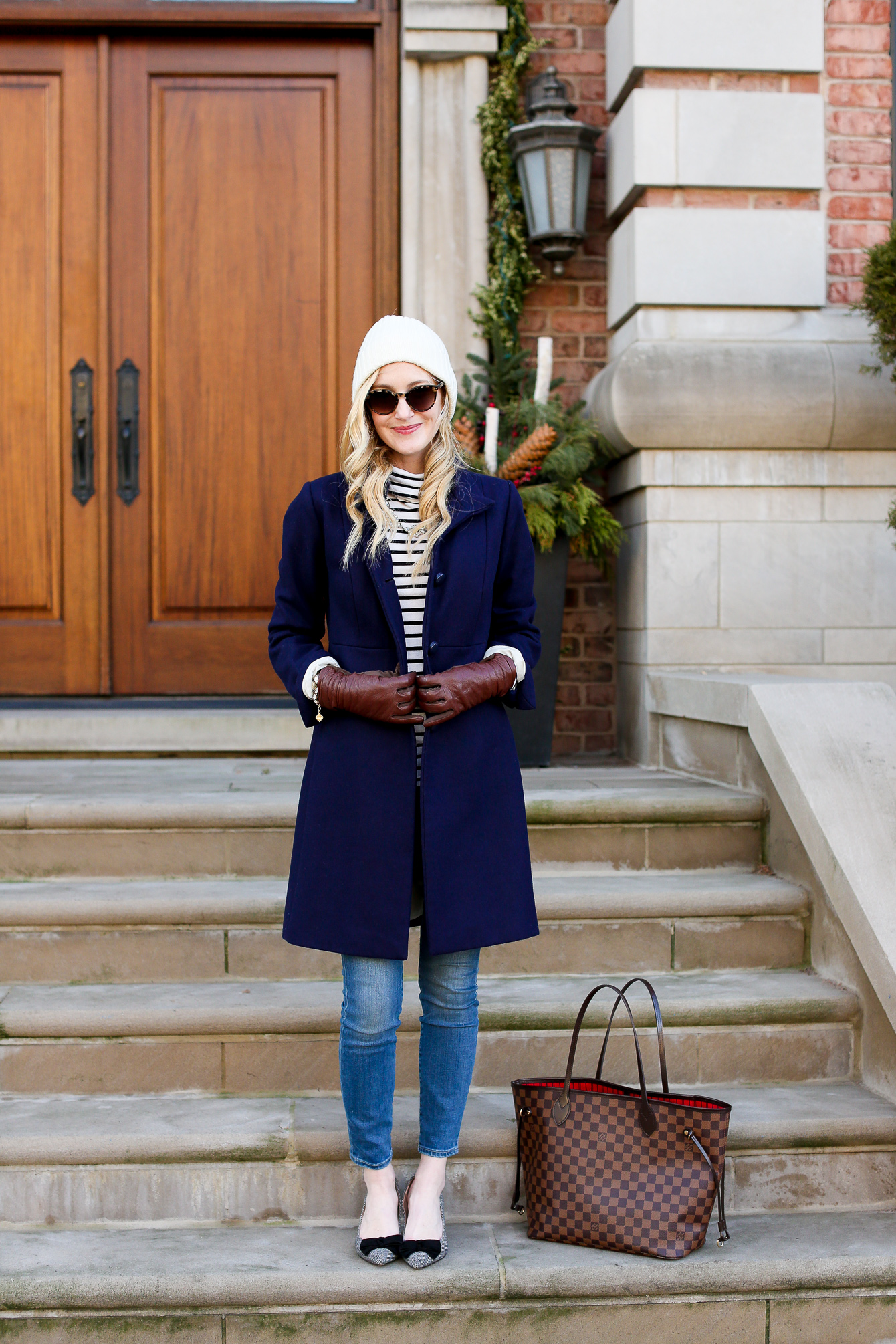 Zippo Hand Warmer c/o / J.Crew Factory Coat (It's from college #omg, but shop my favorite wool coats from J.Crew and Factory below! And how cute is this one? Thirty percent off and free shipping with code "LOVETHIS.") and Hat (Love this one and this one, too!) / Sole Society Pumps c/o (Old, but favorite SS bow pumps here and here!) / J.Crew Necklace (Old but love this one) and Striped Turtleneck / Louis Vuitton Tote (Available pre-owned here and here) / Gap Jeans c/o (I'm wearing the "short" version — No more cuffing! I'm around 5'4–or 5'5 on a good day–for reference.) / Kate Spade Sunglasses (Old, similar here and here) / Tuckernuck Bracelet c/o / Crystal Bracelet (Old, super similar here) / Daniel Wellington Watch c/o

[dropcap]T[/dropcap]ruth: There are many, many winter days when I dress in a giant parka, oversized sweater and winter boots. But there are other days during which said attire isn't really appropriate–like those that include meetings, events, restaurant visits and/or dinner parties. Of course, everyone gets a pass during snowstorms and horribly freezing cold spells, and I certainly don't want to imply that my friends, "colleagues" and husband aren't understanding. (They definitely "get" it, haha. And they're bundled to the max during those times, too!) But this girl doesn't want to be dressed for the slopes every single day of the winter. Sometimes she wants to feel feminine and cute. Sometimes she wants to get dressed up.
Recently, Zippo sent me its 12-Hour Hand Warmer, and it's been a complete game-changer for my "winter dress-up days," and all my winter days, for that matter. So today, I'm sharing my tips for dressing up when it's cold out. :) Oh! I'm hosting a giveaway, too. Scroll down for more info!
How to Look Fashionable in the Cold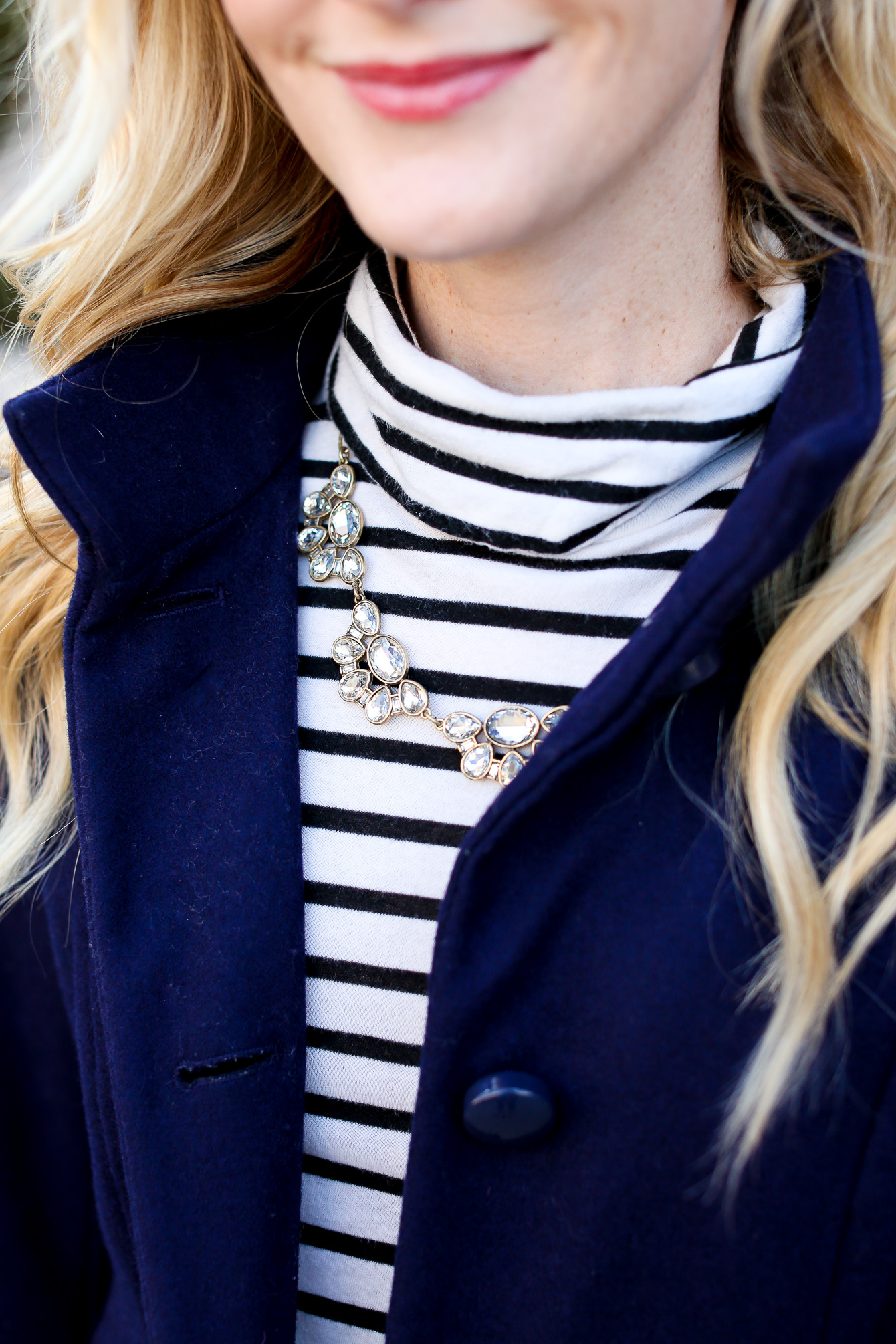 Never let your necklace touch your skin.
Might seem ridiculous, but there's nothing worse than cold metal on the back of your neck. If wearing a chunky necklace, opt for turtlenecks or high-necked tops. I also sometimes tuck a scarf under the back of the necklace when I'm wearing tops with lower necks!
I've been trying my hardest to dress a bit more chic over the last couple of weeks as it makes me happy and boots my productivity, and my 12-Hour Zippo Hand Warmers (which also come in a six-hour version) have made it all the more possible. Zippo, who's known for its iconic windproof lighter, recently expanded into the outdoors category. I love that my hand warmers get warmer than disposable ones, and that they're reusable.
I know I've mentioned this on the blog before, but in case you're new to Kelly in the City, I should mention that I have Raynaud's Disease, which makes my hands (in particular) extremely susceptible to low temperatures. Even on relatively "warmish" winter days, my hands are like ice cubes, and on the coldest winter days, they're beyond painful. (There have been a few occasions when I've actually crying from the pain. It's rough!) My Zippo Hand Warmers, however, have made my situation SO much better. I simply keep 'em in my pocket, and magically, my hands no longer hurt! I've even found that the rest of my body feels warmer when I have the hand warmers in my pockets. (Their heat is consistent, long-lasting and odorless, too.) Pretty nice.
The flameless hand warmers feature Zippo's new Easy-Fill Technology, which allows you to fill the product in seconds with Zippo Lighter Fluid. To activate the hand warmers, all you need to do is use a lighter, and then wait one to two minutes for the units to warm up. Then you simply place the them into the included fleece warming bags, and tuck 'em into your pockets. So easy!
Today, I'm giving away a "Zippo Heat Set," which includes a 12-Hour Hand Warmer, Zippo lighter and fuel. To enter, simply use the Rafflectoper widget above. Or, if Rafflecopter isn't your thing, simply comment in the comment section about why you could use a Zippo Hand Warmer! :) And if you can't wait, visit thebesthandwarmer.com for a $5 off promo code, or use the code "GETHEATED" on Zippo.com.
Good luck!
Invest in cute hats.
I've long been a hat-hater, as I have fine and easily tangled hair. But they're so necessary. I just carry a tiny brush in my bag at all times so I can spruce up my hair once I'm inside and I take off the hat!

The above hats are 30 percent off today–and ship for free!–when you use code "LOVETHIS."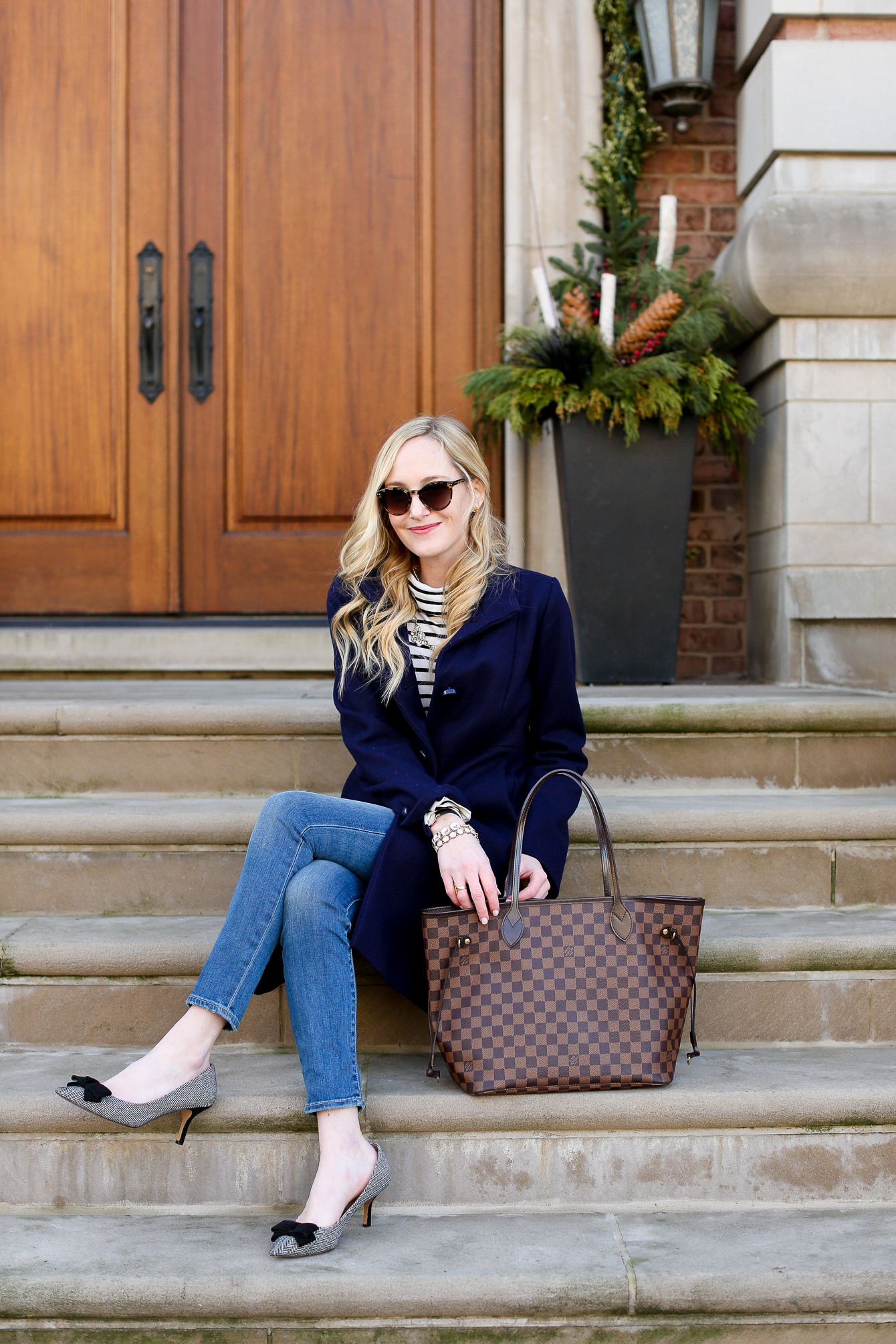 I know. They remind you of grandmas. But grandmas are smart ladies, my friends. I'm actually not wearing my knee-highs in these photos as we've recently been experiencing a warm spell in Chicago, but I almost always have 'em on. (They make SUCH a big difference.) As long as you match them to your skin tone, you really can't see them. These are my faves!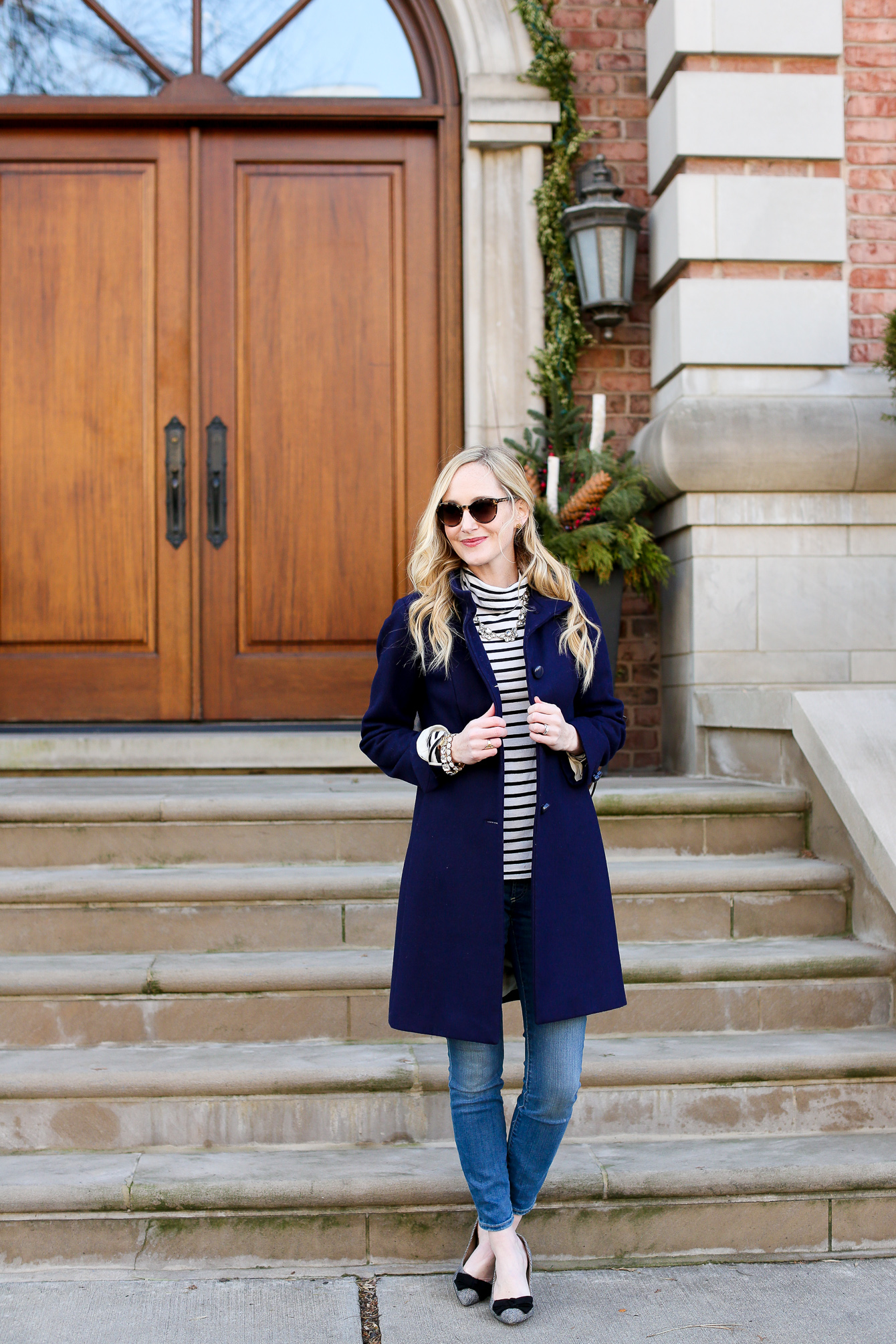 Choose a wool coat (with pockets!) that's actually warm.
While I know I talk about J.Crew's Stadium Cloth and Double-Cloth wool coats all too often, they're magic, and you need one. Admittedly, they're not as warm as a puffer. But they're the warmest wool I've ever owned. :) They also have pockets, which are great for those Zippo Hand Warmers!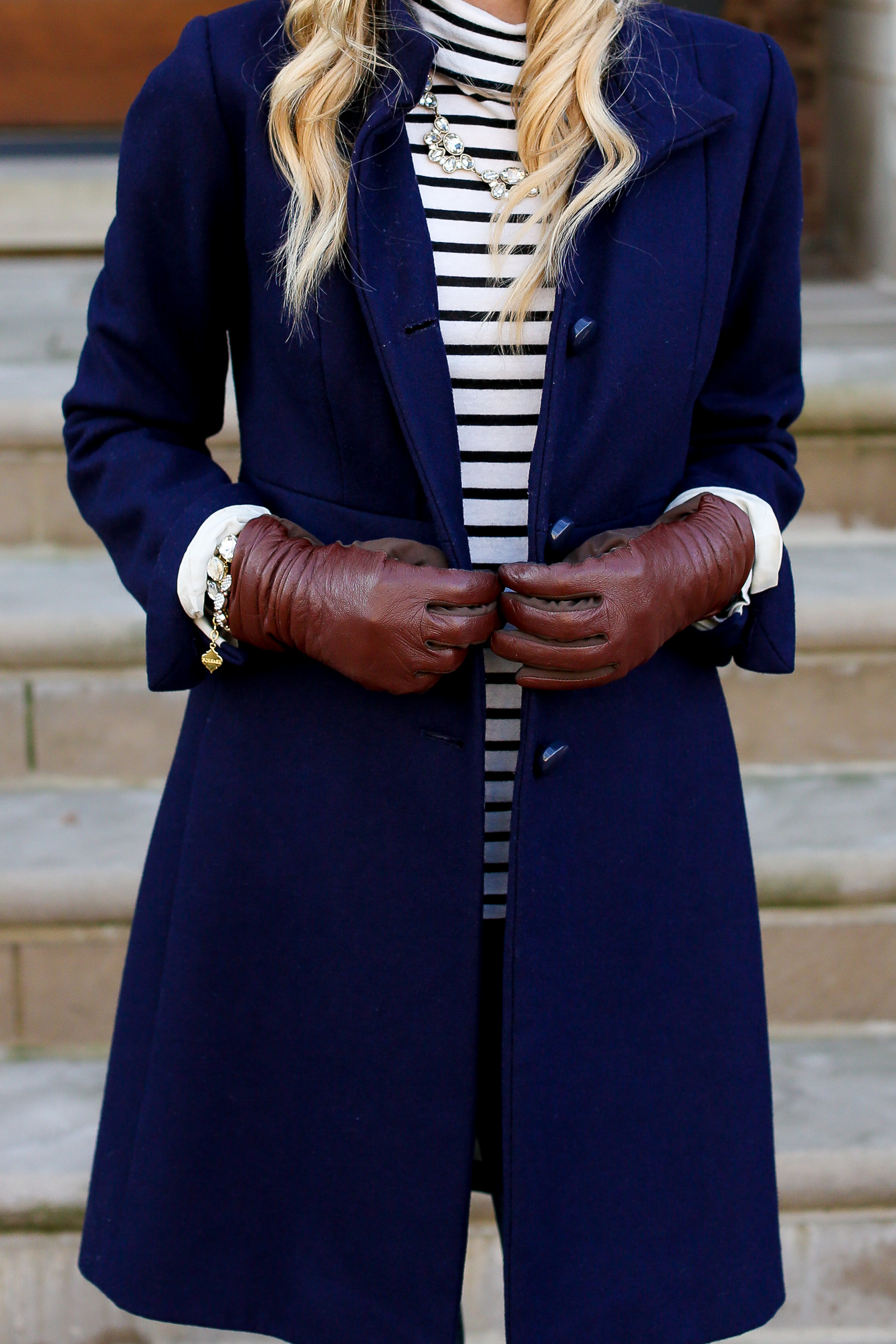 Cover your hands.
I don't understand how people walk around Chicago without gloves or mittens. While I do rely on my Zippo Hand Warmers, I find it super important to always be wearing gloves or mittens, too… for when my hands need to come out of those pockets!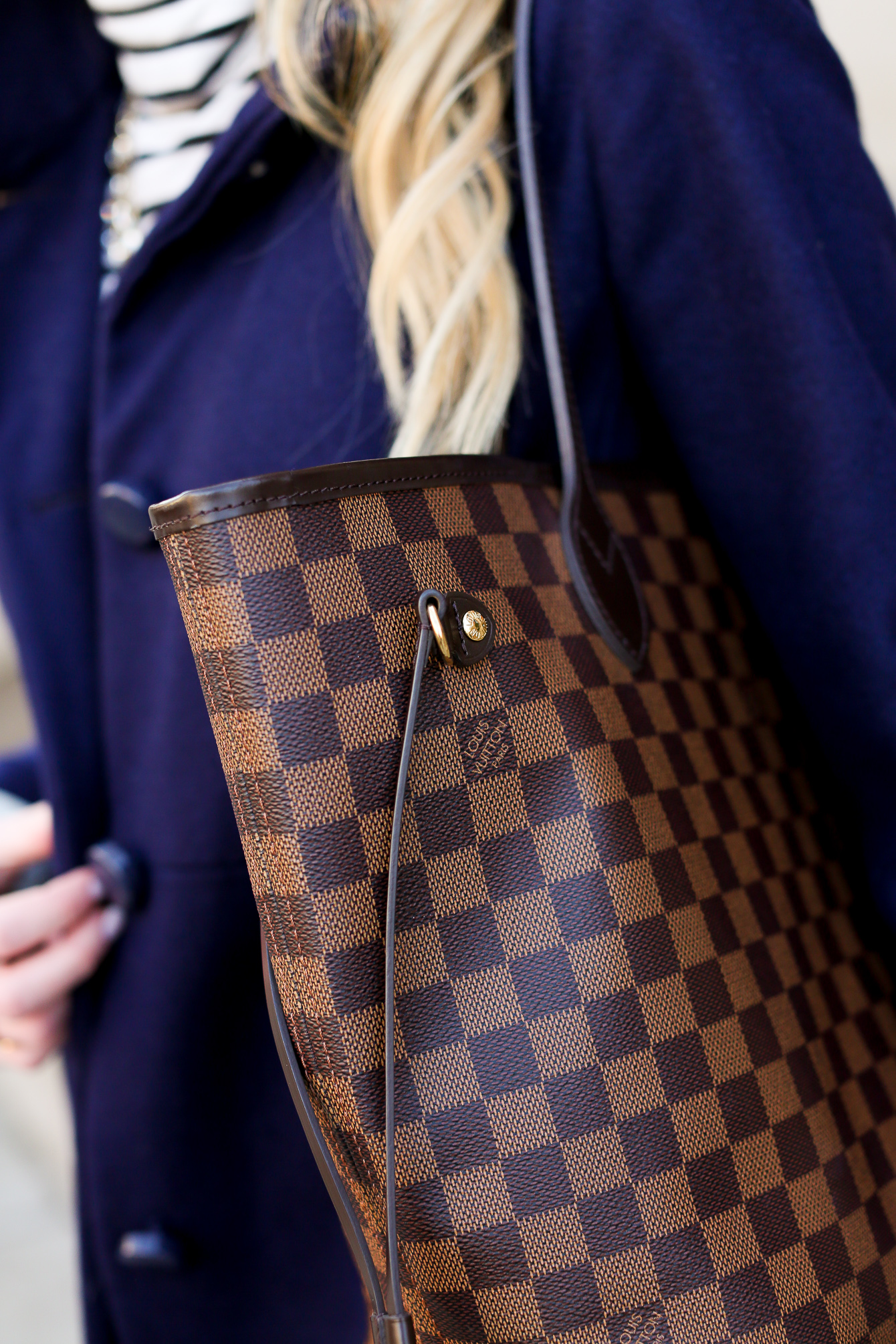 Carry a tote bag, and bring backup socks & shoes.
In Chicago, the weather can change quickly. I've been stuck shivering in the cold on way too many occasions, so now I almost never leave home without a bag that's large enough to carry backup socks and shoes. Actually, these booties are nearly always in there! (They run true to size, in case you're wondering. And they're SO comfy!)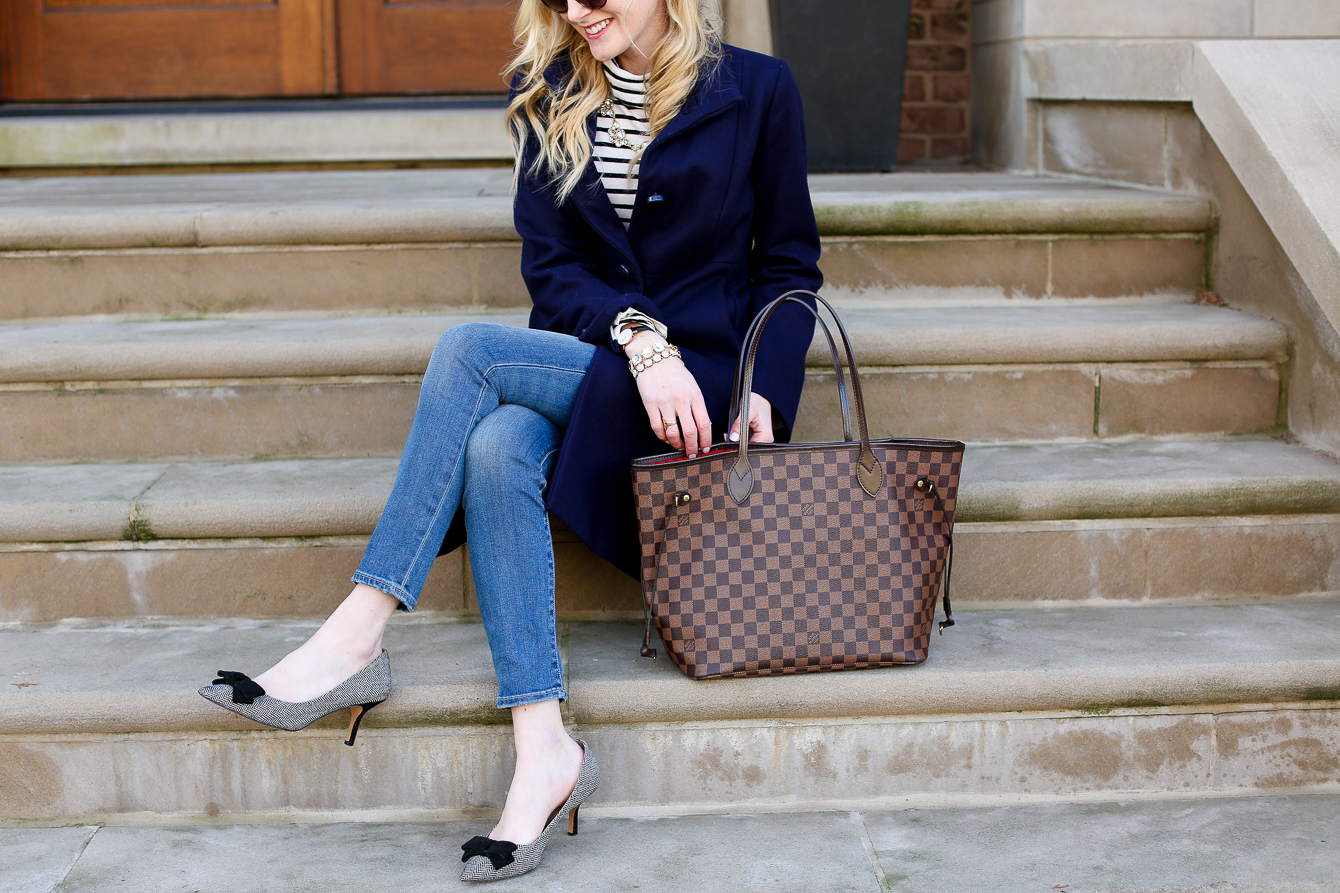 Wear tank tops and "under layers," and choose warm fabrics.
I have a tank top under whatever top or sweater I'm wearing every day, because it provides extra warmth. My favorites are from Uniqlo's HEATTECH collection, which are specifically designed to keep you warmer longer. (Thanks for introducing me to this, Auntie-M!) I also love these fleece-lined leggings, which I wear under my jeans and pants.

Minimize outdoor time.
Save the hour-long walk for another day when you're bundled up. Uber and Lyft for the win!
How do you dress up and stay warm during the winter?
Shop the Post:

Enter the Giveaway:
Disclosure: This post was sponsored by Zippo, but all opinions are my own. As always, thank you so much for supporting the partnerships that keep Kelly in the City up and running!
Photos by Maya of Charmingly Styled