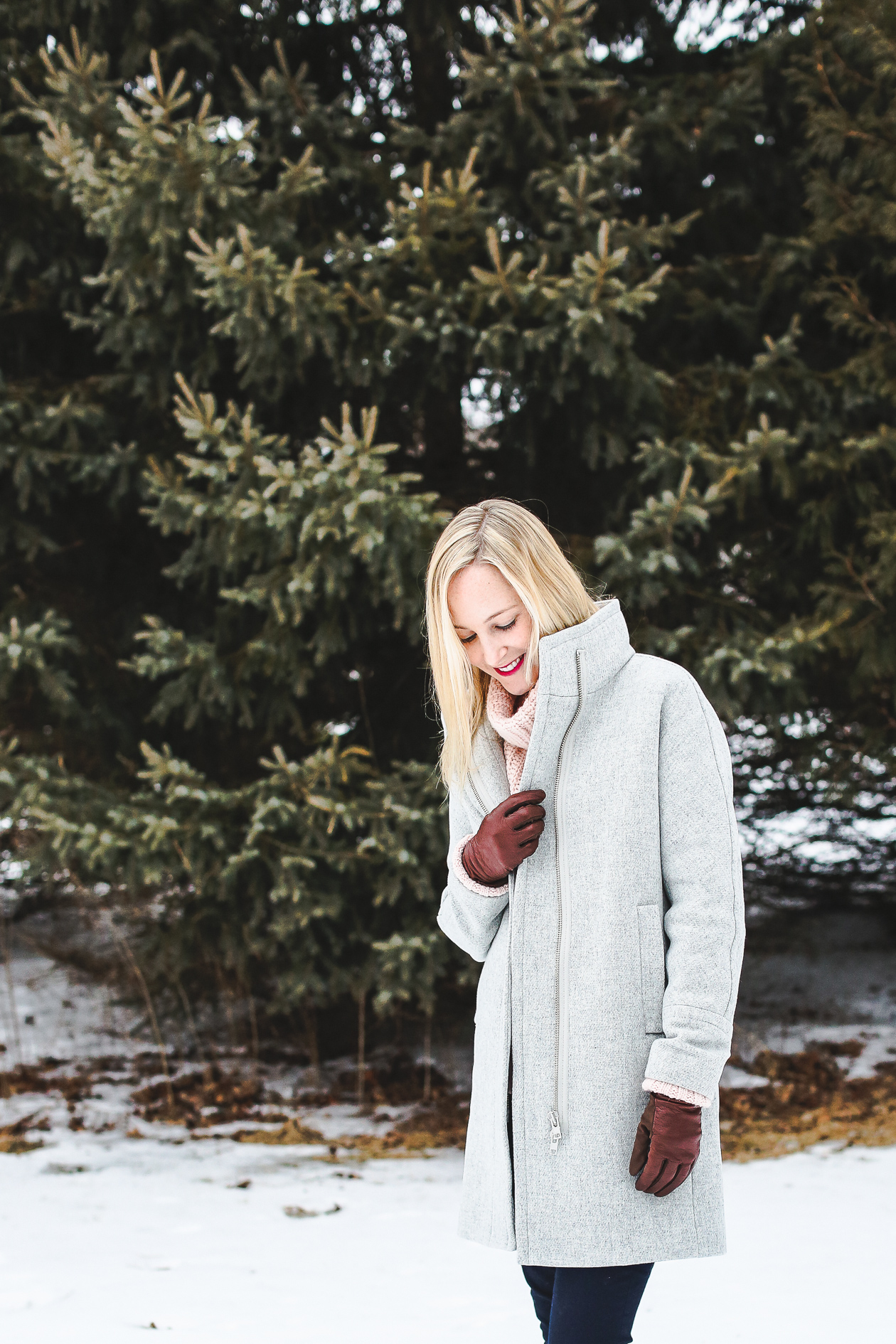 J.Crew Cocoon Coat (Take 25 percent off and get free shipping wide code "STARTSHOPPING." And yes. I have a coat problem. But, like, I live in Chicaaaaago. Factory version here, and nearly identical coat from Nordstrom here!) / Best Sweater Ever c/o (Extra 40 percent off applied at checkout! I typically wear a size XS/0, but I'm wearing a medium for a looser, cozier fit! Also ADORE this one, and love this one and this one!) / Tory Burch Logo Studs / Gap Jeans c/o / Sperry Boots c/o
[dropcap]T[/dropcap]he answer is no. Though I'm not even sure what this title is referring to, other than my love for Tay Tay, the background in these pics, and perhaps the end of winter? ;)
Anyway. Last year, I wrote a post called "How to Take Fashion Blog Photos in Winter" because I was getting so many questions about how often I'd throw my coat off in negative-degree weather to shoot outfits. WHAT THE HECK WAS I THINKING? While I was undeniably dedicated, I was also undeniably crazy, haha.
This year, I've been pretty adamant about not taking my coat off when it's too cold, and wearing only my warmest jeans and my thickest, bulkiest sweaters. Granted, we've had some freakishly warm winter days in Chicago this winter, which is why you've seen some coatless pics. (When it's in the 30s and 40s, I try hard to dress chic!) But on icy-cold days when Mitch asks "Hey, want to shoot that outfit?" — he's more often than not met with something along the lines of "Thank you but hell no."
Unless I'm wearing my Cocoon Coat and favorite sweater of all time. (Take an extra 40 percent off! Discount applied in cart.)
Also, side note: Best. Husband. Ever.
So, yeah. I have to apologize for how often these two have been appearing and will continue to appear on the blog. (See "The New Me" and "The Sweetest Light Pink Coats." And like I said, way more to come.) The good news, though? I have the favorite sweater of all time coming in two different colors: "Pink Strawberry" and "Cocoon." Incredibly fitting, ha! So that should at least mix things up a little. ;)
But back to life. A couple of weekends ago, Mitch and I ventured out to Oconomowoc, Wisconsin for my nephew's fifth birthday celebration. (So many trips to WI lately!) My brother- and sister-in-law have this beautiful house there, and it's located right on a pond that ices over every winter. (Because, ahem, it's Wisconsin.) While we spent a lot of time eating pizza and ice cream, opening presents (all Star Wars-themed, of course) and catching up, we also played on the ice–which was one of my favorite parts of the day.
These photos were taken just after the sun had set, so please excuse the darkness. ;) But I had to share. I mean, how cute are Parker and Noodle?! We couldn't convince Cameron, the birthday boy, to come out because he was buying building a Darth Vader Lego man. But you win some some, you lose some!

My Favorite Blush Sweaters
(Not all of them show up in pink, but just click through!)

My Favorite Gray Coats
(Not all of them show up in pink, but just click through! And Factory version of the coat I'm wearing in these photos here.)

My Favorite Blush Sweaters
(Not all of them show up in pink, but just click through!)

My Favorite Gray Coats
(Not all of them show up in pink, but just click through! And Factory version of the coat I'm wearing in these photos here.)