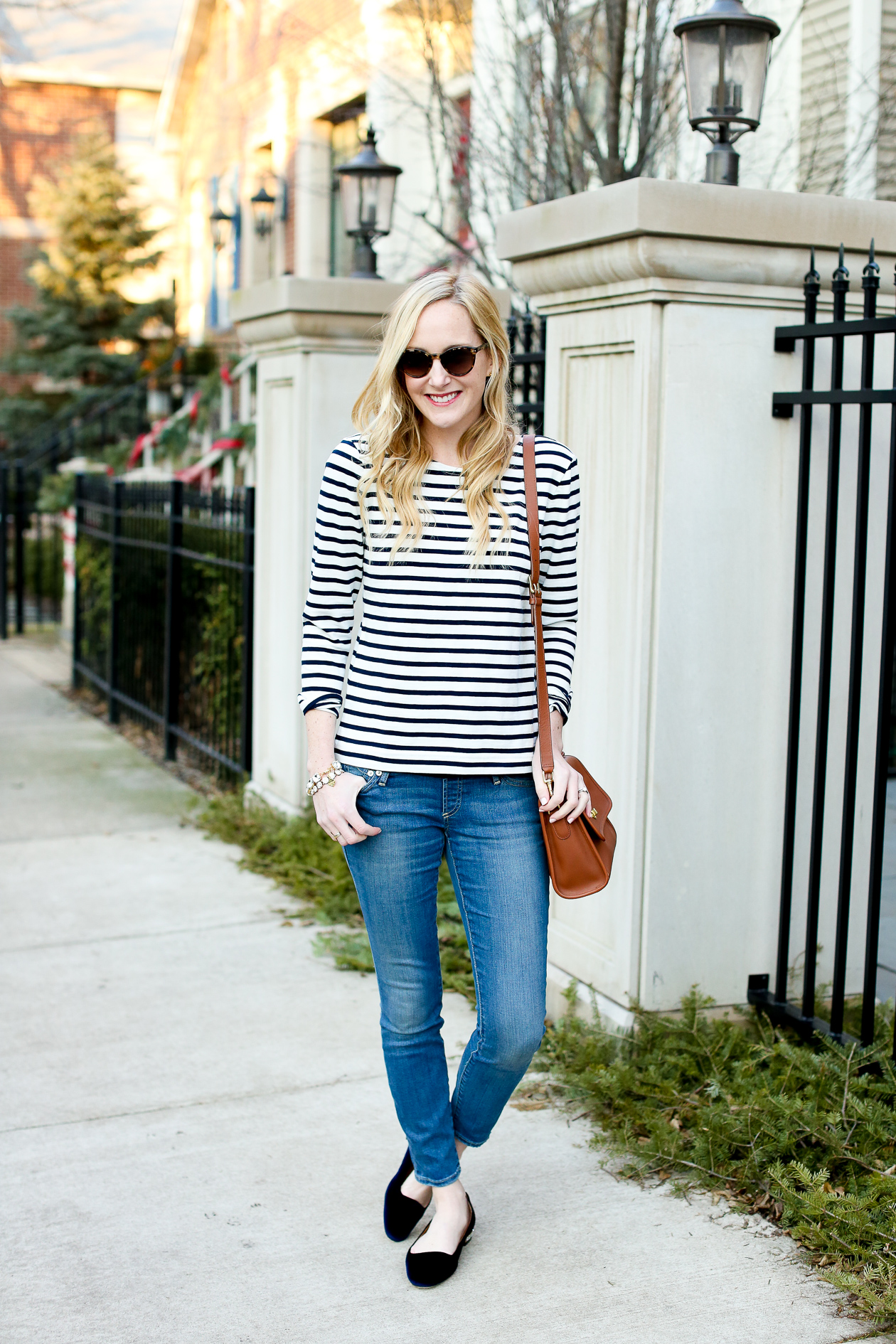 Cecelia New York Navy Velvet Flats c/o / J.Crew Striped Bow Top / Gap Jeans c/o (I'm wearing the "short" version — No more cuffing! I'm around 5'4–or 5'5 on a good day–for reference.) / Coach Bag / Tuckernuck Bracelet c/o / Tory Burch Earrings / Kate Spade Sunglasses (Old, similar here and here) / Ann Taylor Wrap Coat c/o (Sold out, but Ann Taylor has some seriously great outerwear right now! Love this blush coat, this striped cape and this faux fur coat. And the tortoise slingbacks and the pink suede kitten heels?! Dying.)
[dropcap]W[/dropcap]orking from home is such a weird thing. It really suits me, and I truly hope I'll always be able to do it. But I will say that the whole "getting dressed at a reasonable hour thing"–or getting dressed at all–is sometimes such the struggle for me. On days when I have meetings and events, or I've planned to work at a friend's or at a coffee shop, I get dressed and that's that. But days during which I'm simply behind a computer screen are harder.
Much like,
If a tree falls in a forest and no one is around to hear it, does it make a sound?
I often ask myself:
If I get dressed and no one sees me, did the outfit even happen? And was it worth it?
The answer is yes, haha. It's worth it. Or it is for me. When I get dressed, I'm more positive and productive, I'm generally more inspired and motivated, and I'm way more likely to get myself out of the house. And, I mean, if Mitch wants to grab a bite to eat or run errands when he gets home, or if my girlfriends want to go grab a glass of wine at night, I'm ready. And somewhat respectable-looking.
My go-to outfit on "alone days"–you know, when I'm not wearing the best sweater ever–is a navy striped top, soft jeans and flats. I swear I have about 10 or 15 striped t-shirts, and they're on a constant rotation! (Here's a recent example!) The look is comfy, great for running errands, and casual yet cute for long Noodle walks around the hood.
Also, I love how I just wrote a post about how to look chic during horribly cold days, and another post about how I'm no longer willing to throw off my coat during cold spells. Way to send mixed messages, Kelly. Haha — but seriously, it was in the high 40s when Maya and I shot this look. I approve of this spastic weather we've been experiencing!
Side note: Maya just left her first job in Chicago, and is starting another one soon. SO proud of her, and it's been ridiculously nice to have her as a work buddy during her time off! (Maya and I live five blocks away from each other, but rarely see each other during weekdays because she's always downtown.) Please don't go back to work, Maya! I miss you already… ;)

Anyway, check out some of my favorite striped tees above. (Seriously buy this one ASAP. It's my favorite, as it's fabulously soft and flattering.) And hang in there: one more day until Friday!
All the striped tees:

Photos by Maya of Charmingly Styled