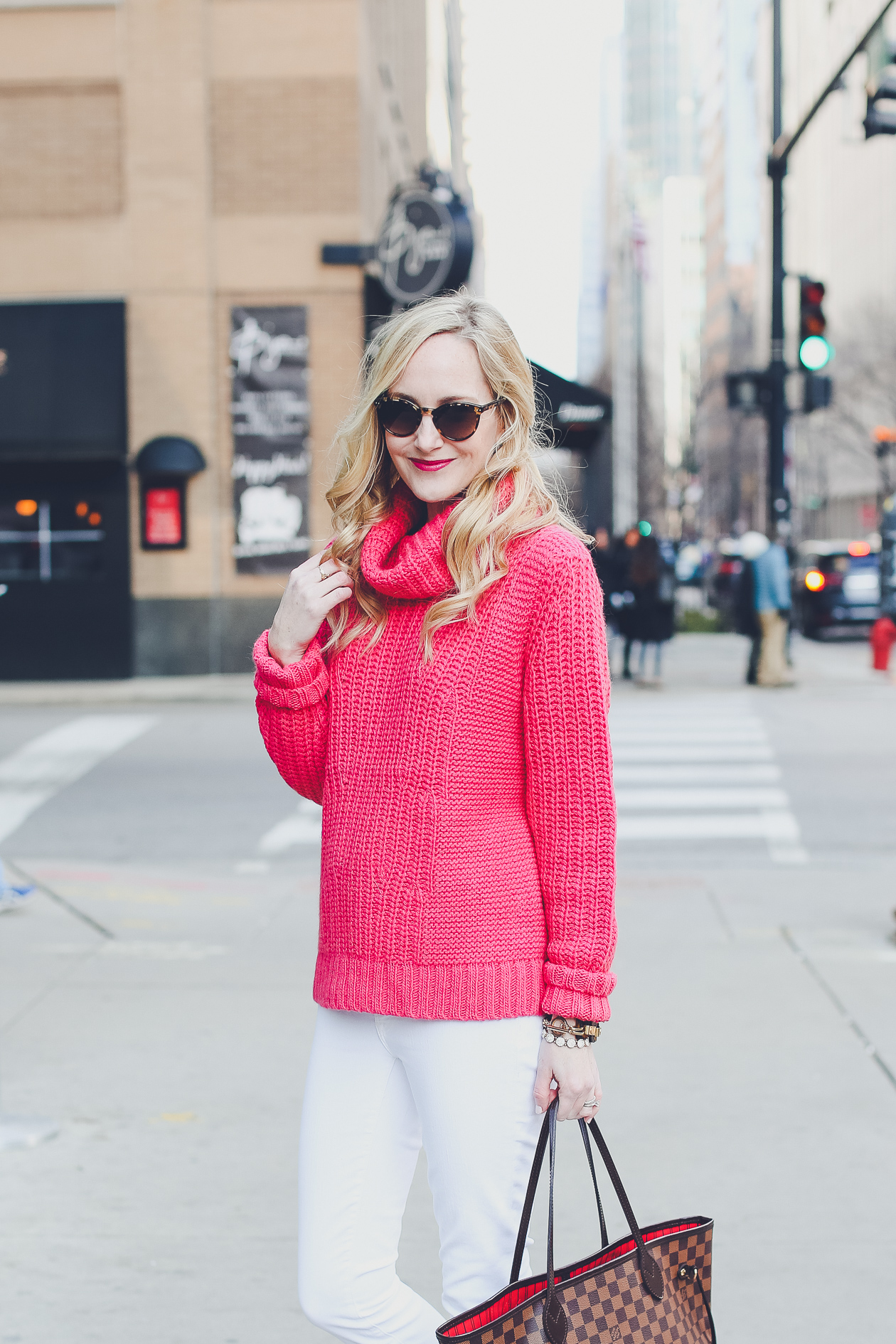 Banana Republic Sweater c/o / J.Crew Toothpick Jeans / Tory Burch Earrings / Louis Vuitton Tote (Buy here, here or here) / Lands' End Booties (And Sole Society just came out with a navy leather pair — SO cute! Available here, too. So many great additional options as well!) / Crystal Bracelet (Old, similar here) / C.Wonder Tortoise Bracelet (Old, other favorite tortoise bracelet here) / Kate Spade Sunglasses (Old, similar here, here and here)
Yawwwwwn. Anyone else feeling the effects of the weekend this morning?
A little rundown of the last few days:
Friday: Drinks at Beer Bistro and dinner at The Warehouse for one of the best date nights ever.
Saturday, when these photos were taken: Long walk around Lincoln Park with Noodle; Blog Your Best 2016 Conference at the Dana Hotel in downtown Chicago; and Make-Your-Own Chinese Dumplings Night at our friends' Eric and Teresa's place in River North.
A huge thank you to the organizers, speakers and attendees of the Blog Your Best 2016 Conference! I had an absolutely amazing time speaking on the photography panel, and I loved meeting so many new faces. :) If you attended the conference and still have photo questions, please e-mail me! (kelly@kellyinthecity.com) I'm always here to help!
Sunday: Million-dollar townhouse open houses (one of our favorite things to do on Sundays, haha); Long walk to Southport Corridor; Lunch at Corridor Brewery & Provisions; and Super Bowl party for three (Mitch, Noodle and me, hehe) back home with appetizers, pizza and wings. DID EVERYONE SEE THE NOODLE COMMERCIAL?!
We also spent a good amount of time organizing and cleaning–and deciding on flooring, trim and other details for the master bedroom and bathroom renovation. I've found that picking out your "forever bedroom/bathroom" can be daunting and stressful, but Mitch's parents have been helping us with some of the big decisions, and that's been so helpful. The crazy part is that in order to move back into the actual bedroom, we only need flooring and baseboards… so it could be SOONISH. Guys, I can't even tell you how excited I am!
Switching gears, I'm totally in a fashion rut. Admittedly, it happens every February. But this time of year, oversized sweaters and comfy jeans every day > everything else. But alas. This is real life. Though at least I'm switching it up and wearing white jeans in February. That's kind of adventurous, right?! Haha — Sigh. Someone send me to Florida QUICK. (Seriously, take me back to this and this.)
Hope you have a great start to your week!
Shop the Post:

Banana Republic Sweater c/o / J.Crew Toothpick Jeans / Tory Burch Earrings / Louis Vuitton Tote / Lands' End Booties (And Sole Society just came out with a navy leather pair — SO cute! Available here, too. So many great additional options as well!) / Crystal Bracelet (Old, similar here) / C.Wonder Tortoise Bracelet (Old, other favorite tortoise bracelet here) / Kate Spade Sunglasses (Old, similar here, here and here)