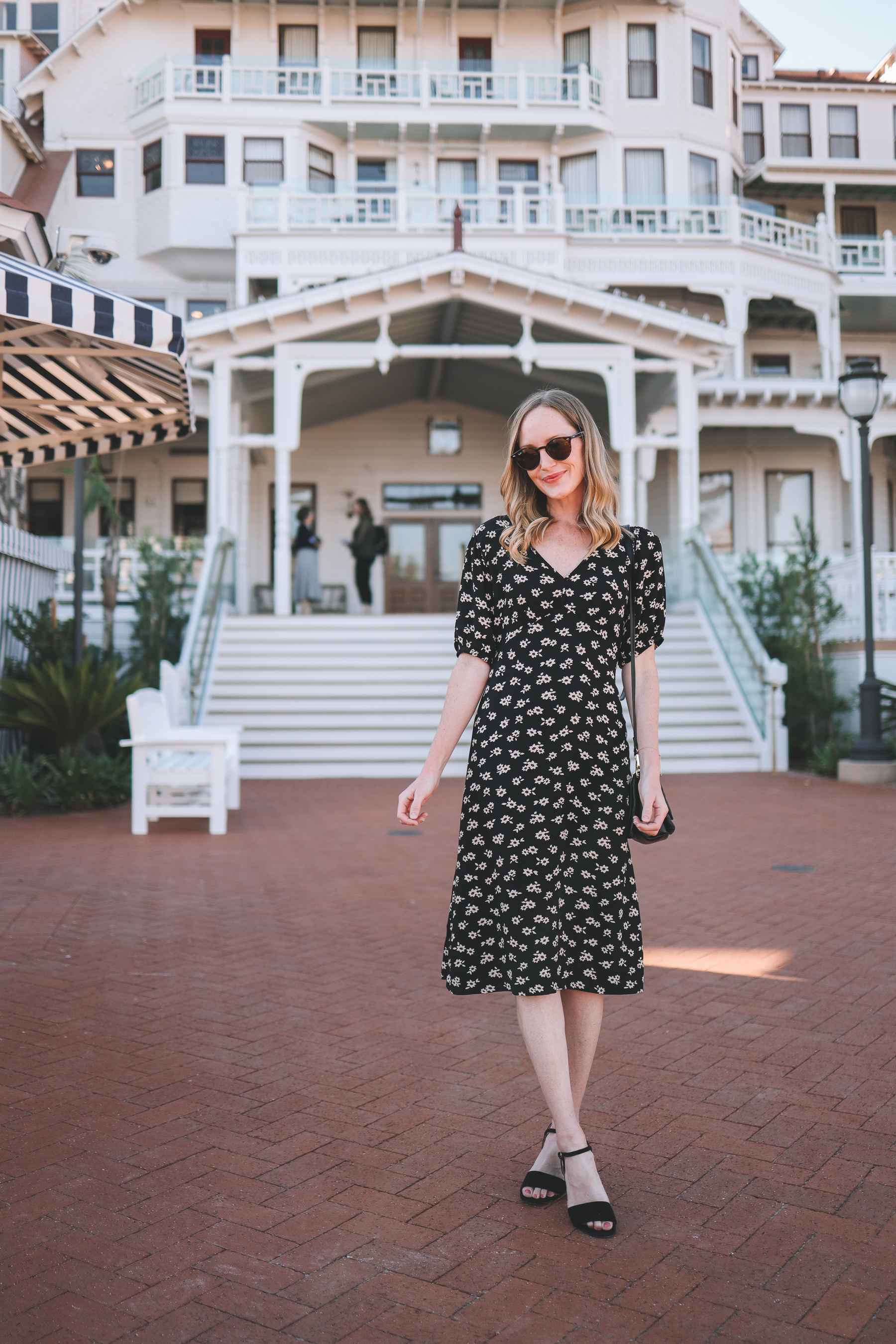 Floral Dress / Cardigan (This one is also great.) / Wildly Affordable Quilted C.Wonder Bag (Larger versions here and here. This C.Wonder bag is adorable, too! Oh, and check out these cap toe pumps. So good.) / Sandals (Newer here.)
A highlight of our trip to San Diego was visiting Hotel del Coronado. Called "The Del" by locals and famous for its Victorian architectural design, it's definitely one of the most breathtaking and impressive seaside resorts I've ever been to. It's been around since the late 1800s! It's been featured in film and literature oodles of times, but I personally love that L. Frank Baum wrote much of The Wizard of Oz there. Oh! I'll also add that Hotel del Coronado was the inspiration for Disney World's Grand Floridian Resort & Spa. (Just in case you thought it looked familiar, too!)
Coincidentally, Carly's best friend Nicole was actually there when I was (!), but we unfortunately only put two and two together after I'd left. Would have been so fun to meet up! Guess we'll just have to go back. 😉

The weather was on the cooler side when we first arrived in California, but it definitely warmed up by the end of our trip. Still, I wanted to dress for fall; I've been eager to shift my wardrobe, as I'm sure many of you can relate to! So I wore this Free Assembly floral dress, which was lightweight and breezy yet featured a fall-ish print. (Runs on the bigger side, btw! Probably should have sized down.) I paired it with classic black sandals (newer here), and a goes-with-everything cream-colored cardigan from Scoop for air-conditioning and San Diego's famously chilly nights. (This similar one is also great.)
The hero of the outfit, in my opinion, is this C.Wonder bag, which I've talked about on the blog before! It's wildly affordable, and holds a ton despite its small size. (Though if you're looking for something bigger, try the larger versions here and here.) It was a great travel bag; I brought it to dinner nearly every night and also brought it to the wedding. Love that it can really be dressed down or up.
Everything is from Walmart Fashion, which is known for its affordability. I honestly can't believe how much Walmart has upped its game in the fashion department over the last few years; from the addition of brands like C.Wonder and Scoop to the introduction of Free Assembly—a stylish line of clothing that's both sustainable and affordable—I always find something I love when on the site. The shipping is also extremely speedy! Everything I ordered showed up on my doorstep between two and three days. Amazing!
But I'll leave you with these photos for now, as I'm off to fly back to my little girls. Missed them so much! 
Shop the post:
Floral Dress / Cardigan (This one is also great.) / Wildly Affordable Quilted C.Wonder Bag (Larger versions here and here. This C.Wonder bag is adorable, too! Oh, and check out these cap toe pumps. So good.) / Sandals (Newer here.)

This post is sponsored by Walmart; all opinions are my own. As always, thank you so, so much for supporting the partnerships that keep Kelly in the City up and running!