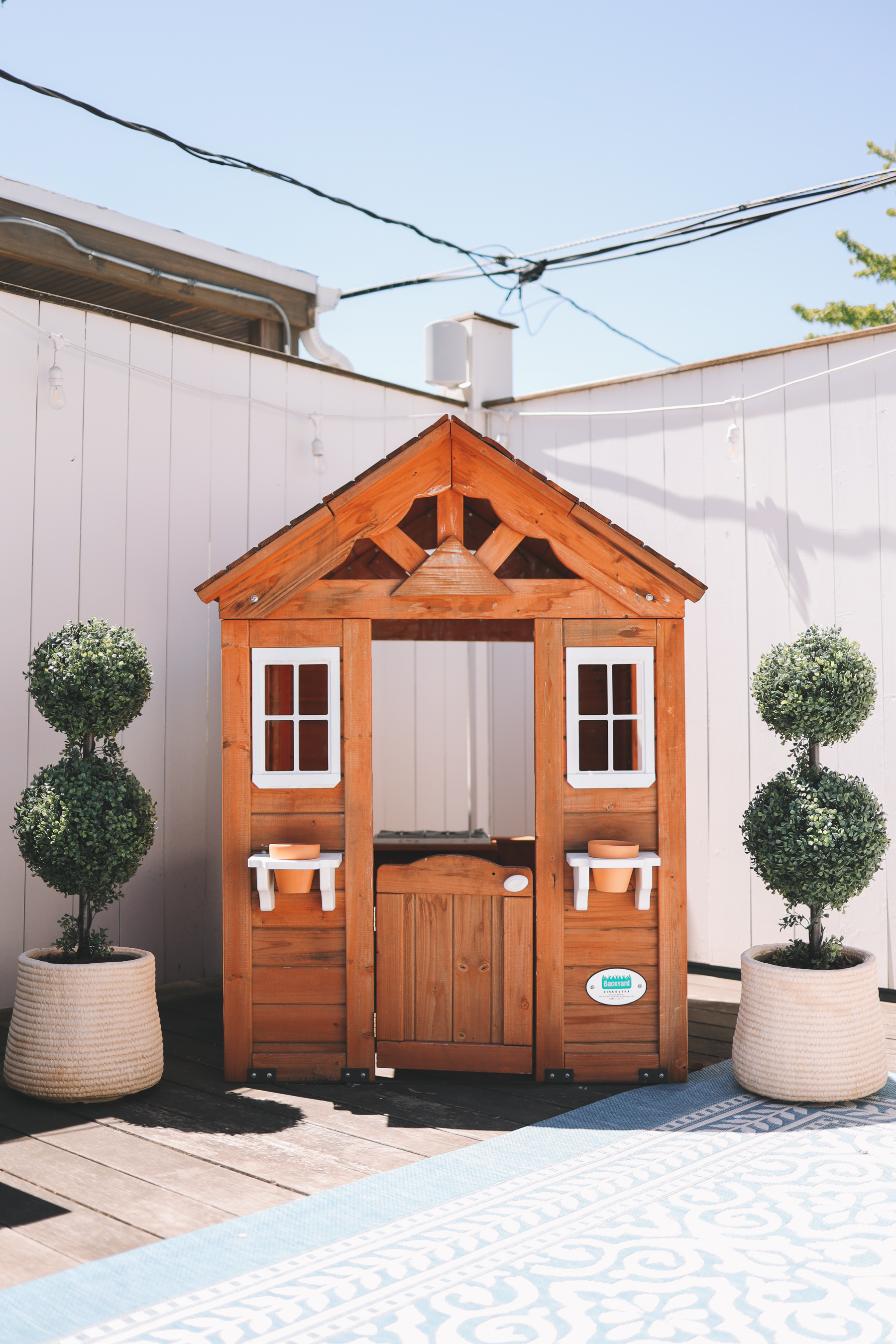 Backyard Discovery Playhouse, available via Walmart+.
Walmart+ is a new kind of membership that the Larkin Family has thoroughly enjoyed this year! Why? It saves us so much time and money!
For $12.95 per month or $98 per year, a Walmart+ membership gets you:
Free delivery from your store: Groceries and more delivered as soon as today! $35 minimum, restrictions apply.
W+ free shipping: Free shipping from Walmart.com.* No order minimum required, so you can get items shipped as often as you need—for free! *Excludes freight & Marketplace items.
Member prices on fuel: Save 5¢ per gallon at Walmart and Murphy stations, plus member pricing at Sam's Club fuel
centers.
Mobile scan & go: Shop and check out with your phone in-store. Just scan and pay… and then be on your way!
Seriously, it's awesome. We started using it last summer, and I couldn't even count how many times it's saved us and/or made our lives easier. So today I thought I'd include some of our favorite products—available via Walmart+—that have helped to keep our family up and running this year!

Hoover ONEPWR Blade+ Cordless Stick Vacuum Cleaner: I know I may be the outlier here, but this cordless vacuum is better than all the rest, in my opinion. And that's because the battery is rechargeable. You simply take it out and put it in its little charging station… and you can buy extras so you can always finish the job! We love this affordable vacuum and can't imagine life without it.
Hoover ONEPWR Cordless Carpet Cleaner: I spilled a cup of coffee on my beloved living room rug this past Christmas. This thing totally handled it. Miracle!
Backyard Discovery Playhouse: This is what we have on our deck for the girls! We're painting it this month, which I'm really excited about. They have tons of play food and other food-related toys up there, and they could spend hours in there playing restaurant!
Suncast Deck Box: This is what we keep all the outdoor toys in. Before we had it, going in the backyard was borderline dangerous because we had to bring so much up and down the stairs with us, all while making sure two little girls didn't take tumbles. Now all the toys are up on the deck in a waterproof box. Hallelujah!
Disney Elsa Dress: Don't even get me started on how many Elsa dresses I've needed to order over the years. We go through 'em like water. This one was a hit, though!
Baby Jogger City Mini GT2 Stroller: Hands down, this is the best stroller in the world because of its small footprint (easily fits through city doors), one-hand fold and all-wheel suspension (glides over city bumps). I cannot recommend this enough. It's our #1 baby/kids product!
Baby Jogger City Tour (Travel) Double Stroller: This is the travel double stroller we use. The suspension isn't quite as good as the GT2, but it folds into a tiny rectangle that'll even fit in an overhead compartment. (Which means that they can't steal the stroller from you at the gate and then confuse it with luggage and send it to baggage claim—which has happened to us with larger strollers approximately one zillion times.)
Little Tikes 7-Foot Trampoline: Best. Toy. Purchase. Ever. If we didn't live in the city, I probably would have gone with a full-sized trampoline because I personally love trampolines, haha. (So fun and they provide such good exercise!) But this seven-footer (newer version) is perfect for our deck. The safety net even has a zipper so kids can easily climb in and out. Want to make things super fun? Throw some ball pit balls in there!
Kids' Nalgene Water Bottles: We have tons of these for the girls—and only these. We decided early on that we'd only have one kind of sippy cup/water bottle, and settled on this one because of its stellar reviews. We've literally never had one broken! We also love that everyone knows they're ours. Hot pink Nalgene? Ah, yes. That's a Larkin water bottle.
Sposie Diaper Booster Pads: Until we found these booster pads, Lucy would wake up in the morning soaked. (Didn't matter what diaper we used, either!) My sister-in-law and my friend Bradley both recommended these guys, and we no longer have that problem! So wonderful. (I also have far less laundry now.)
Micro Kickboard Scooter: We get so much use out of our Micro Kickboard scooters! Whenever the weather is warm enough, we scoot to and from school. We also take scoots around the neighborhood whenever we feel cooped up. I should also mention that this scooter is great for helping your child transition out of the stroller! Emma is four, so she's not 100 percent ready to give it up yet. (Still gets tuckered out from time to time, especially since we do so much walking in Chicago.) But I'd say about half the time, she opts to either scoot or walk!
Bob Books: I feel like I talk about these too much, but they're just so good! Emma had been asking to read for the longest time, and these made the journey doable… and fun. I seriously can't believe how quickly she was reading. We only read one Bob book per day, but she's now able to read tons of other books in our library on her own. Truly wonderful. They build kids' skills and confidence at the perfect pace.
Cascade Camping Chairs: We took these to Mississippi with us and absolutely loved them. The chairs fold up and fit into these very small carrying cases. I can totally manage four of them on my own, which is insane considering how much my upper body strength is lacking. ;)
Playmobil 123 Farm and Playmobil 123 Castle: We're HUGE Playmobil 123 fans over here, as the sets are easy to put together and provide for hours of imaginative play. But sometimes specific sets can be very hard to find. Walmart, however, has a lot of the best ones, almost always for the best price, too.
OXO Wipes Dispenser: If you don't have a wipes dispenser, add to cart now. Is it me, or is changing diapers made 100x more difficult because the wipes always frustratingly stick together?! This dispenser stops that from happening.
Portable Stroller Bluetooth Speaker: Lucy is so into music, so this year I bought her this portable stroller speaker. I'm the worst with technology, yet I can operate it, too! You simply pair it with your phone, and then use Spotify or Apple Music to play the songs through it. Makes for very happy walks. We listen to a lot of Wiggles tunes. Hot potato, hot potato…
Bissell Steam Mop: This product is a dream. I got it during the pandemic because all my friends were talking about how magical it was, and I'm now fully on board. I use it to deep clean our hardwood and tile floors, and it truly leaves them looking like new! If you're an overwhelmed parent who feels like the house is never clean, try this. I do it after the girls go to bed, and it's the best feeling. (Note: I use it on the lowest setting for our hardwood floors, and it has not removed the finish.)
Pantene Intense Rescue Shots: This is my all-time favorite hair product. It truly transformed my hair from straw to silk within seconds. I'm going to publish an updated review on the blog soon, but please try! It's also ridiculously inexpensive considering I get three weeks' use out of the box. If you're working toward healthier locks, I highly recommend ditching the flat iron, giving your hair a break from chemicals, and investing in a box of Intense Rescue Shots.
Microban 24-Hour Bathroom Cleaner: Mitch's cousin works for Microban, so we've been big fans for a while. But this stuff is magic. All you need to do is spray down your shower with it every few days, and it prevents any sort of yucky substances from showing up. If you've always wanted a pristine white shower, give yours a deep clean and then maintain it with this. You won't look back!
Safety First Ready-to-Install Baby Gate: Jumping back to our backyard, we recently installed this baby gate on the stairs up to the deck, and it's been amazing. So sturdy, and it only took five minutes to install because it comes with directions ON THE GATE ITSELF. There's really no way you can mess it up, even if you're not very handy.
C.Wonder Quilted Bag: This is so not a necessity, but I bought myself a version of this bag for a blog collaboration last year, and it has brought me some joy. This one looks like a $5k bag, yet it's under $34. (I should note that C.Wonder is such a great line to shop in general via Walmart+!)
What products keep your family up and running?! Click here if you'd like to sign up for a Walmart+ membership!
This post is sponsored by Walmart+; all opinions are my own. As always, thank you so, so much for supporting the partnerships that keep Kelly in the City up and running!