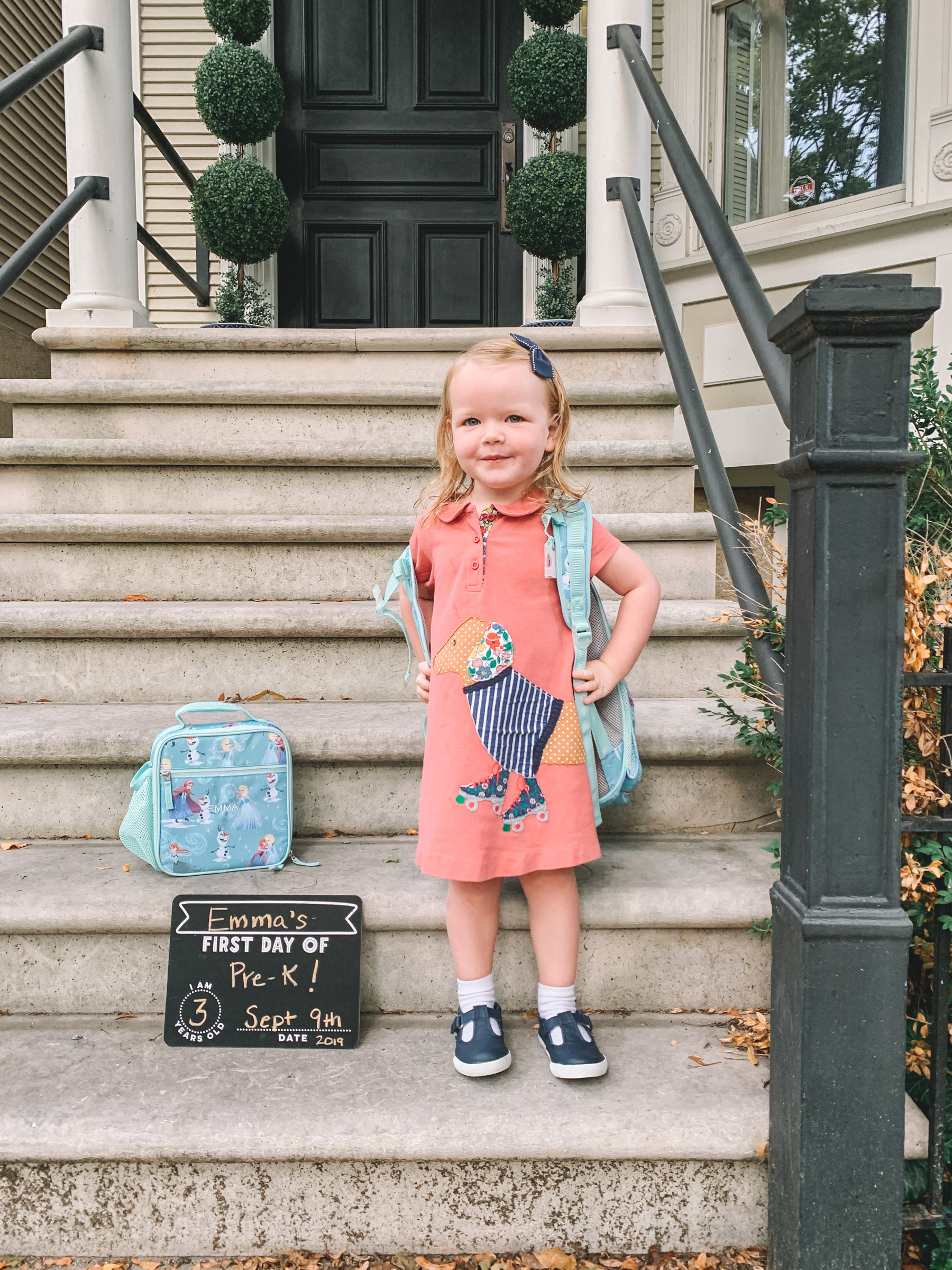 Emma's "Frozen" Backpack and Lunchbox / Ralph Lauren Mary Jane Sneakers / Mini Boden Dachshund Dress / "First Day" Sign (Thanks, Mom!) / My White Eyelet Top / Hudson High-Waisted Barbara Jeans (Also love this wash and this wash!) / Rothy's Washable Sneakers
Yesterday was a huge day for the Larkin Family! It was Emma's first day of full-day pre-k at our neighborhood elementary school. And let's just say that it was emotional. ;)
After doing a lot of research, Mitch and I left New York for Chicago in our twenties with the goal of living a slower-paced life and sending our future children to this particular public school. But there were many times over the last five years when it seemed like the dream was slipping away from us. Yesterday, though, we became part of the community we've desperately wanted to belong to for so long–and "grateful" doesn't even begin to describe how we're feeling right now. It's as if years and years of sacrifice and sleep deprivation have finally paid off… and being able to give this to our children makes it all worth it.
Yesterday was equal parts amazing and surreal. First, I have to hand it to Emma. She's a fantastic kid. I don't know how we got so lucky with her, but she loves life. She's a passionate little thing, and her enthusiasm for everything is enviable. She worked so hard to be fully potty-trained and binky-less in time for September 9th, waving "hi" to her future school every day when we walked past. She bravely said "see you soon" to her beloved teachers and friends from her peewee program, and worked on her "reading and writing" every day without complaint. (Right now, it's just tracing and writing upper- and lowercase letters, learning their sounds, and sounding the letters out… but it's going pretty well! We're using this activity book, which makes things very easy, btw.) And when the big day finally arrived, she put on her Elsa backpack, mustered all her courage, and walked into her new classroom without ever shedding a tear.
I, on the other hand, was a little less composed. ;) It was a lot to internalize! It goes without saying that I was beyond proud of our little girl. She was ready. At the same time, though, it was tough to see that she no longer needed me in the ways that she always had. Of course, I know she still needs me. But she now needs me in different ways. She's growing up and becoming more and more independent. And while that's absolutely wonderful, it's also difficult for me to let go. Yesterday, I wanted more than anything to physically walk her into her classroom, hug and kiss her goodbye, and make sure she settled in "okay." But I didn't. And that was hard.
Warning: I'm about to quote Taylor Swift. 😂
There are a couple of lines from Taylor Swift's song "The Best Day" that go:
And I love you for giving me your eyes
Staying back and watching me shine
That's it, though. That's the feeling, all wrapped up into a few lyrics. While there's obvious value in being as present as possible in my children's lives, there is also value in "staying back." And now I'm crying again. 🙈
I should also mention that it took a lot to get Emma into this pre-k program, so seeing her walk through those doors was kind of crazy–in the best possible way. Earlier in the summer, I explained this in an Instagram post and in the comments section of a blog post, so please read those if you're interested in both sides of the story, and why we took the measures that we did. But in short, the program was about to be eliminated because it truly wasn't fair that only some Chicagoans had access to free pre-school. At the last minute, though, the city decided to keep the program for another year but charge tuition, like most other public city schools with pre-k programs do. We wholeheartedly agreed with the decision, but we were told that there were no more than five spots available to neighborhood kids who didn't already have a sibling at the school… which is why Mitch decided to camp out the night before registration. Yes, we easily could have enrolled Emma in another program and avoided all that. But having both taught in public schools for a long time, we wanted to support and invest in Chicago's public school system, and it was also important to us to try our best to become part of the community as soon as possible, as our plan was (and still is) to have the girls attend CPS through high school. So yeah! We finally stepped off the emotional rollercoaster we'd been on for so long. After finding and moving into a home that was within the boundaries of the school, attending heated school board meetings, feeling helpless amidst constant rumors, and doing everything in our power to get Emma in, it felt great to finally put that chapter behind us.
Anyway. ;) I'll backtrack for a moment.
We woke up early, took a bath, got dressed, and had breakfast, excitedly talking about how the day would go. There was a lot of singing and dancing and high-fiving because we really wanted to pump Emma up so goodbye would be easier. And then we piled into the stroller and walked to school, just like we'd always dreamt of doing! (It rained. That wasn't the best, but it was still magical, haha.) We made arrangements with our friends to meet outside the school beforehand, and after a little play session on the playground, the kids, hand-in-hand, walked in together. We did help them put their belongings into their lockers and find their rooms, but then we slipped away, and it didn't seem like they even noticed. While there was a little bit of nervous anticipation in the air, it honestly couldn't have gone any better!
The rest of the day was weird but really good. We went to something called the "Boohoo/Yahoo Brunch" at the coffee shop next to the school. (Where new parents can meet and get to know each other!) And then we went off to work while Lucy snoozed by our sides. (She then went to daycare for a few hours.) In a single day, we crossed off more tasks on our to-do lists than we normally do in a full week… and as we walked back to the school for pick-up, we talked about how we were feeling tremendously happy and guilty and sad all at the same time. Happy because Emma was in the school we'd always wanted her to attend; happy because she was happy; and happy because there was now a sense of relief. (We no longer felt like we were drowning from juggling so much at once!) Guilty because the sense of relief was the result of not having Emma with us during the day. Sad because we missed her.
I'm going to go ahead and assume that all of this is normal. It's okay to feel all the feelings when a big life change occurs… and to have some seemingly conflicting ones, too. Over my three short years of parenthood, I've learned that this almost defines the meaning of having a family.
But I digress.
😉
At 3:30, we lined up outside of the school by classroom number, and the teachers and assistants brought the kids out in groups of three and hand-delivered them to their respective parents. Setting up effective school procedures is HARD, especially in the city. But the school has so many of them, and everything is so well thought-out. As former teachers, I can't tell you how impressed with are with how smoothly the school runs!
Emma ran to us and gave us big hugs the moment she saw us. She asked to go in the stroller, which was pretty cute, and then talked a mile a minute on the way home:
She ate her goldfish sitting on the rug and her carrots sitting at the table. She loves Spanish class and it's "so much fun." She made a new friend at lunch but she can't remember her name and she hopes she sees her tomorrow. She sang a fun name game. She went peepee in the potty all by herself. Naptime went well and she fell asleep right away and then they turned on the lights and said "rise and shine!" and she felt great. She got sad at recess because she didn't see anyone she knew but then her friend found her and they had the best time. She's learning about tools and why doesn't she have a screwdriver she needs one so she can practice DADDY DO YOU HAVE ONE I CAN USE?! 😂
The teacher also sent us an e-mail recapping everything, which was super helpful, as we were kind of like "???" during a lot of Emma's recaps, haha. But it sounds like everything well extraordinarily well, and most importantly, she was happy and wanted to go back.
When we arrived home, we chilled out on the couch for a little while, which we felt was important. (She'd had a big day and she's only three!) And then we went to a local sushi restaurant for a quick bite. (Sushi is Emma's favorite food, so it was a special treat.) After that, we had a bath, brushed our teeth, read a couple of stories, and reflected on the day before lights out at 7:30 p.m. Kind of nuts how quickly the day went… but I think we're falling into a good routine, and I'm excited to fine-tune it over the next few weeks!
Anyway, thank you for letting me ramble on and on. Even though it's only pre-k, it was a monumental day for our family! And many thanks to everyone who's played a roll in getting Emma to this point. It takes a village, and we love our villagers. ;) Like, a lot.
Okay! Let's end with some of my favorite photos from the day: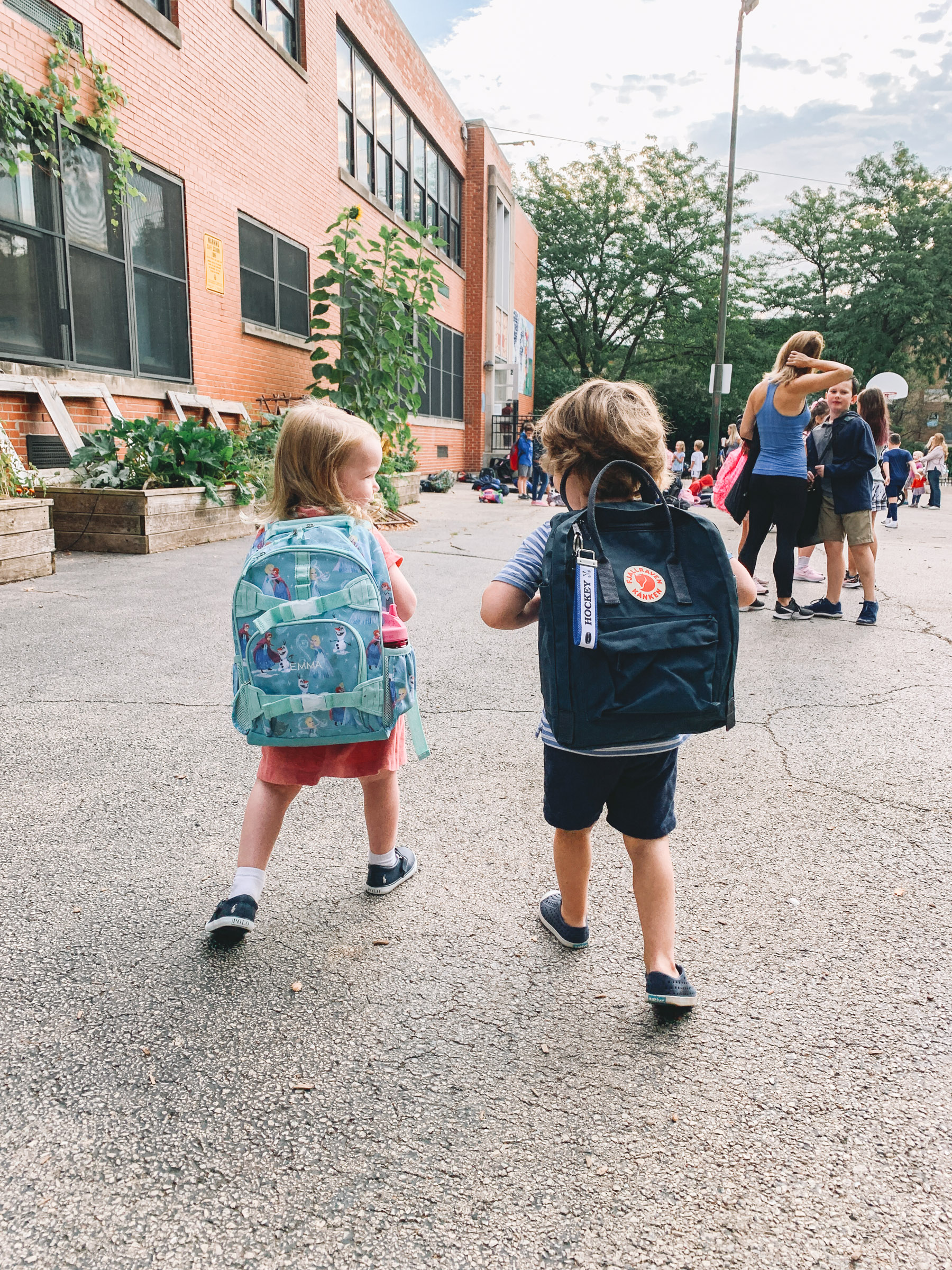 Emma walked into school with her best friend, Cole, who isn't in her class but is right down the hall from her. This was so helpful and also adorable! Please note the "Frozen" Backpack and Lunchbox! Before school started, Emma sheepishly told me that she'd changed her mind and that what she really wanted was an Elsa backpack, not the animal backpack she'd originally fallen in love with. I remembered how important it was to have your dream backpack, so we decided that this was okay. ;) We went with this well-made one from PBKids because it was recommended by you guys, and it's perfect; So THANK YOU!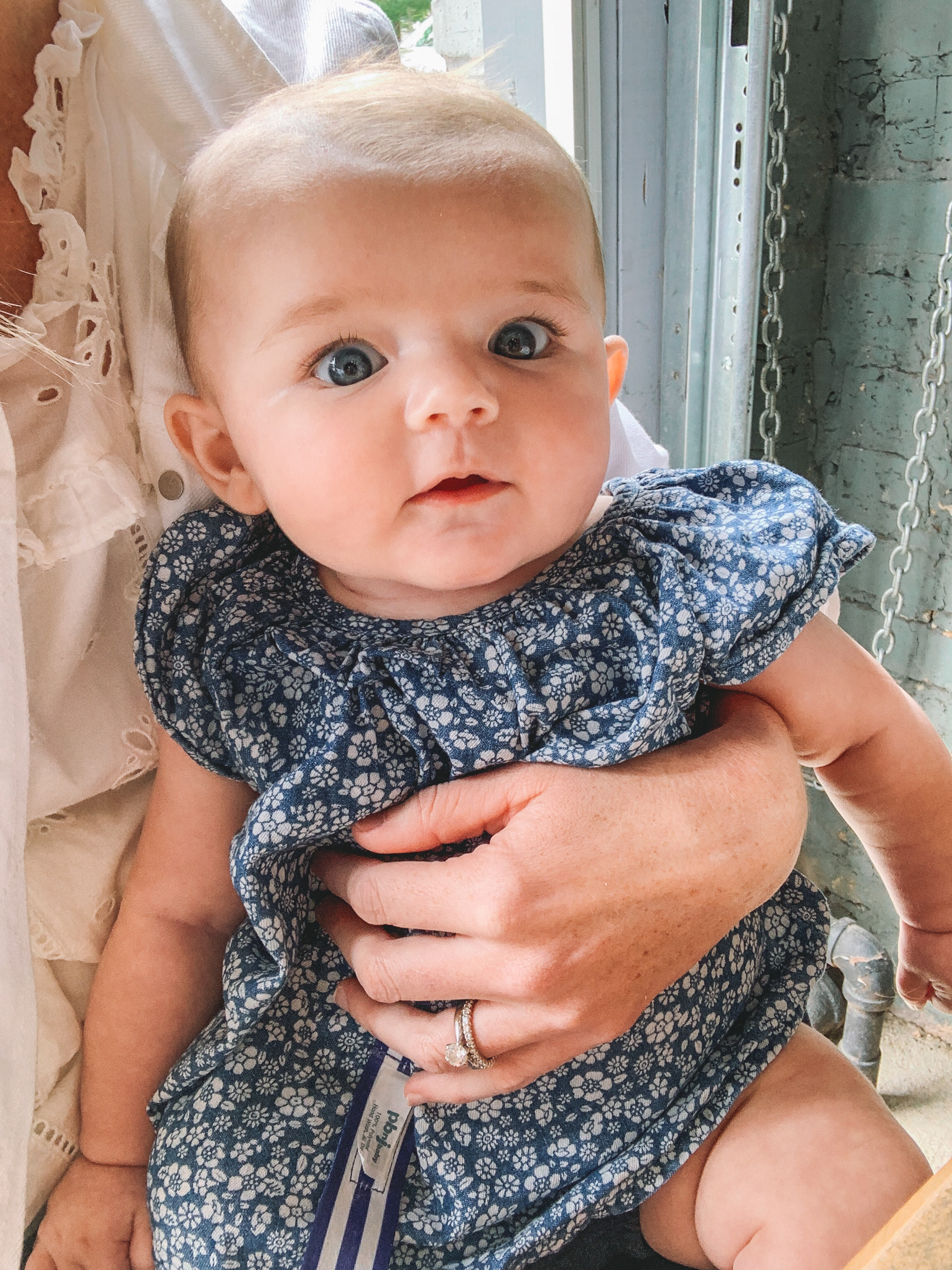 After drop-off, Mitch and I walked over to the coffee shop next door to attend that "BooHoo/Yahoo" meet-and-greet for new families. We then went to the gym to get some work done while Lucy played at daycare. We broke for lunch at a nearby pizza place, and it was great spending some one-on-one time with Lucy. I have to say that while we obviously miss Emma, it's really nice that we can give Lucy more attention now. I love this pic because I imagine her thinking, "WHOA. This is how it's going to be every day?!" Too funny.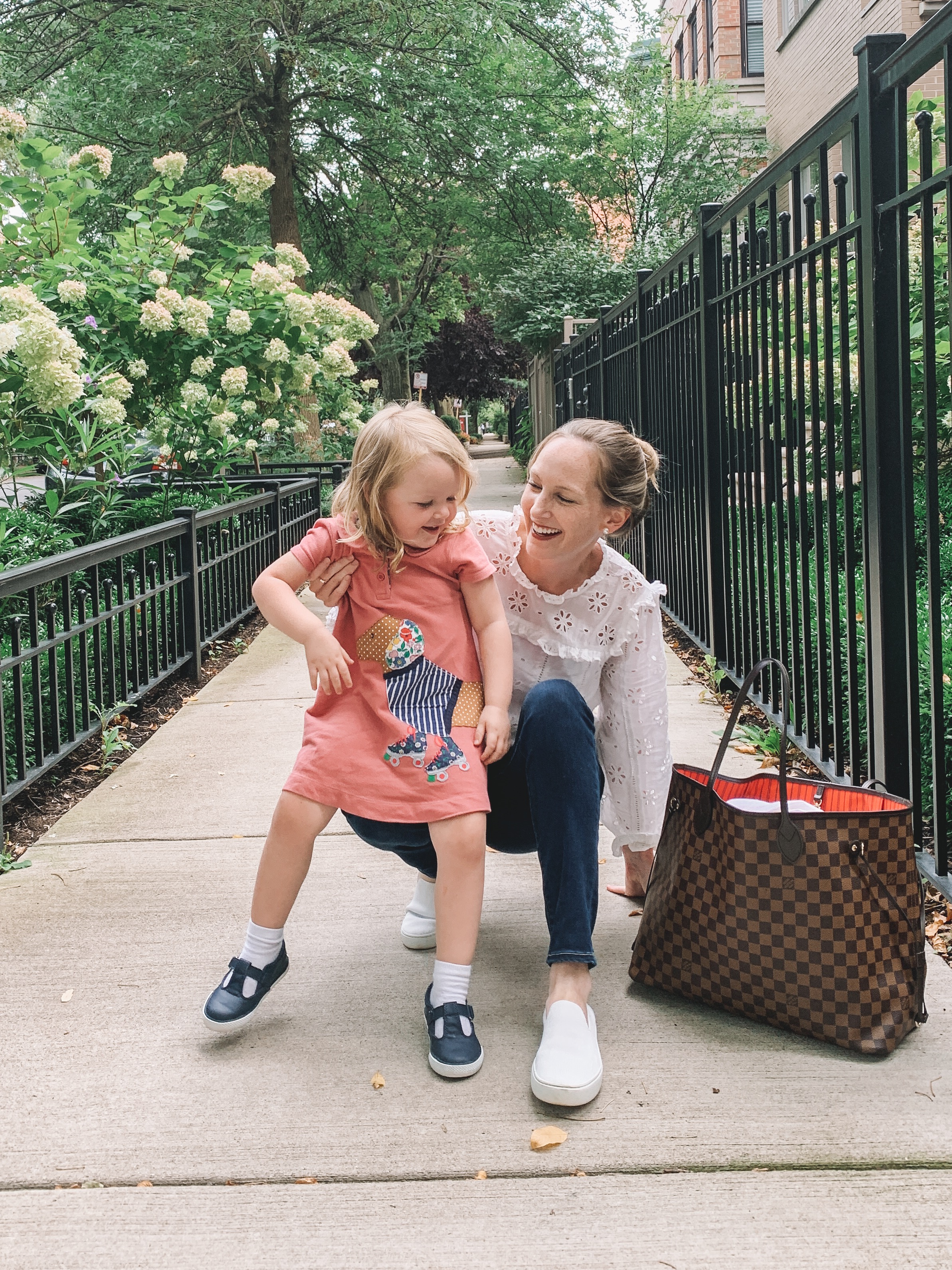 My White Eyelet Top / Hudson High-Waisted Barbara Jeans (Also love this wash and this wash!) / Rothy's Washable Sneakers
I didn't take any photos during pick-up, but we had a great walk home. (Emma strolled most of the way but walked the last leg.) It was so nice to all be back together after such a big day!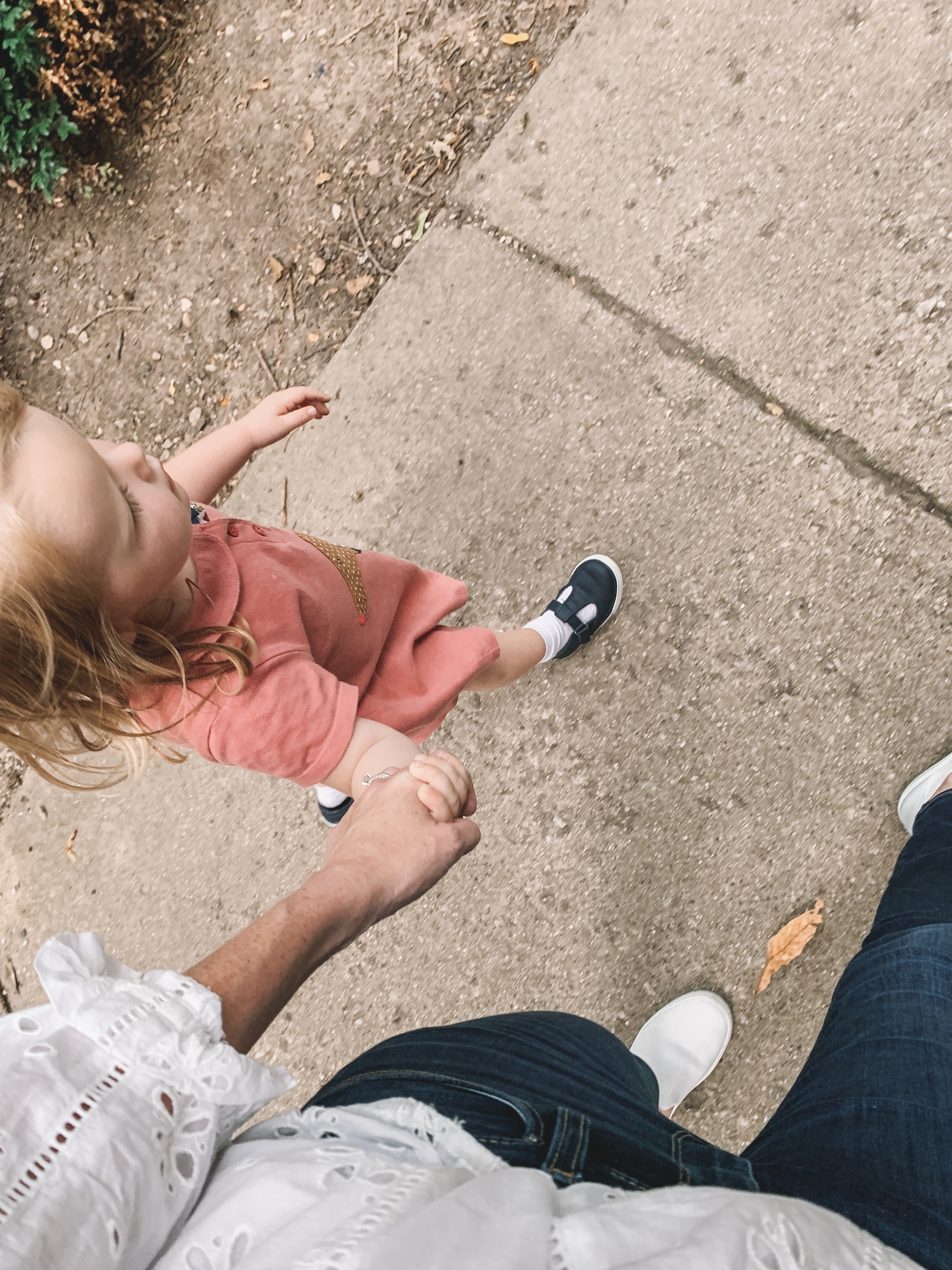 We relaxed at the house for about an hour before heading out to an early sushi dinner. (Emma's favorite!) Afterwards, it was bath, pajama and story time… and then we reflected on the day. :) Lights were out by 7:30.
BOOM! Couldn't believe we did it!
xoxo
Shop the post:
Emma's "Frozen" Backpack and Lunchbox / Ralph Lauren Mary Jane Sneakers / Mini Boden Dachshund Dress / "First Day" Sign (Thanks, Mom!) / My White Eyelet Top / Hudson High-Waisted Barbara Jeans (Also love this wash and this wash!) / Rothy's Washable Sneakers