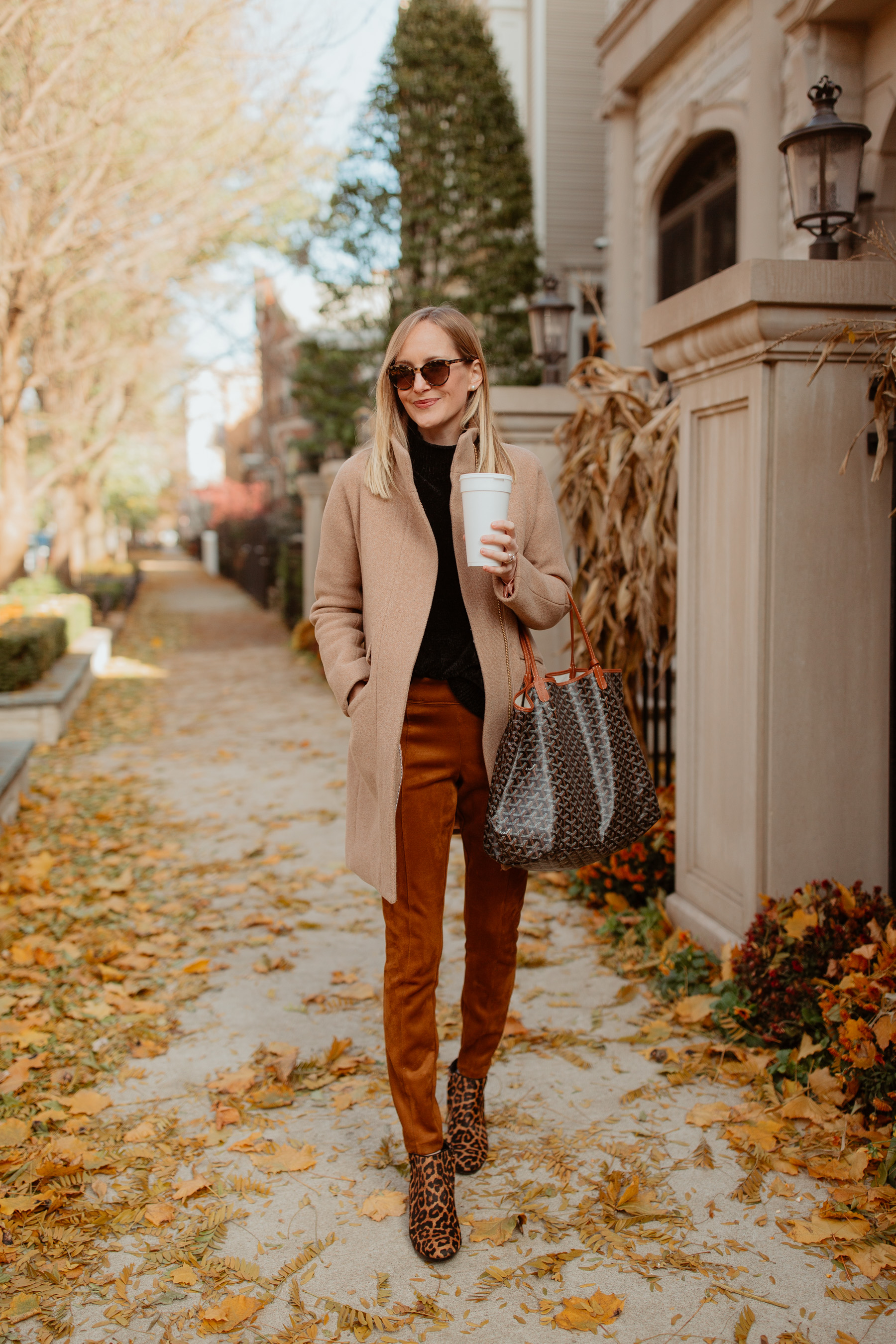 Cocoon Coat (40 percent off today with code "TOGETHER." Also check out the Factory version as well as the Lodge Coat, Chateau Parka and Regent Topcoat, all on sale.) / Old Navy Suede Leggings (40 percent off; discount taken at register. Insane deal! Here's the plaid version, which I recently reviewed here.) / Chenille Sweater / Leopard Booties (This pair is on sale!) / Vintage Coach "Court" Bag
Remember the plaid leggings I reviewed a few weeks ago? After falling completely in love with them, I decided to order a few other pairs of the Old Navy Stevie ponte pants (which are like thicker leggings). And I can't get OVER the $24 suede pair.
Before we get to that, though, I must note that J.Crew's site is 40 percent off today, which is likely what you'll see on Black Friday/Cyber Monday. Things go quickly during those dates, so I'd recommend grabbing what you have your heart set on now rather than later! Most coats and jackets are on sale, which is huge!
Anyway, the quality of the suede leggings is amazing. I can honestly say that they're just as nice as the two other pairs of faux suede pants I own, and I so wish I'd discovered these sooner! That wide waistband is so ultra comfy and flattering, and hello: they're $24! (Like, what?)
In terms of sizing, I would say that they run totally TTS. I actually ordered one size up because I did so with the plaid version and they were perfect. But looking back, I think the plaid pair simply has a tighter fit. As you can see from these photos, the suede pair is a little loose. I definitely should've gone with my regular size!
(On a somewhat related note, something to bounce off you: I get a lot of messages and e-mails about what size I'm wearing in clothing in outfit posts, but I've always felt like that information isn't useful unless you've met me in person. My thought is that instead, commentary on how the stuff runs will actually be of service. So, for example, "I found this shirt to run TTS. Order your normal size in J.Crew for this one." Or: "These shoes were small on me! I went up a half size, and that did the trick." What do you think? I want my reviews to be as helpful as possible, so let me know what kind of info you're looking for. Thank you!)
Mitch and I are actually on our own for the next few days, as Emma's at "Camp Gammy" at my in-laws' lake house with her four-year-old cousin/best friend. Of course, we're going to miss her desperately, but I'll admit that we really need this, haha. We're excited about catching up on sleep and work; tackling the laundry; and scrubbing every square inch of this house, which is about to be condemned. ;) We're also going out on a date tomorrow night, which I'm SO excited about. Quality alone time is so important, and we're a little overdue!
And with that, I'm out.
Zzzzzzz…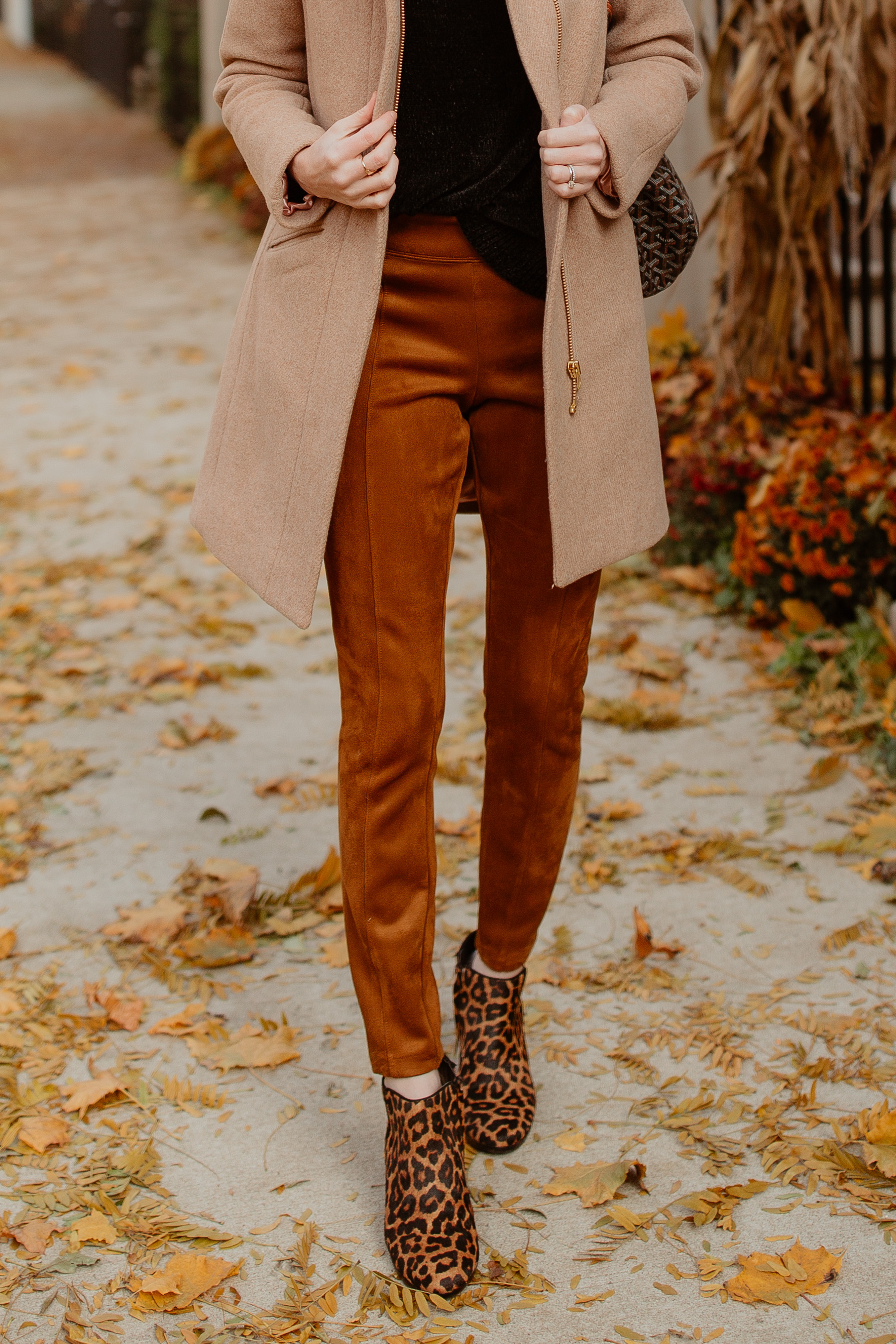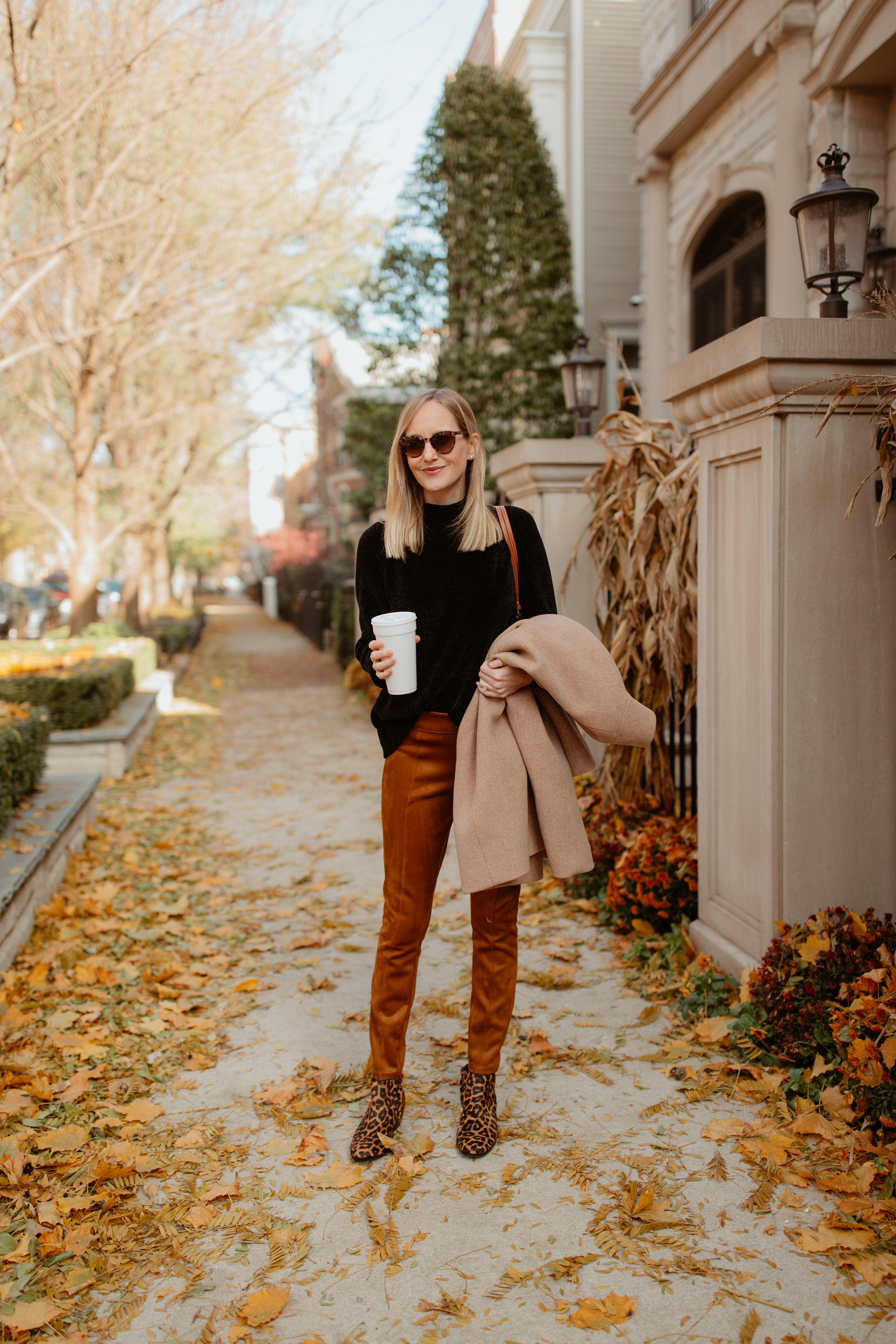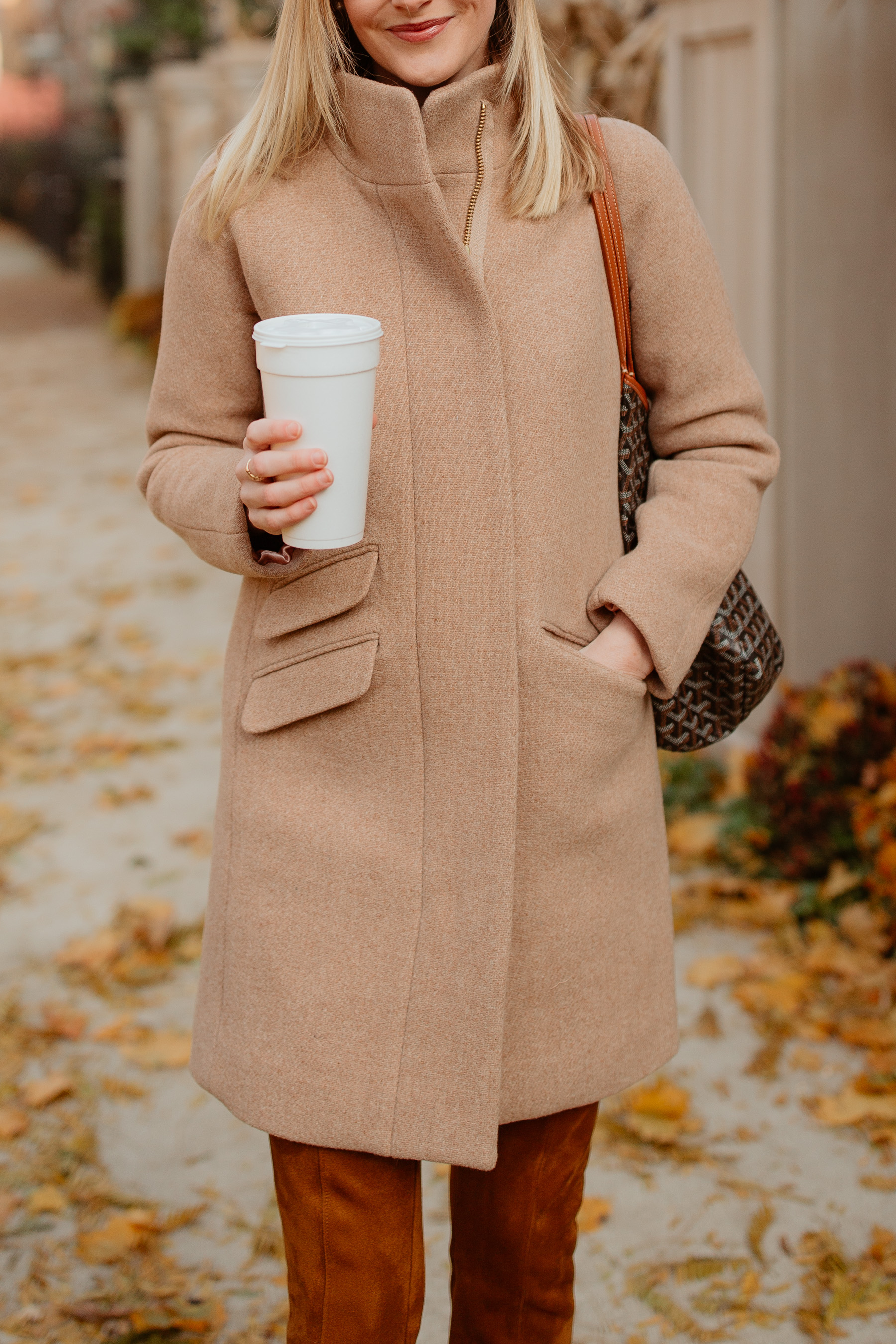 Shop the post:
Cocoon Coat (40 percent off today with code "TOGETHER." Also check out the Factory version as well as the Lodge Coat, Chateau Parka and Regent Topcoat, all on sale.) / Old Navy Suede Stevie Pants (40 percent off; discount taken at register. Insane deal! Here's the plaid version, which I recently reviewed here.) / Chenille Sweater / Leopard Booties (This pair is on sale!) / Vintage Coach "Court" Bag