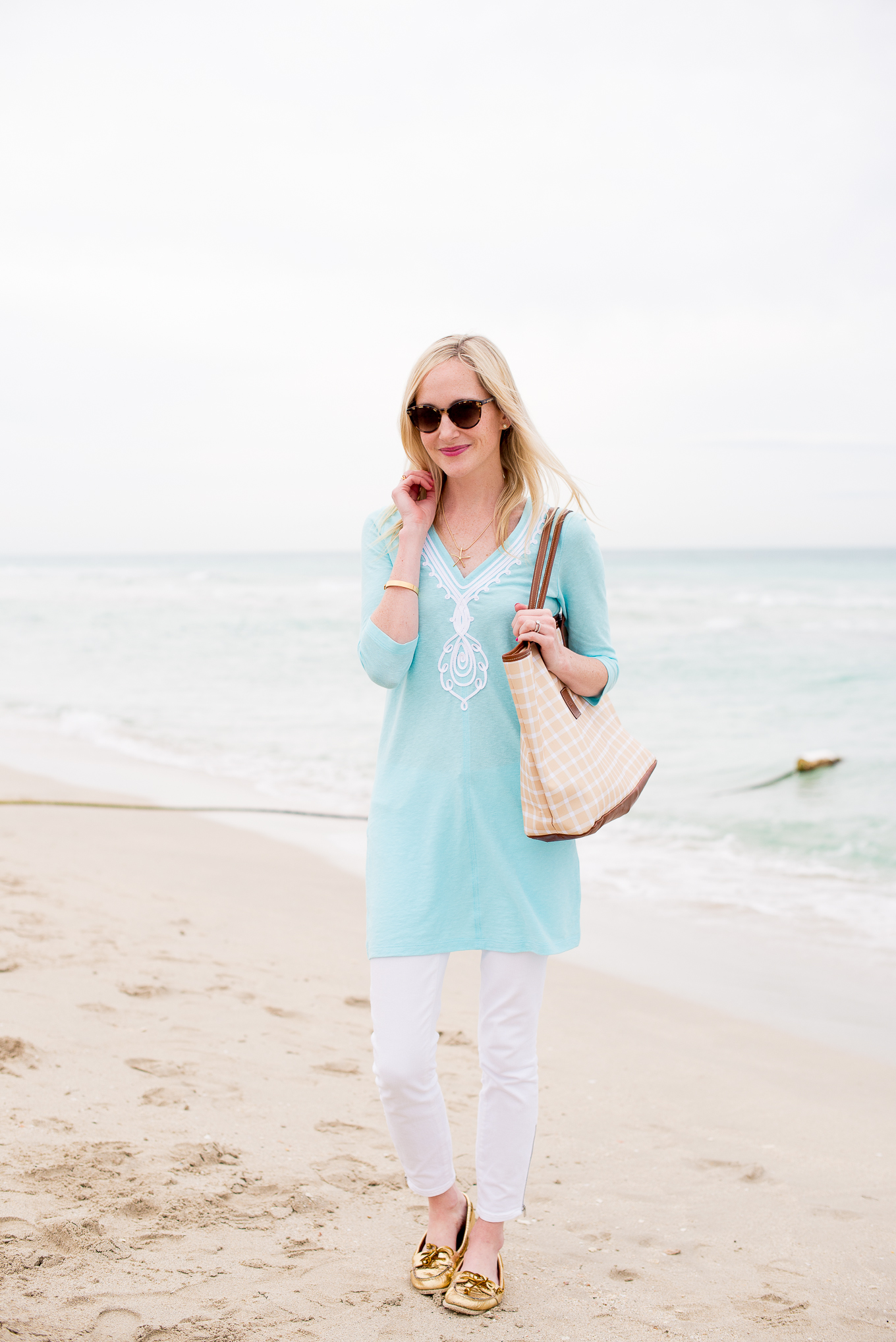 Lilly Pulitzer Dress (Also love this newer style!) / Barrington Gifts Tote (c/o — Take 10 percent off with code "LOVE10") / Michele Benjamin Necklace (c/o) / Madewell Jeans (Old, newer version here and here) / Gold Sperrys (Old, similar here — LOVE this fit!) / Kate Spade Sunnies (Old, similar here) and Bangle / J.Crew Earrings
I don't know what's wrong with me, but I kind of just assumed that Miami would be 85 degrees and sunny in February, and I therefore only packed dresses for my trip. Which is how this interesting little ensemble came about!
Of course, I really can't complain, as 60- and 70-degree days are lovely… and temperatures are, once again, projected to dip into the single digits this week in Chicago. (Ugh. Take me back.) But I'm a wimp, and my arms, legs, hands and feet turn blue way too easily. ;) So dress-and-pants combo it was!
Anyway, I'm off to bed, as I'm currently lamenting the fact that Ryan Adams didn't walk away with a Grammy this evening. Sigh. Maya, thanks for coming over, eating frozen pizza with me, letting Noodle lick your face all night, and cheering me up. (Haha. Kidding. I was fine this time. I swear.) And HAPPY BIRTHDAY, Girlfriend! Can't wait for Friday!
Also, a very happy birthday goes out to Mary, one of my very best friends from high school! Miss you so much, Mare, and wish I could be there to celebrate with you! See you in March! xoxo
Thanks for taking my photos, Kim!
(Please help support my friend Jason's classroom in the Bronx! There are three days left, and we only have $800 more to go! It's such a great cause.)