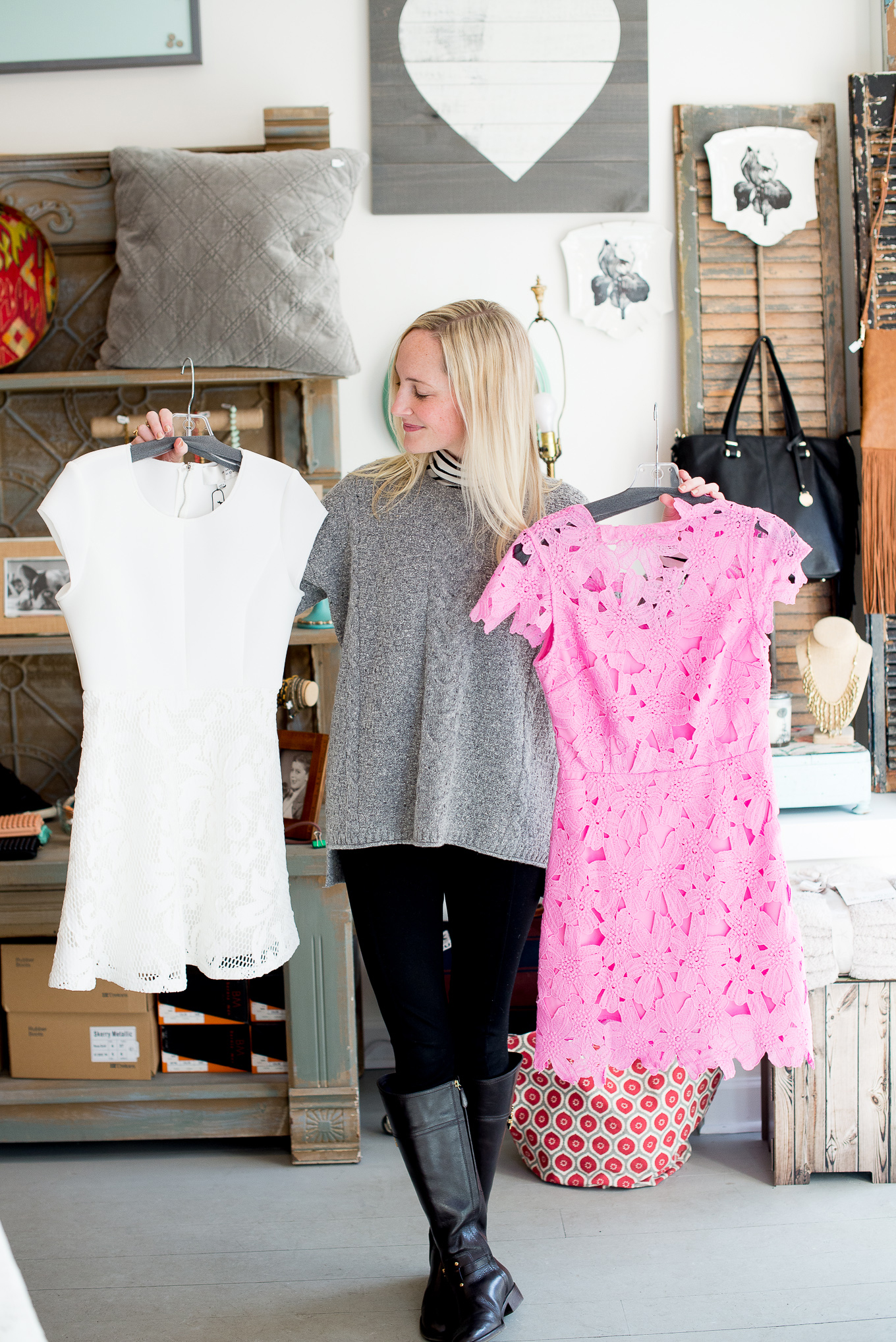 Chicagoans! Jess and I (along with Noodle, our trusty little sidekick) are hosting a Valentine's shopping party at Vintage Charm this Thursday, February 12th, and we'd love to see you there. :) The event, which is taking place from 7 to 9 p.m. at the store's Bucktown location (1735 North Damen), is sure to be a blast. There will be lots and lots of drinks and sweets… and the entire store will be 10 percent off!
(Side note: I know that guys typically don't enjoy shopping parties, but seriously: bring 'em to this one. Mitch and his buddy had a blast at the last event!)
If you haven't heard of Vintage Charm yet, it's undoubtedly the cutest boutique in Chicago. (I should mention that Jess recently pointed out that its merchandise is actually new, just to avoid any unnecessary confusion.) The store carries so many of my favorite designers, like Kendra Scott, Free People, Everly, Darling, BB Dakota, Splendid, RD Style and Ya Los Angeles… and the prices are completely fair. (I love that! It's not every day that you find an affordable boutique!) Vintage Charm also has an amazing selection of gifts and home decor pieces. Every time I walk in, I want to redecorate my apartment. ;) Just scroll down to see. Adorable, right?! The VC team sure has an eye for design.
The best part about Thursday's event is that you'll be able to take care of all your last-minute Valentine's Day presents. And they won't look like they were "last minute," either! Goodness. From cards, candles and jewelry to knickknacks, decor and accessories, there's something for everyone on your list. You can also pick up a fabulous outfit for the weekend's festivities. I mean, do you see the pink dress I'm holding in the above photo? Swoon! (And can we talk about how un-Valentine's Day my outfit is? Hahaha. Poor planning. I swear I'll wear something pink on Thursday.)
So remember:
Sweets.
Drinks.
Ten percent off.
Noodle.
All the cute stuff.
Hope to see you there! 
Vintage Charm // 1735 North Damen // Chicago, IL // 60647