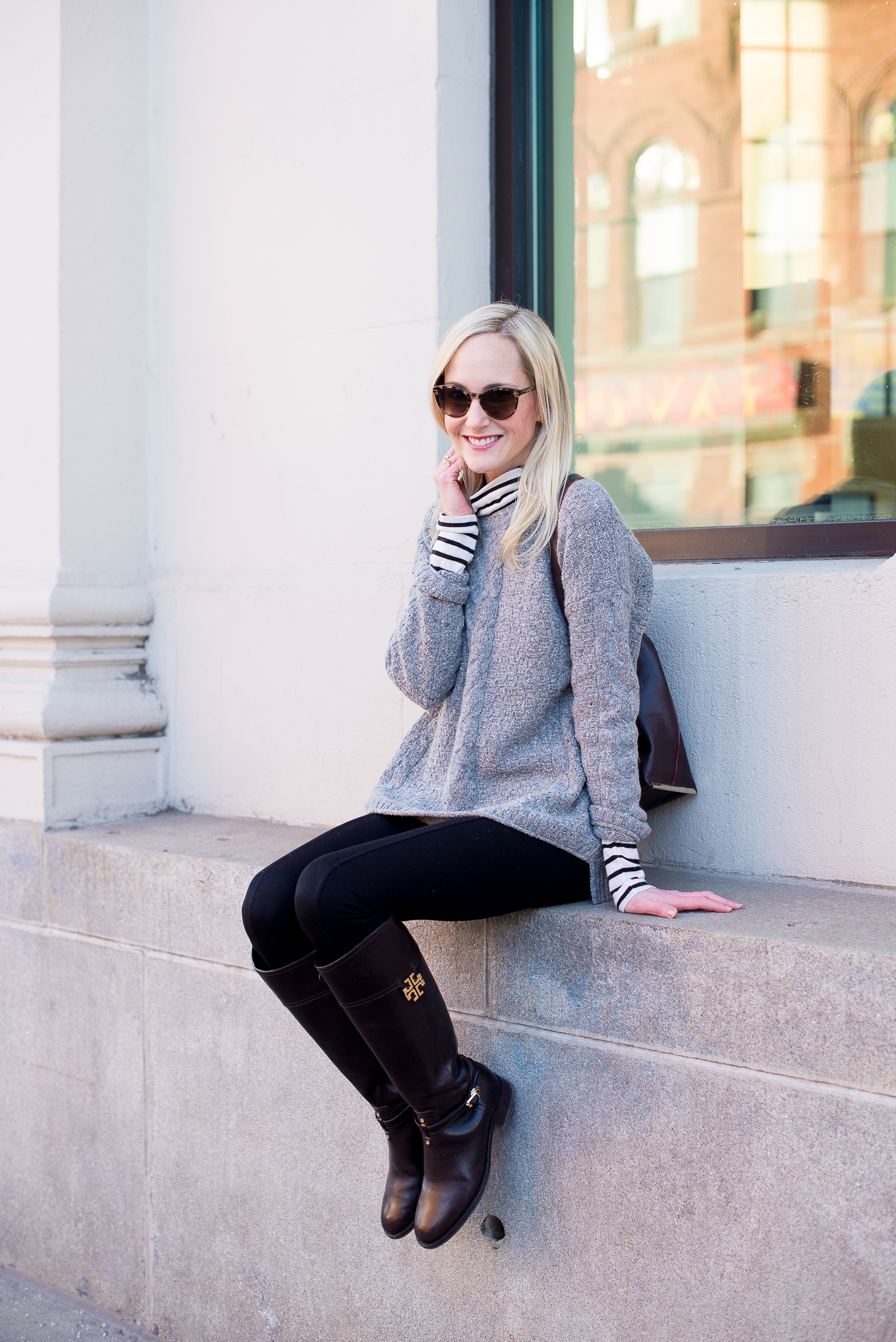 Madewell Sweater (I also love this gray turtleneck sweater. And the Madwell version is available in white and navy, too!) / Zara Leggings (Old, but quick! The Anthropologie fleeced-lined leggings are almost sold out!) / Dolce Vita Backpack (c/o) / Tory Burch Boots (Sold out, but try these or these) and Earrings / Kate Spade Sunnies (Old, newer styles here) / J.Crew Turtleneck / Daniel Wellington Watch (c/o — CRAZY on sale!)
I know I was just talking about how this is the "sweater of the year" (I'm such a weirdo), but I have a new favorite. Chicago winters have proven to be kind of intense… and this Madewell "Easy Cable Pullover Sweater" has been a lifesaver lately. I adore it. I'm actually wearing it as I type this, haha.
But seriously: It's the warmest, coziest sweater I own. And with it, I can handle the chilliest days! It also comes in white and navy. Trying my best to resist, but we do what we have to in the Tundra.
But back to life. What are you guys up to this weekend? Yesterday, I finally tackled getting new prescriptions for contacts and glasses, and then I headed over to Bucktown, where these photos were taken. Jess and I grabbed coffee at Goddess and Grocer, plugged away on our laptops for a while (such a cute place to work!), and swung by Vintage Charm for a quick meeting. (We have something fun in the works! Details to follow!) Later that evening, Mitch and I went out to dinner at Sushi Para D, our favorite sushi spot in the city. Besides Sushi Para II, which is essentially identical.
Today, we're bundling up our little Noodle–She's coneless! Woo!–and taking her on a long walk around Lincoln Park. Tonight, we're meeting up with old friends downtown. An easy, stress-free weekend. I love those. :)