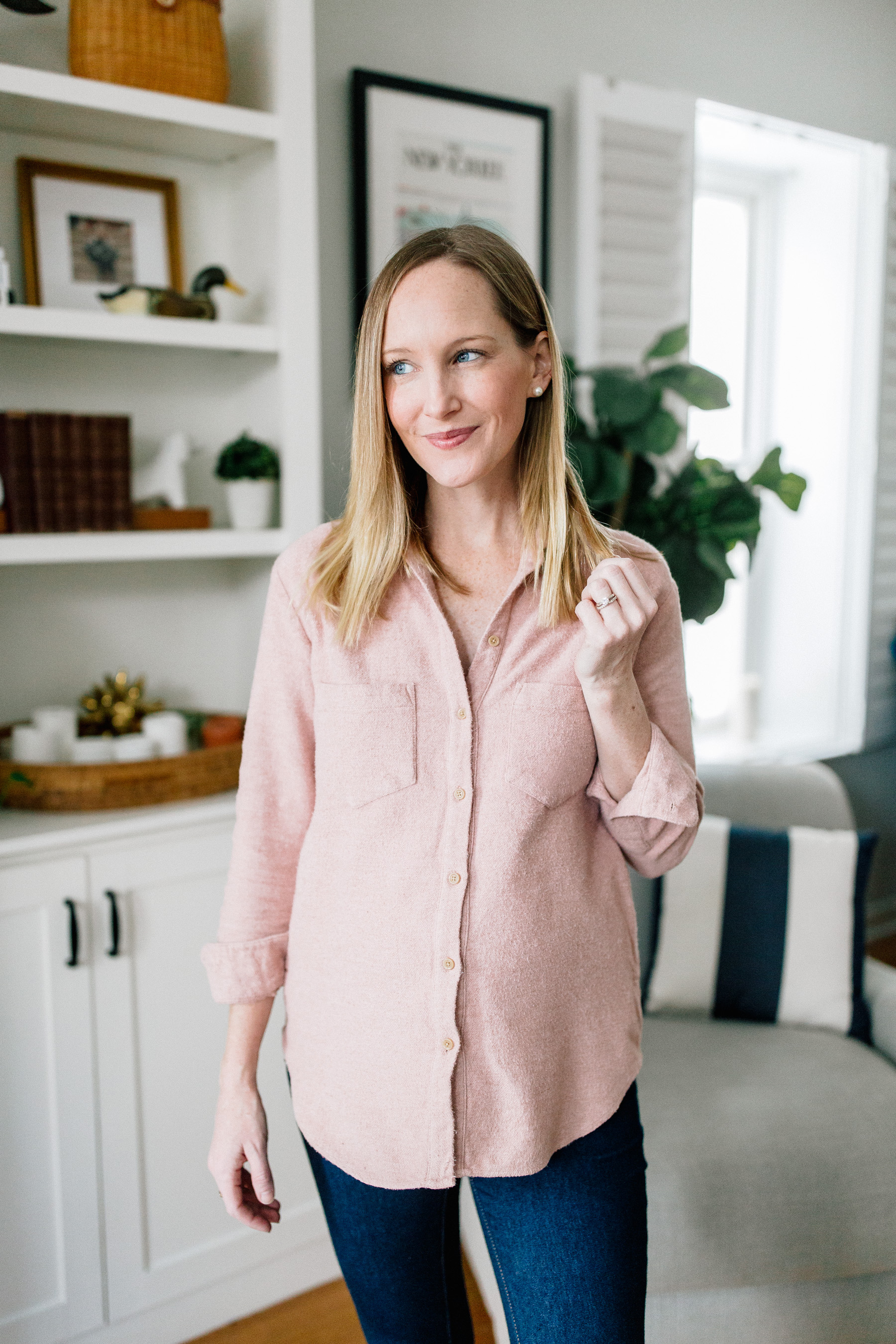 Madewell Sunday Shirt (Under $55 with code "REALDEAL" today! It's sometimes available at Nordstrom, too.) / L.L. Bean Wicked Good Lodge Boots (Also available in leather.) / Old Navy Rockstar Maternity Jeans (The BEST, particularly this pair, which I'm wearing in these photos. With maternity jeans, order your pre-maternity size… if not one size down. I'd honestly order both and return one! Here's the non-maternity Rockstar version which I've yet to try, but I'm going to assume they're awesome, too. And this is my maternity capsule wardrobe, btw.) / $48 Faux Leather Tote by Street Level / Dachshund Mug / Kate Spade Striped "Charlotte Street" Mug (Also available here.) / Pottery Barn Rug / Reddish Persian Rug / Faux Marble Dining Table / Newer Navy Chairs / Buffet / Framed City Print / Striped Pillows
I've been in love with the Madewell Sunday Shirt–sometimes available at Nordstrom, too–for a long time now. (You can see it in a 2017 blog post here!) I'm not sure when it was originally released, but it's without a doubt the best flannel shirt I've ever owned, apart from the L.L.Bean Slightly Fitted Plaid Flannel Shirts, which are obviously more appropriate for fall and Christmas.
Unfortunately, the Madewell shirt is no longer available in the light pink, but I think I like the "pale oyster" color the best anyway! So let's chat about why it's so fabulous, 'kay?

Other Madewell faves
Oversized look + flattering cut: I've always been a fan of oversized tops, so of course I loved this one. ;) But this flannel shirt does it very, very well. While it certainly runs large, it hangs in just the right way. I feel like it even looks flattering at nearly five months pregnant! (And I'm not one of those women with a tiny bump. It's quite significant, haha… I just tend not to stand to the side in photos. I'll do it in my next pregnancy update post, though. 😜) So yes: I would definitely recommend going one size down in this one, but embrace that oversized look! It's a "Sunday shirt," after all.
Softness: So soft! As you can see, it's a teeny bit fuzzy when you look really closely, as most flannel is. (I tend not to, but you can de-fuzz if you want. Go with this thing if you're interested!) But the shirt is lovely and cozy… and frankly, I can't imagine surviving a Chicago winter without it.
Quality: It's also substantial. I love that you get the look of a button-down shirt with the warmth of a sweater or sweatshirt with this one.
Color + Price: Again, the light pink is a few years old, but I love the "pale oyster" color, and think it would go with a lot more. Today, it's on sale for just under $55 with code "REALDEAL." I may have picked one up since so few things fit me at this point. ;)
It's okay. You can tell me the truth. I think they're adorable, but I realize they might look like Ewok boots. (Actually, I don't think Ewoks wore shoes. What am I thinking of here? Something Starwars-related, no? It's late. 😂) But yeah: I'm all about L.L.Bean's Wicked Good Lodge Boots, which are obviously spinoffs of the company's ever-popular Wicked Good Slippers, which I also own. They're insanely warm, which is so needed right now in Chicago. While they're basically slippers with boot uppers, you can wear them outdoors… though I mostly wear mine at home, when I'm at the gym, or while traveling. (Note: A lot of the reviews say to size down, but I sized up. I normally wear a size 7.5 and went with an 8; the 7s were too small.) I love the leather pair, too!
Best. Maternity. Jeans. Ever. And they're $25 right now! They're the only pair I've found that really works for me. They're soft, they're true skinny jeans, and they don't stretch out or sag throughout the day. My favorite is the low-panel cut, though they come in other cuts, too. (Note: With maternity jeans, order your pre-maternity size… if not one size down. I'd honestly order both and return one! Here's my maternity capsule wardrobe, btw.) There are also lots of non-maternity Rockstar pairs! I haven't tried those, but I'm going to go ahead and assume that they're awesome as well.
I can't say enough good things about this tote bag. It's been with me for years, and has remained a favorite, despite the fact that it's faux leather. First, it's reversible. What?! Second, it's amazingly soft. Third, it doesn't scratch or show wear. Emma has legit dragged it down the street and it still looks good as new! The price is great, too, making it the perfect gift.
I mean… do it for Noodle.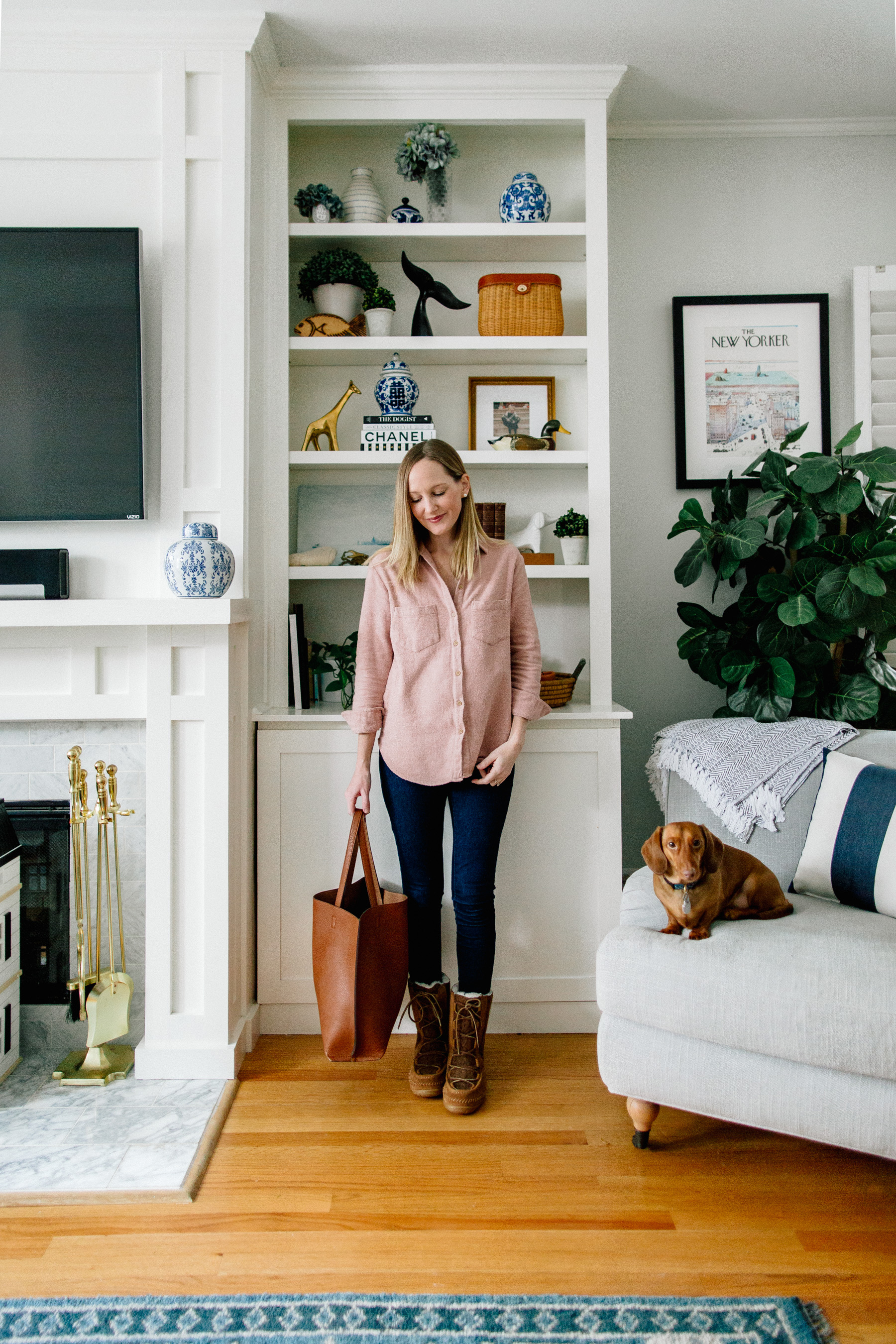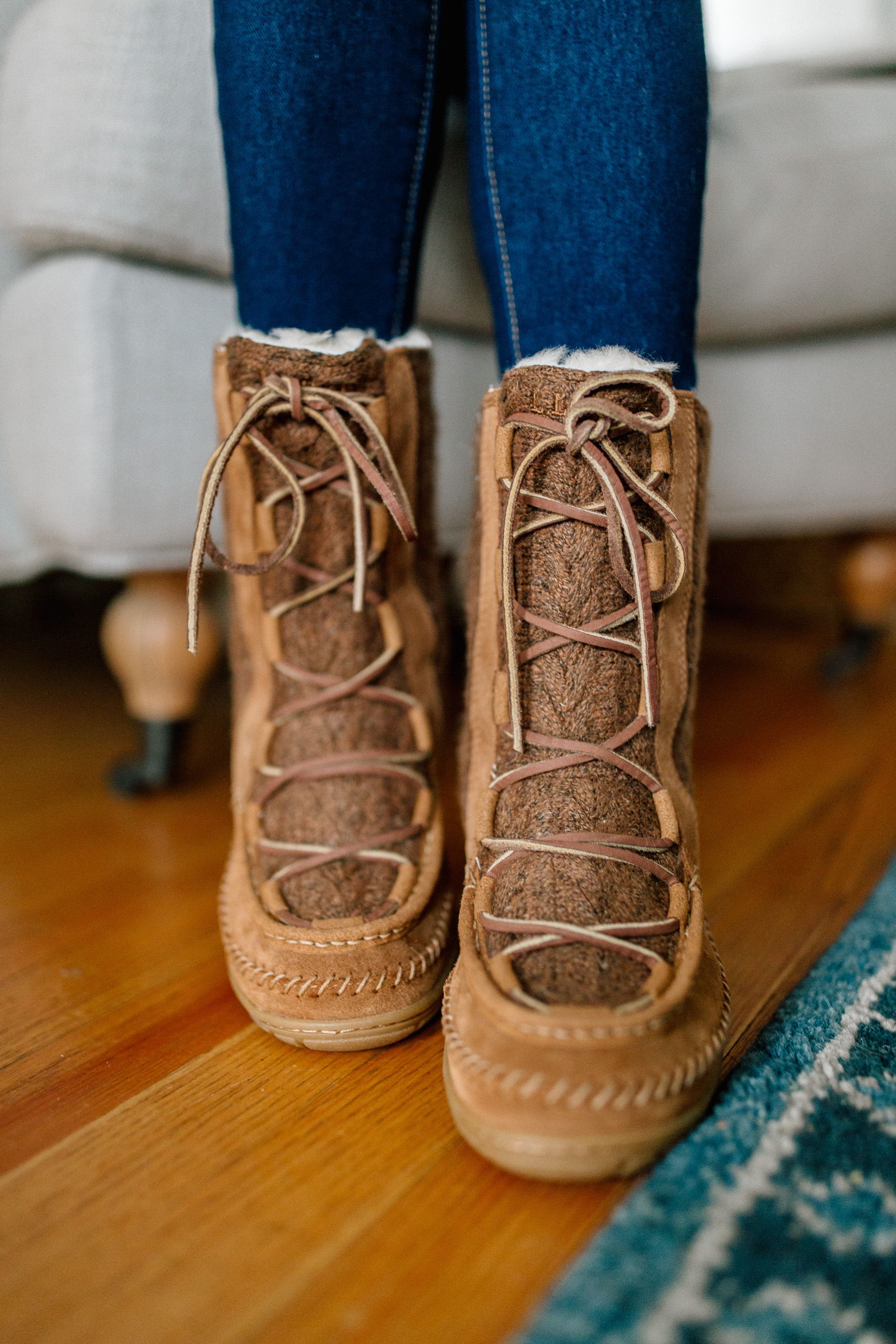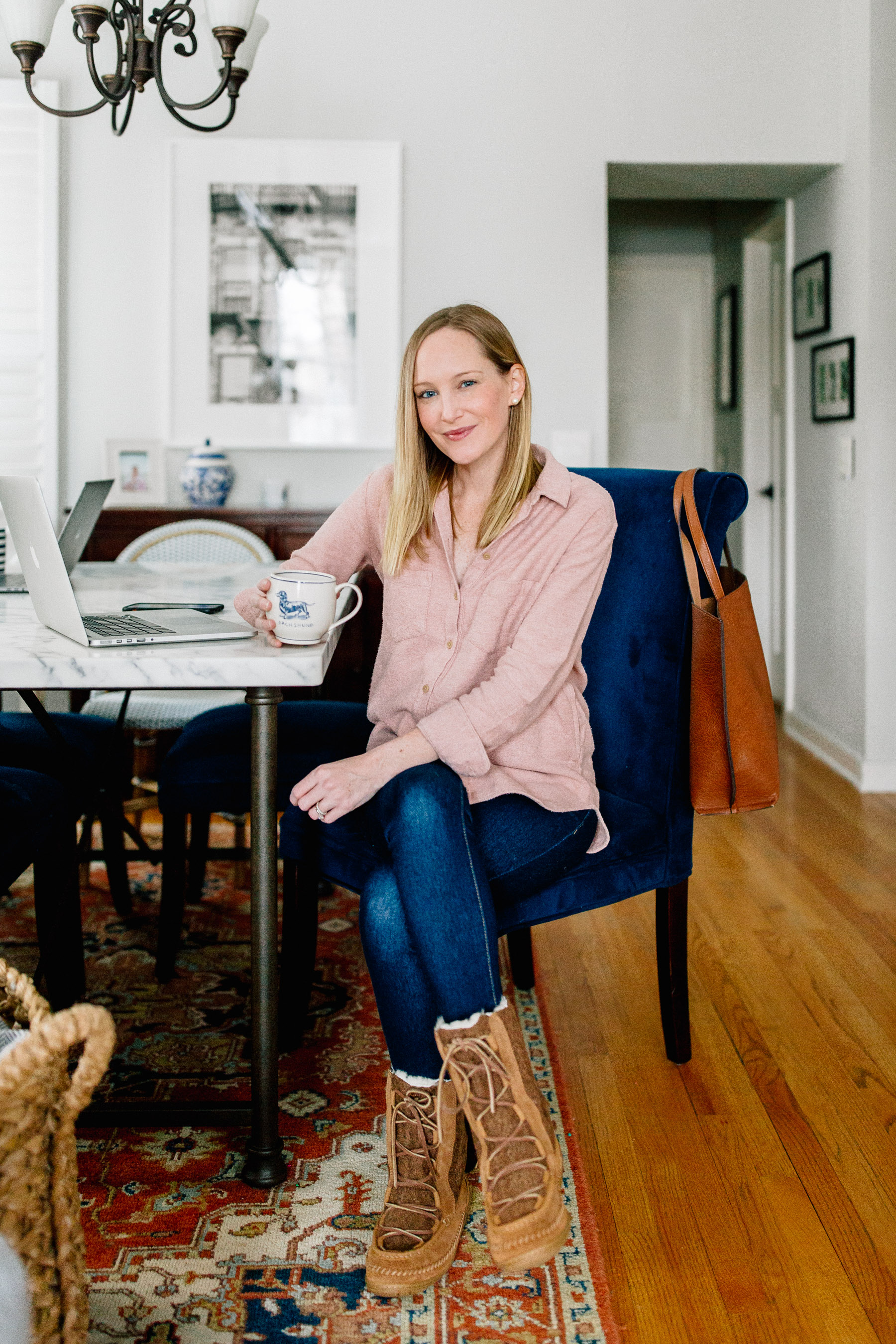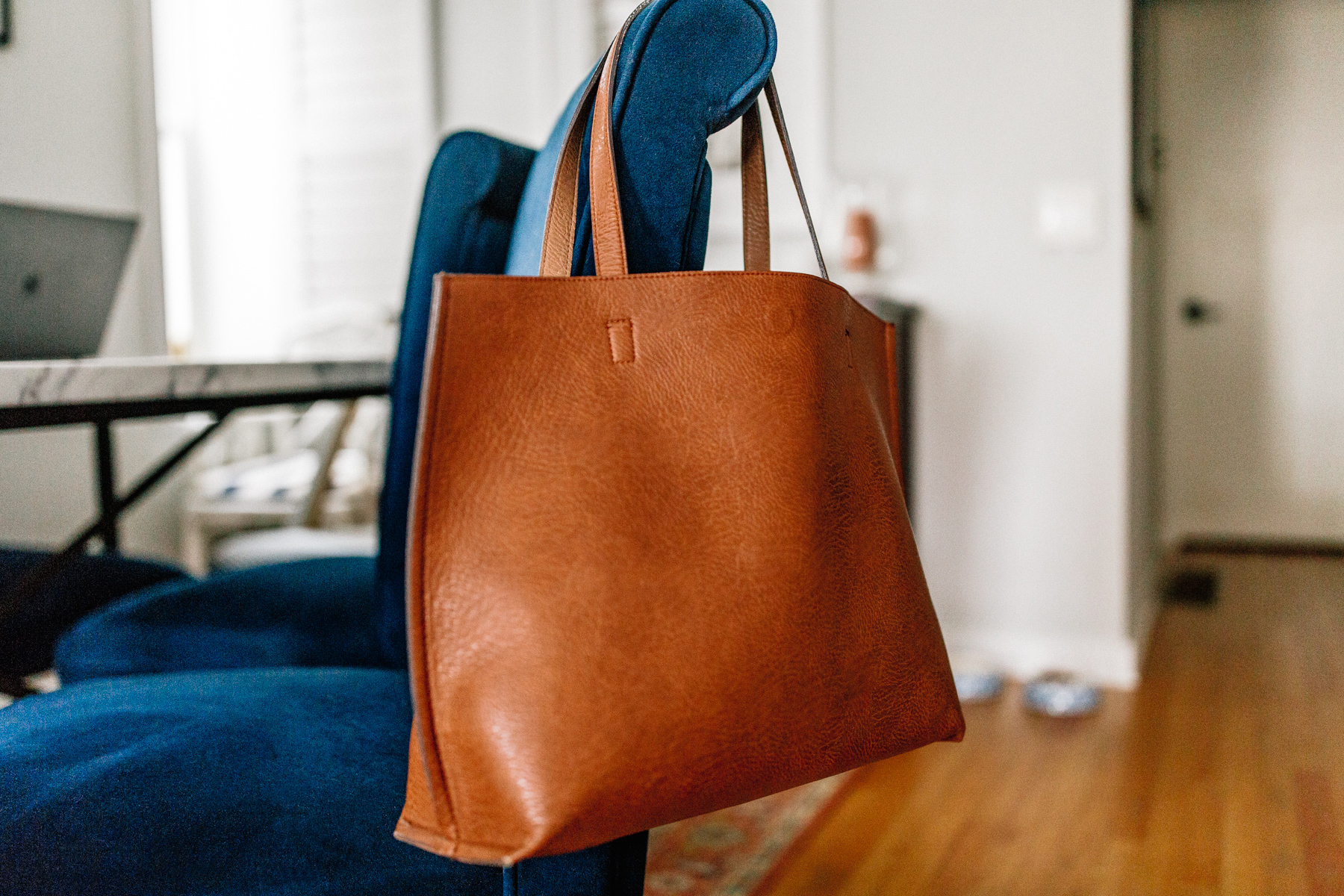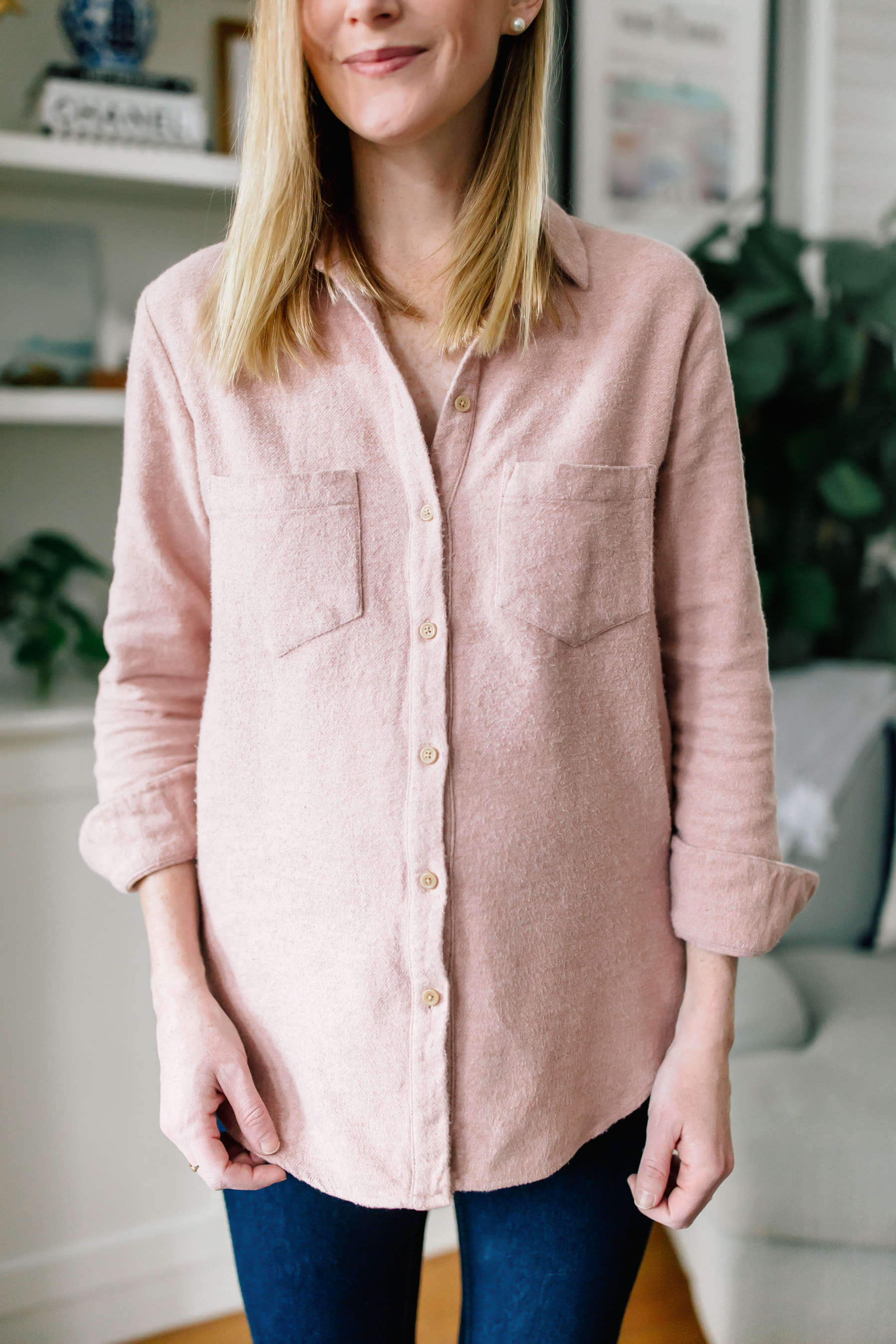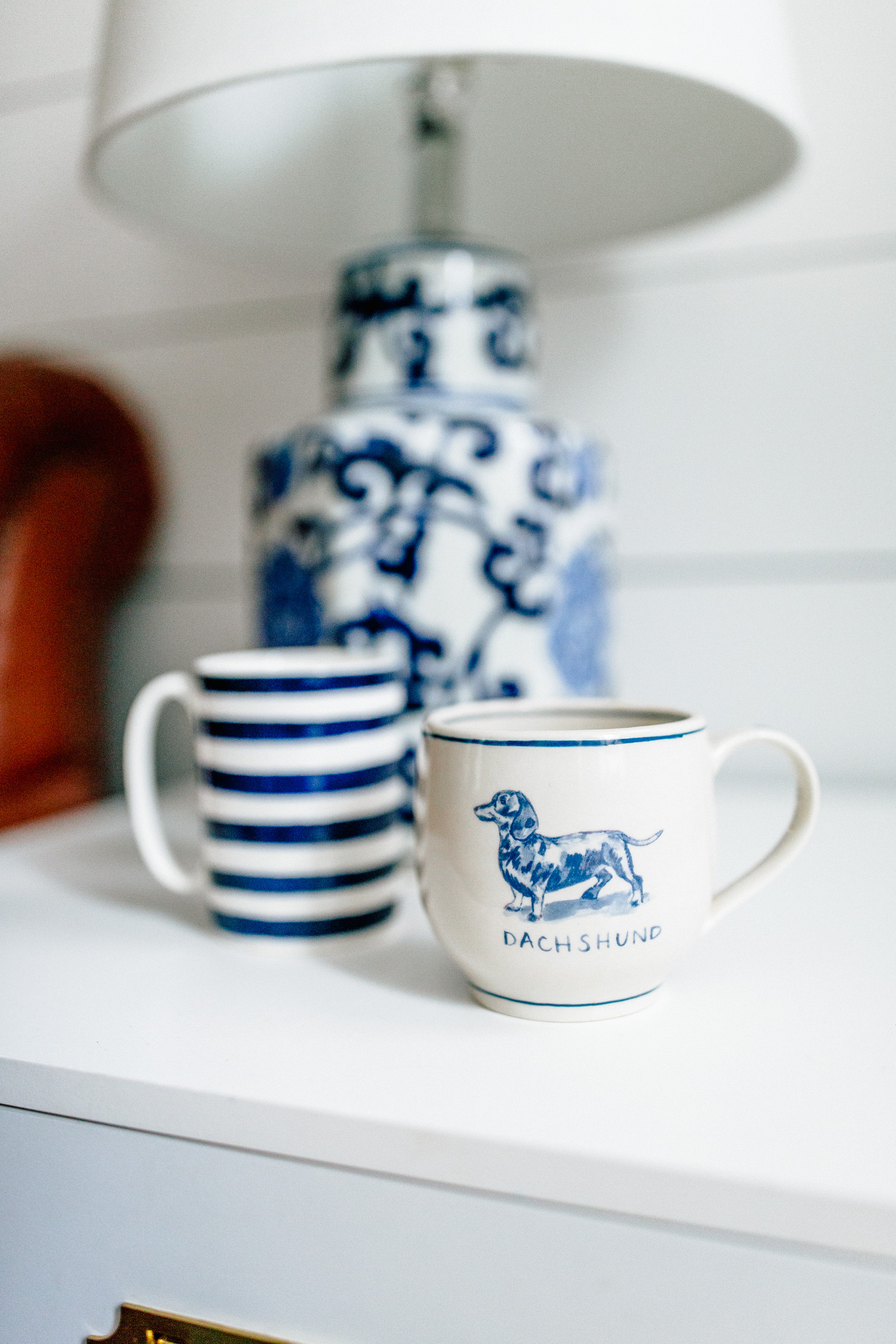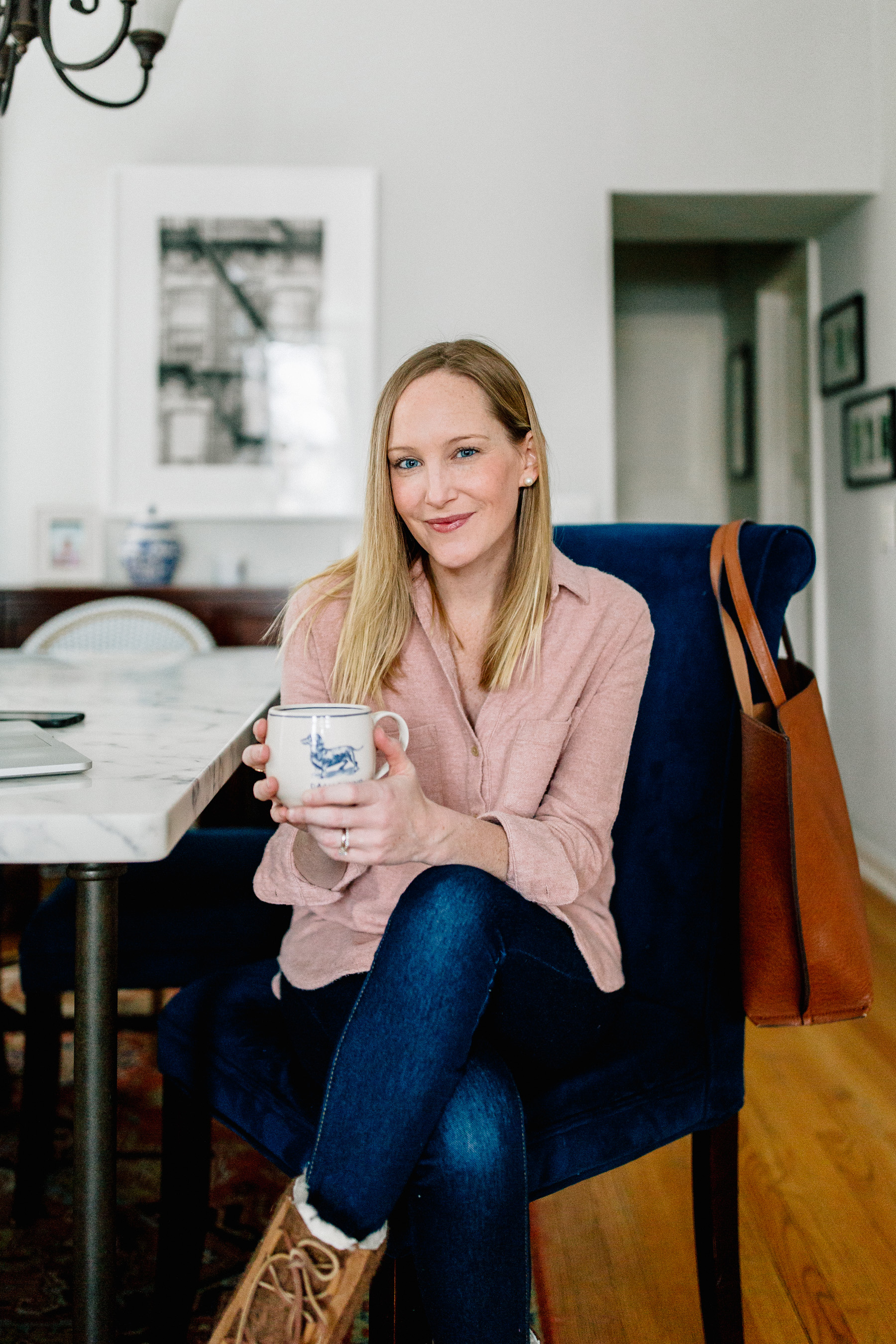 Shop the post:
Madewell Sunday Shirt (Under $55 with code "REALDEAL" today! It's sometimes available at Nordstrom, too.) / L.L. Bean Wicked Good Lodge Boots (Also available in leather.) / Old Navy Rockstar Maternity Jeans (The BEST, particularly this pair, which I'm wearing in these photos. With maternity jeans, order your pre-maternity size… if not one size down. I'd honestly order both and return one! Here's the non-maternity Rockstar version which I've yet to try, but I'm going to assume they're awesome, too. And this is my maternity capsule wardrobe, btw.) / $48 Faux Leather Tote by Street Level / Dachshund Mug / Kate Spade Striped "Charlotte Street" Mug (Also available here.) / Pottery Barn Rug / Reddish Persian Rug / Faux Marble Dining Table / Newer Navy Chairs / Buffet / Framed City Print / Striped Pillows