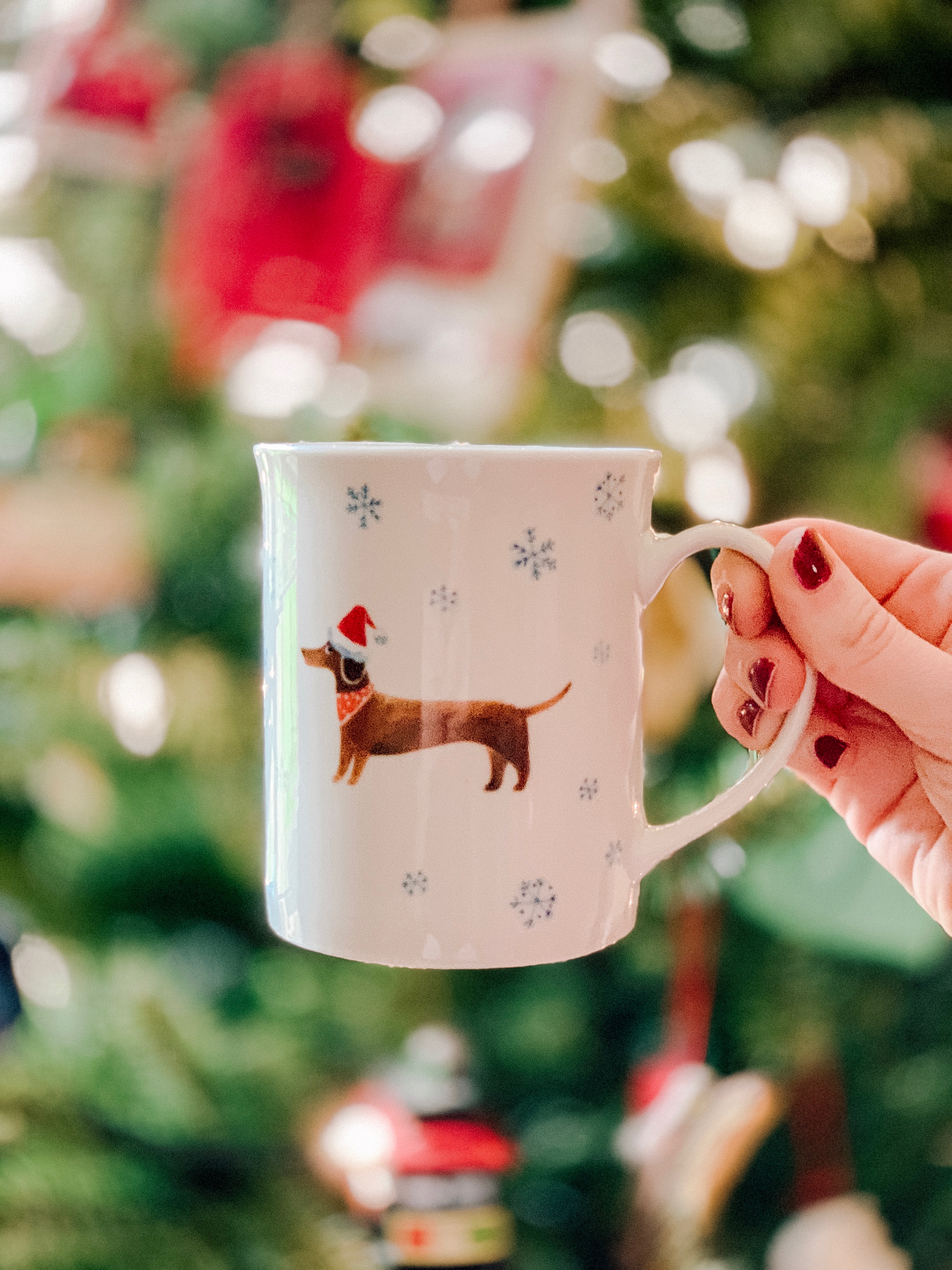 This mug was a gift from my aunt/cousin, but not sure where it's from! But this one, this one and this one are similar and so cute!
Aaaaaand we're back! I hope you had a wonderful Christmas with family and friends, and that you're having a slow week. :) I know I am! This is my first time opening the computer in a week, haha. I'm actually still at my in-laws' lake house for the second phase of our holiday travels, but I took a very long nap this afternoon–yes, with the toddlers–and am now wide awake at 10 p.m. 😂 So I thought I'd ease back into things with a little recap post made up of completely out-of-order iPhone pics!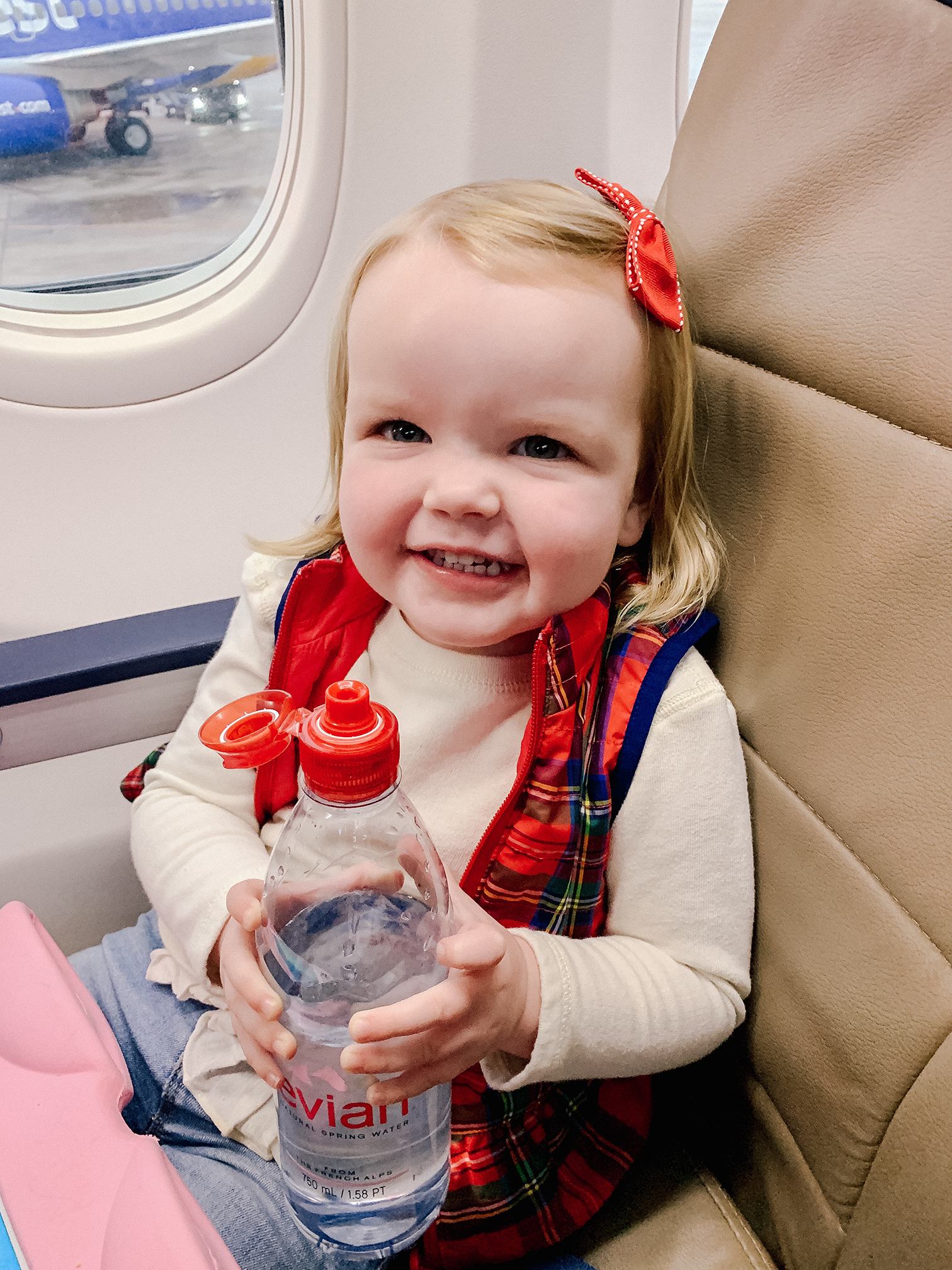 Emma is wearing a Vineyard Vines vest from last year. Have you heard, though?! Vineyard Vines is having its big "Whale of a Sale" event that you shouldn't miss! The women's section is pretty amazing.
Our plans were very up in the air right up until takeoff on Friday. (Airplane joke.)
If you're a regular reader of this blog, I really apologize, as I'm now realizing that pretty much all I talked about during the month of December was how sick I was. 🙈 But woo-ee! We almost cancelled all our Christmas travel plans because of it. (I had the flu, pink eye, laryngitis, a sinus infection, and low blood pressure/a high heart rate due to dehydration–all at once.)
As soon as we got the diagnosis, I was banished to our bedroom to sleep and get better… and Mitch worked tirelessly to finish up the last of my holiday work, take care of our two-year-old, pack the entire family, drop Noodle off at my in-laws, and complete last-minute shopping. Somehow (because he's magic?) he did it all. Because of the pregnancy, we were still reluctant to go… but on Thursday, my doctor said I was in good enough shape to make the trip if I took things really easy.
And then we had that pesky storm that graced the East Coast, and we weren't sure we'd even be able to get out of Chicago anyway! Luckily, though, we did… and we landed safely in Philadelphia on Friday night. Of course, the airline claimed that Emma's suitcase had somehow been left behind in Chicago, but Emma actually saw it being unloaded off the plane and asked me to take a photo of it because she loves it so much, hahaha. So we had photographic evidence that it had arrived, and we ended up getting it back that night! Too funny.
My brother picked us up at the airport, and he drove us to my parents' house in Yardley, where we had a big pizza party and then promptly went to bed. ;)
After the most hellish month, it sure felt wonderful to be home.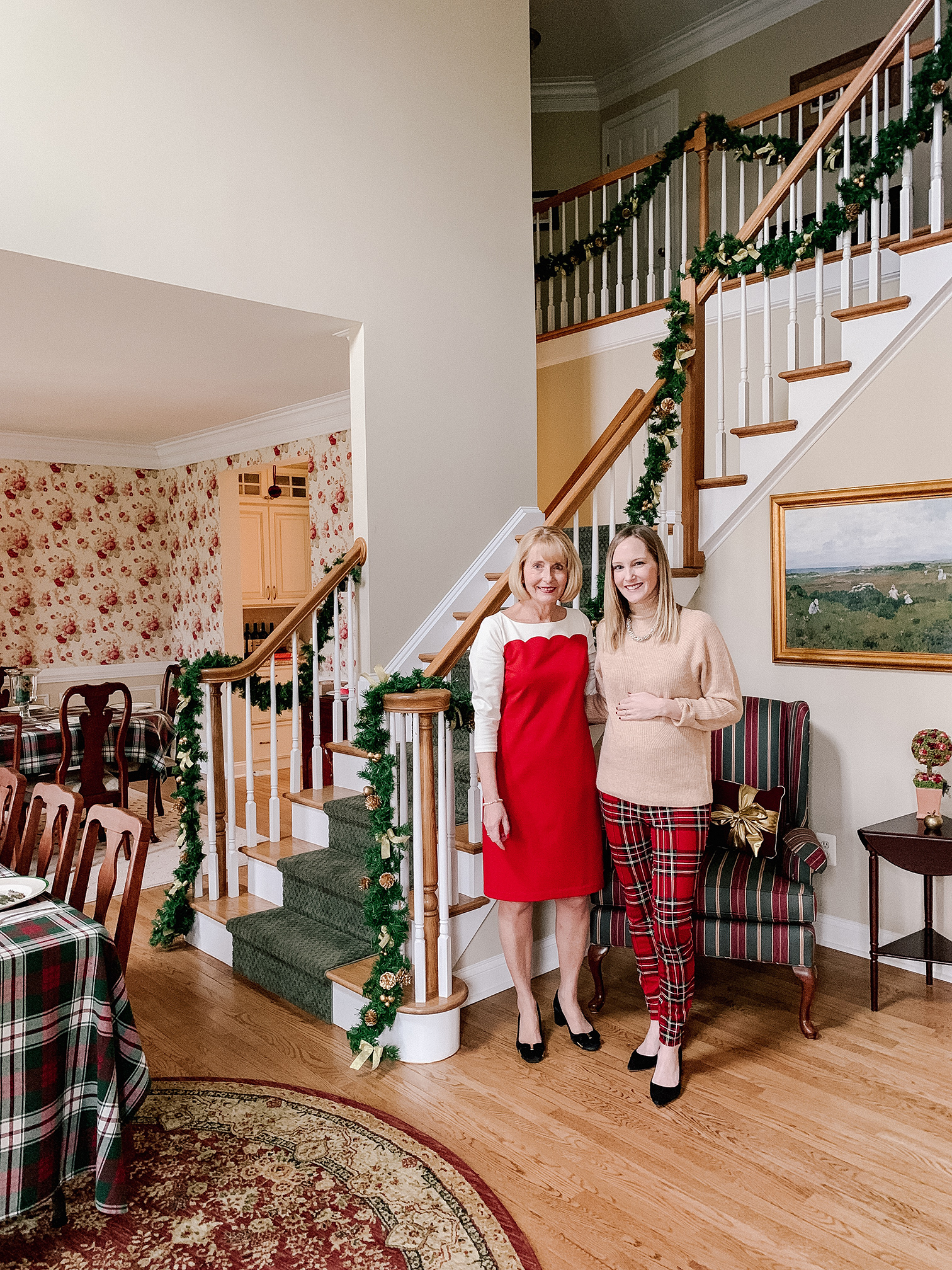 Mom's Scalloped Dress (Sold out, but so many great newer ones here!) / Mom's Michael Kors Bow Pumps (But Nordstrom has an amazing selection of bow pumps right now!) / Tartan Leggings / Cozy Turtleneck Sweater / Similar Sparkly Necklace / Newer Version of my Kate Spade Pumps (Black is available at Bloomies.)
My mom is a rockstar and offered to host three family Christmas parties in a row to make things easier on me.
Both my dad and mom's families are originally from Long Island, New York… and now everyone is spread out between the island and NYC.
I really can't thank my parents and my family enough for hosting/traveling to Bucks County, PA to be with us. I'm an incredibly lucky girl. <3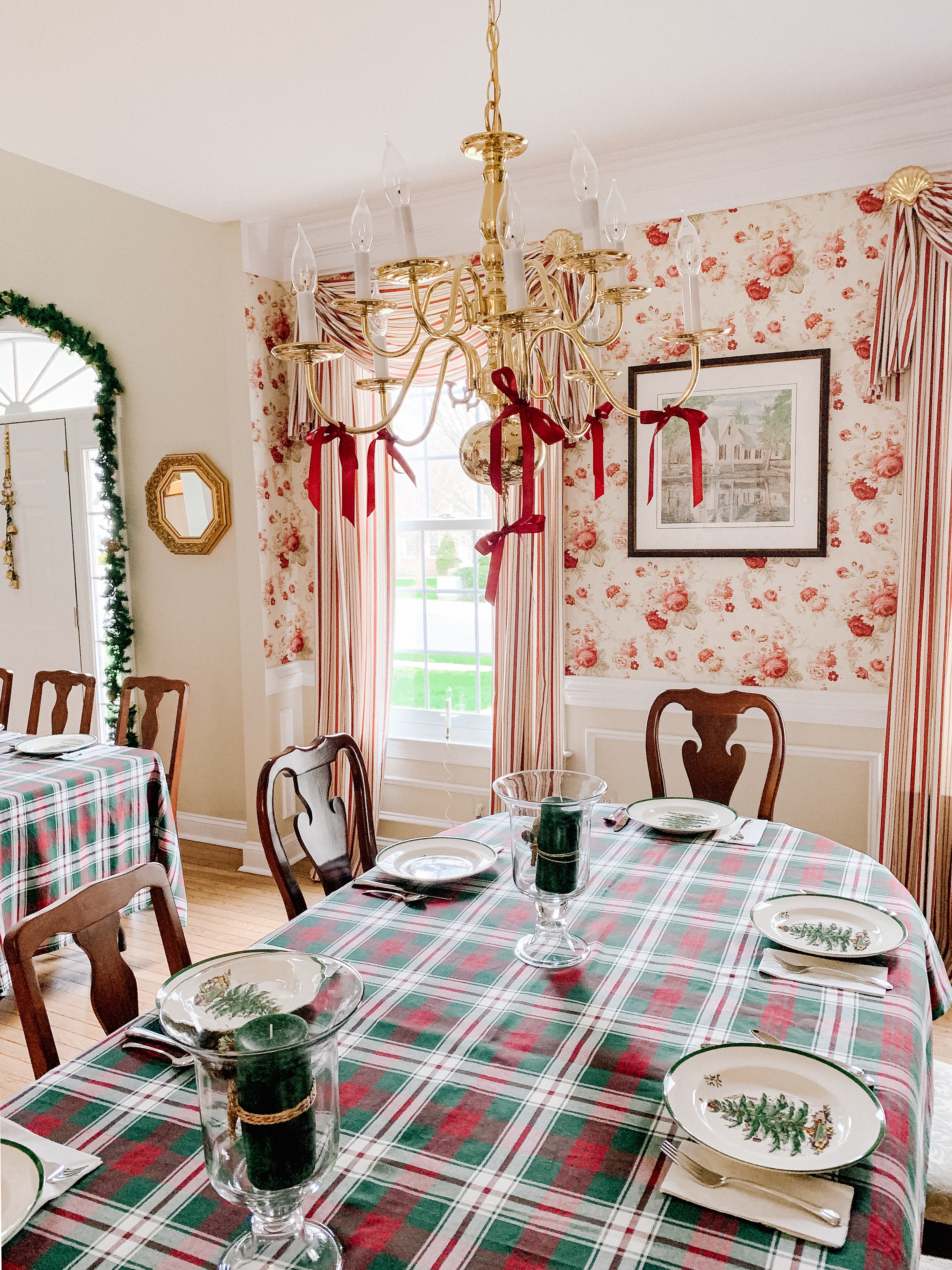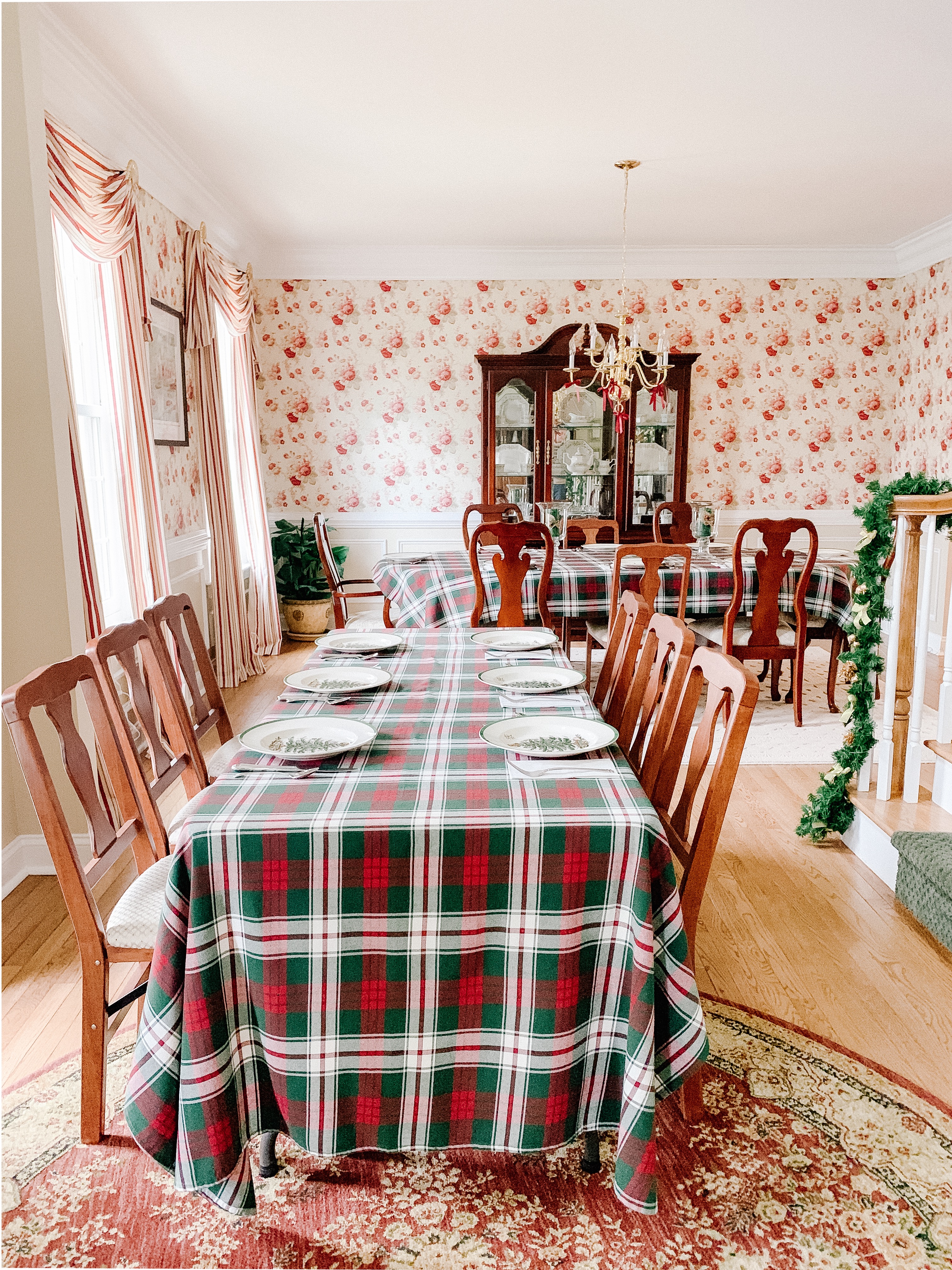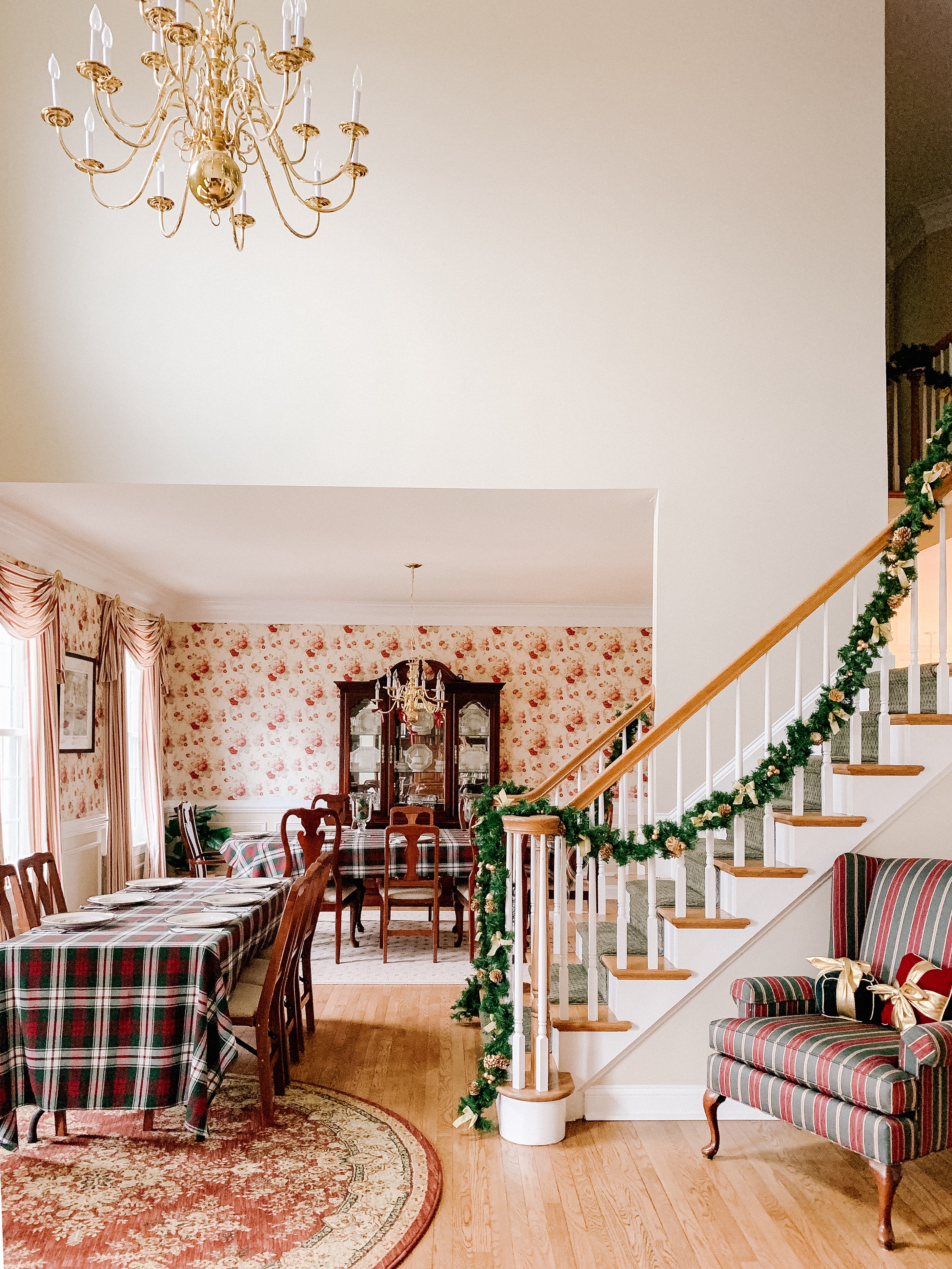 Can we just talk about how beautifully Mom decorated the dining room area for the parties?! So elegant and timeless.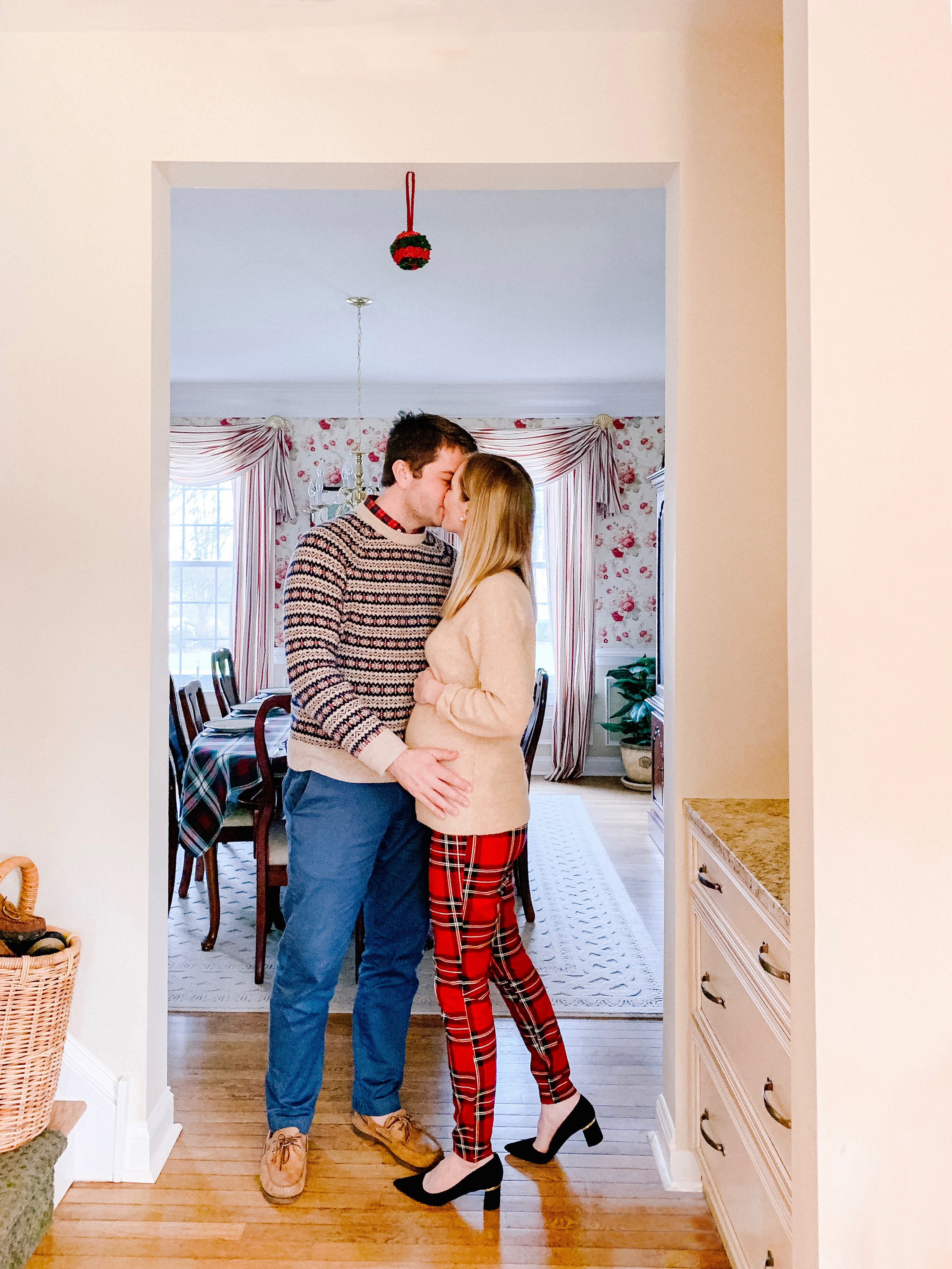 I, predictably, documented said dining room area extensively, haha. Can you believe how big the bump is?! I'm only 20 weeks (exactly halfway through) but I popped early with both Emma and Baby #2. I keep asking my doctor whether I'm having twins, but she insists there's only one in there. ;)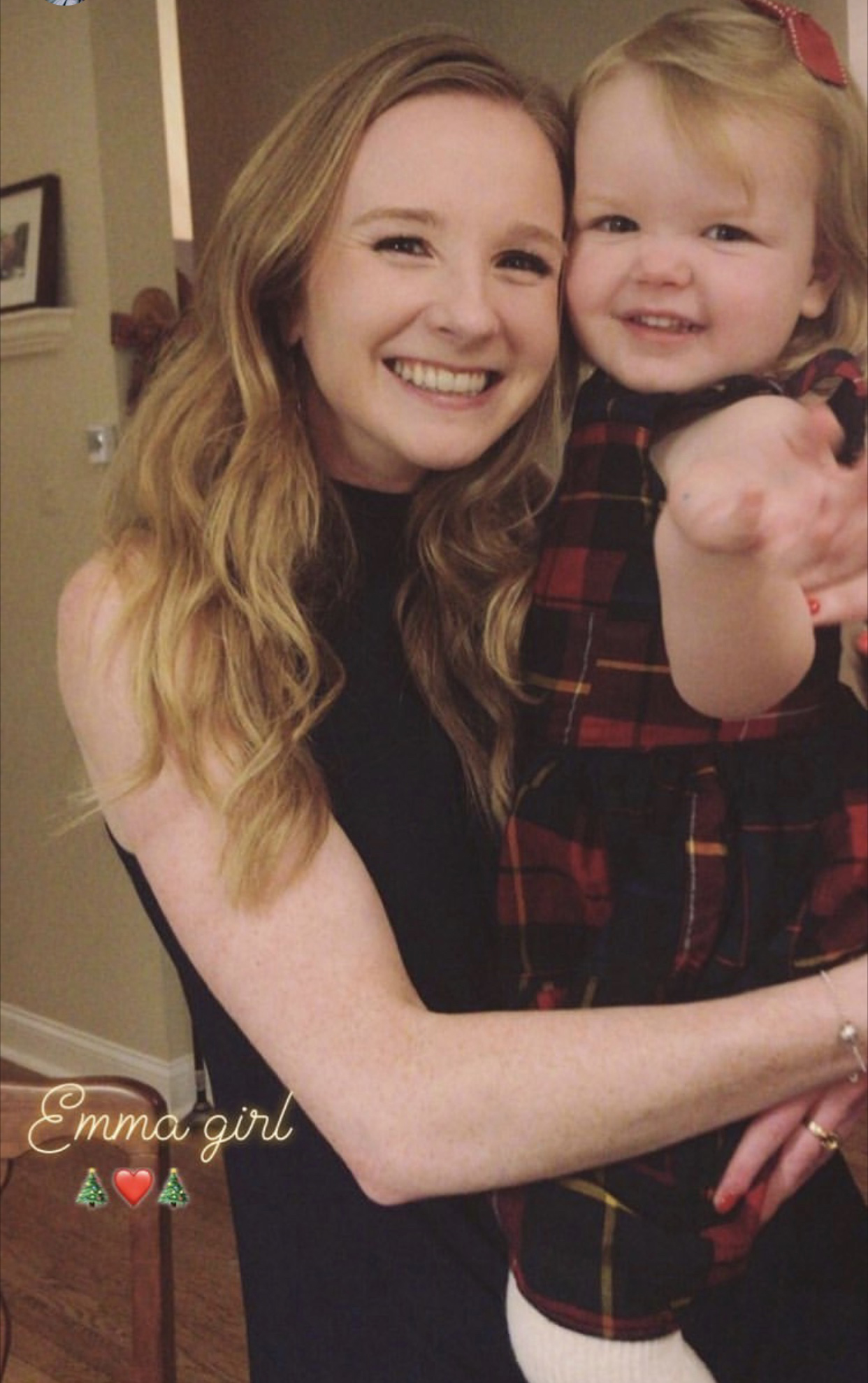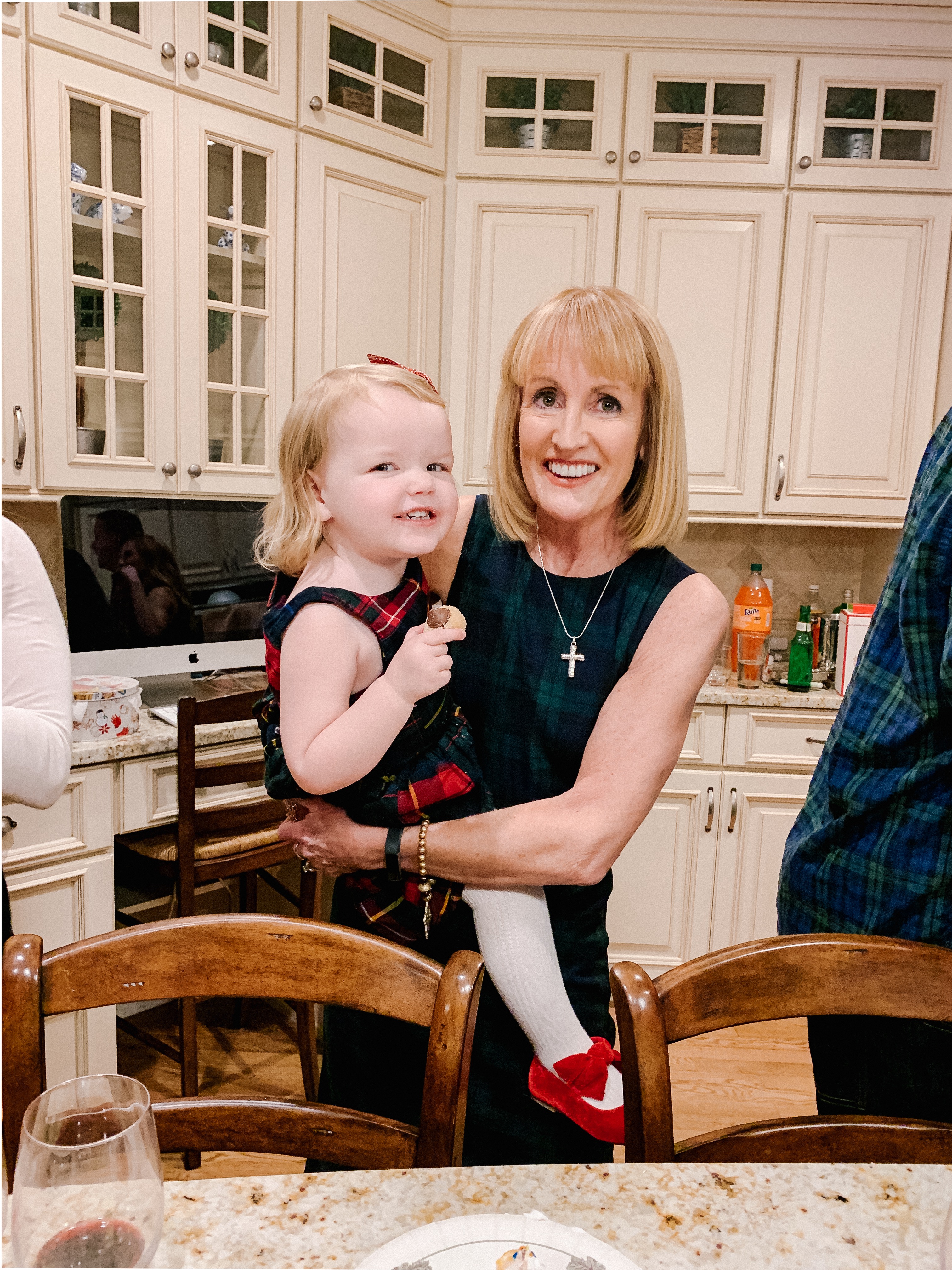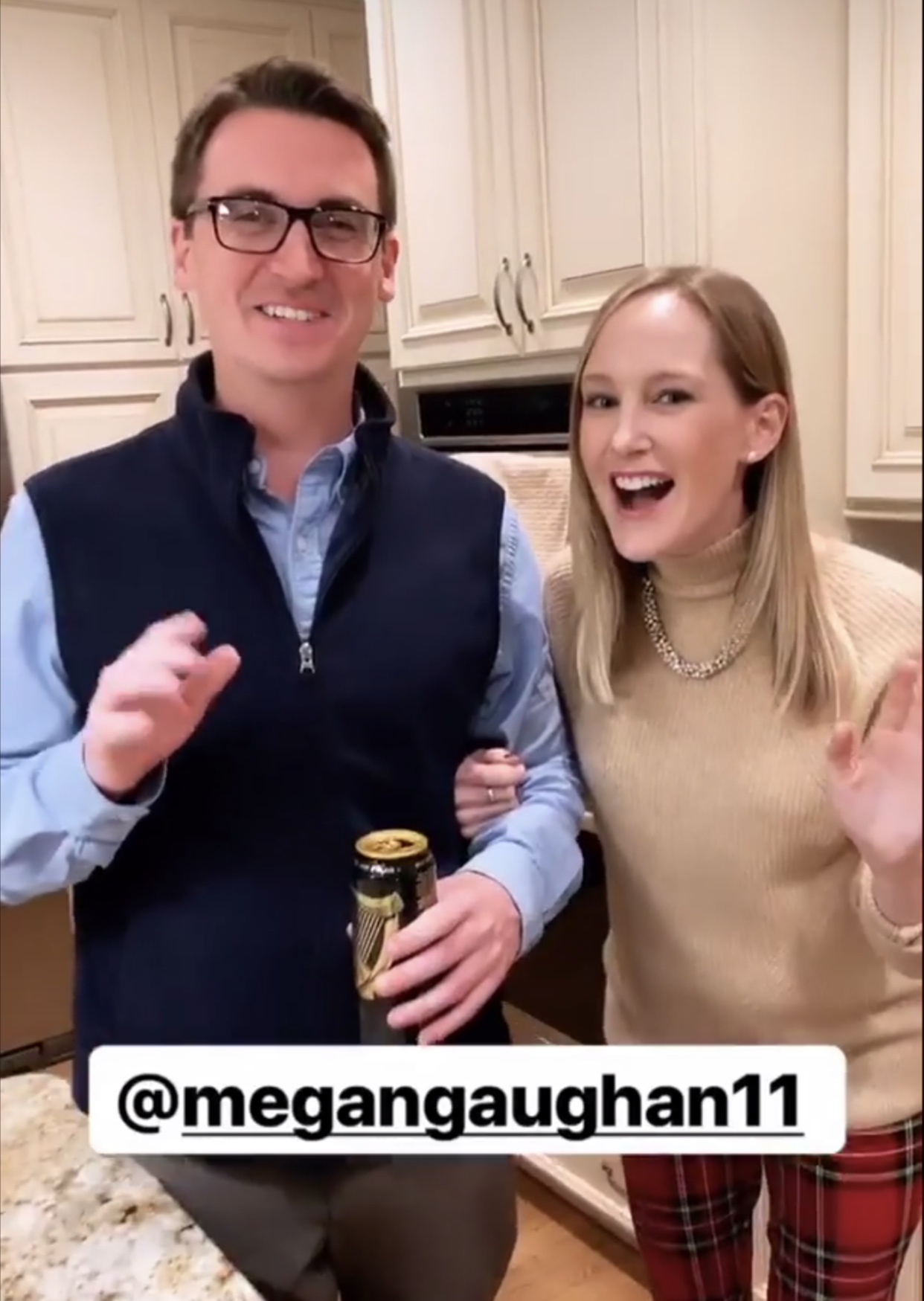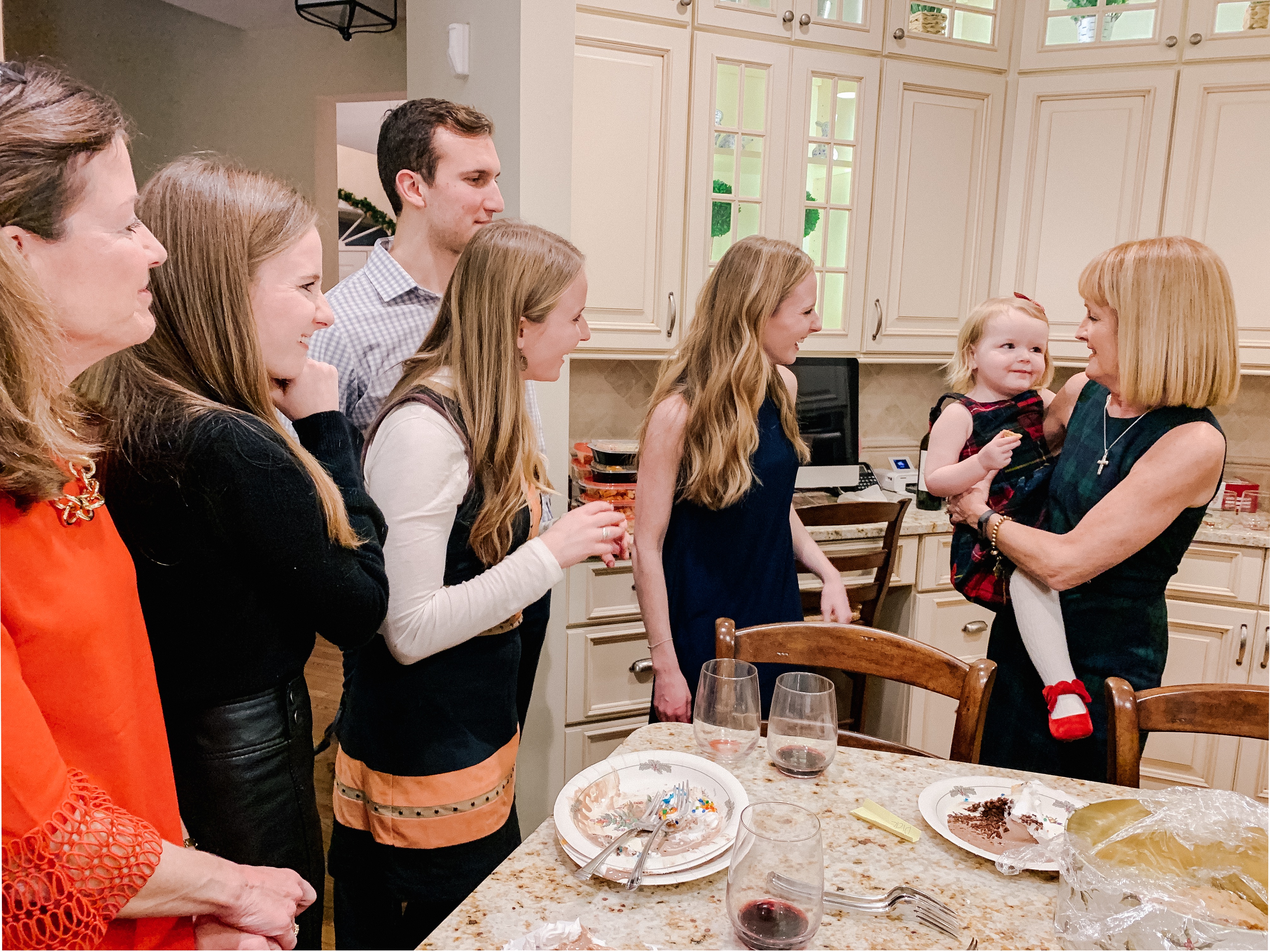 I'm not sure how I took so few photos (some of which are screenshots 😂) during Sheehan Christmas.
I guess I was having too much fun. ;) But the house was full and loud in the best possible way, and Emma was in absolute heaven with all my aunts and cousins! They played Peppa Pig games and play dough with her for hours, and there was no shortage of hugs or kisses.
Needless to say, it was so great to catch up with everyone. My cousins are up to amazing things! They're all much younger than I am, but they're way more accomplished than I ever was at their age. We have cousins graduating from law school and just entering (and getting full rides!)… and we have cousins in medical school and working their tails off at charter schools and advertising agencies in the city. They're truly incredible and I'm so proud of all of them.
(And yes. The girls featured above are basically identical, haha! Twins and a sister, though in Mitch's mind, they're triplets. 😉)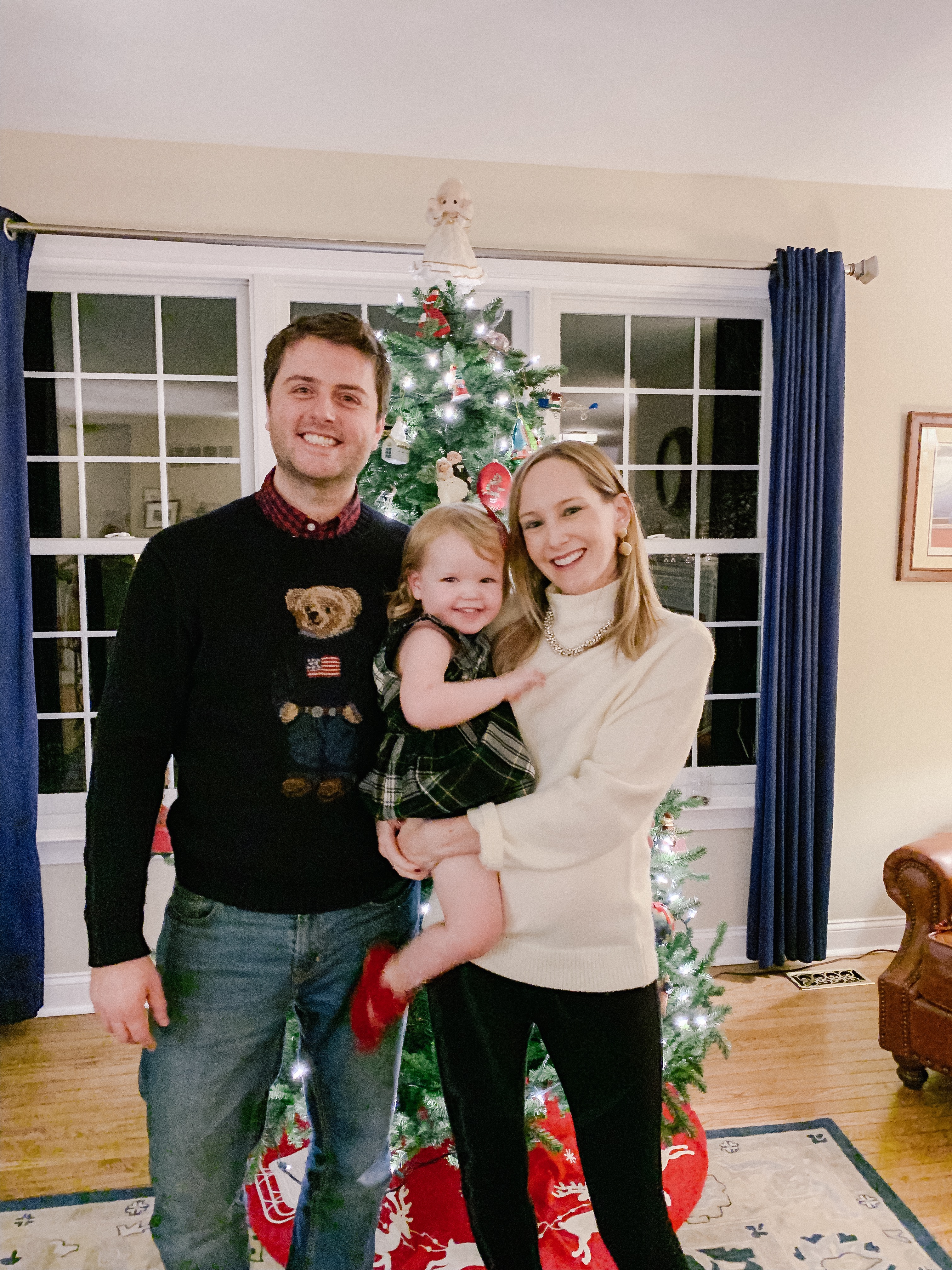 Similar Sparkly Necklace / Old Navy Maternity Leggings / Cozy White Turtlneck Sweater / Tuckernuck Earrings / Emma's Dress (Newer Version) / Emma's Shoes / Mitch's Sweater
The following day was Gallagher Christmas! (My mom's side of the family.)
For most of my life, we spent the week of Christmas with them in Vermont at their ski house.. and it was pretty sad when we had to stop doing this a few years ago because my brother and I both needed to be able to spend part of the holiday with our respective in-laws, too.
While my fingers are crossed that we'll one day be able to pull off Vermont again (I miss it so much!), I must say that we've made a big effort to make our one-day celebration super special! And obviously, an expanding family is a wonderful thing. <3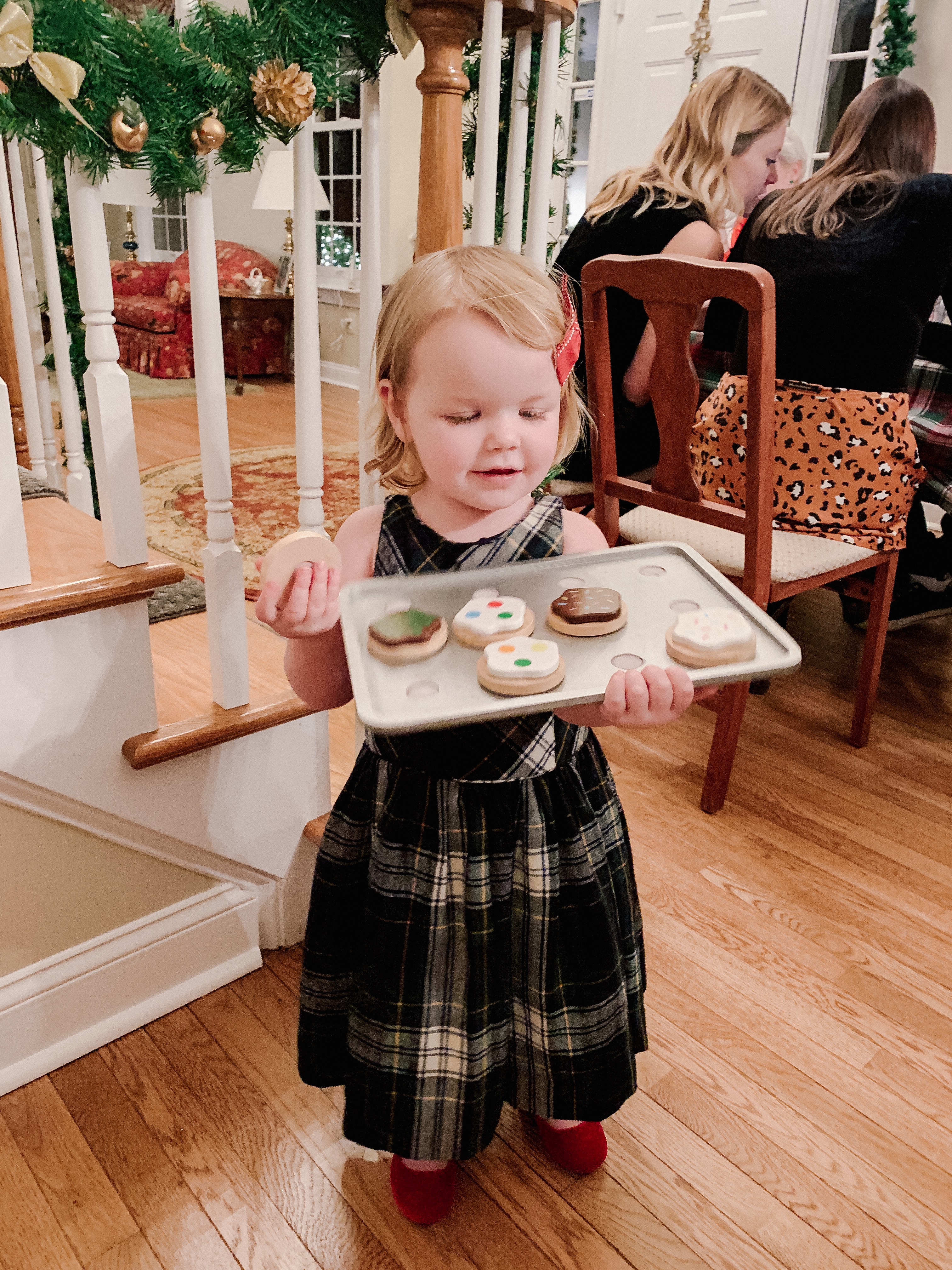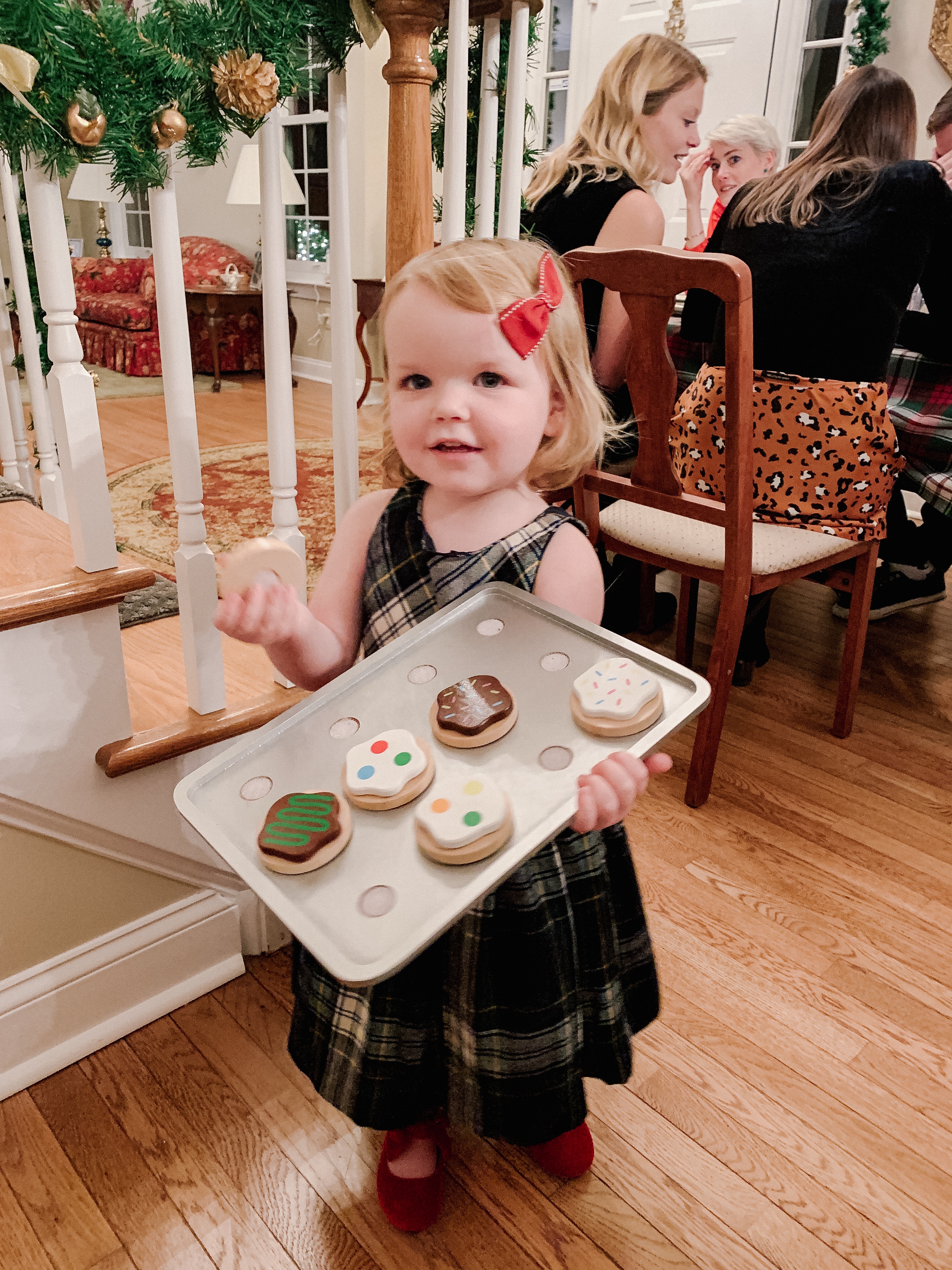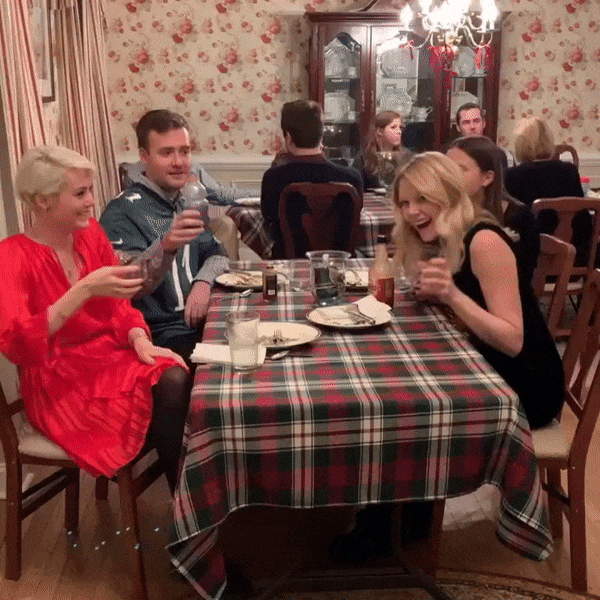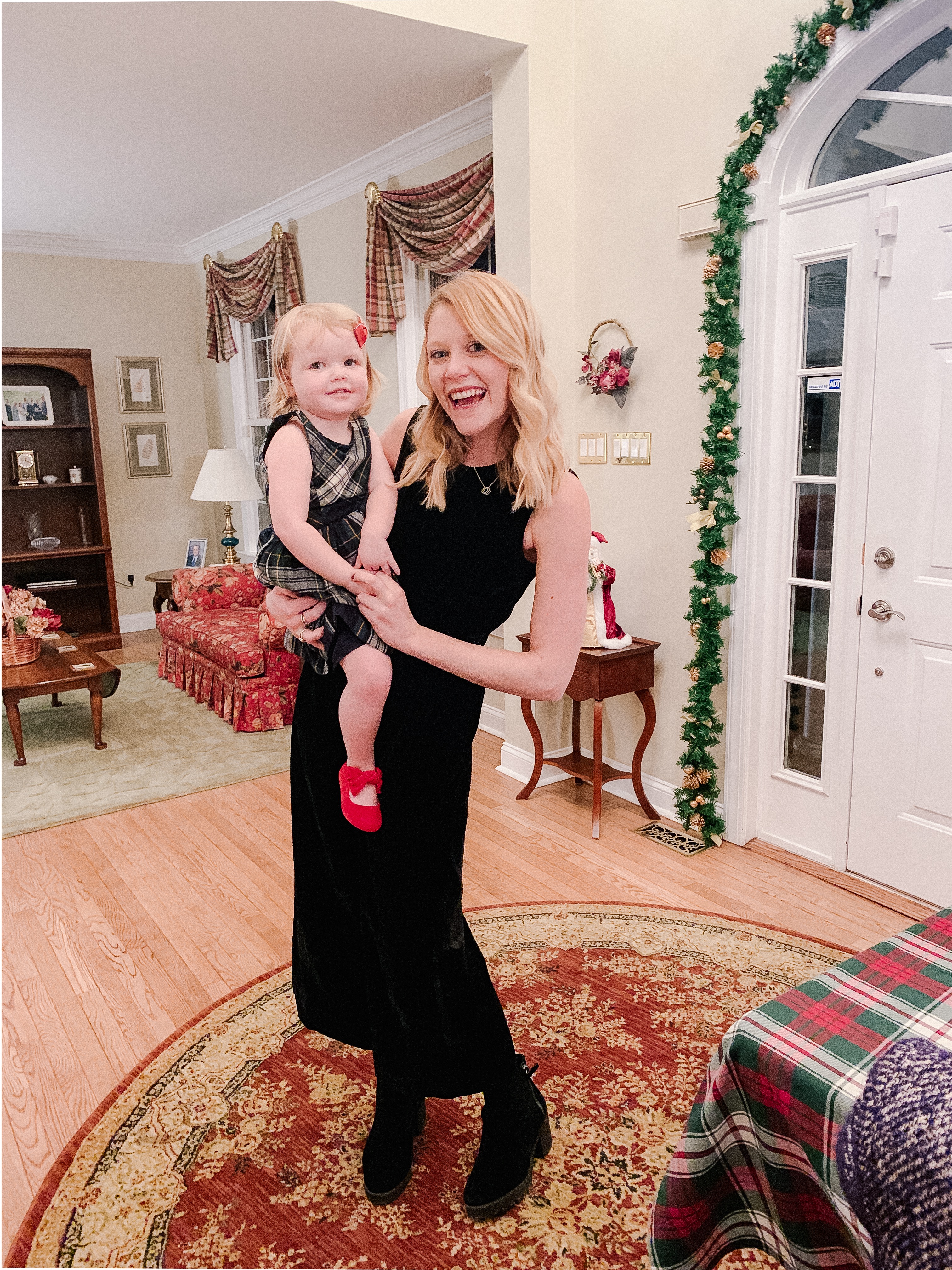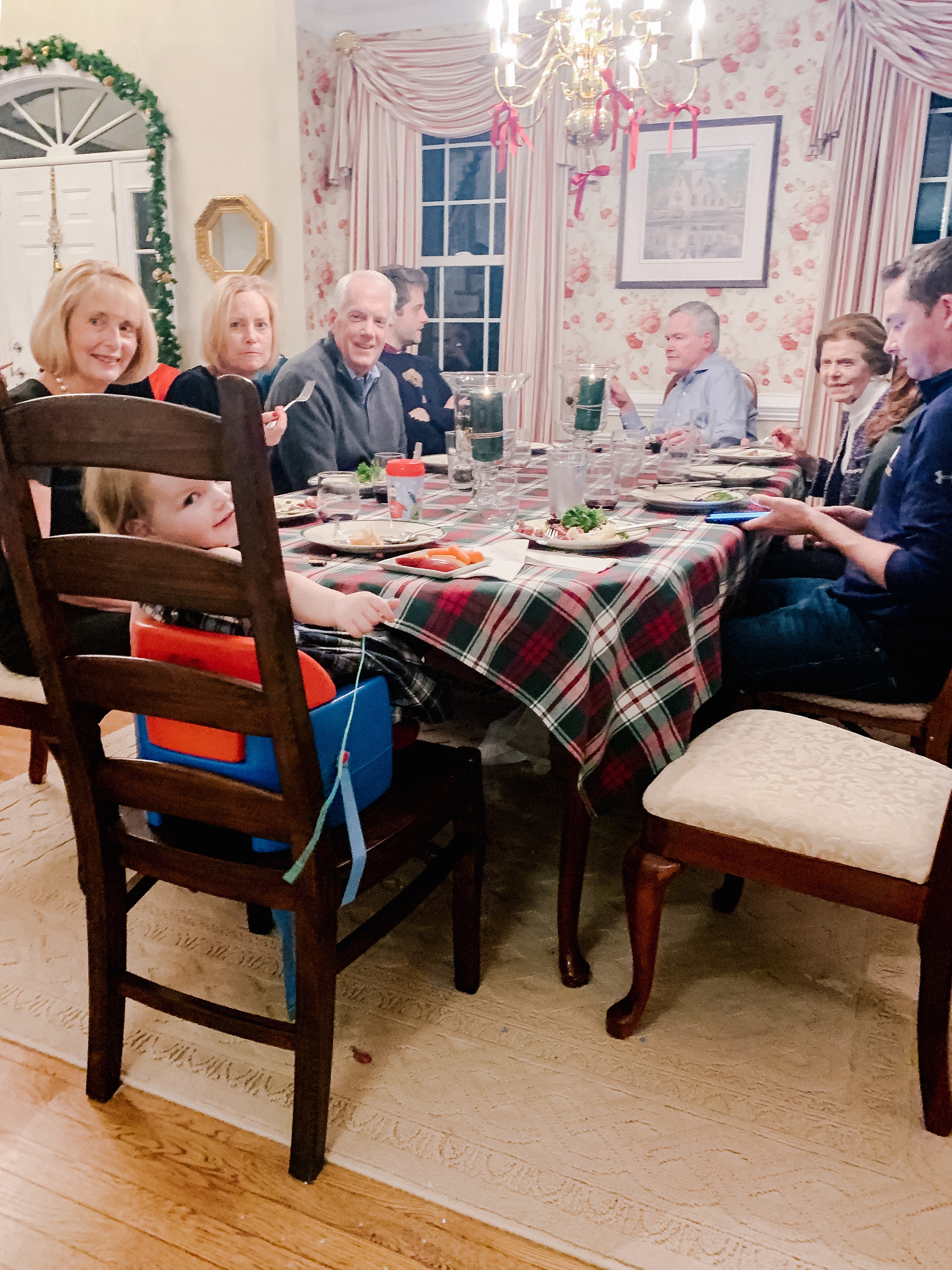 Anyway, we had a great party!
When the night ended, Emma totally cried herself off to bed, too. Heartbreakingly adorable. ;) We promised her that we'd see Annie, Sammy and Paige again soon… so… reunion in winter/spring 2019, guys?!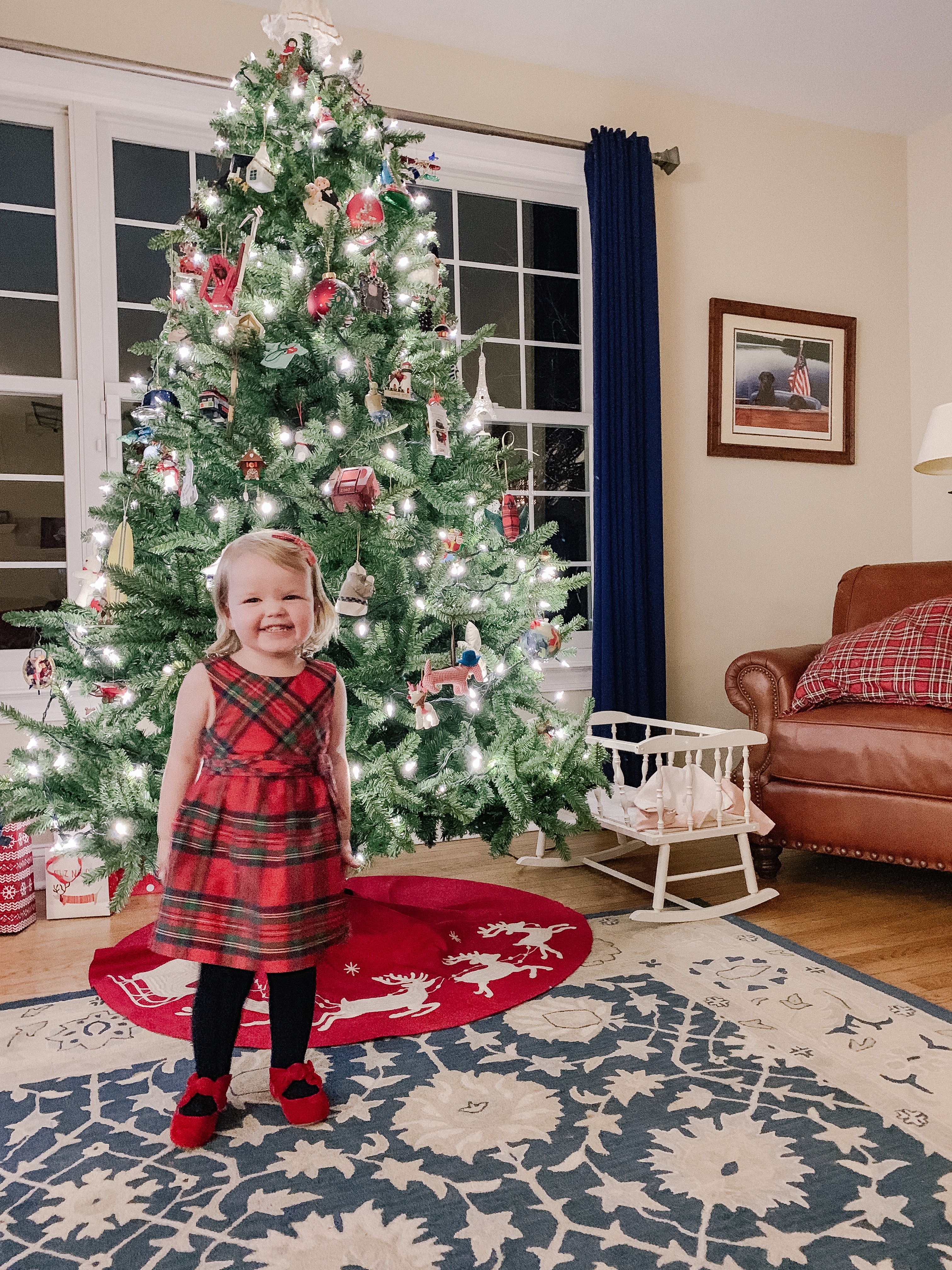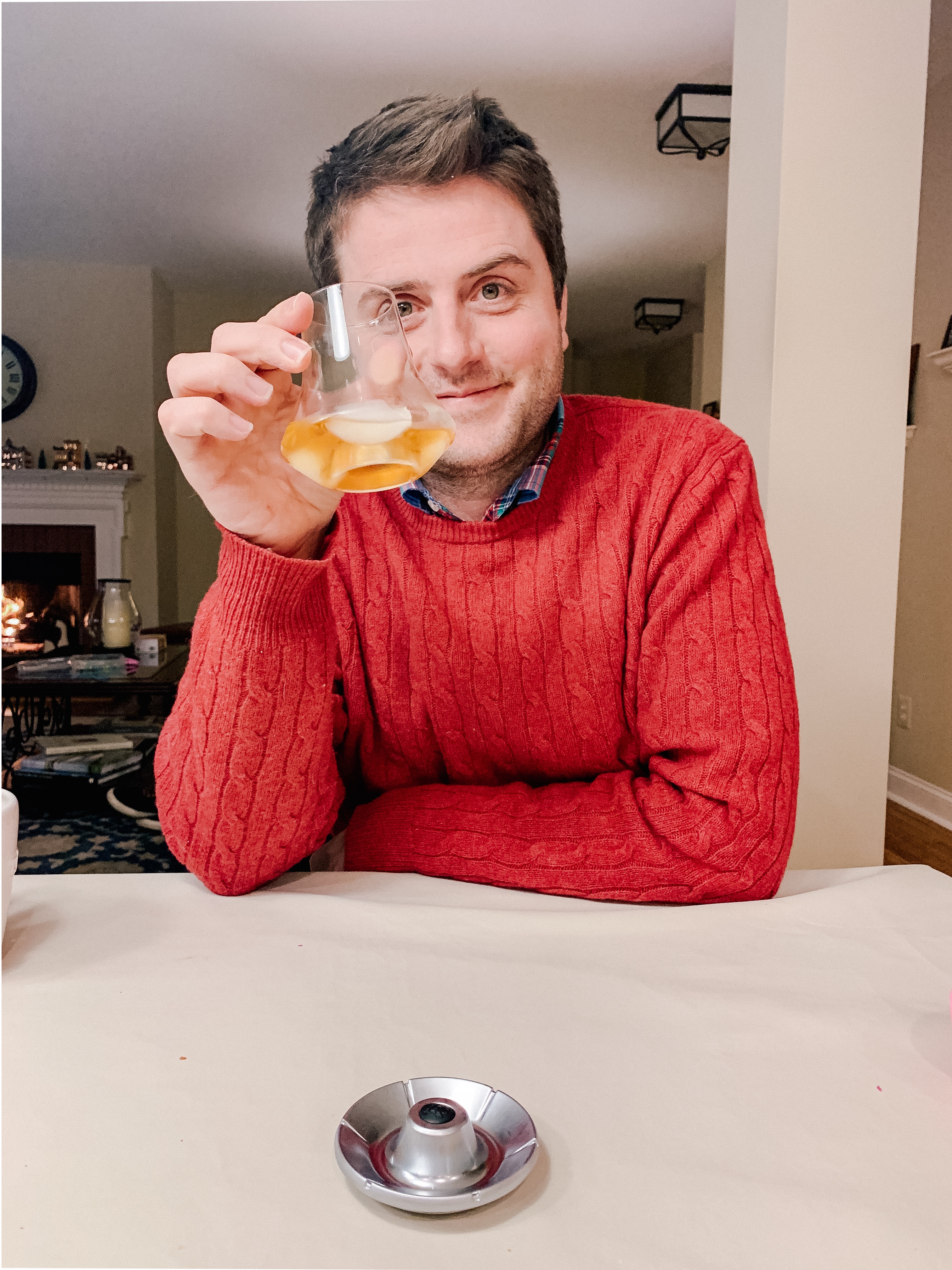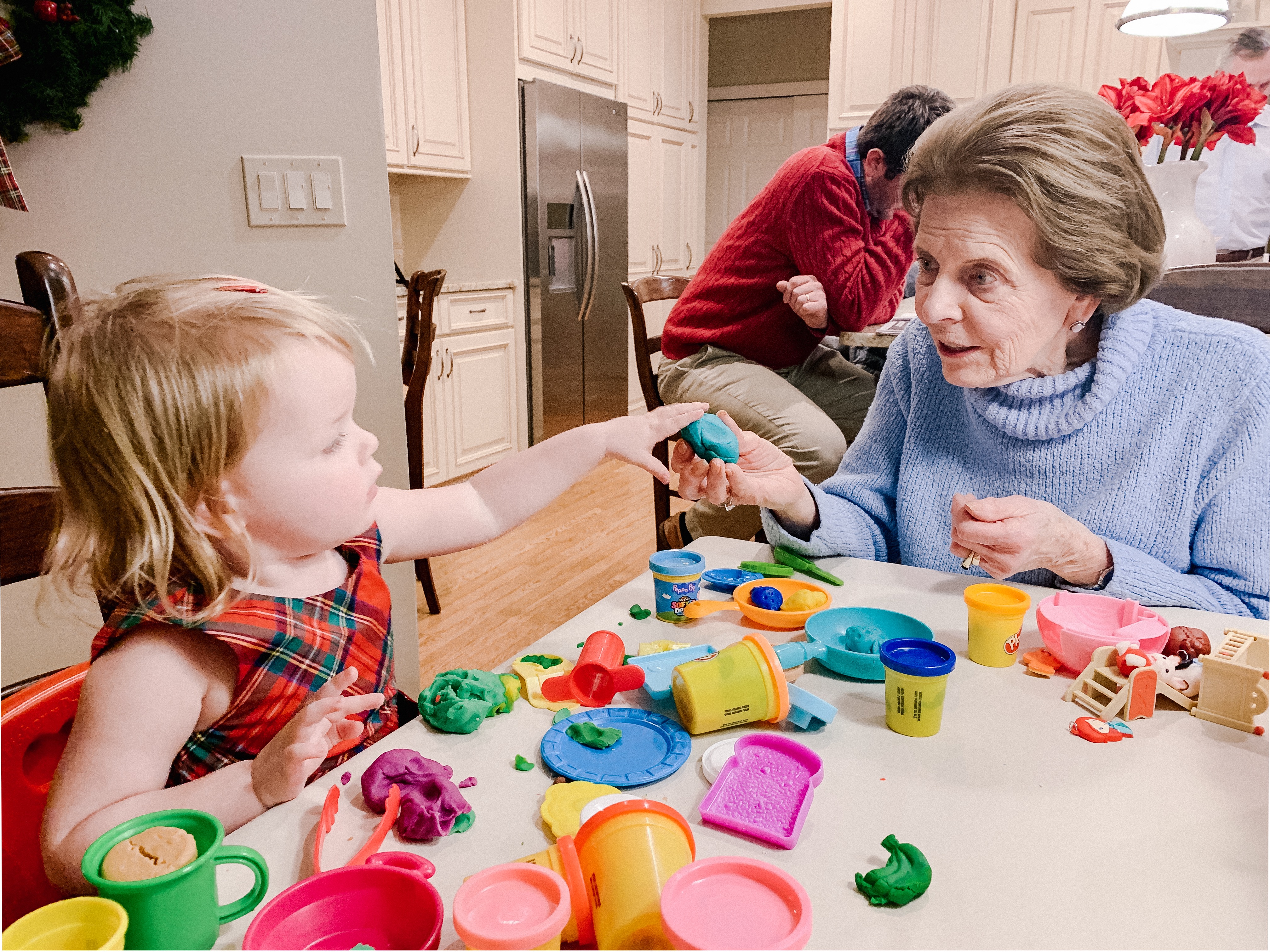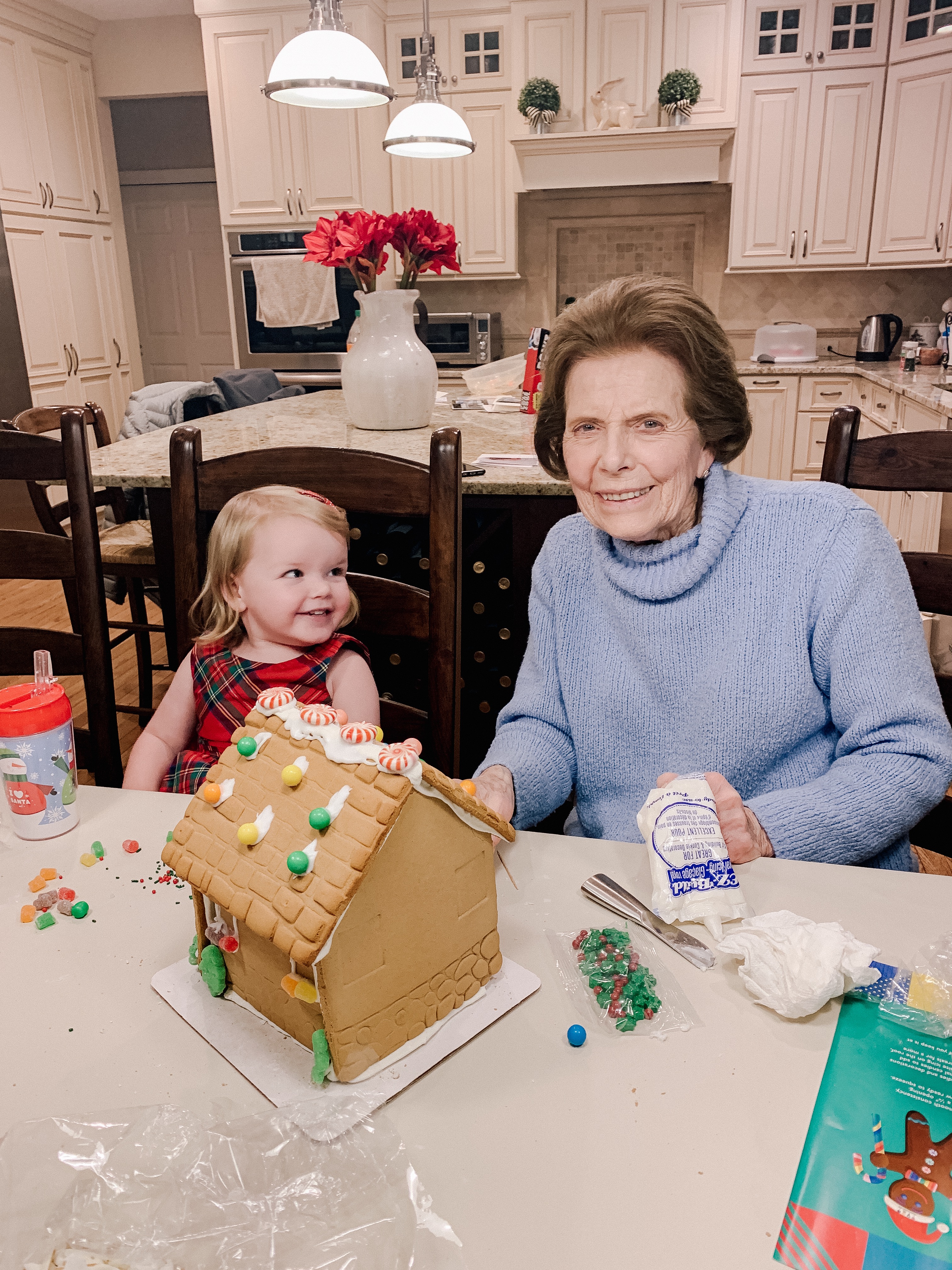 The following day was Christmas Eve, and it was very low-key:
Just the immediate family, my sister-in-law, and Grammie. Emma was extremely good at church, which was awesome, and we spent the rest of the night eating pizza, making a big gingerbread house (thank you, Auntie-M!), and playing games. Emma set out cookies and milk for Santa for the first time, too… which was the cutest!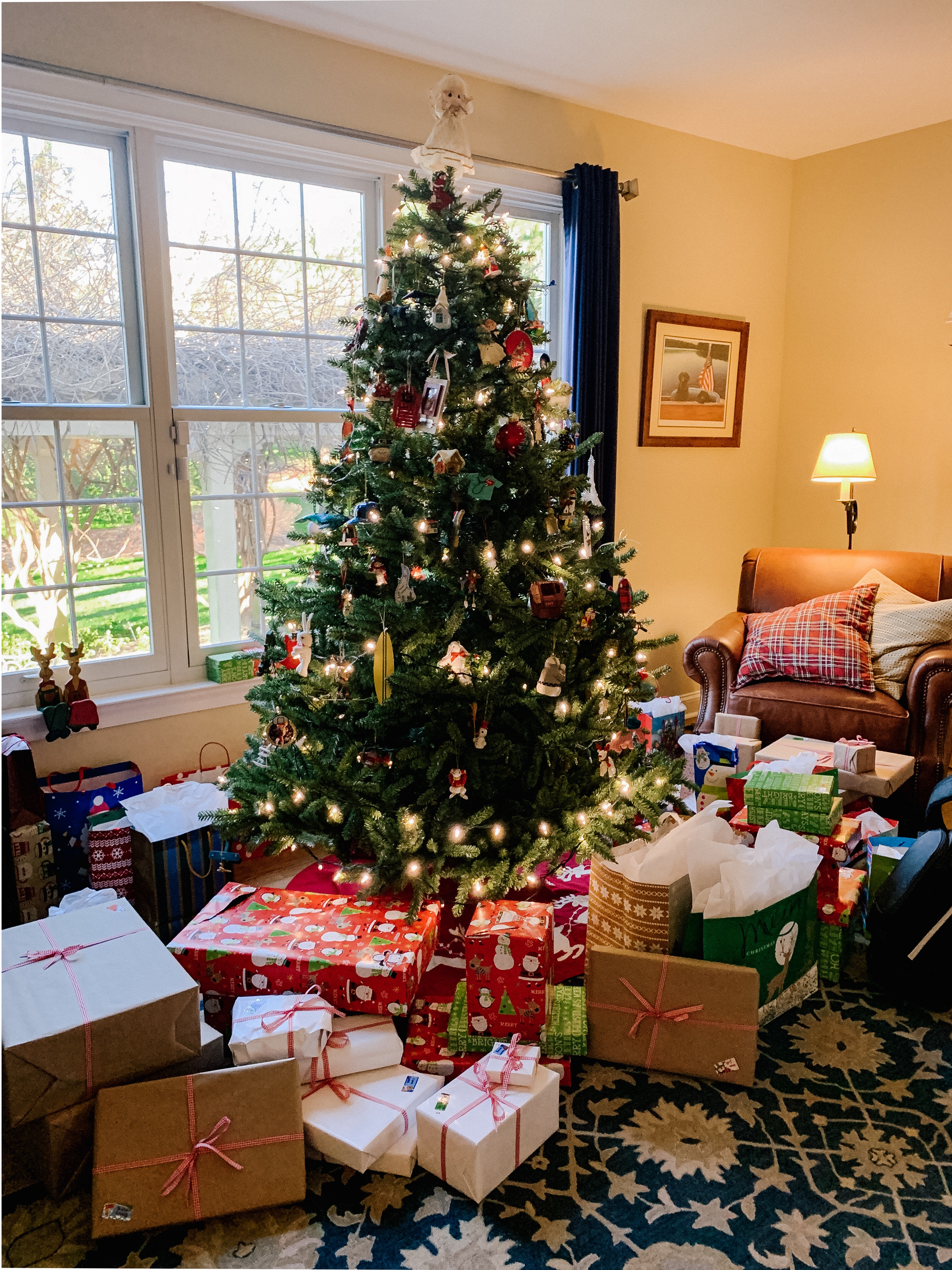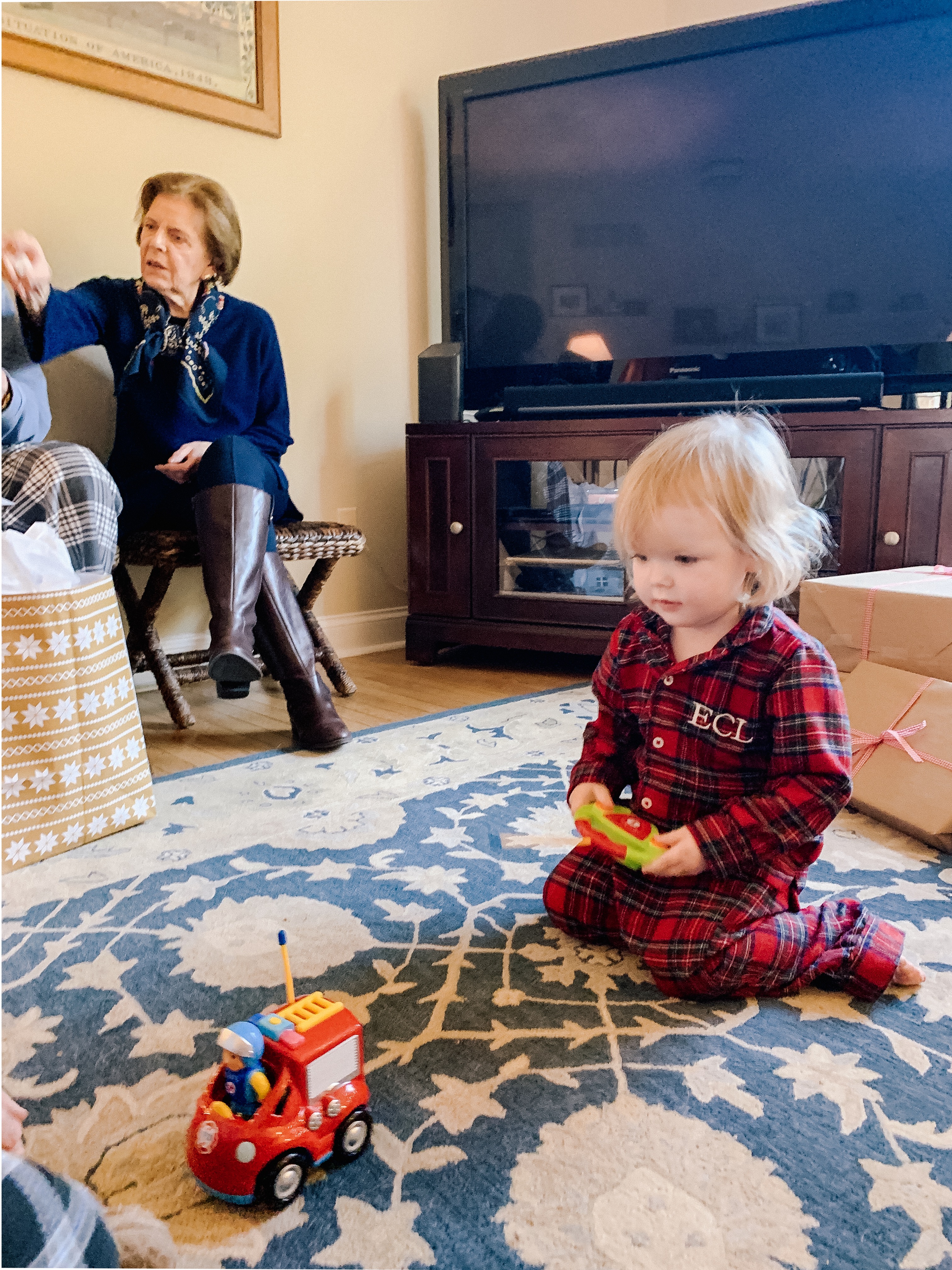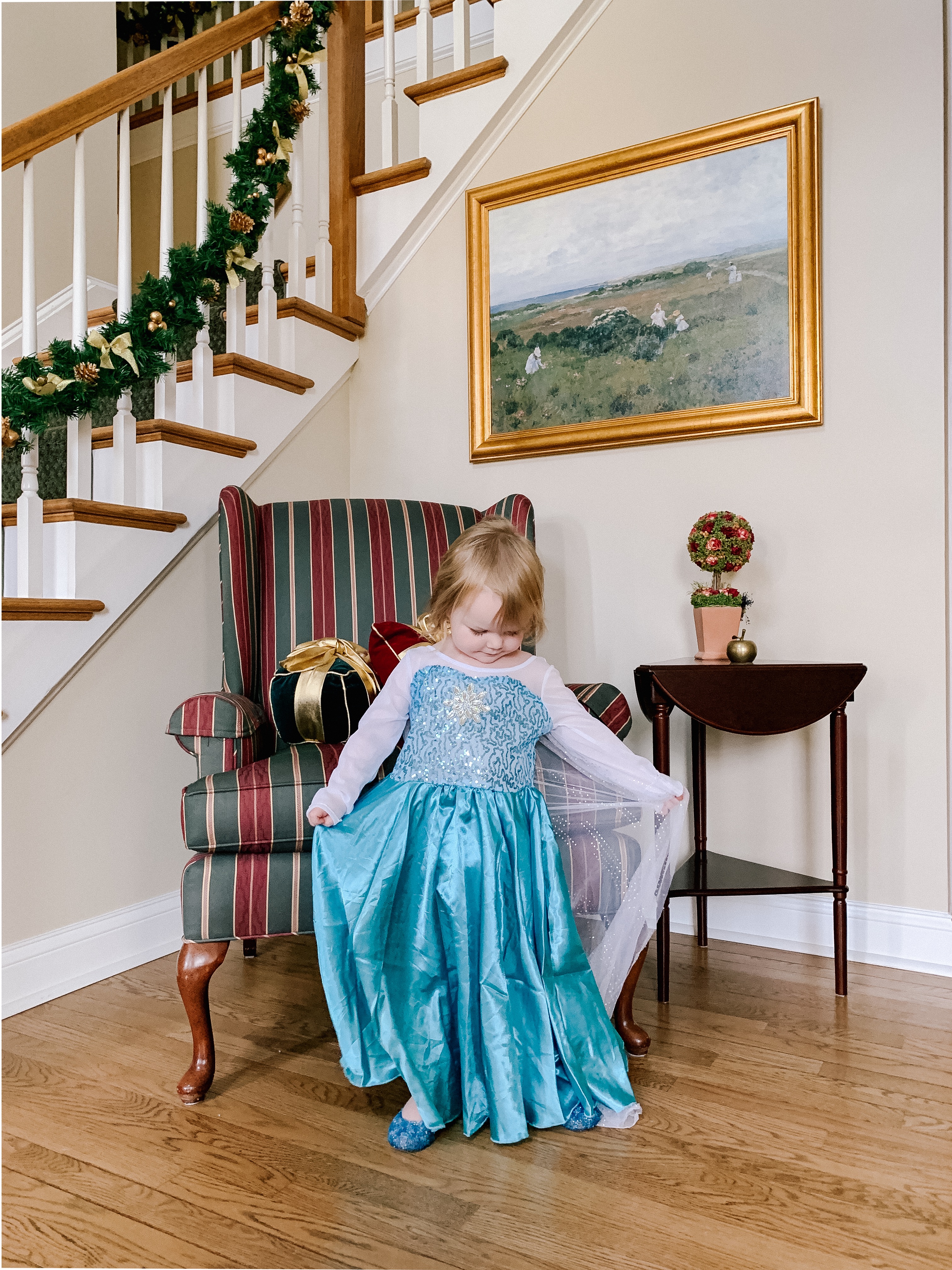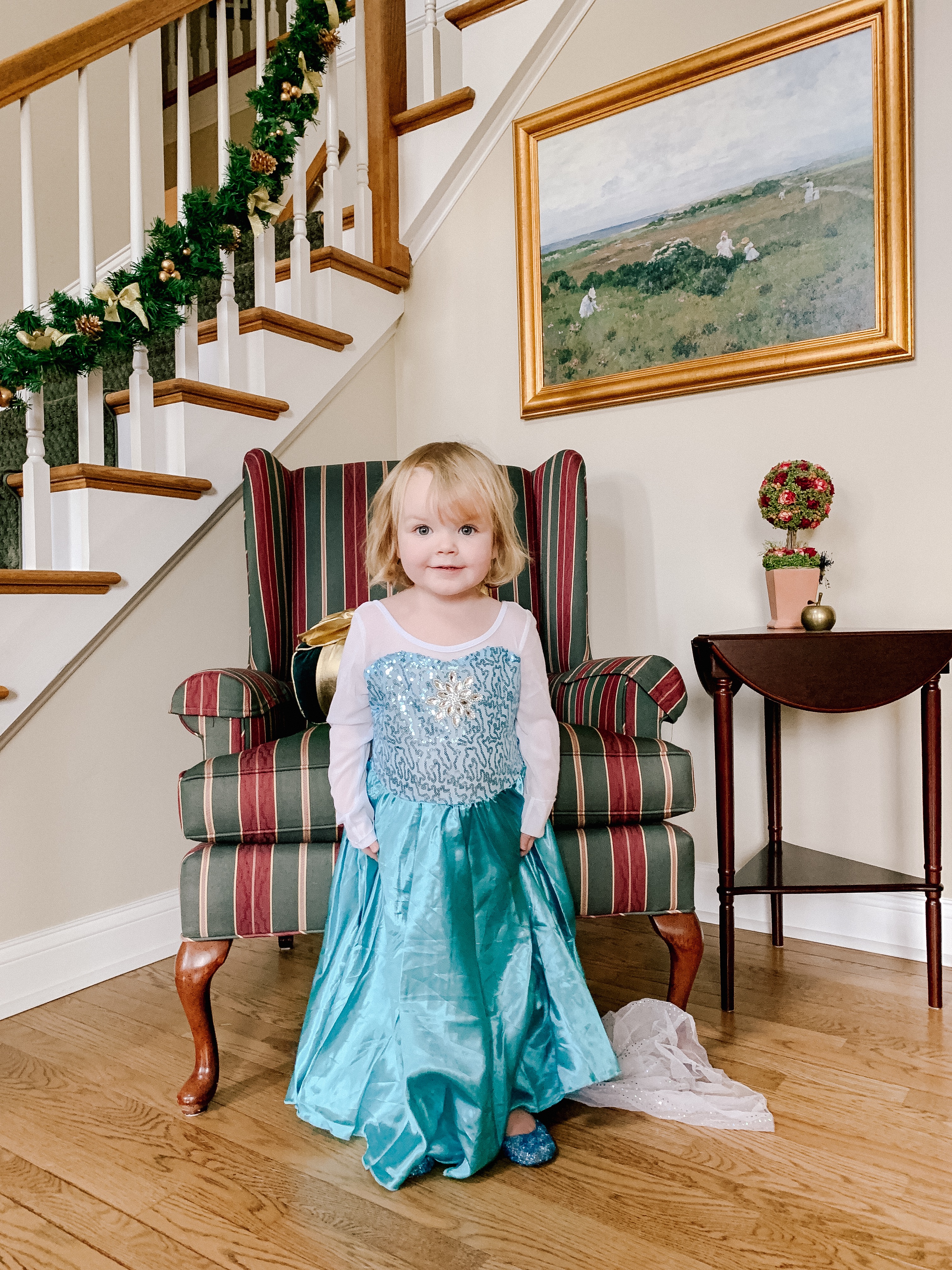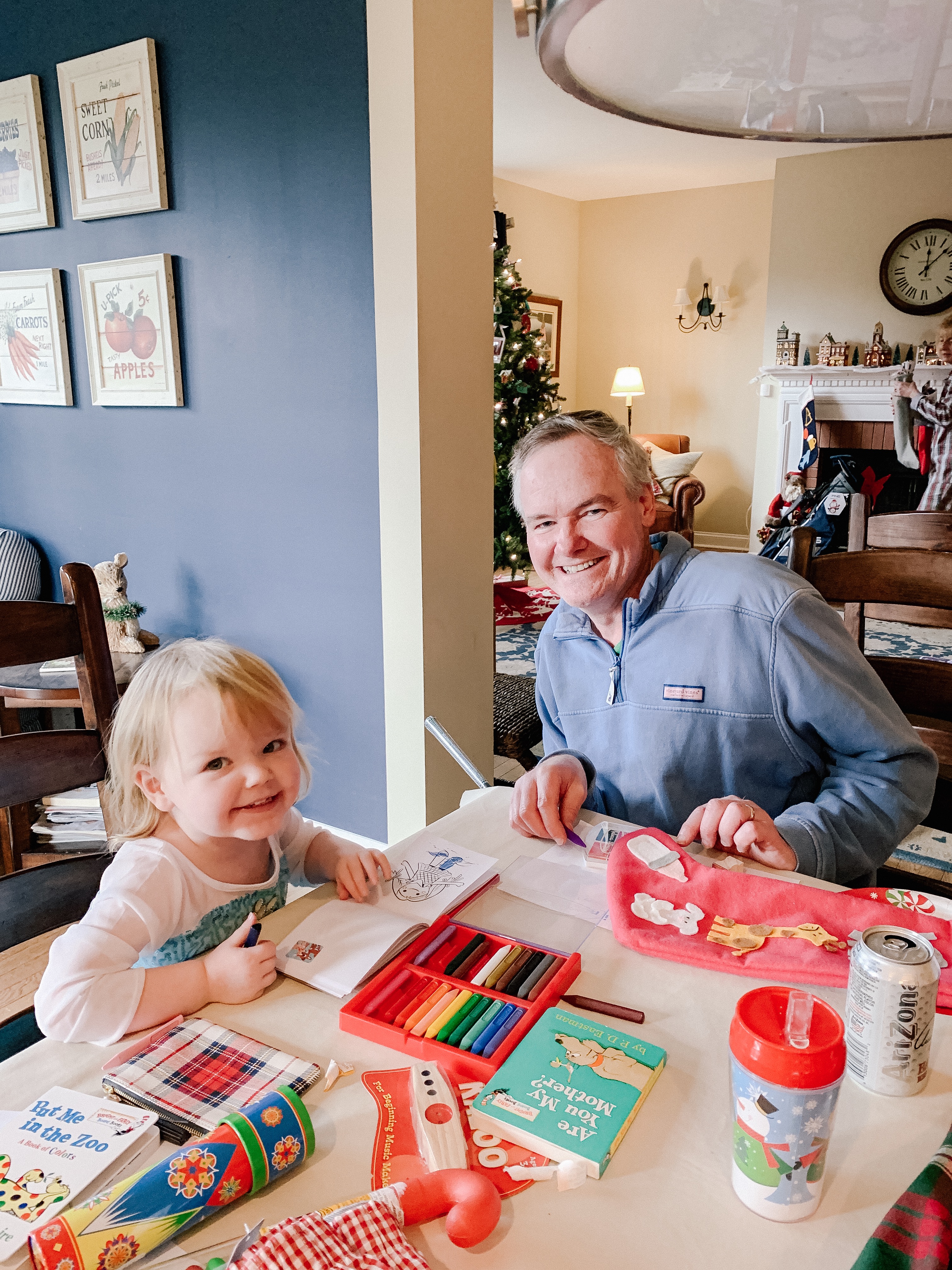 Christmas morning was amazing. Since we were flying out to Mitch's parents later that afternoon, I thought it was going to be stressful and rushed… But it really wasn't! We had more than enough time to enjoy the morning, open presents, eat breakfast, lounge in our PJs, and play. Truly lovely.
It'd been a long time since we had a little kid around (Danny is almost 30! 😉) and this was Emma's first Christmas in which she really "got it." So much excitement! And she squealed when she opened her Elsa dress and shoes! (And then refused to take it off for the next three days, haha.) The family loved every minute of it. :)
Side note: Dad's "zoo animal" pancakes were a huge hit, too. You can catch them in my "highlight" video in Instagram Stories!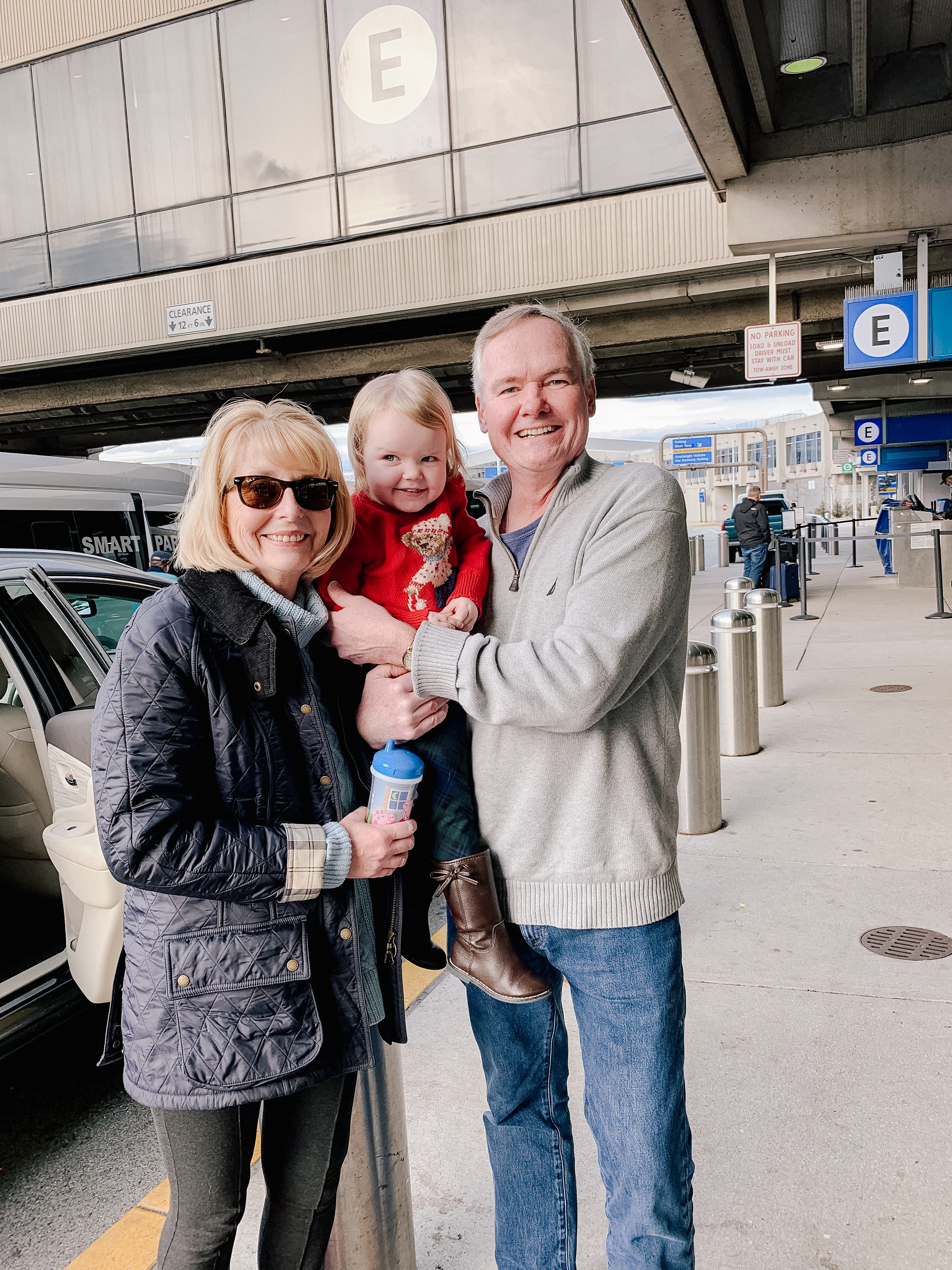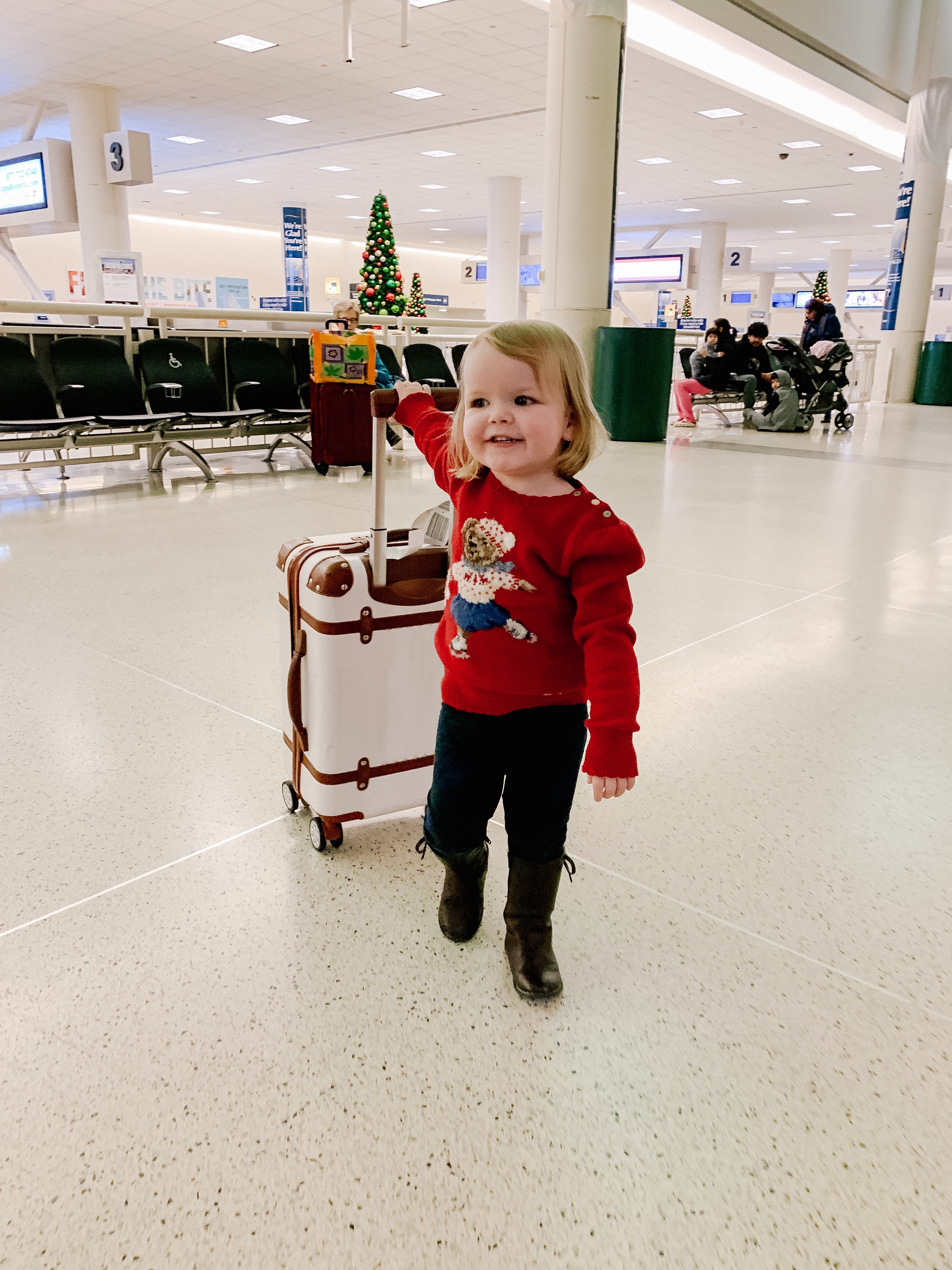 Saying goodbye was hard, but we held it together!
Philadelphia International Airport was bustling and it was kind of exciting to be there, as everyone was in great spirits and trying to make the most of being at the airport on Christmas. :) Once we landed in Chicago, we drove a couple of hours down to Mitch's parents' lake house. We walked in the door around 9 p.m., and had the best impromptu Christmas dinner with them.
Oh, and I'm doing so much better! I know we've had a crazy week, but I've been getting a ton of sleep, napping often, resting, and eating extremely well. I'd say I'm at 75 percent, and improving every day.
Part II coming soon; sorry for absurd number of Emma photos! ;)