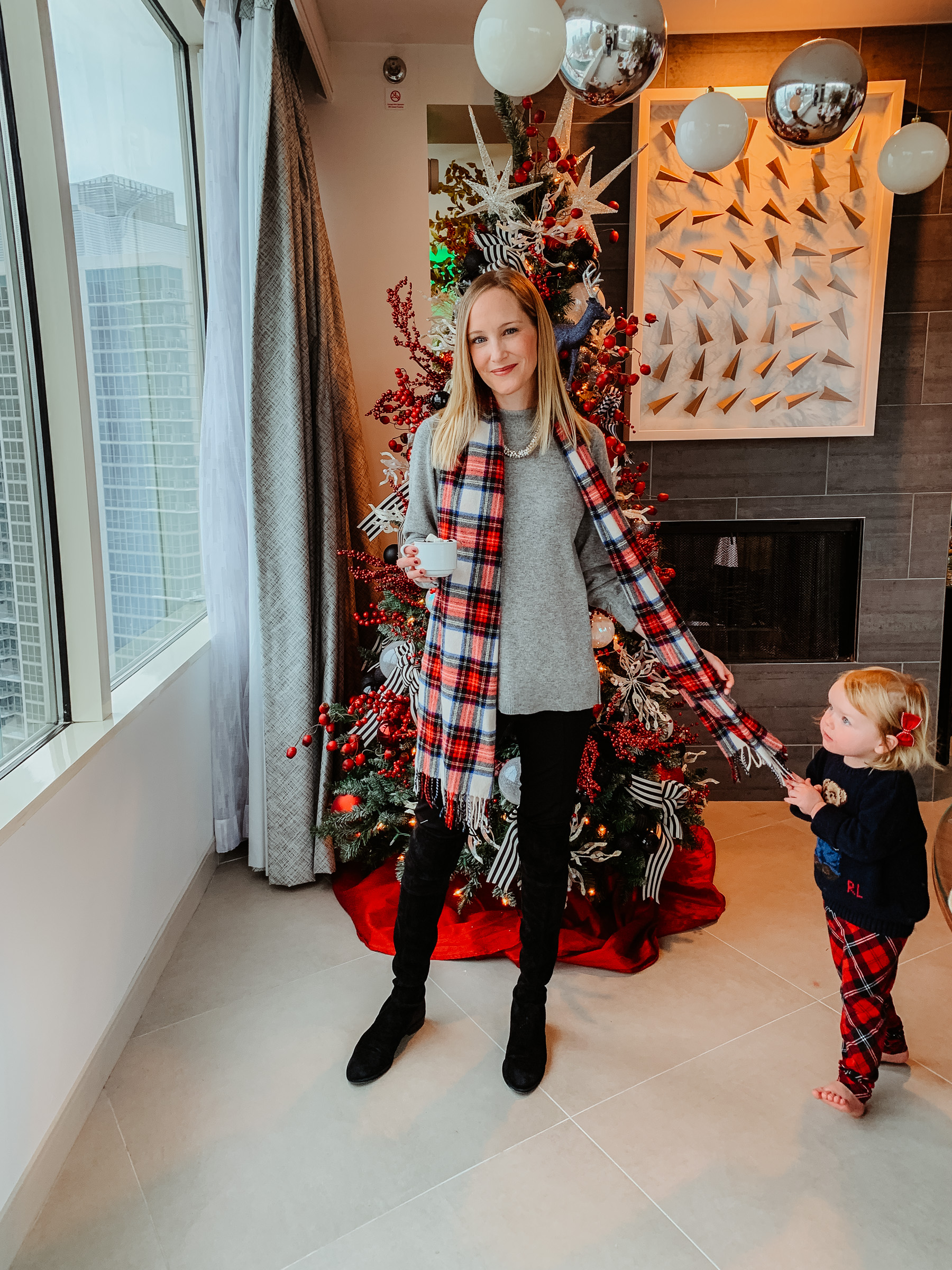 J.Crew Factory Cashmere Mock Neck Sweater (I LOVE this sweater. It's substantial enough that it's flattering even when pregnant! Falls in just the right way.) / Similar Sparkly Necklace / Tartan Scarf / Seamed Leggings (But this pair by Spanx is my current obsession.) / Stuart Weitzman Lowland Boots on Sale! (Best Over-the-Knee Boot Recommendations: This Pair, This Pair and This Pair. (Yes, the Lowlands are awesome and never fall down, and they're on sale today, but I can't in good conscience recommend spending that much on suede boots. I have them because I wore them for a campaign a couple of years ago. If you're dead set on them, though, I would check RueLaLa, as they show up on there pretty frequently!) / Emma's Ralph Lauren Teddy Bear Sweater and Tartan Leggings c/o
A couple of weeks ago, the Larkin Family was invited to stay overnight in the "Santa Suite" at the Swissotel Chicago, and it was pretty much the most magical Christmas experience we've ever had!
Before I share a zillion pics, though, some information:
You can stay in the Santa Suite, but people usually book it for private events up to 100 people because it's 2,000 square feet. So big! Instead, most guests opt for "Elf-Decorated Rooms," which are very similar to the Santa Suite but on a physically smaller scale. They start around $309-$350 per night, and are available from Dec. 1 – 31st. Guests then visit the Suite during something called "Santa Days," which includes a letter-writing station for holiday wish lists; a guided tour of the suite; and most importantly, a meet and greet with Santa Claus! The Suite also offers a complimentary hot chocolate bar, holiday cookies, tons of candy, and a cash bar for adults. Such a special experience for families! The last one is taking place this Saturday, December 23rd, and we can't recommend it more. Learn more here.
Okay! On to our visit. :)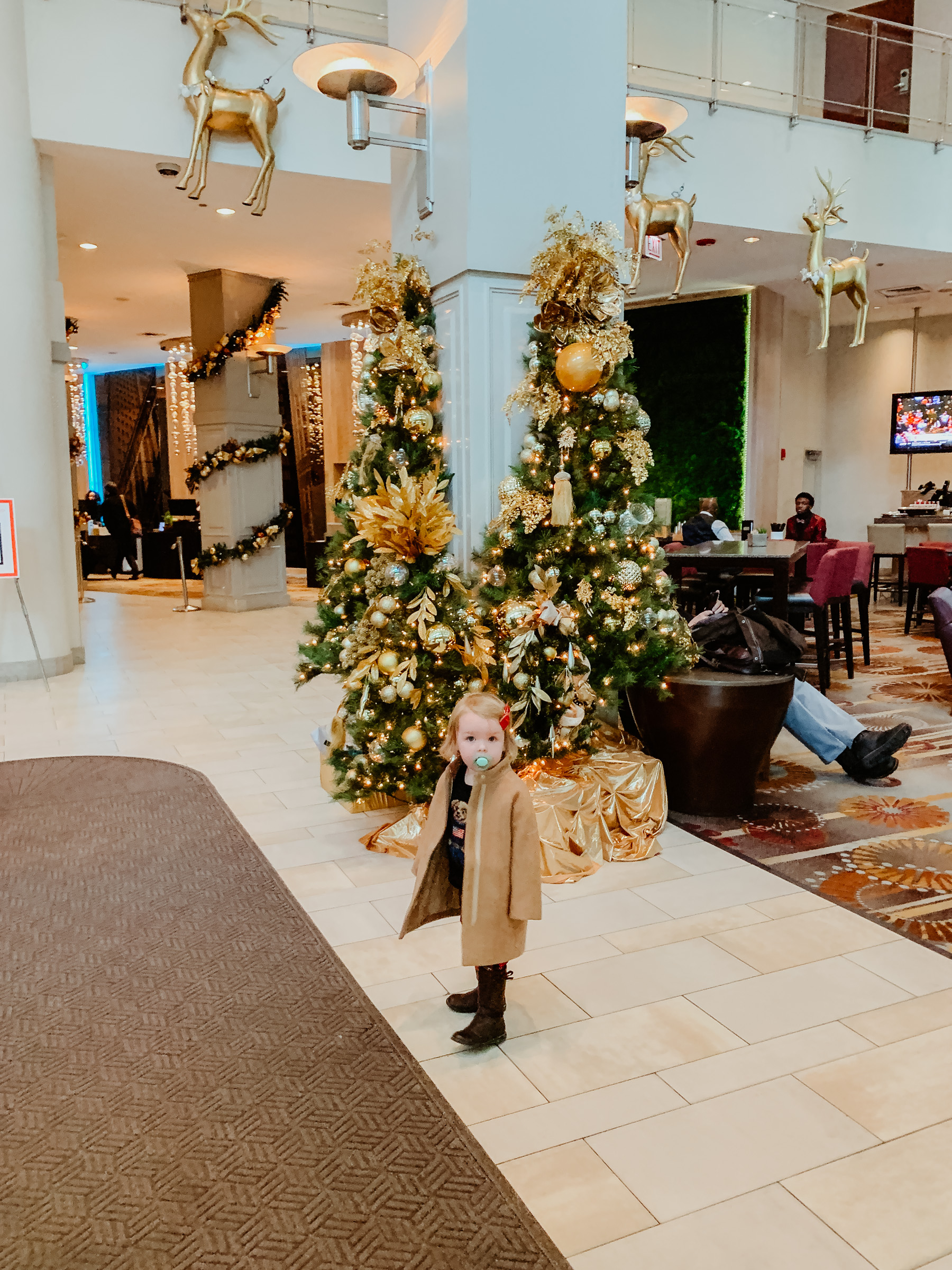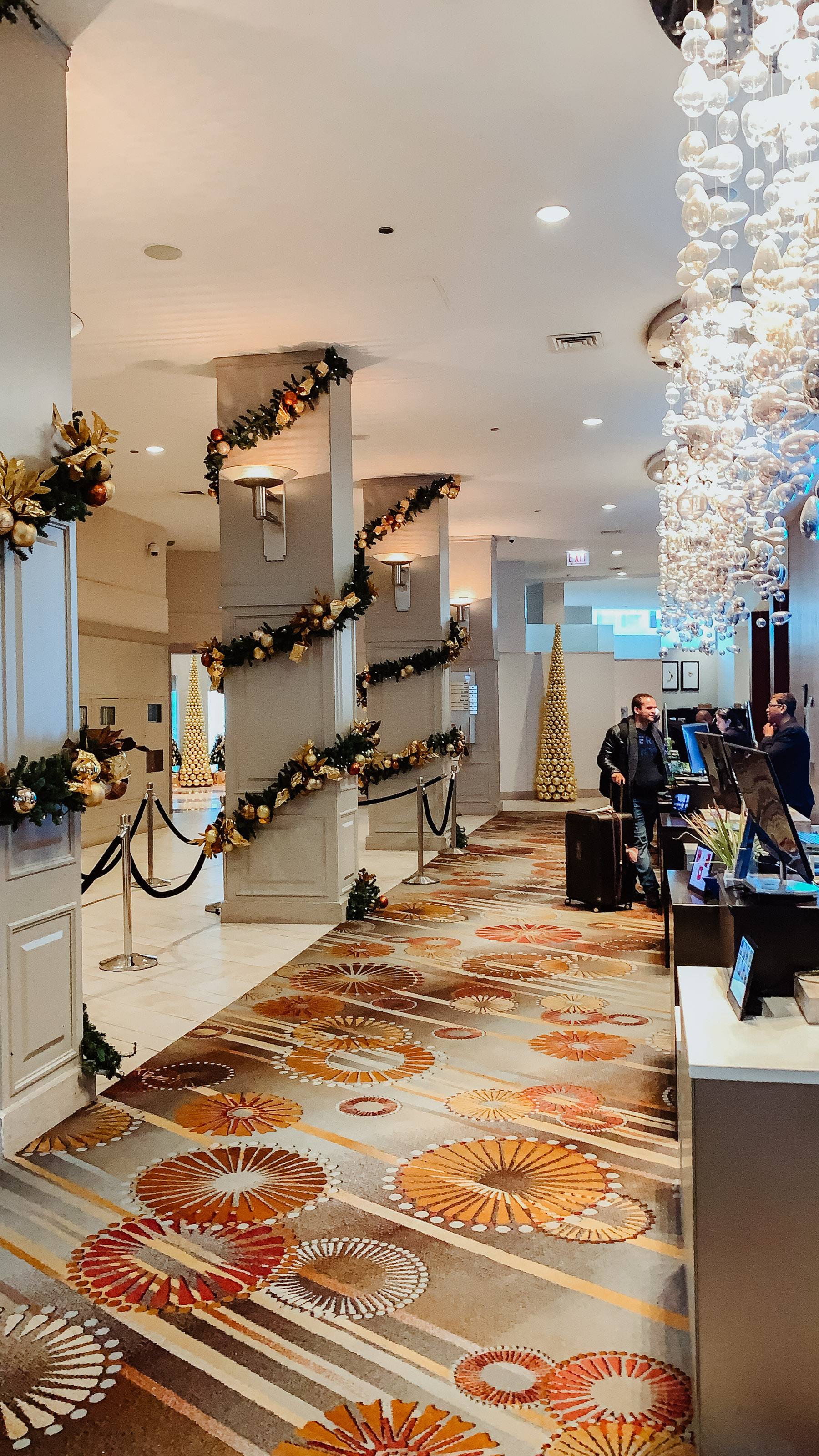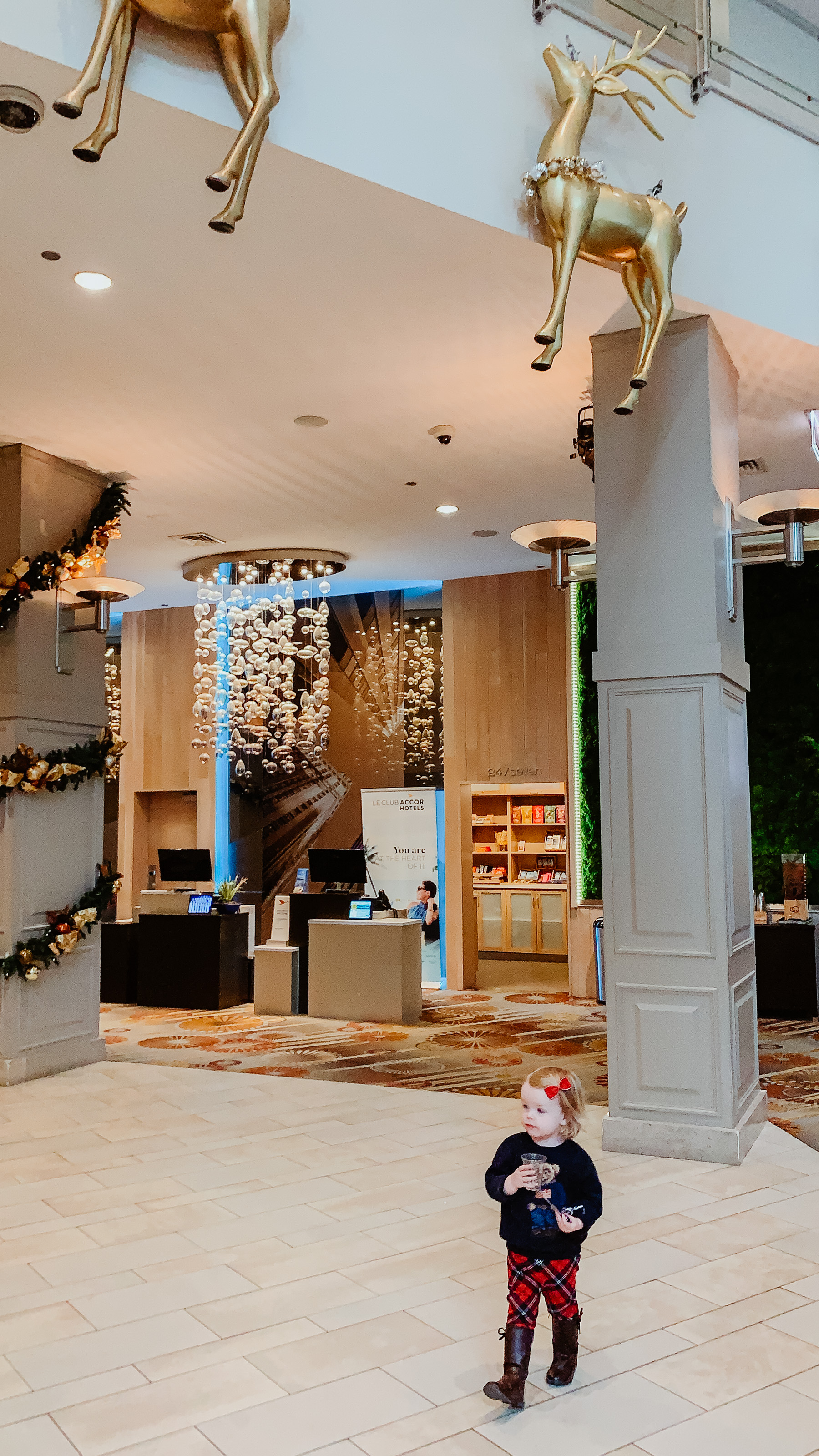 Arriving
I can't tell you how exciting it was to walk into the hotel. These photos were actually taken the following morning because I didn't snap a single one when we first got there; I didn't even think to do it because we were so excited! the hotel was decorated beautifully for the holidays, and it was bustling. Emma made a ton of friends and had to touch every single Christmas tree. We met with our contact, and she showed us to the Suite!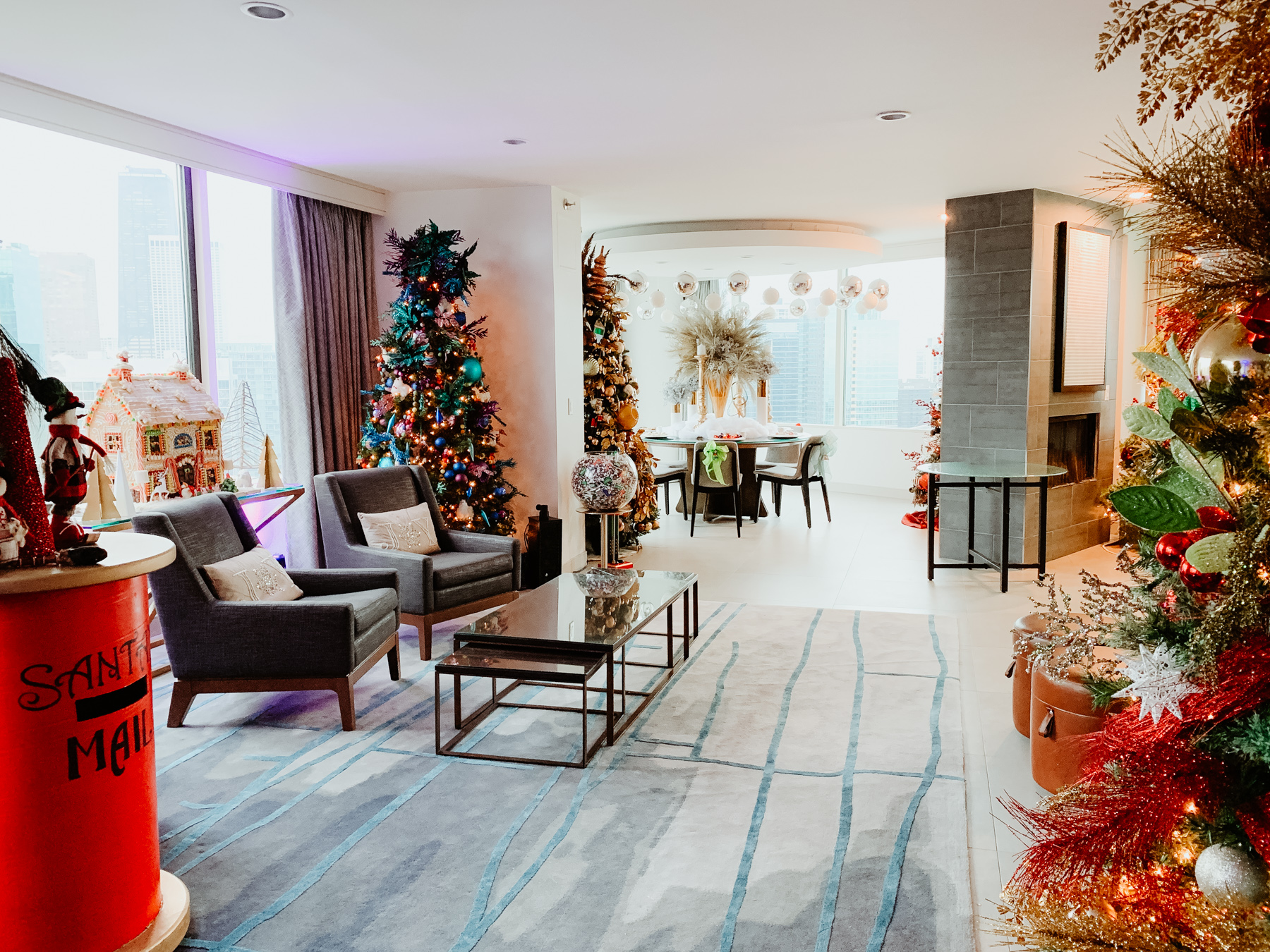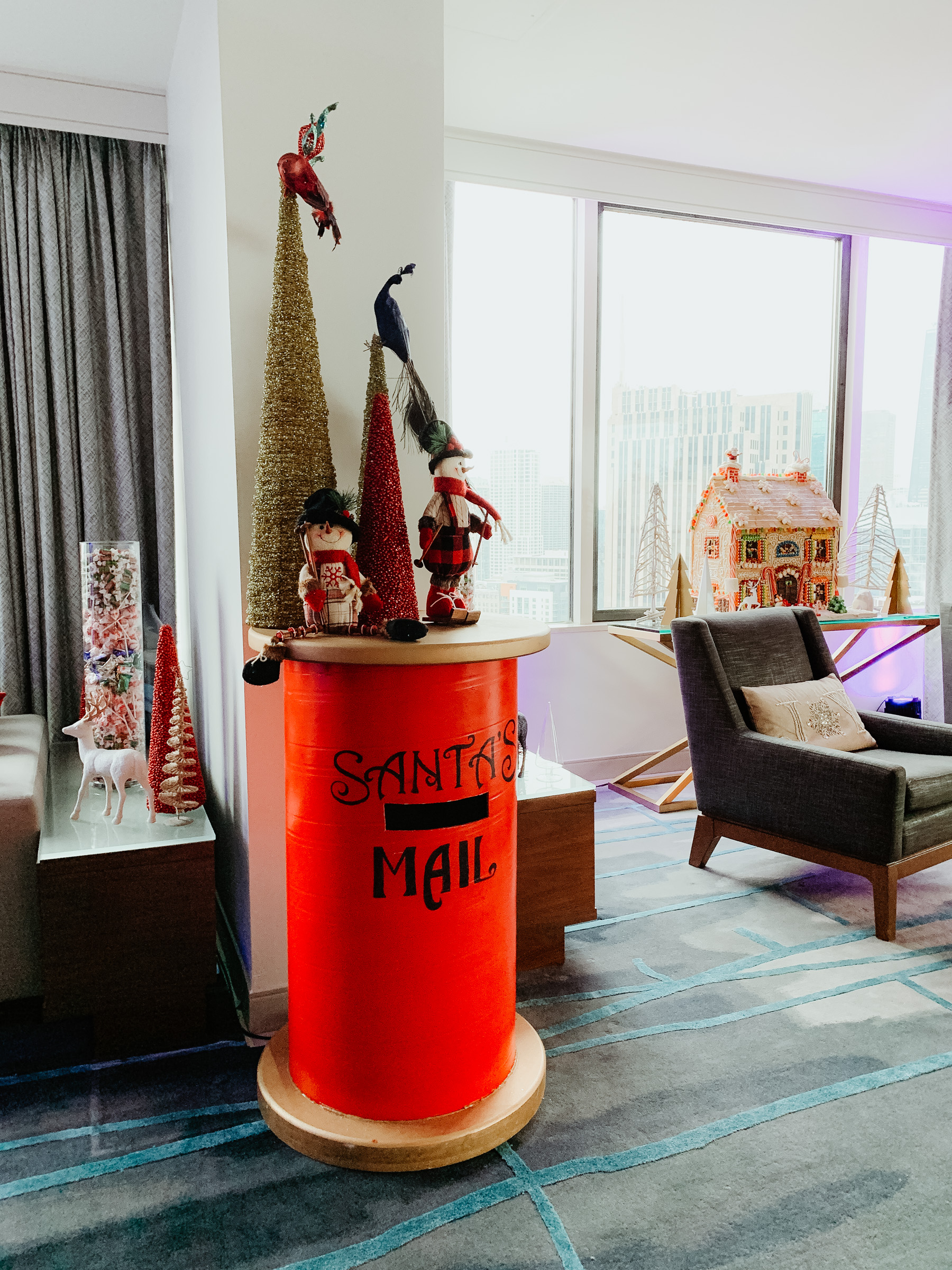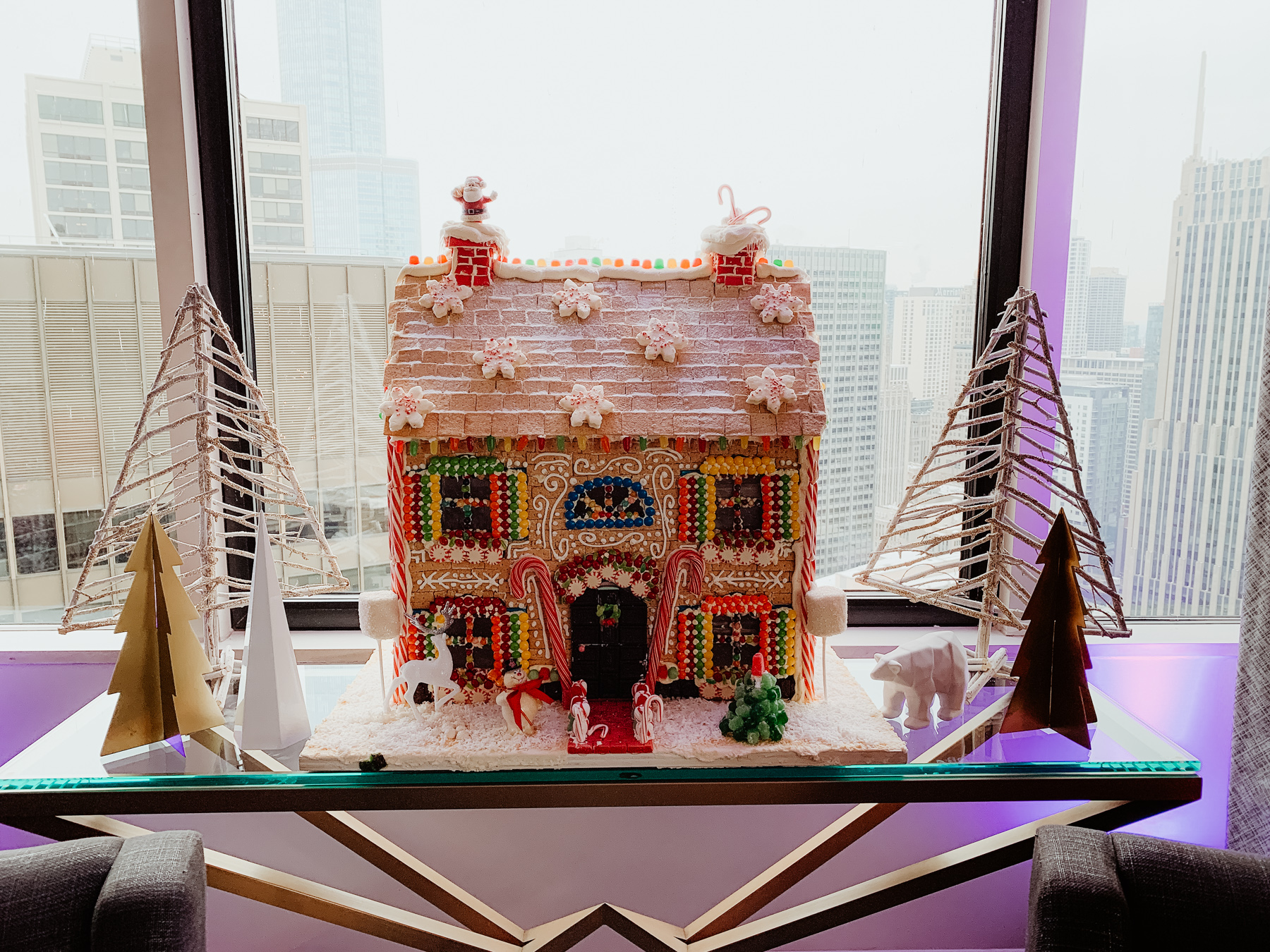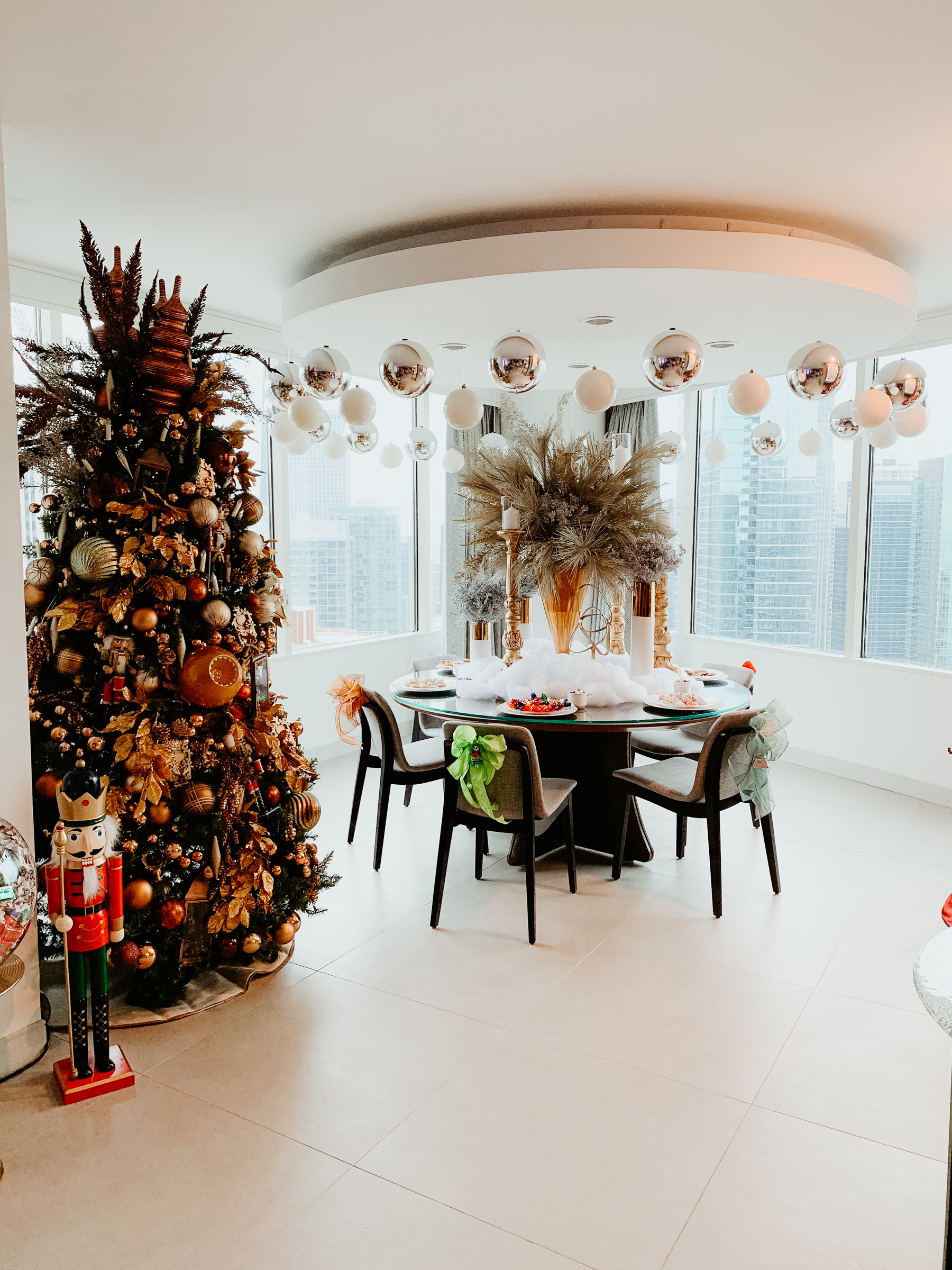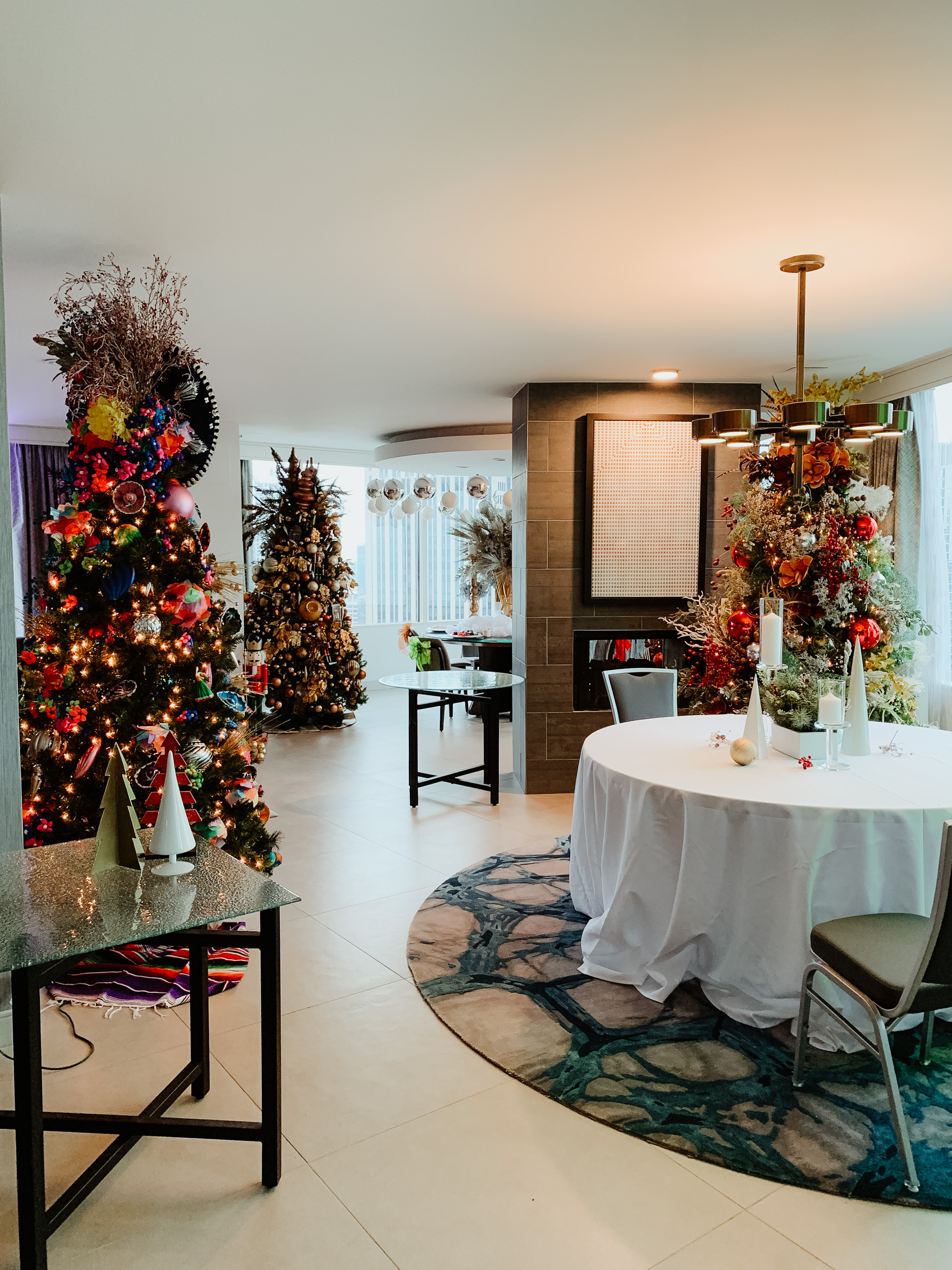 The living area
Holy moly. Honestly, guys, I think I only captured half of the Santa Suite in photos. There are entire wings that we just didn't get to. 😂 But these are a few of my favorite snaps of where we spent most of our time. There was a huge kitchen, two dining areas, two living rooms. SO MUCH SPACE! Everything was decorated to the nines, and there were tons of activities set up for us to do as a family. I really couldn't get over how much thought the Swissotel put into making our visit special.
Emma's reaction when we walked in?
"OH MY GOODNESS."
(And yes, she's totally responsible for that broken candy cane on the ginger bread house. Swissotel, I'm so sorry.)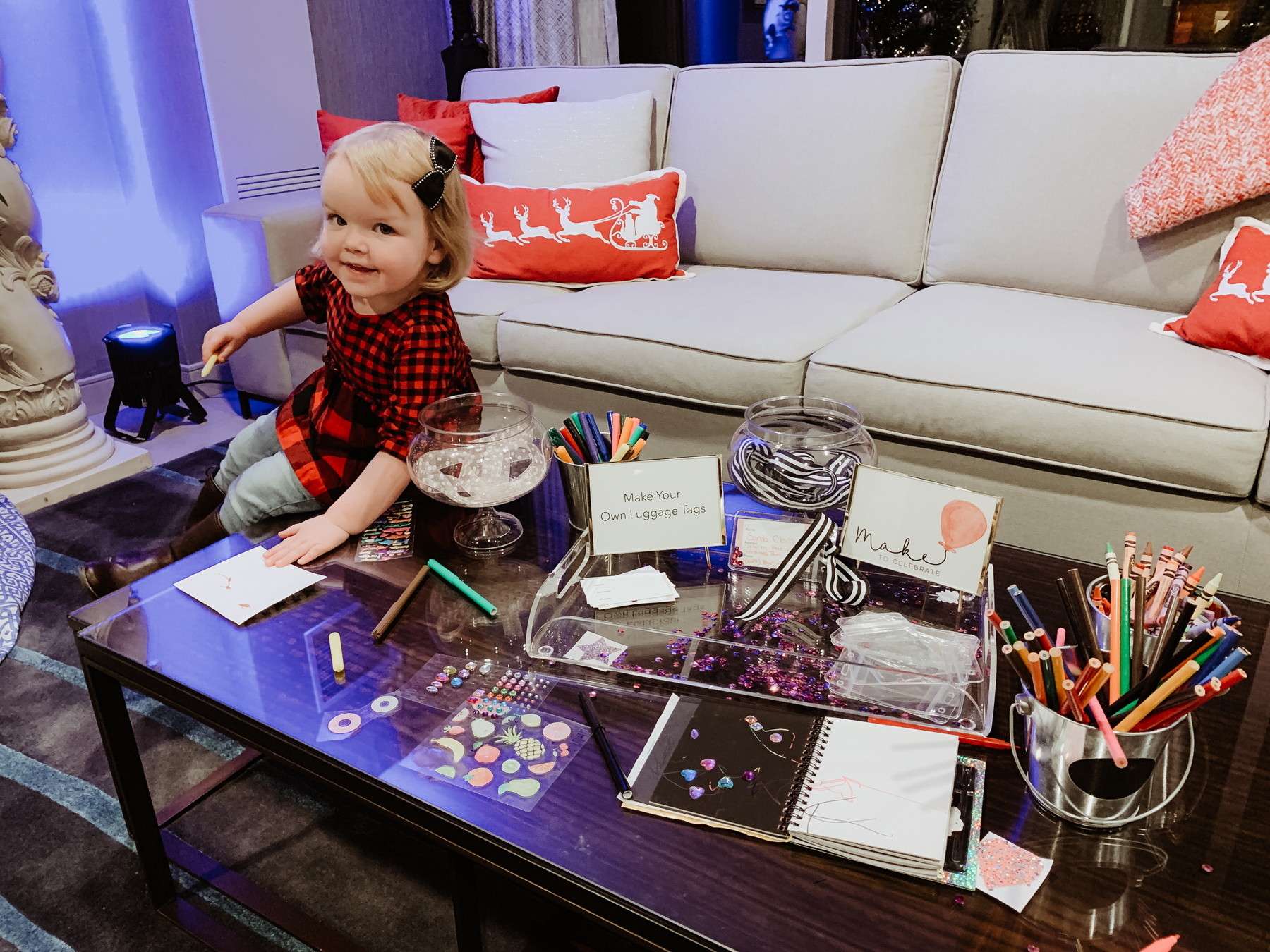 Arts and crafts
The Swissotel partnered with Make to Celebrate to create this adorable arts and crafts station for Emma. She spent hours at this coffee table coloring and making luggage tags for her upcoming holiday travels. Emma's absolute favorite activity is arts and crafts, and I seriously teared up when I saw this. (Keep in mind that I was pretty hormonal at the time, haha. But, like, they even found NOODLE STICKERS for her! So sweet.)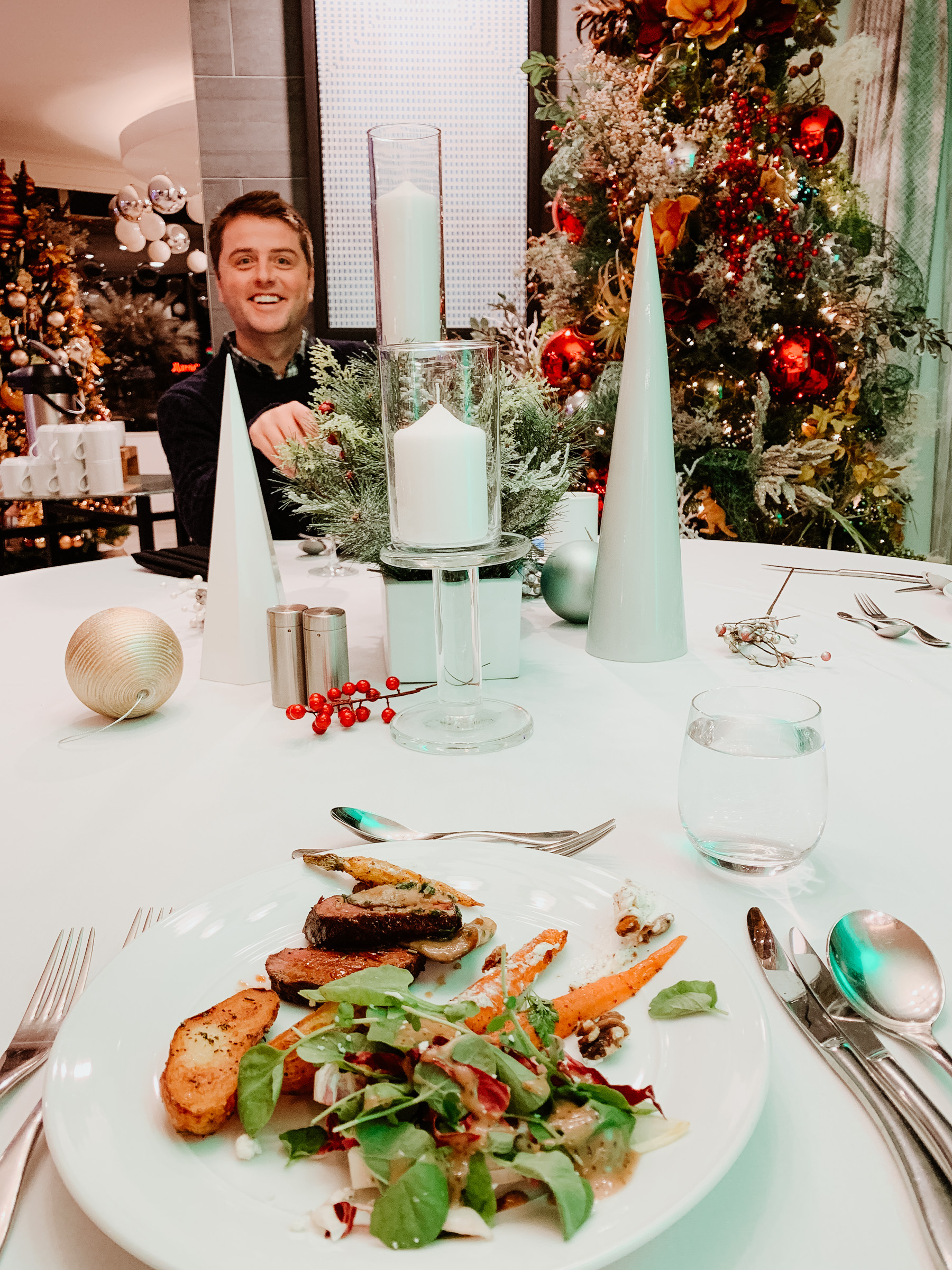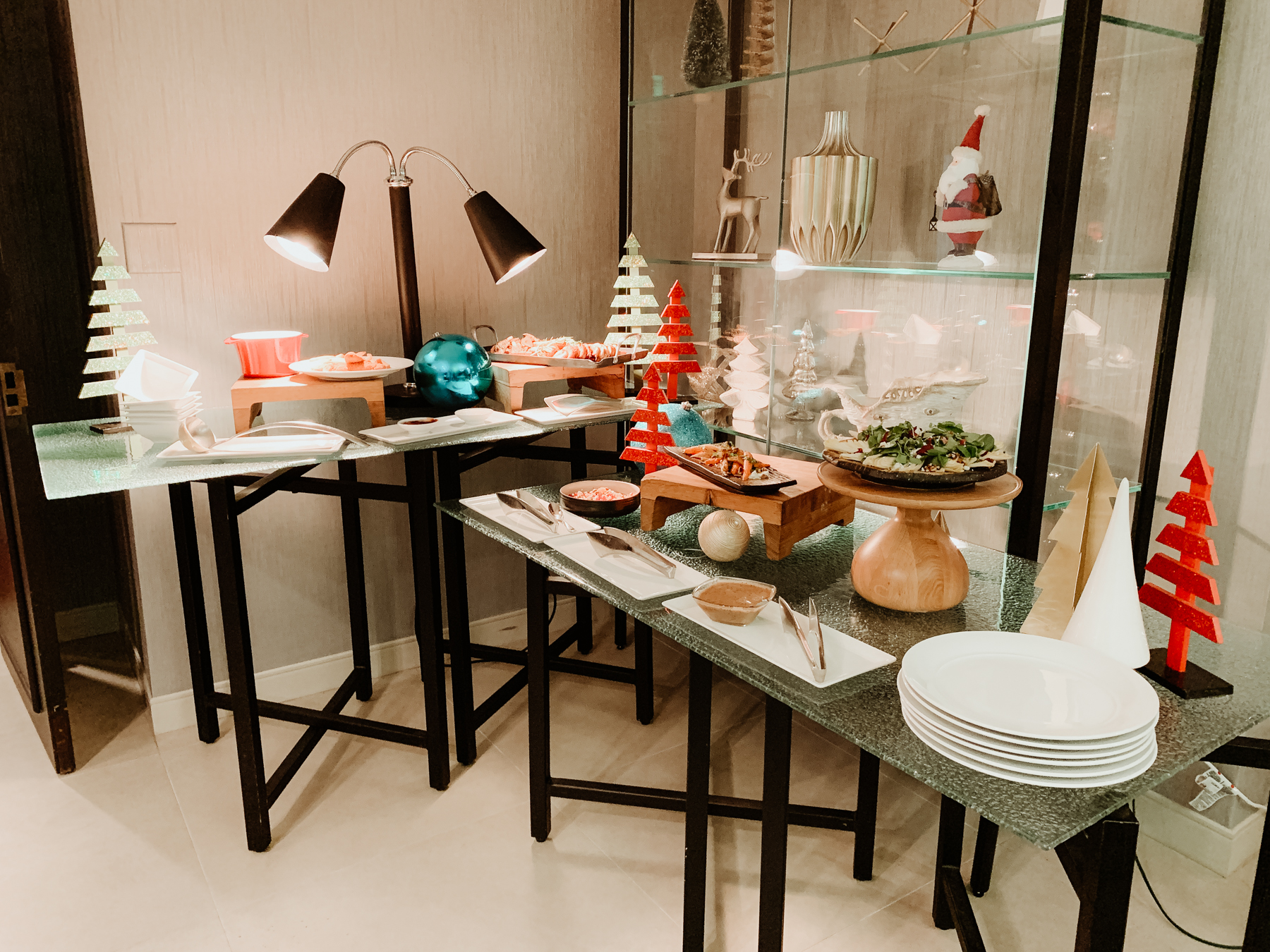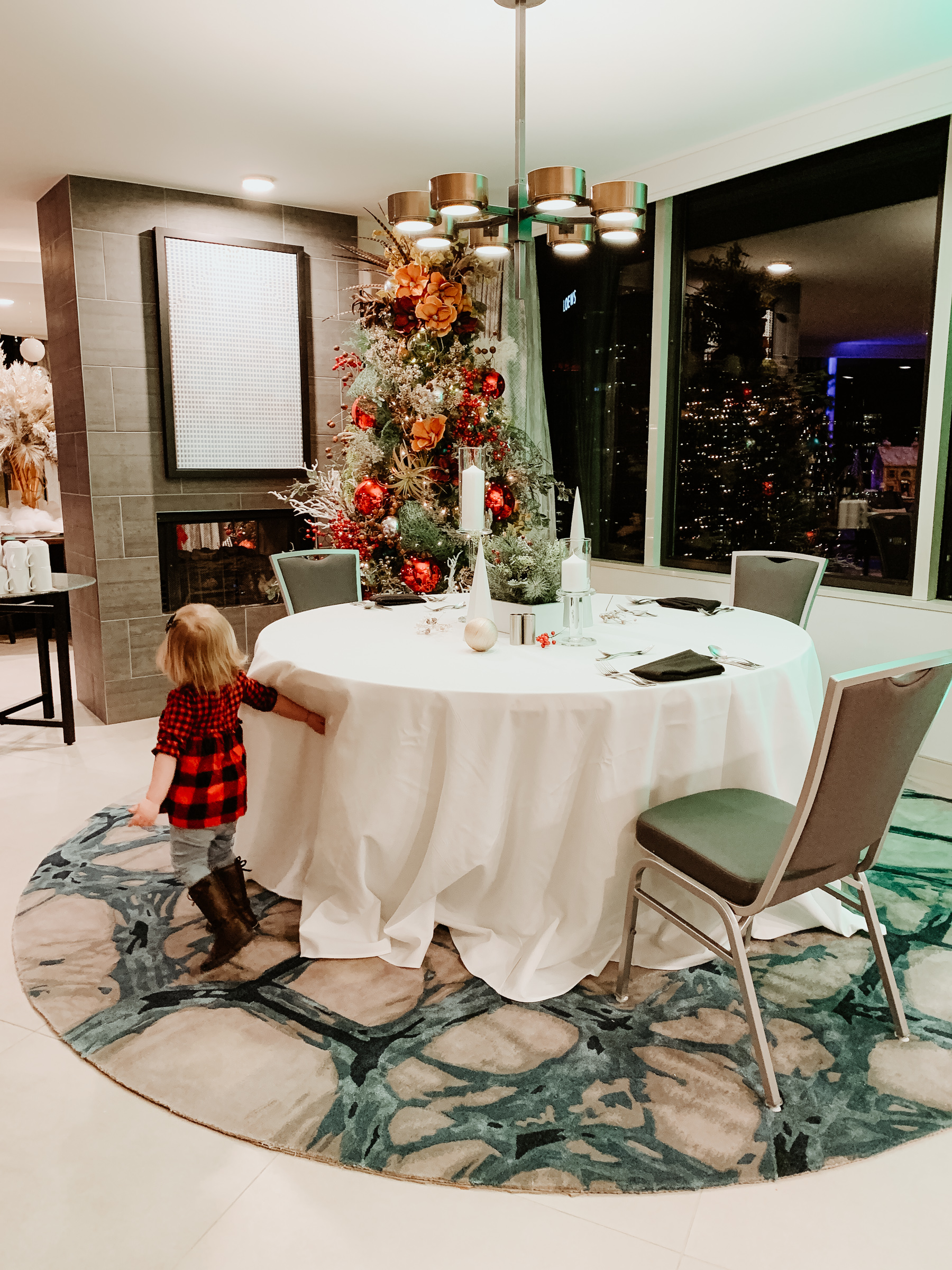 Dinner
Next up was dinner! This will definitely be one of my most cherished Christmas memories; I know I'll remember it forever. The Swissotel brought in this magnificent spread about an hour after we arrived, and even had chicken fingers and fries for Emma. Everything was perfect and we were still in disbelief of everything–and Emma kept saying "I love you, Mommy and Daddy!" More tears from me. ;)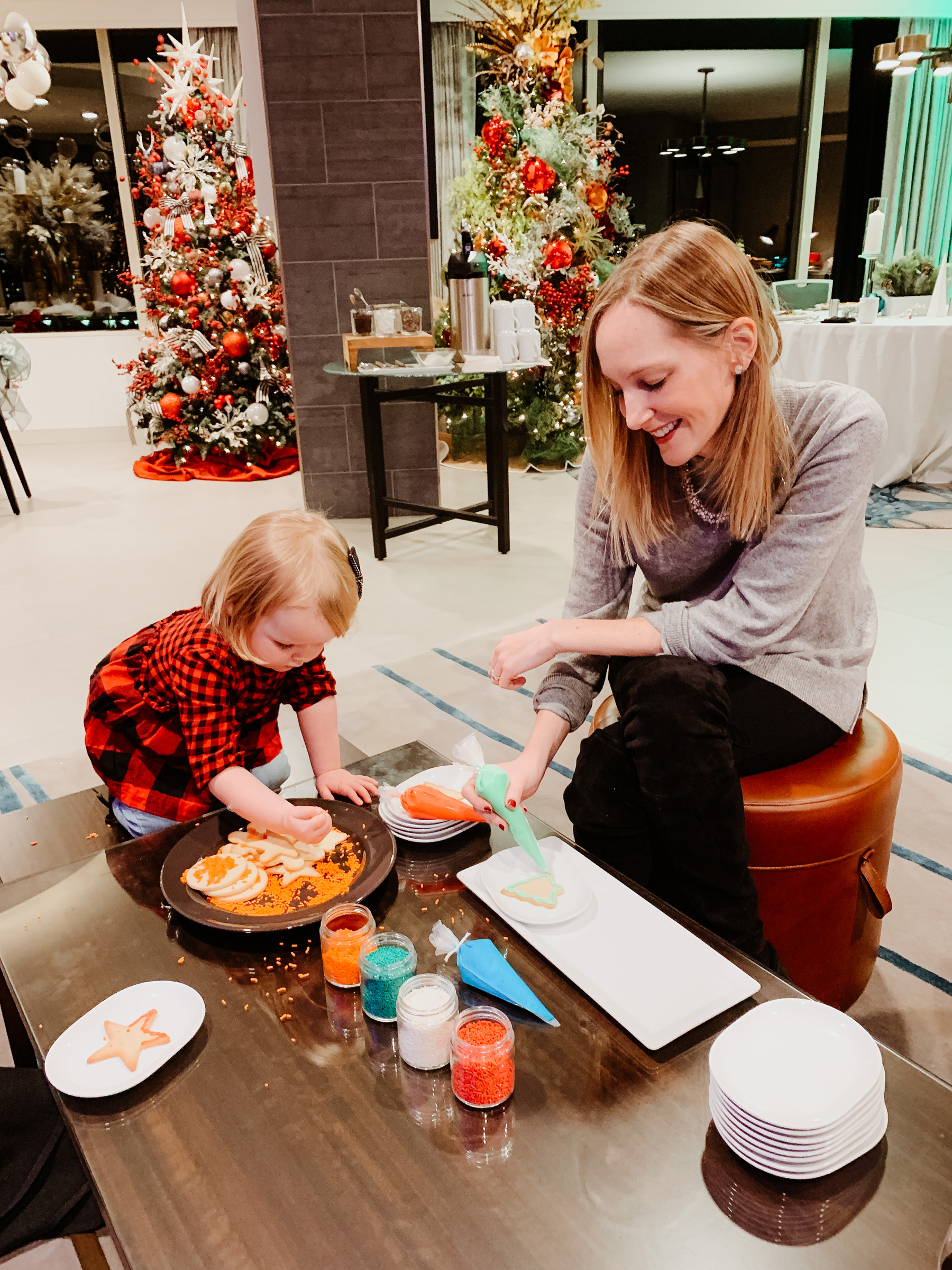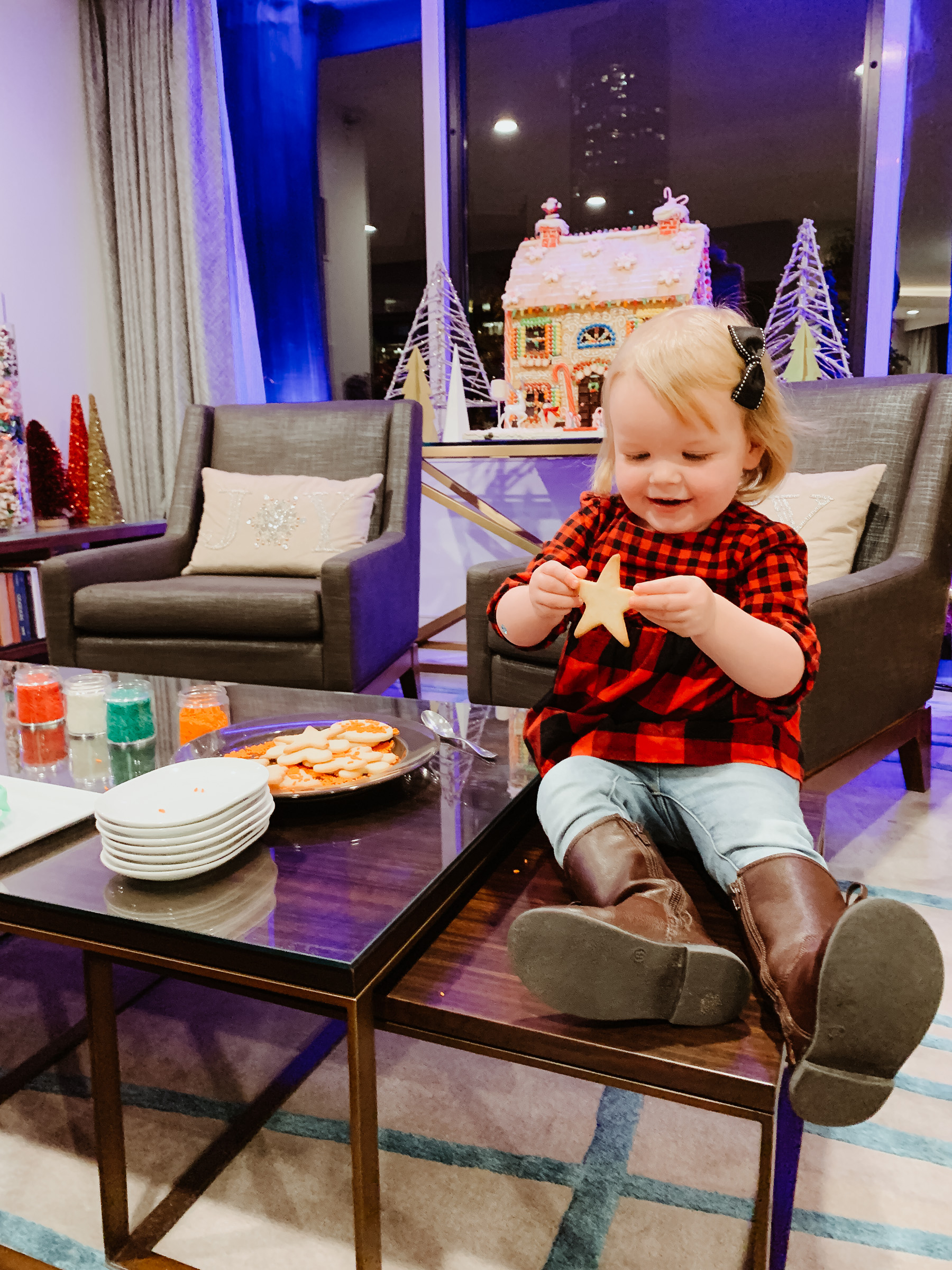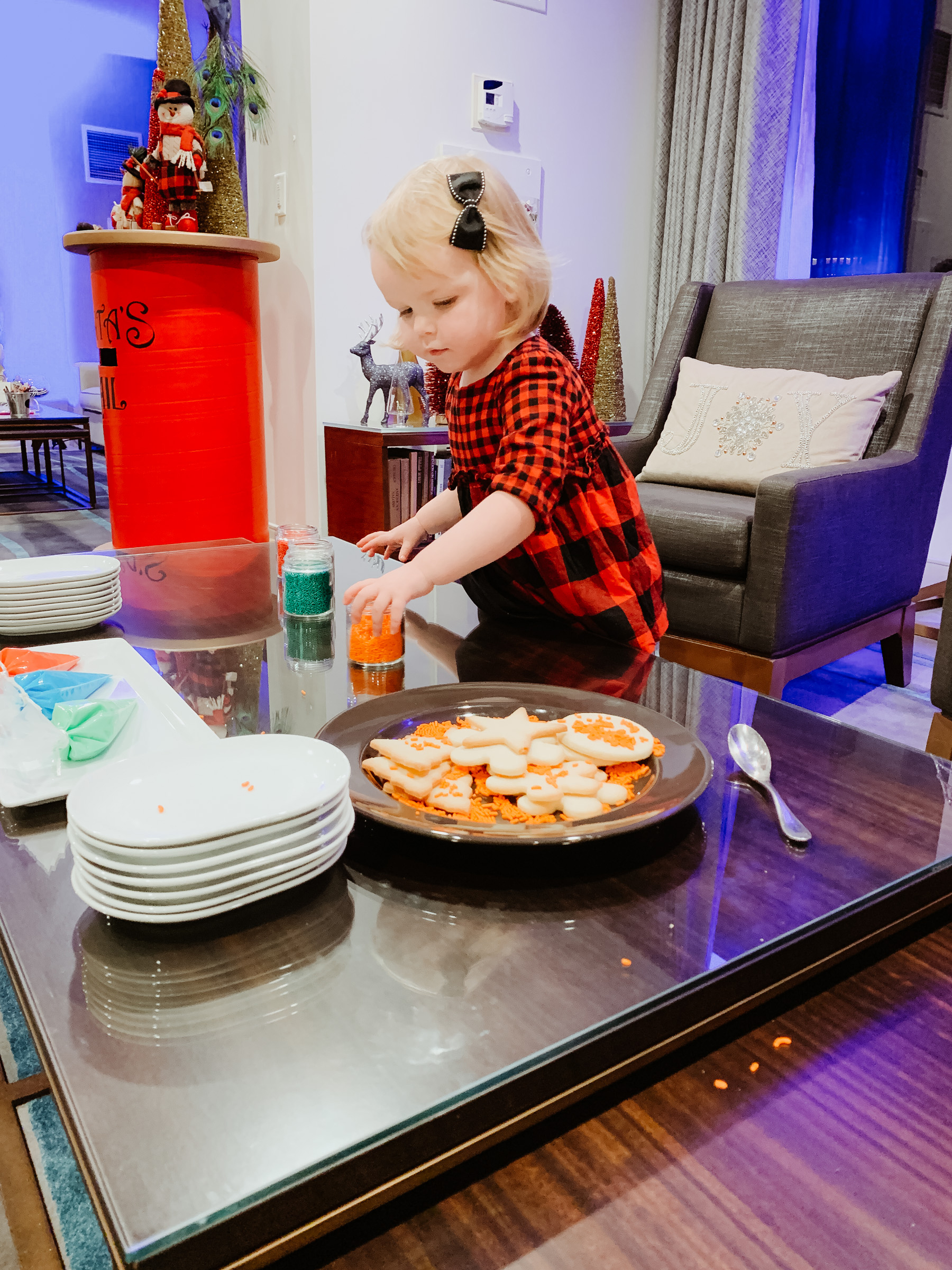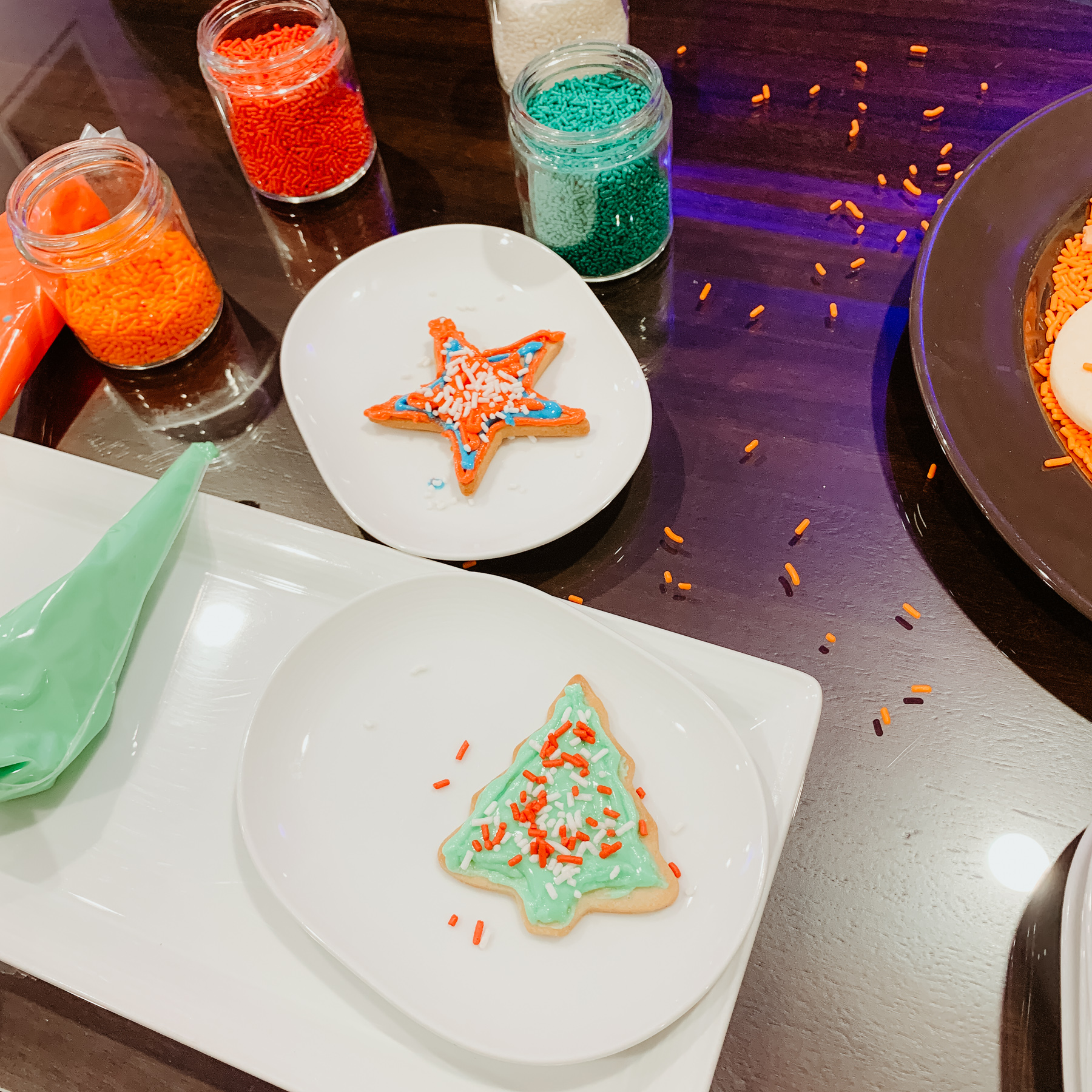 Cooking decorating
I don't know who made these cookies, but they need to open up a bakery on Michigan Avenue or something because they were UNREAL. I couldn't stop eating them! We spent a solid hour decorating them, and laughed the entire time. Emma kept telling Mitch how bad his cookies looked. Too funny.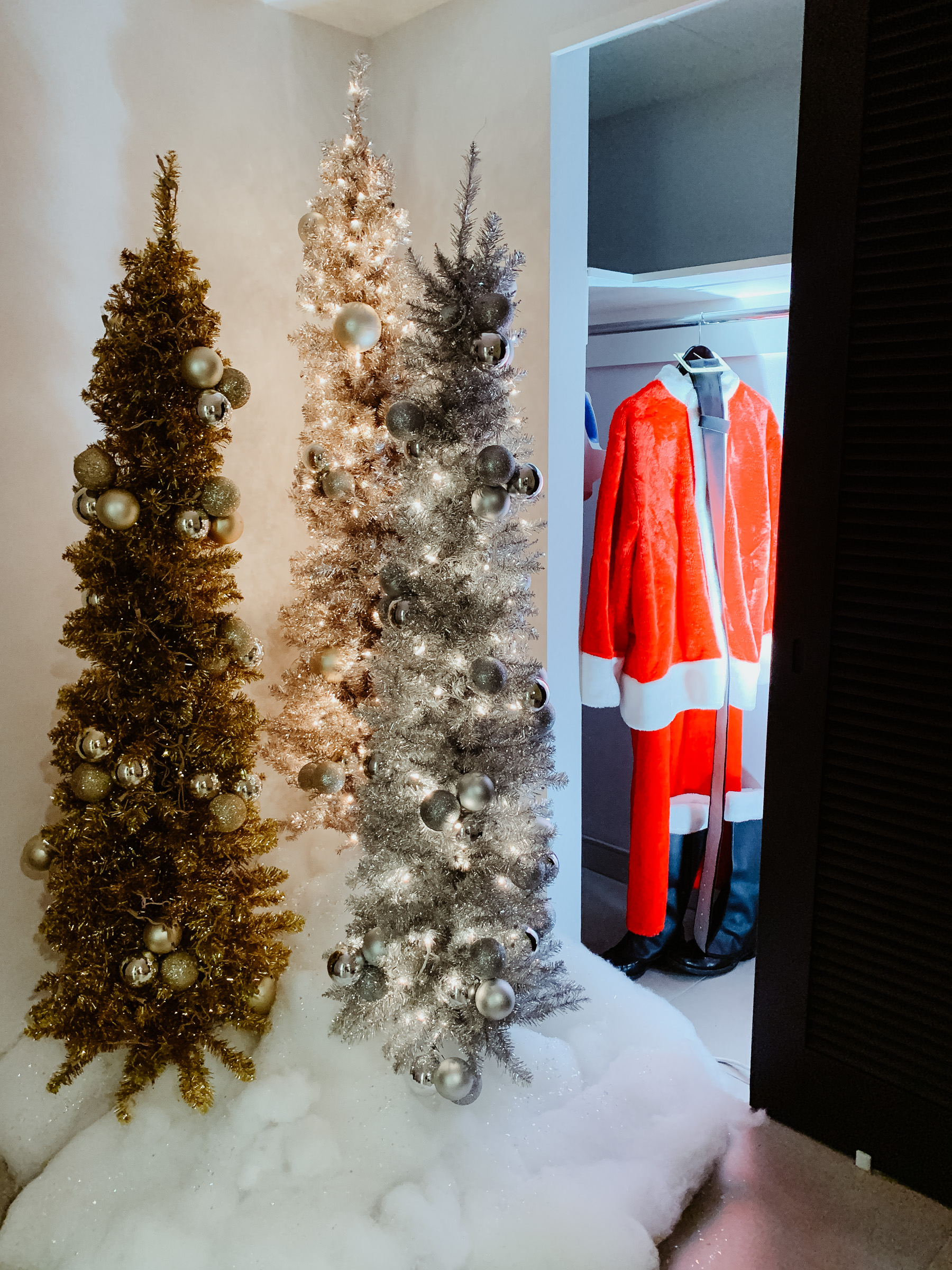 Santa's closet
We spent a long time in here, too. This closet was off the master suite, which I'll show you in a minute. But between the fluffy snow and the dim light illuminating the red suit, Emma was entranced! Last year, Emma was absolutely terrified of Santa… and that's why we actually told the Swissotel not to send him up to to the Suite to visit. (Wanted this experience to be awesome, not traumatizing, haha.) But I'm relatively sure that this closet is what turned her around! Since seeing this, she's been Team Santa, and even gave him a hug and a high five when we saw him at the Willis Tower a couple of weeks later. :) Thank you, Swissotel!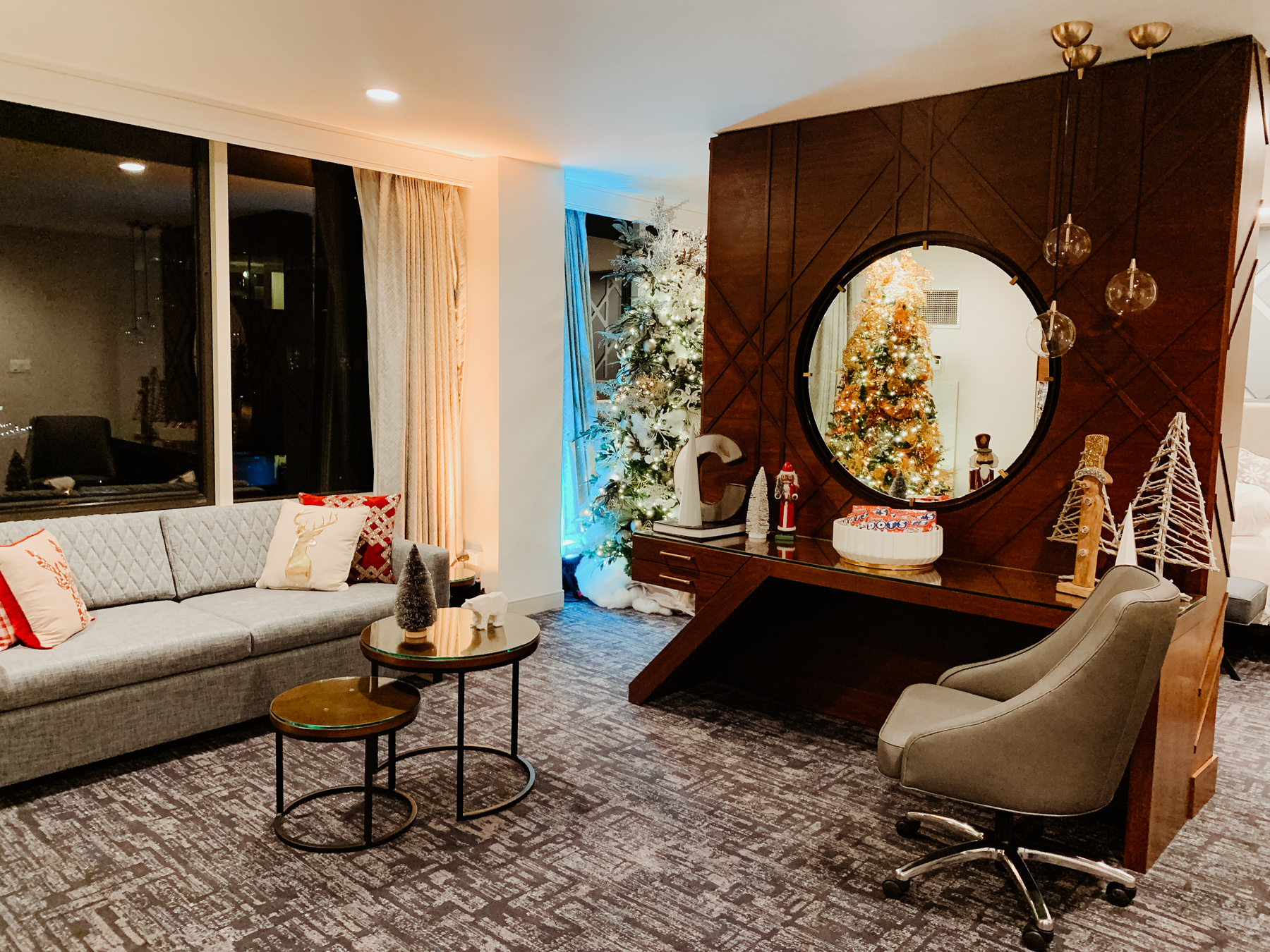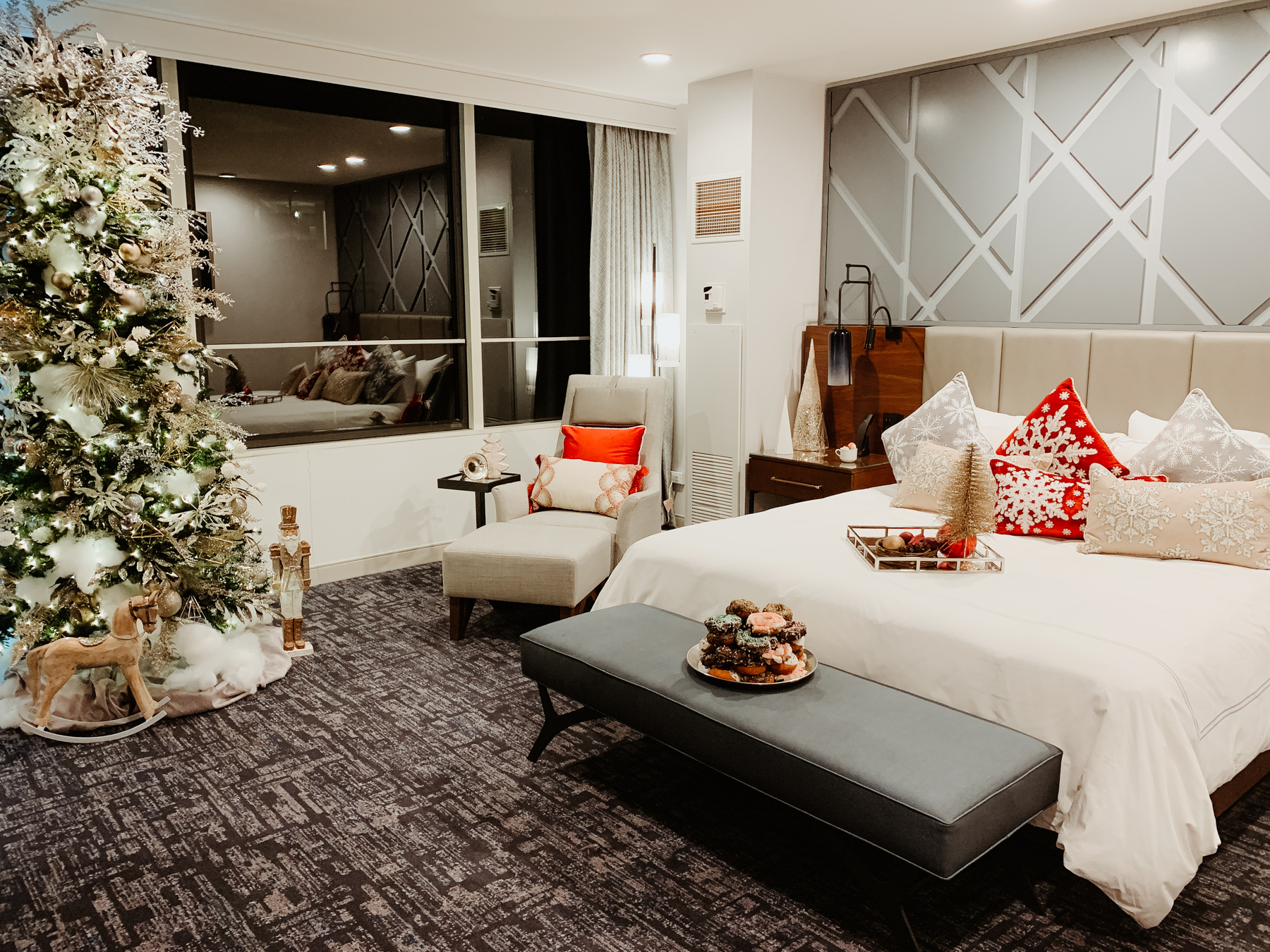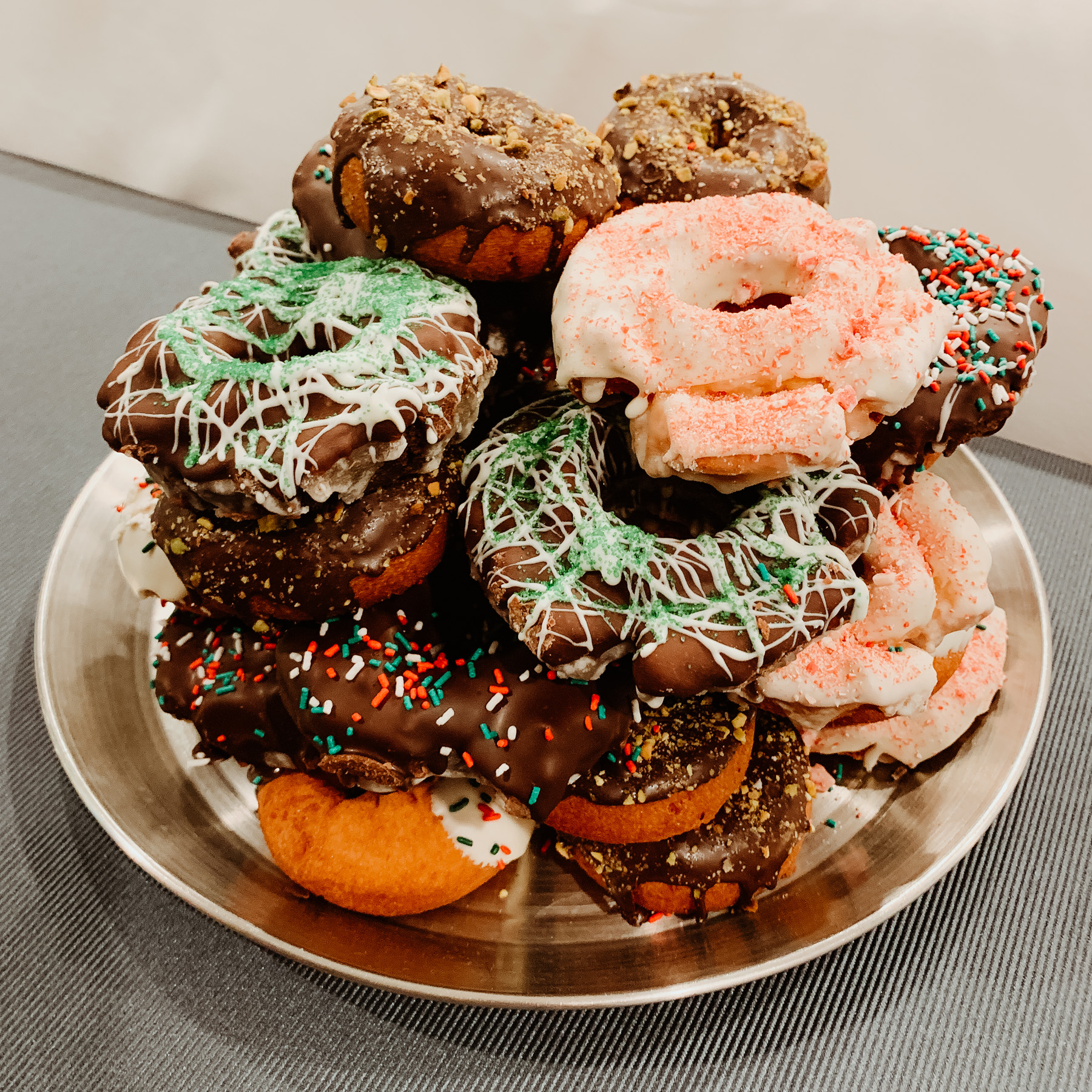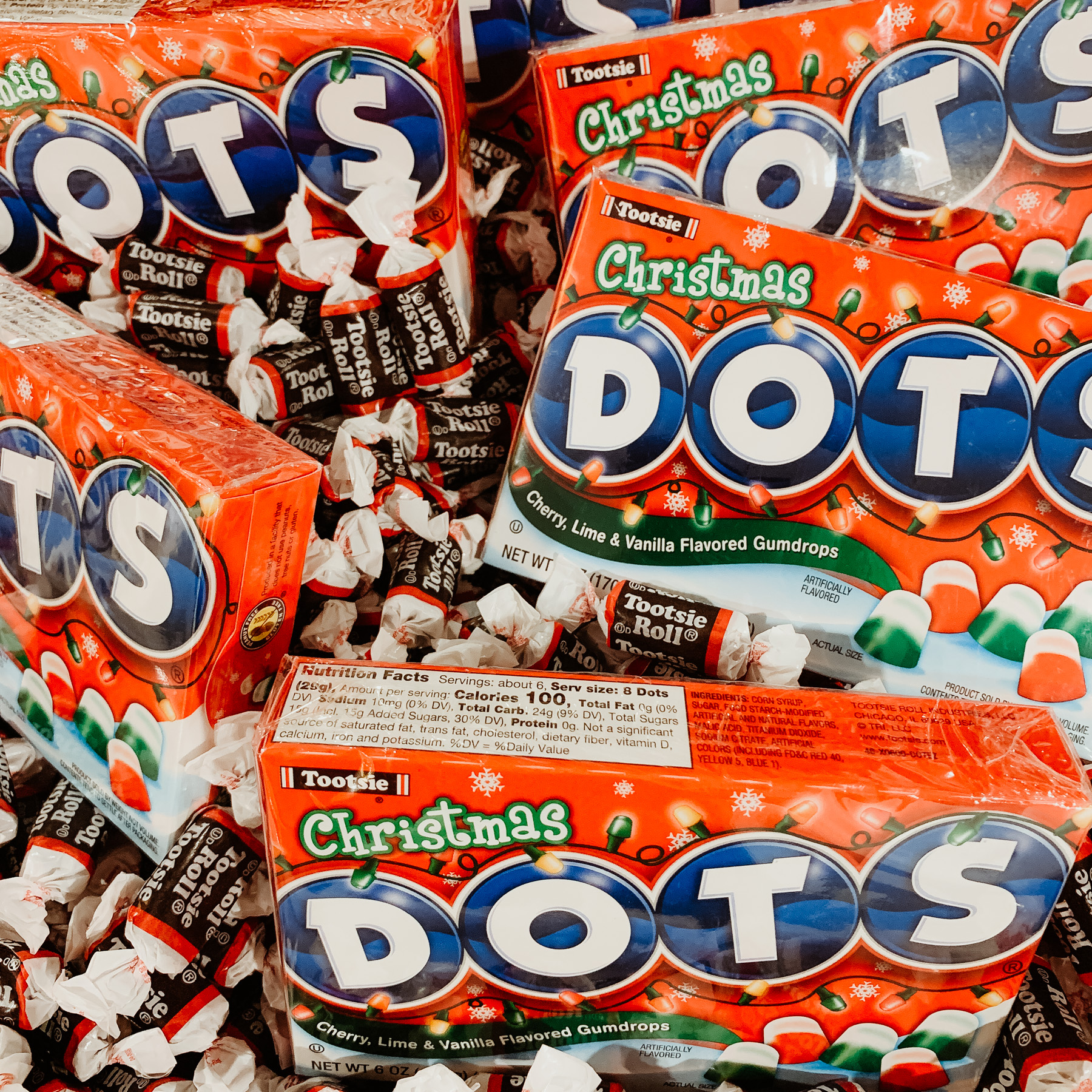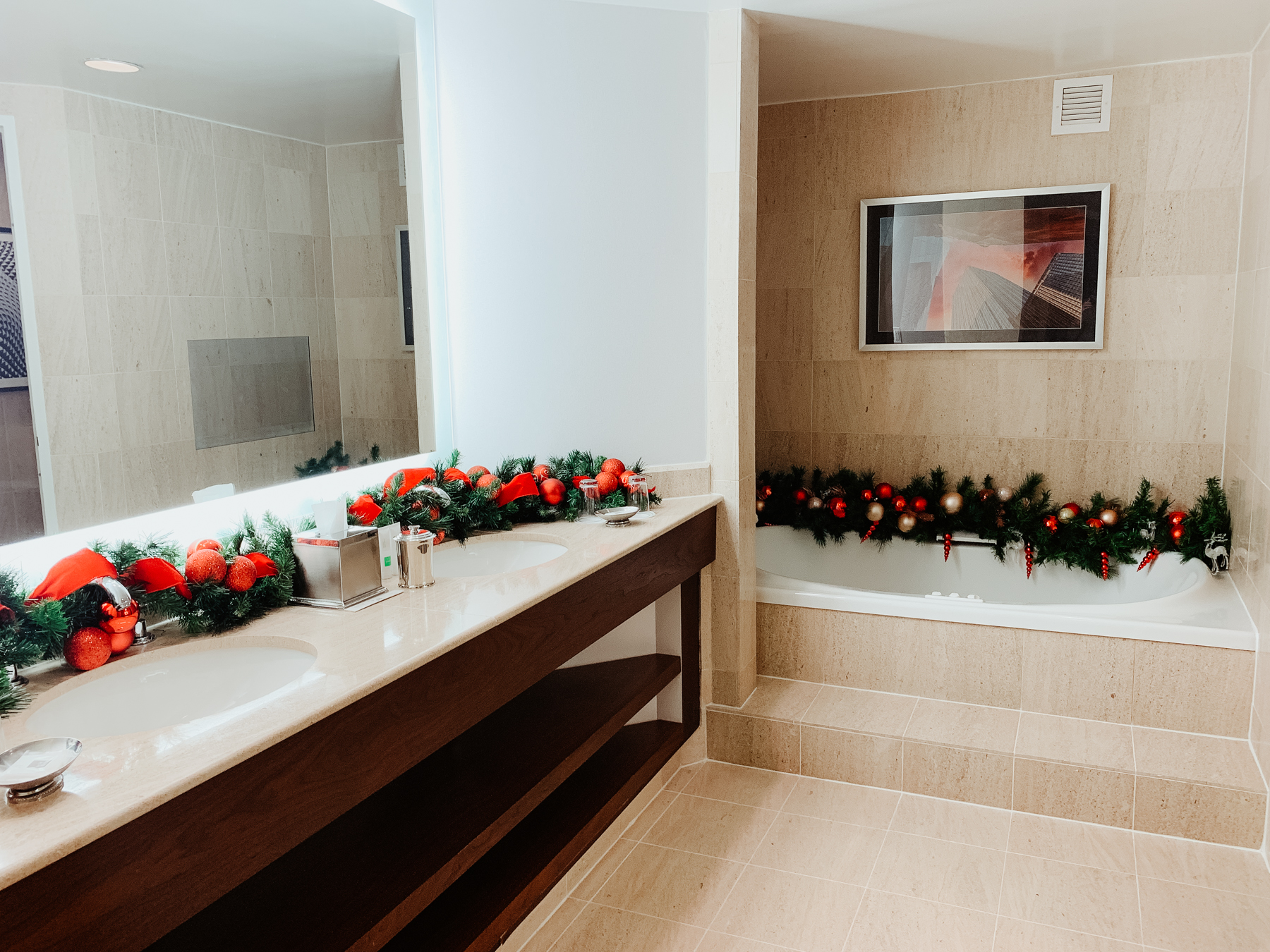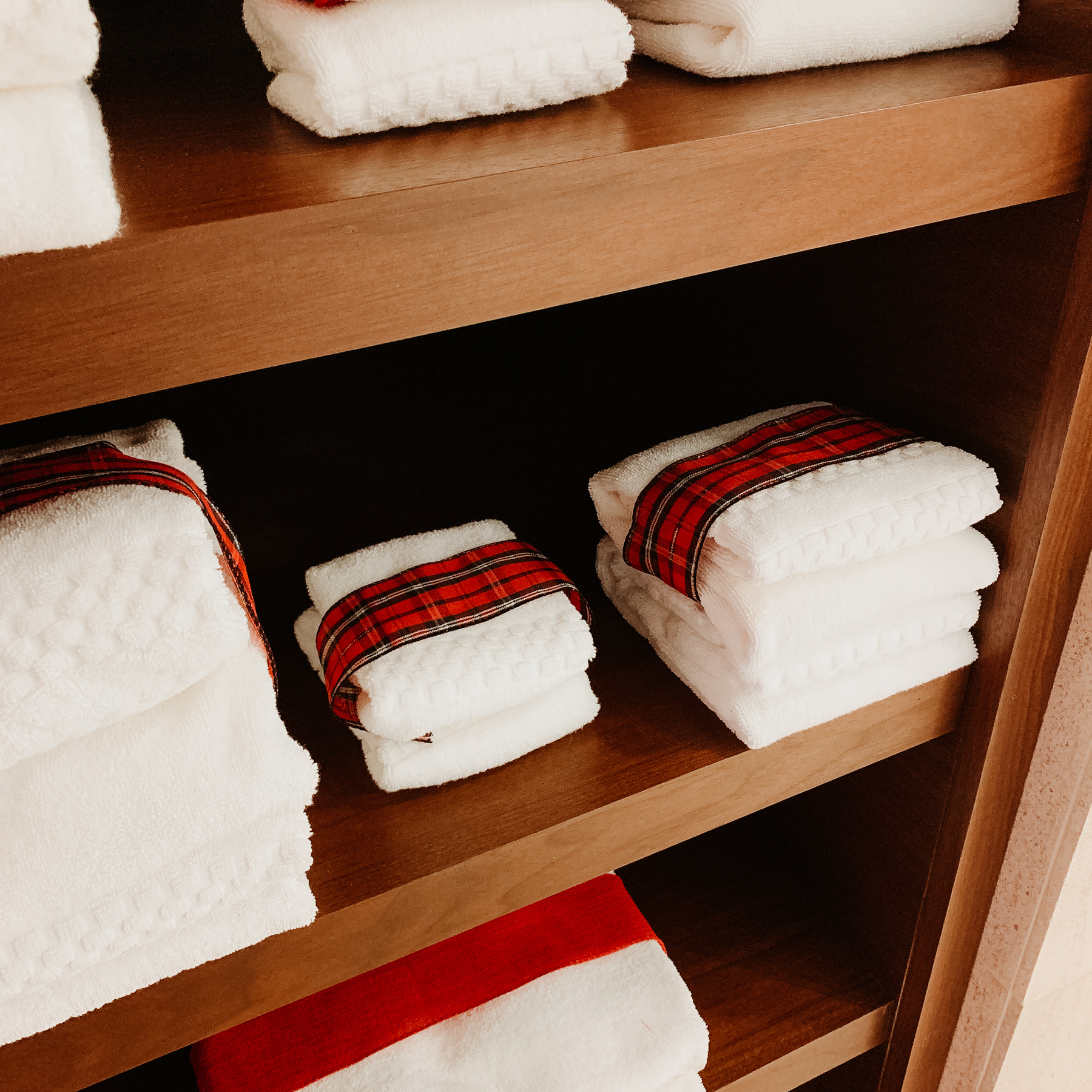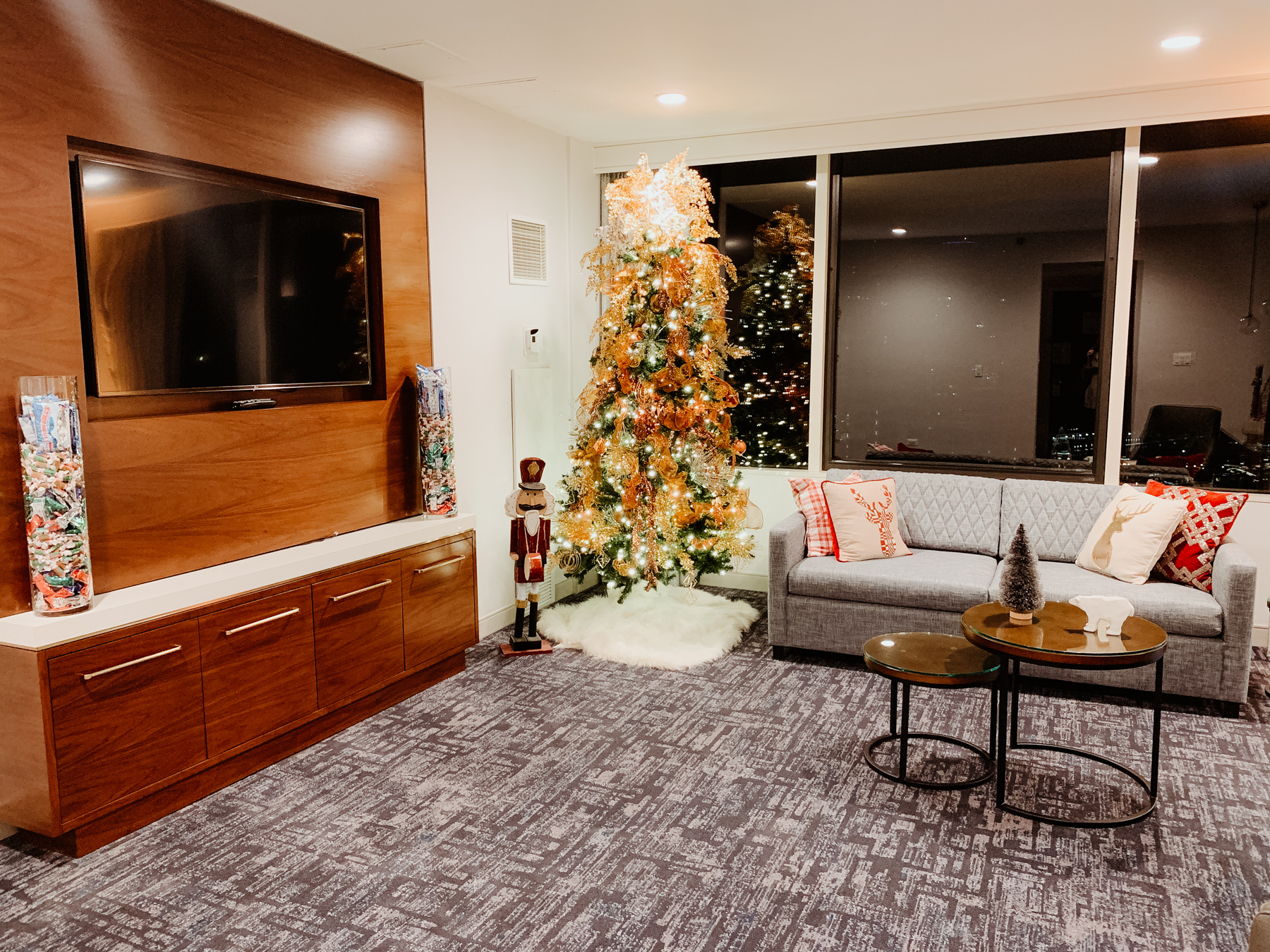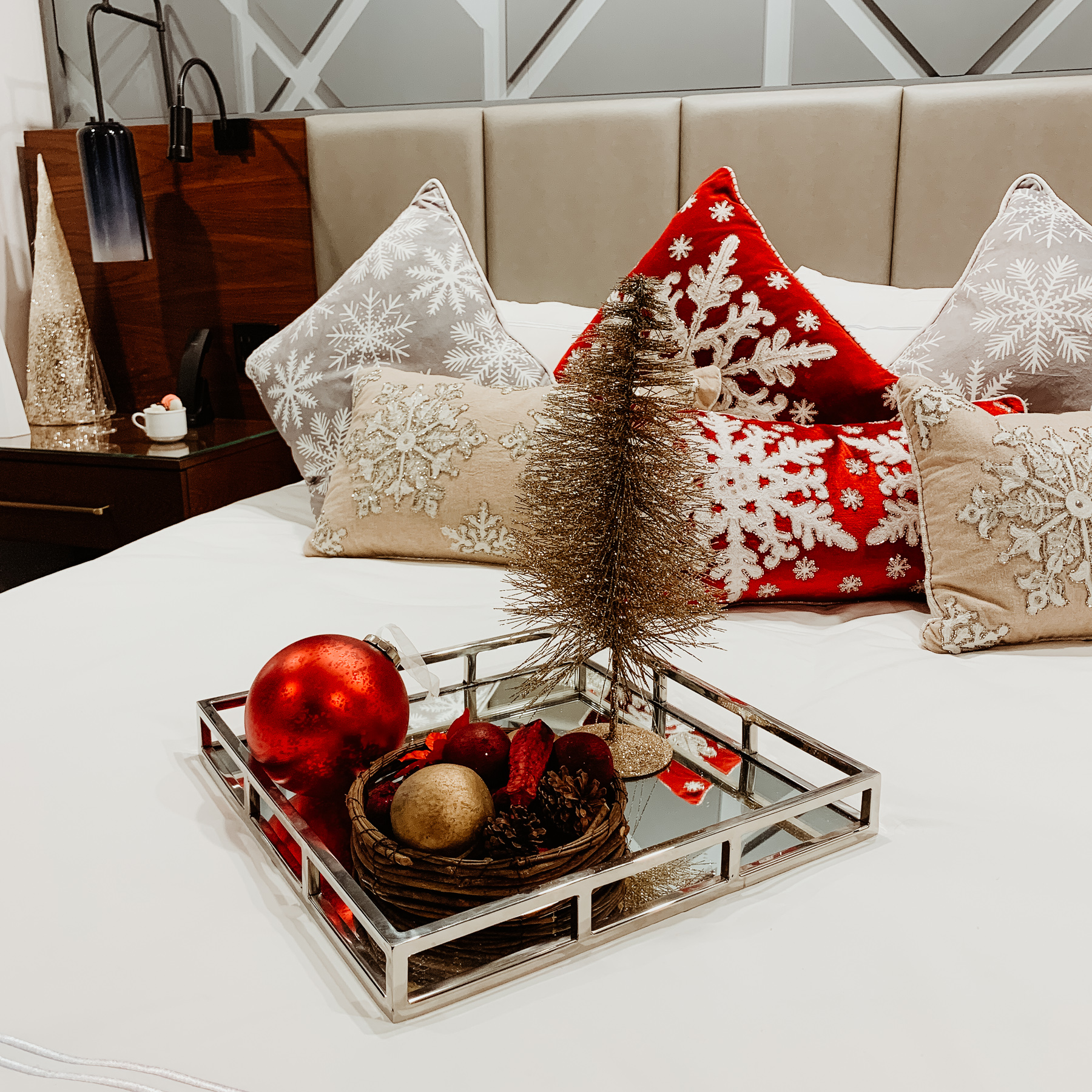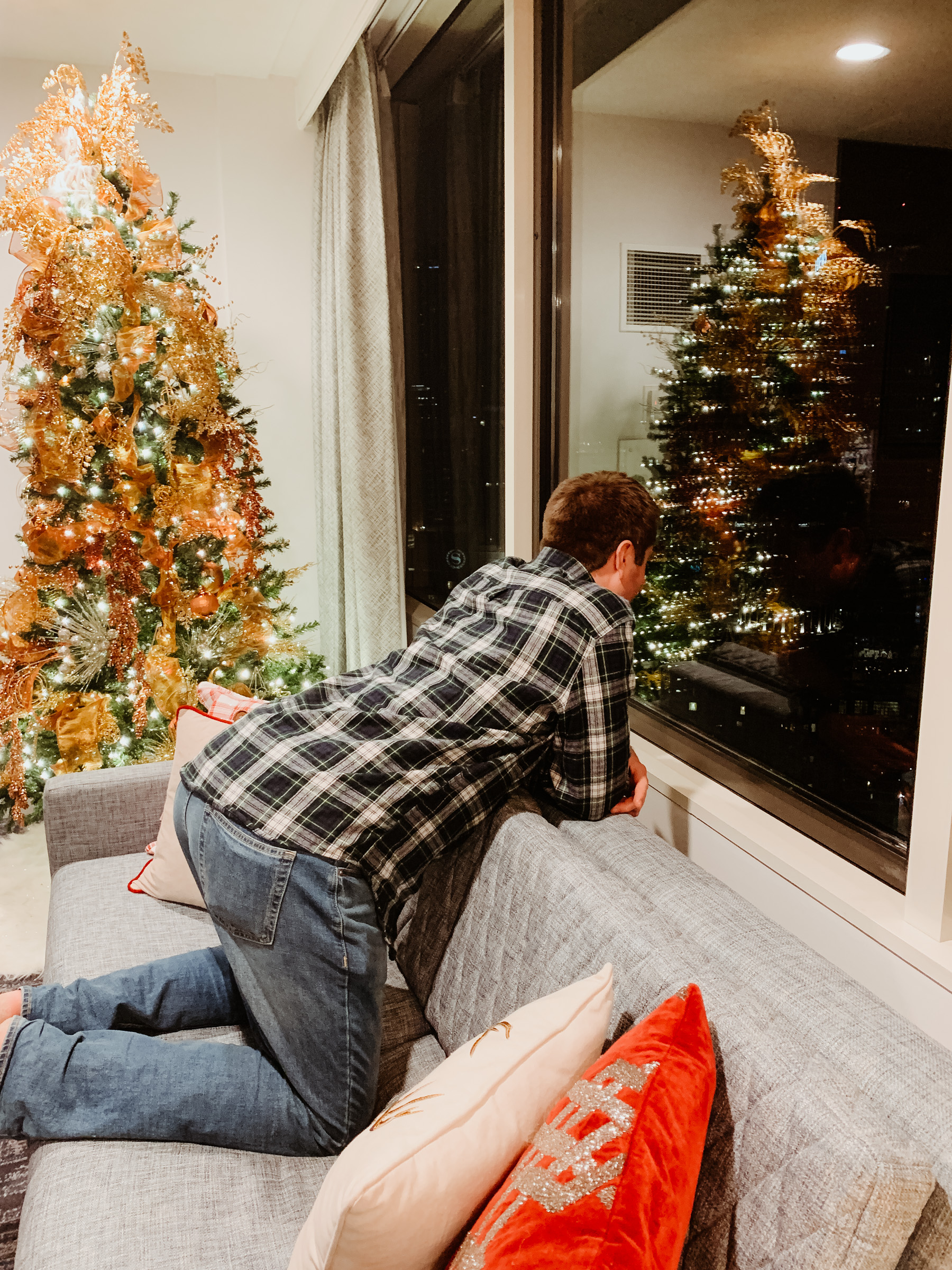 The master suite
This was out of this world, and I totally felt like we were in a scene from "Home Alone: Lost in New York." ;) And I need to admit that we jumped on the bed and ate sweets in there, too. (So much candy everywhere; how could we not?) And the sitting room. Oh my gosh. And the BATHROOM. I guess I neglected to take a photo of the other side of it, but there was also a huge walk-in shower and makeup vanity. I loved the touches of plaid on the towels and the festive garland everywhere!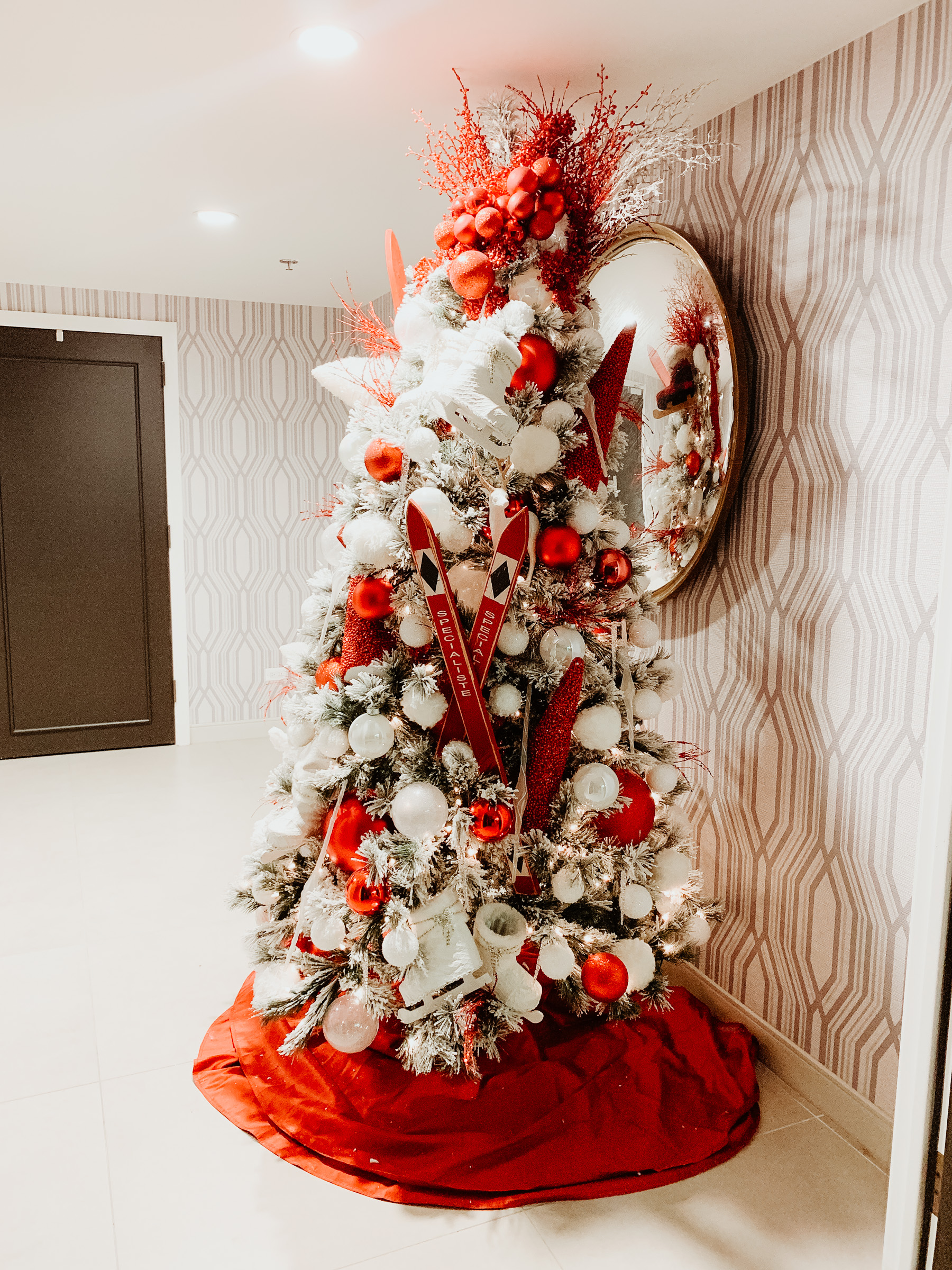 Christmas trees from around the world
This was another fun part of the Suite that we loved: there were themed Christmas trees from various countries, which allowed us to have lots of conversations with Emma. Her personal favorites were the Mexican and Greek trees, mostly because she loves tacos and gyros. The tree pictured above is obviously the Swiss one!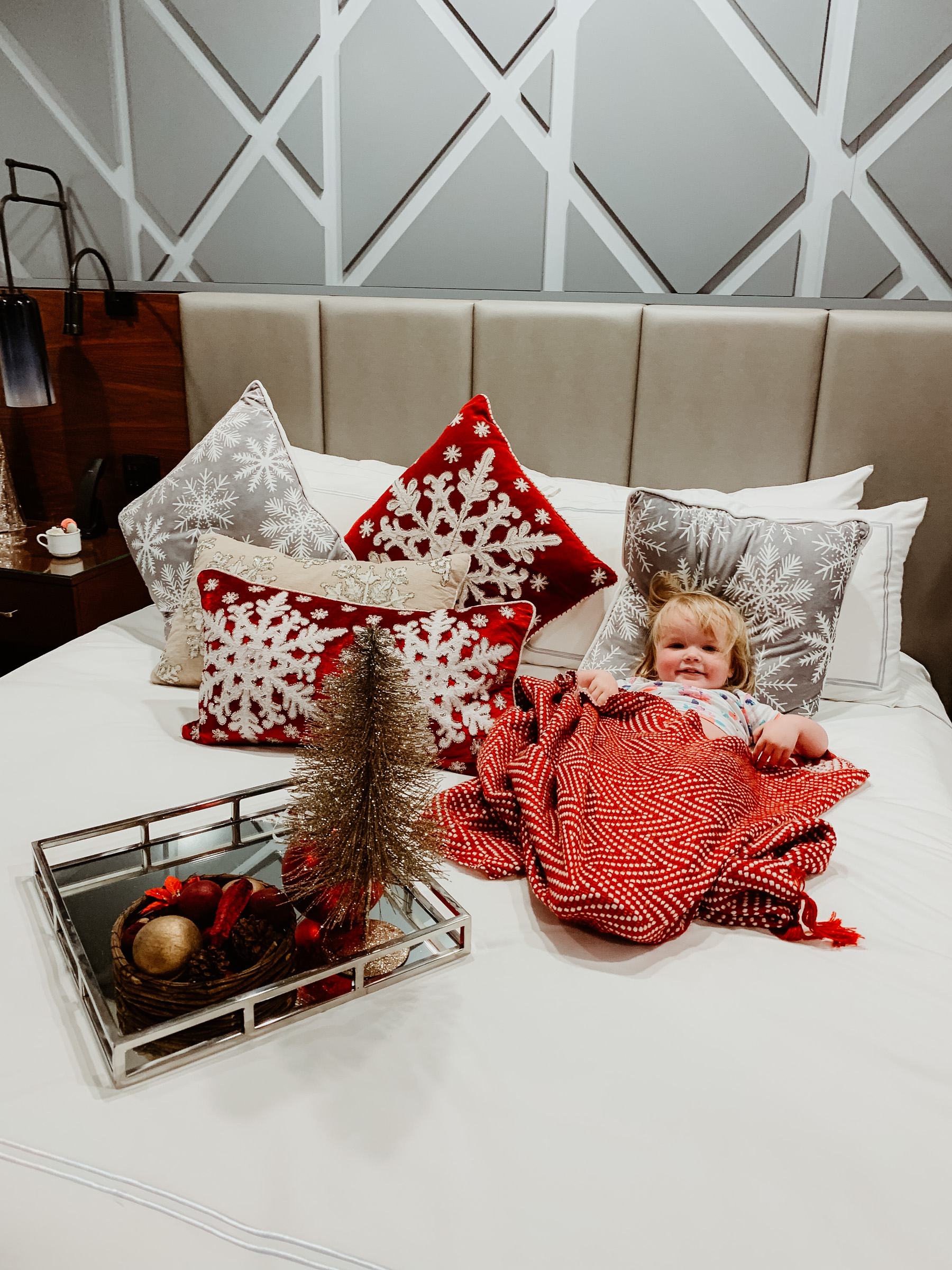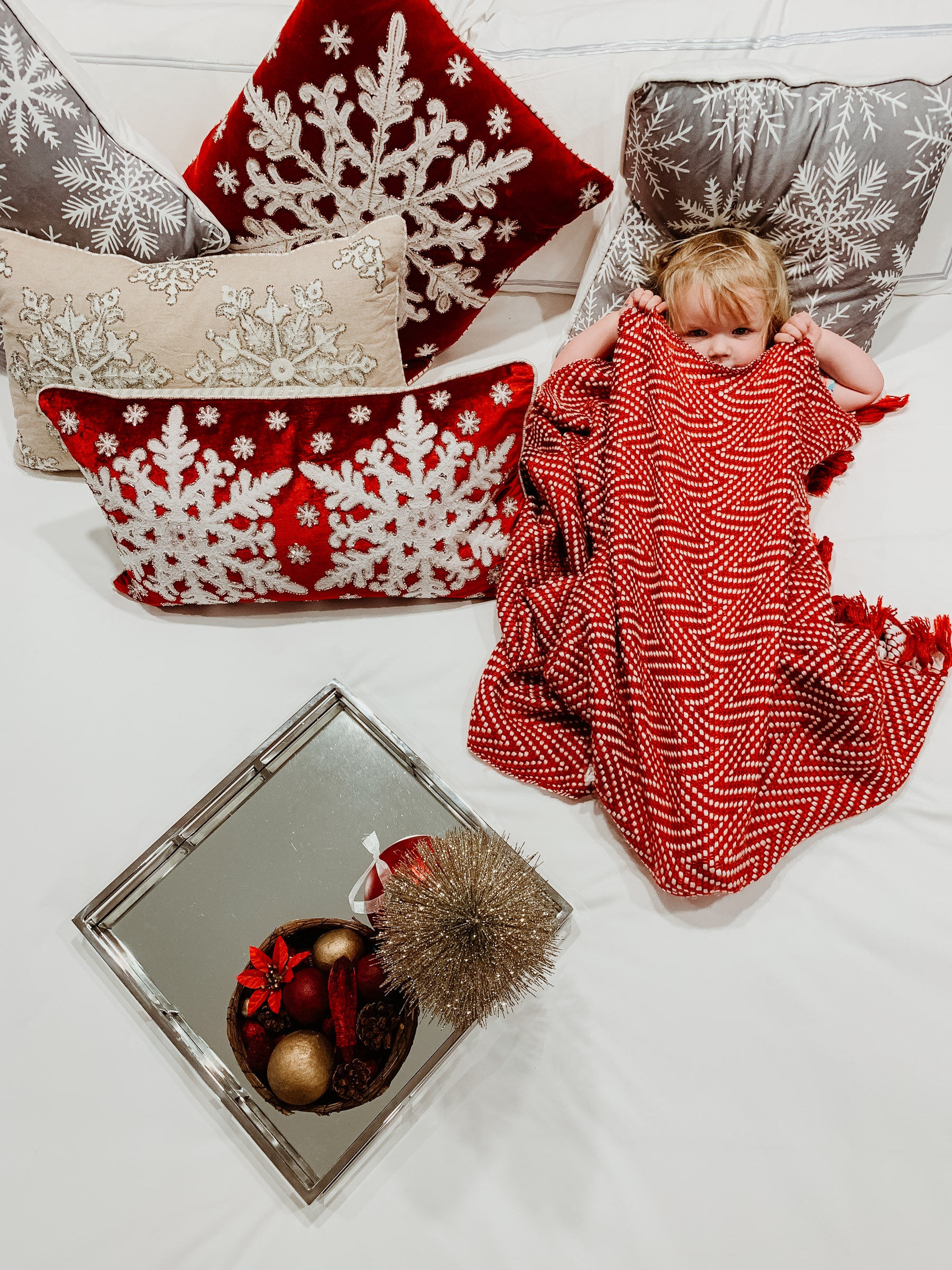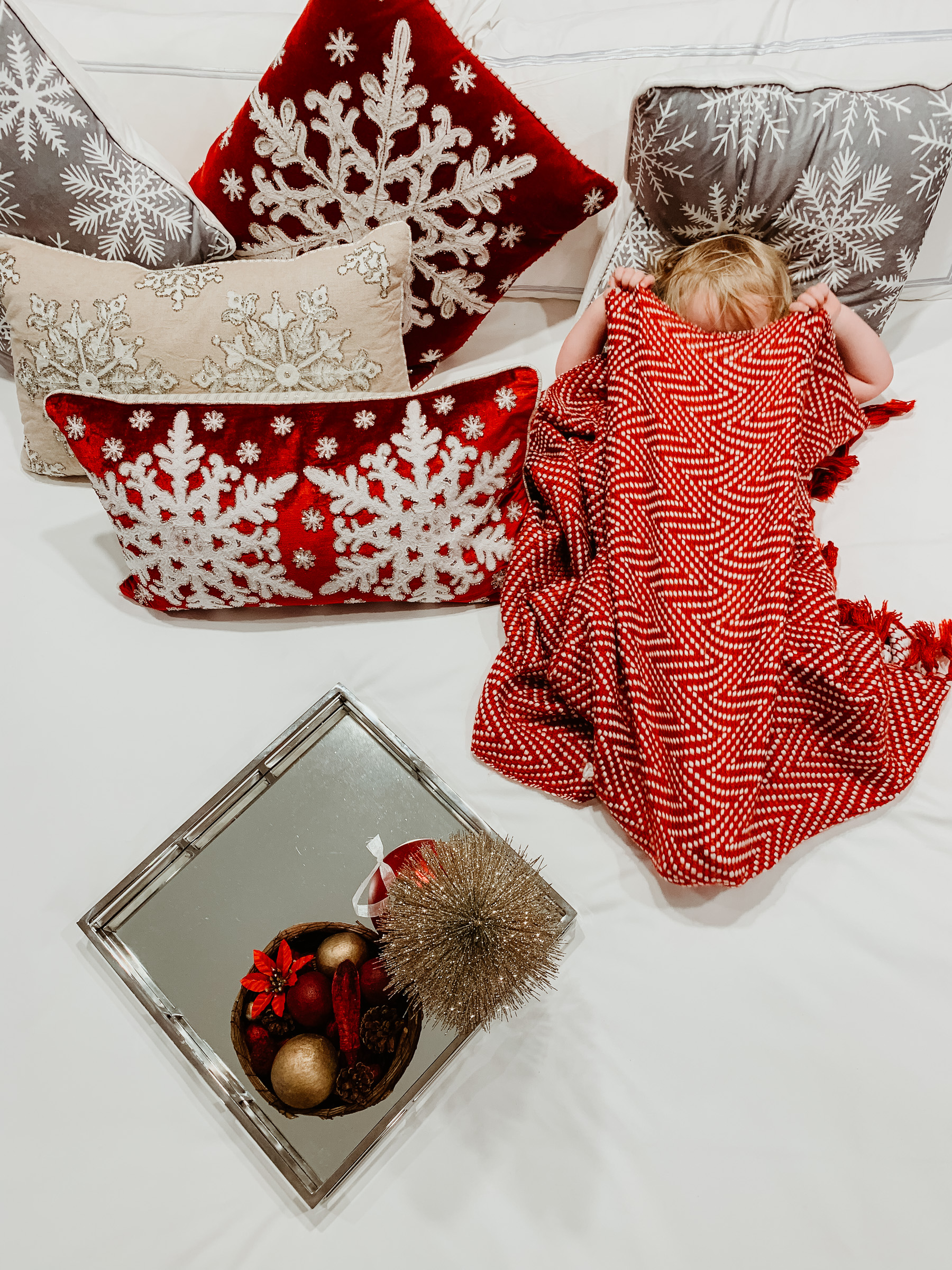 Goodnight!
We fell asleep as soon as our heads hit the pillows.
Side note: Emma had her own room! (Would you expect anything less? 😉) There was another "wing" where we could of had her sleep, but we decided to set up camp for her in Santa's room, where family photos are usually taken during those "Santa Days" I was telling you about, simply because it was closer to where we were sleeping. If you scroll down, it's the room with all the ornaments on the wall!
Of course, we snuggled and read stories in Mommy and Daddy's bed first. ;)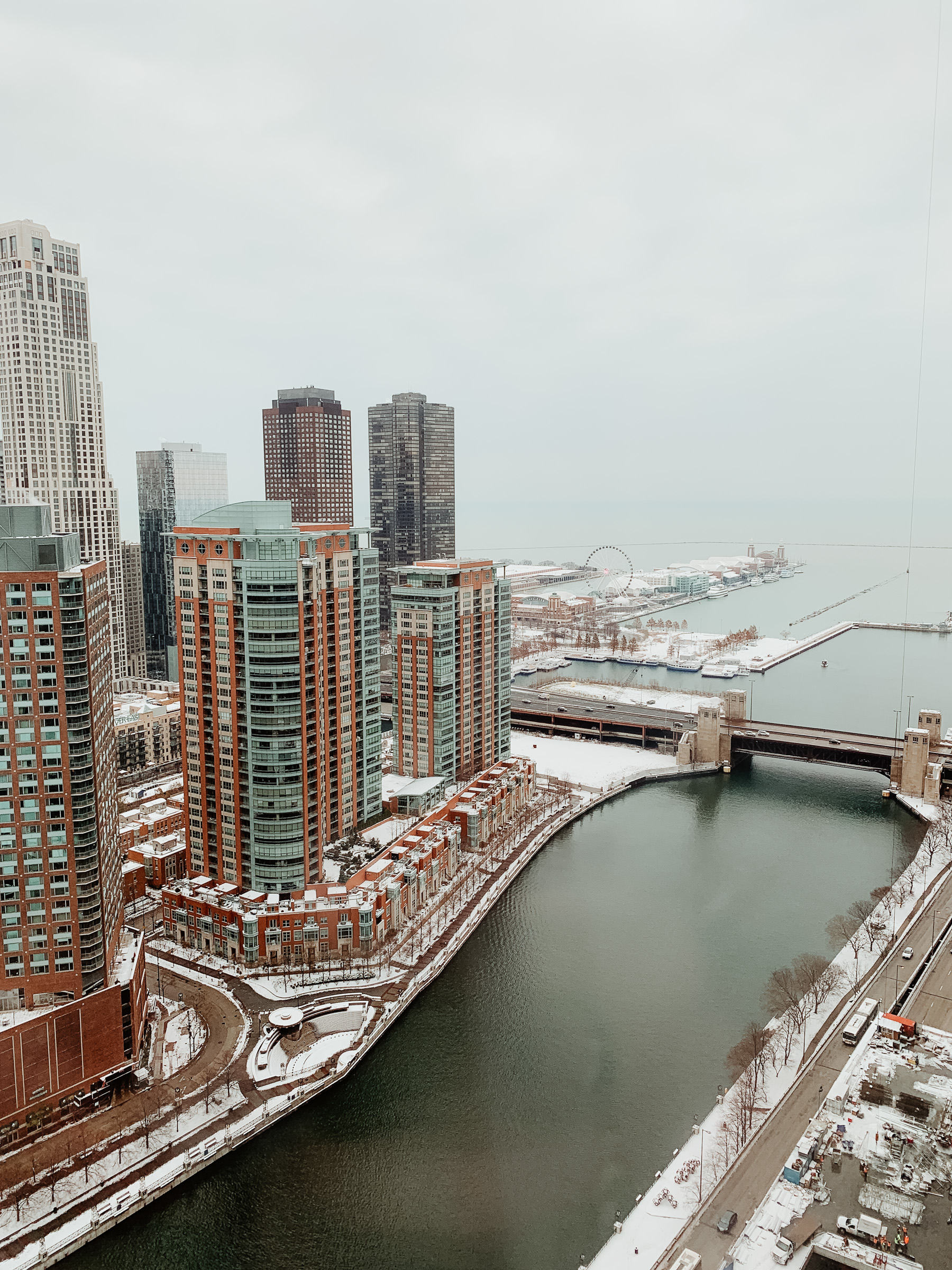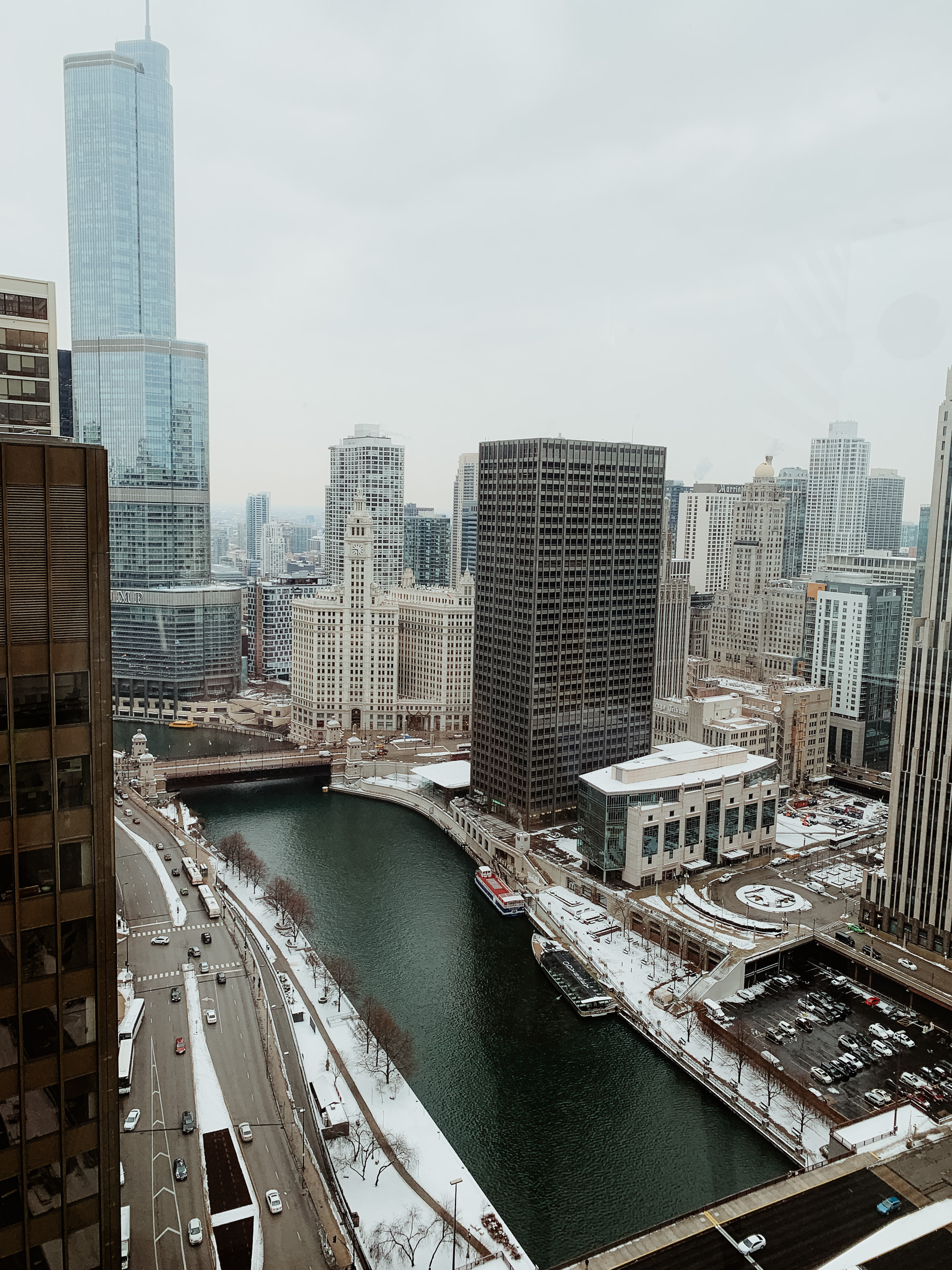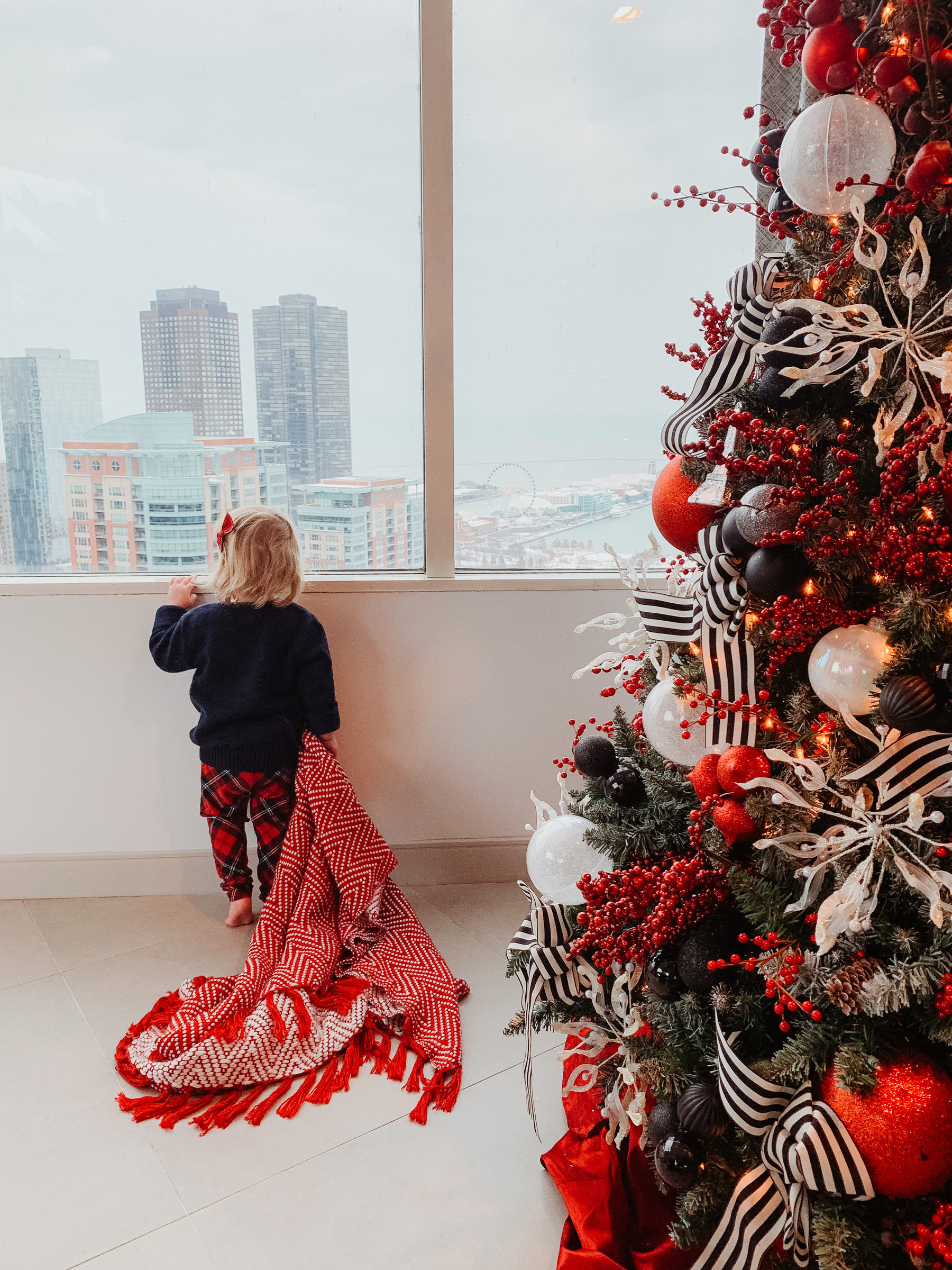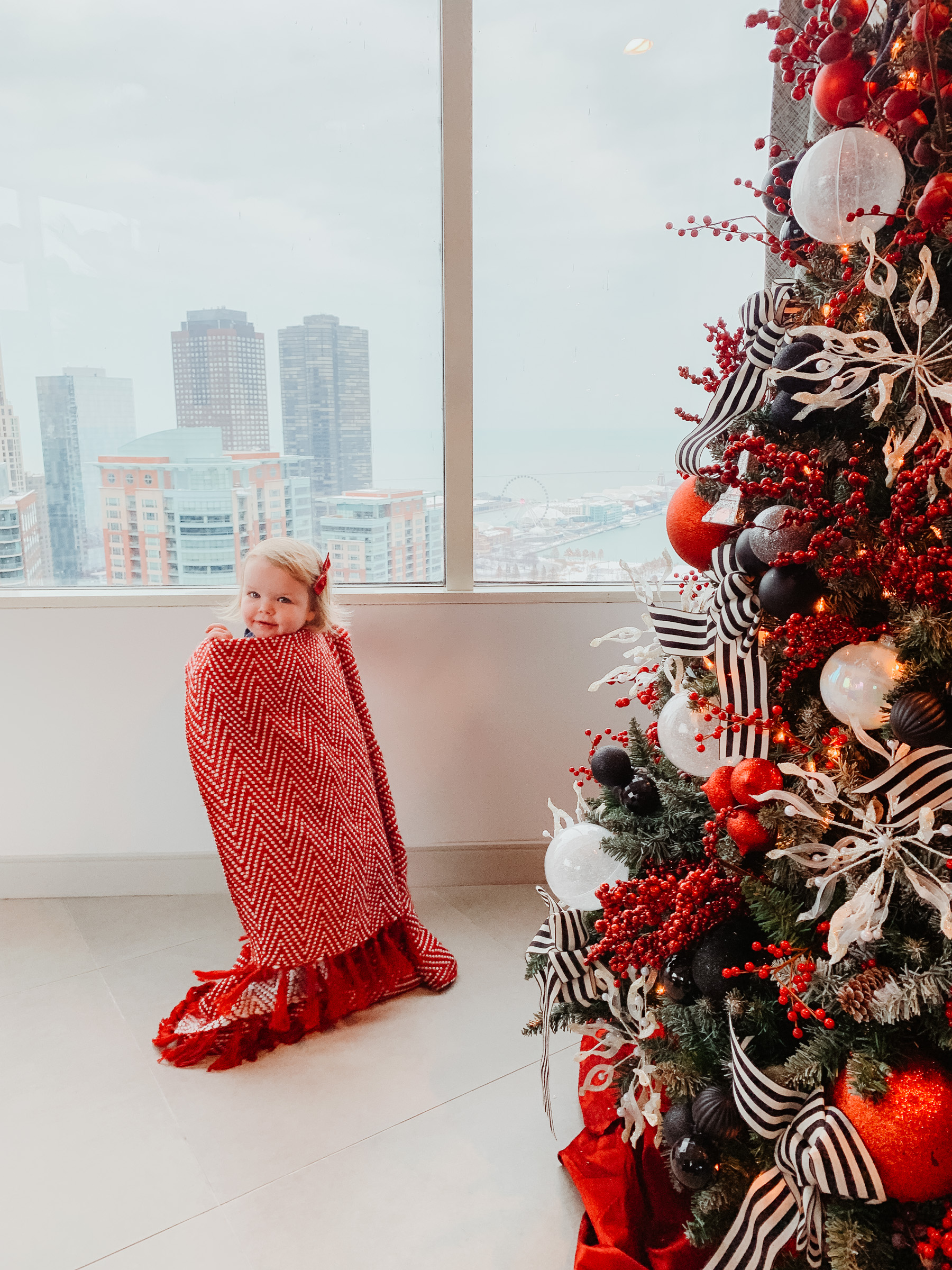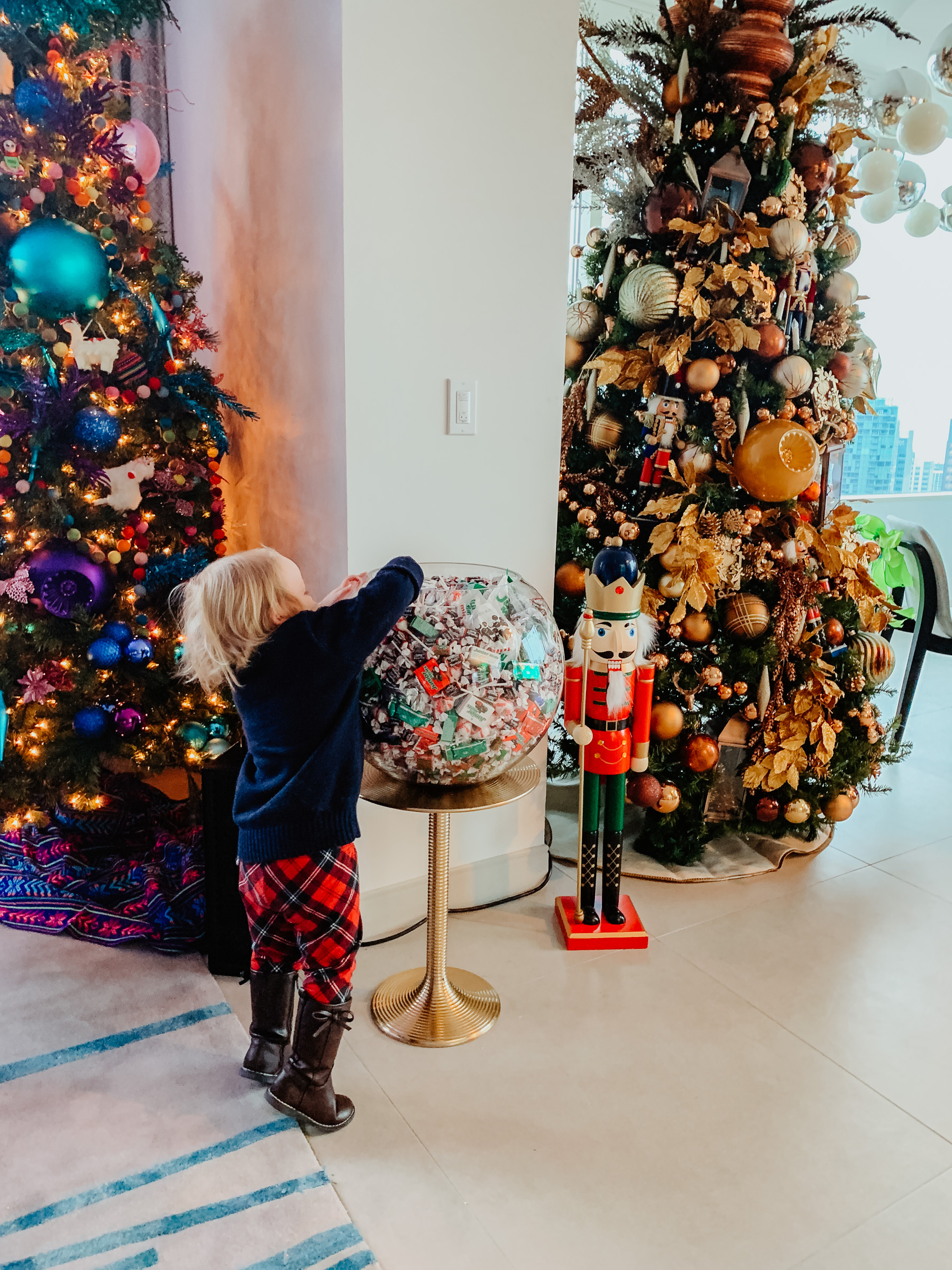 Waking up to snow
When we woke up, we discovered that it–of course–had snowed! How the Swissotel was able to pull that off, I'll never know… ;) We showered, had coffee and hot chocolate from the hot drink bar, and said our goodbyes to the Suite. (And Emma might have stuffed her coat pockets with candy.)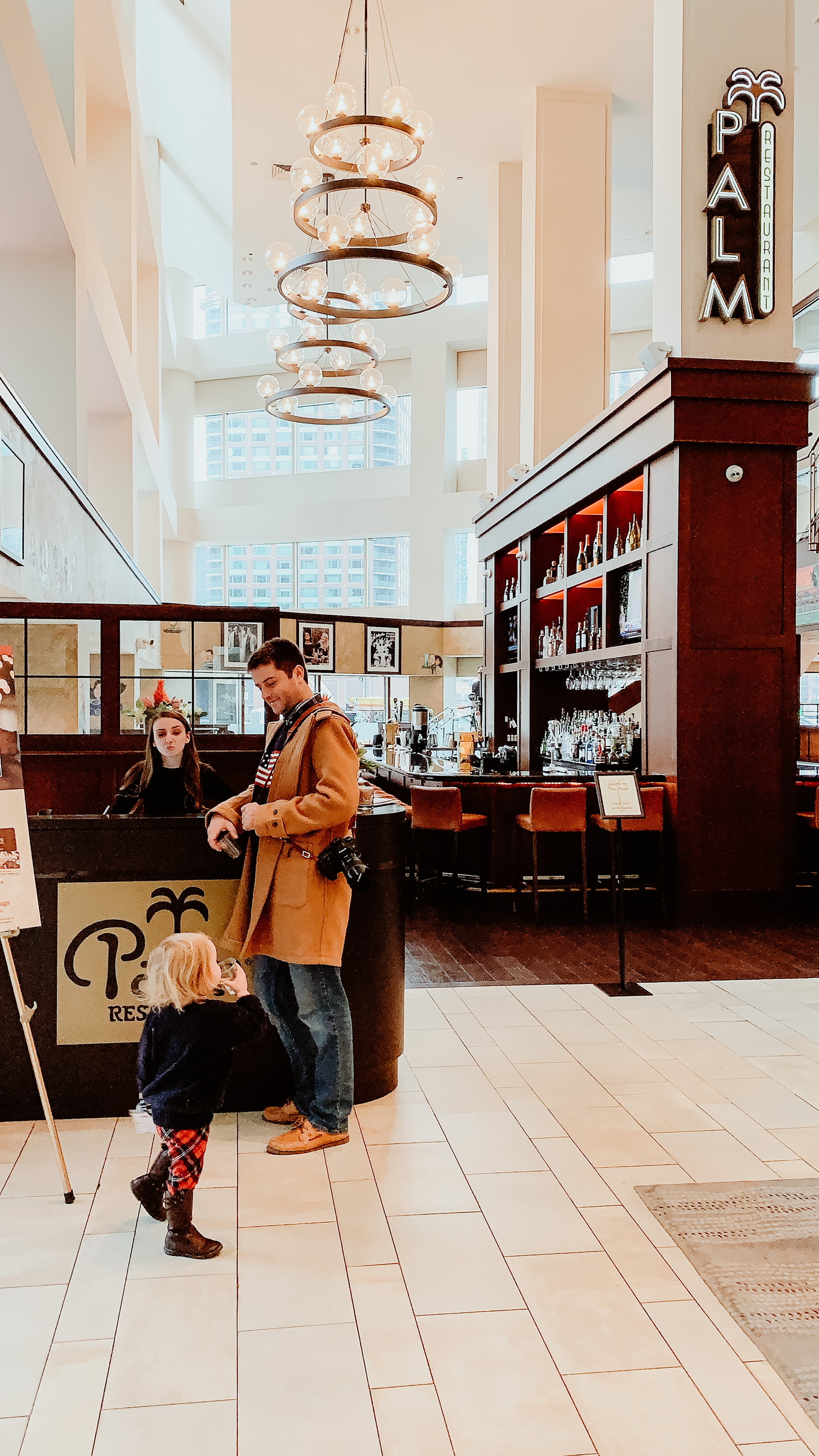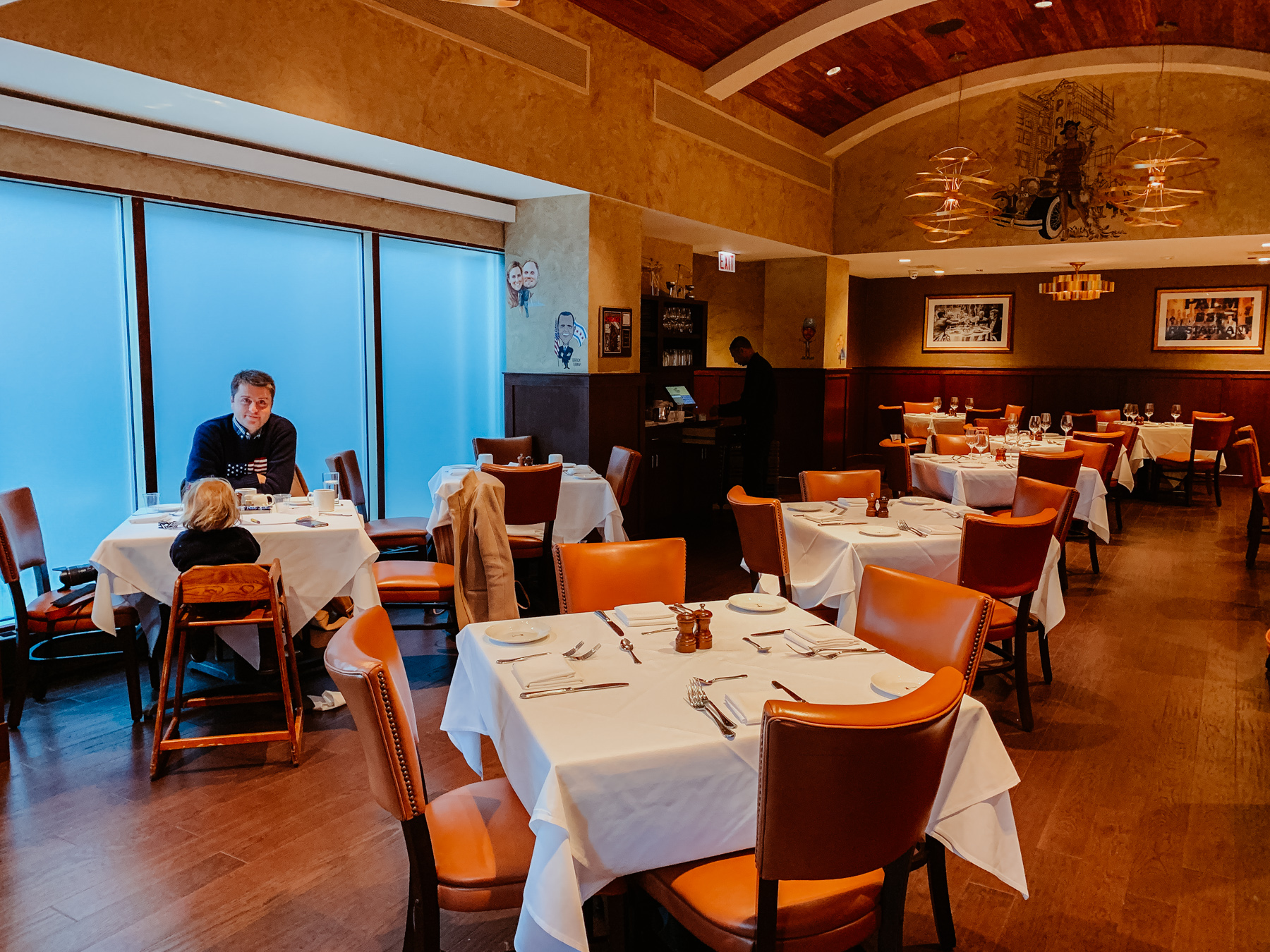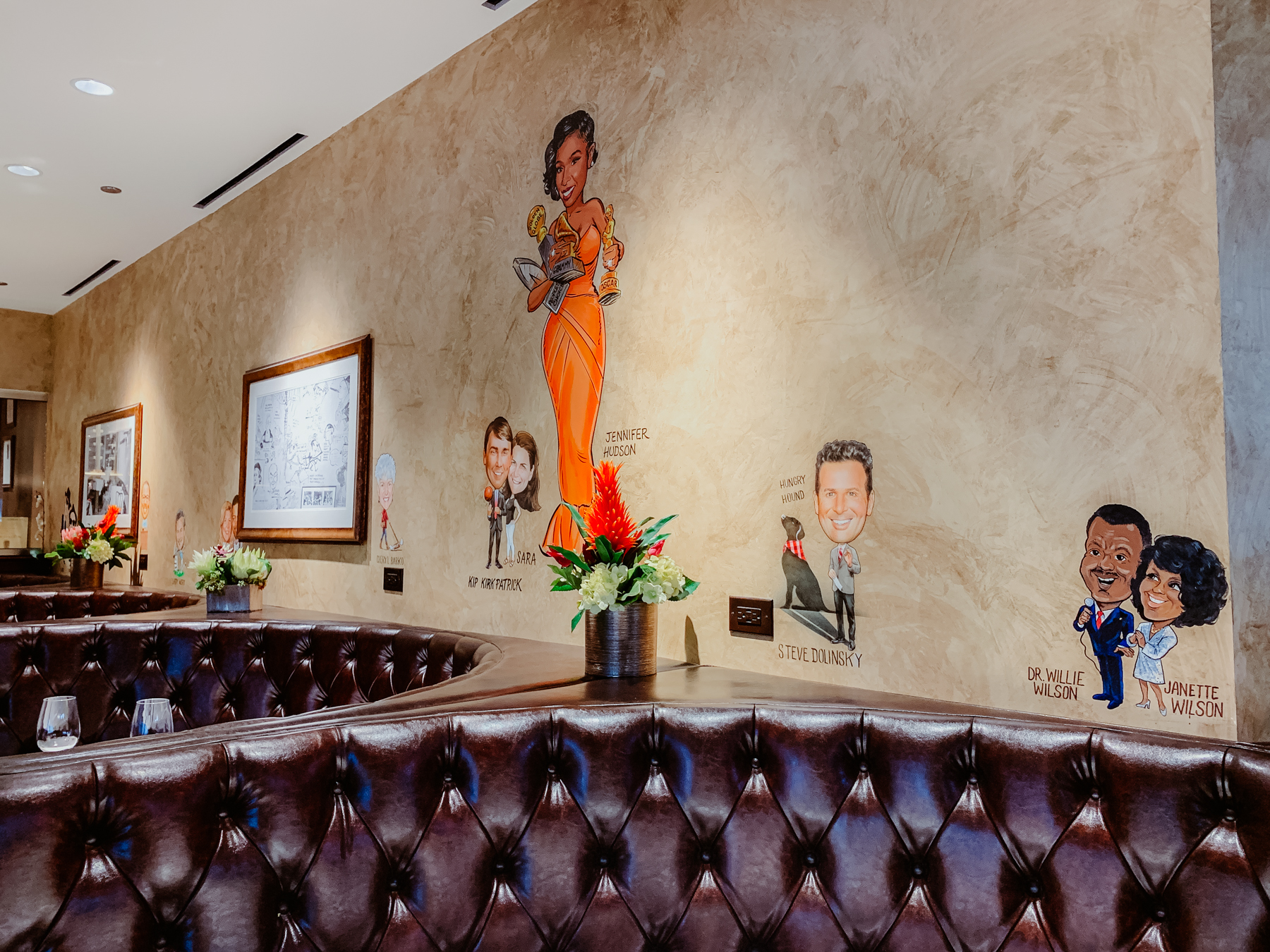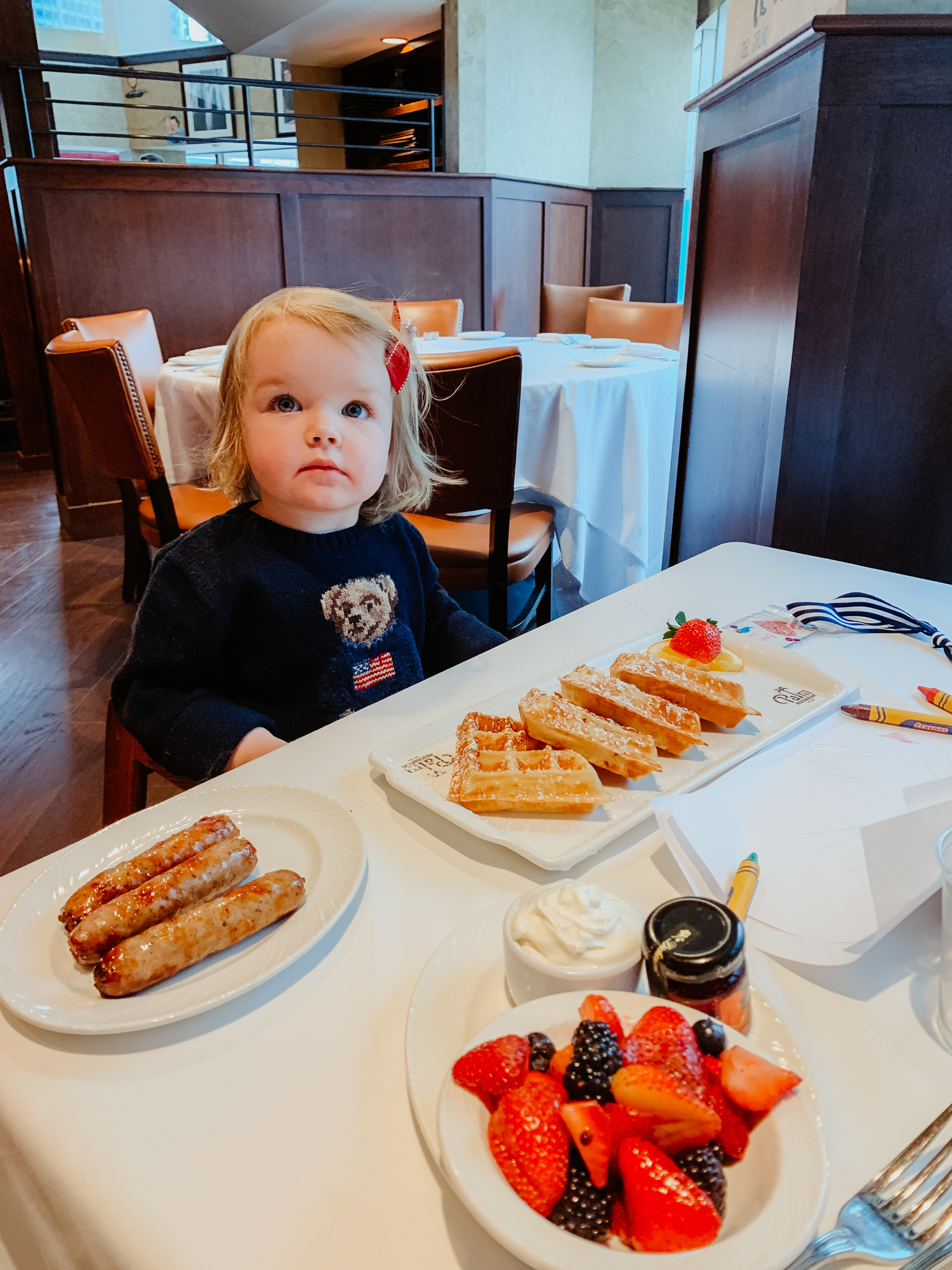 Breakfast at The Palm
After that, we made our way downstairs for breakfast at The Palm: an amazing steakhouse known for its caricatures painted all over the walls. I really can't tell you how much easier things are when there's a restaurant in the hotel we're staying at; everything just moves so slowly with a toddler in tow, and before you know it, everyone's having mental breakdowns because they're starving. But we waltzed right in and basically had the whole place to ourselves since we were so early!
I should mention that The Palm is very special to my family back in New York, so this only made our stay at the Swissotel more meaningful. My dad's been going to The Palm Too on Second Avenue between 44th and 45th for 30 years, and actually has his caricature painted on the wall because he's so close with the staff! (In no way famous, though, haha. Got a lot of questions about that on IG Stories, which Dad got a kick out of.) I'd meet him there very often in my 20s for Father-Daughter Dinner Nights, and I think it'll always be our favorite restaurant. :)
Needless to say, our breakfast was exquisite. Just look at that spread in front of Emma!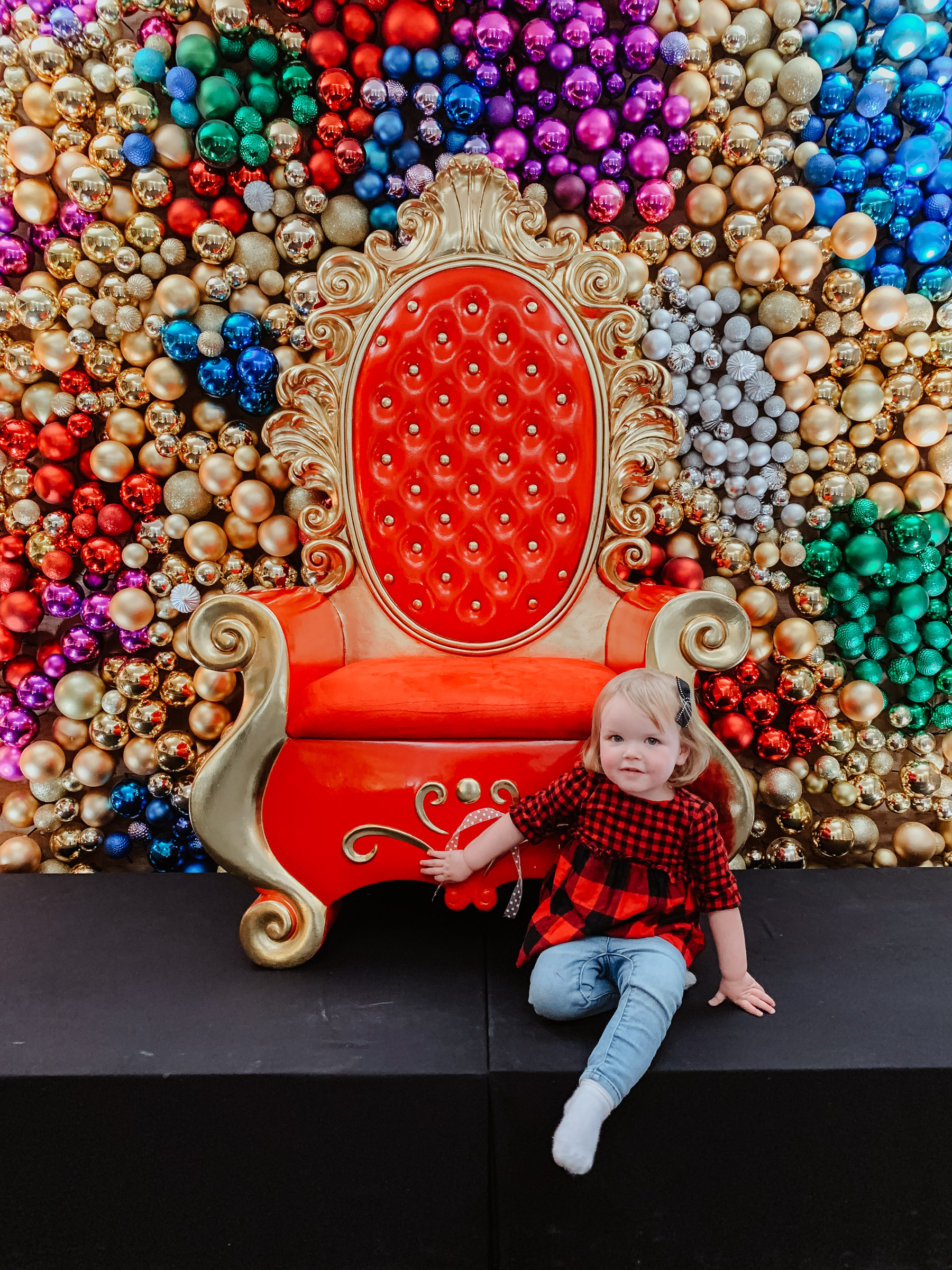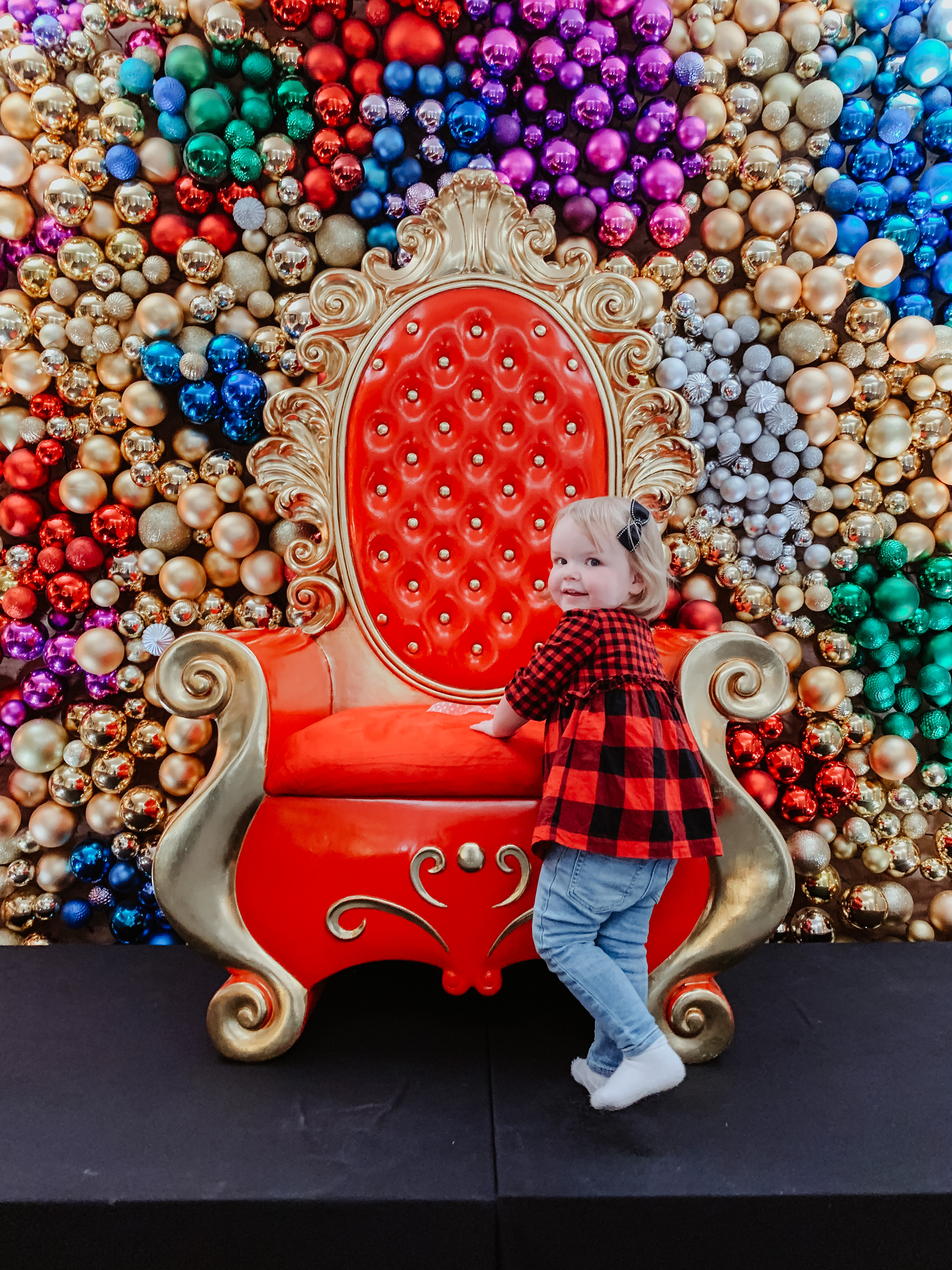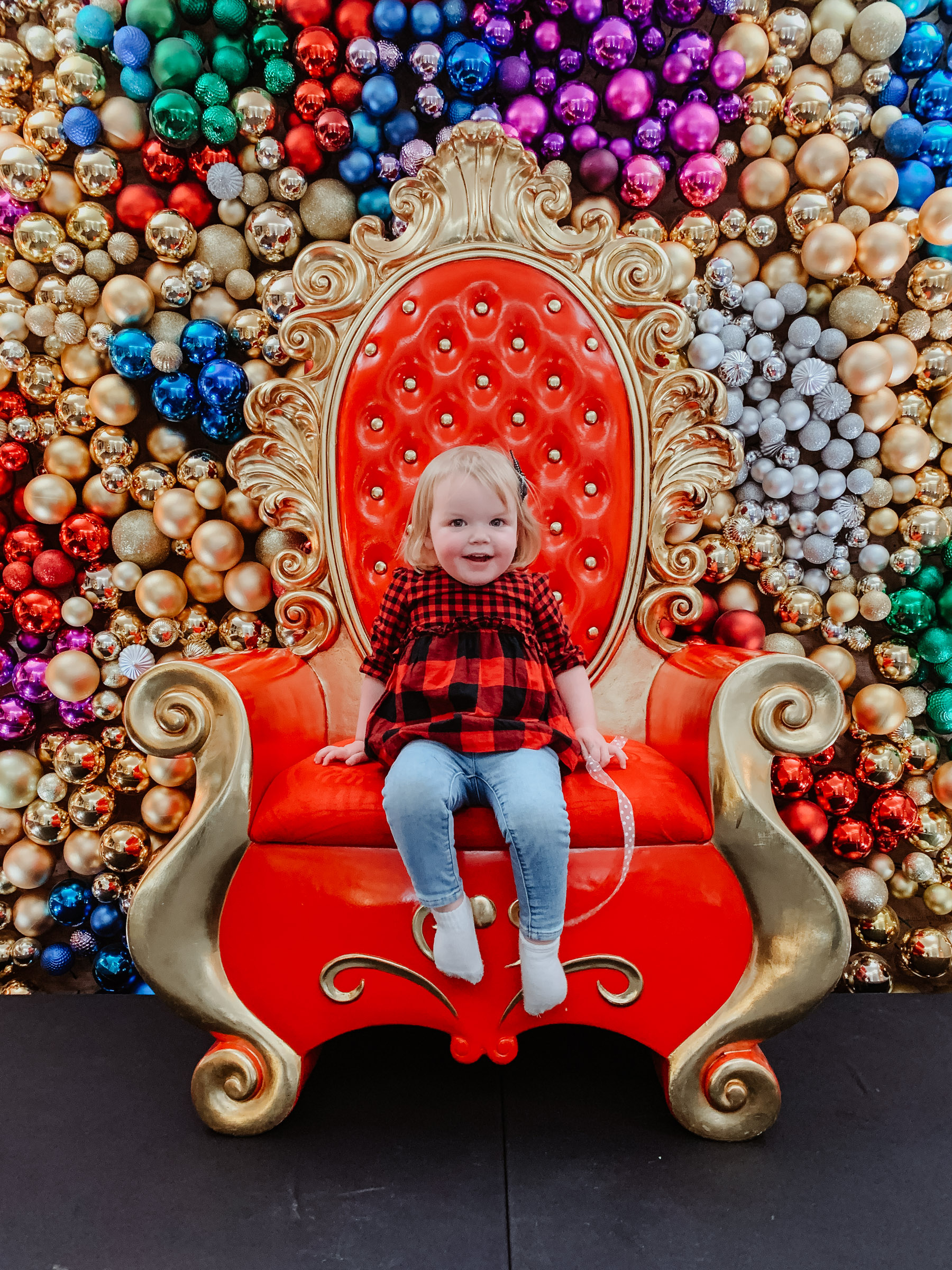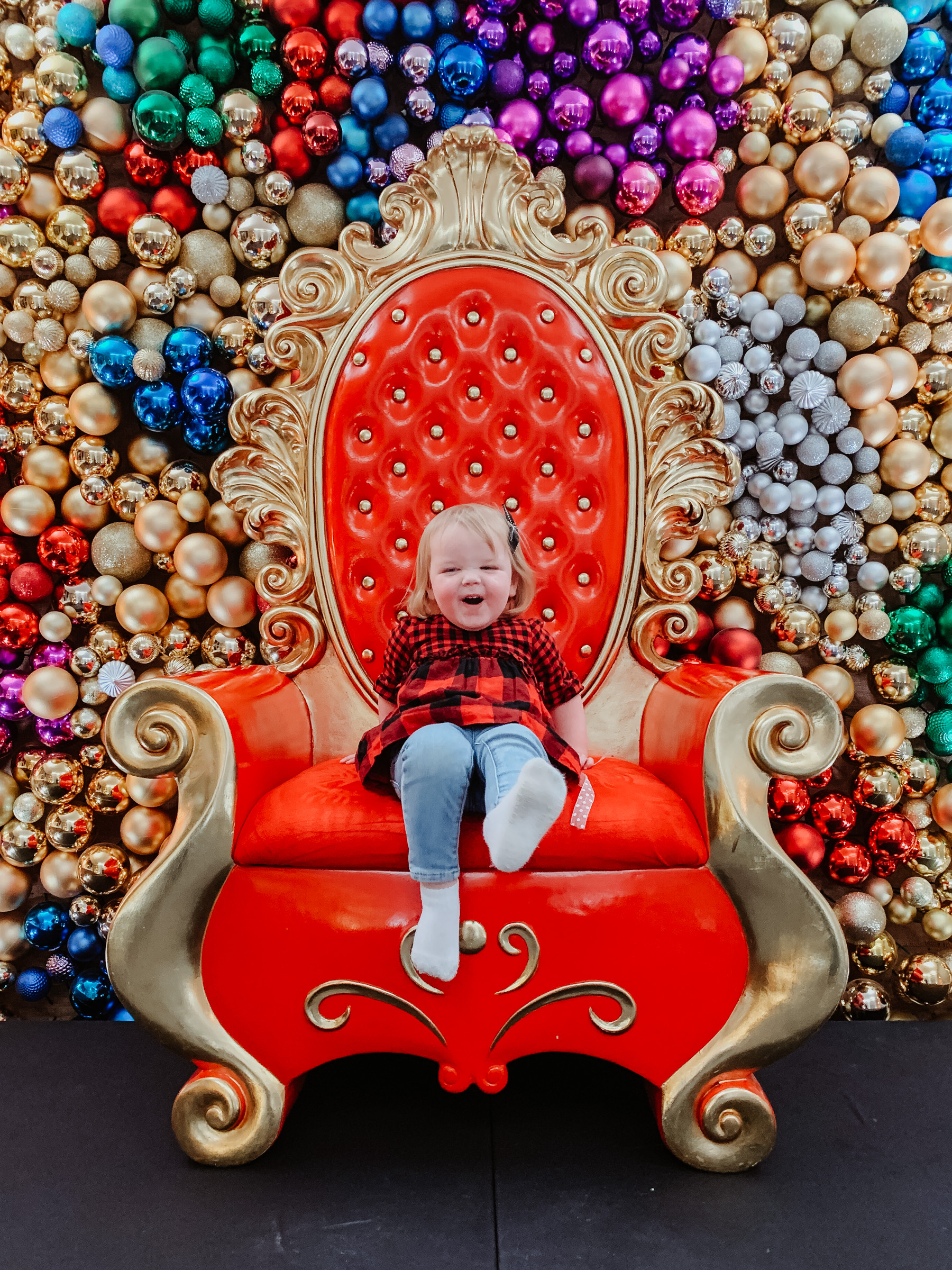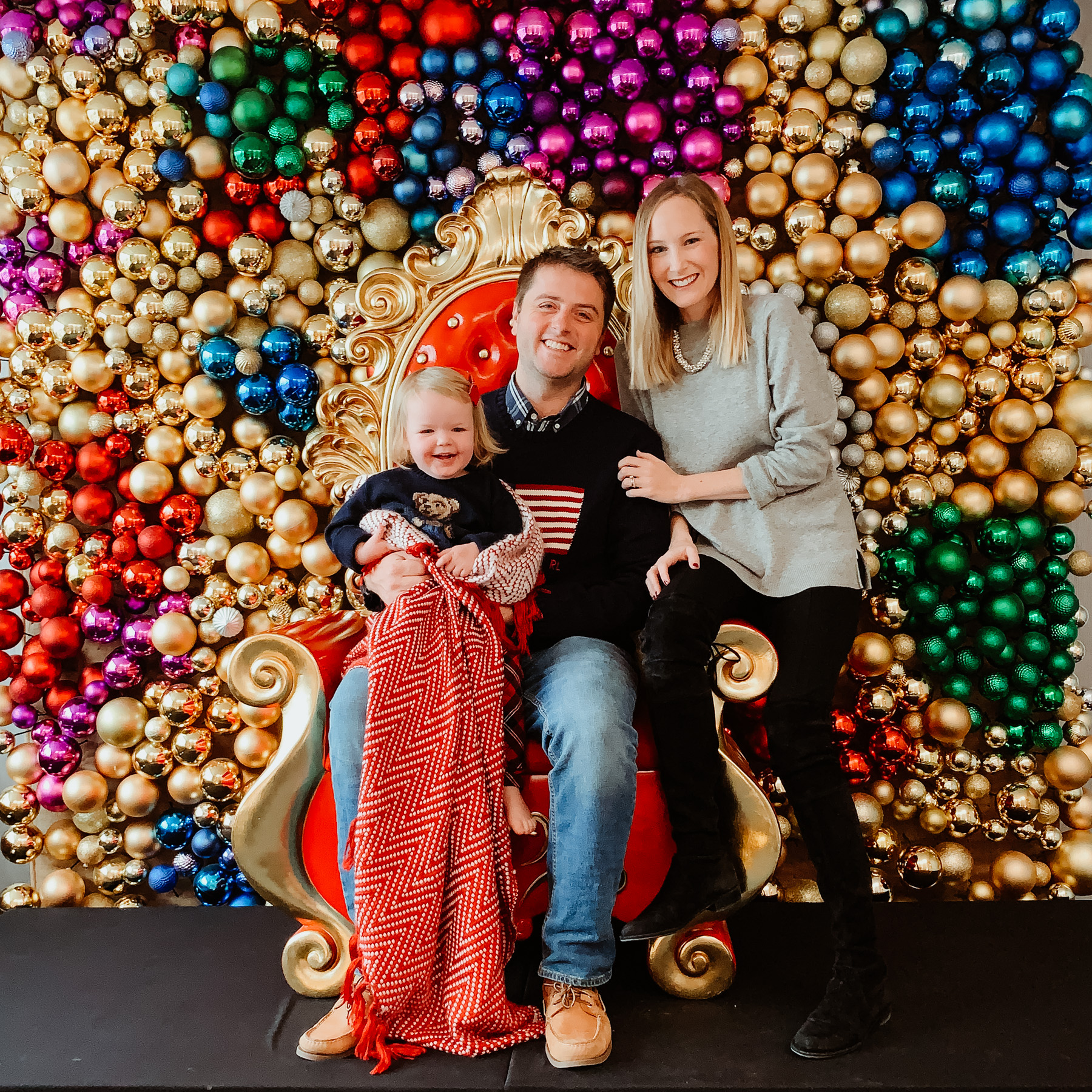 Thank you
A huge thank you goes out to the Swisshotel for making all our holiday dreams come true. I'll be honest and say that I had been feeling a little sad that I wasn't making the season special enough for Emma as I'd been struggling with morning sickness for so long… but this was everything, and I loved watching my little girl's eyes light up again and again. Thank you, thank you, thank  you, Swissotel!
For a similar experience, consider staying in one of the fabulous "Elf-Decorated Rooms" or visiting the the Santa Suite! (Elf-Decorated Rooms can be booked through the 31st; the last "Santa Day" is this Saturday, December 23rd.)
This post was not sponsored, but the Swissotel graciously covered our stay. Thank you, Swissotel!