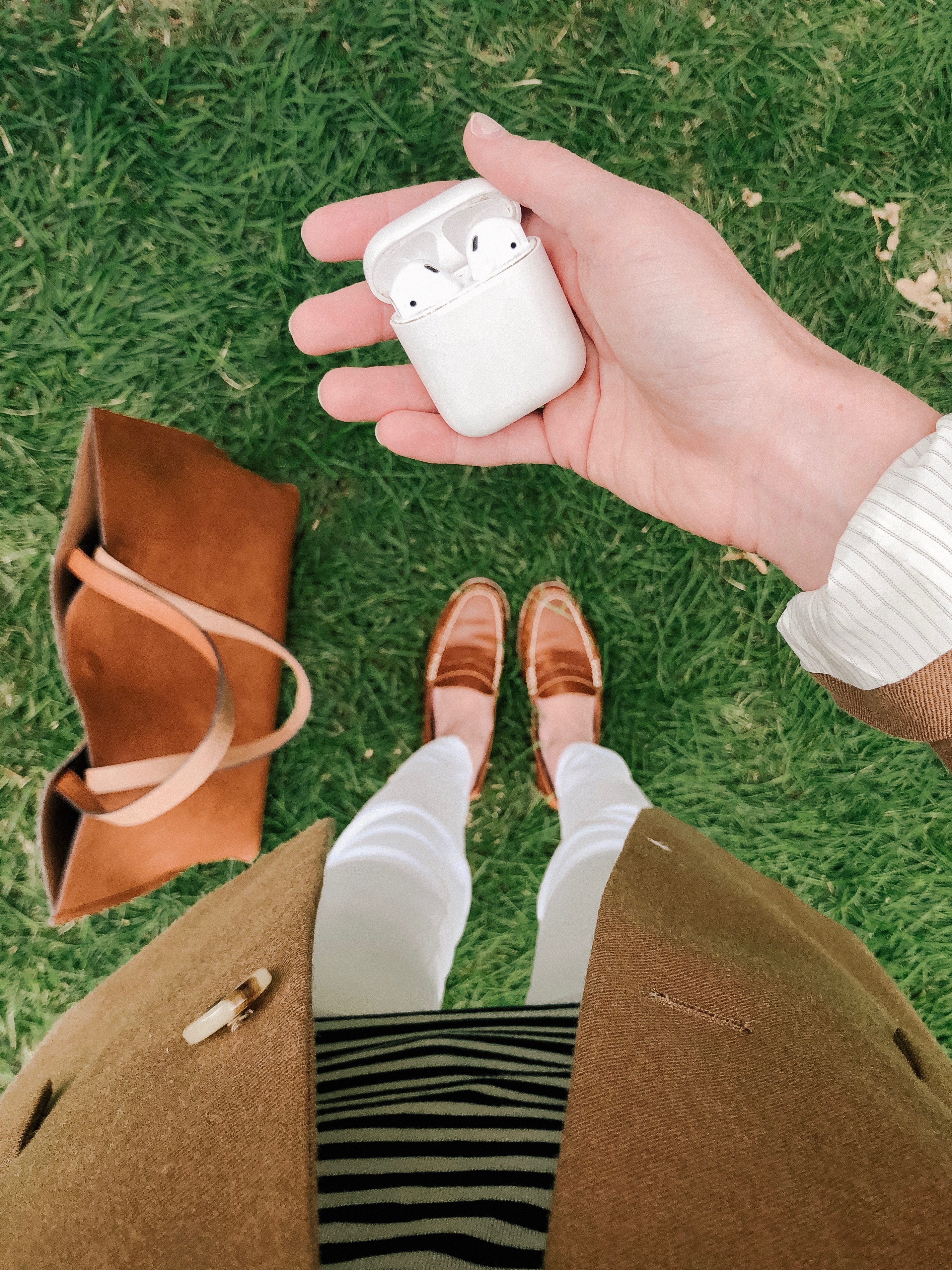 Camel Blazer (Factory Version here.) / Favorite White Skinny Jeans / Faux Leather Tote (Under $50!) / Favorite Loafers (Run TTS and super padded. I also love this pair from Madewell. Madewell makes a mule and a traditional penny loafer, too.) / Striped Tee (Also available here. Here's the long-sleeved version.)
Mitch here!
"Mitch time" is in short supply these days and in between tantrums, daycare drop-offs, diaper duties and, you know, work–I have to find little moments for myself.
So I've become a bit of a podcast guy. I freakin' devour these things. So now, instead of reluctantly doing the dishes with Kelly after dinner, I jump up from the table and get started. Sometimes I even let her get out of cleanup time and send her off to play with Emma so I have more podcasting time. The kitchen's never been this spotless!
Here are some awesome podcasts that I'm currently enjoying along with the gear I use. Please let me know what I forgot, and share your favorites in the comments below. Here goes nothing!

Podcast essentials
My preferred podcasting app is Overcast. It's free and has all these little features that somehow make crushing a podcast more enjoyable. For example, Overcast's Smart Speed feature lets you 2x a podcast without making it sound like the Chipmunks. It also deletes those little bits of silence between words to speed things up even more! With Overcast, I can get an hour-long podcast out of the way in like 20 minutes.
I'd also like to give a shoutout to Apple's AirPods. Yes, they are ridiculous looking, but I keep them in my pocket at all times, and in a moment of calm–Noodle walks, grocery store runs, laundry days–I pop one in and podcast it up. I can't tell you what at joy it's been removing that headphone-wire-knot thing from my life.
Mitch's favorite podcasts
As a guy who no longer has time to read the newspaper every morning, I'm loving the New York Times new podcast, The Daily. It features a quick but in-depth explanation of a single current event every day, and it's the perfect thing to sort of break me out of the news-alert buzz mania going off in my pocket at all times. It's quickly becoming my go-to podcast.
Favorite Episode: How the Opiod Crisis Started
Marc Maron is an expert interviewer, and twice a week he publishes these long-form interviews with various famous creative people. He has an amazing ability to turn well-known voices into fully fleshed-out human beings, and I love that. It turns out that most celebrities have lived truly messed up and unique lives, and their stories are calming to me for some reason. WTF helps me remember that we're all just people, taking on each day as an experiment.
Favorite Episode: Melissa McCarthy
Here's the Thing is similar to WTF in that it's a long-form interview in which a famous person talks to another famous person about his or her life… but the real draw here is that Alec Baldwin is one of the most hilariously interesting people I've ever heard speak. His brilliance is so effortlessly entertaining that it's easy to forget he's one of the most famous actors in the world, and it's fascinating to listen to other world-famous people try to keep up with him.
Favorite Episode: The Making of 'Making a Murderer'
While entrepreneurialism is a somewhat untraditional lifestyle, hearing the stories behind companies like Instagram and Patagonia gives me confidence. The truth is that starting a business can be so many different things: rewarding, difficult, exciting, scary… But How I Built This is encouraging. It reminds me of the goals I've set for my business, and I typically call my business partner after each episode because I'm filled with ideas and inspiration. He probably finds this annoying.
Favorite Episode: Remembering Kate Spade
In our age of omnipresent news alerts, it's worth analyzing exactly how the media chooses to tell us stories. On the Media isn't a "fake news" rant, but rather a Peabody Award-winning analysis of how media works and how it works "on" us.
Favorite Episode: We the Liberators
I've luckily spent most of my life not having to deal much with the law, but with the help of Opening Arguments, I've grown a real appreciation for it, and the role it plays in our lives. The hosts, Thomas and Andrew, describe big legal topics of the day both hilariously and informatively.
Thomas Smith, the lawyer of the two, might be the smartest person I've ever heard speak. In the episode below from March, he predicted the exact legal pickle that unfolded this week.
Favorite Episode: Stormy Daniels is a Legal Genius
Now that I'm old, I'm starting to recognize that there are holes in my knowledge of American history. Slow Burn devotes itself to one huge and complicated event per season, and the stories are incredible. I just finished the Watergate season and it blew my mind. The next season is on the Monica Lewinsky scandal. I wonder what the third season will be about…
Favorite Episode: Saturday Night
You may notice that many of these podcasts are focused on interviews with successful people on their craft, and Song Exploder is no exception. Each episode centers around the creation of a popular song, and features interviews of the various musicians and an in-depth analysis of the creative reworkings of the individual musical components that came together (or were abandoned). I love how the podcast personifies the music and helps to explain that most of these super famous musicians are simply creative people trying to do something really well.
Favorite Episode: Gorillaz – Andromeda
Kelly wrote recently about her hatred of the question "What do you do?" — and while I mostly agree with her assessment, I find the question to be a fascinating foray into someone's life. Working asks the question to all kinds of different people, and what follows are often amazingly engaging discussions of not just what people do but what people do all day. We spend most of our lives at work, and often times people never get the chance to talk about it. With episode titles like How does a New Orleans Musician Work? and How Does a Comic Book Store Owner Work? the podcast tells the story of how people actually live their lives.
Side note: I'm actually in the middle of a "What Mitch Does" post so keep an eye out for that.
Favorite Episode: Stephen Colbert
It likely won't surprise you to know that I'm a bit of a dweeb. You did just read a post on my favorite podcasts, after all. The Talk Show is the work of my favorite tech blogger, John Gruber. I LOVE HIM. Gruber's site, Daring Fireball (I know, super dorky) and his podcast have long been a source of inspiration for me. I think of Gruber whenever people ask me what my ideal job is. The Talk Show is definitely the podcast on this list with the most narrow appeal, but three-hour long discussions about technology keep me hooked and entertained.
Favorite Episode: Holiday Party
Thanks for reading! Let me know which of your favorites I forgot and if any of my suggestions worked for you. And, as always…
Mitch. Out!