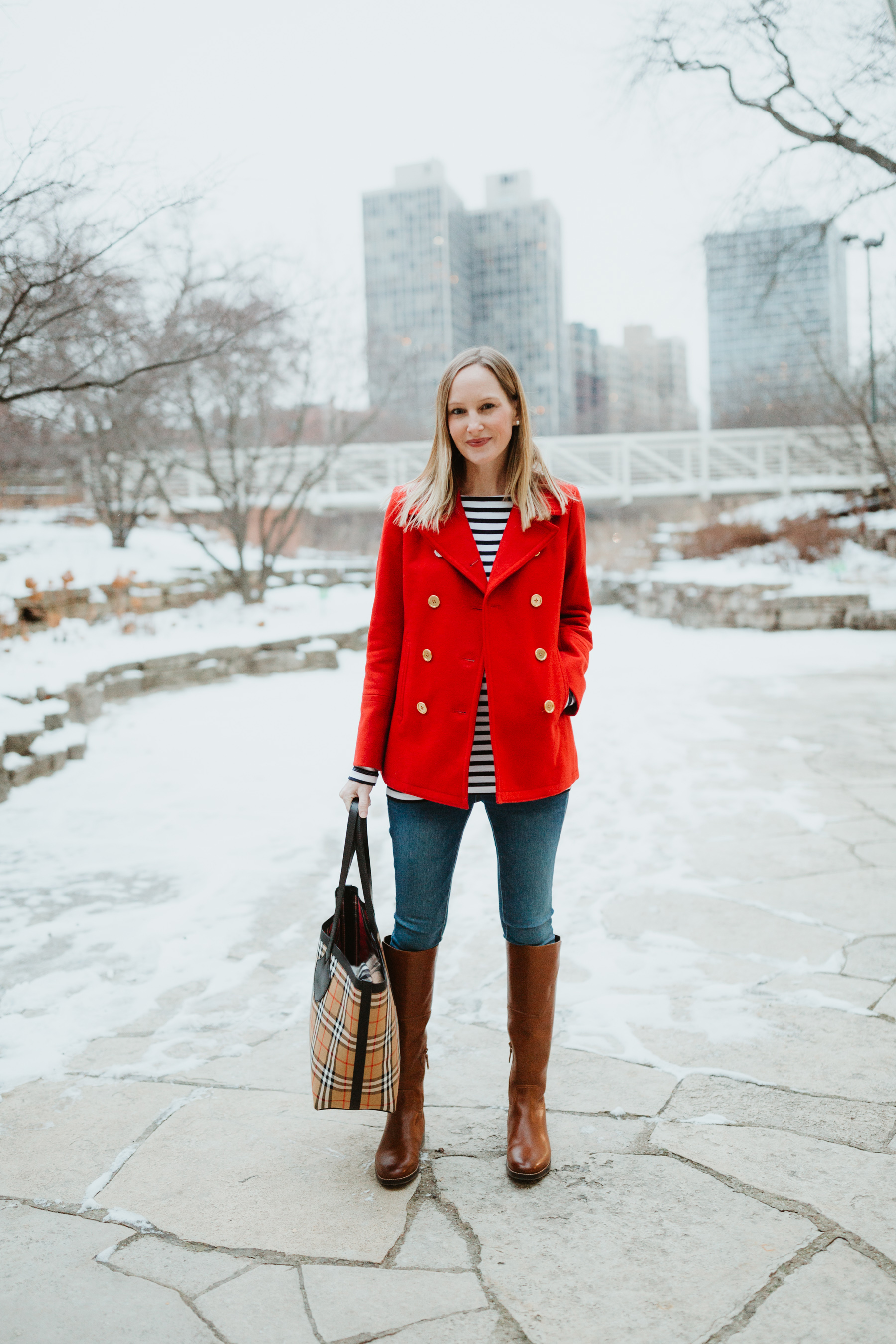 J.Crew 2008 Andover Peacoat (Find it here! I'd also try this one from L.L.Bean, or the fleece version, which does come in red. And then there's this one and this one from Lands' End. And here's that $38 peacoat I've been raving about for years! Great red peacoat option here, too.) / Cole Haan Harrington Riding Boots (Also available in black via Nordstrom. Here's the entire line of Harrington boots, and there's a great Harrington sale going on at Zappos. I also really like the Lexi Boot!) / Old Navy Rockstar Jeans (I'm wearing the maternity version, btw.) / Navy Striped Boatneck Tee (You can also find it here. I'm wearing Gap's maternity version.) / Burberry Tote (In stock here. Current Burberry totes here. This is a splurge, though it is reversible, and therefore two bags in one! That said, I recommend this $48 Faux Leather Tote just as much.)
Yesterday was kind of a disaster. 🙈
As you can see, it's been quite cold here over the last week, so Mitch and I have been trying hard to get Emma out of the house and involved in some new-to-us activities in the city. We're actually following this guide–25+ Kid-Friendly Indoor Activities for Chicago Winters–which I wrote last year!
Over the weekend, we hit up Little Beans Cafe, which was awesome. (Couldn't recommend it more. It's a very low-key coffee shop/restaurant, and they have a huge free-if-you-buy-a-coffee play space for kiddos.) And yesterday, we decided to visit the Peggy Notebaert Nature Museum, famous for its butterfly exhibit, for a couple of hours since we'd never been!
The museum itself was great, and totally ideal for youngsters. They have multiple water tables, which Emma LOVED… and the "Dora the Explorer" exhibit is basically a giant playground. We could have spent hours there! But it was just one of those toddler mental breakdown days. If you're a parent, I'm sure you've been there, haha. But ph-ew. While we did have a lot of fun, it was mostly a struggle… and when bedtime finally rolled around, Mitch and I collapsed onto the couch. 😂
Anyway, I'm trying to get back into featuring outfits on the blog. Admittedly, I wasn't loving it up until recently because A) the bump is hard to style, and B) my closet was in complete disarray. But because of the KonMari Challenge that the Larkin Family has been undertaking and a few maternity investments I finally made, I'm really feelin' it again! (I have this week's KonMari update coming tomorrow or Friday, btw. Be on the lookout!) Seriously, though: I've rediscovered and fallen back in love with so much of my closet as a result; it's been very fun!
A few favorites I want to highlight today:

This will always be a favorite. I'm actually pretty sad that J.Crew didn't bring back any of the old school classic coats this year; I was really hoping for toggles or peacoats in fun colors to brighten up these dreary winter months. Sigh. I did, however, link o some great alternatives above. :) I think my best recommendations would be this one from L.L.Bean, or the fleece version, which does come in red. This one and this one from Lands' End are great, too. And here's that $38 peacoat I've been raving about for years! (Yes, $38!) Great red peacoat option here as well.
I won't write a novel about these jeans since I already have. ;) But they're basically designer jeans for a quarter of the price. SO soft and comfy, yet they don't stretch out throughout the day. I'm wearing the medium wash maternity version, but my absolute fave is the dark wash. Order your pre-maternity size. (I know it sounds crazy, but if you order up, they'll be too big.)
This top should be in every preppy gal's closet. I wear mine constantly! It's just a t-shirt, but it adds a lot of "pop" and "oomph" to an otherwise boring outfit. And since it's long-sleeved, it's added warmth.

GUYS. Are riding boots back? I ditched them for a few years in favor of over-the-knee boots… but lately, I've been super into the riding boot look again. I don't know; there's just something so timeless about it. What do you think? Are you back in yours? Is it acceptable to wear 'em in the dead of winter?
I'm obsessed with this pair by Cole Haan (on sale!), as they're the comfiest I've ever owned. Absolutely no break-in time, they're very warm, and I love the color. I also think they complement the preppy stripes and peacoat very well! I went a half size up so I could wear thick socks with them (like I always do with boots), and while they're a little roomy, they're pretty much perfect. Zero blisters or rubbing while walking around the city, which makes for a GREAT boot, IMO!
Note: They're also available in black via Nordstrom. Here's the entire line of Harrington boots, and there's a great Harrington sale going on at Zappos. I also really like the Lexi Boot!
Ugh. Do I have a story about this one! I acquired this reversible tote because of a blog partnership, and I was understandably ecstatic, haha. (Pinch me, right?!) But I just knew I was going to ruin it, as it's fabric. So what did I do? I ScotchGuarded it. Genius, no?! Except not so much. I was convinced that I wiped all the product from the black straps and trim, but apparently I did not, and the thing became permanently stained with white blobs and speckles. :( So sad. I tried a bunch of different remedies but nothing worked… so I finally took it to the Village Cobbler in Lincoln Park and they made it look BRAND NEW. Honestly, I cannot believe it. I had assumed it was a lost cause… but it's truly flawless. (Go there if you have an old or damaged bag or pair of shoes!)
And yes, I've made quite a few terrible "pregnancy brain" mistakes over the last few months. Did I tell you that I finally found our duvet cover? IN A SUITCASE IN OUR STORAGE ROOM. Sheesh. The countdown to May begins! ;)
(Note: More current Burberry totes here. Looking for a better buy? I recommend this $48 Faux Leather Tote just as much!)
Over and out!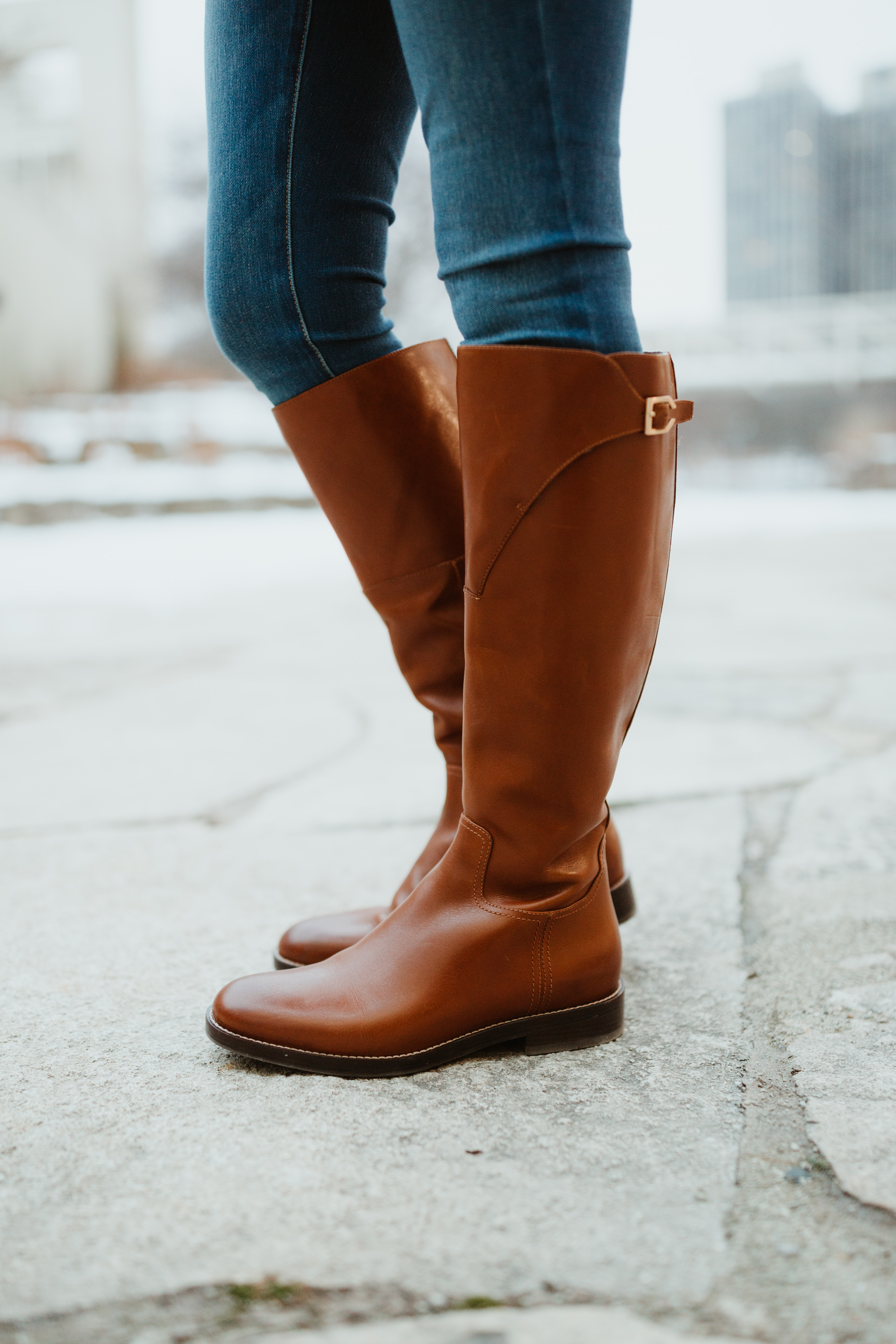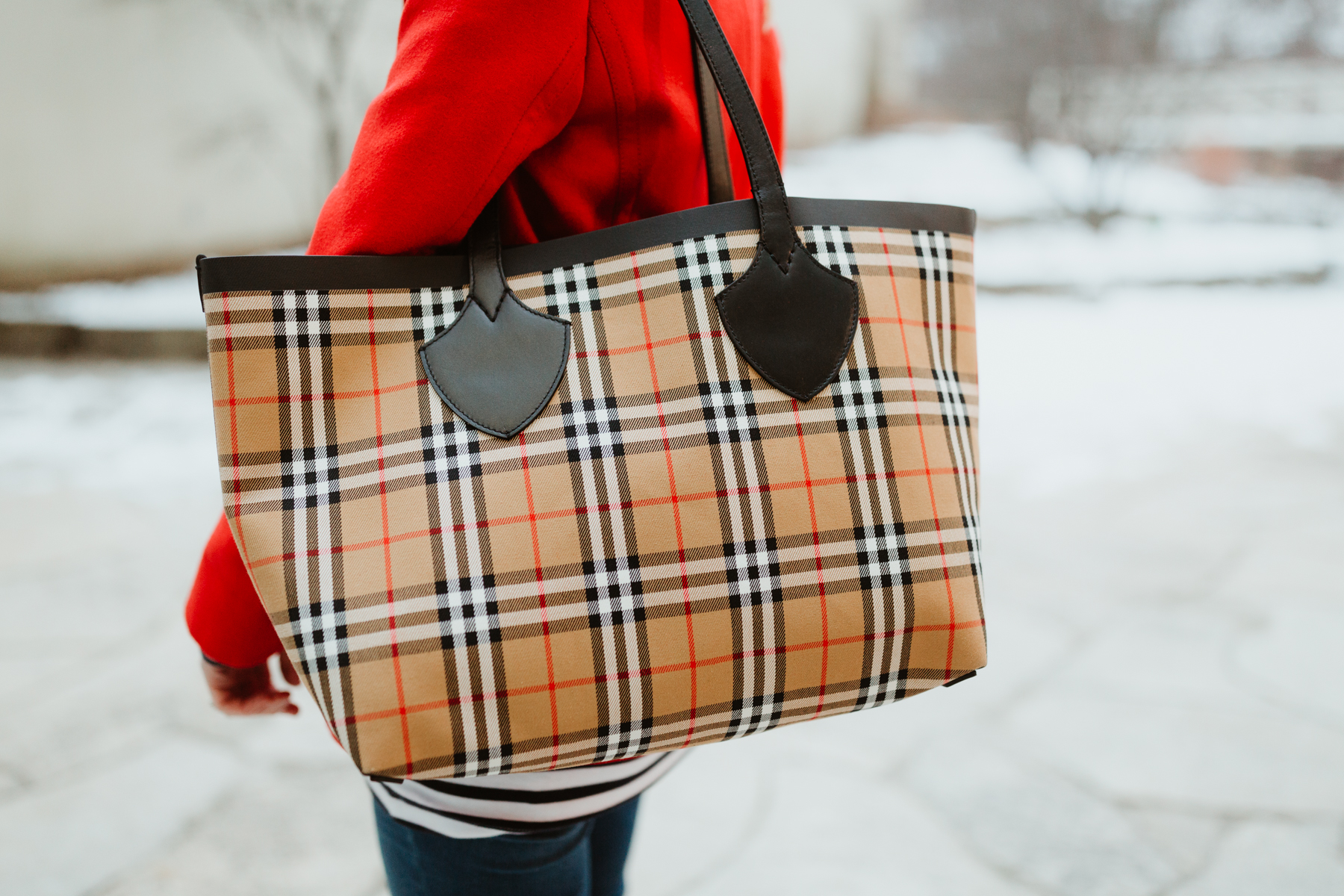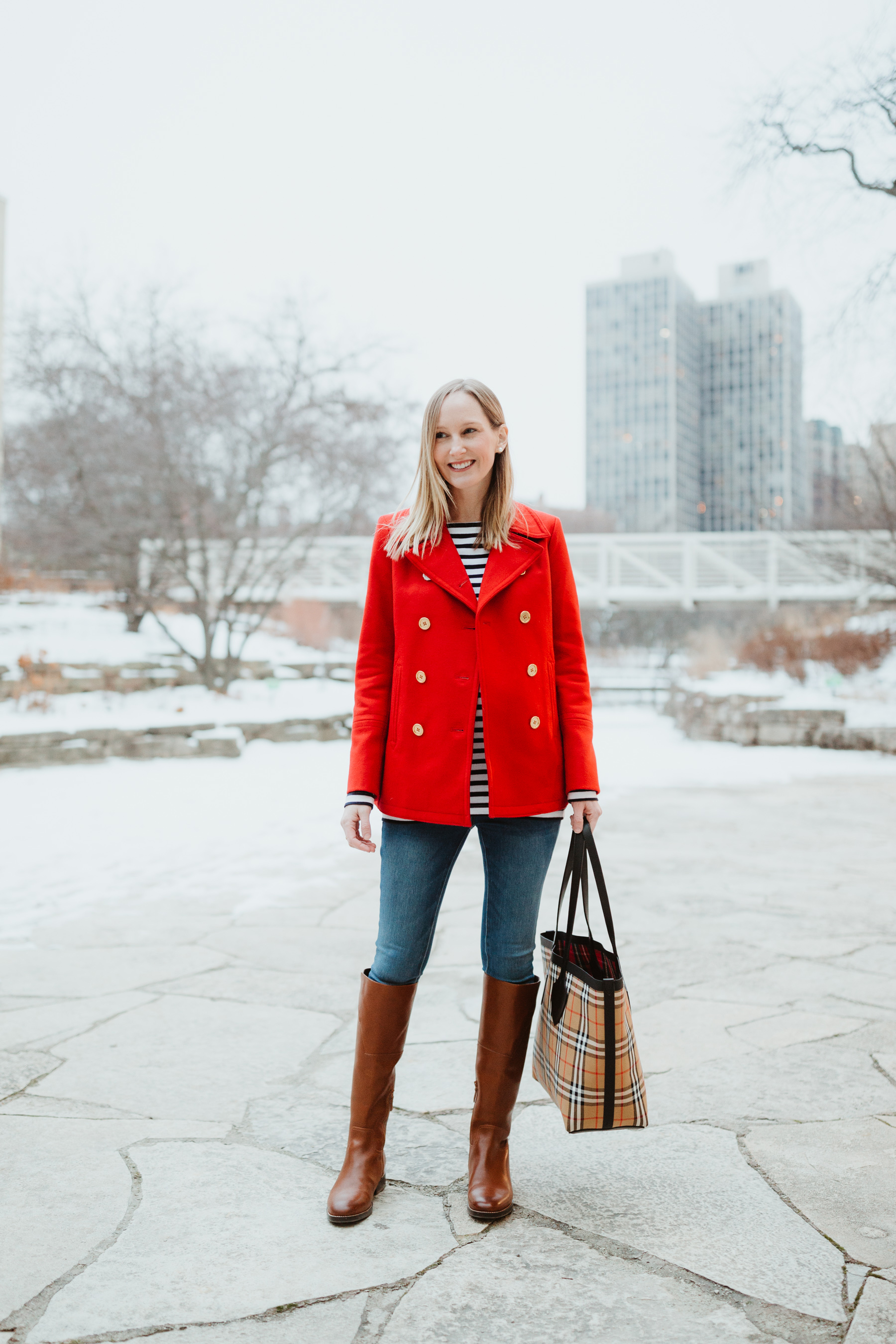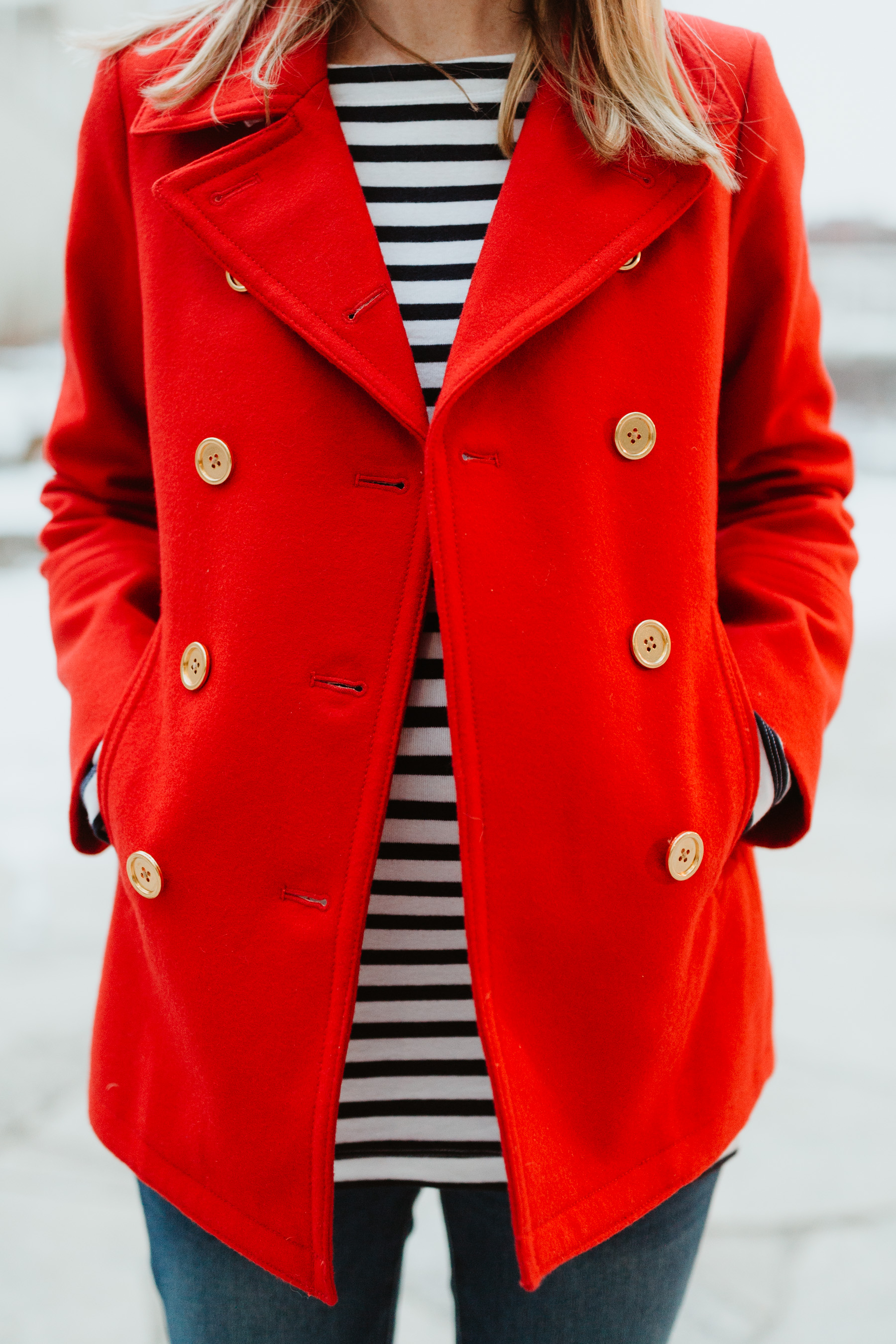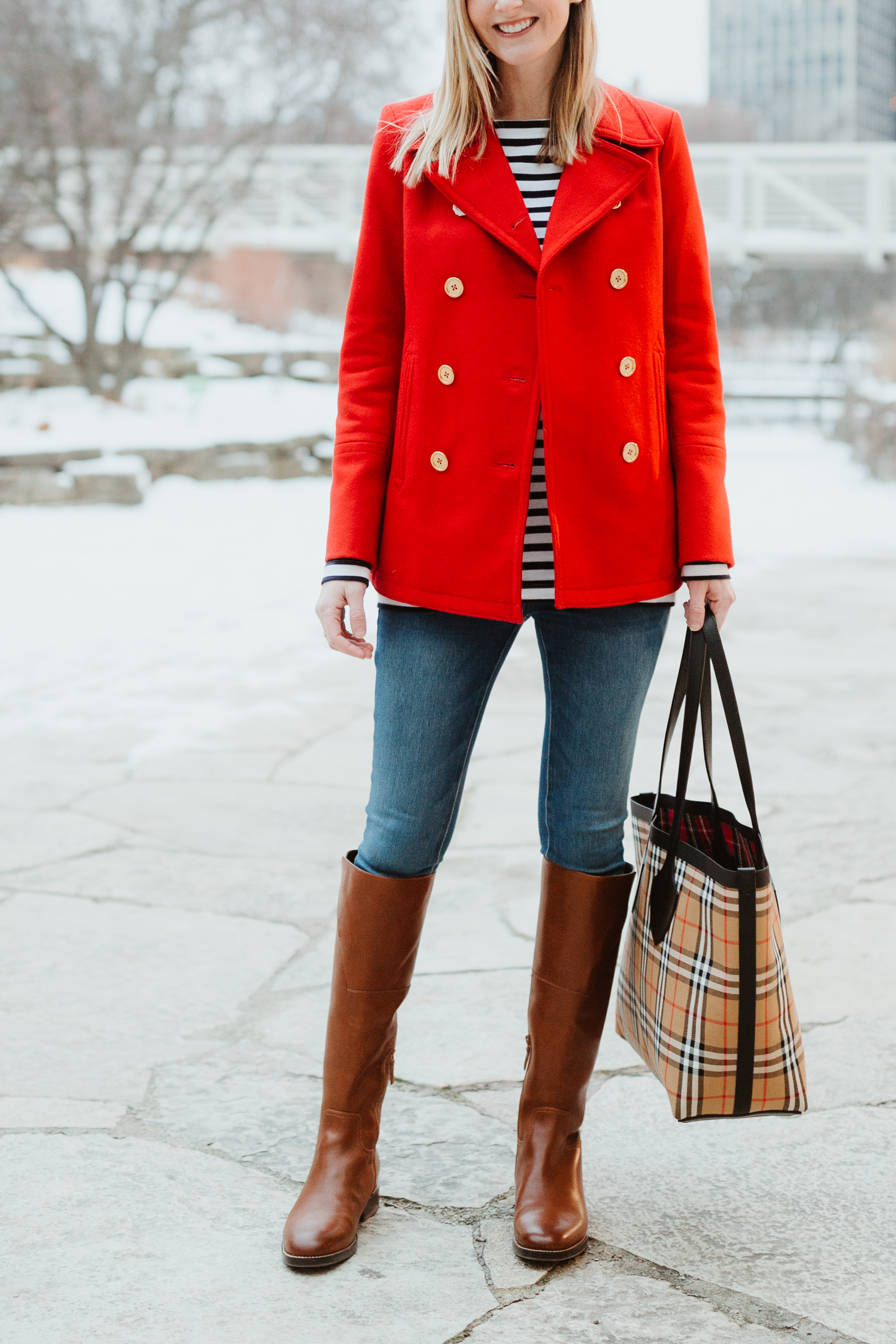 Shop the post:
J.Crew 2008 Andover Peacoat (Find it here! I'd also try this one from L.L.Bean, or the fleece version, which does come in red. And then there's this one and this one from Lands' End. And here's that $38 peacoat I've been raving about for years! Great red peacoat option here, too.) / Cole Haan Harrington Riding Boots (Also available in black via Nordstrom. Here's the entire line of Harrington boots, and there's a great Harrington sale going on at Zappos. I also really like the Lexi Boot!) / Old Navy Rockstar Jeans (I'm wearing the maternity version, btw.) / Navy Striped Boatneck Tee (You can also find it here. I'm wearing Gap's maternity version.) / Burberry Tote (In stock here. Current Burberry totes here. This is a splurge, though it is reversible, and therefore two bags in one! That said, I recommend this $48 Faux Leather Tote just as much.)