I always have a hard time coming back from a long weekend, even if I didn't go anywhere. ;) But I'm excited about having a "normal" week–I have tons on my list to accomplish–and I'm hunkering down at a coffee shop to get as as much done as I can. Hope you guys had a really wonderful holiday weekend, and spent it with family and friends!
On to another "Life, Lately" post, as I'm trying to make them a regular thing. And yes, I'm wearing the same two shirts in nearly all these photos because… nothing fits, haha!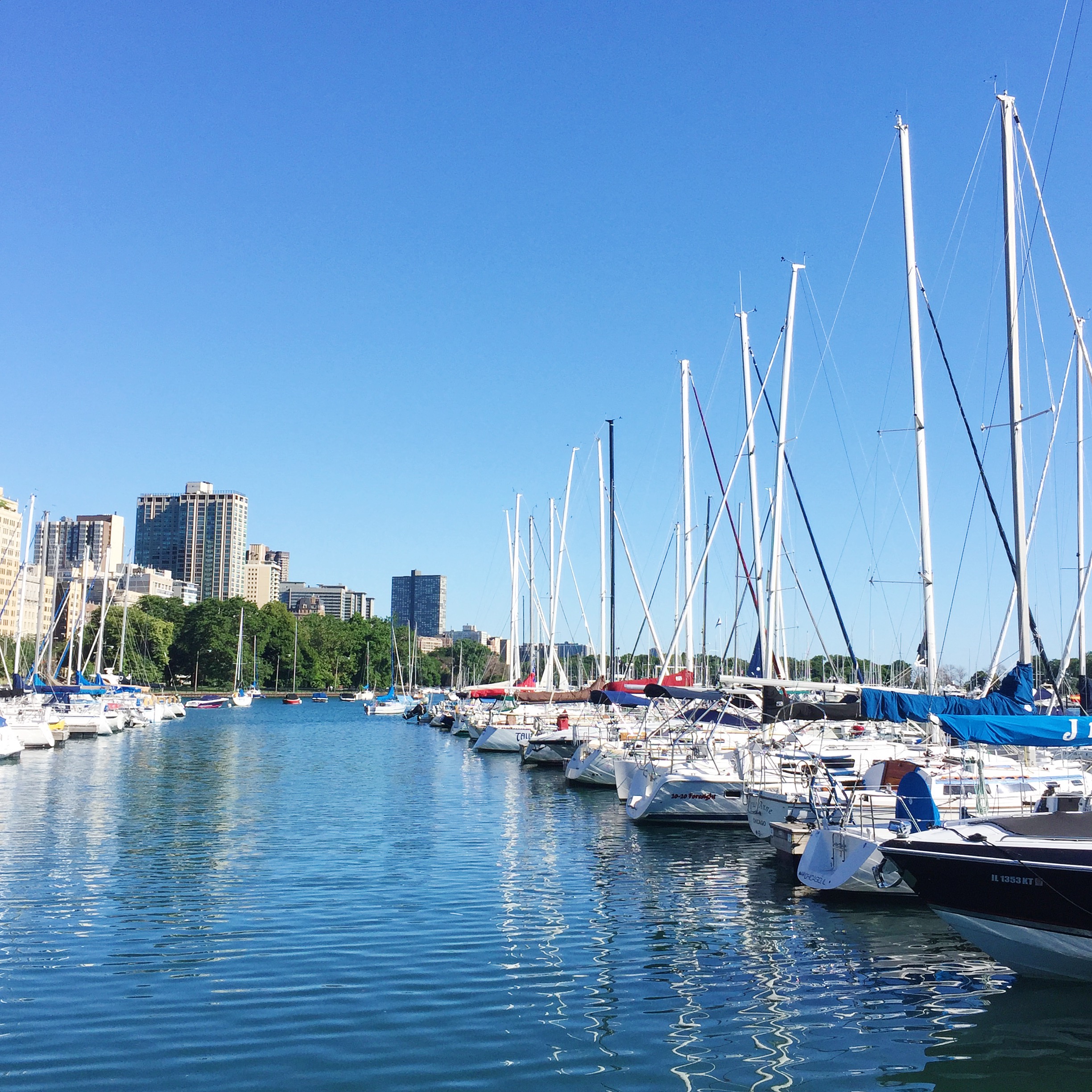 Such a gorgeous day out on the harbor.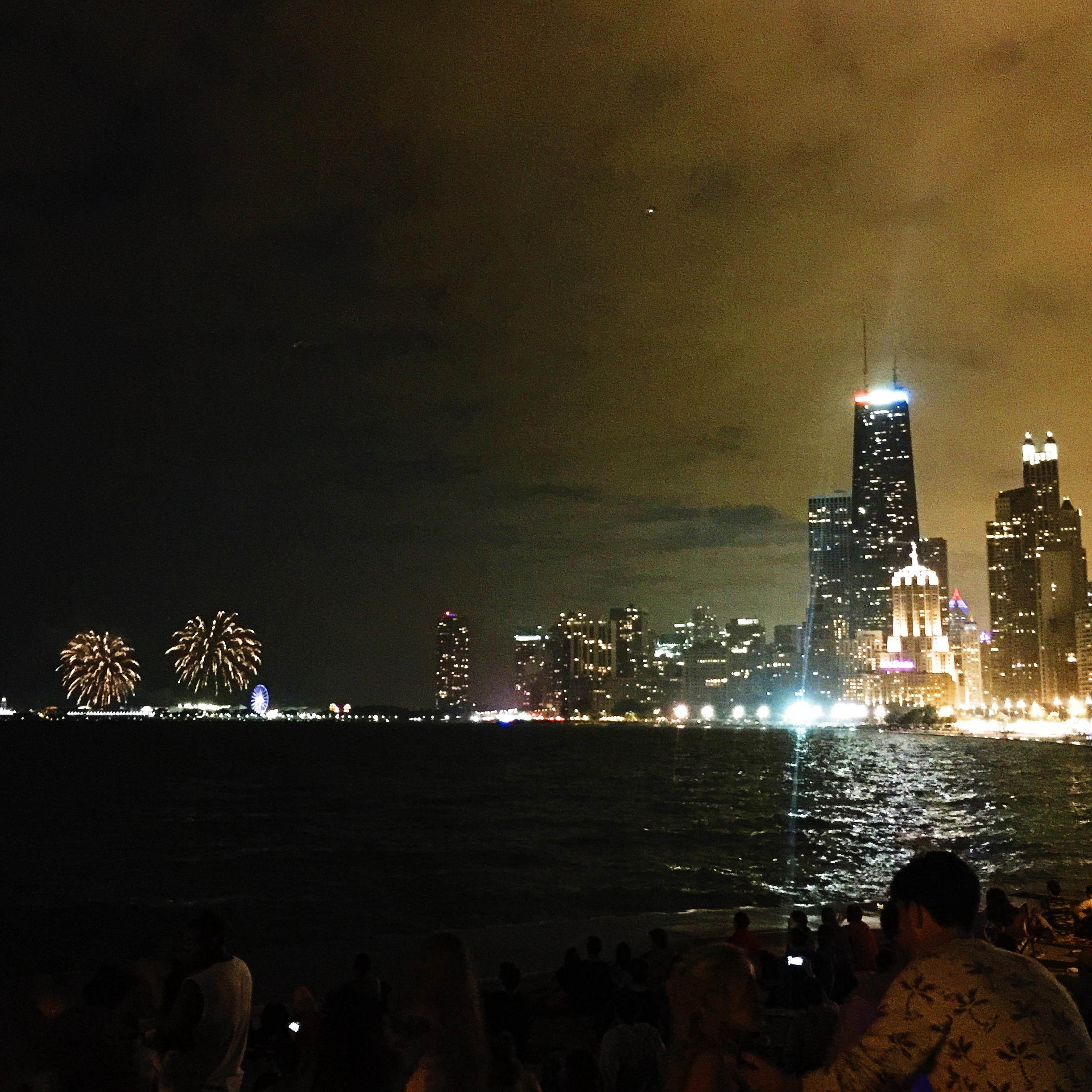 Watching fireworks from North Avenue Beach in Chicago last night. The Fourth of July is my absolute favorite holiday, and I typically spend it with my family in Ocean City. I'll admit that I was a teensy bit heartbroken to not celebrate on the Shore this year (I'm nearly 37 weeks and not allowed to travel) but Mitch made the night so special. We took a long walk over to Wells Street in Old Town, had dinner and dessert at Woodie's, watched the fireworks over Lake Michigan, and then walked along the beach–just the two of us. I love my husband. :)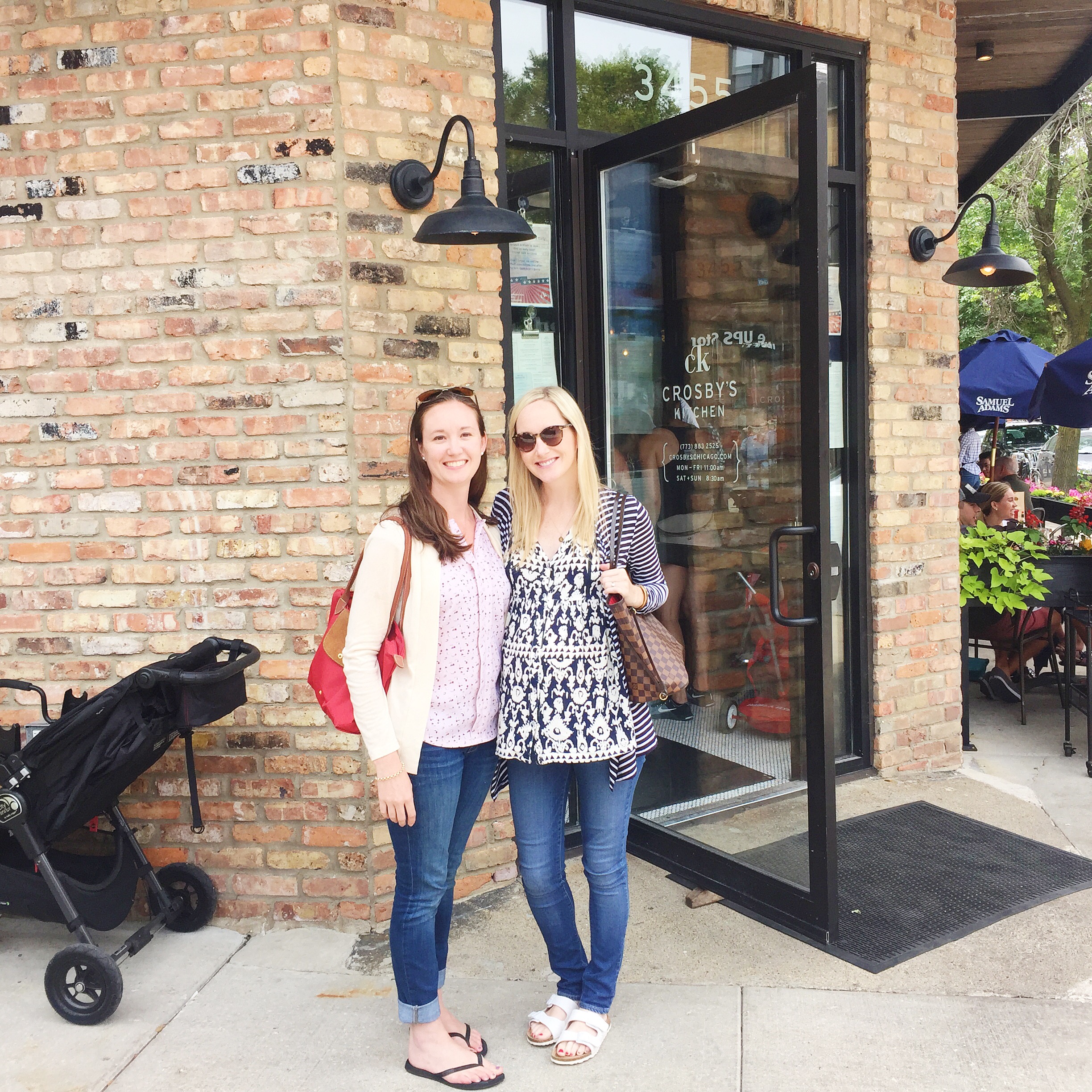 Our friends Tara and Mike came to stay last week and we had so much fun. Tara is one of my very, very best friends from Fairfield, and because she lives in Connecticut and I live in Chicago, we don't get to spend very much quality time together these days. I can't even tell you how nice it was to truly catch up and explore the city together!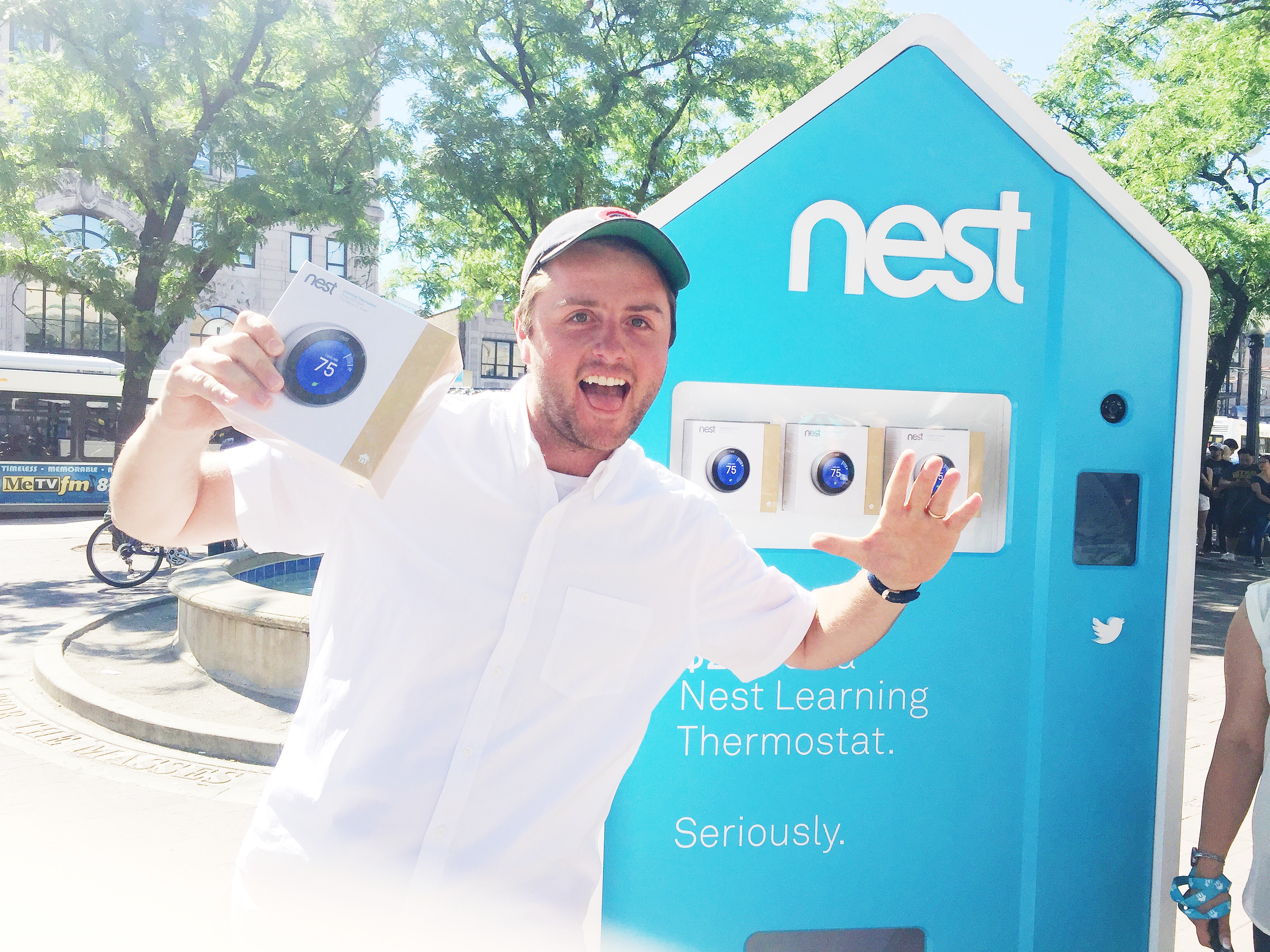 Mitch won a free Nest. On Twitter, he saw that the company was setting up a vending machine somewhere in the city, and he followed the clues and got one. It was the funniest thing. He's super into gadgets, so this might have been one of the best days ever for Mitch. ;) Such the dad already!
Ivy stalking. We've been talking about growing ivy all over the fences in our backyard, and we had to stop and admire this scene behind Hotel Lincoln last night. Of course, this is a little extreme. ;) But gorgeous, right?! Any tips on what kind of ivy to plant? We know nothing.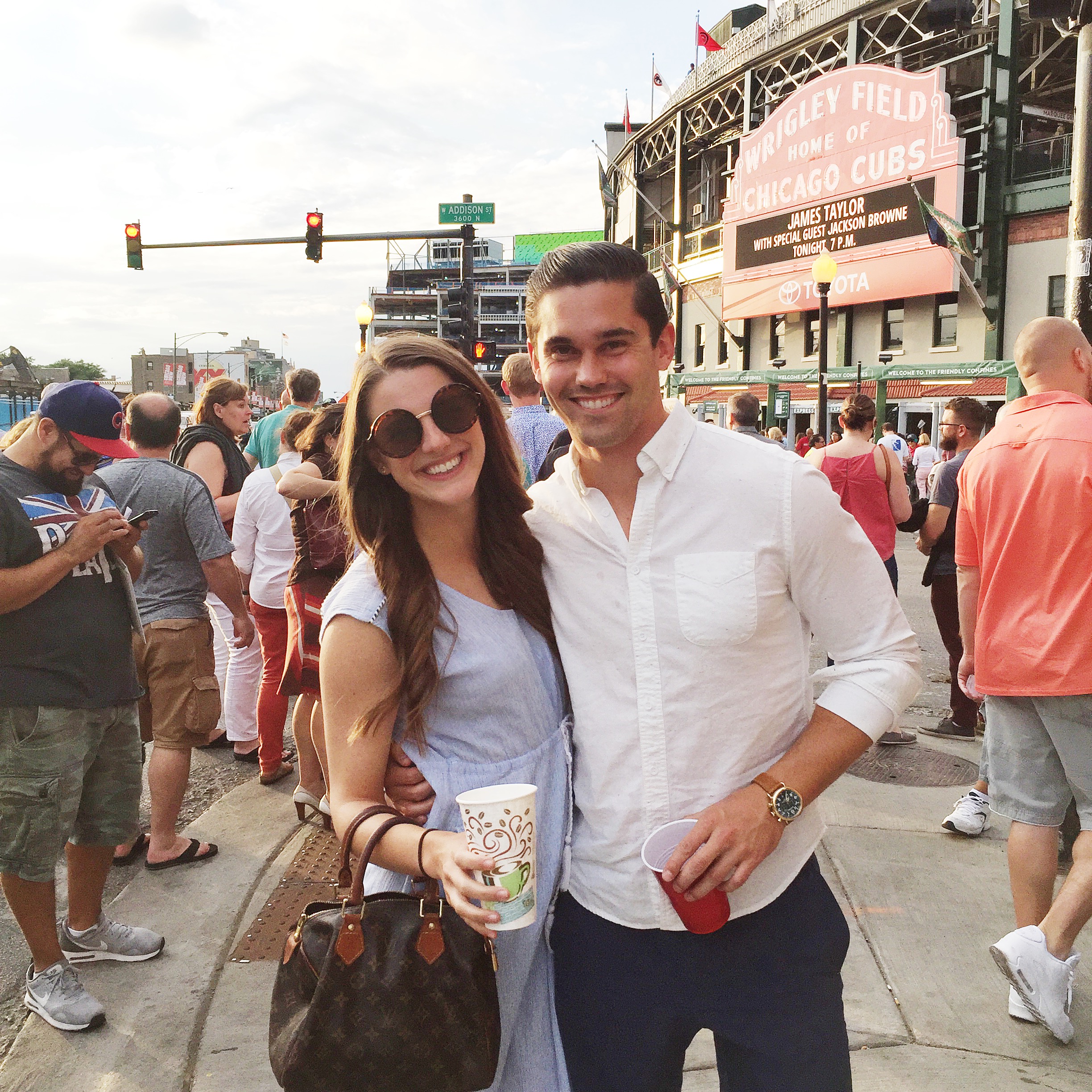 JAMES TAYLOR at Wrigley! Jess, Neal, Tara, Mike, Mitch and I all headed to the James Taylor/Jackson Brown show last week, and we LOVED it. The last time Mitch and I saw James Taylor was about five years ago at Madison Square Garden in New York, and we'd always said it was one of the best concerts we'd ever been to. We both grew up listening to JT, and his songs bring back so many happy memories for us. And I have to say: the show was perfect for a Preggo. Lots of sitting, great weather, and tons of snacks! Afterward, we did hit up Sluggers for the dueling pianos, but I held my ground. ;)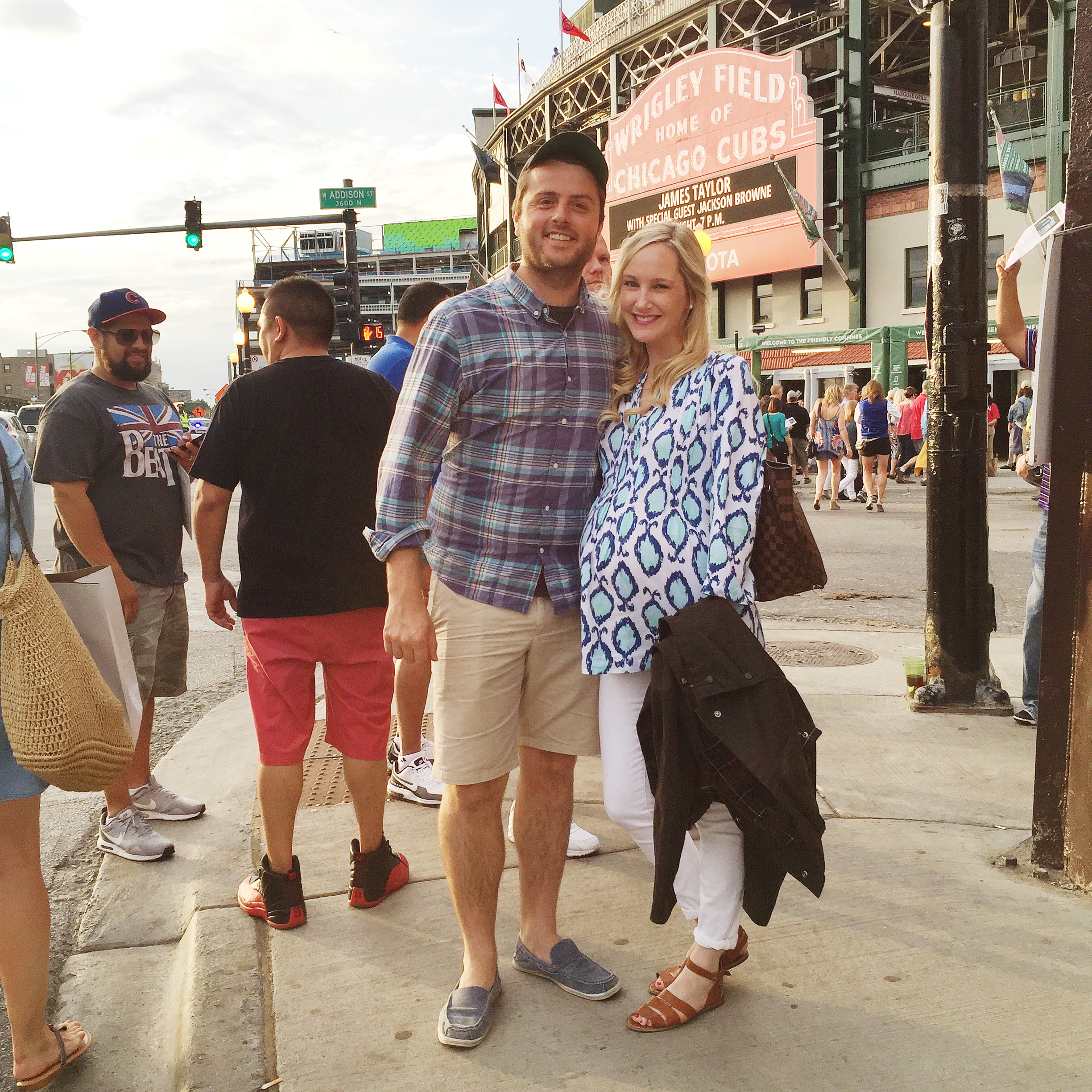 Tunic — Get ready. I wear it VERY often, haha!
And us!

Wrigley Field. So packed!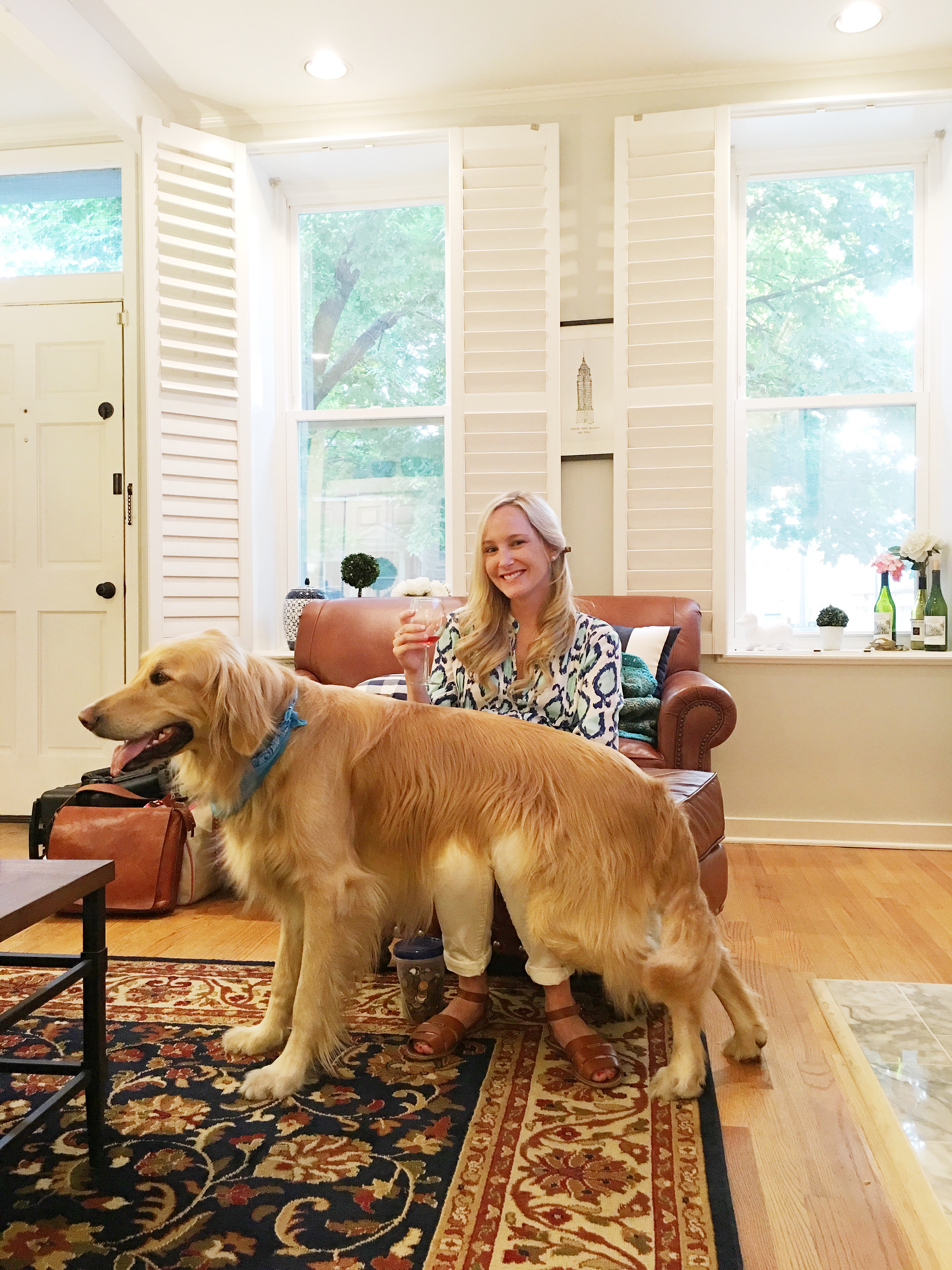 Biggest Golden Retriever EVER? This is Dexter, Katie and Darren's dog! And yes, I wear this shirt like every other day. Nothing fits me!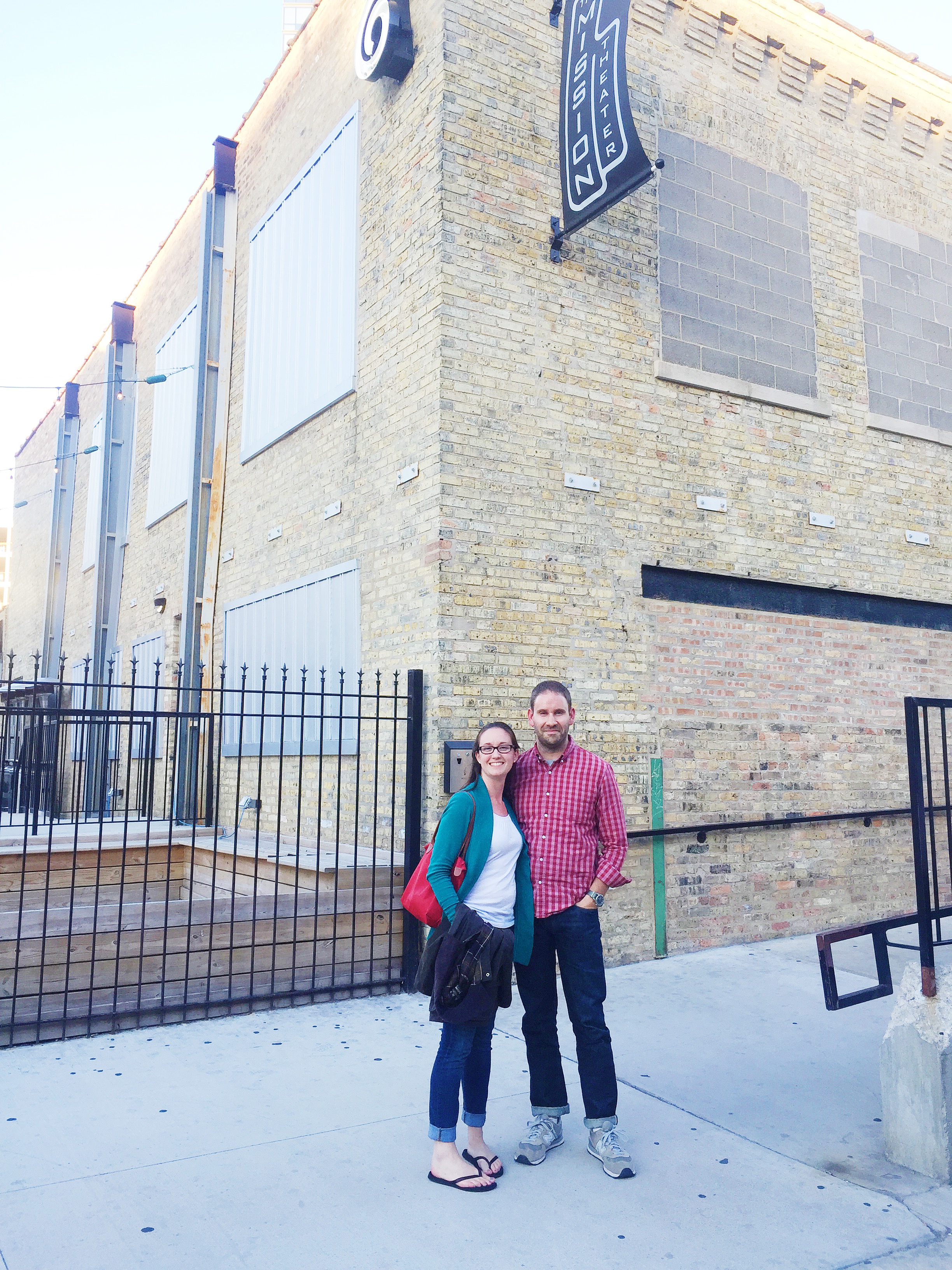 The Improvised Shakespeare Company at iO Chicago. It's one of our favorite activities to do with guests, and it didn't disappoint! After, we went to Chicago Q–my favorite barbecue joint in the city. (It's SO pretty. You have to go!)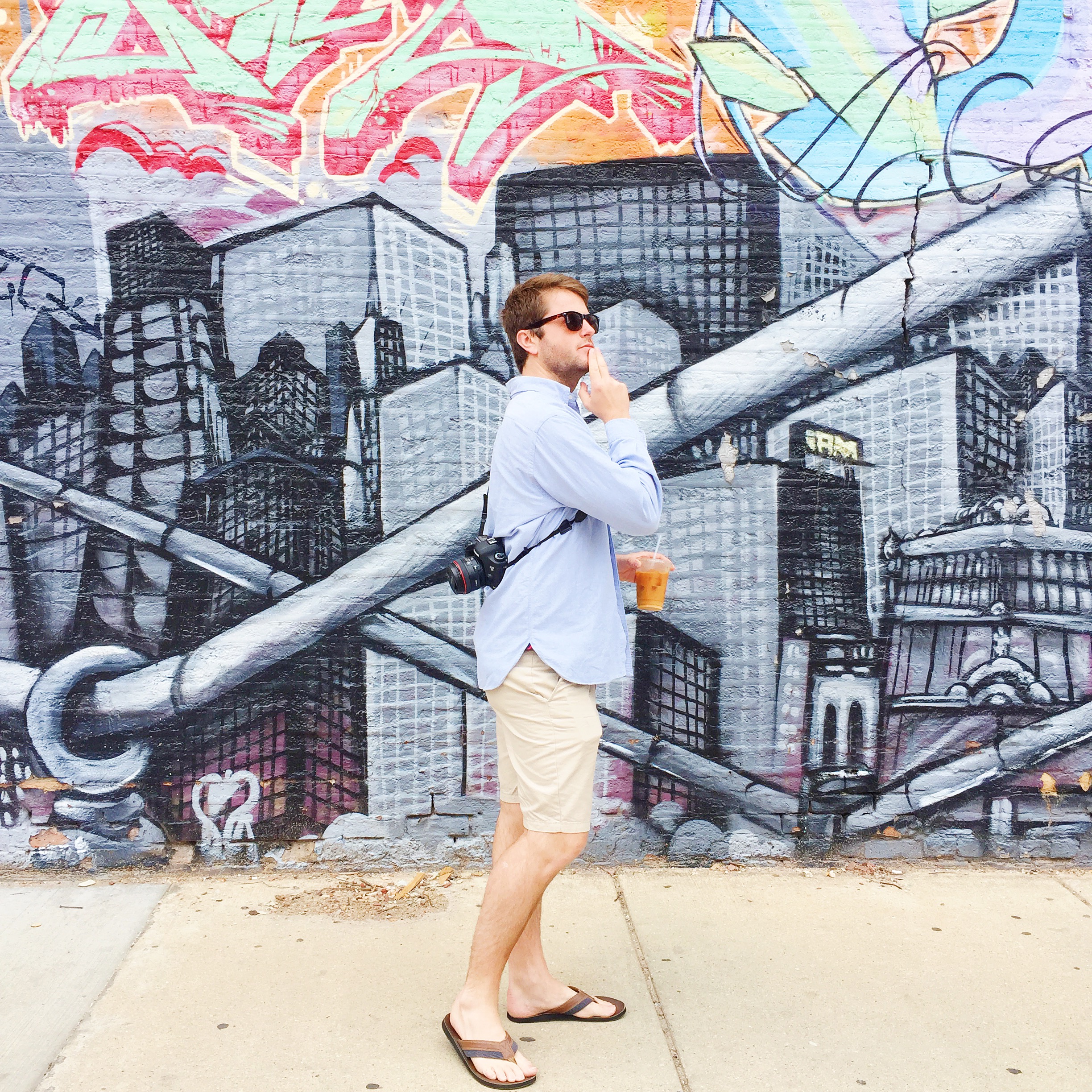 A day in Wicker Park/Bucktown. Jenn Lake, this is for you. ;)

White Sox game. Full post here!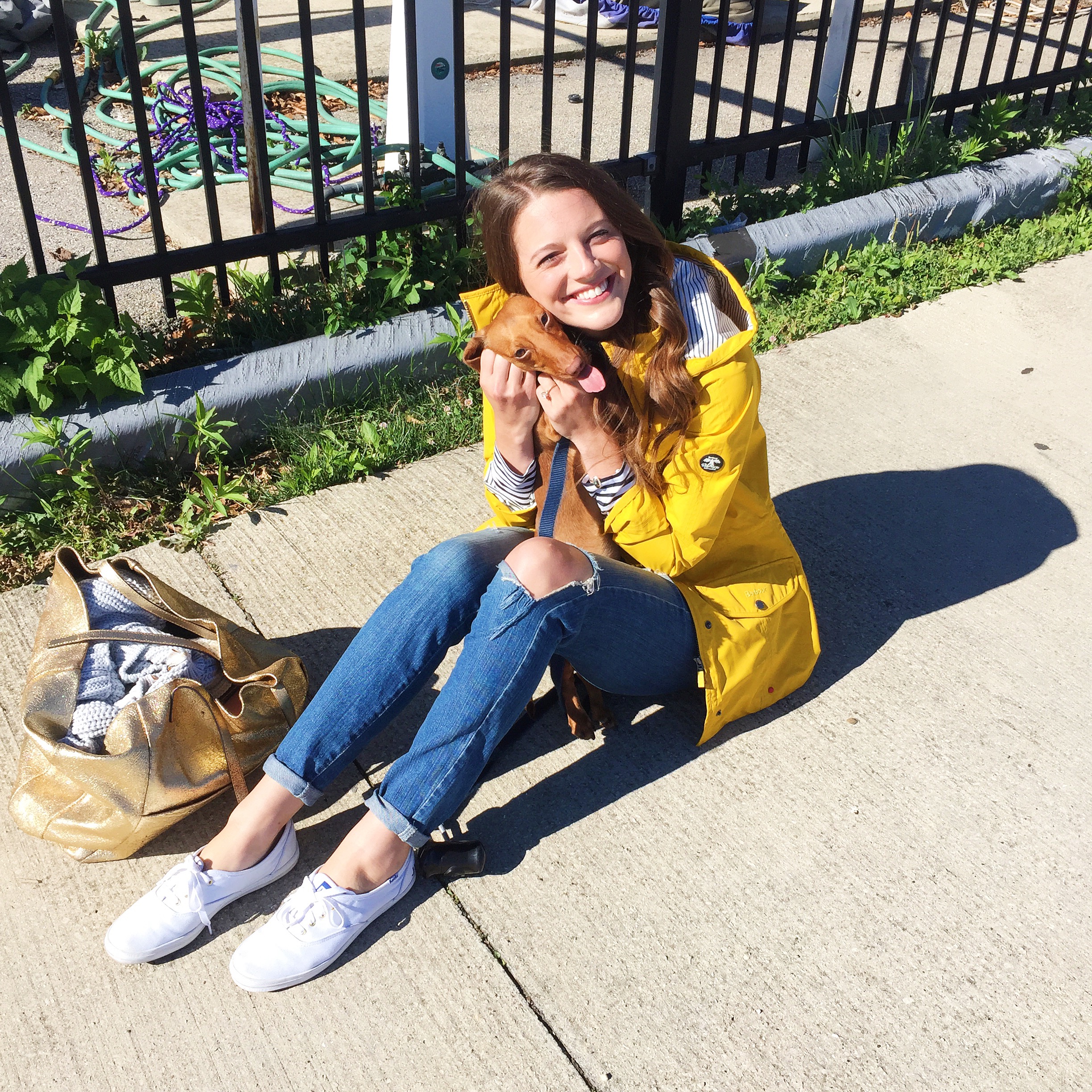 Jess reunited with Noodle for a fun Barbour shoot last week! Two peas in a pod, for sure. (ALSO OUR FAVORITE RAINCOAT IS ON SALE!)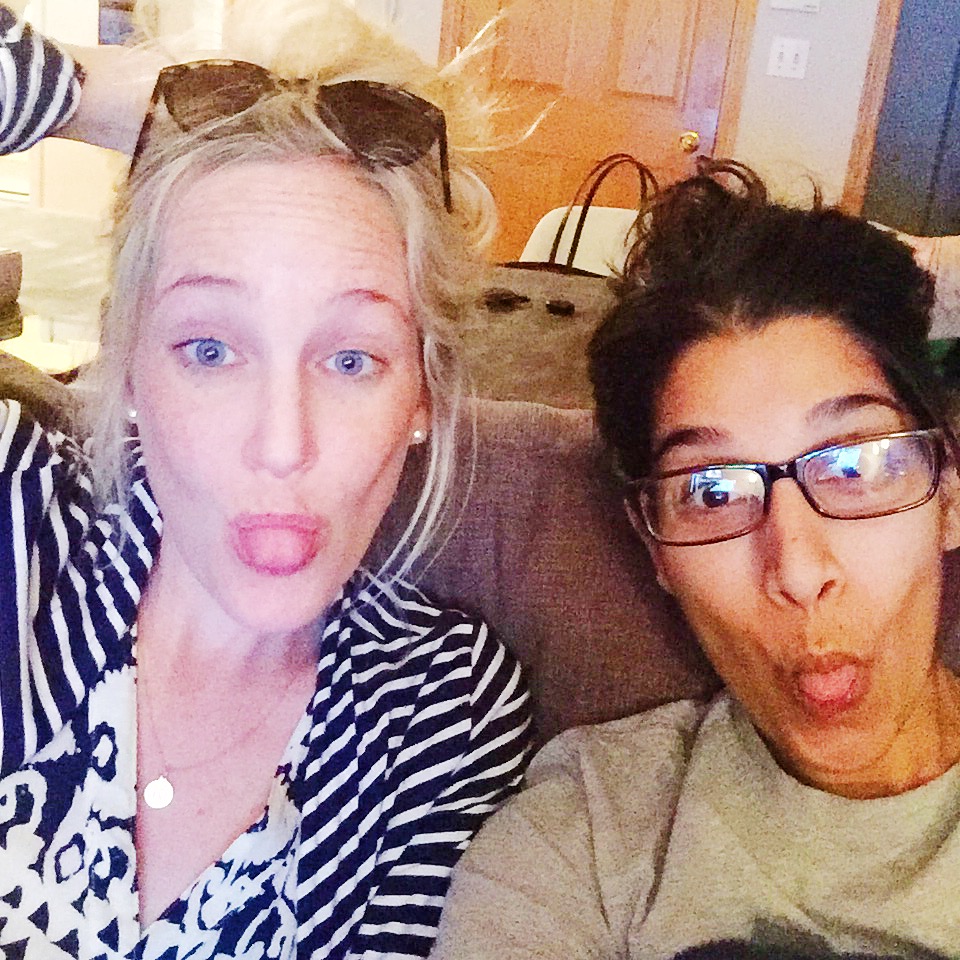 Couch cuddles with Shaheen. Trevor, I was extremely disappointed with your TERRIFYING movie selection. ;) Just kidding. Pretty sure we crashed your date. (But seriously, why did that girl go grab the knife when the computer told her to? CHOICES!)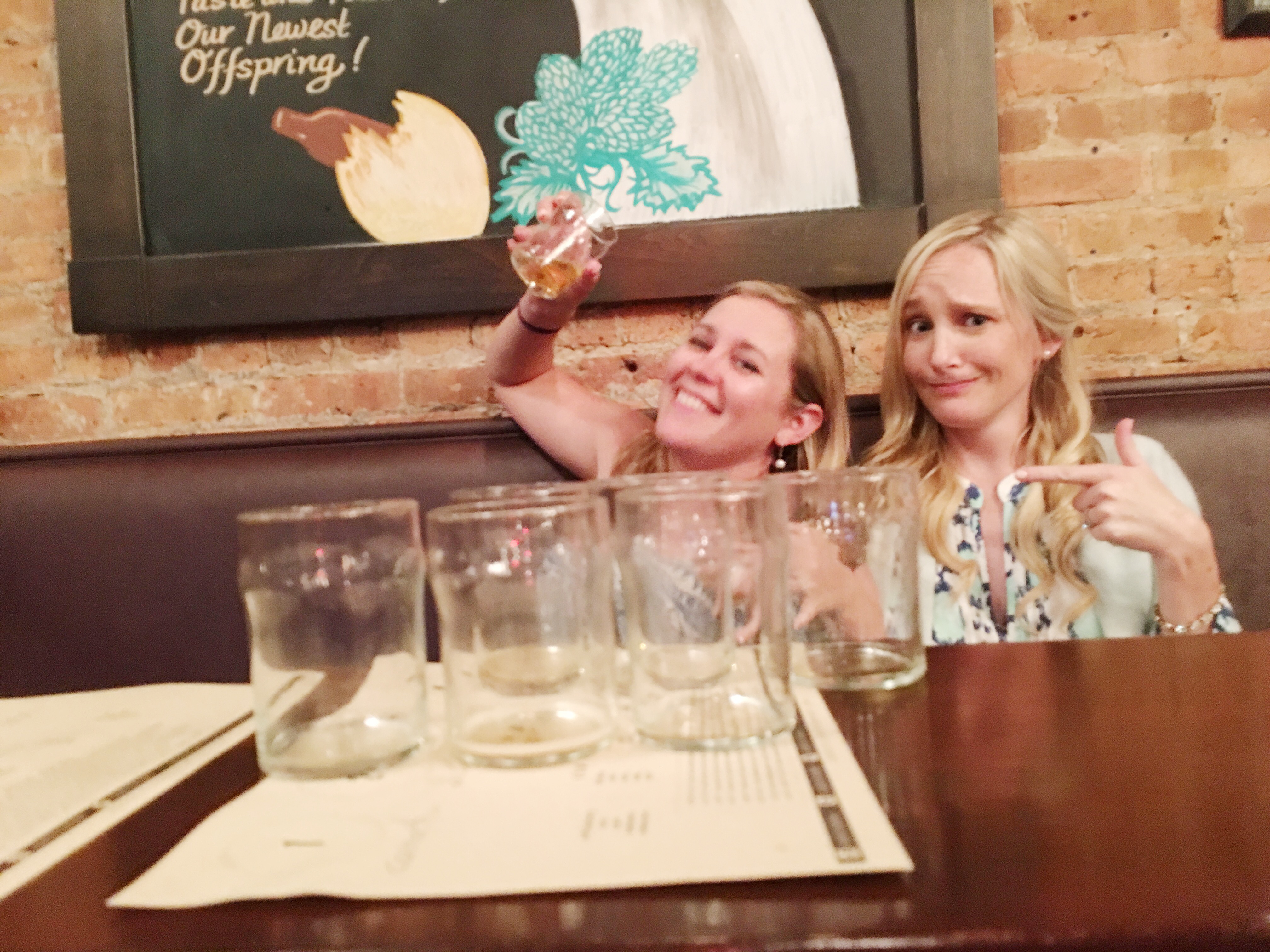 Katie and me at Goose Island Brewery! Katie is one of my best friends from high school, and she and her husband, Darren, came to spend a night with us on their way to Utah, where Darren's family lives. JUST LIKE OLD TIMES. Just kidding. I couldn't drink, so we really couldn't recreate our first experience with alcohol. (Blessing in disguise, for sure, haha!) Love you, Kate!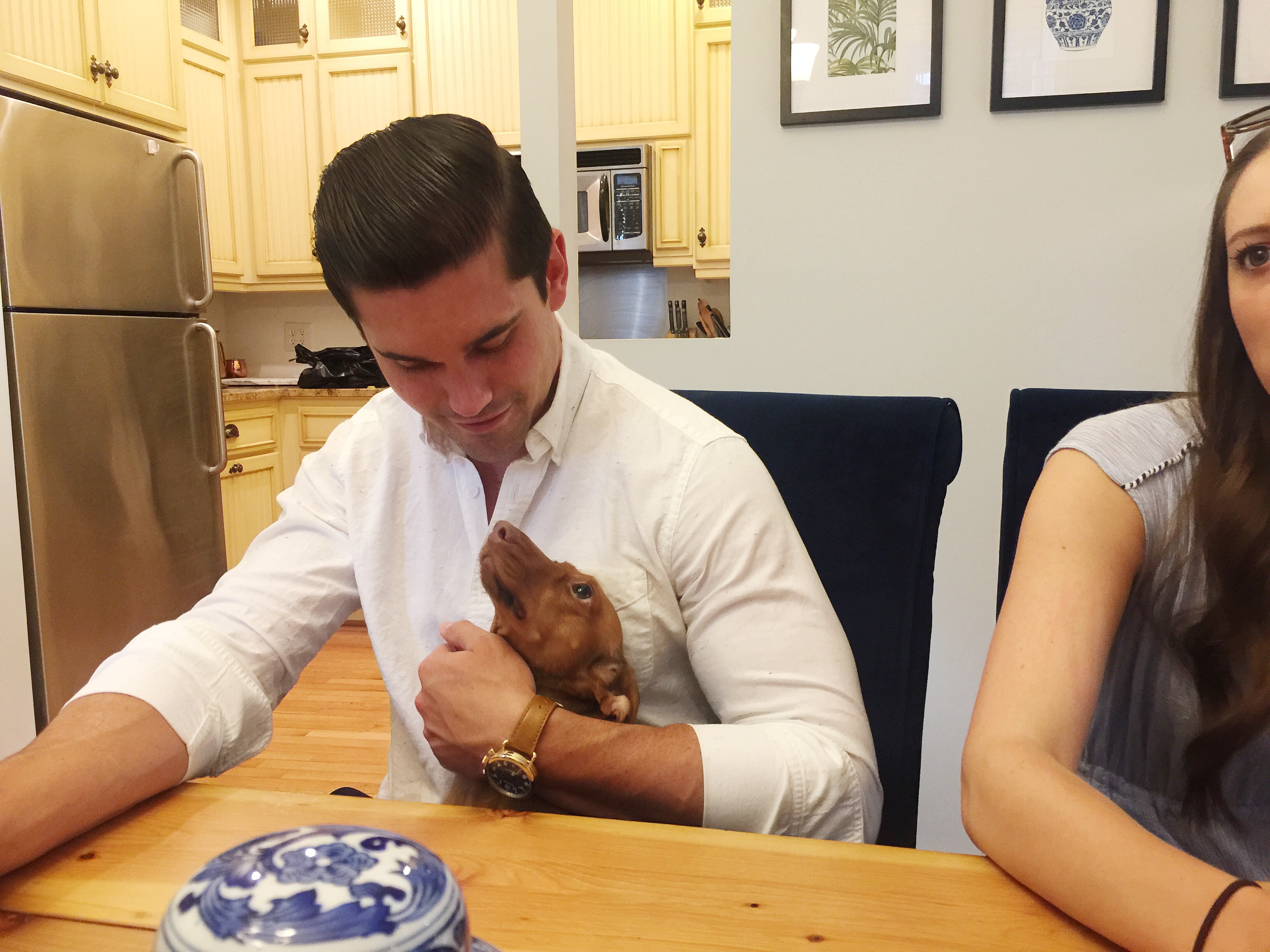 Noodle doesn't like men. But she loves Neal. Look at that gaze.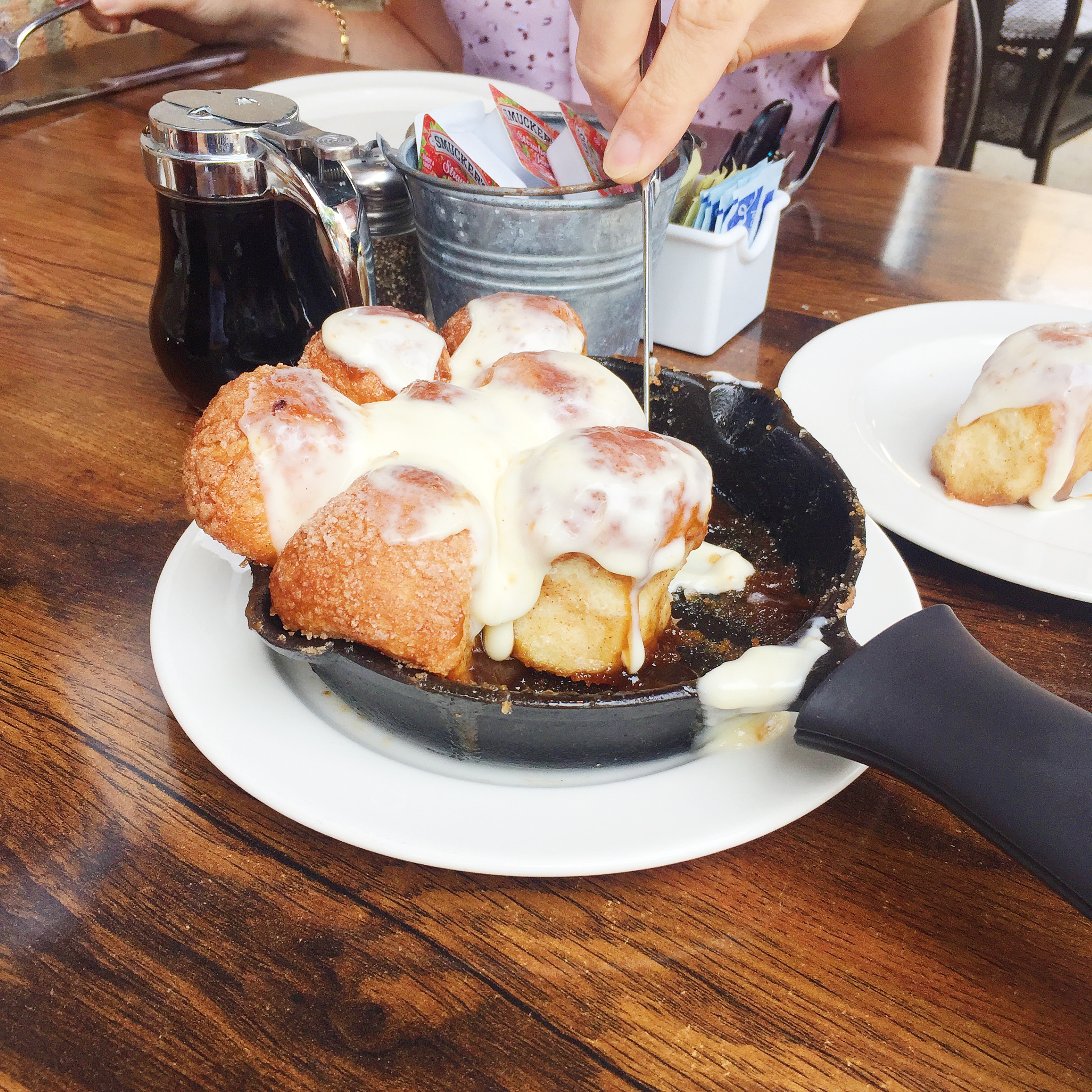 Monkey bread at Crosby's Kitchen in Southport. Such a pretty spot for brunch!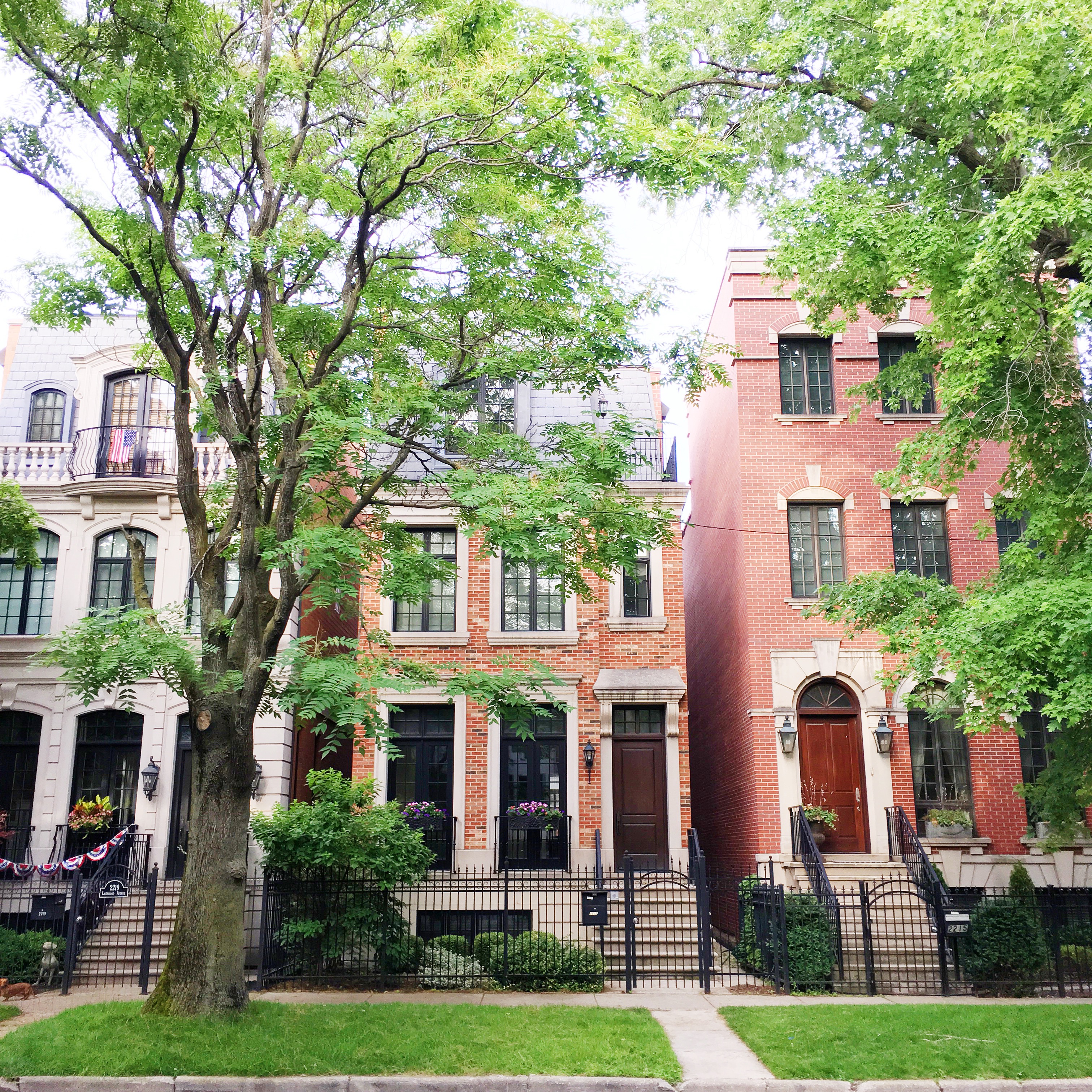 Strolling around Lincoln Park. Can you spot little Noodle?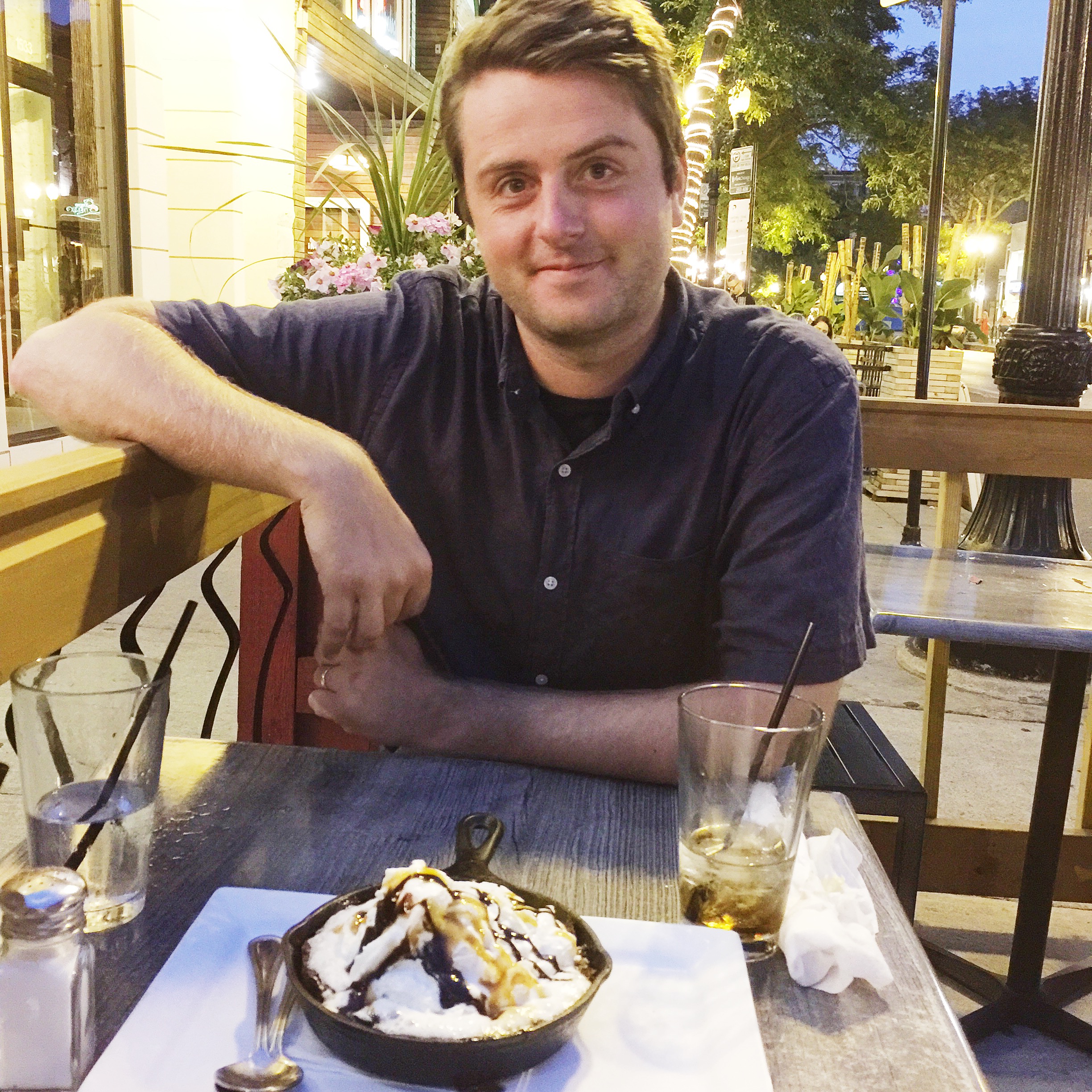 SKILLET COOKIE. Mitch, Maya and I have a running joke about skillet cookies: that they're my favorite thing EVER, and that everyone agrees to get one at the start of dinner, but then is too stuffed to actually follow through, leaving me devastated. But look, Maya! We accomplished the seemingly impossible feat! (We also got tummy aches after, but whatever.)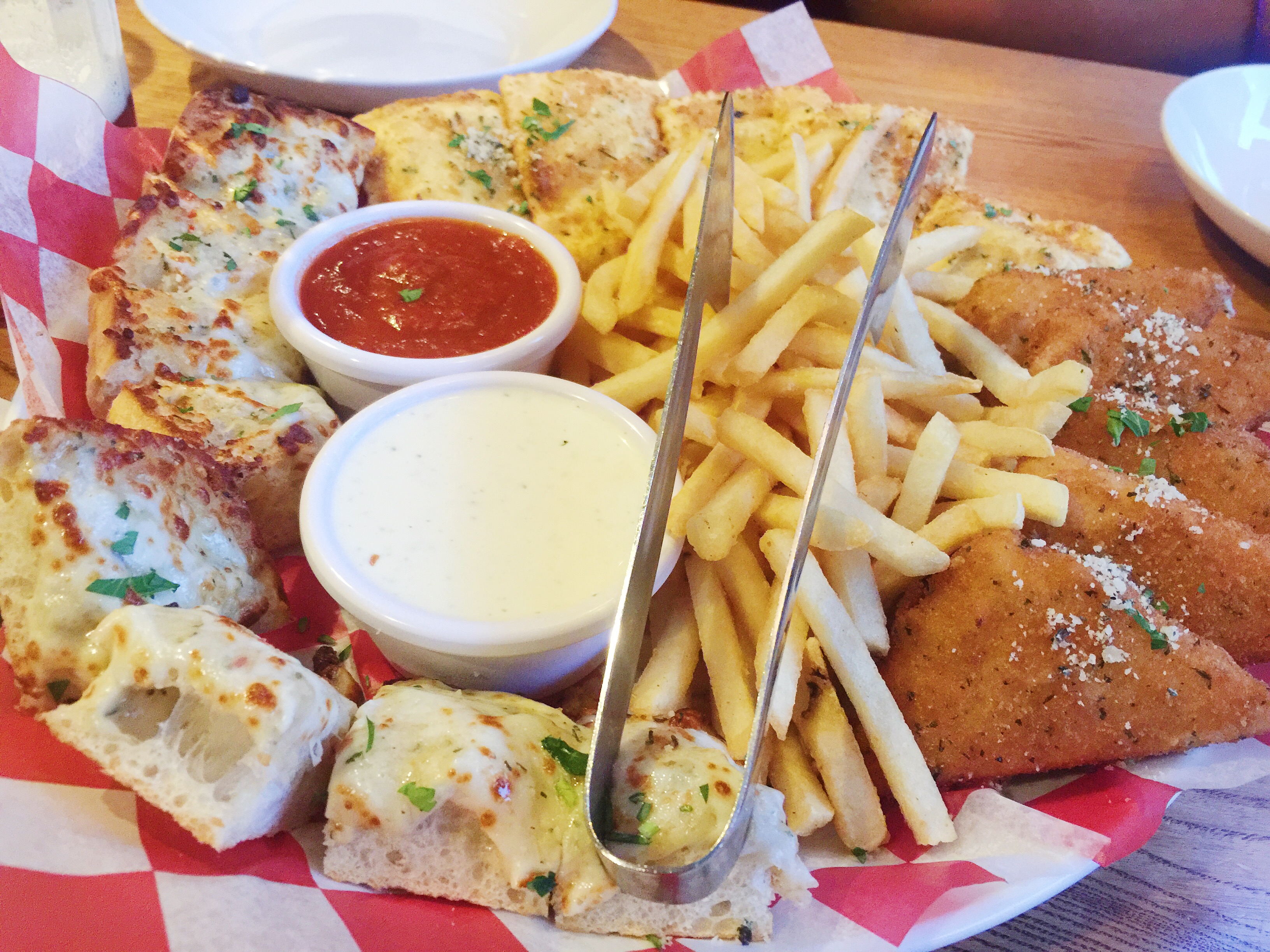 Giordano's in Lakeview with Katie and Darren.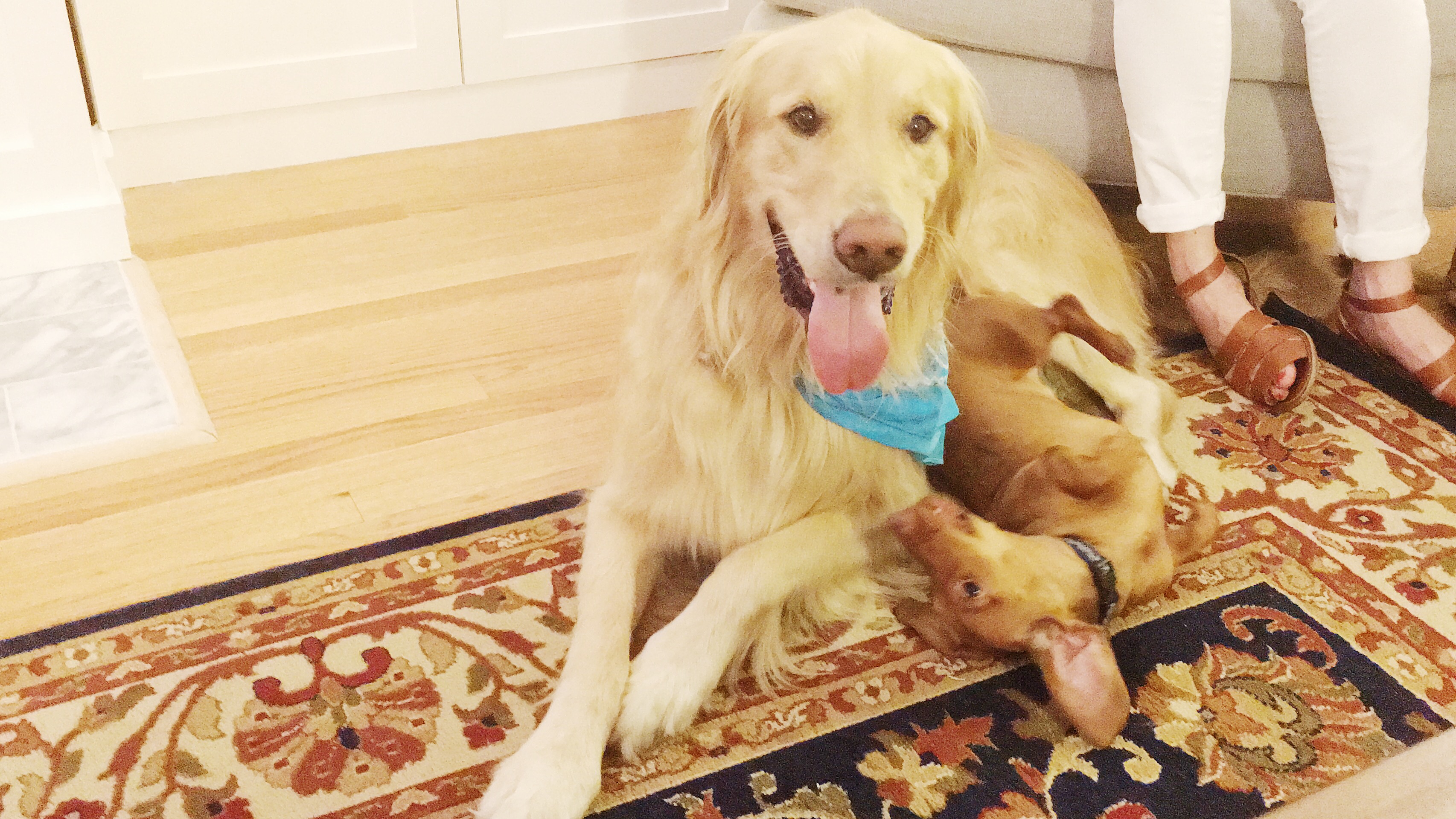 Noodle LOVED Dexter. Though I have to say: she put it all out there.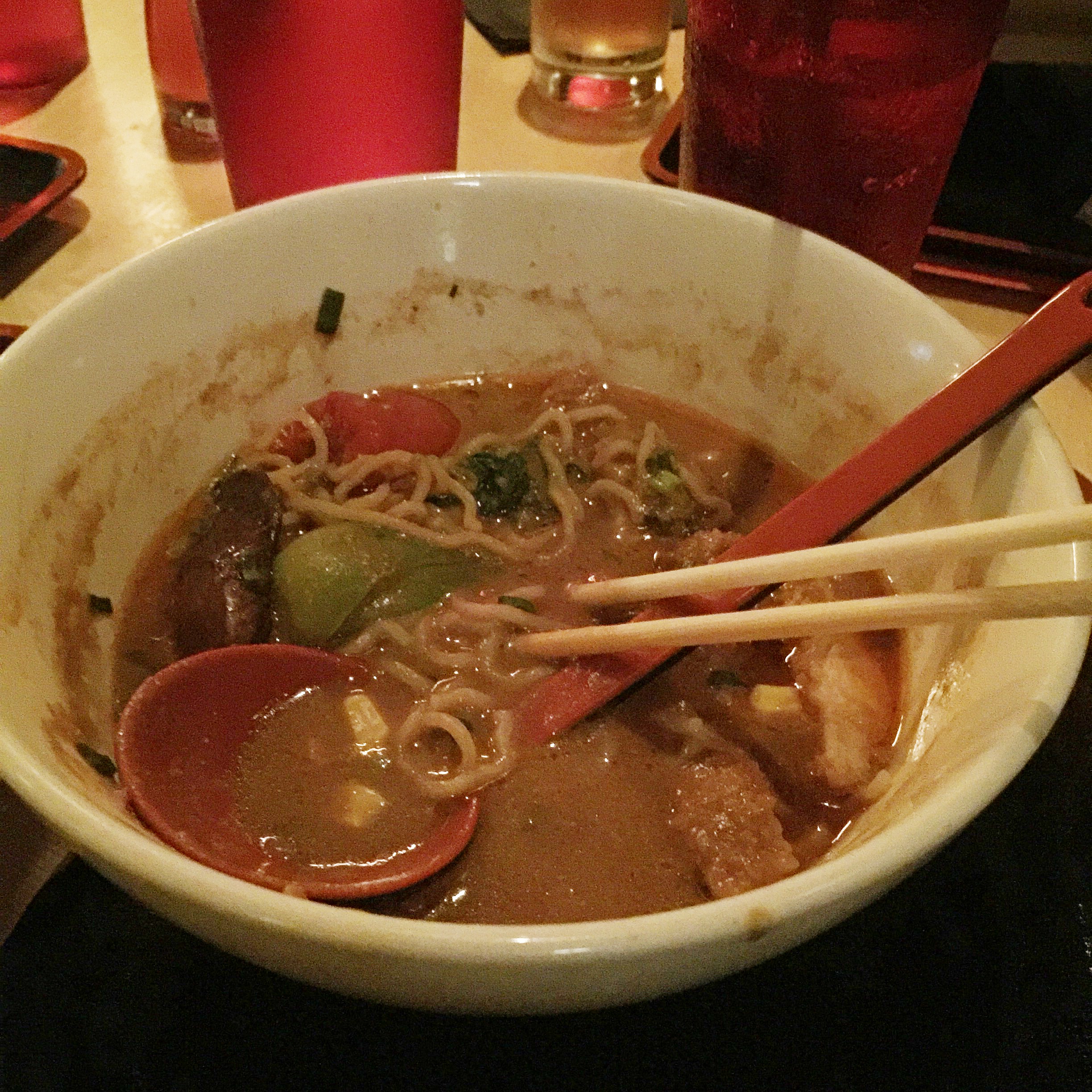 Ramen-san date downtown with friends. It was my first time. VERY good. Kameya is still my fave, though. ;)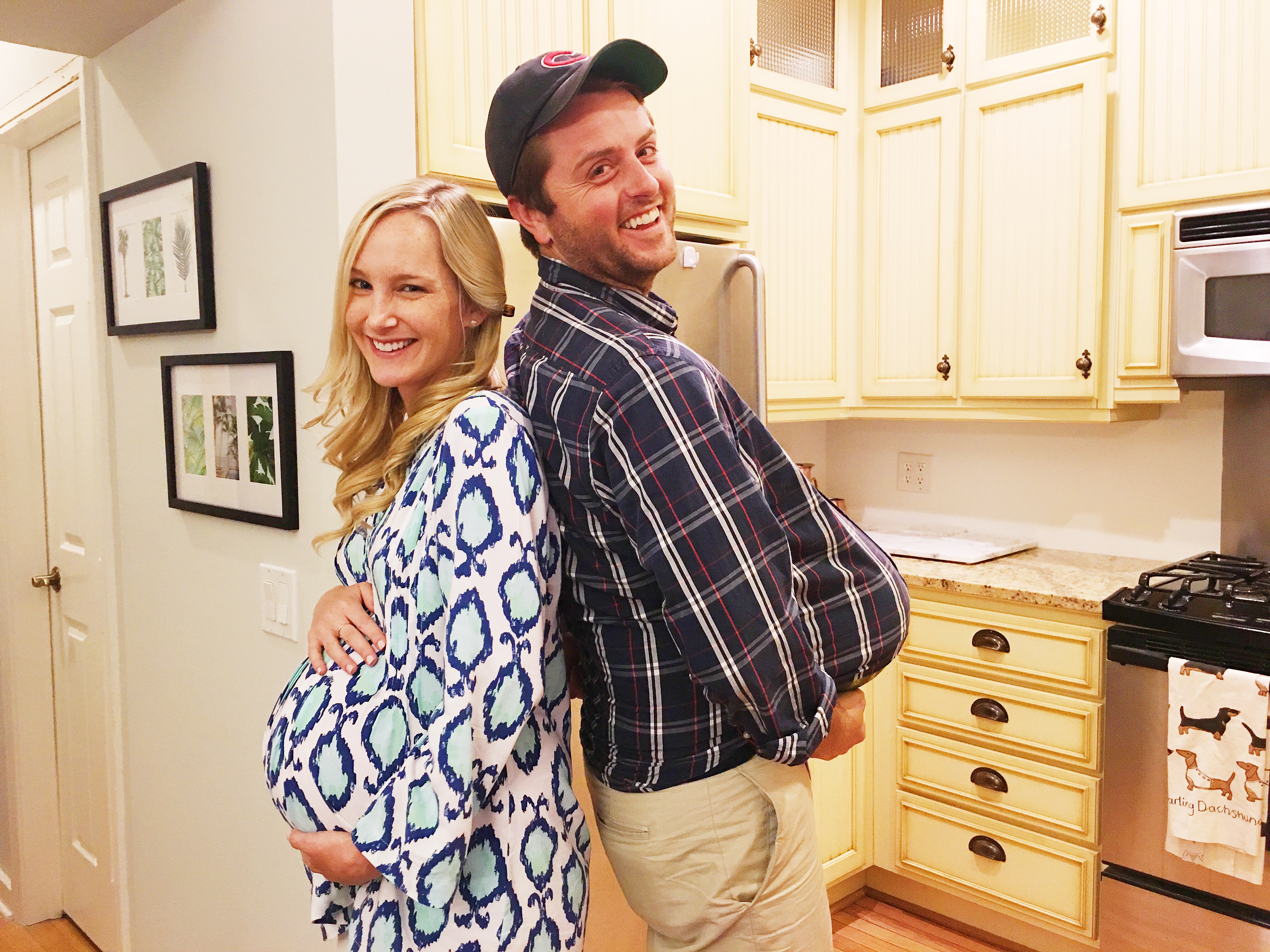 Baby vs. Watermelon. Who wins?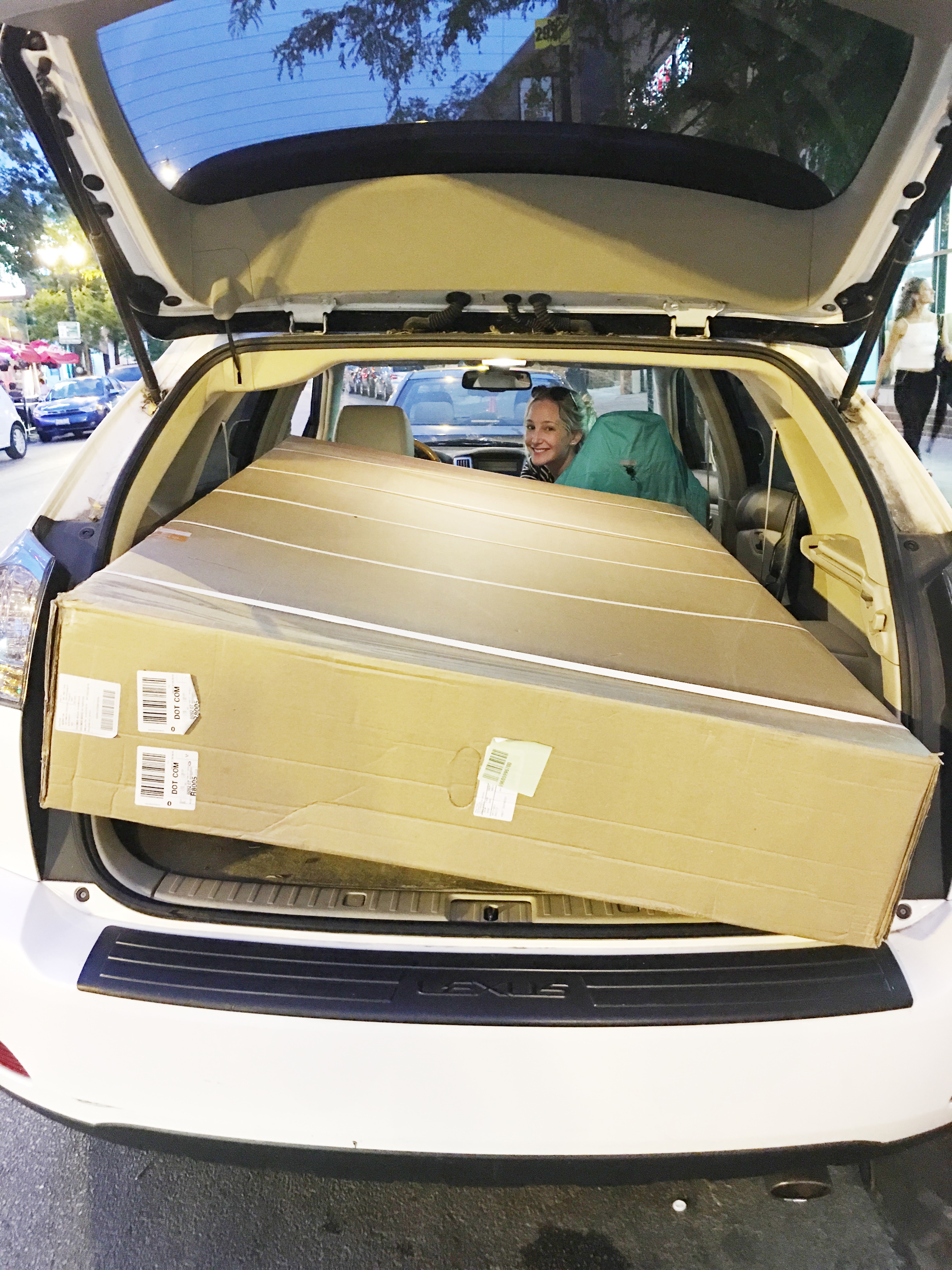 Picking up the new TV in Shaheen's car. MITCH IS SO EXCITED.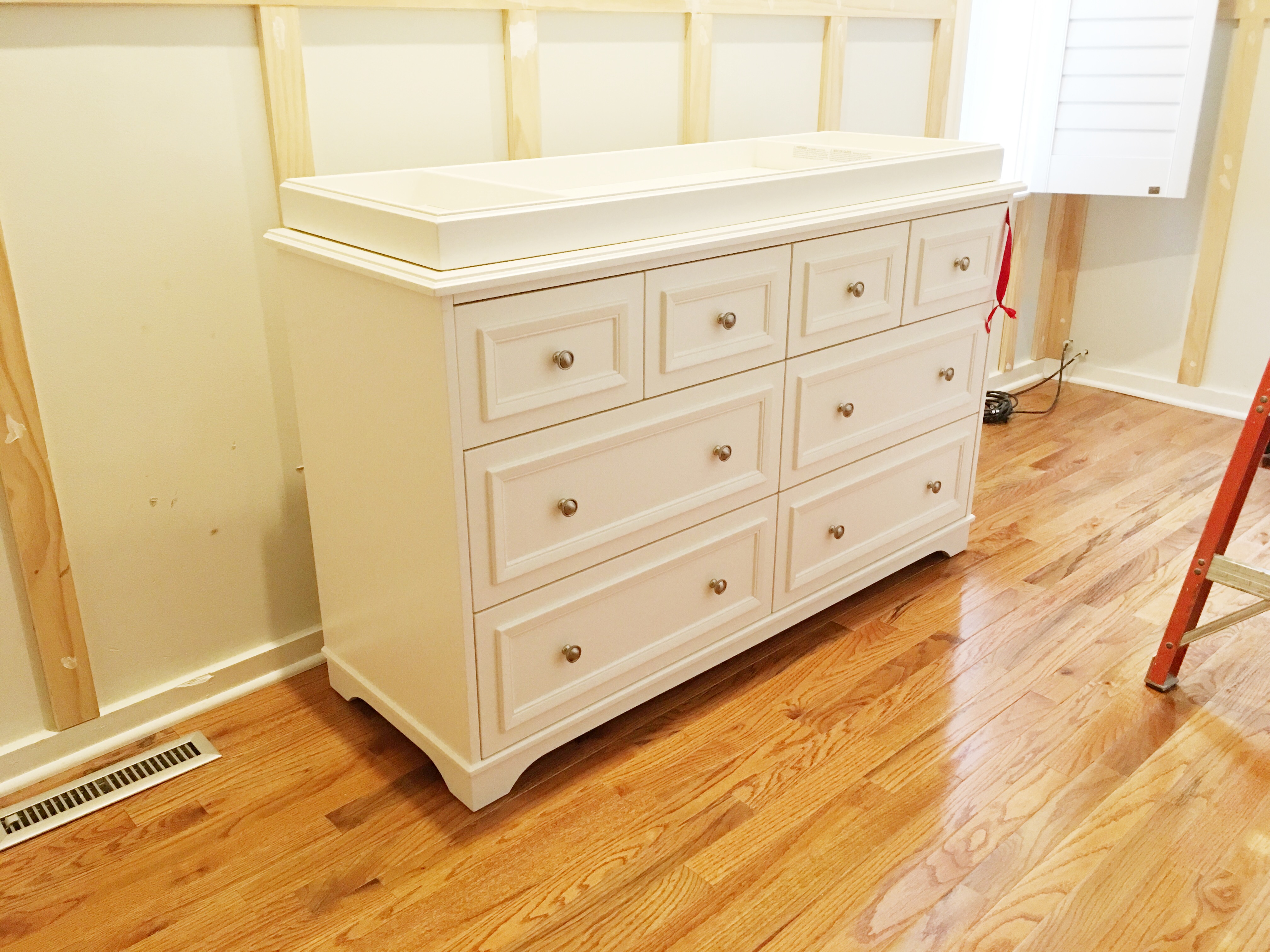 Our changing table arrived! Thank you so much, Mom and Dad. We love you! (Nursery still in progress. Hoping to have it painted this week or next!)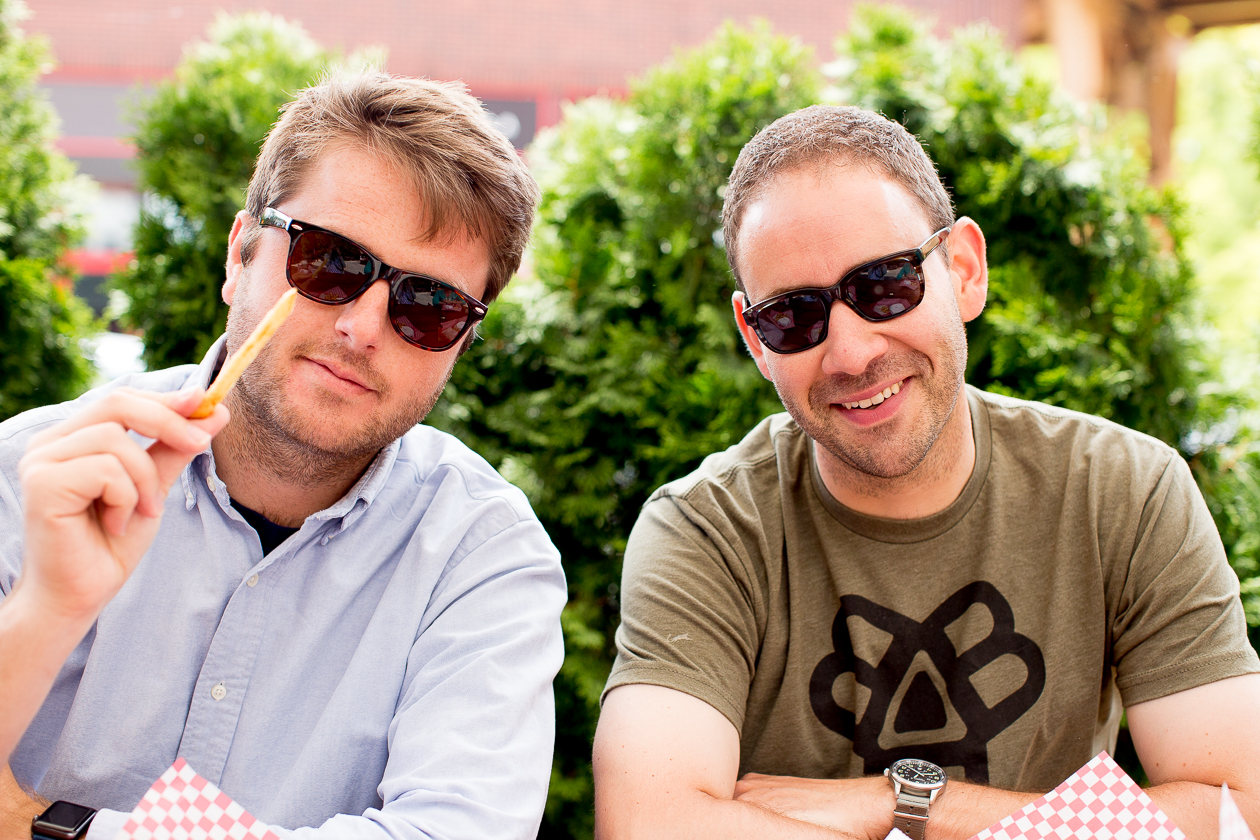 The Mikes or Mitches or whatever we want to call them at Small Cheval. ;) Apparently the best burger in Chicago!