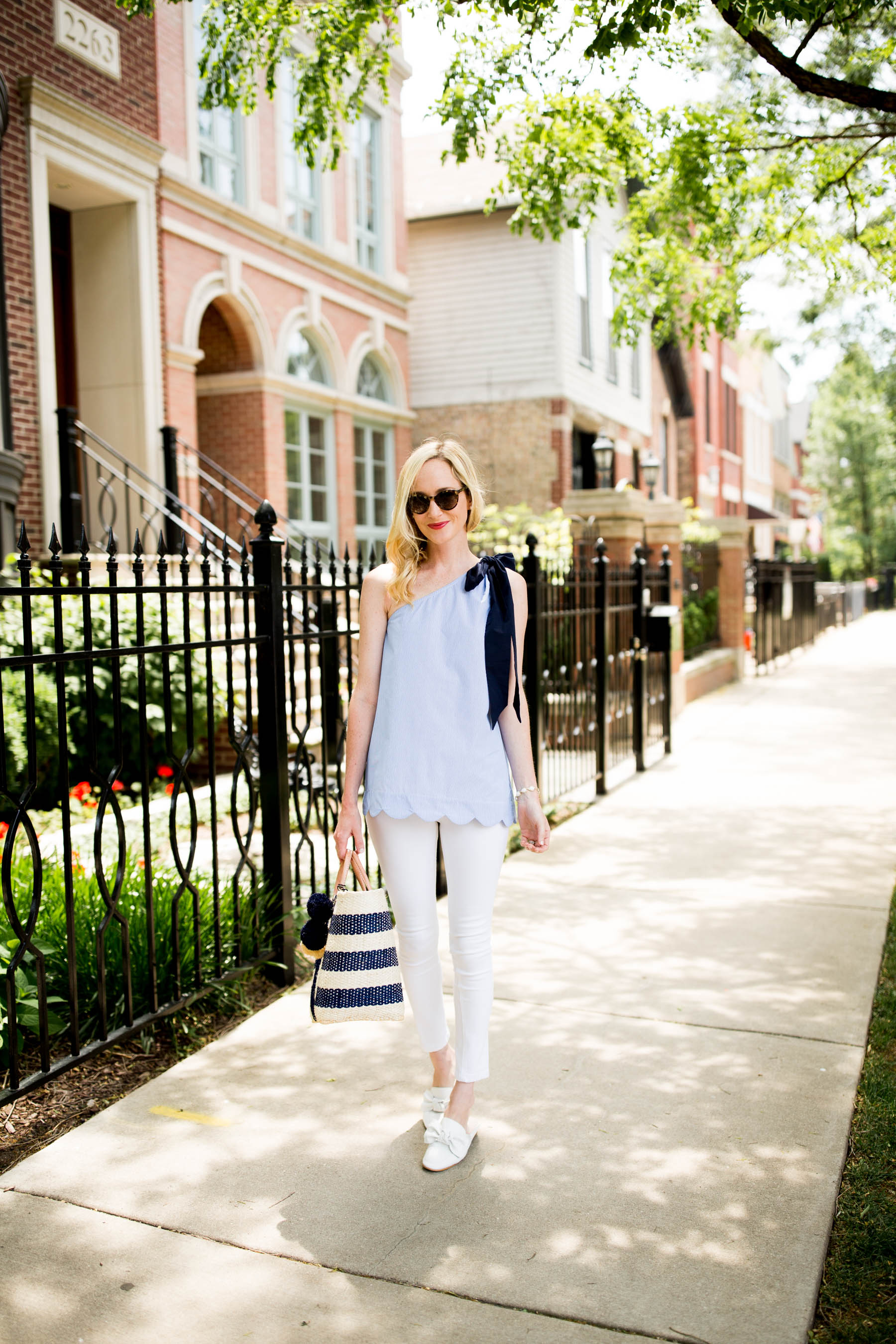 Scalloped Bow Top (Similar here, here, here, and here. And here's my favorite scalloped tank.)/ Woven Tote (Also love this one, this one and this one! And this tote is on my wish list. More Mar Y Sol on Shopbop.) / Bow Mules (Now in white! Here's my full review on 'em. I also have these kiltie mules and love them, and these are my favorite loafers, which also come in a mule version.) / Newer Kendra Scott Bracelets t c/o / Favorite White Skinny Jeans (Also love these! For daytime jeans, I adore this pair, this pair, and this pair.)
Oh, sheesh. I kind of can't believe I'm typing this out, but I had yet another technological failure yesterday, and I spent the vast majority of my day trying to get my laptop back up and running. Thankfully I didn't lose any additional photos, but let's just say I'm extremely grateful for my mother-in-law, who paraded Emma to every Chicago park within walking distance of our home while I frantically tried to get the stupid thing in working order. Many, many hours later, and one magical (three-hour-long) screen share session with an Apple technician, we're back! When it rains, it pours, huh?!
It's been a while since we did a bullet point-style blog post, so can we do one today?! I have a lot of randomness on my mind. ;)
I'm really sorry that my top keeps selling out. Check back every once in a while; it randomly gets restocked in certain sizes! But here are some other similar tops I love: THIS ONE, this one, this one, and this one. And here's my favorite scalloped tank.
Because of my computer issues, yesterday's posts went up a little late. If you missed them, I shared a Recent Finds post, and a post about lessons I've learned from my father. Love you, Dad!
Shopbop is having a huge sale! I've yet to go through it, but you can take 25 percent off the sale section when you use code "SCORE17." As always, shipping is free. (I did notice that these sandals and these sandals are included. Wow!)
Ryan Adams is coming to town on Emma's birthday. Ryan, I love you so much. Why do you constantly do this to me?! Last year, he was in Central Park a week before my due date. This year, it's my baby's birthday. Sigh…
The bow mules now come in white! SO comfy, and they're perfect for chillier summer nights.
Mitch just informed me that IKEA is now available on Amazon. WHAT?!
We're three school nights away from Mitch's summer break. Things are about to change like whoa for us, yet it hasn't hit me…
My desk arrived! We're going to try to put it together tomorrow, and I'm so excited about having a workspace again.
Chicago's going through a heat wave and I can't even tell you how happy it's made me. I wear a dress every day, and I'm not cold. It's a miracle!
Emma and I walked to Buck Town on Tuesday to hang out with Shaheen, Zain and Jess, and it was a blast. I love mixing up our days!
No update on daycare. It's still going poorly, but we're persevering! We've missed a couple of days but we're going back tomorrow. Cross your fingers for us. <3
Emma experienced her first thunderstorm last night, and it was so cute. No tears, but man, her eyes were wide! :)
I've been eating far too much ice cream. If you're ever in Lincoln Park, visit Annette's. It's incredible. Too incredible.
Father's Day is this weekend, and I'm reserving the entire weekend for family time and family time only. I can't wait.
Happy Thursday, Friends! We're almost to the weekend!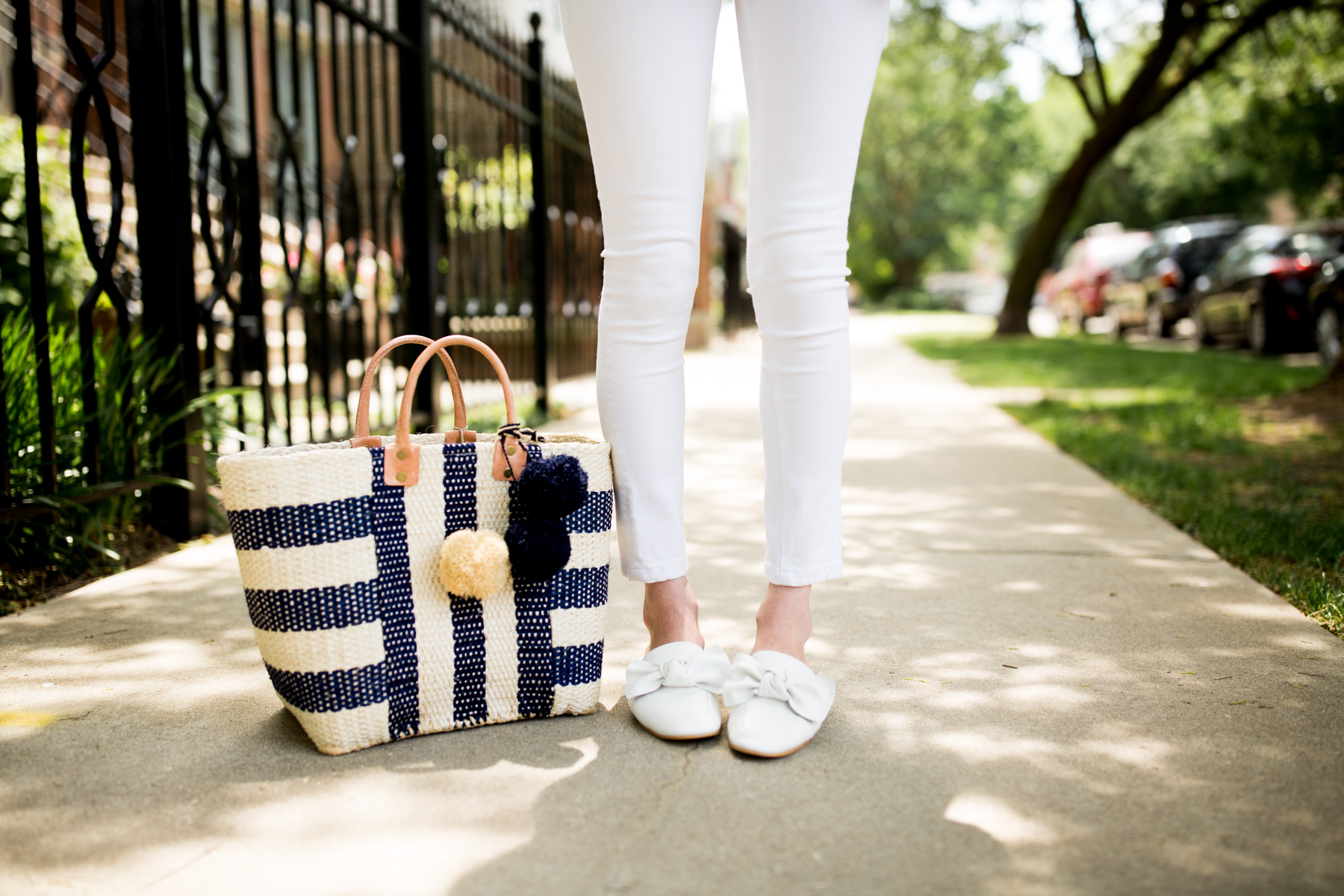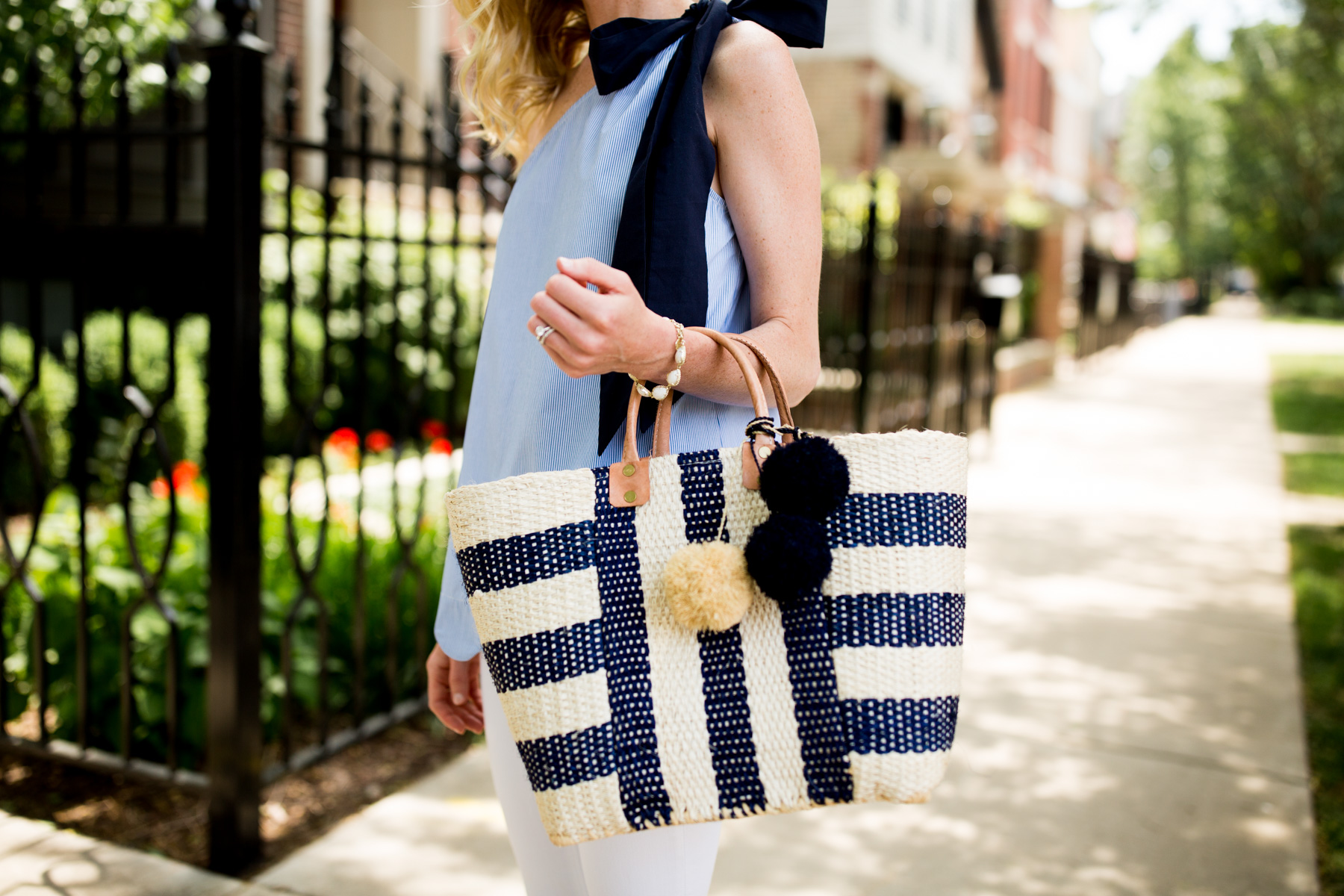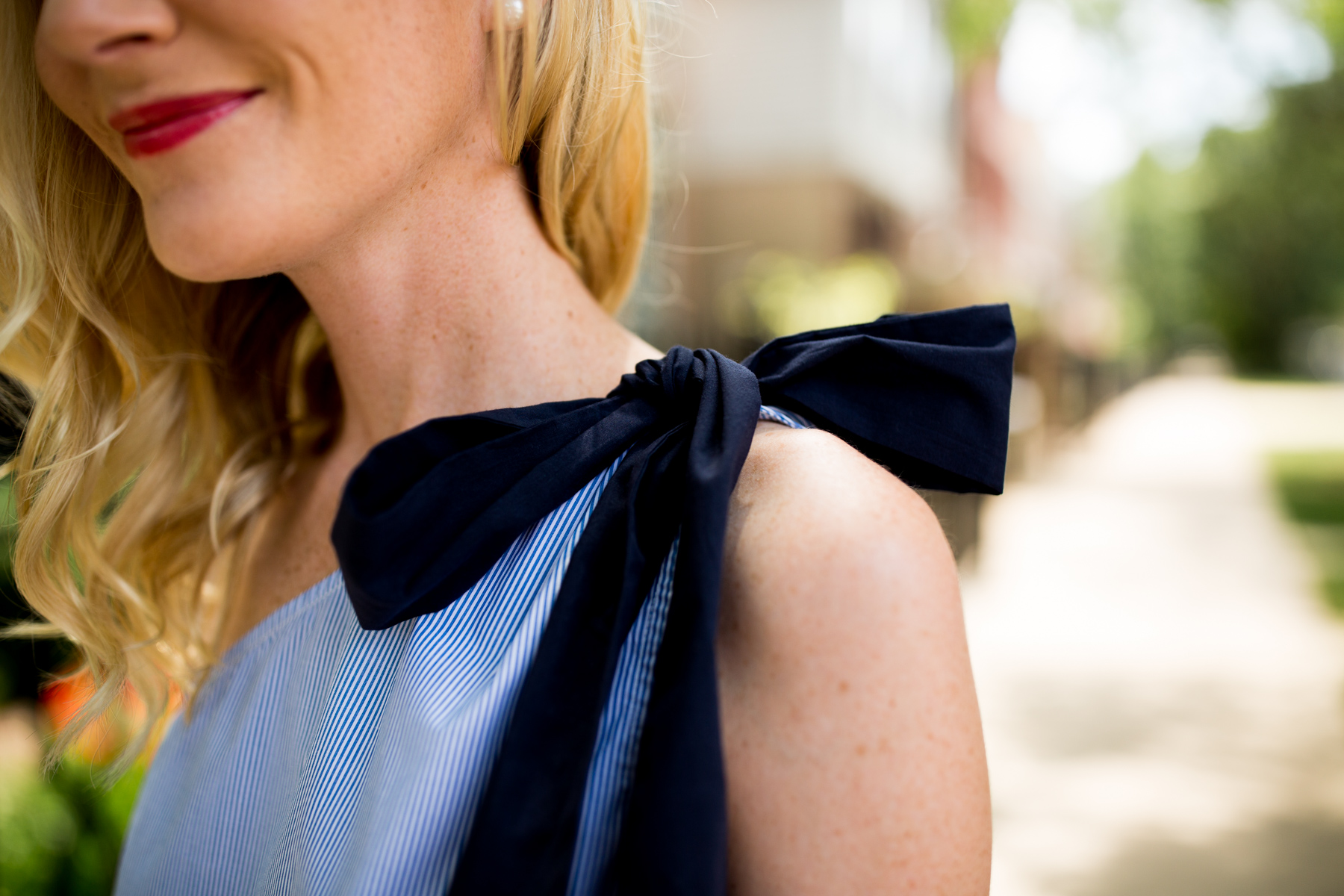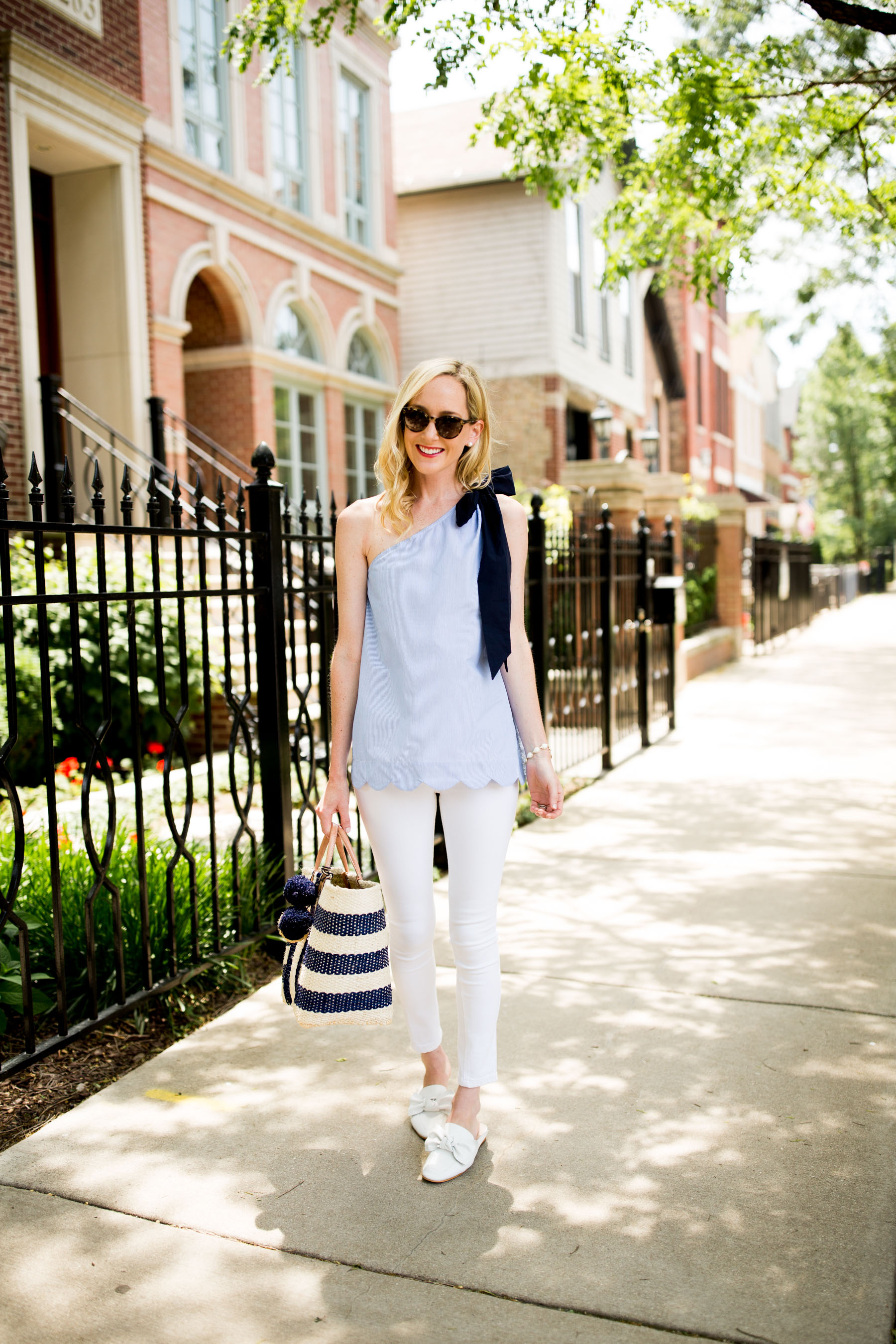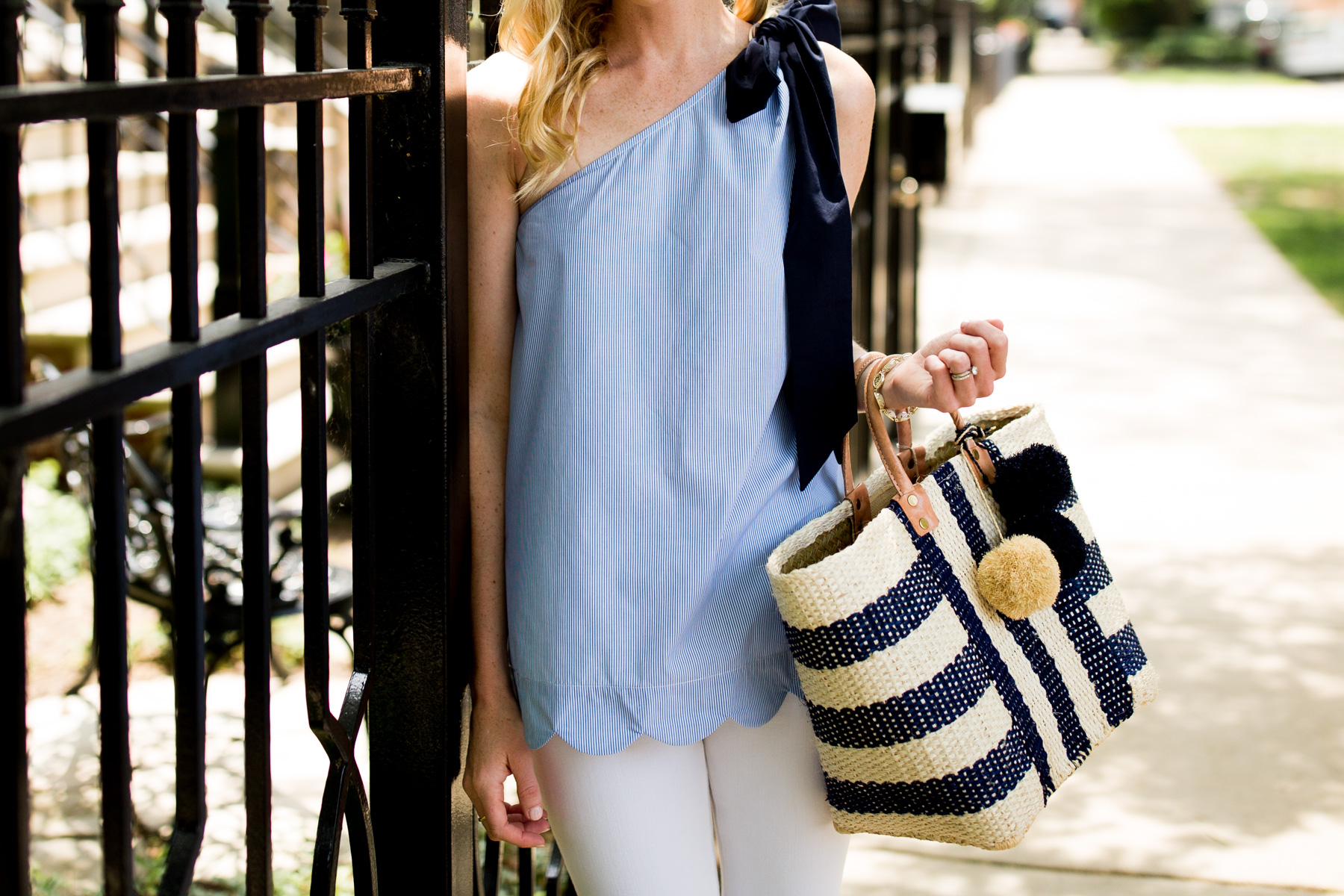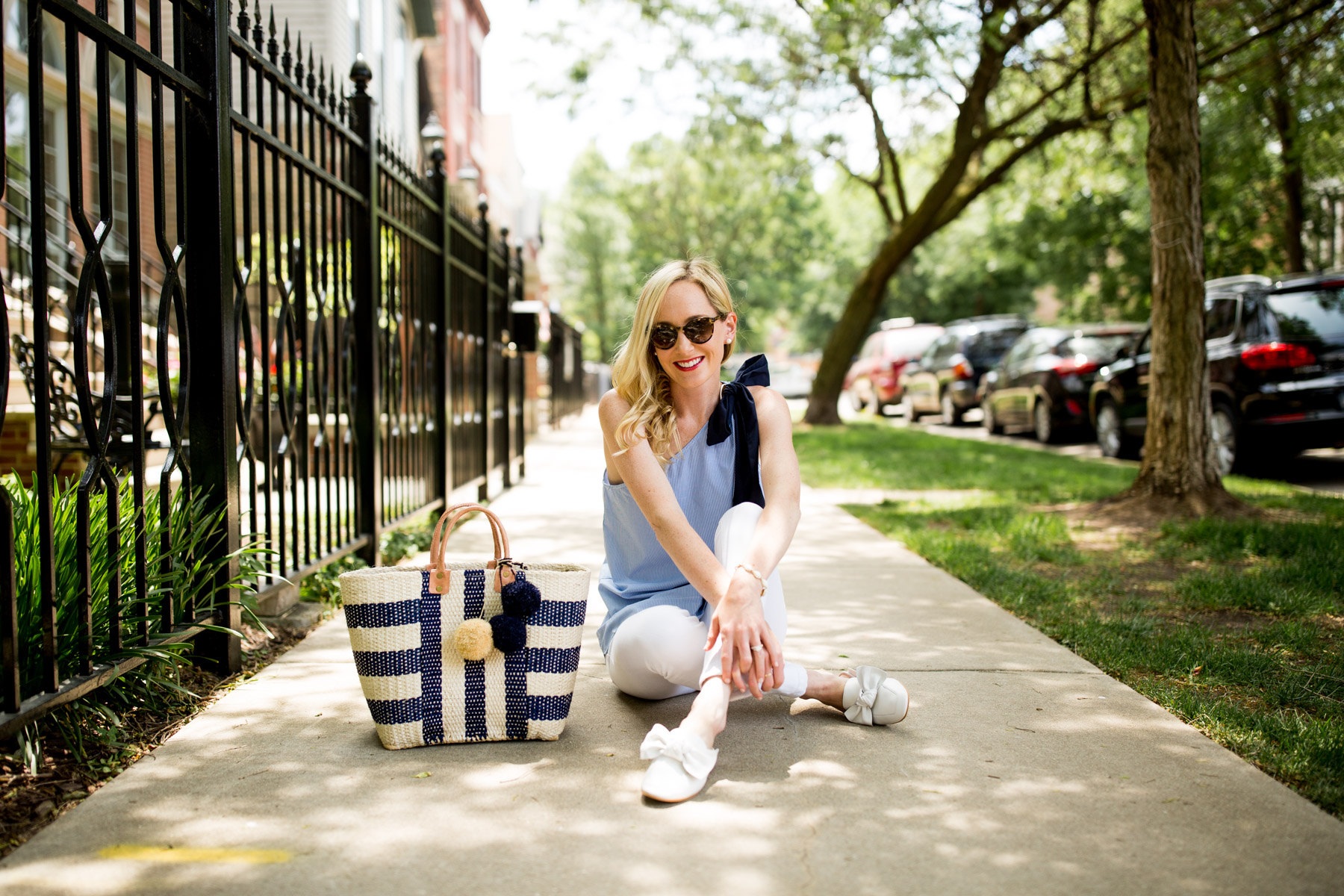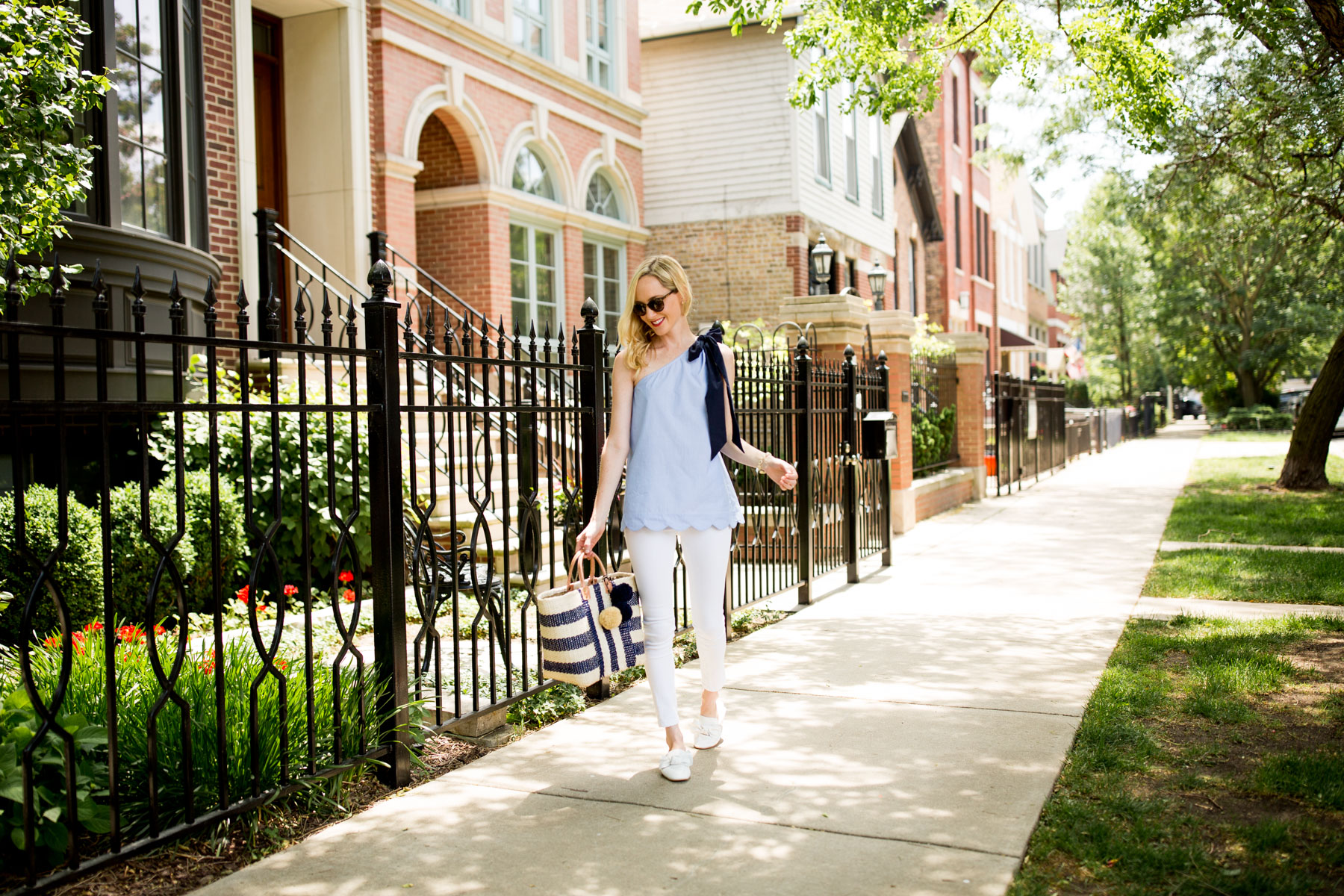 Shop the post:
Scalloped Bow Top (Similar here, here, here, and here. And here's my favorite scalloped tank.)/ Woven Tote (Also love this one, this one and this one! And this tote is on my wish list. More Mar Y Sol on Shopbop.) / Bow Mules (Now in white! Here's my full review on 'em. I also have these kiltie mules and love them, and these are my favorite loafers, which also come in a mule version.) / Newer Kendra Scott Bracelets t c/o / Favorite White Skinny Jeans (Also love these! For daytime jeans, I adore this pair, this pair, and this pair.)