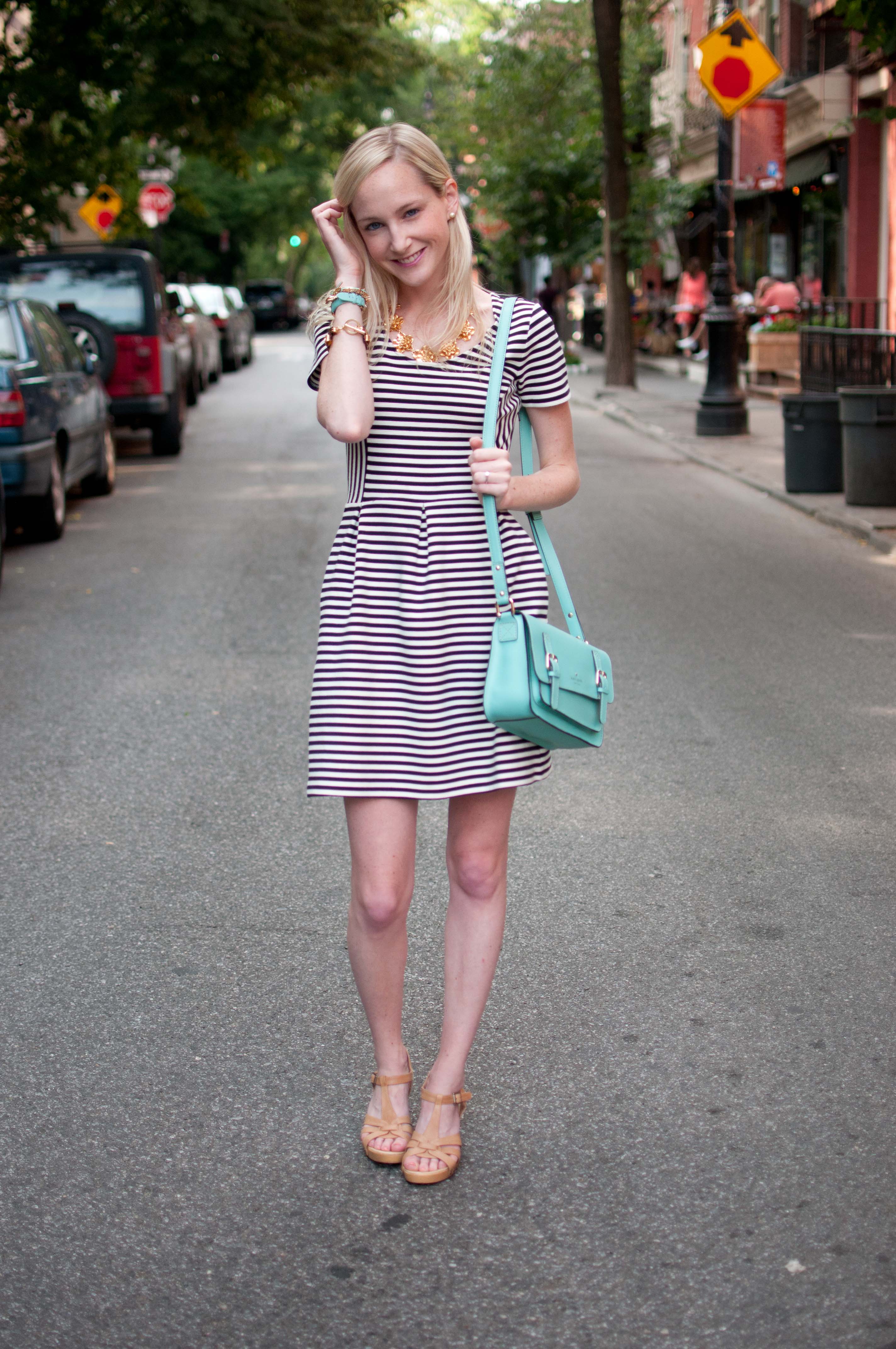 It's never easy saying goodbye to your best friend. Erica, my BFF, is headed off to the midwest next week to start the next chapter of her life. My heart is breaking, but I know it's for the best. It's been nearly two years since Erica was diagnosed with Multiple Sclerosis, and while she's doing GREAT (she's seriously the strongest person I know), it's time for her to go back home and be closer to her family. **Please consider supporting the cause!** She also recently graduated from Hunter College with her second Masters degree, and scored the job of her dreams back home! Ahh, so proud. I have one very hardworking, accomplished, wonderful best friend. I will miss her every single day back here in New York City, but I know that a little distance won't kill us! Our friendship is a lasting friendship. After all, we've been through a lot together. And all of it has only brought us closer. I love you, Rickster.
Dress: Madewell (A recent score at last week's J.Crew sample sale on 5th Avenue), similar here (Super close!), here, here, here, here, here, here, here, here, here, here, and here (Wow… Sorry. I just got really into that. Everyone needs a striped dress this season though, right?!) / Bag: Kate Spade, similar here (Loving the Cambridge Satchel Company so much these days!) / Earrings: J.Crew*, more affordable version here** / Necklace: Kate Spade (Sold out), but available here for a steal! / Bracelets: Stella & Dot, C.Wonder (lighter version here), and Bracelet: Kate Spade (Sold out, but links to a VERY similar color), and I'm loving the striped, glitz, hot pink, solid gold and rose gold versions! / Watch: Kate Spade, also available in hot pink, peach, white and black (And currently obsessed with the quilted version!) / Lipstick: Clinique / Pumps: DSW (Sold out), but really loving these! (Crazy about wooden heels)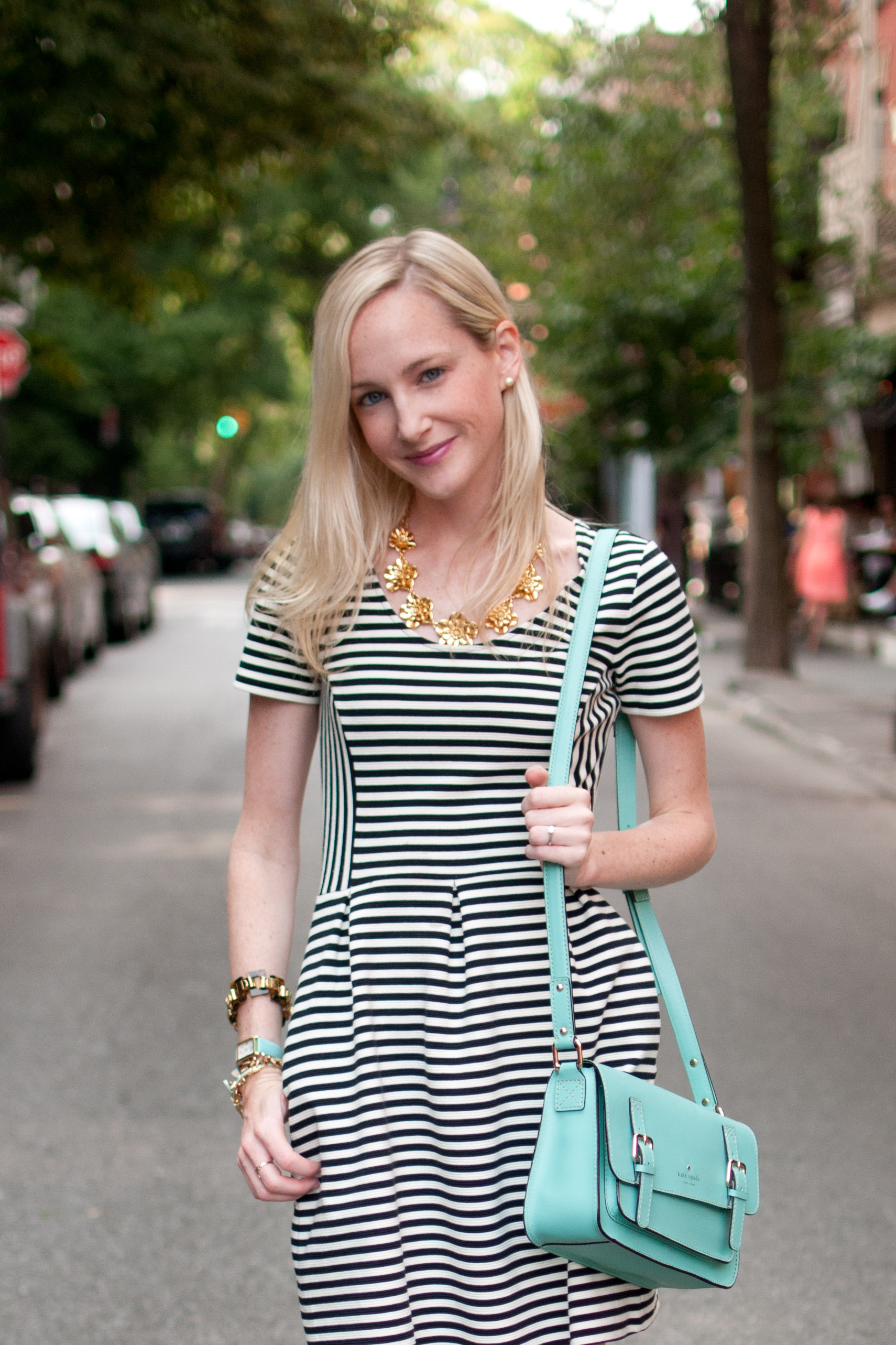 This past weekend was Erica's last full weekend in New York City. So instead of sitting around in her Upper East Side apartment crying and hugging each other, we decided to party it up, and go out with a bang! I mean, sure. There was some crying and hugging. But there was also quite a bit of debauchery. Which is always fun. ;)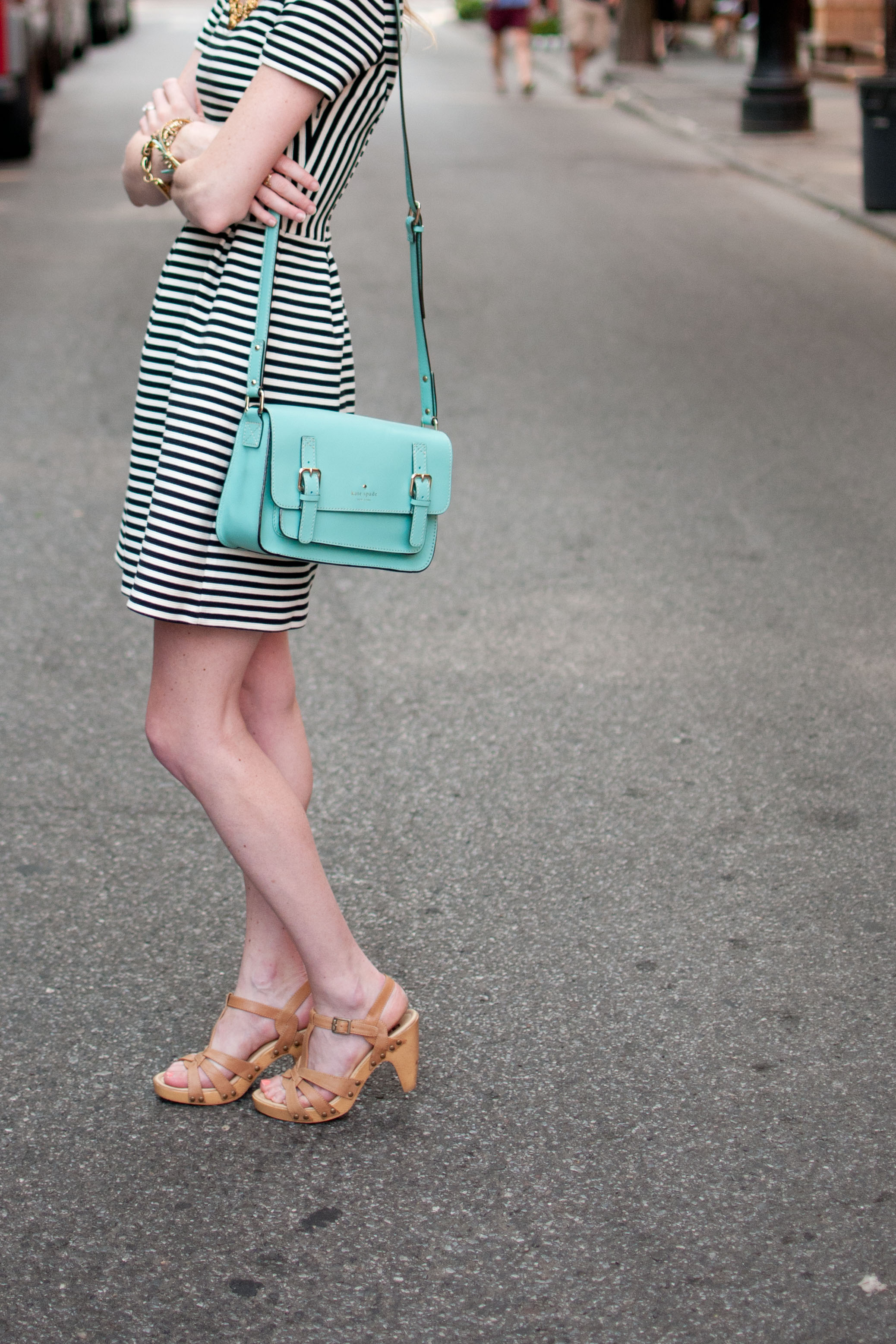 We started the night at the outside Standard Hotel Biergarten under the High Line, which is one of my favorite places to go on a hot summer's day. After battling a few other groups, we even got seats! (For those of you who have been there, you know that's a feat. ;)) After that, we headed over to the Maritime Hotel for drinks and appetizers at La Bottega. Fabulous. We concluded our night at Hill County, a fantastic (and very unique) barbecue place in the 20s. It was a great night. 
But Ricky, it wasn't our last. I can't wait to visit you in Milwaukee, and do it up. To new chapters, new adventures, and new outlooks on life. I love you, Erica. You're the sister I never had.
Dress: Madewell (A recent score at last week's J.Crew sample sale on 5th Avenue), similar here (Super close!), here, here, here, here, here, here, here, here, here, here, and here (Wow… Sorry. I just got really into that. Everyone needs a striped dress this season though, right?!) / Bag: Kate Spade, similar here (Loving the Cambridge Satchel Company so much these days!) / Earrings: J.Crew*, more affordable version here** / Necklace: Kate Spade (Sold out), but available here for a steal! / Bracelets: Stella & Dot, C.Wonder (lighter version here), and Bracelet: Kate Spade (Sold out, but links to a VERY similar color), and I'm loving the striped, glitz, hot pink, solid gold and rose gold versions! / Watch: Kate Spade, also available in hot pink, peach, white and black (And currently obsessed with the quilted version!) / Lipstick: Clinique / Pumps: DSW (Sold out), but really loving these! (Crazy about wooden heels)
*Take 25 percent off with code "NEWSTYLE"
**Take 10 or 20 percent of (depending on how much you spend) with code "SUMMER"