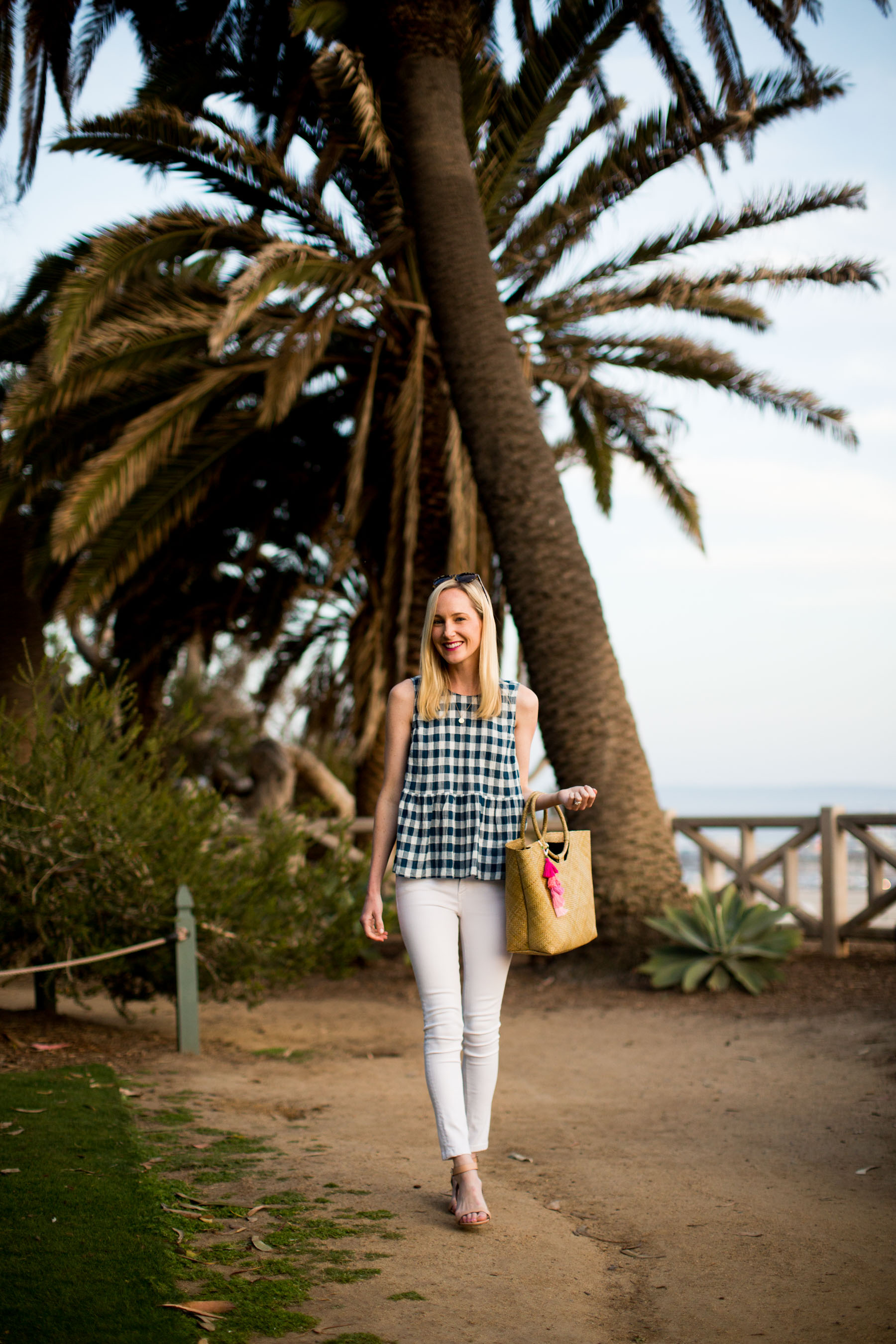 Tuckernuck Gingham Tank c/o / Straw Tote c/o / Loeffler Randal Sandals (Also available via Tuckernuck and Shopbop) / Rag & Bone Jeans (Also available via Shopbop) / Initial Necklace / Emma's Lilly Shift
I feel like I warned you. Or maybe Mitch warned you in his most recent post.
But here they come. The plethora of Los Angeles beaches posts that will seemingly never end. ;)
Because, really: we shot what I was wearing every day… and then another "look," as California weather was so strange for us and I typically changed at some point because I was chilly or hot.
Chilly in the morning, hot in the afternoon, chilly in the evening–thus a couple of (unplanned) outfit changes per day. (Also, my husband is amazing and such a forward thinker. Every time I changed, he was like, "Hey! You're wearing something different! Let's take pics!" Meanwhile I was all like, "Or… we could get a glass of wine instead?" ;))
So apologies in advance. So many California outfits to come! (Also, Mitch, I love you. Thanks for keeping this site afloat.)
Wait. Did I tell you? I wore yoga clothing most mornings, as we took super long walks along the beaches, and it was so nice. Okay, no. I didn't do yoga in my yoga clothing. Don't be fresh, haha. BUT… man. I now understand why so many moms in my neighborhood live in the stuff. I currently have three pairs of yoga pants (these, these and these), and I'm considering sporting them until Morning Nap. So comfy! Has it been that long since we all wore leggings as pants?! How can we bring that awesome trend back?! (Disagree that it was awesome?)
But let's talk about what I'm wearing here.
I've said it before, and I'll say it again: Tuckernuck has THE best clothing for the Girl on the Go. I don't know how to describe it, but everything I've ever worn from the site has looked amazing but has required minimal effort. Yet somehow, it can be worn again and again and again–season after season. And most of it can be dressed down for daytime and dressed up for night. Timeless meets statement meets effortless meets polished, if you will.

Favorite Tuckernuck Tops
I can't tell you how many times I wore this gingham peplum tank during our trip. It was a staple. It's a bit of an investment, but it's everything. It hangs perfectly, it's the loveliest shade of navy, and it's flattering and forgiving. It also doesn't wrinkle, which is HUGE when you're traveling. I think that was a big part of the reason I reached for it so often throughout our stay! Clothing that travels well and looks great? Hard to find!

Favorite Tuckernuck Bags
My straw tote (which also comes in green and rainbow) went everywhere with us, too. Since the pink tassel is removable, it was super versatile. I simply tied different colored scarves–no space in the suitcase–around it, and voilà! A bunch of "different" bags. ;)
Putting together this post, I find it absolutely crazy that today, it's supposed to be 75 degrees in Chicago. Because it was 75 degrees when we took these photos, and that felt like tropical, oh-my-god-it's-summer weather to me then. So today, I'm wearing my gingham tank (look for it on Insta Stories!) and spending the day roaming Lincoln Park with Emma and completing a few big projects. :)
Take me back to LA…
Shop the post:
Tuckernuck Gingham Tank c/o / Straw Tote c/o / Loeffler Randal Sandals (Also available via Tuckernuck and Shopbop) / Rag & Bone Jeans (Also available via Shopbop) / Initial Necklace / Emma's Lilly Shift
Favorite Tuckernuck Tops

Favorite Tuckernuck Bags