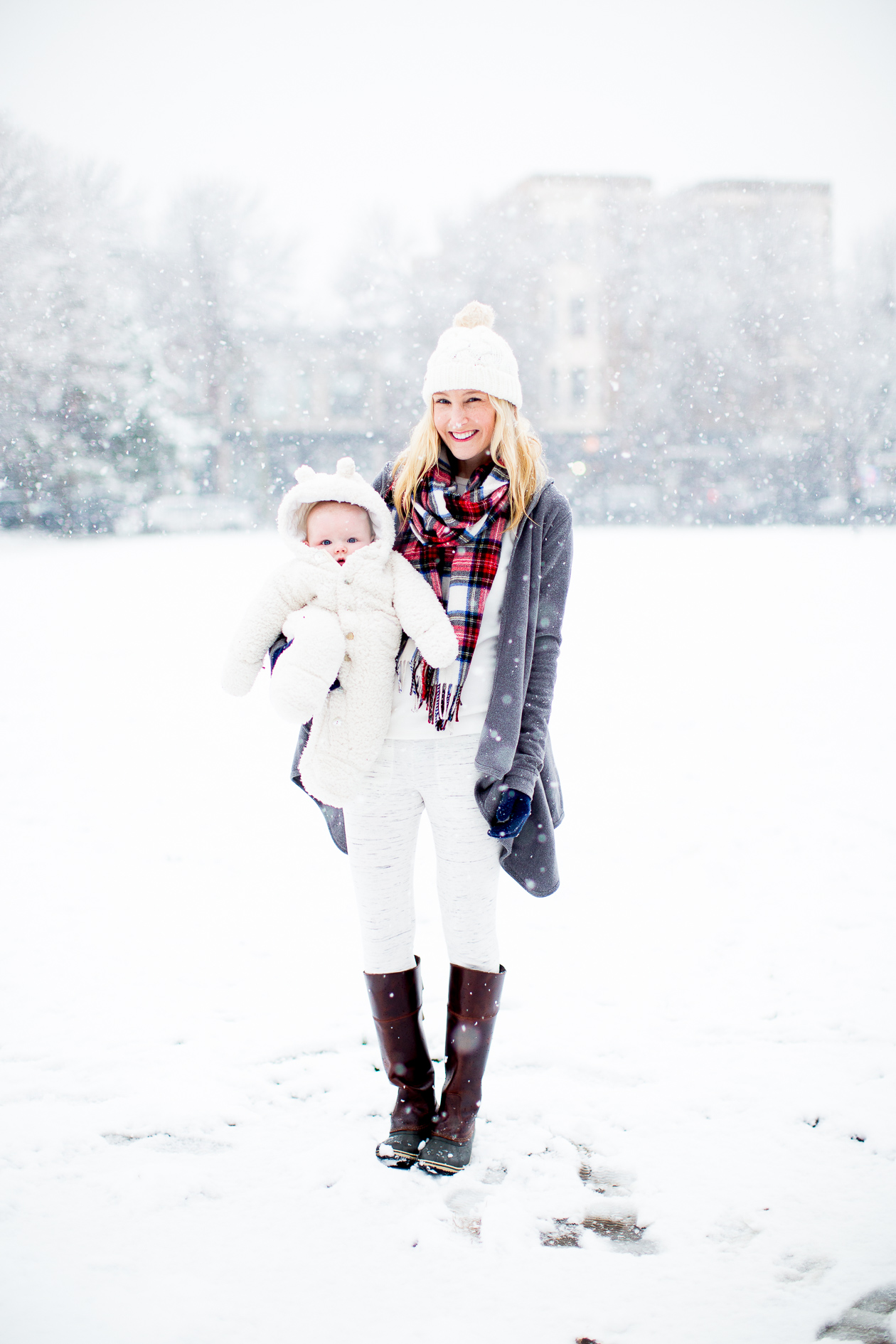 Canada Goose Jacket (Love this version and this shorter version, too!) / Cuddl Duds Leggings, Top and Cardigan c/o Bon-Ton / Sorel Boots c/o / J.Crew Scarf / Barbour Beanie c/o (Similar here, here and here.)
Emma's Wearing: Hand-me-down snowsuit from our awesome neighbors (Similar here, here and here) / Holiday Pajamas
Mitch is wearing: Jacket (Old, newer styles here, here and here)
THIS IS HUGE.
Emma rolled over last night!
It was pretty warm for a wintery day, but halfway through our first experience with snow, Emma went from all smiles and tongue-out-to-catch-the-snowflakes to a whole lot of tears and oh-my-god-I-hate-this-guuuuys. (The photos of her in the stroller are of her time seeing flakes. How sweet are her big eyes?!) Poor little Boo Bear. We stopped in at a restaurant to warm up, regroup, and eat–and the three of us had a blast with the other Chicagoans taking cover. All's well that ends well, right?!
When we got home, we strung lights on the tree and then set Emma up on her playmat for tummy time. And all of a sudden, while Mitch and I were both sprawled out on the floor playing with her, she up and rolled over. One day after her four-month marker. Mitch and I started shrieking and cheering, and Emma looked up at us and smiled adorably. And then she did it again!
A big day in the Larkin Household. :)
Anyway, a few things on my mind:
I LOVE THESE BOOTS. I've actually always been a fan of the Joan of Arctics, but I came into possession of these Slimpacks a few months ago through a collaboration with Sorel, and I can't get over how awesome they are. They're super easy to get on and off, they're very warm, and they look a bit more polished–a nice break for those of us who live in areas who get hit hard with snow during the winter. The one thing I'll say is that they run a bit short. I typically wear a 7.5 in everything (sometimes a 7 in heels), and I took an 8 in these.
I am so sick! Guuuyyyys. I've been sick for two weeks straight, I think. I just can't kick it. The worst is the cough, which really only surfaces at night when I'm trying to sleep. Last night, even Noodle got annoyed with how noisy I was being. Send wellness vibes my way, please! ;)
Mitch, Emma and I are hosting a Cuddl Duds event this week! It's going to be held at Carson's in Orland Square Mall in Orland Park, Illinois on Wednesday, December 7th from 6 to 8 p.m., and we'd LOVE to meet you. We'll be showcasing the comfiest looks of the season, styling outfits, taking photos, and offering shoppers a gift with their Cuddl Duds purchase of $50 or more. (One per customer while supplies last.)
As you can see from these photos, we got our Christmas tree this past weekend! I'm hoping to share photos later today. Stay tuned!
Can you get over Emma's snowsuit in these pics? Our awesome neighbor, Janie, passed it down to us over the summer. Emma was teeny-tiny at the time, and we couldn't believe that she'd ever fit into it. But let me tell you: it's JUST right! And yesterday would've been a disaster without it. Thank you so much, Janie! <3
Mitch and I reserved this past weekend for family time only, and it was awesome. Have you ever done that before? Turned down plans just to make sure you have enough time with the Fam Bam? We're trying to reserve one weekend per month for just the four of us (Noodle included), and I've been loving it. The holidays can be both extremely exciting and extremely hectic, and I'm trying to not feel guilty about saying no… even if it's simply because there's too much going on and I don't want to lead a crazy, sleep-deprived life. (Anyone else suffer from mini mental breakdowns when they're spread too thin?) It's difficult, since I want to partake in everything. But so far, everyone has been understanding, and whaddaya know? This holiday season is the best I've ever had, even though I've been skipping most events. :)
I cannot believe that winter is here. JUST LOOK AT THIS SNOW! This week, we have projected lows of 15 and 13 degrees. Would any Southerners like to adopt us?
Over and out… but tune back in later today (hopefully) for some cute pics of the Larkin Fam picking out a Christmas tree! :) Hope you had an amazing weekend!
Shop the post:
Canada Goose Jacket (Love this version and this shorter version, too!) / Cuddl Duds Leggings, Top and Cardigan c/o Bon-Ton / Sorel Boots c/o / J.Crew Scarf / Barbour Beanie c/o (Similar here, here and here.)
Emma's Wearing: Hand-me-down snowsuit from our awesome neighbors (Similar here, here and here) / Holiday Pajamas
Mitch is wearing: Jacket (Old, newer styles here, here and here)