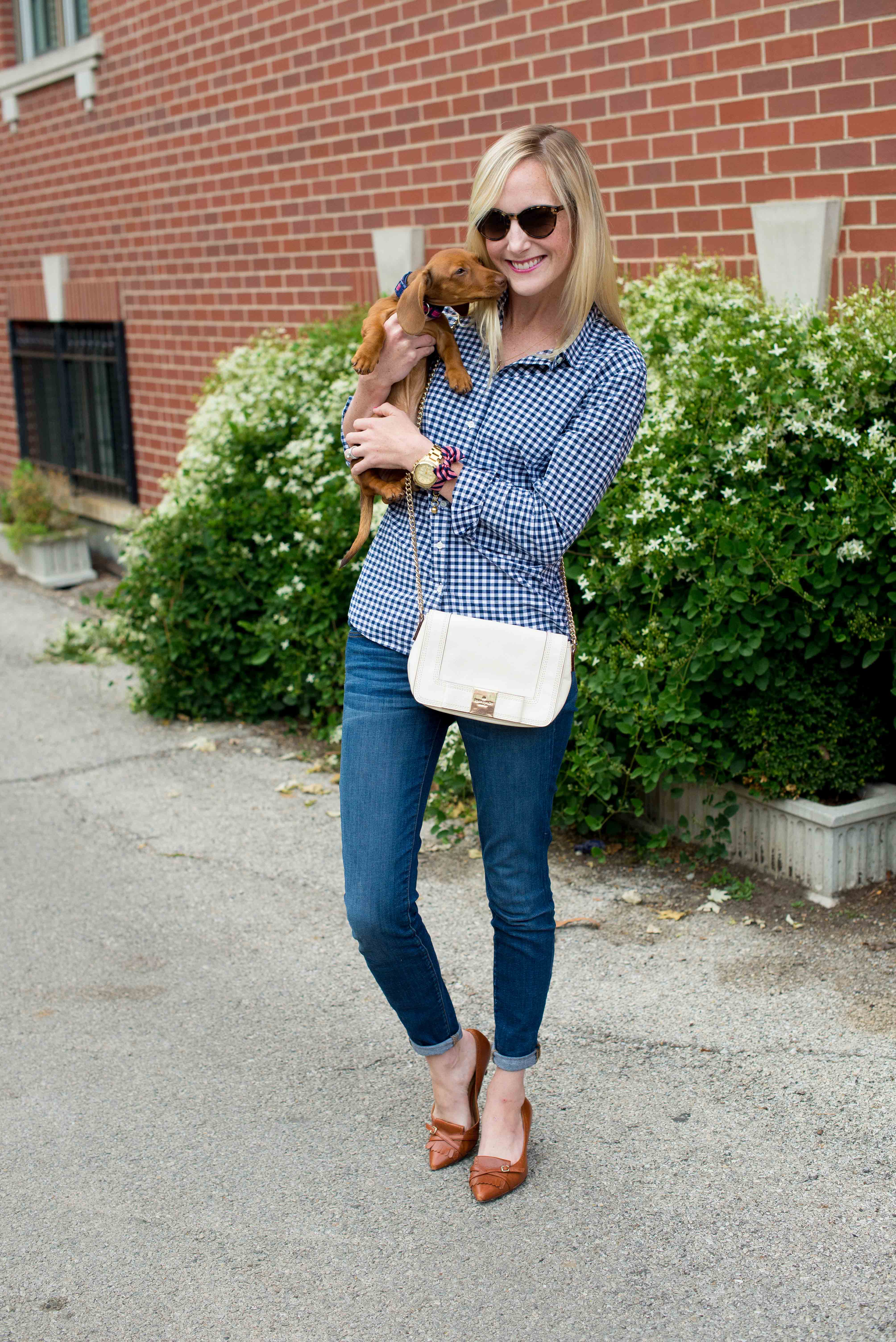 J.Crew Gingham Shirt (Old, almost identical Factory version here, and similar here and here… and see more options below!) / Kate Spade Bag (Old, similar here without the bow) / emitations Anchor Necklace (c/o) / J.Crew Jeans / KJP Bow Bracelet / Brooks Brothers Kitten Heels (Old, but OMG. #need) / Michael Kors Watch / Kate Spade Sunnies (Old, newer styles here) / J.Crew Earrings (But how cute are these earrings from BaubleBar?)
IT'S FRIDAY! I'm seriously happy. Mostly because last night was a total flop, and I'm excited about the prospect of a redo. On Wednesday, Mitch and I had this magical night out, and everything was perfect. (I'll blame the emotional high for the sappy post that followed.) Last night, though? Yikes. We tried to have a picnic on the beach, but all things that could have gone wrong did go wrong. We were both tired, Noodle was squirmy and attempted to jump into Lake Michigan, and I dropped all the food into a big pile of bird poop. So… yeah. Here's to Friday. Mitch and I are free (like we always are, haha), so I'm planning a makeup night!
Fashion-wise, I'm back to my usual jeans-and-button-down look. In our alley, of course, because it's easy and the only place we can seem to get to these days before the sun goes down. (Mitch works late; I'm a fan of taking photos at the very last possible second.) I'm wearing my favorite J.Crew gingham shirt (old, but available at the Factory), which is a staple, in my opinion. Love gingham as much as I do? Check out my favorite gingham-printed products below!
Happy weekend, all! :)