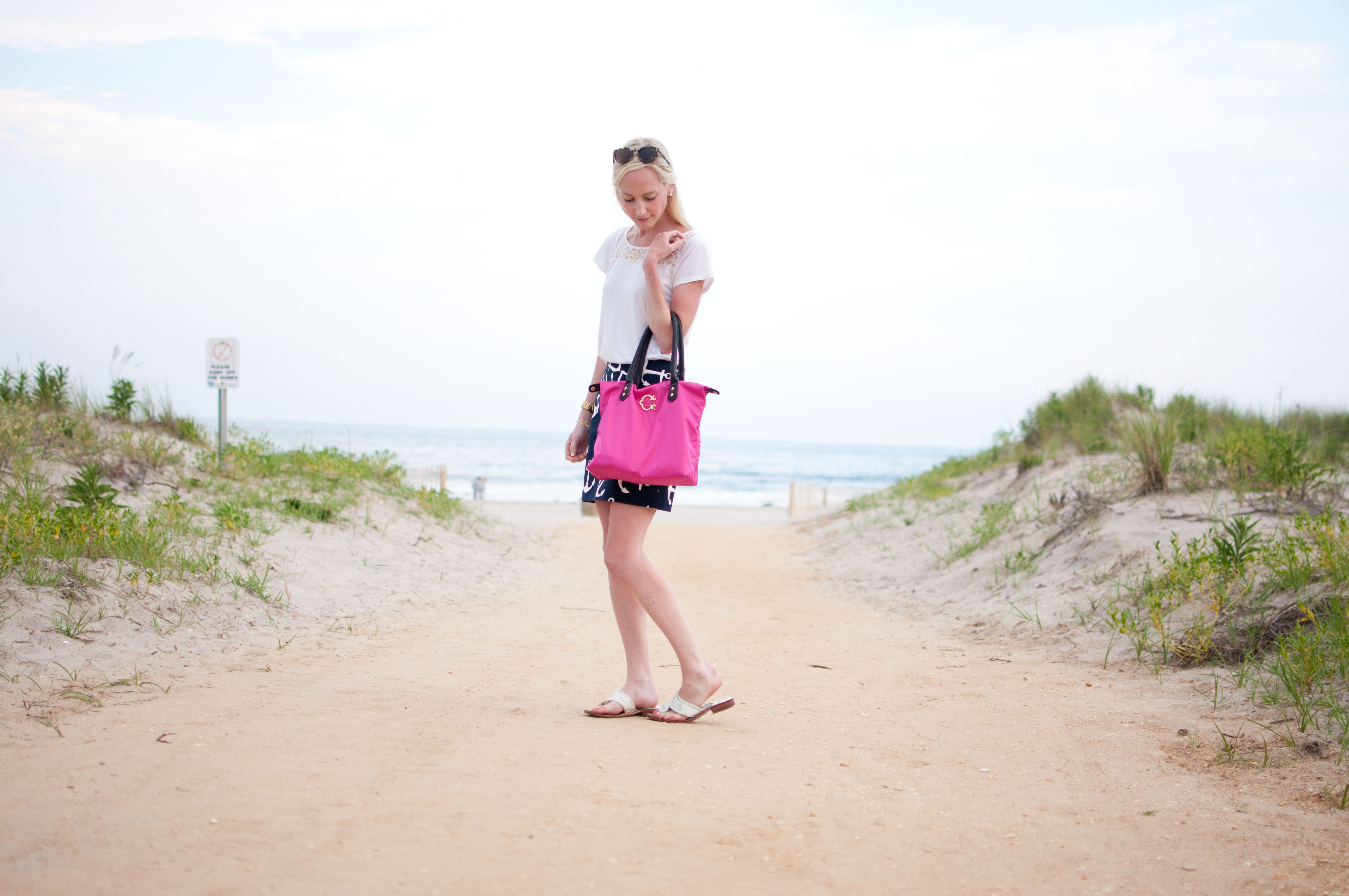 I'm pleased to announce that I've teamed up with The Hunt, a social shopping site that helps fashionistas find products that they can't seem to locate on their own. Super excited about this! Ever come across something on Pinterest that you just had to have, but couldn't find where it was from? I certainly have! This happened to me when I discovered gold peep-toe bow pumps on Pinterest that I knew were my wedding shoes. The only problem was that I couldn't figure out the designer behind the gorgeous shoes, as the link was broken. It seriously took me a month to track the beauties down. (They were by Badgley Mischka, if you are wondering. ;))
Skirt: J.Crew (Sold out), available through eBay here / Tote: C.Wonder, also available in the larger version… And don't forget to monogram it! :) The fabulous tote (I own three) also comes in a mini sparkle version and a large sparkle version! Looking for a steal? Use code "HEATWAVE" and take an additional 50 percent off sale C.Wonder "Easy Totes": leather version (comes in black or tan), large floral version, mini floral version, large stripe version, and mini stripe version / T-shirt: J.Crew (Old), similar here but much nicer. ;) / Necklace: Paradise, similar here / Earrings: J.Crew, similar here (More affordable!) / Sandals: Jack Rogers, same in platinum here, also loving the cork version (which I feel like I talk about ALL the time… sorry!), and the navy/white version (Swoon, swoon, swoon!) New obsession: Nantucket gold version / Watch: Michael Kors / Bracelet: Kate Spade (Sold out), tons of the same bracelet in different styles here / Lipstick: Clinique / Sunnies: Kate Spade (Sold out), available via eBay here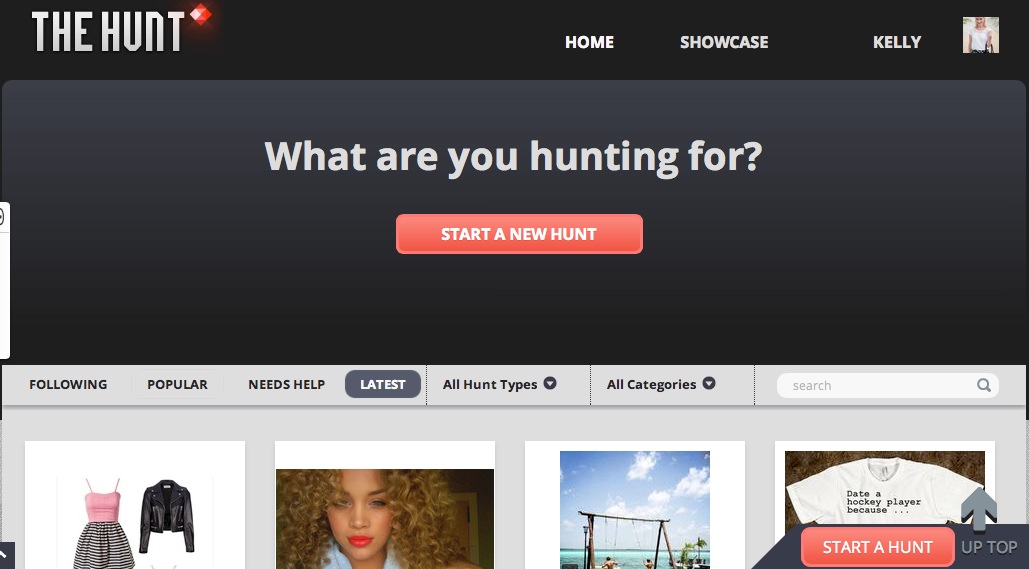 This is where The Hunt comes in. Users can easily upload photos that they find on the web to the site's community, and style hunters can either find the exact items that are featured, or suggest similar items if the products are no longer available. When I heard about The Hunt, I knew I wanted to be involved. Check it out!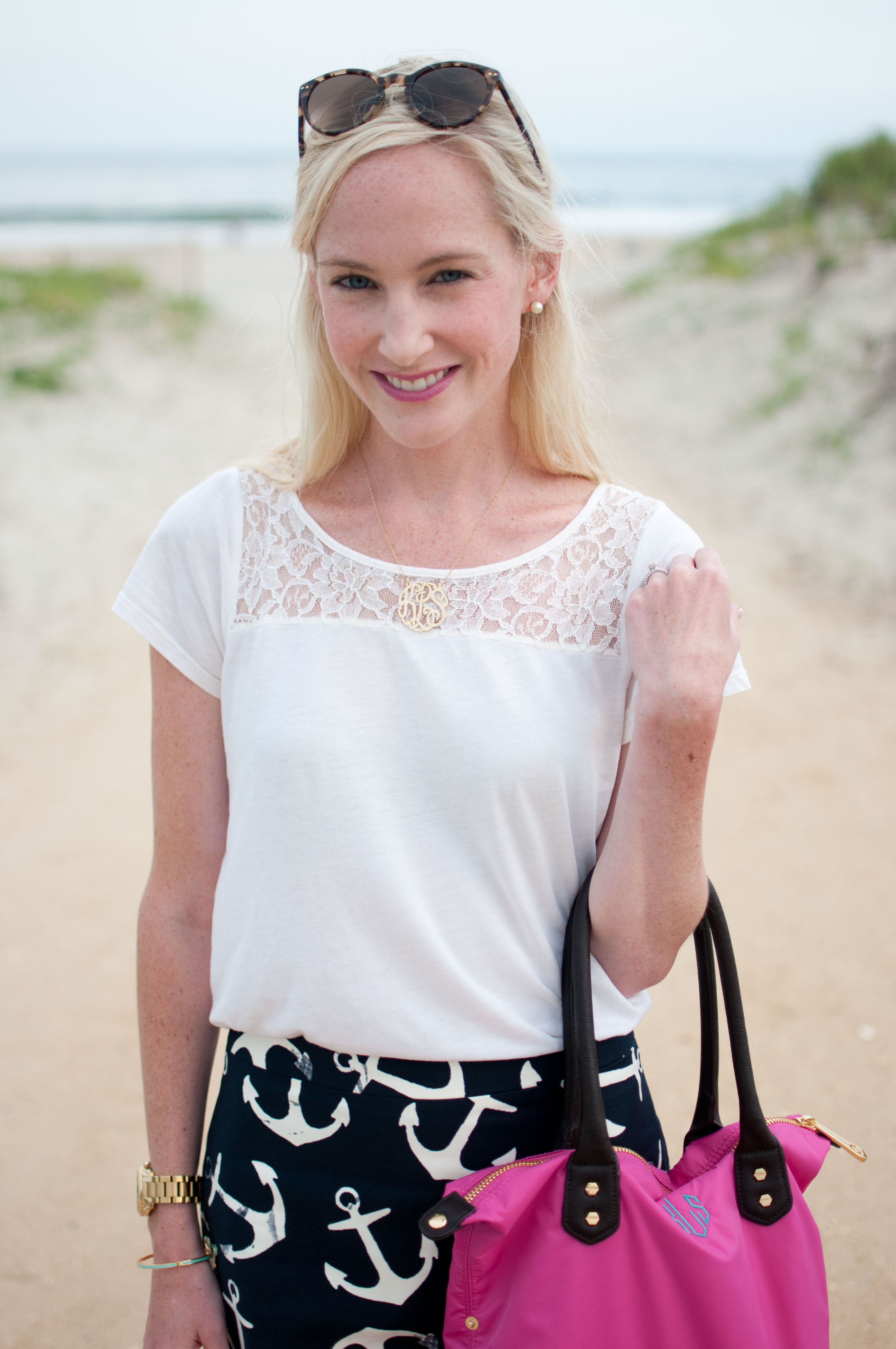 But back to my beach bum life. ;) It's summertime and the livin' is easy! Yesterday, Mitch and I met our Chicago friends, Dan and Laura, in Long Beach Island for lunch. Dan and Laura attended our wedding over the weekend, and decided to stay in New Jersey a few extra days so they could visit Laura's family in Manasquan, another shore town. It was so nice to spend some quality time together!
After lunch, Mitch and I took a long walk on the beach in Ocean City. Besides getting stuck in a massive thunderstorm, it was awesome. The sun was shining, our to-do list was nearly nonexistent, and ice cream was consumed. We even picked up our marriage license along the way in uptown OC! Later that night, we celebrated with pizza and cocktails.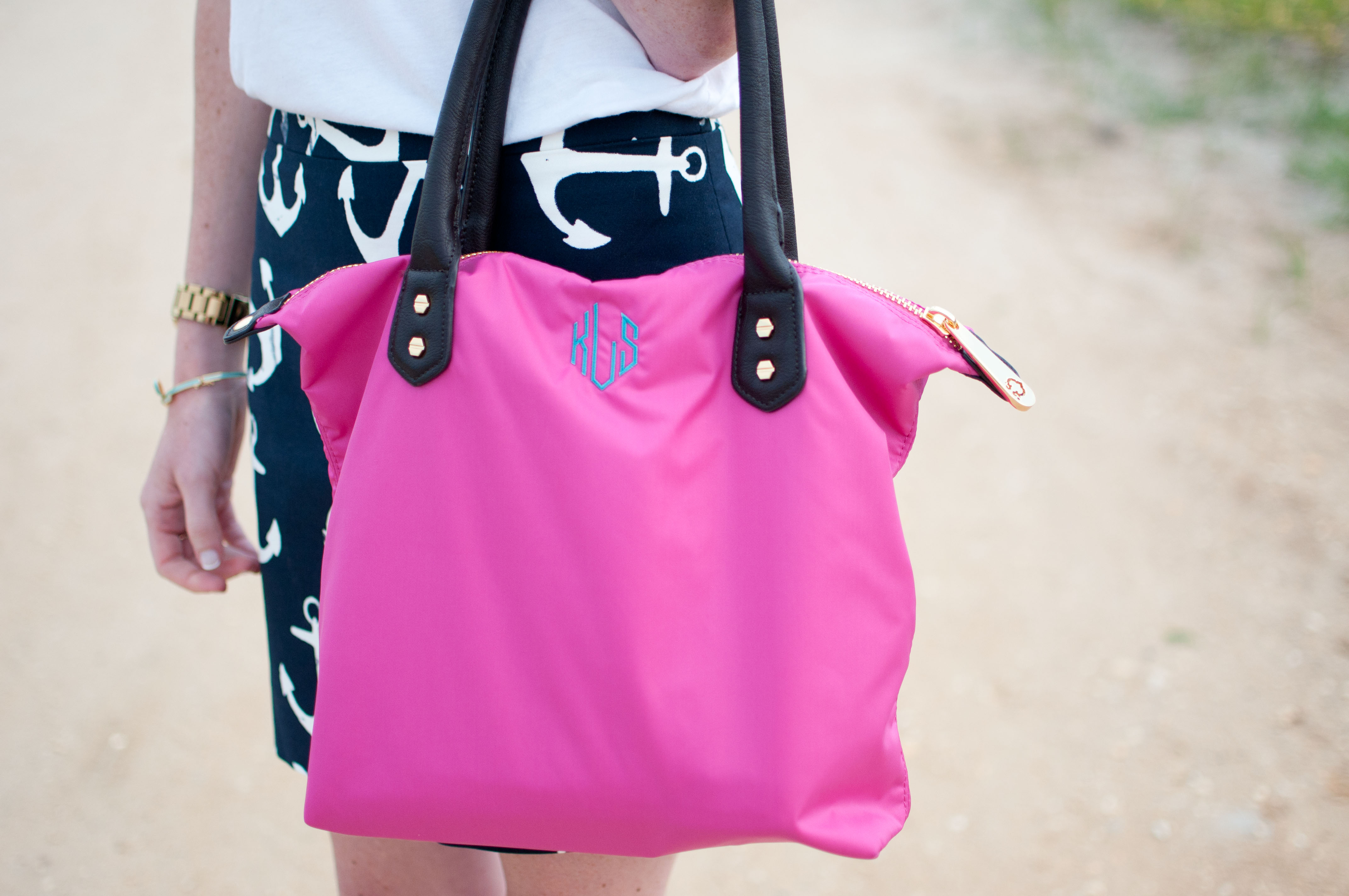 As C.Wonder just launched its new blog and website (through which you can now order monogrammed items!), I couldn't resist carrying my new tote that the brand gave me a few weeks ago at its #itjustgotpersonal event in SoHo. And since we're down the shore, how could I not adorn myself in anchors? Puh-lease. ;)
Skirt: J.Crew (Sold out), available through eBay here / Tote: C.Wonder, also available in the larger version… And don't forget to monogram it! :) The fabulous tote (I own three) also comes in a mini sparkle version and a large sparkle version! Looking for a steal? Use code "HEATWAVE" and take an additional 50 percent off sale C.Wonder "Easy Totes": leather version (comes in black or tan), large floral version, mini floral version, large stripe version, and mini stripe version / T-shirt: J.Crew (Old), similar here but much nicer. ;) / Necklace: Paradise, similar here / Earrings: J.Crew, similar here (More affordable!) / Sandals: Jack Rogers, same in platinum here, also loving the cork version (which I feel like I talk about ALL the time… sorry!), and the navy/white version (Swoon, swoon, swoon!) New obsession: Nantucket gold version / Watch: Michael Kors / Bracelet: Kate Spade (Sold out), tons of the same bracelet in different styles here / Lipstick: Clinique / Sunnies: Kate Spade (Sold out), available via eBay here