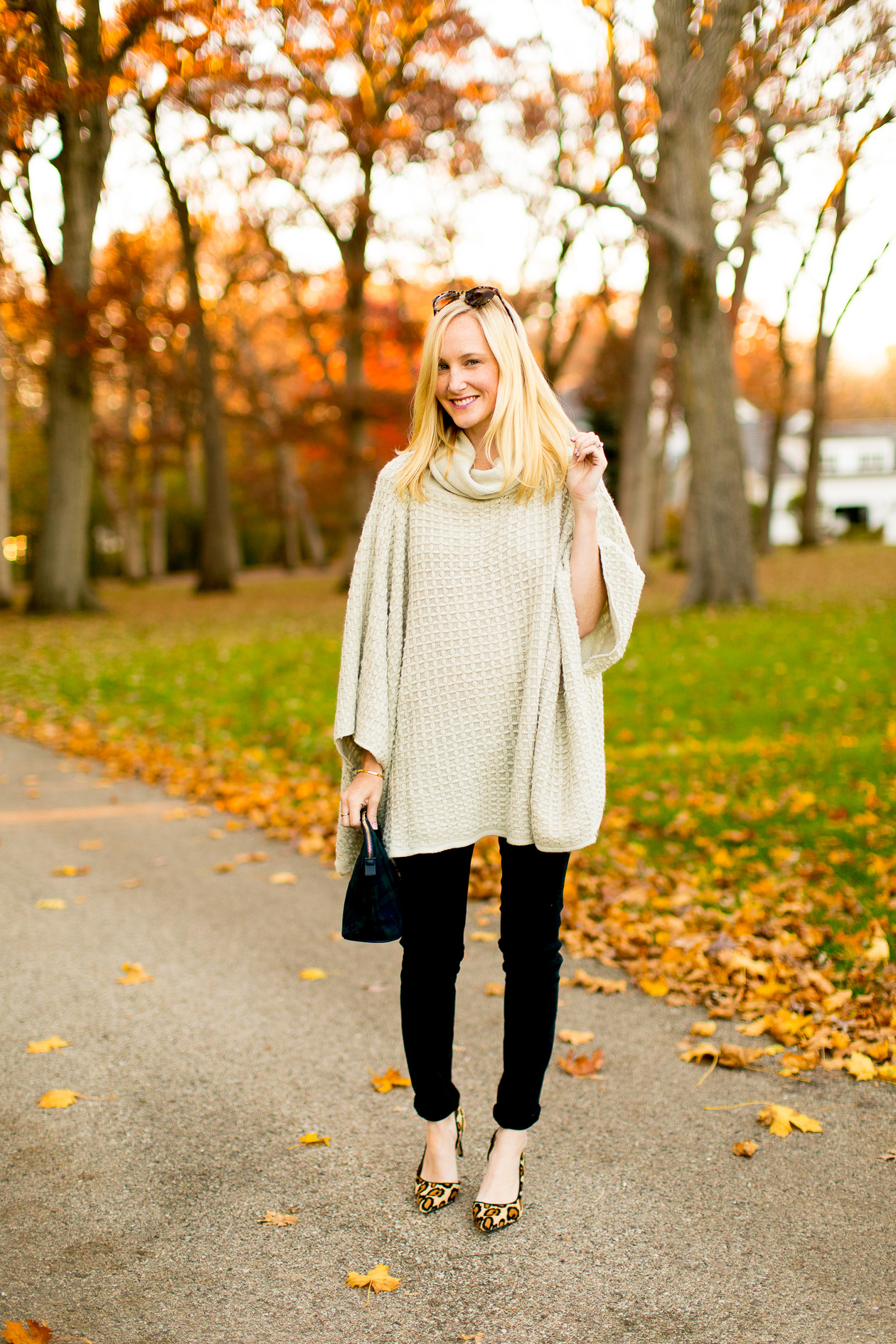 Poncho and Clutch (which is actually a cosmetic bag! I also have this blackwatch plaid bag) c/o Tuckernuck / Hudson Jeans (but these are on their way to me and I'm SO excited! Longer Hudsons here.) / Sam Edelman Pumps c/o (Also available here and lace-up version on sale here and here) / Monica Vinader Bracelet c/o
Happy Saturday, guys! My apologies for not coming back as promised in yesterday's post, but Emma napped twice throughout the day and I felt that it was important to get the house–and our lives–in order while she was sleeping. As she just started taking regular naps, I kind of need to catch up on three months of life during her snoozes. I feel like a new person! And so does Emma. ;) I'm going to have to record her waking up sometime soon; her smile will melt you! ;)
Anyway, BIG NEWS: now through Sunday, you can take 20 percent off Tuckernuck when you spend $200 and use code "FRIENDS20." I KNOW! Tuckernuck is hands down the best place to go for classy-yet-easy looks for the fall and holiday seasons, and their collection this year is the best I've ever seen. Did you catch this post and this post?!
A few favorites:
I have this cape and I'm so excited to wear it this week! It also comes in navy. And this quilted version?!
Tuckernuck has the best ruffled tops. I love this one (which I wore here), this one, this one, this one, this one, this one, this one, this one and this one! (PHEW!)
Awesome ruffled dresses: one // two // three // four // five // six // seven
This oversized coat is adorable.
Jewelry picks: tassel earrings, pearl earrings, coin necklace, acorn necklace and tortoise bangle.
My favorite blanket scarves are here and here. Love this one from Barbour, too.
If I had a fancy holiday event to attend, I'd wear this dress. But I'm typically covered in baby puke these days, so let's be realistic. ;)
Bag picks: MZ Wallace, omg, blackwatch plaid clutch, have this foldover clutch and love it, and monogrammed suitcase.
My poncho! I wore this one (which comes in tan) in this post and this one in this post, too. This is beautiful as well.
Camilyn Beth dresses! This scalloped one, and the "Go Go Dress," which I've worn to several events, are included in the sale. (It comes in pink, white, navy, peach, black and blush.)
The best plaid shirt for Christmas.
Pom hats in white, black, gray, and cream.
Barbour umbrellas here, here, here, here and here.
The Hunting Blazer in gray, cream and green. This is also a great navy blazer! And a tweed one.
Must-have jeans and pants: white cords, leather leggings, white ankle jeans, classic skinny jeans, and white skinny jeans.
Cute raincoats in navy and yellow.
I have a similar shirt and I've been wearing it constantly this fall.
Now would be the time to pick up a classic Vineyard Vines vest or Shep Shirt!
If this is available in your size, scoop it up!
Kind of need this in my life.
Great skirts: plaid, flutter, scalloped, plaid #2
Festive plaid pants. These, too!
Anyway, I'm off to the American Girl Store today with my niece, Parker; my sister-in-law, Sarah; my mother-in-law, Lisa; and Emma. We're celebrating Parks' eighth birthday, and I can't wait! Also really excited to introduce Emma to Bitty Baby, as she kind of looks like her, haha! Stay tuned for cute pics.
And a huge thanks to Jess and Neal for coming over last night and keeping me company while Mitch was away. LOVE YOU GUYS!
Shop the post:
Poncho and Clutch (which is actually a cosmetic bag! I also have this blackwatch plaid bag) c/o Tuckernuck / Hudson Jeans (but these are on their way to me and I'm SO excited! Longer Hudsons here.) / Sam Edelman Pumps (Also available here and lace-up version on sale here and here) / Monica Vinader Bracelet c/o
Remember: now through Sunday, you can take 20 percent off Tuckernuck 
when you spend $200

 use code "FRIENDS20."

Shop here. :)