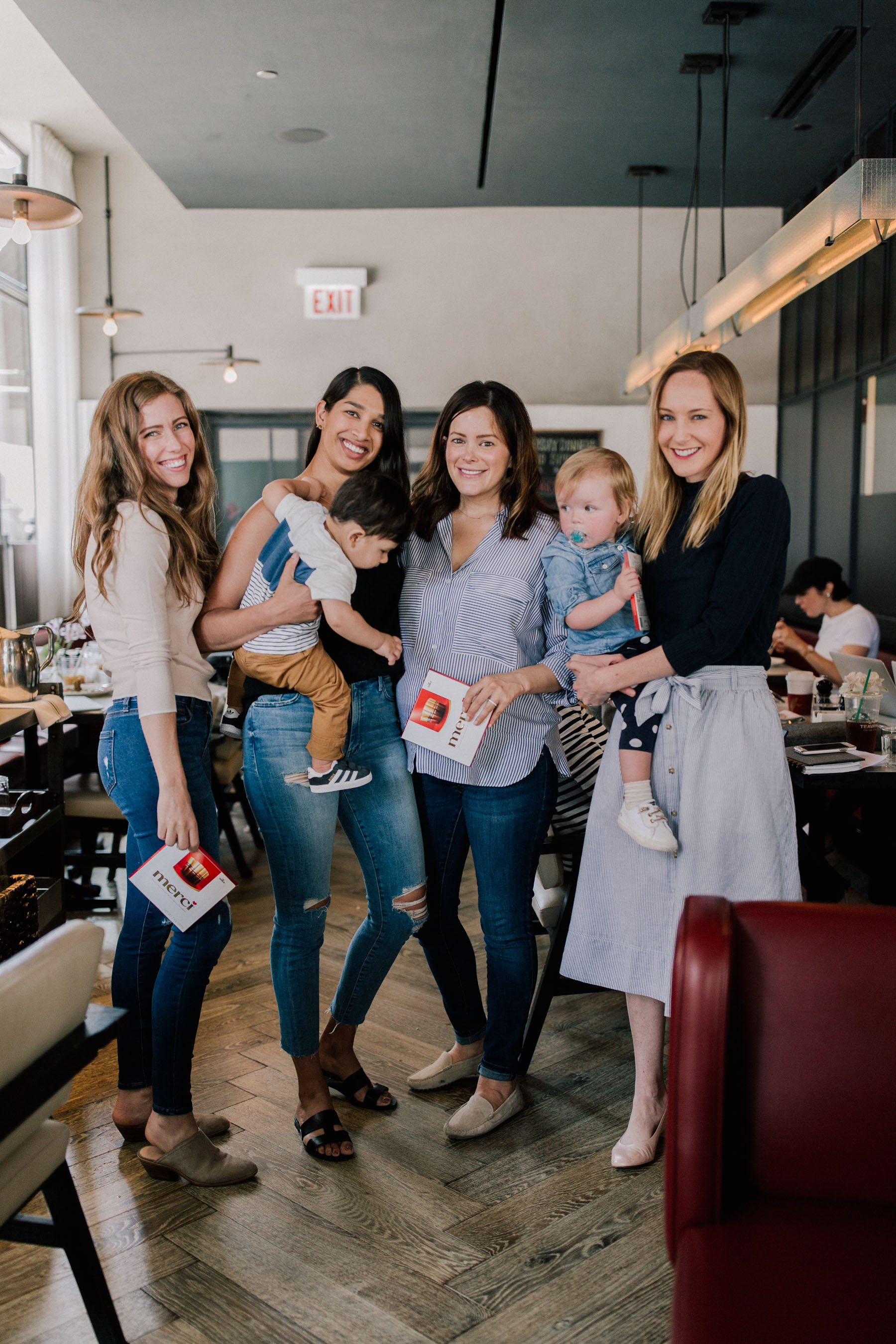 Navy Mock Neck Tee / Striped Skirt (Similar here, here, here and here.) / Blush Pumps c/o / Bamboo Handle Satchel c/o / Trench Coat (Here's the double-breasted version.)
A current struggle in my life is that I live far away from my mom, aunts and mother-in-law. Before I had Emma, this was difficult simply because I missed them and wanted to see them more often. Now, though, it's even harder. Of course, there's FaceTime, which has helped a lot. And my family has made SUCH the concerted effort to visit frequently and plan trips with us. Still, I dream about my mom being able to pop over. (And I know she does, too!)
I'm beyond lucky, though. I really can't tell you how wonderful my "Mom Tribe" is here in Chicago. These women–mostly moms, but some "aunts," too!–are my lifelines. They're my support system; a little family of sorts! I'd be lost without them, and I'm so grateful for their guidance and camaraderie.
Last week, merci Chocolates invited me to take the girls out to brunch at The Robey in Wicker Park as a way to express my appreciation for them. merci is amazingly delicious European chocolate made from the highest quality ingredients, and it's the perfect way to show gratitude, as the name translates to "thank you." (Each box contains eight individually wrapped flavors: Milk Chocolate, Coffee and Cream, Hazelnut-Almond, Hazelnut-Creme, Marzipan, Dark Cream, Dark Mousse, and Praline-Creme. Marzipan is my fave, btw!)
Getting a bunch of busy, working moms with babies on different nap schedules together isn't easy, but the stars somehow aligned, and Shaheen, Danielle and (Aunt) Kira were available on this particular morning. :) Sure, getting there was a little crazy. (Disastrous diaper incident in the car; lost the one and only pacifier I'd brought; ran out of cookies.) But once we all sat down, I think we realized just how much we'd needed an afternoon together! We had much-needed laughs and some great talks, and we relaxed. (Despite Emma throwing the majority of her plate on the ground throughout the brunch, the babies were SO GOOD! We were actually able to talk!)
A few of my amazing Chicago girlfriends couldn't make it that day: Emily was working, (Aunt) Jess was in San Fransisco, and Blair was in the middle of a move. So I thought I'd take this opportunity to thank everyone together. :)
To my Mom Tribe:
From the bottom of my heart, thank you. Each and every one of you has played an instrumental role in helping me raise my daughter away from home. You've upped my spirits when I've felt overwhelmed and tired; you've stepped in when I've needed backup; you've helped me find the humor in the trying parts of motherhood; and, likewise, you've helped me appreciate and value these incredibly special years. Thank you for being my buddies; for being people I can count on.
Shaheen, thank you for being so real, and for making me double over in laughter when you tell me about your day with Zain. There's no one else I'd FaceTime when I get baby poop in my hair. Oops. Just told the whole internet.
Danielle, thank you for being my late-night chat buddy. Without you, I swear my blogging and freelance work wouldn't get done, as I'd likely fall asleep at my computer. You are going to be a GREAT mom, and I can't wait to meet your little girl!
Kira, you're the best aunt in the world. Thank you for loving Emma like she's your own, for actually worrying that she's forgotten you when you haven't seen her in a while (don't worry — never going to happen!), and for always giving her a good sniff, haha.
Jess, you're also the world's greatest aunt! Thank you for taking care of Noodle while I had Emma, and my deepest apologies about your curtains. (Bad dog, Noodle.) Thank you for babysitting Emma with Uncle Neal so Mitch and I can go on dates, and for sending me photos of your messy house so I feel better. And for giving Emma the BIGGEST belly laughs and singing all the baby songs. Fun fact: Jess sometimes listens to Emma's songs by herself, for her personal enjoyment. Just ask her about "The Letter of the Day."
Blair, thank you for being such an inspiration. Because of you, I've focused so much more on my personal wellbeing this year, and I'm a better mom because of it. You have no idea how much of an impact you have on your friends' wellness!
And last but not least:
Emily, THANK YOU for being my role model. The way you juggle everything is nothing short of admirable, and I can't express how much I love your positive, family-focused approach to life. Nearly all of my best parenting hacks and tips have come from you! "What Would Emily and Doug Do?" is often heard in our home, and I think the whole Larkin Family is eternally grateful for all the advice that you guys have given us!
In short, I'm a lucky mom. And Emma is a lucky little girl. All children should grow up with such wonderful, inspiring women in their lives. :)
Shop the post:
Navy Mock Neck Tee / Striped Skirt (Similar here, here, here and here.) / Blush Pumps c/o / Bamboo Handle Satchel c/o / Trench Coat (Here's the double-breasted version.)
In collaboration with merci Chocolates, but all opinions are my own. As always, thank you so much for supporting the partnerships that keep Kelly in the City up and running!
SaveSave