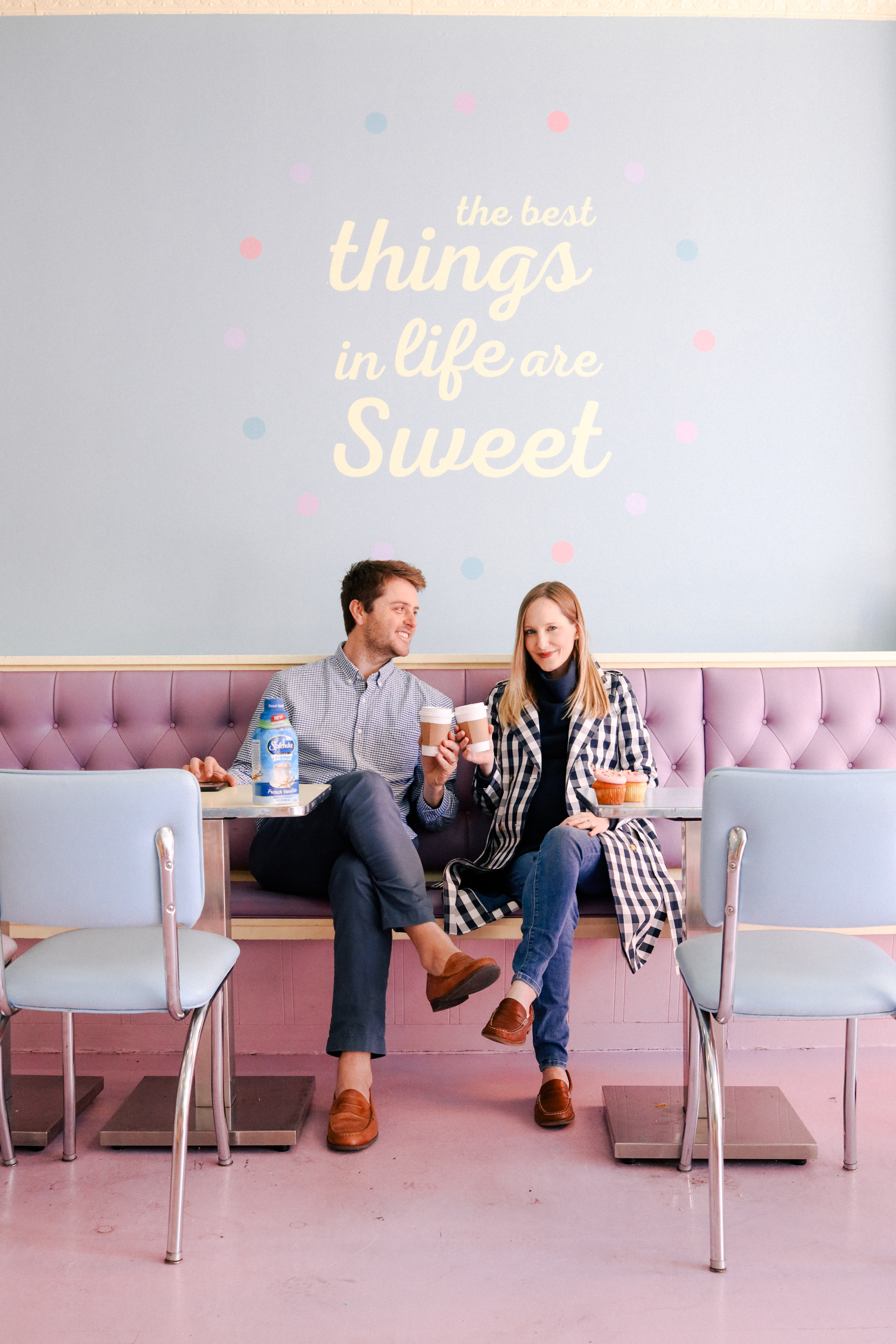 J.Crew Gingham Trench Coat (Here's the iconic khaki-colored one, btw.) / Dudley Stephens Fleece / Sperry Loafers / Mark & Graham Elisabetta Bamboo Tote / DL 1961 Maternity Jeans (These light wash maternity jeans are better, though, in all honesty! Also on sale! Also, OMG. Gap just came out with white demi-panel maternity jeans. FINALLY!)
On Saturday, I talked about Floriole, one of my favorite spots in Lincoln Park, Chicago. And today, I'm featuring Sweet Mandy B's, which, in my opinion, is the neighborhood's best bakery! It also happens to be next door to Floriole. (1208 W. Webster.)
Mitch and I snapped these photos last week when we stopped in for coffees and to shoot a little Instagram collaboration. (I mean, how cute is the above wall?!) Sadly, Emma was at peewee, but Sweet Many B's is definitely her favorite Lincoln Park "hangout," haha. She gets so excited about selecting her treat; it's the most heartwarming thing. So we picked up some pink-frosted cupcakes for her, too. :) She was thrilled when she saw the bag at pickup!
Sweet Mandy B's is where we get our cakes for special occasions. (See the full menu here.) The staff goes above and beyond, and will pretty much embrace any theme! This summer, for Emma's birthday, I have a feeling that they'll be tasked with making an Elsa cake. 😉 I also love the cinnamon rolls that they serve on Saturdays and Sundays; it's something I really look forward to! Weirdly, we haven't yet tried their pies, but I fully intend on ordering some for Thanksgiving next year.
Something I've been dying to try at Sweet Mandy B's is the kids' cookie-making class, which occurs at 10 a.m. on Mondays. It's for ages 2-4, which is perfect for Emma! Going to try to get here there at some point before Baby #2 arrives. :)
Switching gears, a little bit about what I'm wearing:
I can't believe it's taken me this long to get it up on the blog and review it, but we've only had a handful of warm days here. Despite the delay, though, I absolutely adore the gingham trench, and know that I'll have it in my closet for years to come. If you're looking for something a little more classic, though, here's the iconic khaki-colored one!
In terms of weight, the trench is substantial and definitely blocks wind and keeps me warm. But it also doesn't weigh a ton, which is nice. It's pretty wrinkle-resistant, too, especially with the gingham pattern… and the sizing is consistent with normal J.Crew sizing. I ordered my usual size, and it fits perfectly. (I mean, truth: I currently can't button it. 😂 But it fits great around the shoulders, so I know that going with my normal size was the right decision, haha.)
Living in my Dudley Stephens turtlenecks this season! I love the longer length because it works well with the bump… but it's also just super flattering in general. (Big fan of how the turtlenecks cover my butt, as I can get away with wearing leggings with 'em!) The warmth is incredible, too. When I wear Dudley Stephens, I can wear lighter coats and jackets on top, which is normally hard for me to do in Chicago during the spring. (Brrrr.) No one wants to be wearing a puffer in April! (Note: I'm wearing a size medium with the bump, but probably could take a size large now that I'm in my last month of pregnancy. Normally, I wear a size small. I'd say that Dudley Stephens runs TTS.)
Favorite loafers! You need them. They have an insane amount of padding, and the leather is super soft, making them wonderfully comfy. I own them in several colors, and have never needed to break in any of 'em. They're fantastic right out of the box! TTS.
I'm a huge fan of Mark & Graham's Elisabetta line. Those bamboos handles are just the cutest, and I receive so many questions an compliments when I carry my totes! My most-used bag is the Slouch, but Mark & Graham just sent me this newer version with a strap–perfect for mommying–and I'm a huge fan. Doesn't it kind of remind you of Herbie?!
They're good. But these light wash maternity jeans are better, in all honesty! Also, OMG. Gap just came out with white demi-panel maternity jeans. FINALLY!
In search of more Lincoln Park recommendations? Read my complete guide to the neighborhood here.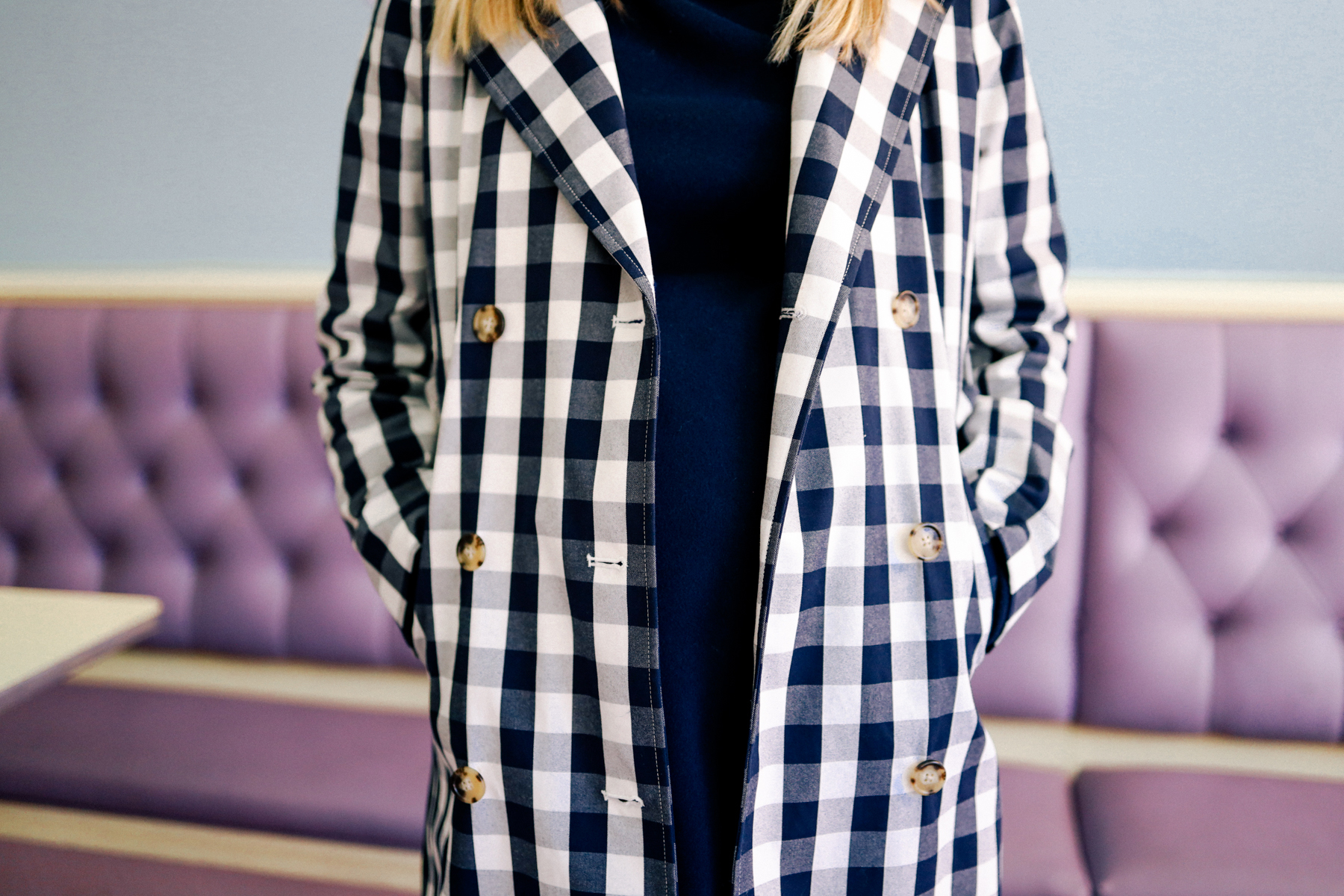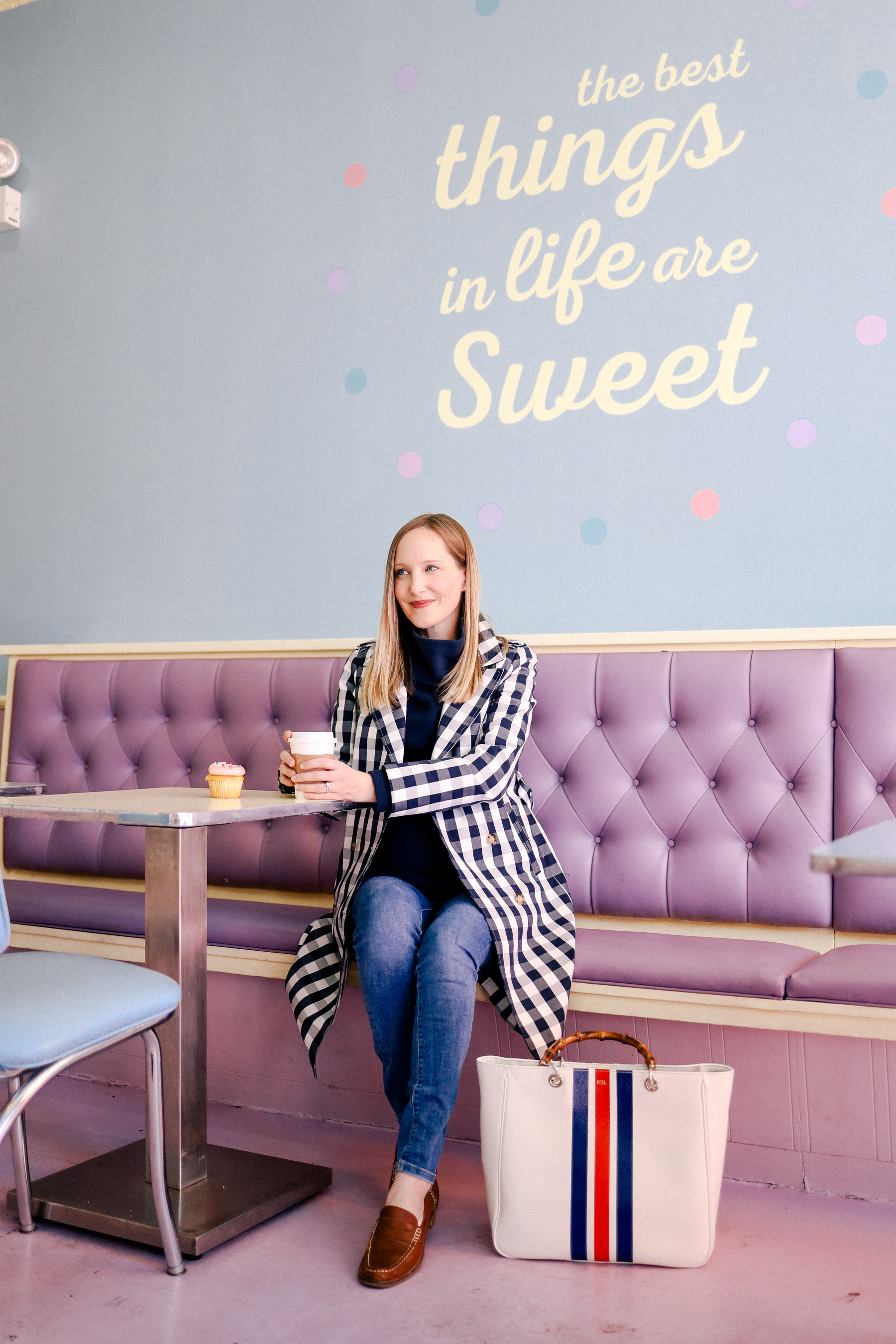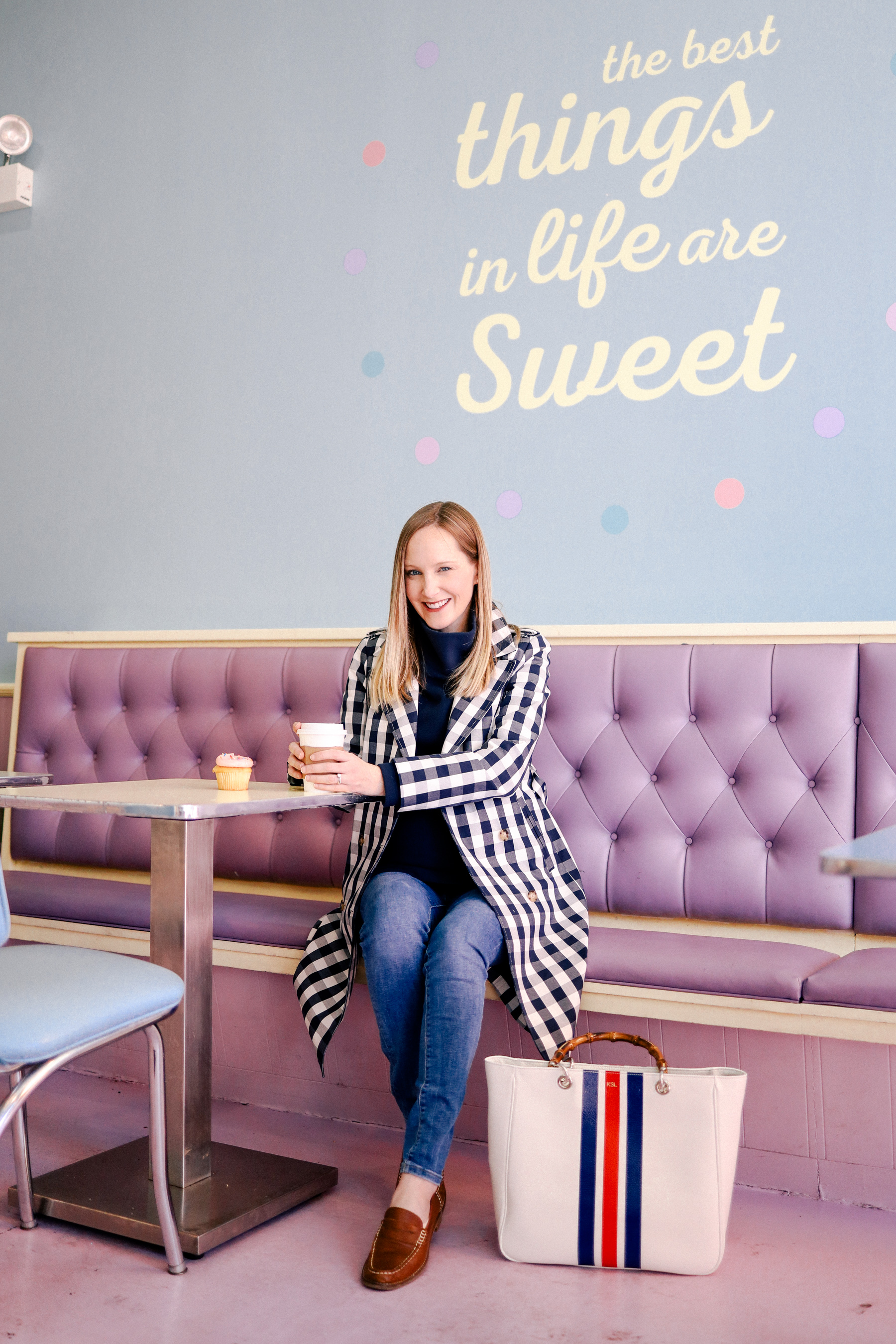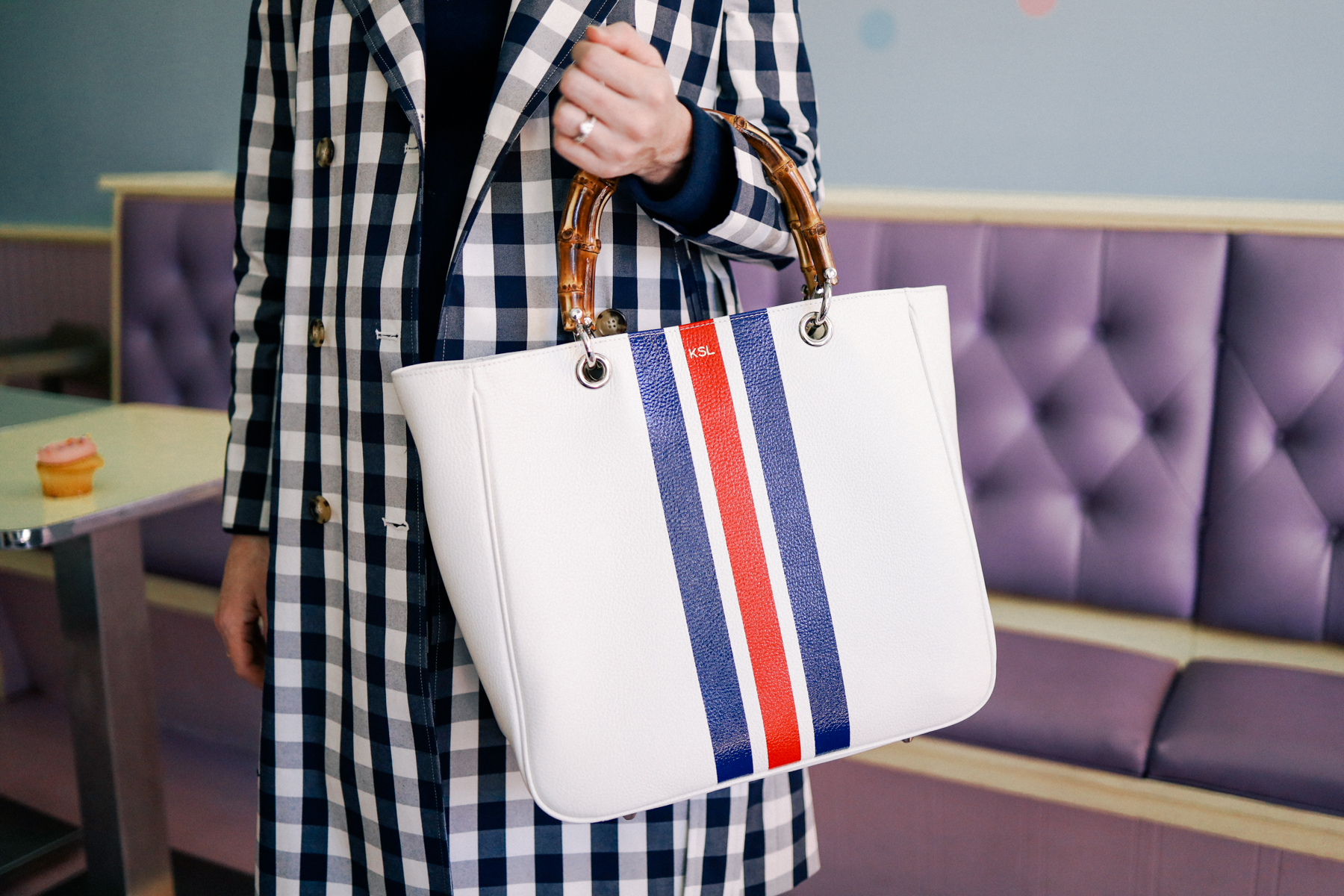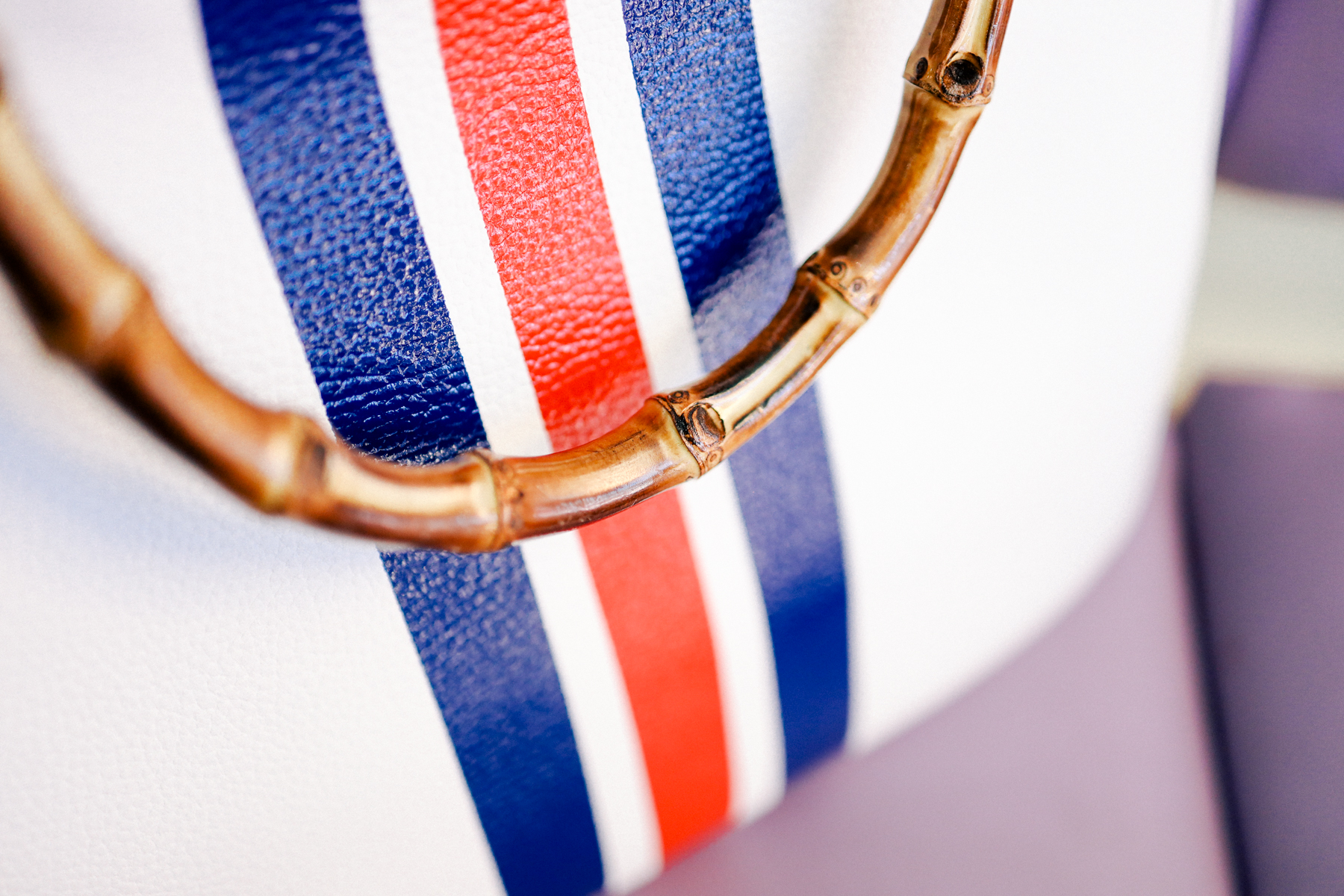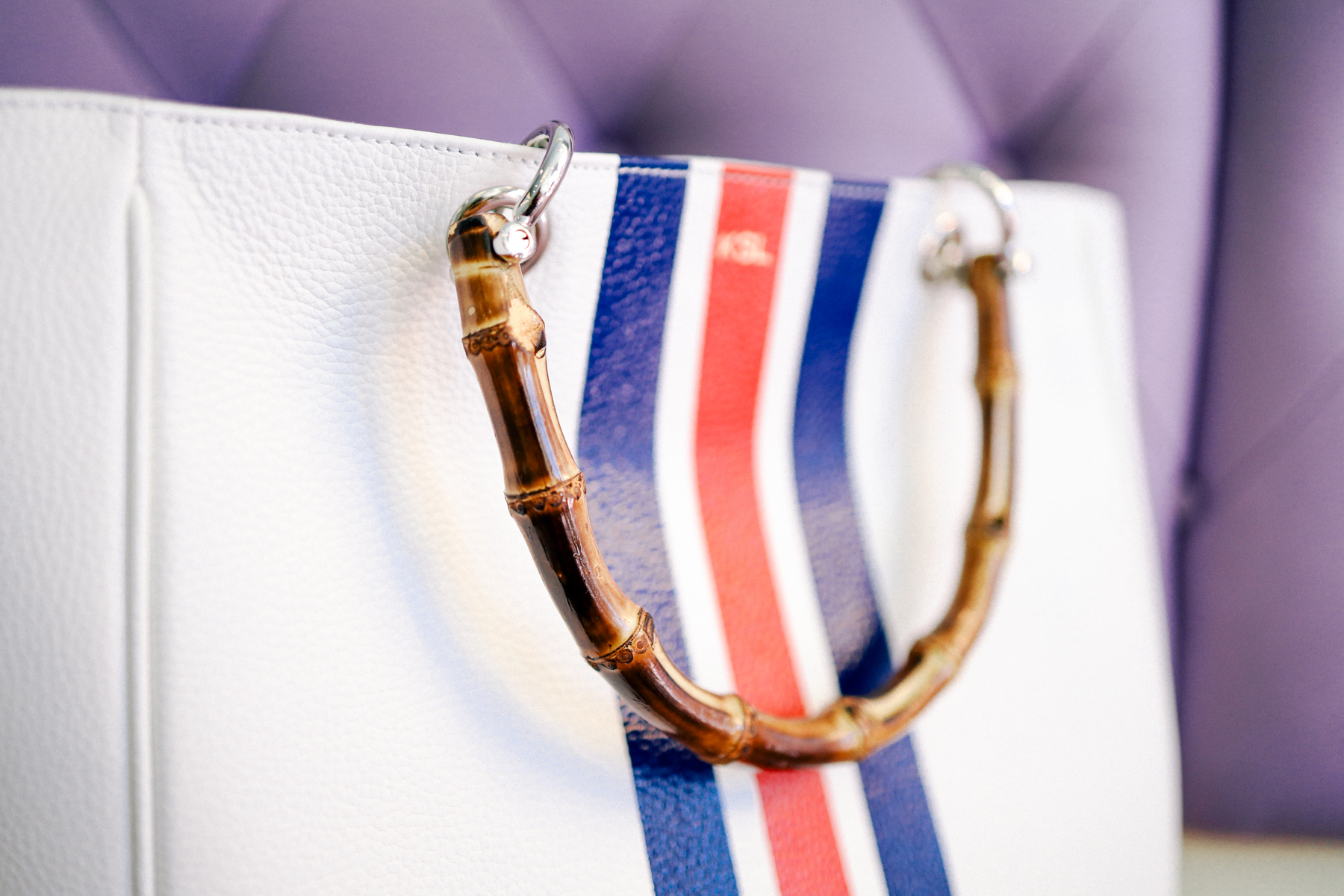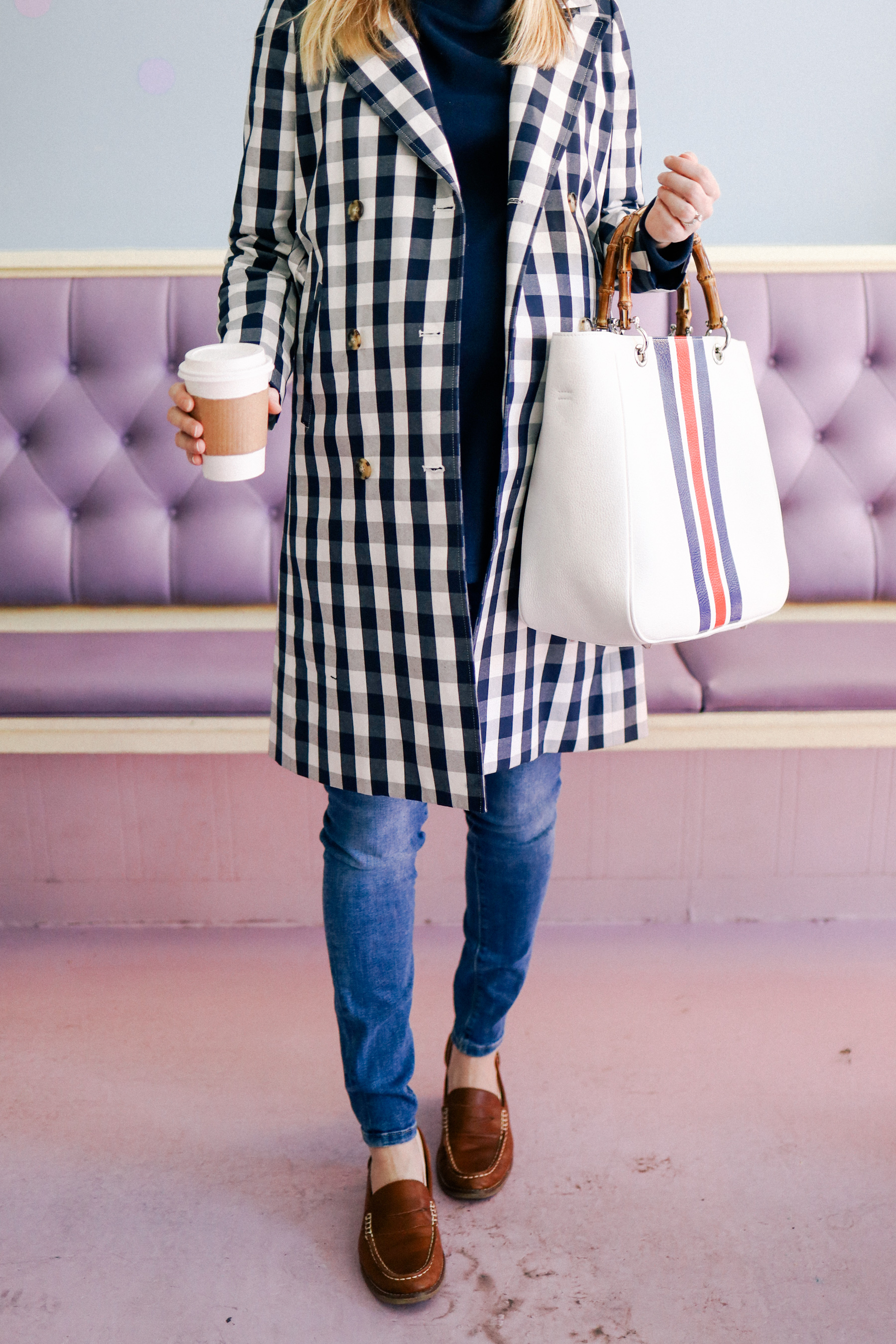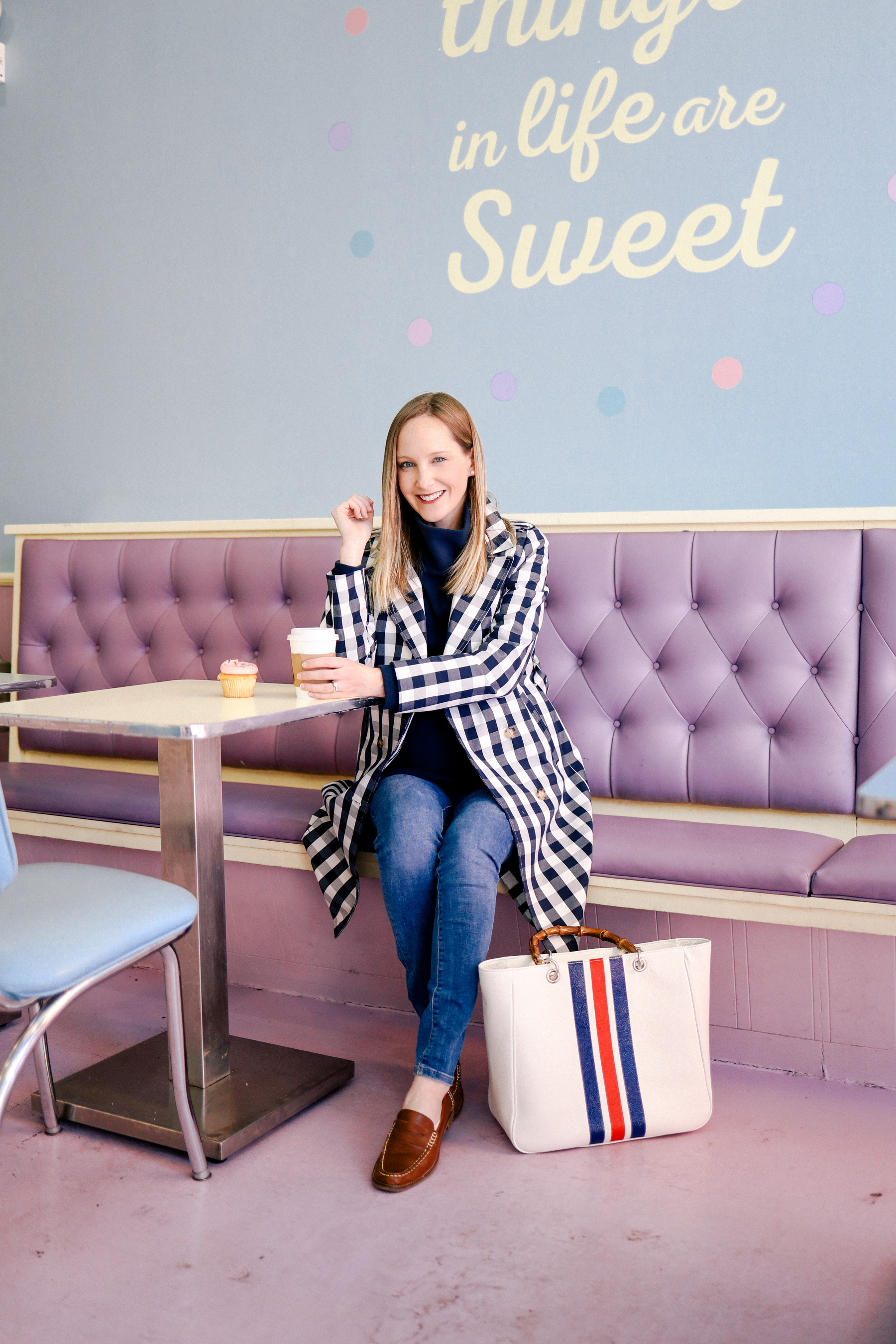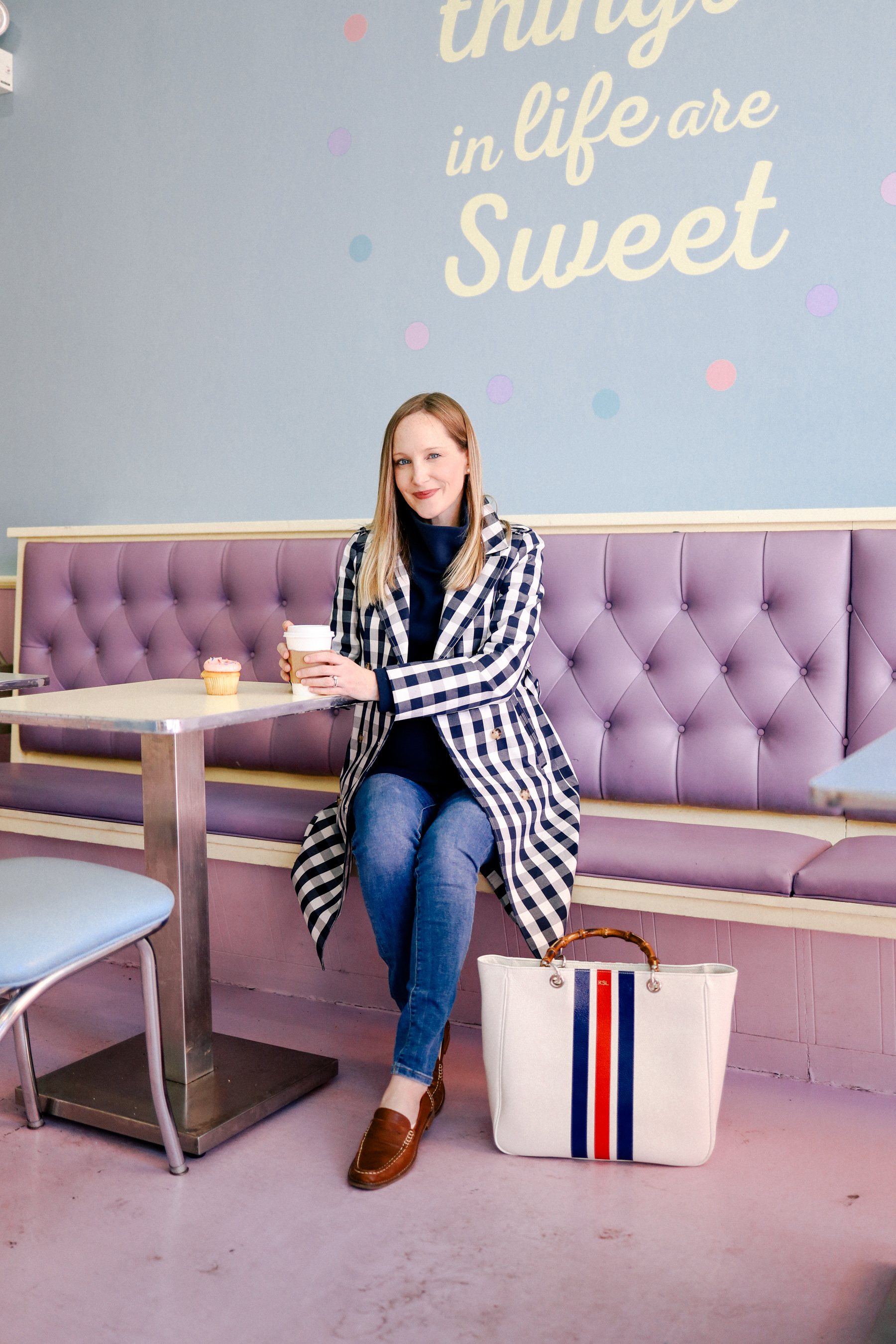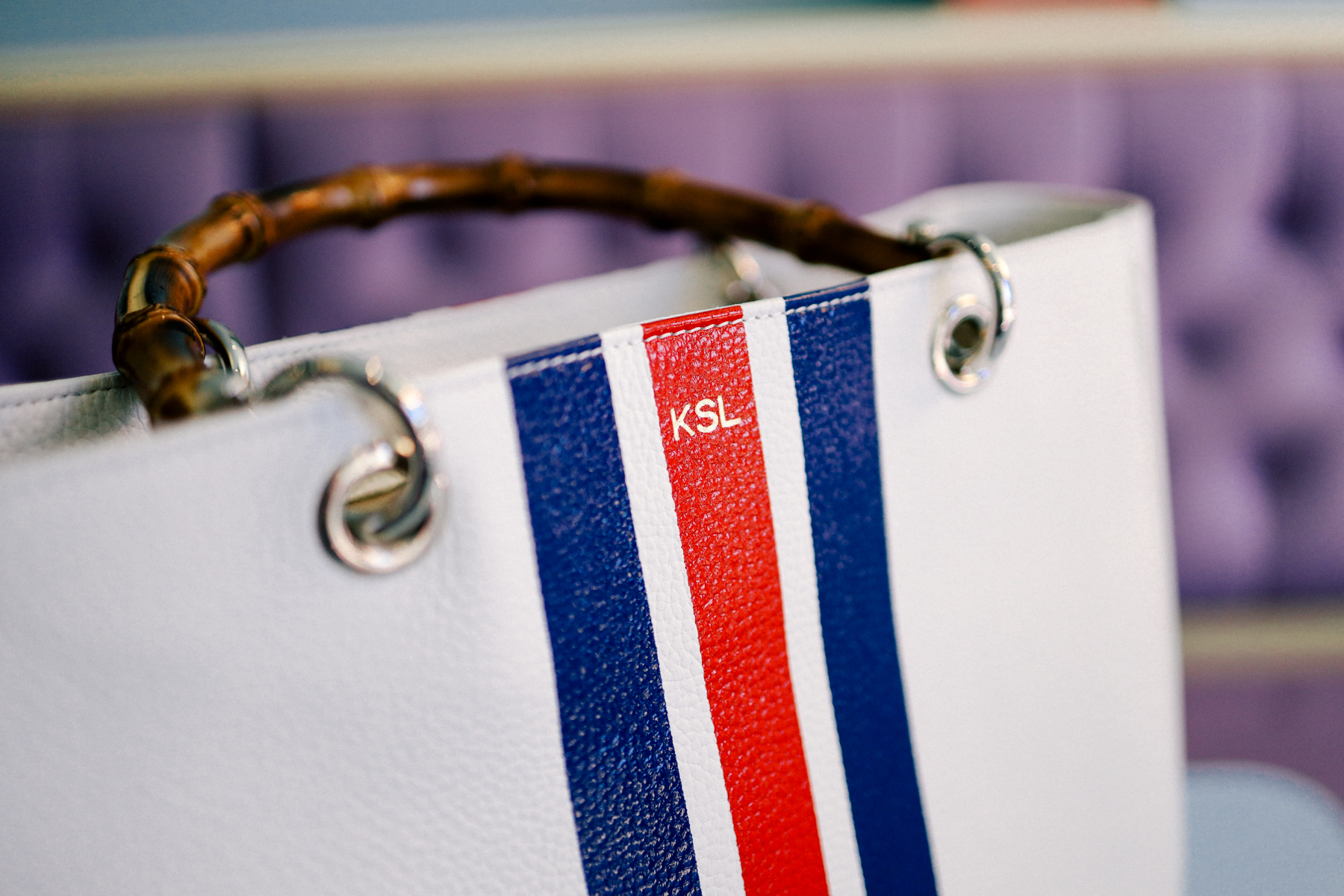 Shop the post:
J.Crew Gingham Trench Coat (Here's the iconic khaki-colored one, btw.) / Dudley Stephens Fleece / Sperry Loafers / Mark & Graham Elisabetta Bamboo Tote / DL 1961 Maternity Jeans (These light wash maternity jeans are better, though, in all honesty! Also on sale! Also, OMG. Gap just came out with white demi-panel maternity jeans. FINALLY!)