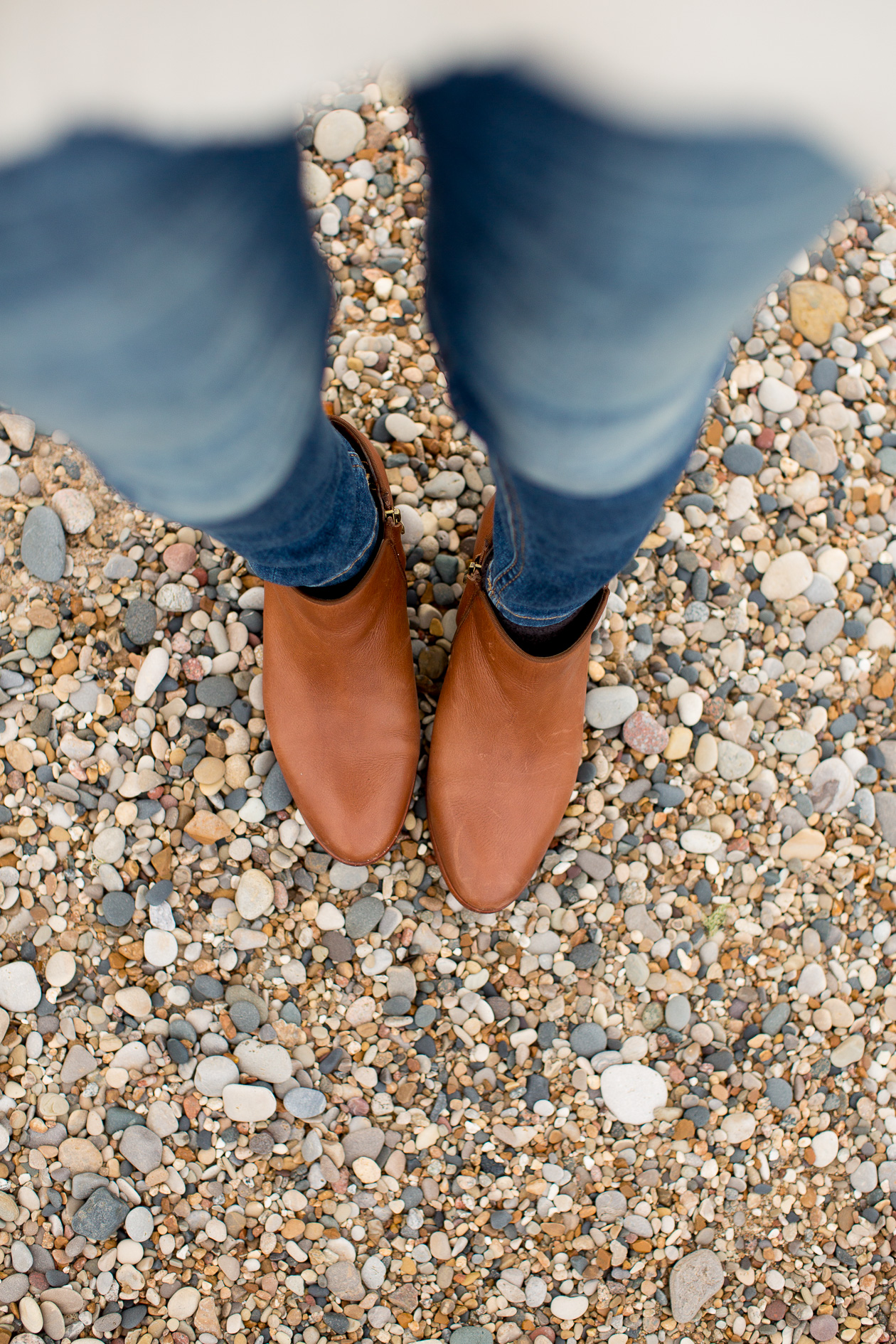 Mitch left for Vegas (a surprise trip for his brother's 30th birthday) this morning at 5 a.m., so I stayed up late going through the Nordstrom Fall Sale knowing that Emma sleeps until 9 or 9:30.
See, Mitch?! This is what happens when you aren't there to make sure I get to bed at a decent time. That slacker of a three-month-old… ;)
Anyway, I'll be back later with another post, so be sure to check in soon. But for now, my picks from the Nordstrom Fall Sale, which is running through Sunday, November 13th. (Remember: products sell out quickly, but everything ships free!) Did you nab anything great?!
Favorite sweater on sale. (Wore it here.) Great alternative. (Look at the back!)
Stuart Weitzman boots. (I have these in navy.)
I haven't tried them yet, but my friends rave about these (very affordable) tunics. They're staples, as they're machine-washable yet look like silk. This one is great, too.
Motherhood has me obsessed with nice jeans–particularly nice ankle jeans, as I have short legs and I can get away without hemming when I buy ankle cut. I just ordered these. Here's hoping they fit like a glove! Also: thoughts on me wearing leather-like pants? I kind of want them SO badly! (These look awesome, too.)
Looking for a classic navy dress? Here you go.
So into turtleneck tanks this year! (But Mitch is so into closet clean-outs. It's devastating.)
Classic Vineyard Vines quarter-zip. Take me back to the Shore… (Love this sweater, too.)
A great alternative to the Excursion Vest.
The tortoise wedges are finally on sale.
Classic Tory Burch riding boots.
For all my Chicago Girls: Sorels.
This sweater looks SO cozy. And so does this one. Okay, and this tunic.
Why did this dress sell out so quickly?
I LOVE off-the-shoulder sweaters.
Under what circumstances would one wear this? What would the weather be like? The event? This is baffling…
Black Nikes and leggings: a go-to, even though it's straying from my usual, predictable style.
This is awesome. But goodness, gracious. Can we drop the last number on the price tag?
The prep within me loves this so much. No more shirt dresses, Kelly. You own enough.
Little white dresses: one // two // three
Lace-Up flats. And these, too.
Love it in "Teaberry." Such a great dress if you have a lot of weddings next summer!
What an adorable scalloped dress. Who has a social life? I will live vicariously through you… (More scalloped options here and here! <–Really, isn't that one incredible?)
Has anyone ever tried a RAILS shirt? Hear they're great.
Joe's = my first pair of designer jeans ever. Bought them for myself at Bloomie's after a bad breakup, haha. LOVE Joe's!
A great Barbour jacket on sale.
The bow detail on this black dress?!
A classic peacoat for $37.90.
Lace-up pumps. (Don't order these if you're perpetually late to everything.)
Ah! Quick! Order this before it sells out.
My favorite Burberry coat in white.
A great everyday fall coat. Too bad it's freezing in Chicago now and my legs won't see the light of day until JUNE.
How Jackie O. And this, too.
Rain boots with bows on them?!
This is excessively overpriced. Please don't buy this, but let's all "ooh" and "ahh" over it together. ;)
Also overpriced. But super cute.
This Ralph Lauren Coat–and this one, too–is everything.
Baseball Keds. GO CUBS GO!
Very cool penny loafers.
What a gorgeous light pink coat.
Shop the rest of the sale here.
Happy shopping!