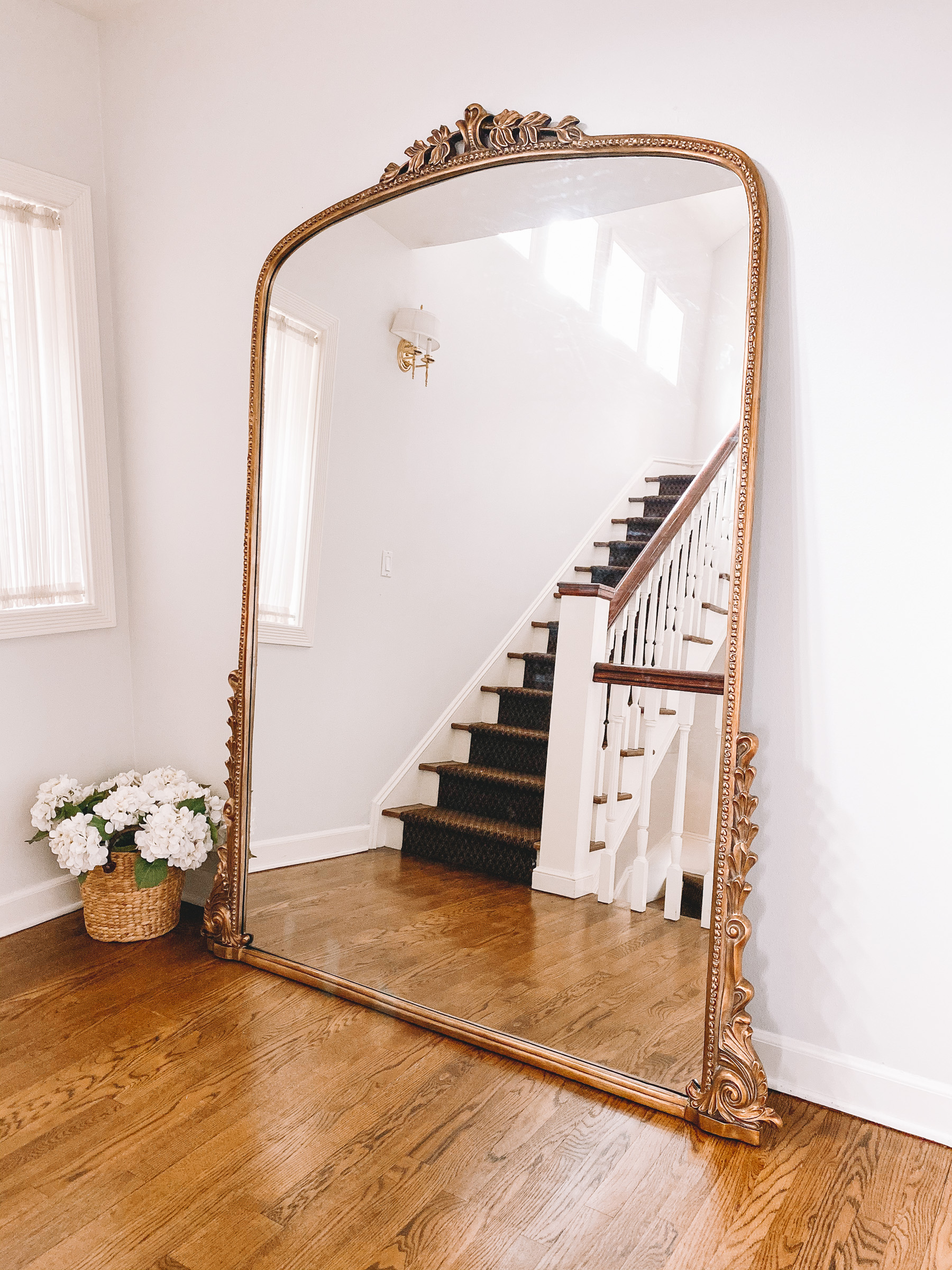 Anthropologie Gleaming Primrose Mirror
Oh hey there, hey! Here's what comes to mind this morning:
Emma had a delayed start to school on her half birthday last week and you would have thought she'd won the lottery. She was so happy. I put a note in her lunch, and Mitch and I threw together a little family party for her at night. (Plus her grandparents arrived from Pennsylvania!) I thought we were doing away with half birthday celebrations now that Emma's back in school, but I suppose they're here to stay. 😆
Our magic (real) leather couch is back in stock. Wayfair keeps changing the name of it, and it's really annoying, haha. But it's available! I really can't recommend it more. We have two young kids and a miniature dachshund who have been on the thing every day for 2.5 years, and there are zero scratches or stains. This is why we call it magic. ;) Our coffee table is back in stock, too!
I'm embarrassed about how often we eat dinner at the kitchen island. Lucy is the sweetest and most loving child you'll ever meet, but she was a total terror during meals for a long time. 🙈 Think food thrown everywhere, temper tantrums, chaos. 😜 Using this clip-on chair for her and sitting at the kitchen island was honestly the only way we could get through a meal. But she's really grown up so much over the past few months, and Mitch and I are desperate to have happy it-down family dinners at the kitchen or dining room tables. Of course, this means that our cushions and rug will likely get destroyed but that's what this thing is for, right? WE CAN DO IT!
We're going to Rosemary Beach, Florida with my whole family in March. I can't believe we pulled this off. My brother went with his family last year and they had the time of their lives; it's a relatively easy drive from New Orleans and flight from Chicago. Hoping this is our new happy place! Any recommendations? We're mostly newbies!
Let's be Instagram friends! While I've been more disconnected these past few months, I'm trying to carve out a little time every day to post to Instagram—to Stories, at least. I refuse to be on the app 24/7 like it probably wants us to be 😉, but I've been really enjoying making quick little videos of Chicago, our family, or our home. If you'd like to watch, we'd love to have you! :)
We've been experiencing some "Larkin Luck" with flights lately. Namely, our Nantucket flights were cancelled. (My cousin's wedding is there in June!) So now we're scrambling to come up with a new plan that doesn't involve waking up two little girls at 2:30 a.m. — PRAY FOR US. (At this point we're considering flying to NYC, hanging out there for a few days, and then ferrying to ACK. Are we nuts? Maybe…)
Here's my guide to buying L.L.Bean boots. I haven't worn real shoes in weeks. Anyone else?! I've actually started wearing my Rothy's around the house just to feel like a human.
We scaled back after-school activities to one per week. Emma started at a new school a few weeks ago—Blast! I definitely forgot to talk about that here on the blog, but you can read about it in this post. Anyway, her days are a bit longer, and she's understandably tired! So we now do jazz/ballet on Mondays, and swimming on Sundays with the whole family. It's been a great change. "Chill time" is so important for kids!
Are you planning on doing anything for Valentine's Day? Gifts or no gifts? Mitch and I are pretty anti-Valentine's Day gifts at this stage of life—experiences for the win!—but we DID go out this past Friday, which we're counting as our Valentine's Day dinner. ;) My parents were in town, and they'd given us the gift of a night out for Christmas. I'm writing this in advance so I'll have to report back, but we went here! Isn't it stunning?! As for the girls, though, I do plan on giving them little gifts and doing a fun Valentine's Day family dinner. :)
If you're looking for THE BEST APPETIZER EVER for the Super Bowl, making this beer cheese. My mom's been making it since she was in college, and it's a family favorite! (Tastes nothing like beer, btw.) It's WONDERFUL. Be sure to make the bread bowl!

J.Crew Factory has awesome new arrivals, and the sale is great. I love these cropped white jeans, this striped ruffled popover, and these HIGHLY-reviewed sweatpants-that-work-as-dress-pants. (They come in black and navy, too!)
"One Home Project Every Day" update:

We hung Eugene! I don't know about you, but hanging art takes me years. YEARS, I tell you. But sometimes I do it when we're about to have guests. So Mitch and I hung Eugene right before my parents arrived, and then I vowed to never put off art ever again. Hahaha.
I did returns. Another thing I always put off! This time it was uniform returns. Man, was I off on the sizing!
I moved these stools into the playroom. They were in our bedroom for the longest time but I finally realized that they were making the room look cluttered. We'll see if they actually get used in the playroom; otherwise, they might be finding new homes!
I put away the holiday wreaths in Emma's room. They don't look overtly Christmas so I left them up for a while… but took them down this past week and put up Valentine's Day wreaths for both girls. So cute!
I found a black chandelier I love for our bedroom. Though it's expensive, so I'm either going to wait for a great sale or try to find a good copy. ACTUALLY, this one, this one and this one all look great, haha.

I read that "Maeve" is the most popular baby girls' name right now and I LOVE it. "Emma" has always been my favorite name—since high school, actually—and there was no doubt in my mind that I would use the name one day if I ever had a little girl. But I remember when 2016 rolled around and we were about to have our first baby, "Emma" was the #1 baby girls' name in the country. I was devastated. I obviously went for it anyway, haha, and guess what?! We've only met ONE other child name Emma. Like ever! So I guess all of this is to say that if you love a name, you love a name. Who cares. And if you're looking for a name, might I suggest Maeve! ;)
Emma is going to North Carolina with her cousin in the spring and she's losing her mind with excitement. Mitch's cousin is getting married, and he and his brother are taking Emma and Carson along for a father/daughter/cousin/bestie weekend. For the last week, all Emma can talk about on the way to and from school is what she's going to pack for the trip. It's so cute.
Did you know that sour candy is proven to reduce anxiety? This explains so much, ha! It apparently sends a shock to the system and detracts from anxious feelings. I'm obsessed with Sockerbit candy because my friend Carly recently sent me some, and I highly recommend ordering if you're a big fan of sour candy, too. It's truly the best I've ever had!
I bought a couple of pairs of corduroys on Poshmark. I really love Madewell's Cali Demi-Boot cut and J.Crew's Demi-Boot cut… but neither have carried camel, tan or brown cords in those styles for a looong time. Couldn't believe I found one of each in my size on Poshmark. And they fit PERFECTLY! Haha, I know it's kind of silly to get this excited over cords, but these are my favorite pants, and I know I'm going to get years' worth of wear out of them. And considering I wear jeans nearly every day, they'll help me mix things up!
Oh my goodness. J.Crew now carries a little girls' version of the Demi-Boot Jean. How cute are these?!
Lucy has been waking up multiple times throughout the night and Mitch and I are dying slow deaths. Funny because we had an infant not so long ago! But wow. We'd gotten used to getting eight hours of sleep. We've been feeling like zombies these past couple of weeks, and collapsing at the end of the day. Our biggest problem is that we're having trouble falling back asleep once we get her back down. Here's hoping it's just a quick phase! Poor girl.
Emma and Lucy LOVE these blankets. Honestly, "love" is an understatement, haha. I have to agree with them; they are wonderfully soft and cozy—a plush velvety texture. The blanket also comes in a throw!
I've noticed a shift in the way Mitch is dressing and I'm totally loving it. He used to almost exclusively wear blue, and now he's wearing a lot of green and dark gray from brands like Marine Layer and Faherty. He's been getting so many compliments from friends and family!
Our bedroom furniture is back in stock! Here are our nightstands, dresser and chest. We bought everything when we lived at our last house, and it works so well in the new house, too! Quality stuff. Everything is available on Wayfair, too, which is nice.