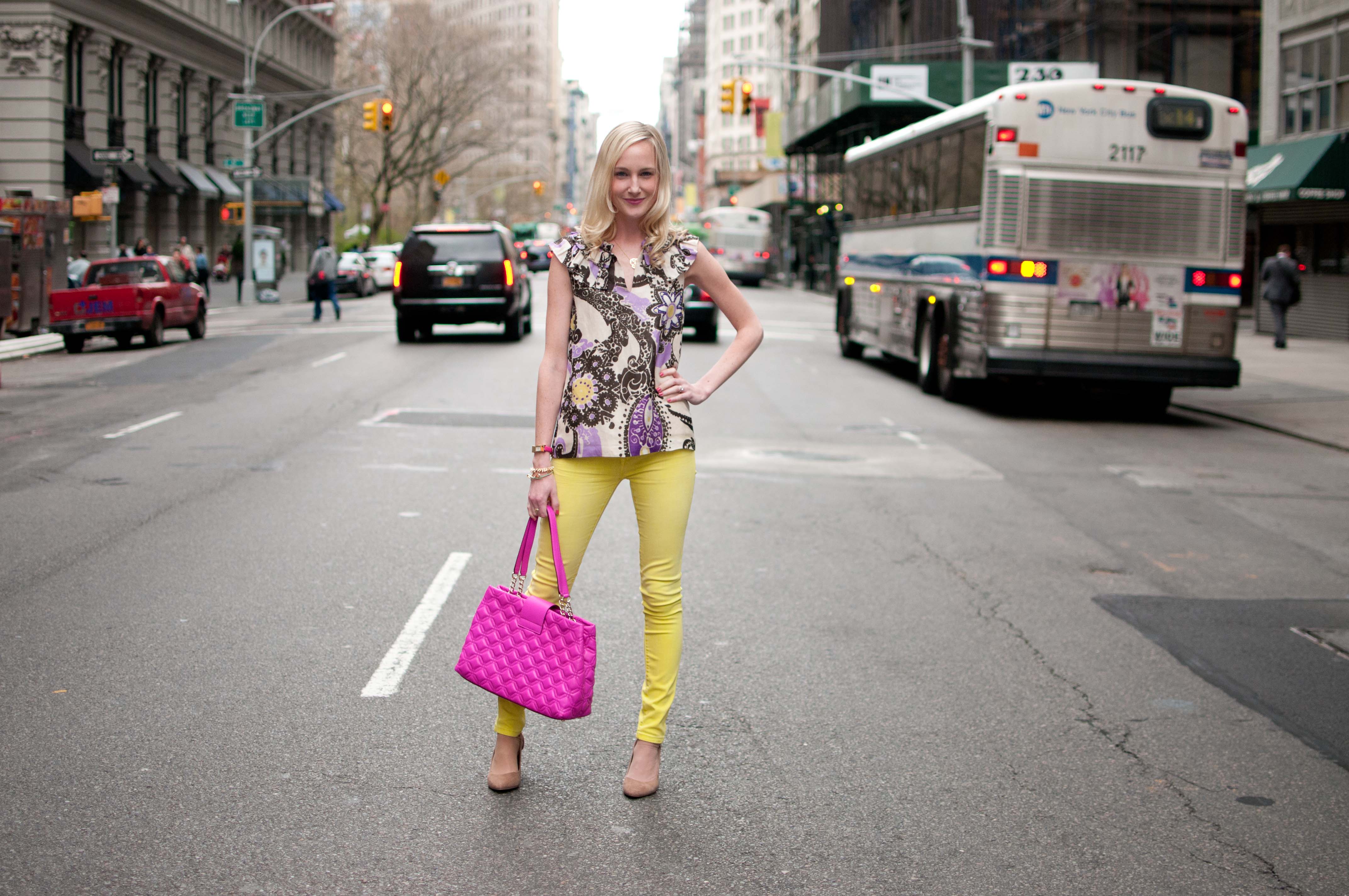 I always dress in bright colors on exciting days. And today was one super-exciting day. ;) I was so worked up this morning that I even woke up without an alarm. (That never, ever happens. In the words of Taylor Swift, "like, ever.") I slipped on my favorite Kate Spade floral top (on sale!! and similar here), and, as I'm really loving the neon trend going on right now, pulled on my latest obsession: my new BlankNYC neon skinny jeans in "assid lime." (Save 20 percent if you're making your first purchase with Revolve! Also available directly through BlankNYC here.)
Jeans: c/o BlankNYC, also available here… save 20 percent if you're making your first purchase with Revolve! / Top: Kate Spade, similar here / Necklace: C.Wonder (What a steal! Only $44!) / Wedges: BCBGeneration / Bag: Kate Spade, similar here, here, here and here (Get 15 percent off purchases made through the KSNY website when you sign up for the newsletter!) / Earrings: J.Crew / Bracelets: Kate Spade (Get 15 percent off when you sign up for the newsletter!) and Stella & Dot / Watch: Kate Spade (Also available in a dressier bracelet watch version here. Once again, get 15 percent off when you sign up for the newsletter!)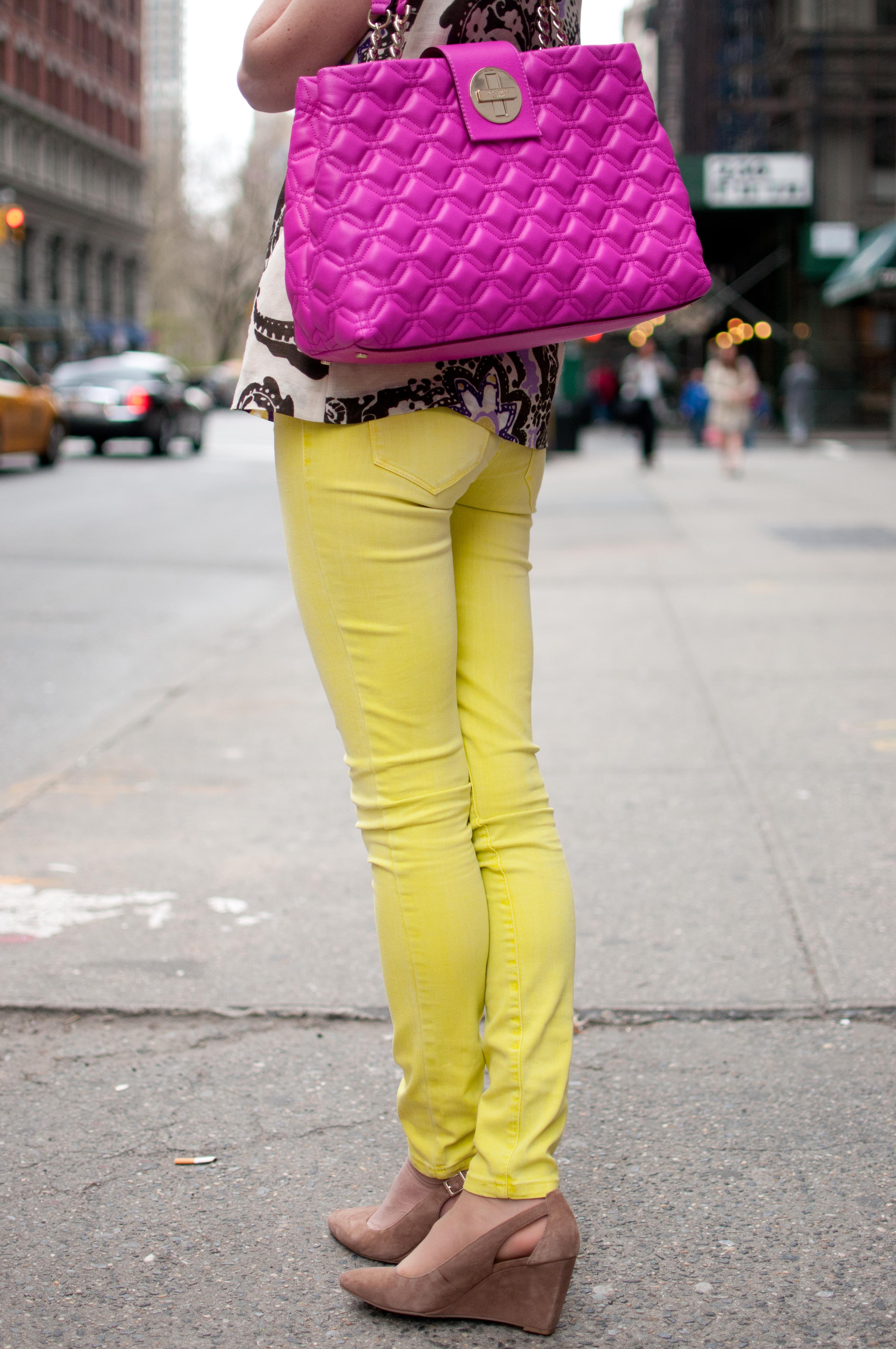 I first fell in love with BlankNYC when I discovered the brand in Madewell, sister store of J.Crew. (Take an extra 20 percent off sale styles–including BlankNYC jeans–at Madewell when you use code "Extra20" and take 30 percent off final sale styles at J.Crew with code "SpringThaw"!) But they've quickly become my favorite premium denim company. (I seriously own at least six pairs of their jeans. Blush.)
Part of the reason I am such a big fan of BlankNYC is that their jeans fit like a dream, are super soft, and never lose their shape. (Skinnies always seem to sag on me by the end of the day!) Whereas lots of premium denim companies charge $200+ for a pair of jeans, BlankNYC is pretty reasonable. Their sizing is also incredibly consistent. #hugefan (If you couldn't already tell.)
Right now, I'm really coveting the the brand's bow skinny jeans!
I'm also in love with their black-and-white striped cigarette leg jeans (on sale!), "Pink in the Middle" Spray-On skinny jeans (15 percent off and free shipping with code "PM15"), and polka dot skinny jeans.
Surprise, surprise, right?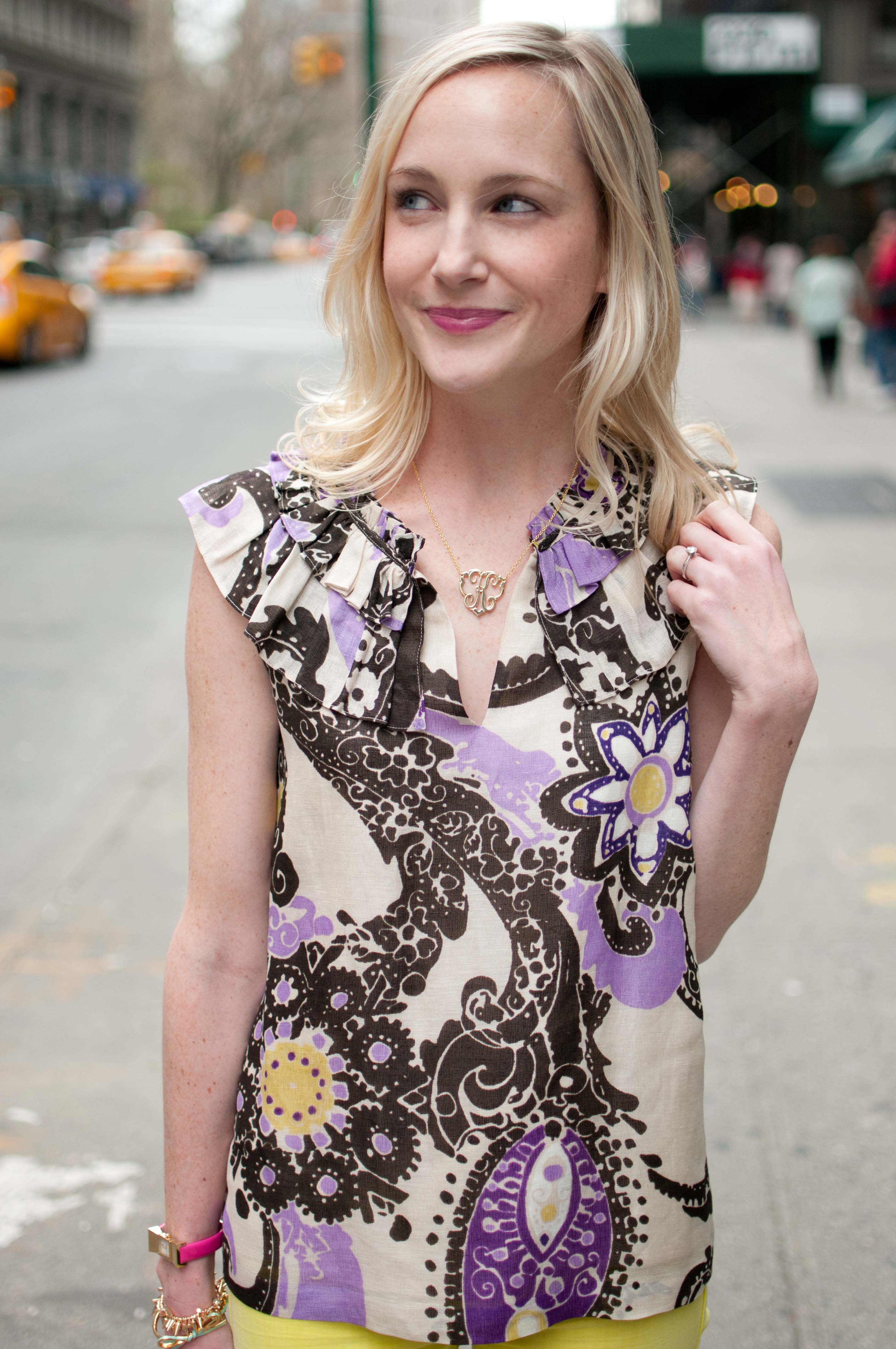 The Kate Spade floral top (on sale!! and similar here) I'm wearing was a birthday gift from my awesomely stylish aunt. (The same aunt who threw me the gorgeous bridal shower!) I'd been saving it for a wedding-related event this year, and today seemed like the perfect event. Can I tell you how freeing it felt to wear a sleeveless top? I did bring a spring coat along with me today, but it was a great feeling being able to shed it on a couple occasions throughout the day. :) And if you haven't noticed, I wear my C.Wonder monogram necklace on a pretty regular basis. I still can't get over its price! $44 for a monogram necklace?! Yes, please.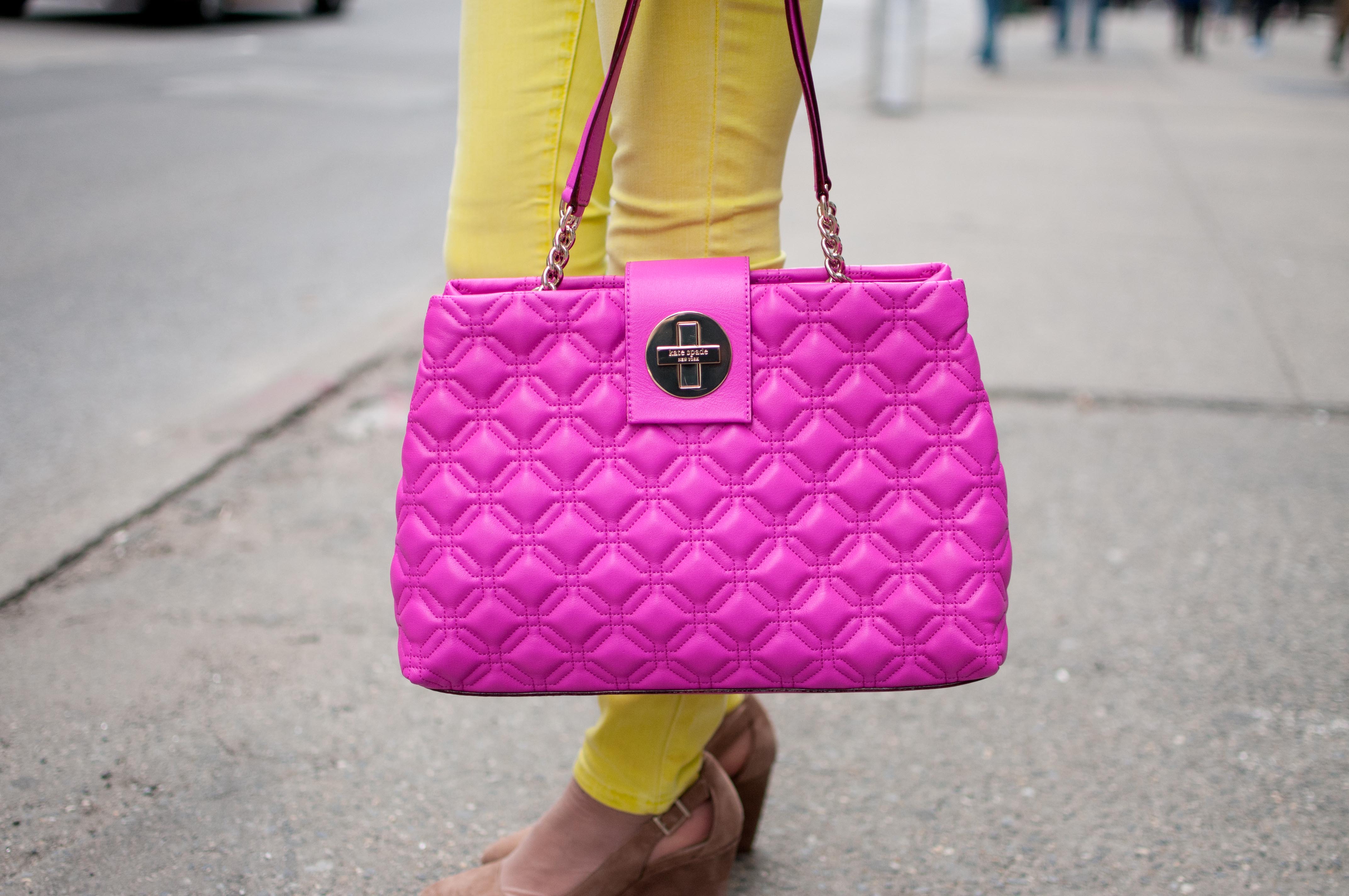 I'm sporting another Kate Spade bag, also in neon, to go with today's theme. (Similar here, here, here and here, and get 15 percent off purchases made through the KSNY website when you sign up for the newsletter!) By the way, KSNY lovers: new arrivals are 30 percent off at the brand's outlet stores through April 23rd. I, unfortunately, live nowhere near an outlet, so please… somebody go and snag something awesome! And then send me a pic. ;)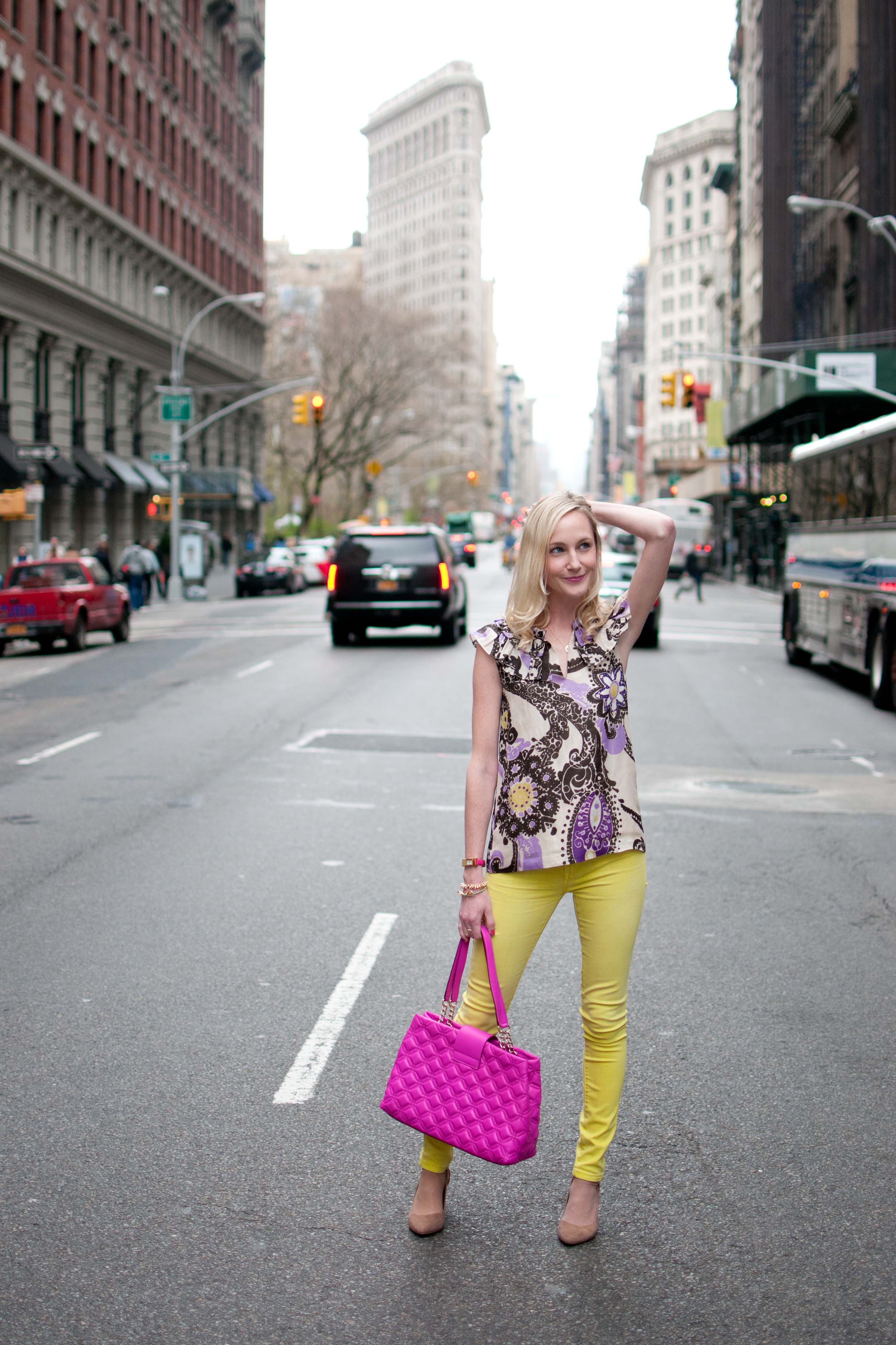 After work today (yes–I'm lucky enough to be able to dress this casually every day!), I took the subway down to 28th Street and walked over a couple of avenues to 5th. Mitch quickly snapped a few photos (I know… the one in the middle of the street was slightly dangerous, but I was on the lookout for oncoming traffic!), and then I met my mom at Bridal Reflections. I was a little bit nervous, but really, how could one not be when trying on her wedding dress for the first time? Well, I loved it. I wish I could have taken it home with me, but it still needs to be hemmed. I wish I could dish out all the details, but Mitch reads the blog from time to time, and I really want him to be surprised. :) July 20th is just around the corner, though! Cannot wait.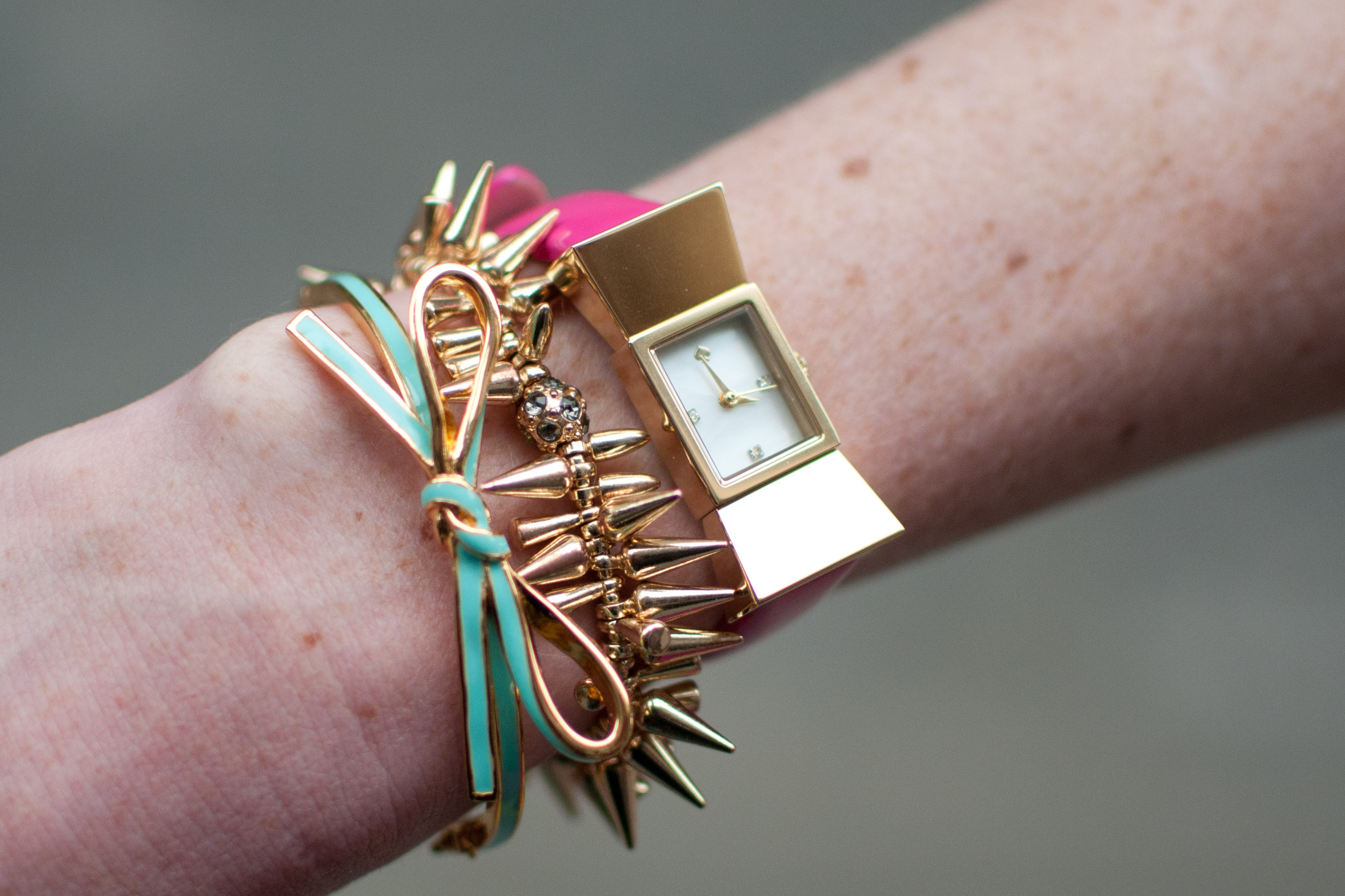 A huge part of why the dress fitting was so wonderful is because I had my mom by my side the whole time. She is my best friend, and the person I rely on most for an honest opinion. We have the same taste in virtually everything, too. The day wouldn't have been the same without her! Mom, I love you. Thank you for making the trip into the city and spending the afternoon/night with me!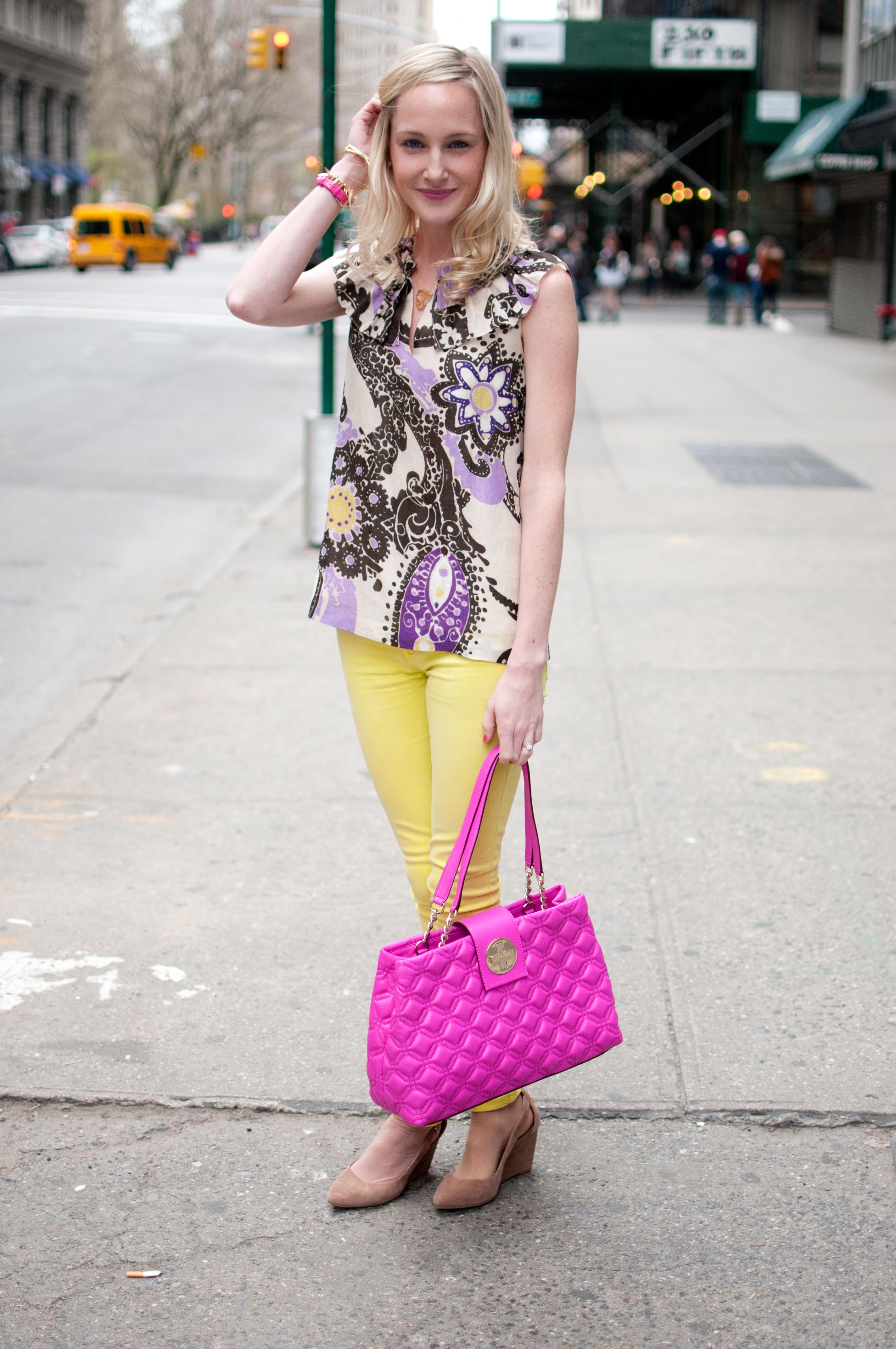 After the dress fitting, Mom and I met Dad and Mitch at Tre Dici, a tiny (and yummy) Italian restaurant on 26th between 6th and 7th. It was so great to catch up with Dad. The food was also fantastic. (Huge fan of any restaurant that serves caprese salad. Favorite. Food. Ever. You know, besides cupcakes.) When we'd finished dinner, we walked over to Dos Caminos, a Mexican restaurant, so my parents could meet Mitch's brother, John (in town for business). Such a fun night! :)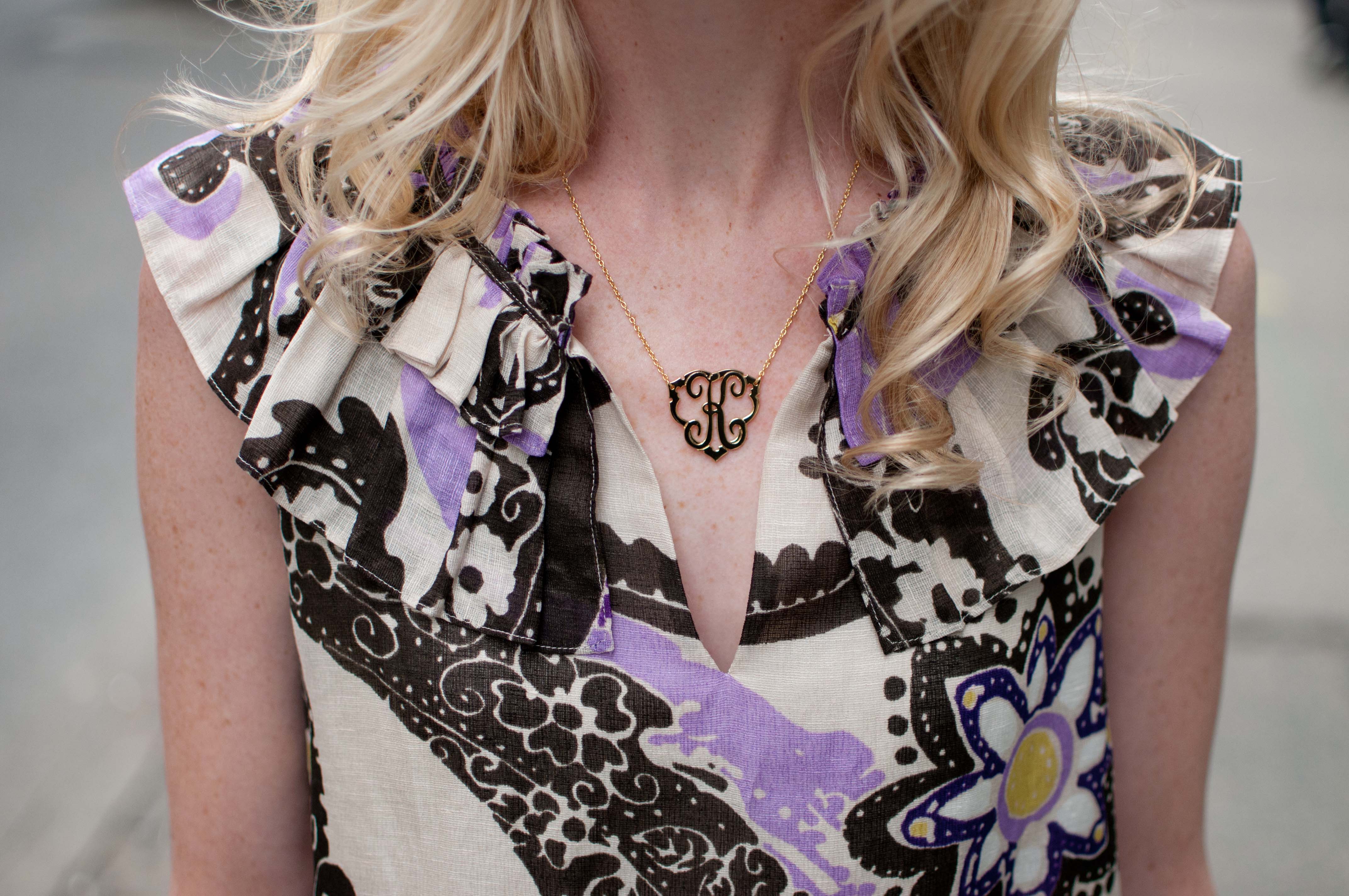 Okay, fashionistas. It's time for this little blogger to focus on wedding planning. On tap today: invitations, thank you cards, and song selections. We can do this! ;)
Jeans: c/o BlankNYC, also available here… save 20 percent if you're making your first purchase with Revolve! / Top: Kate Spade, similar here / Necklace: C.Wonder (What a steal! Only $44!) / Wedges: BCBGeneration / Bag: Kate Spade, similar here, here, here and here (Get 15 percent off purchases made through the KSNY website when you sign up for the newsletter!) / Earrings: J.Crew / Bracelets: Kate Spade (Get 15 percent off when you sign up for the newsletter!) and Stella & Dot / Watch: Kate Spade (Also available in a dressier bracelet watch version here. Once again, get 15 percent off when you sign up for the newsletter!)