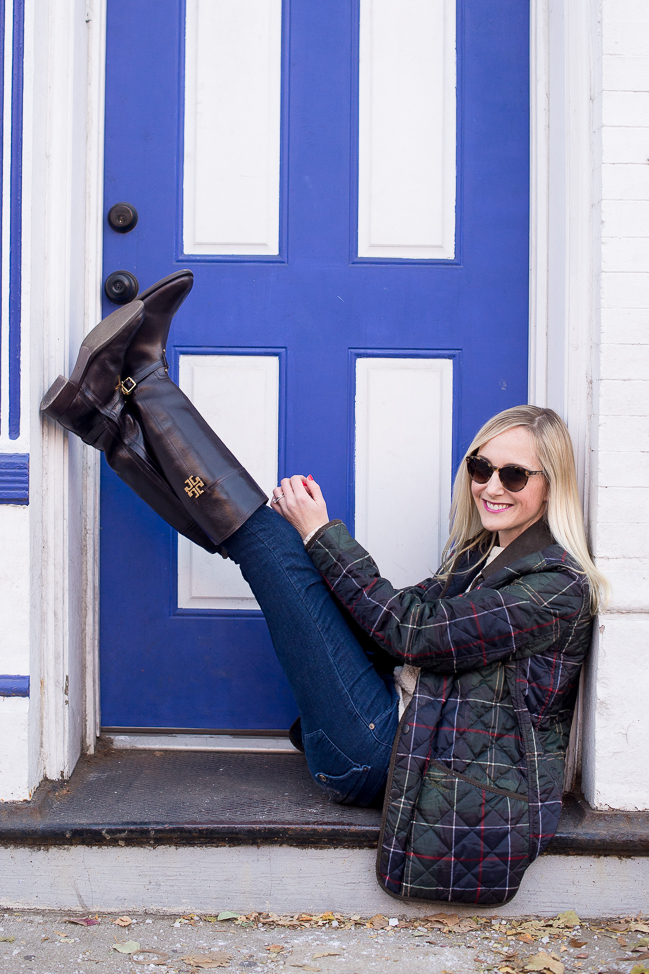 Barbour Tissington Jacket and Sweater (Borrowed — Order from the Lincoln Park store by calling (773) 360-7926) — and Dog Coat (c/o) / J.Crew Earrings / Tory Burch Boots (Quick! Who wears a size 8?!) / Kate Spade Sunnies (Old, but newer styles here) and Bow Ring (Adjustable version here) / Hudson Jeans (The wash I have is currently unavailable, but the style is "Collin")
Tartan. It's such a happy pattern. It reminds me of so much: my grandfather, Christmases in Vermont, and my Catholic school days. In some ways, I feel like it's my pattern, as ridiculous as that sounds. (Though until today I had no idea just how many tartans actually exist. Goodness. Not sure why anyone would ever have to do this, but you can search by color here.)
Anyway, haha, when I saw the Barbour Tissington Jacket, I gasped. Of course, it's a men's product, and I'm on the smaller side, so it's a bit large on me.  I adore it, though. (Besides, my friend Jess rocks menswear products all the time, and she looks fab. So I had to try it!)
There's a matching dog coat, too. Enough said, right? It's perfect.
Oh, but there's more. The Tissington is even reversible! It slipped my mind to reverse it for these photos, but I love how the pockets are in the same place on both sides, and how the navy looks with the tartan cuffs turned up. Holy cuteness. Also manly. You know, if you're a guy. (Cough, cough. Please agree to wear this, Mitch.)
What do you guys think? Would you rock a men's jacket if you fell completely in love? :)
Reminder: Tomorrow (Dec. 4th) is the Lincoln Park Merchant Association's "Holiday Shop-Hop." (Eeee!) Jess, Ashlei, Mitch, Noodle and I will all be at Barbour's 2042 North Halsted Street location from 4 to 8 p.m., and we'd love to see you! The first 20 customers to join will win a gift card ranging from $20 to $50, too!