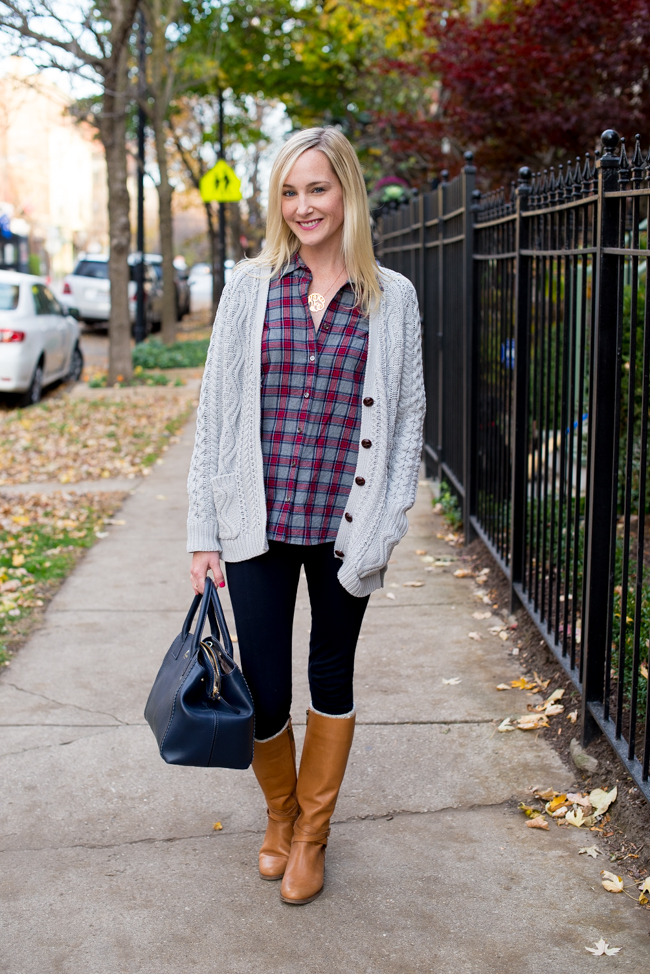 J.Crew Flannel Shirt (Old, Factory copy here) / Zara Leggings (Mine are old, but here are newer styles! I paid something like $34 for mine, and they're the best leggings I've ever owned. Talk about well-made! Make sure to rip the tag out the back, though. Itchy, otherwise.) / DUO Boots (c/o) / Dex Sweater (c/o) / Barbour Jacket (c/o — Temporarily sold out, but check out the sage color, which is so close! I also love the navy, and the Quilted Beadnell!) / Max and Chloe Monogrammed Necklace (c/o) / Kate Spade Bag (Old, mini version–so cute!–here) / J.Crew Earrings / Daniel Wellington Watch (c/o — Use code "KELLYINTHECITY" to take 15 percent off your order!)
 This just in: The Shirt is BACK. It sells out super quickly, so nab it now!
—
I'm pretty nervous about experiencing my first Chicago winter, as so many people have told me that it'll be unlike anything I've ever experienced. (And I was born in Plattsburgh. Which I'm sure you've never heard of, but it's 30 minutes from the Canadian border and a hop, skip and a jump from Vermont. Brrrr.) So while I've always loved flannel, this year, I'm a fangirl. Gearin' up!
Below are some of my favorite flannel shirts. Did I miss a great one? Please let me know. Because something tells me I'll be needing quite a few for the upcoming winter! ;)
One // Two // Three // Four (Also love this one from Madewell) // Five // Six // Seven
One // Two // Three // Four (Also love this one!) // Five // Six
Other favorites include this one in polka dot from Lands' End, and this Ralph Lauren beauty (#omgomgomg)!